It's almost the end of the year — have you been reminiscing like me? I've been thinking about time passing and years changing so for this month's color palette I'd like to share my vintage linen calendar tea towel collection with you. Have you seen vintage linen calendar tea towels before? Linen calendar dish towels were super popular in the 60s/70s/80s. I've collected stacks and stacks of different vintage linen calendar tea towel patterns and colors. I just love them so much.
Today I'm sharing a small handful of my brightest vintage linen calendar tea towels with you — including this 1971 butterfly calendar dish towel that makes me think about change and perseverance. This month's color palette inspiration is optimistic and joyful: Martian Green™, Sunburst Yellow™, Orbit Orange™, Celestial Blue™ and Gravity Grape™ from Astrobrights® (affiliate link).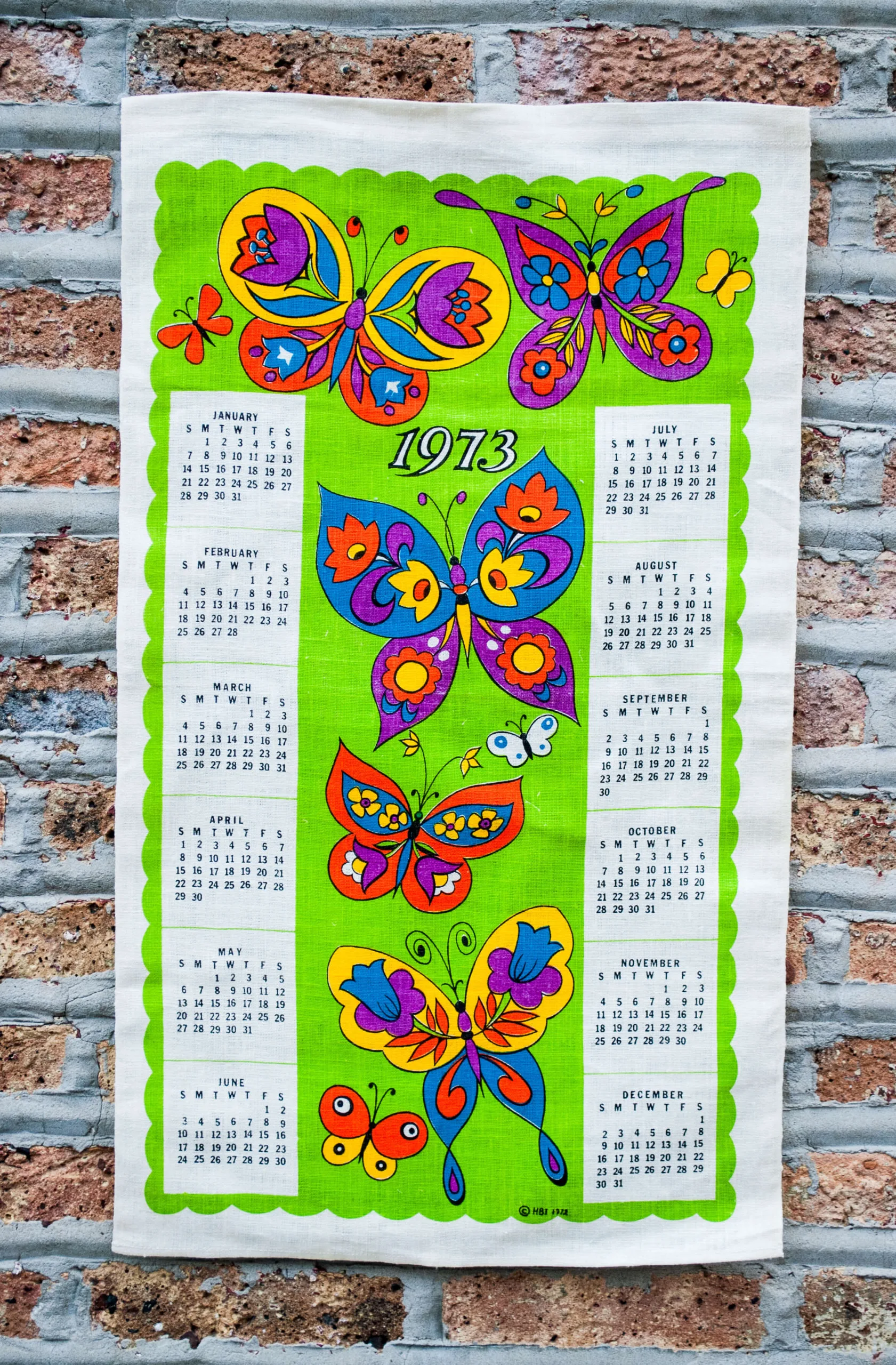 Each month I share an original color palette using deeply saturated Astrobrights® color papers and card stock who I'd like to thank for sponsoring these posts. All color palettes and opinions are mine.
I've been inspired in past months by German wooden Christmas ornaments, heirloom pumpkins at Magnolia Silos in Waco, TX, Wisconsin apple orchards and Carousel animals and Miniature golf balls and Chicago city pothole art and LEGO® bricks and yellow tulips in Schnitzelburg and unexpected rainbows and Valentine heart cookies and lush green plants in Chicago's Garfield Park Observatory and German nutcrackers and Midwestern fall leaves and sugar skulls and baseball games and vintage quilts and an ocean of violets in bloom and lemonade and wild berries and beach toys.
Each year, my Grandma hung up a new linen calendar tea towel in her kitchen. She marked special family days by gluing sequins onto each year's calendar, like green for birthdays, blue for holidays. I'd forgotten about this family tradition until about 15 years ago when I saw a vintage linen calendar tea towel at an antique store in a small Michigan beach town. Finding vintage linen calendar was such a vivid, visual reminder of those farm breakfasts with my Grandma and Grandpa and so I started scouring antique stores and trolling ebay for hours to find new patterns and colors, spending hours rummaging and browsing and bidding. At my peak I probably got up to 100+ calendars categorized and stacked on my craft room shelves. For a time, I started cutting them and making them into handbags with my friend Heather which I loved until then one day when I just couldn't bring myself to cut them up anymore. Now they fill three shelves in my craft studio but I can't yet bring myself to de-clutter the piles.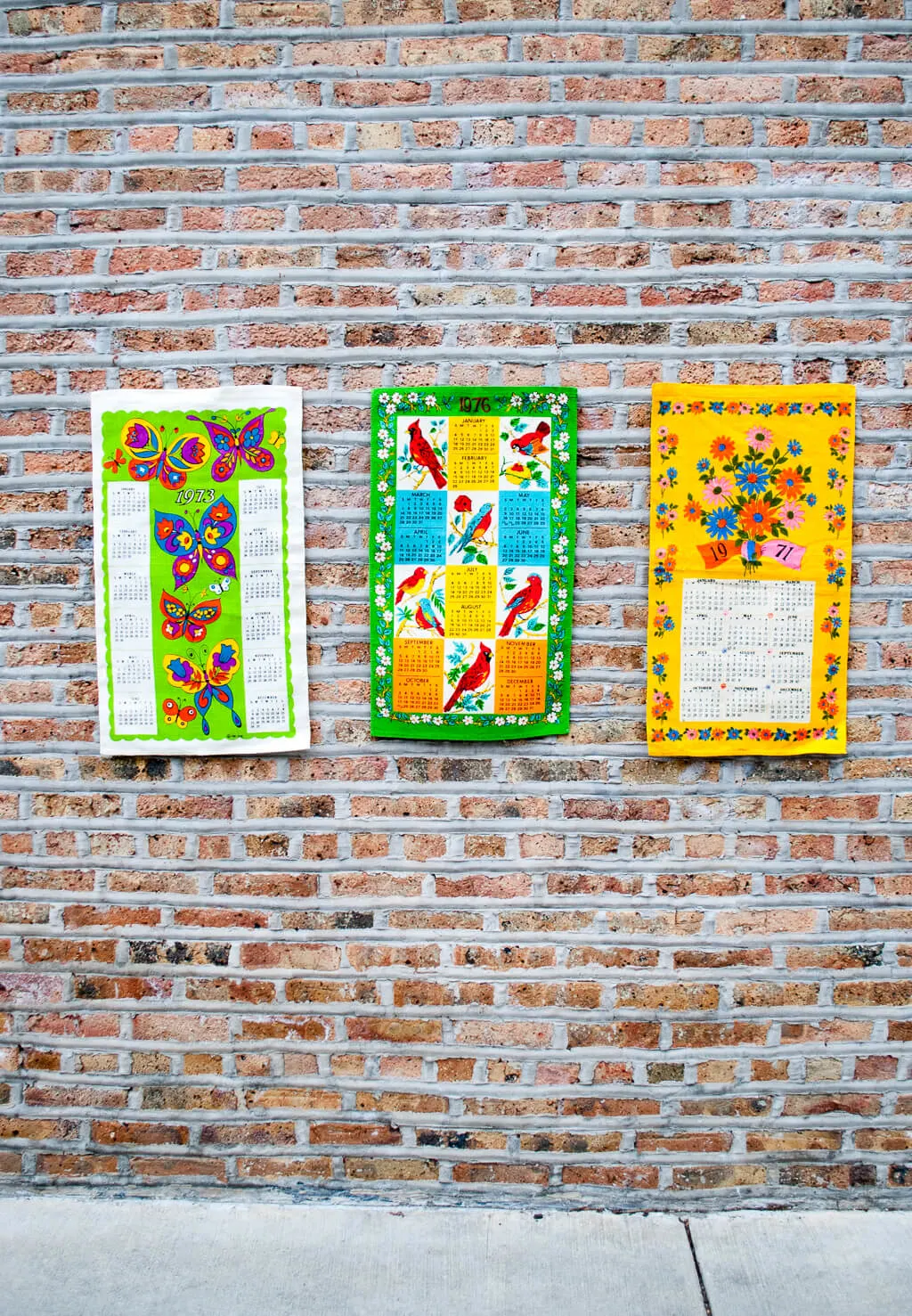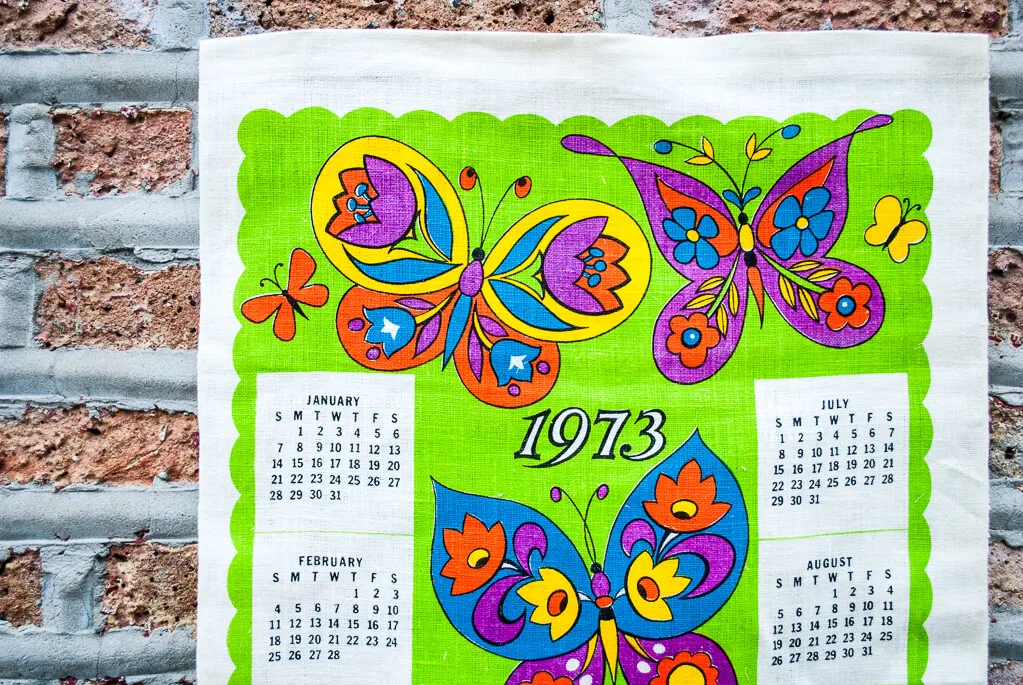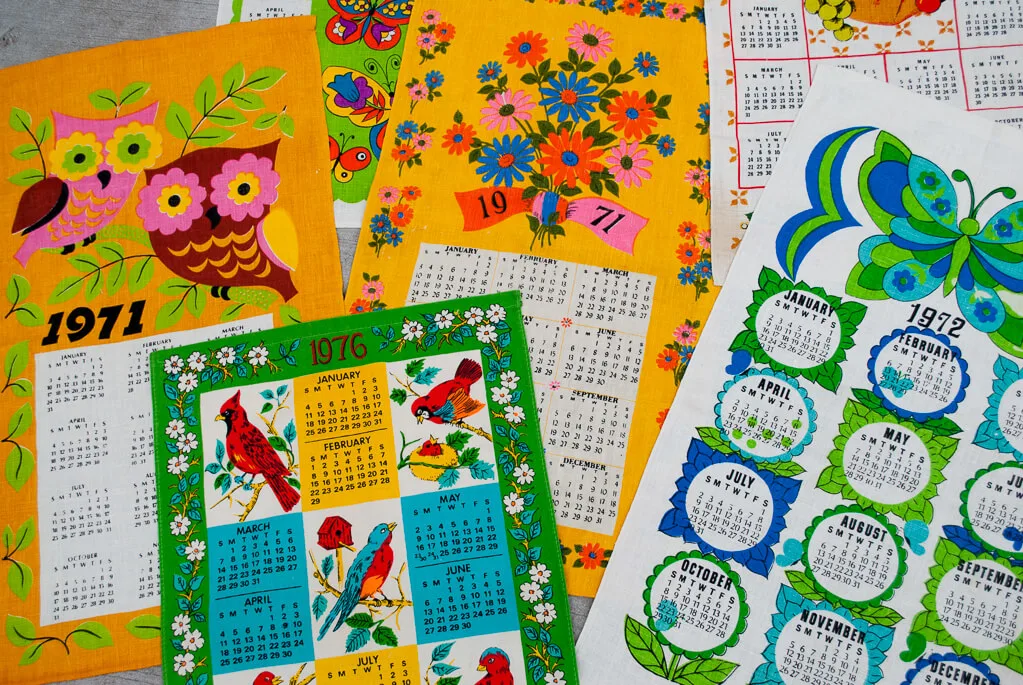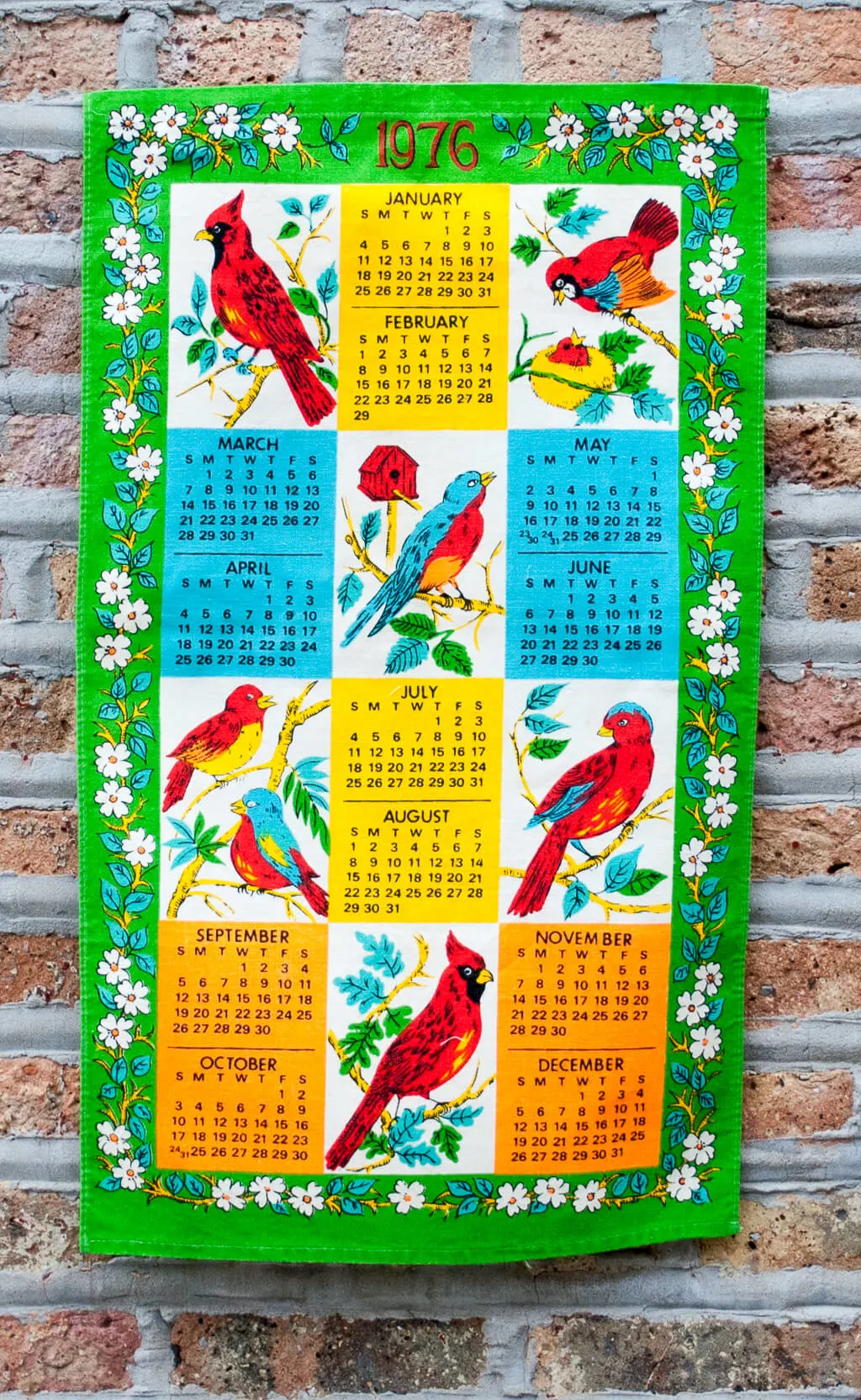 This time last year, the quiet, green nature at Garfield Park inspired my calming, monochrome bright green color palette. Last year's color palette was all about fresh starts, calm and clean and green …and if I'm totally honest, I felt then like I wanted to cocoon myself away from the world.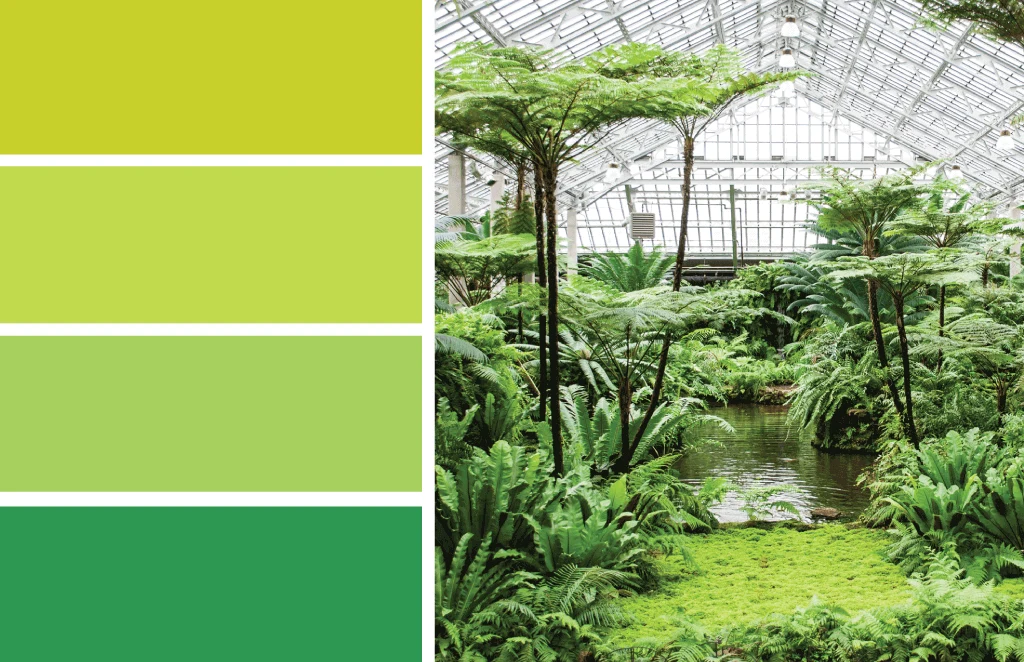 It's been a rough year for most Americans but we all keep on plugging along so this year, I want to share colors that feel like joy. My 1970s vintage calendars are 40+ years old and still cheerful and optimistic, and this month's color palette feels inclusive to me. I hope this month's color palette inspires paper crafting for your family celebrations and personal connections.
Vintage linen calendar tea towels inspired this month's color palette with these Astrobrights Papers colors, from left to right below:
Martian Green™
Sunburst Yellow™
Orbit Orange™
Celestial Blue™
Gravity Grape™
These bright colors are just some of Astrobrights' 25 colors (with affiliate links)…
Astrobrights Papers is my favorite paper hands down. You can get your own pack of Astrobrights Papers here. Choose all 25 colors, or one of their many assortment packs, or a big pack of one color:
See my past color palettes to help inspire your own:
My favorite vintage linen calendars – swoon!
Country vintage, meet modern city. And those colors! Bright, cheery, and inclusive.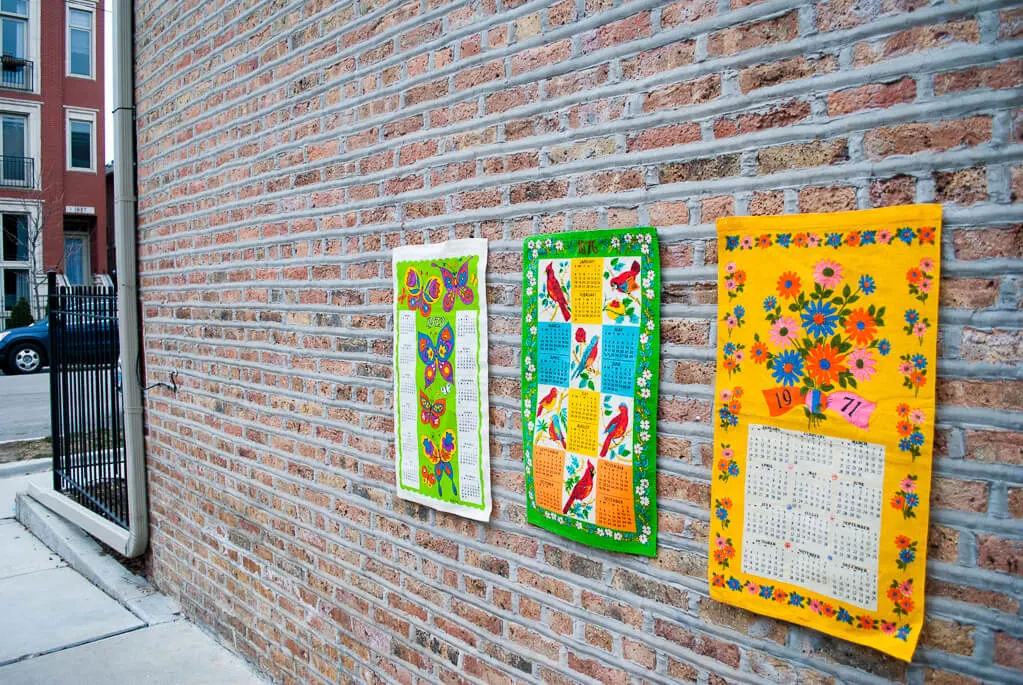 Be sure to tell me in the comments below: What do you think about the colors in these vintage linen calendar tea towels? ?
=====
Thanks to Astrobrights Papers for sponsoring this post and sending me their beautiful colorful paper. I only share brands that I really love and use myself like on these paper Father's Day tie bunting and napkin rings, how to make DIY paper Easter baskets, and paper heart bracelets for Valentine's Day, and this Ice cream cone front door wreath.