Here's a classic summer color palette inspired by a classic frozen treat: Bomb Pops. Summer reminds me of being a kid in the 80's eating Bomb Pops quickly before they melted in the Indiana heat.
And this modern Bomb Pop is actually Chicago pothole art by one of my favorite creatives, Jim Bachor. Yep, I said pothole art.
Jim is inspired by our city's plethora of potholes, and so he fills them up semi-legally with his whimsical mosaic art. The Bomb Pop was part of his series called Treats In The City (which is now a coffee table book and poster). He installs his artwork in potholes all over the city of Chicago (see map) and the kids and I had a ball combing our neighborhood to find Jim's pothole treats.
Each month I share an original color palette using Astrobrights Papers who I'd like to thank for sponsoring these posts. All color palettes and opinions are mine. NOTE: Jim Bachor is not affiliated with this post; I am just a big fan.
In the past I've been inspired by LEGO® bricks and yellow tulips in Schnitzelburg and unexpected rainbows and Valentine heart cookies and lush green plants in Chicago's Garfield Park Observatory and German nutcrackers and Midwestern fall leaves and sugar skulls and baseball games and vintage quilts and an ocean of violets in bloom and lemonade and wild berries and beach toys.
My June summer color palette inspiration for you is Re-Entry Red™, Orbit Orange™, Rocket Red™, Lunar Blue™ and Blast-Off Blue™ from Astrobrights Papers.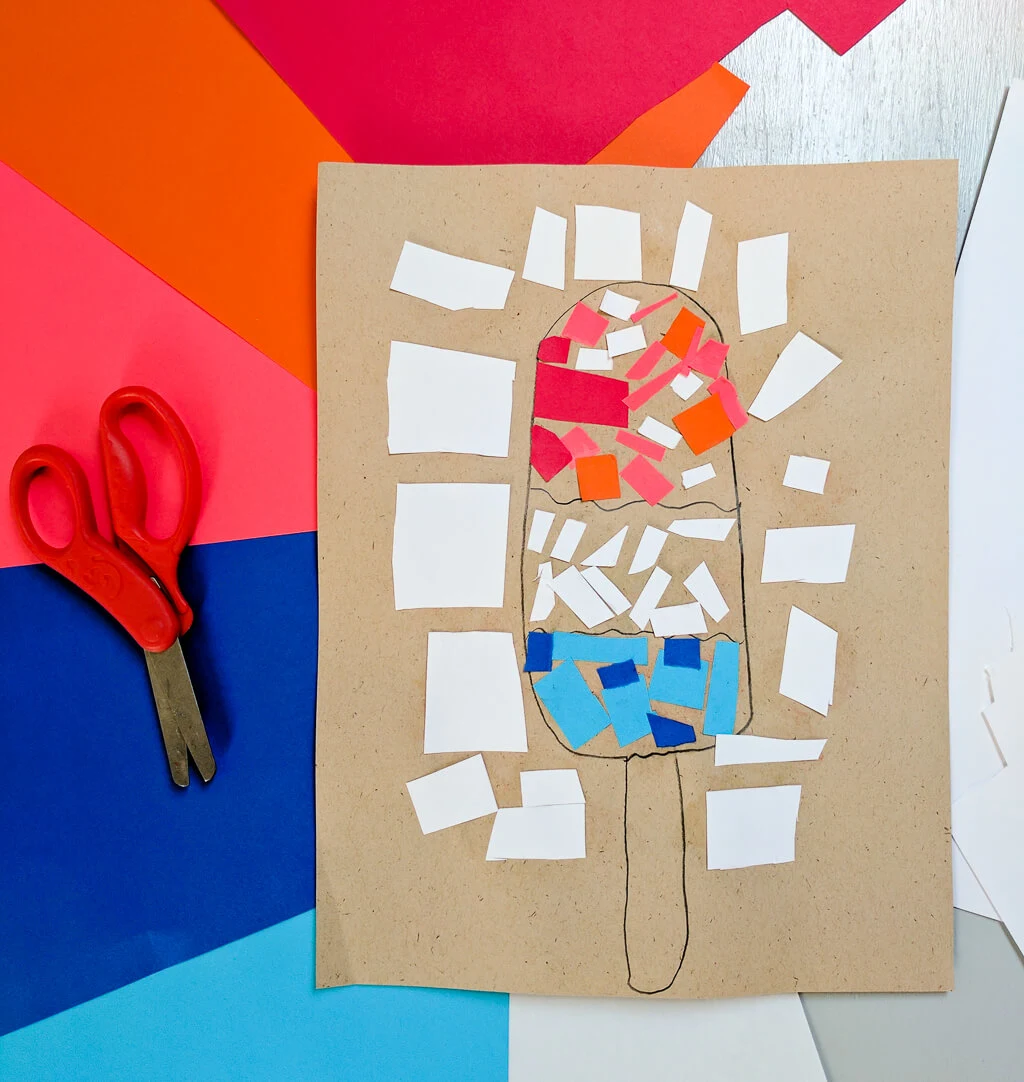 For a summer kids art activity, the kids and I made our own paper Bomb Pops art just like Mrs. Riley's art class in Rhode Island. What a super fun kids summer activity idea that we got from Jim Bachor and Mrs. Riley's art class – thanks Mrs. Riley!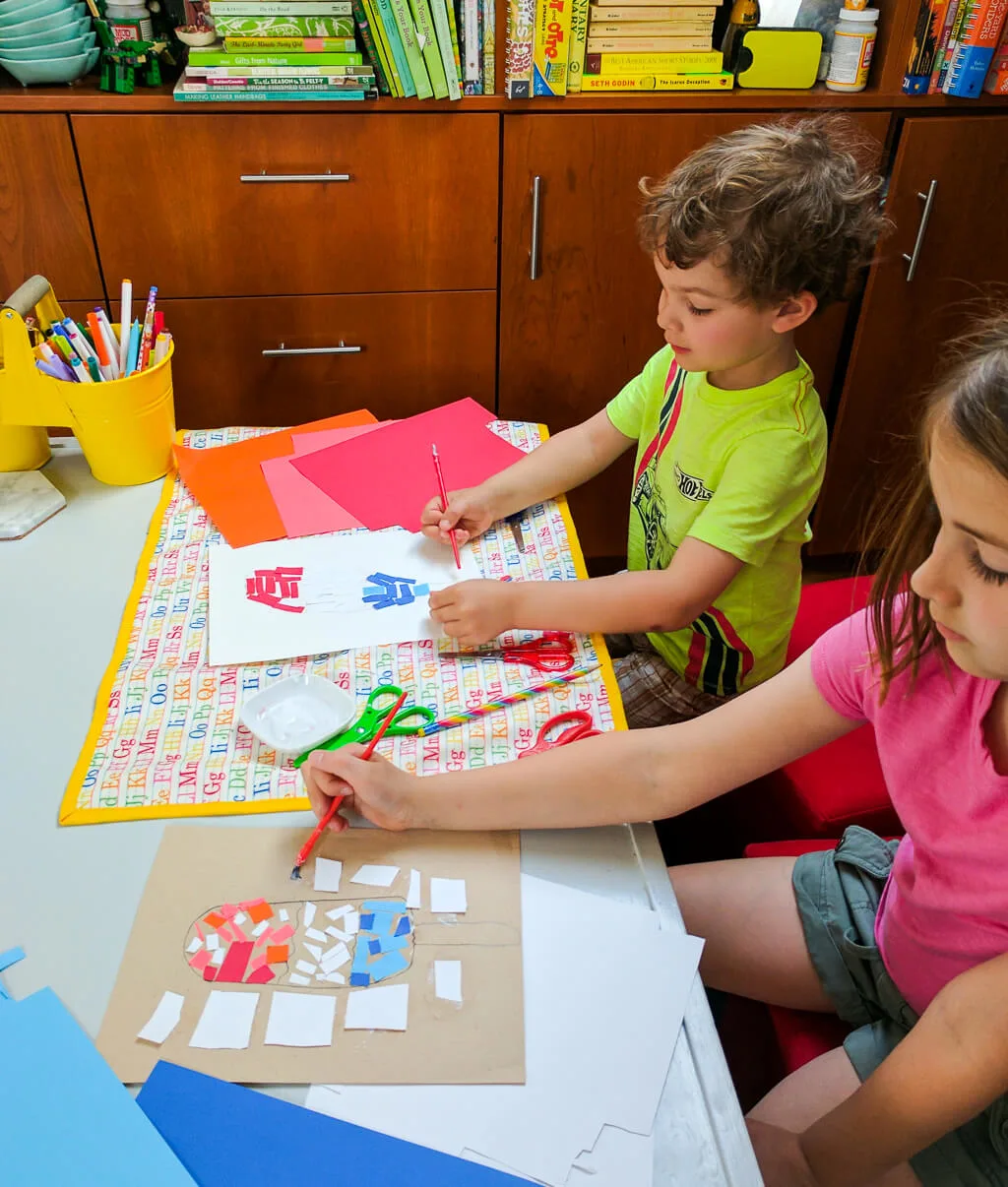 Making colorful paper mosaic art was a good way to kick off the summer. You can choose any theme – just cut up colorful paper into rectangles and glue onto a piece of paper.
You can pick up a copy of Jim's Treats in the City book and signed photographs at his online store.
Bomb Pops inspired June's color palette with these Astrobrights Papers colors, from left to right below:
Re-Entry Red™
Orbit Orange™
Rocket Red™
Lunar Blue™
Blast-Off Blue™
I love how Jim used several shades of red/orange and blue in his color palette, and I think it modernizes the typical Americana red, white and blue staple. And these are just five of Astrobrights Papers 25 colors (affiliate link)…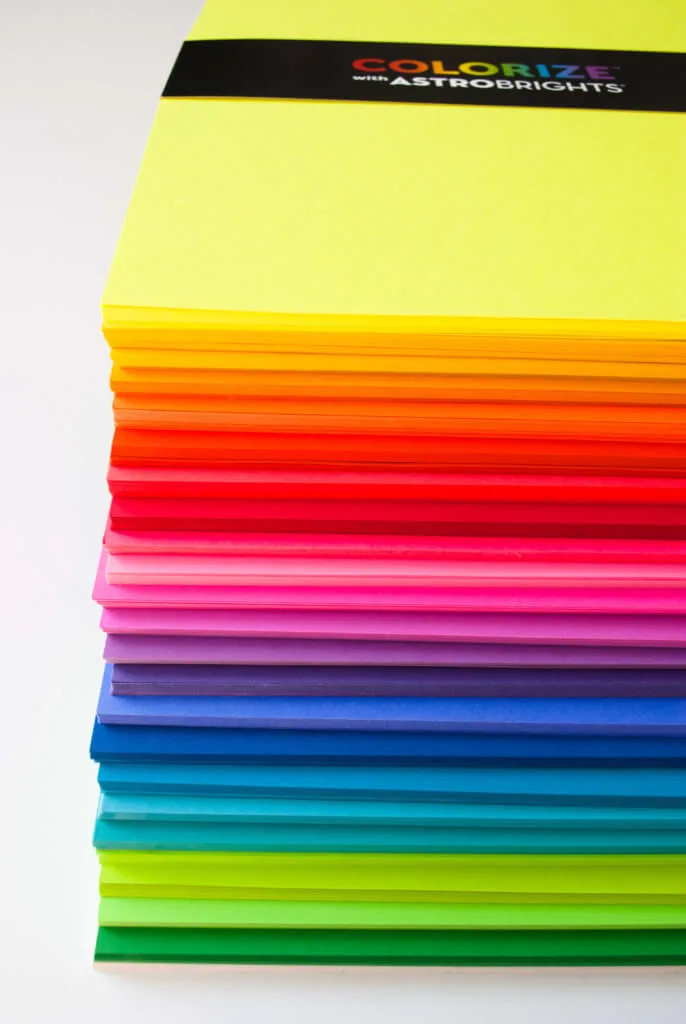 Astrobrights Papers is my favorite paper hands down. You can get your own pack of Astrobrights Papers here. Choose all 25 colors, or one of their many assortment packs, or a big pack of one color (includes affiliates):
See my past color palettes to help inspire your own:
[clear-line]
So what about actually eating real Bomb Pops? Flashforward to 2017 and sugar and Bomb Pops both have a major bad rap: the first four ingredients in The Original Bomb Pops are Water, Sugar, Corn Syrup and High Fructose Corn Syrup. Not great, but we can still bask in the nostalgia.
Check back next month to see the next set of color palettes for more inspiration on how to Colorize™ throughout the year.
And be sure to tell me in the comments below: What is your favorite summertime treat? ???
=====
Thanks to Astrobrights Papers for sponsoring this post and sending me their beautiful colorful paper. I only share brands that I really love and use myself like on these paper Father's Day tie bunting and napkin rings, how to make DIY paper Easter baskets, and paper heart bracelets for Valentine's Day.