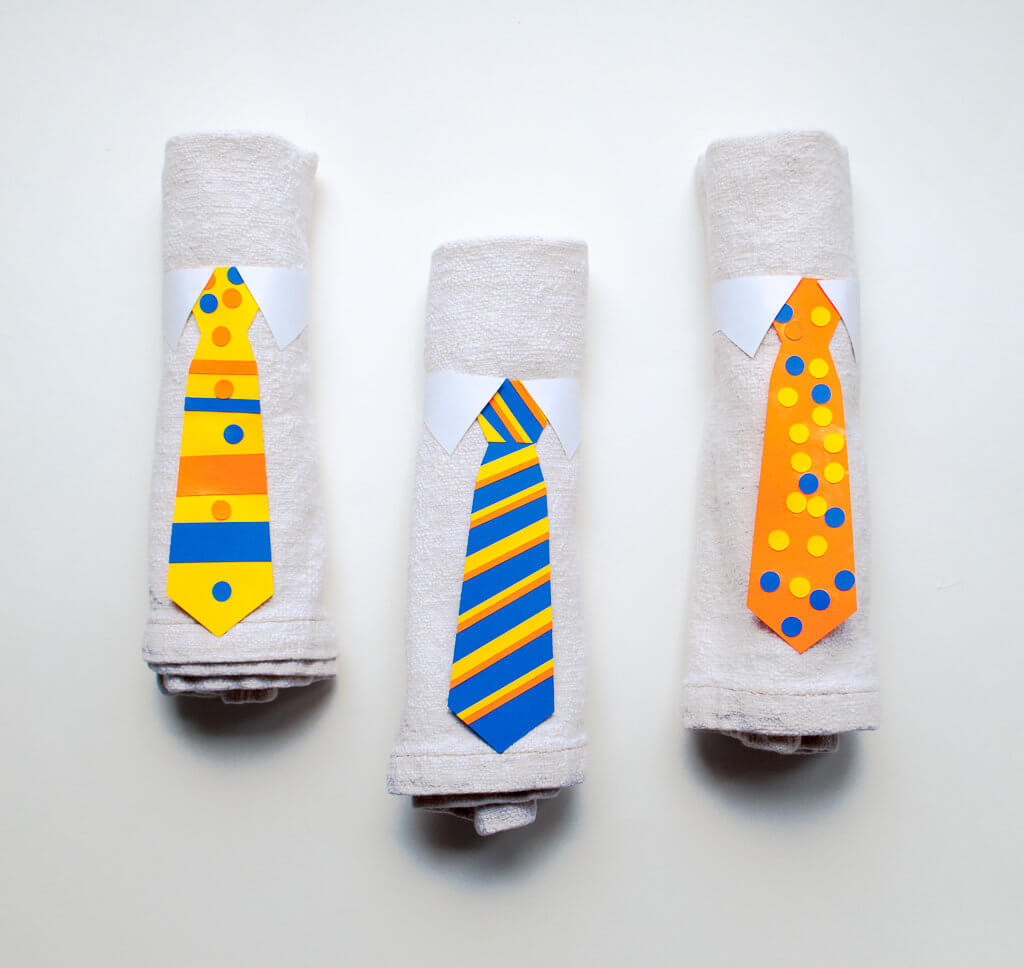 Here's an easy idea for DIY Father's Day decorations: Colorful paper tie napkin rings, tie garland bunting decorations, and a tie card. It's a kid-friendly activity and a festive way to Colorize your Father's Day brunch.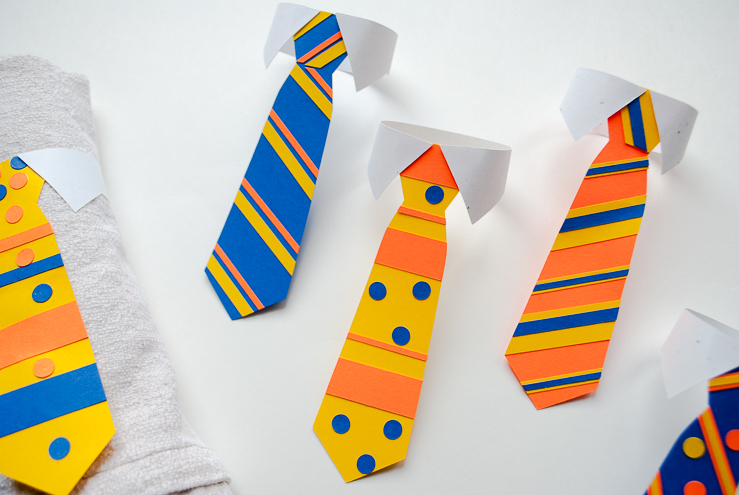 The kids think Father's Day is kind of like a birthday and so they wanted to decorate for "Daddy Day." We each made some ties and I love how they're all colorful and each have a different little personality.
We made tie napkin rings and a tie Father's Day card…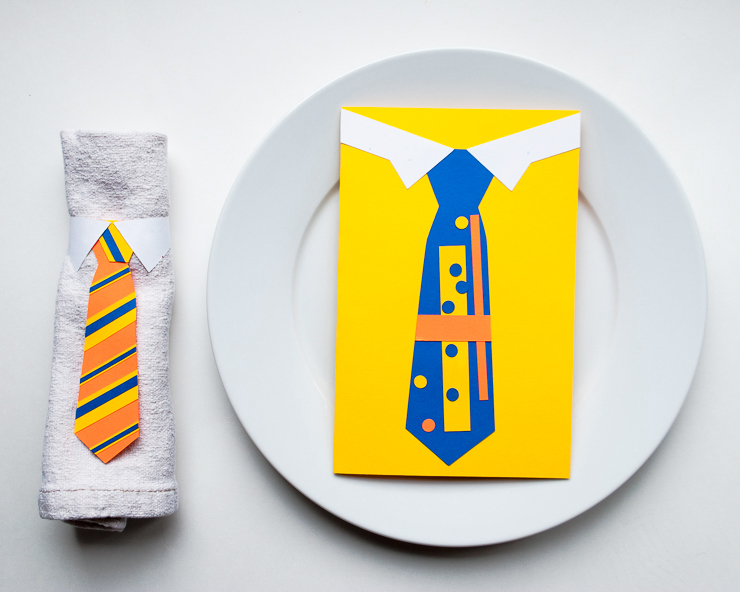 …and a tie garland above our kitchen island for breakfast.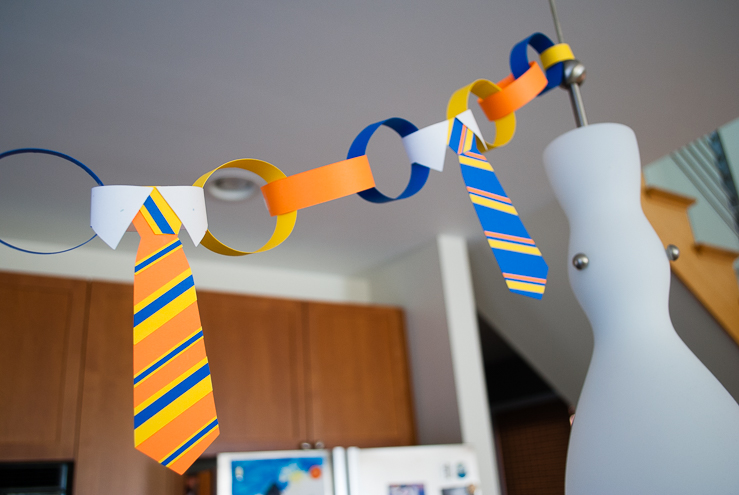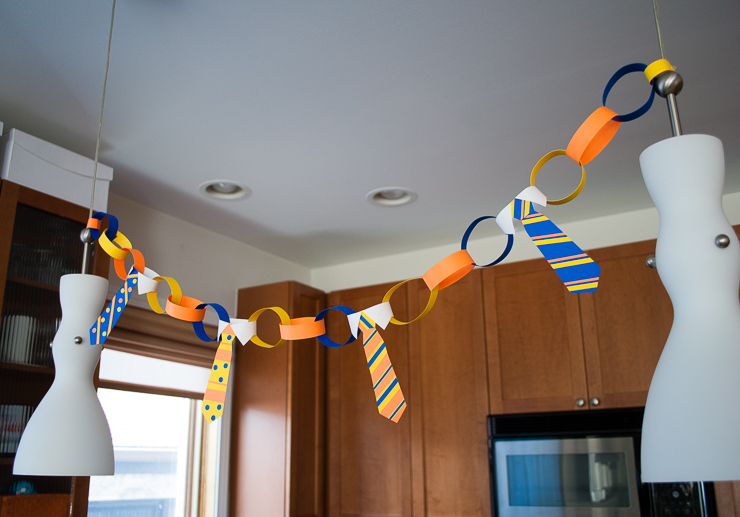 This is a super easy kid's activity. Even my three-year-old liked it.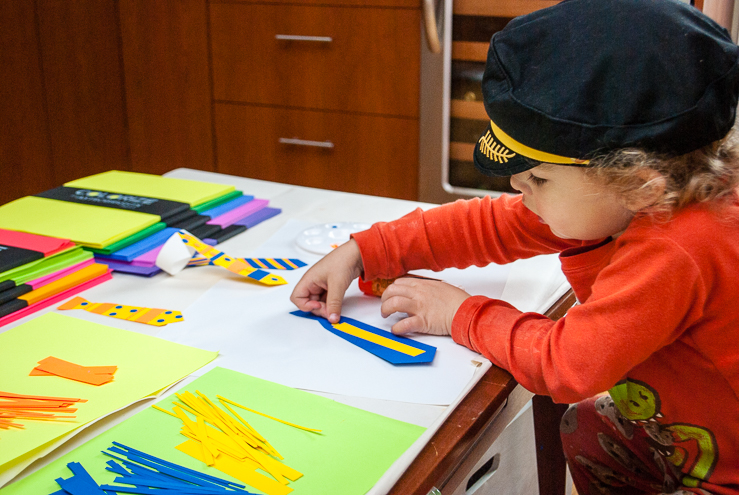 My free tie printable template has three sizes of stripes: thin, medium and thick. Layer your stripes or keep them more simple.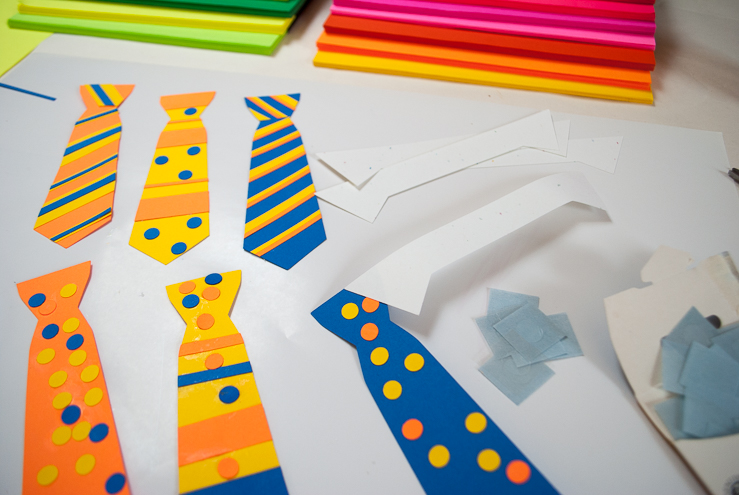 We started with this stack of beautiful colors from ASTROBRIGHTS® Papers which is a line of vibrant color paper. Don't you love the all of these colors? So bright and energetic!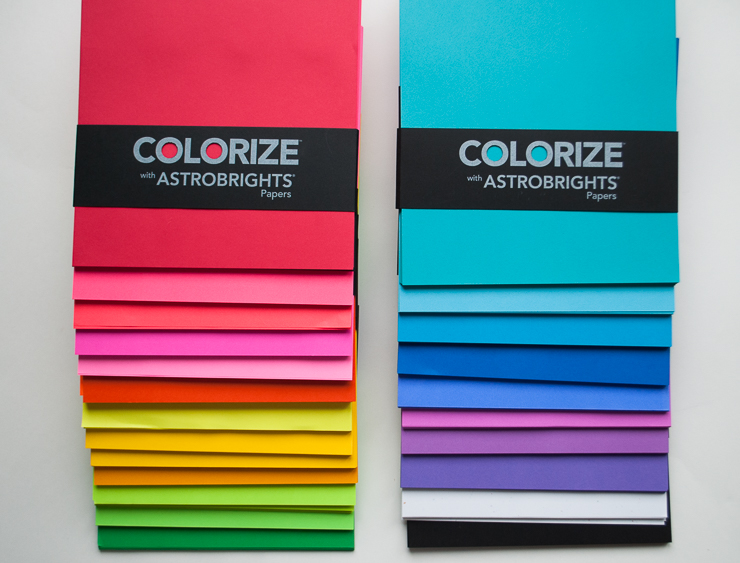 This post is sponsored by ASTROBRIGHTS® Papers. All opinions here are mine. Honestly, I would have used ASTROBRIGHTS® Papers anyway because I just love this paper so much (remember my paper Easter Baskets?). It makes me so happy to look at all of these colors.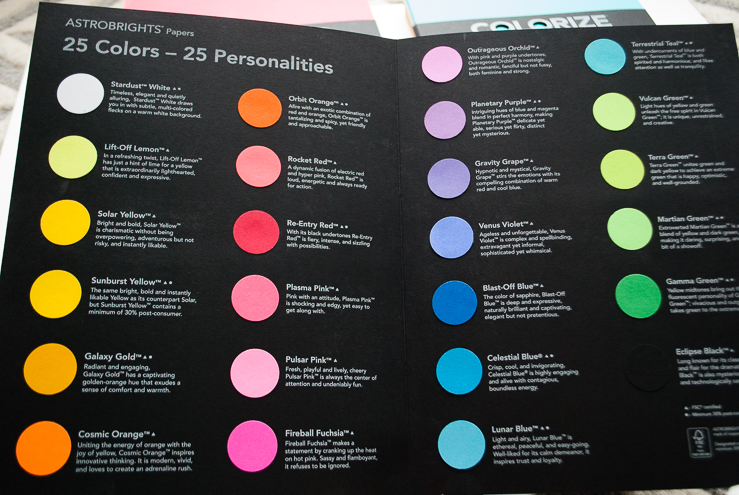 Here's where the fun comes in: pick your color combinations! I admit, this can get tricky. Color theory was not my most successful grade in college so I thought, let's dust off my 16-year-old color wheel to teach Elise a bit of color theory and give myself a refresher.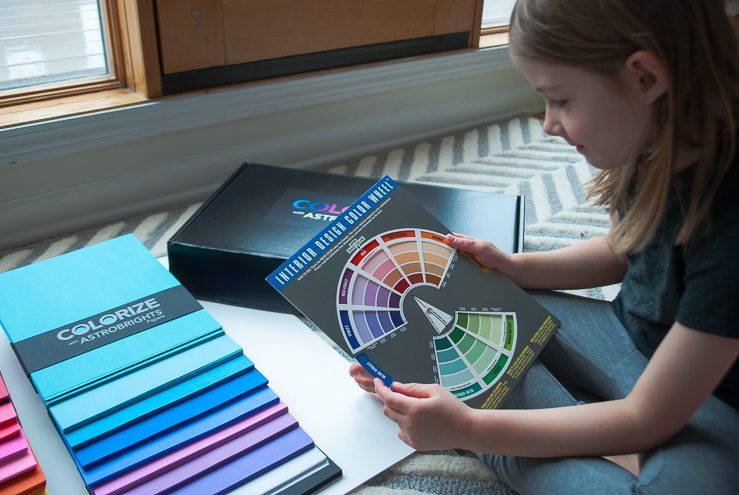 Keep reading to see how to make DIY tie decorations for Father's Day and learn a bit of color theory.
++++++
Supplies for making DIY tie napkin rings and decorations (with affiliates):
How to make DIY tie napkin rings and decorations:
Cut out my free tie templates. Older kids can cut out the tie shapes and stripes on their own; cut them out in advance for younger children to decorate. I used my Silhouette Portrait but you can just use scissors or a craft knife / metal ruler / self-healing mat and hole punch.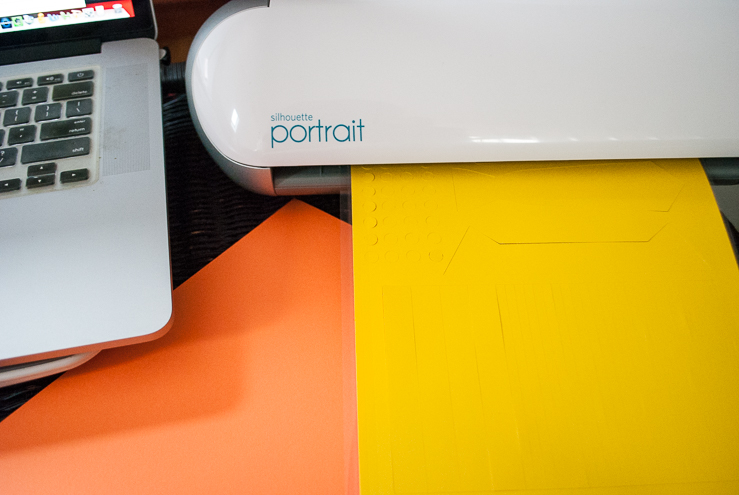 Start decorating your ties, using just a teeny bit of glue to hold it together.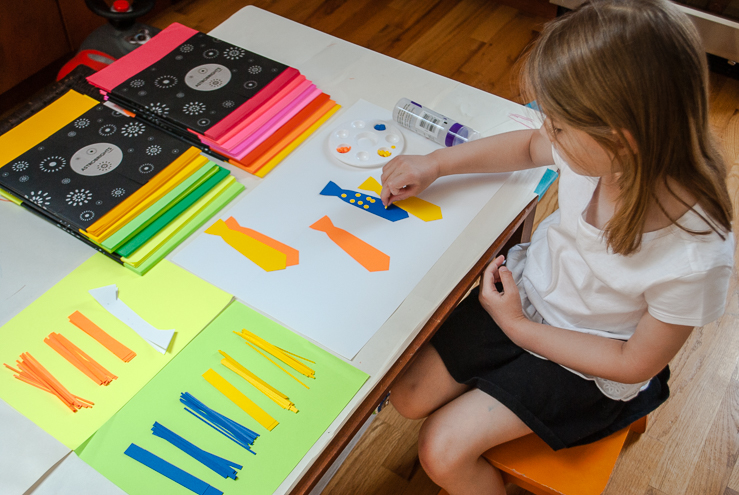 Glue the stripes on one side …you'll trim it off soon and then you can use the remaining stripes on new ties.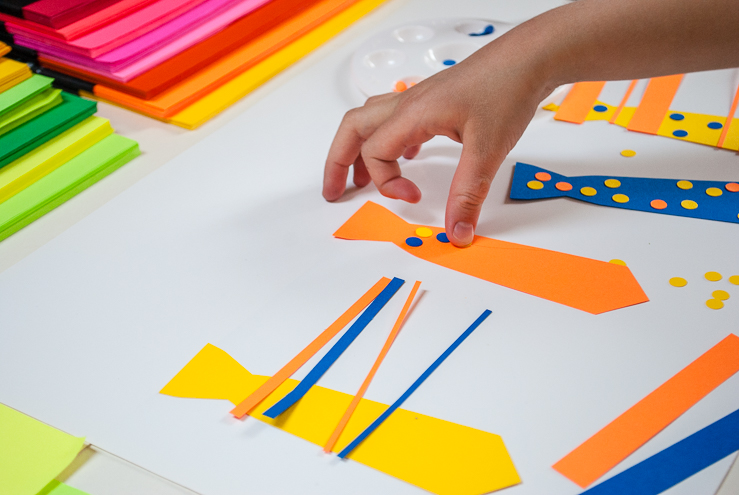 Let the ties dry, then trim off the extra stripes.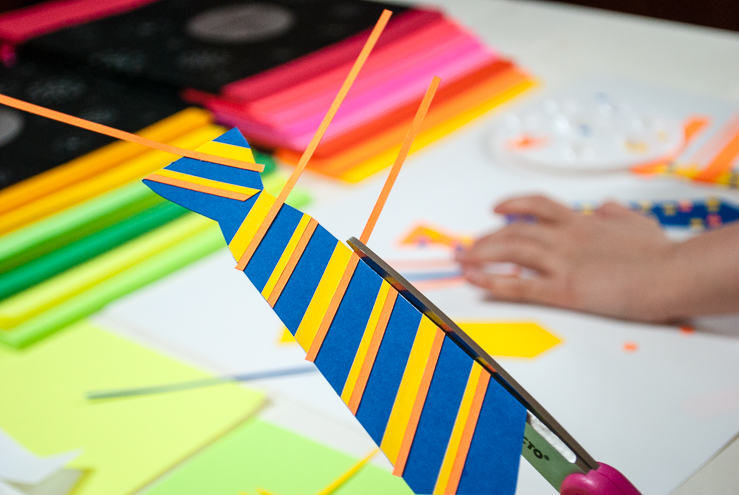 Now add the collars: Put a glue dot on the back corner on one side like so.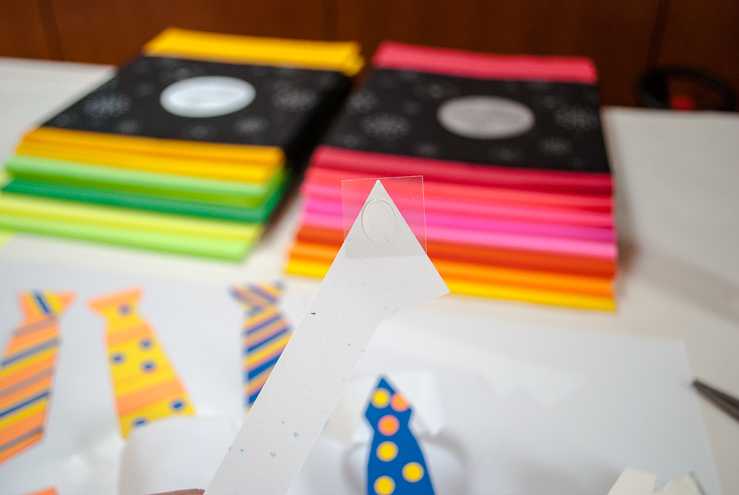 Then add a glue dot to the other side to create a ring and slip it on your napkin. Alternatively, you can wrap it around your napkin first and then connect it.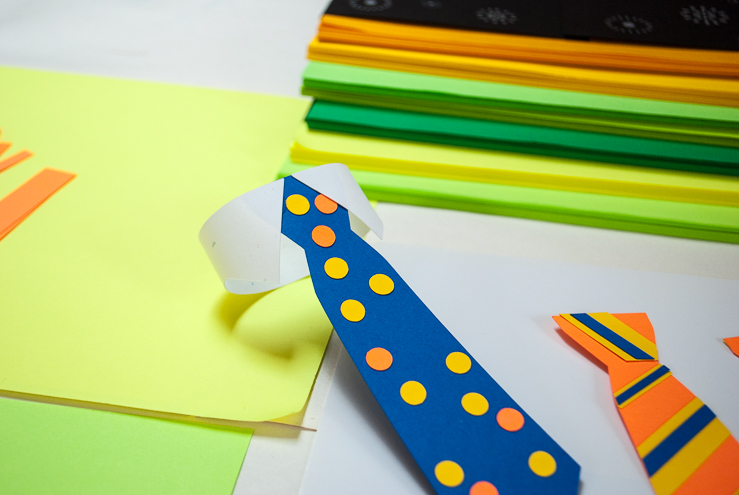 To make a card, just decorate out my large tie template, fold a sheet of paper in half, and glue to the front.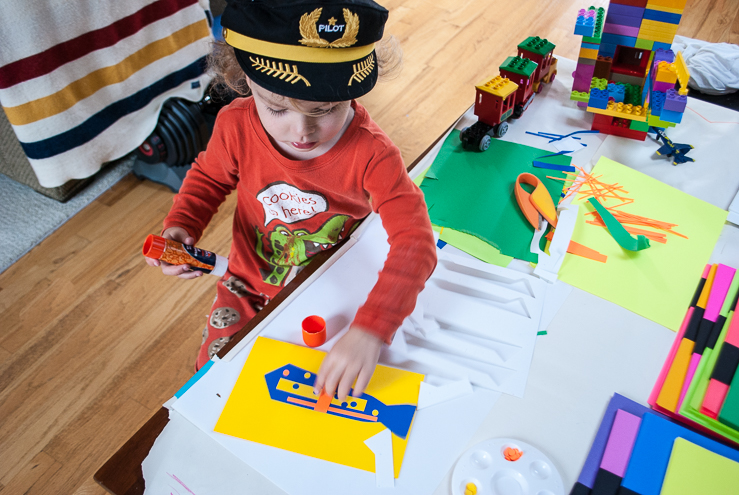 To make the tie garland bunting, just connect the ties together with a strip of paper and tape or adhesive dots…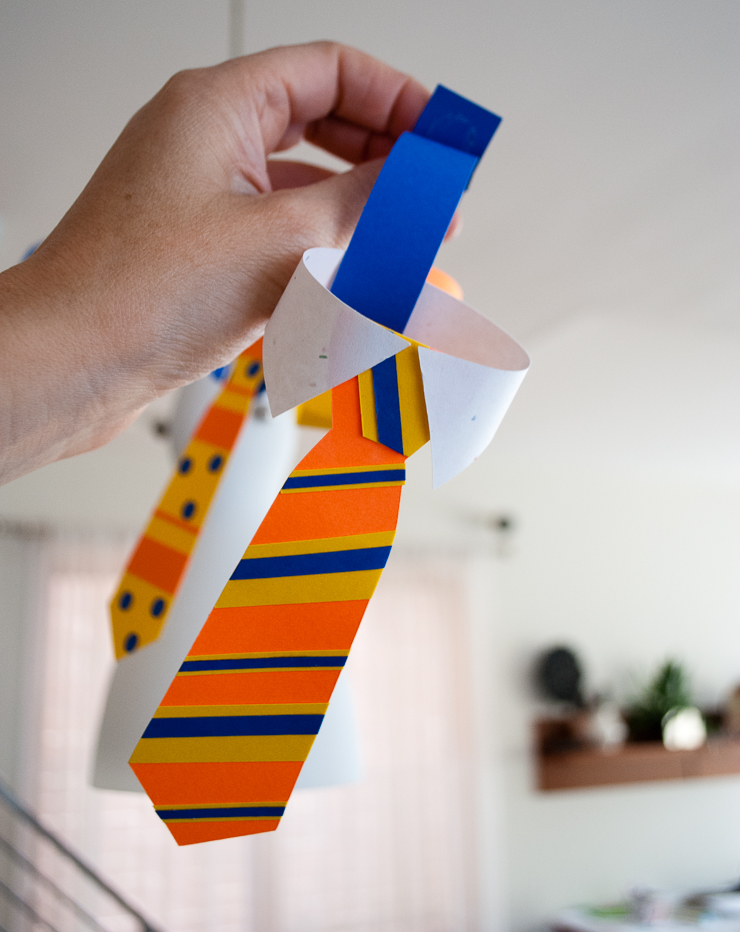 …and hang.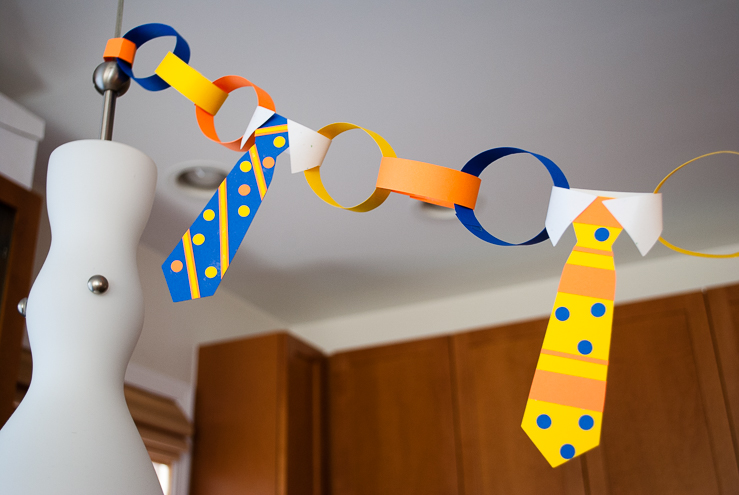 Color Theory 101
Now that you see how easy this project is, let's talk a little color theory. First, I introduced Elise to the color wheel, and then we started to create some color combinations.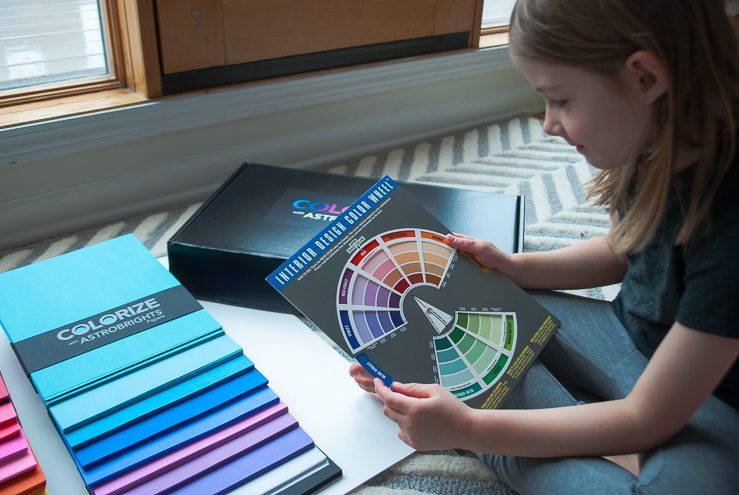 First up: Complements. Pick one main color, then the color opposite it on the color wheel. Main color here is blue, its complement is orange. Easy, yes?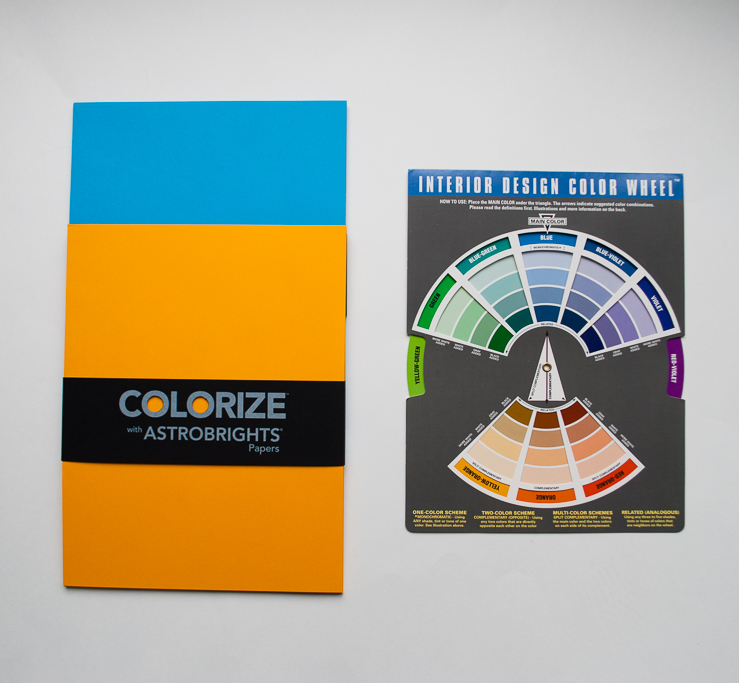 Now let's find multiple colors that go together. First up: Analogous Colors: Use three to five colors that are neighbors on the color wheel, like Yellow (ASTROBRIGHTS® Sunburst Yellow), Yellow-Orange (ASTROBRIGHTS® Galaxy Gold), Yellow-Green (ASTROBRIGHTS® Terra Green) and Green (ASTROBRIGHTS® Gamma Green). They say that analogous colors create serene and comfortable designs.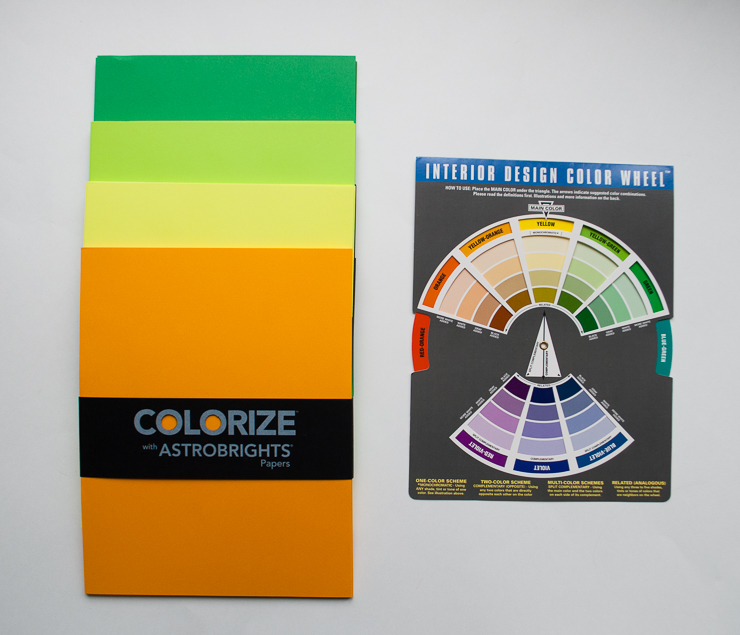 Here's another analogous color scheme: Blue-Violet (ASTROBRIGHTS® Blast-Off Blue), Blue (ASTROBRIGHTS® Celestial Blue), Blue-Green (ASTROBRIGHTS® Terrestrial Teal) and Green (ASTROBRIGHTS® Gamma Green):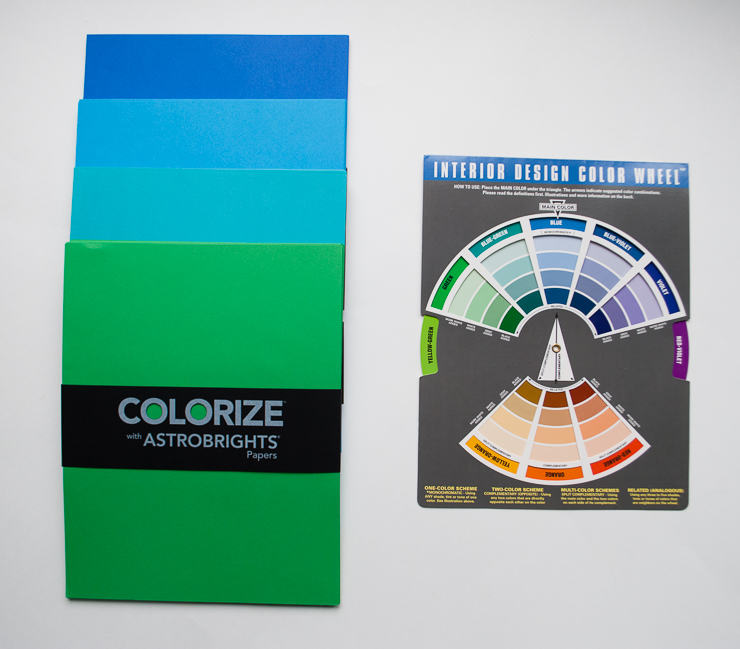 Want a bit more punch? Try Split-Complementary Colors. Pick one base color, then use the two colors on either side of the complement. This gives high contrast while keeping harmony. This is Blue-Green (ASTROBRIGHTS® Terrestrial Teal), Red (ASTROBRIGHTS® Re-Entry Red) and Orange (ASTROBRIGHTS® Orbit Orange).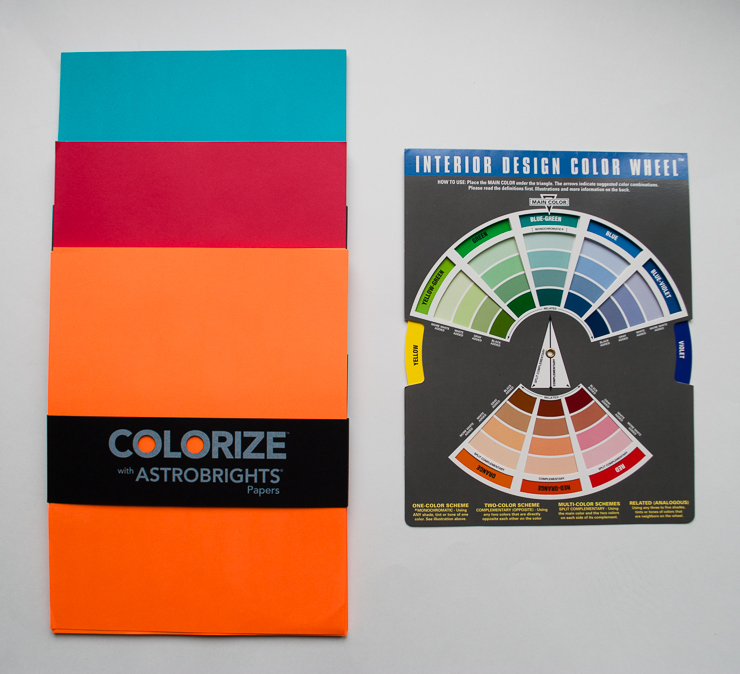 Here's another split complementary color scheme that we liked: Blue-Violet (ASTROBRIGHTS® Blast-Off Blue), Yellow (ASTROBRIGHTS® Sunburst Yellow) and Orange (ASTROBRIGHTS® Cosmic Orange).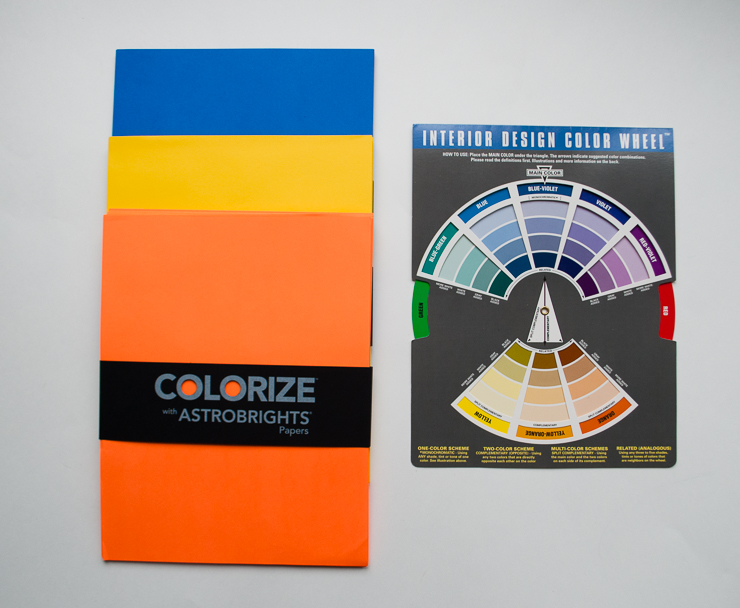 Isn't this fun? We played around with colors combos for about a half hour on a rainy Chicago day. Even Pilot Liam stopped by once he saw that we were having fun without him.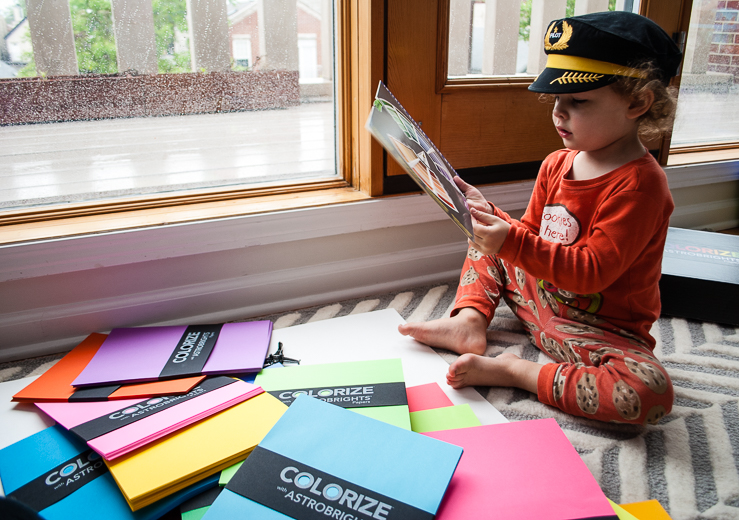 You can find more inspiration and ideas to COLORIZE your life at COLORIZE.tumblr.com and more:
Facebook.com/ASTROBRIGHTS
Pinterest.com/ASTROBRIGHTS
Instagram: @ASTROBRIGHTS
Pin the napkin rings project to make later: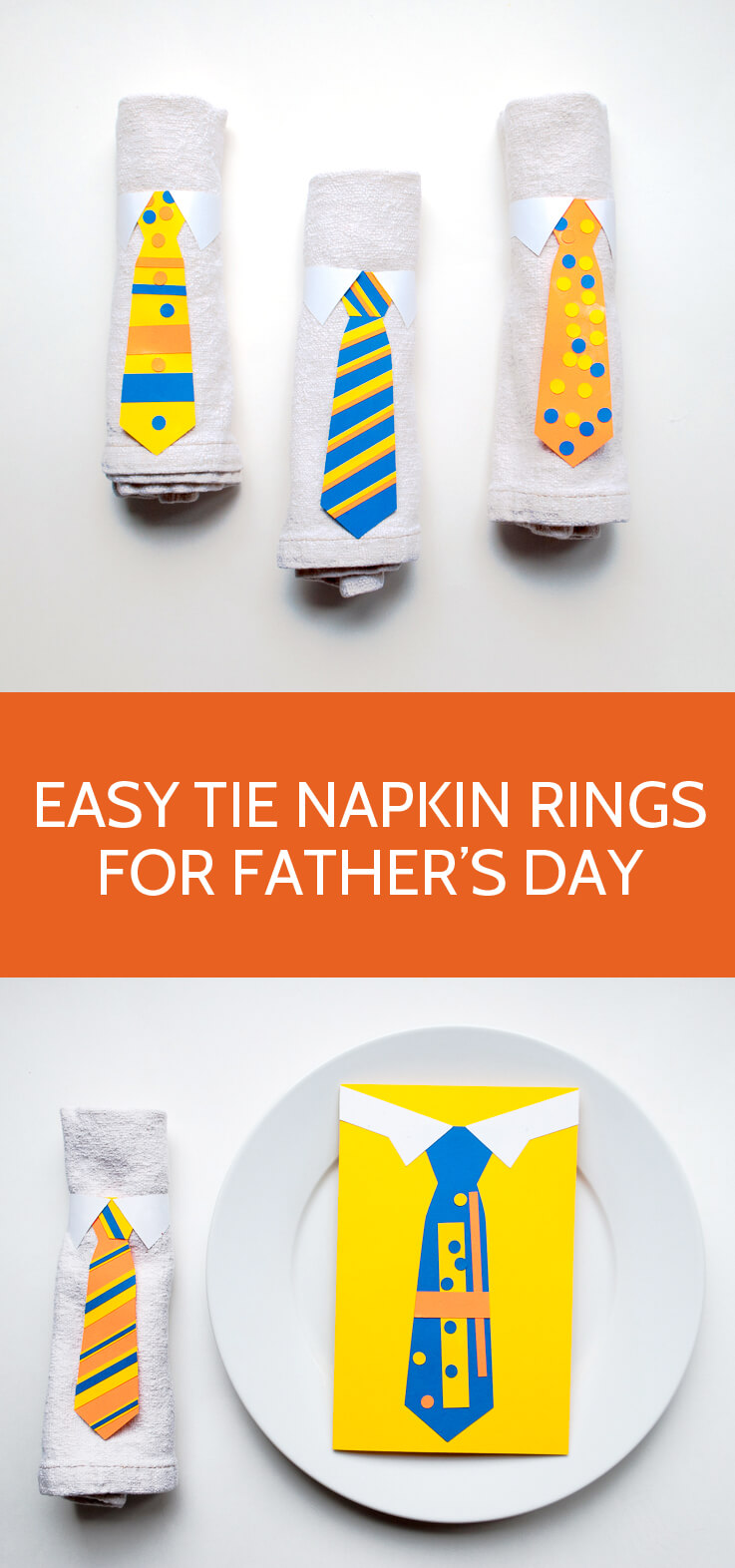 And pin the easy DIY tie garland project for later.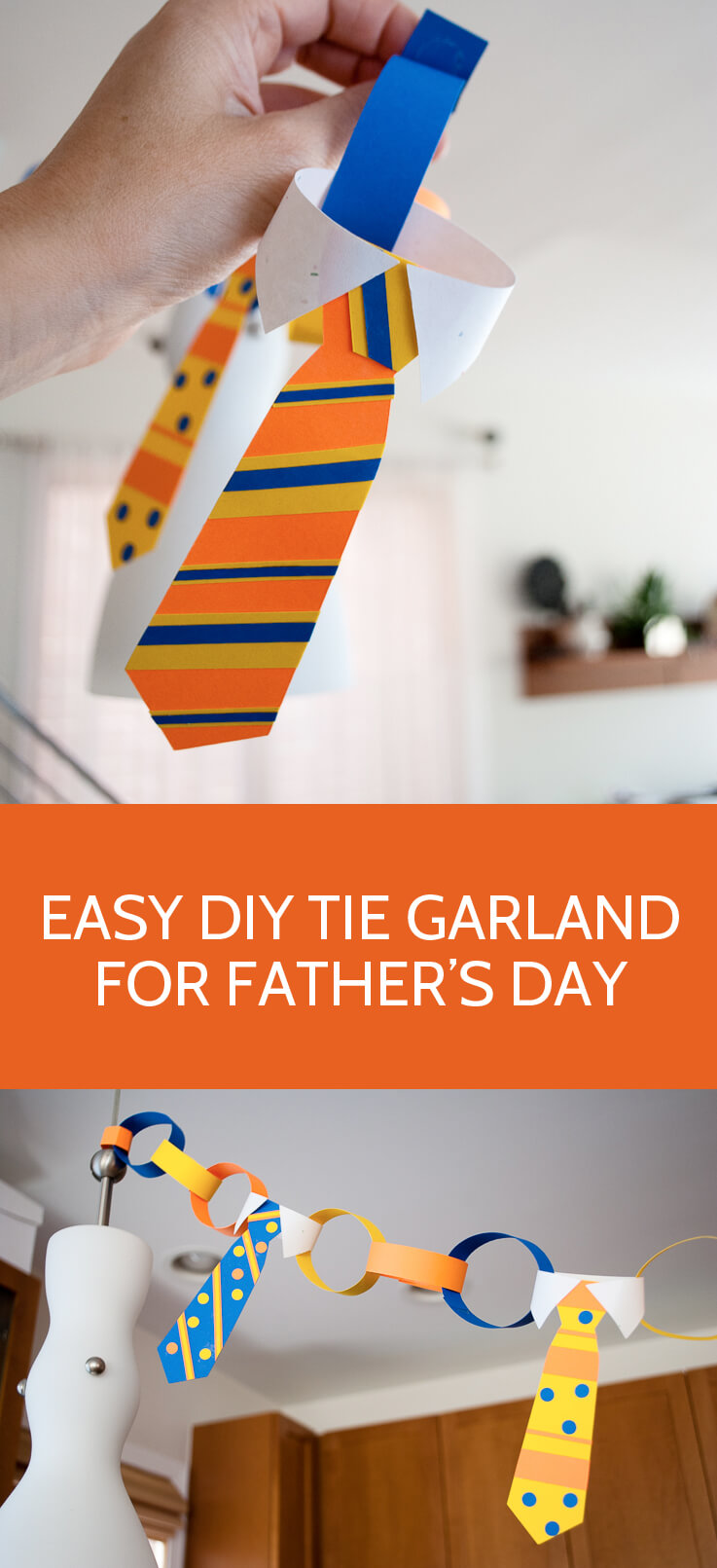 How are you going to Colorize Father's Day? Tell me in the comments below!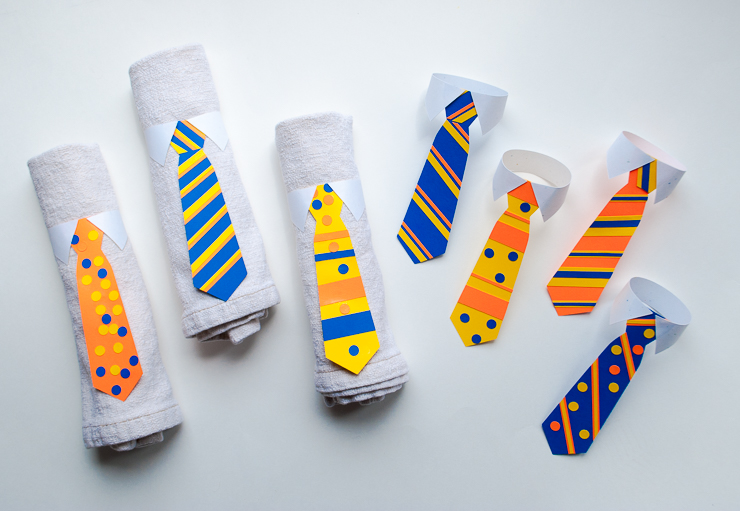 —
Like it? Share it!
The nicest way to say you like it is to pin it on pinterest, post a comment, follow Merriment Design on Facebook, twitter, pinterest, Google+, instagram or sign up for monthly emails. Enjoy! 🙂
Copyright stuff: You're more than welcome to use this free project and tutorial for personal use. Contact me for commercial use and etsy sales.
Save