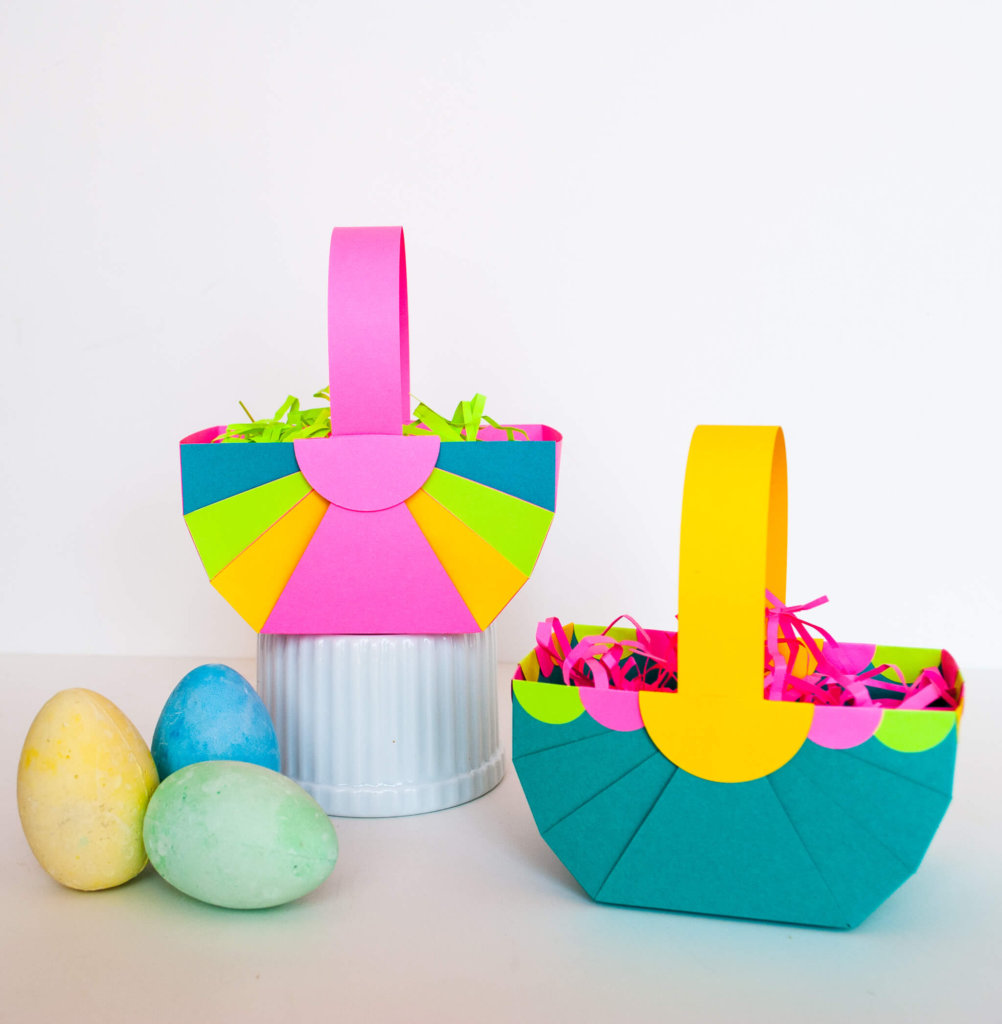 Here's an easy DIY paper Easter basket that you can make with just a few cuts and folds. Hop to it!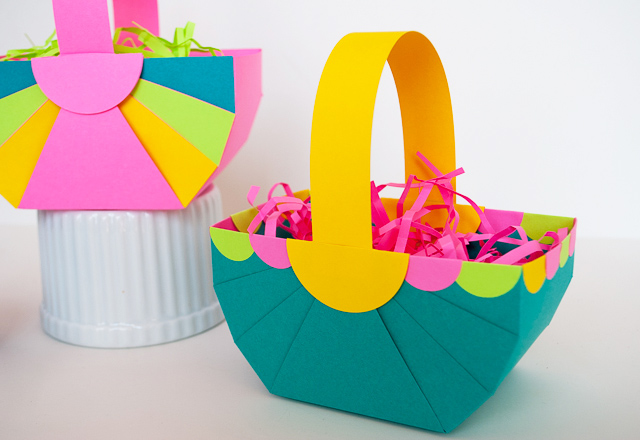 I love these paper Easter baskets. I want to make like 85 of them. You can colorize and personalize them in a zillion different ways.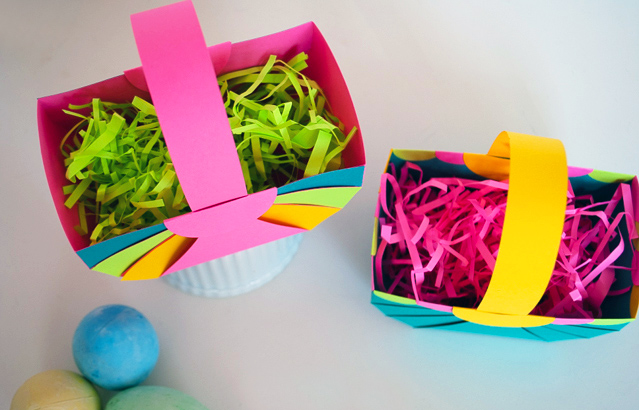 This post is sponsored by ASTROBRIGHTS® Papers as part of its #colorize campaign and all opinions are mine. ASTROBRIGHTS® Papers wants to give a Merriment Design reader a customized package of ASTROBRIGHTS® colored paper PLUS a $50 gift card to Office Depot who carries the largest selection of Astrobrights Paper of any retailer.
Aren't the colors gorgeous? Keep reading for the giveaway below.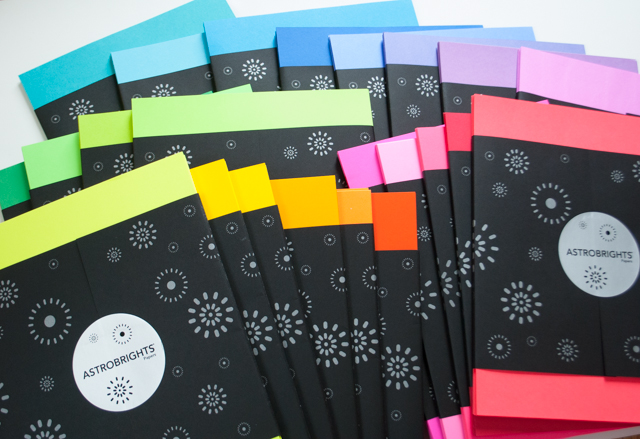 I like the idea of "The Easter Bunny" creating these super special, handmade paper Easter baskets for my kids filled with egg-shaped sidewalk chalk that I don't need to try to store in my cramped Chicago condo closets until next year 🙂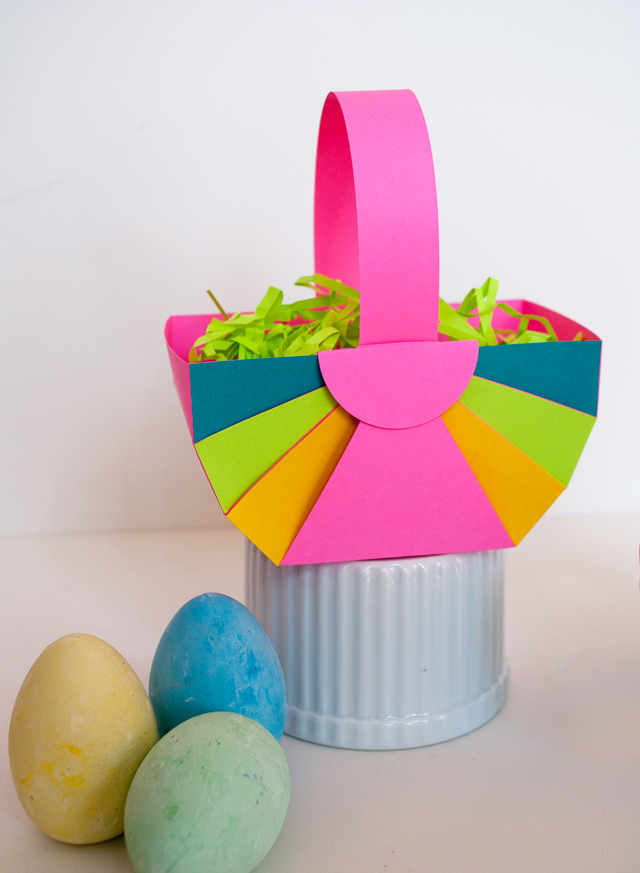 You can even use ASTROBRIGHTS® Papers to make your own DIY paper Easter grass.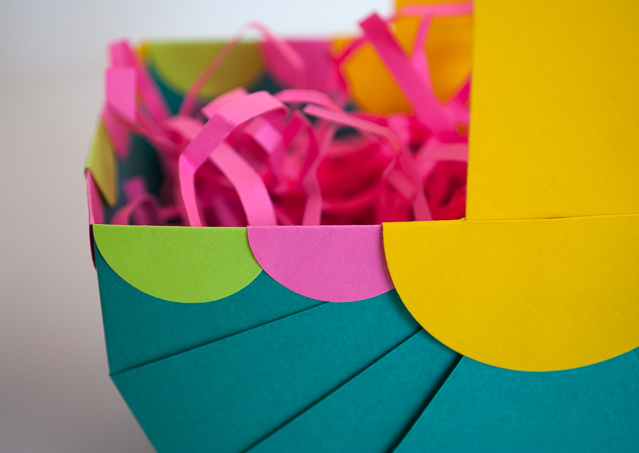 And they'd make really cute table decorations or Easter table place cards too.
I chose ASTROBRIGHTS® Terrestrial Teal, Pulsar Pink, Sunburst Yellow and Martian Green for Elise's Easter basket…
This DIY cardboard basket on pinterest was my inspiration. It's in Spanish and doesn't include measurements so I created my version with some additional clever Easter embellishments like a middle handle and fanned-out colors…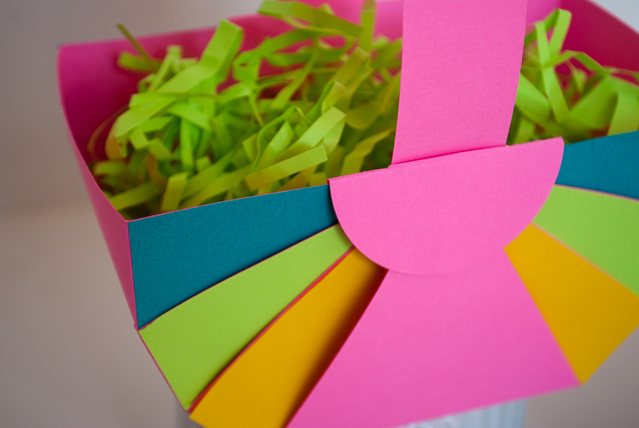 And a version with scallops around the edges…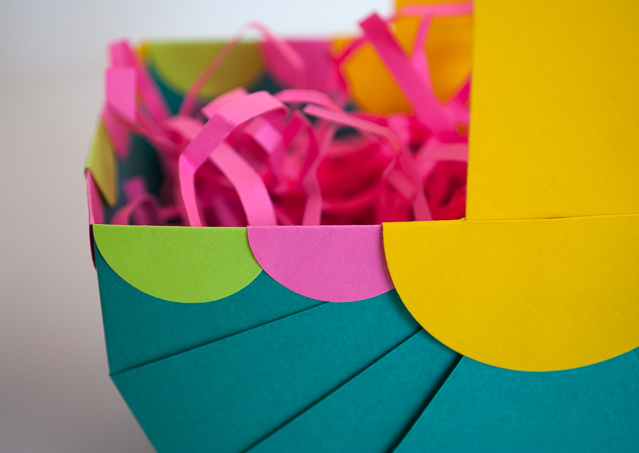 I thought of about a million things to do with ASTROBRIGHTS® Papers, so you'll be seeing many projects here this year.
Keep scrolling for the ASTROBRIGHTS® Papers and $50 Office Depot gift card Giveaway so you can #colorize your own home.
Supplies for making a DIY Paper Easter Basket:
Stapler
Glue stick
Paper shredder (optional)
—
How to make a DIY paper Easter basket:
These instructions make a paper Easter baskets that's about 5-1/2″ x 3-1/4″. You could use my tutorial to make larger baskets too, just tape some sheets together first and follow the general instructions.
First, choose your ASTROBRIGHTS® Papers card stock colors. Tough choice 🙂 Cut 1 inch off each short side – my metal ruler is 1" wide which made it easy. Set the cut strip aside to use for the basket handle later.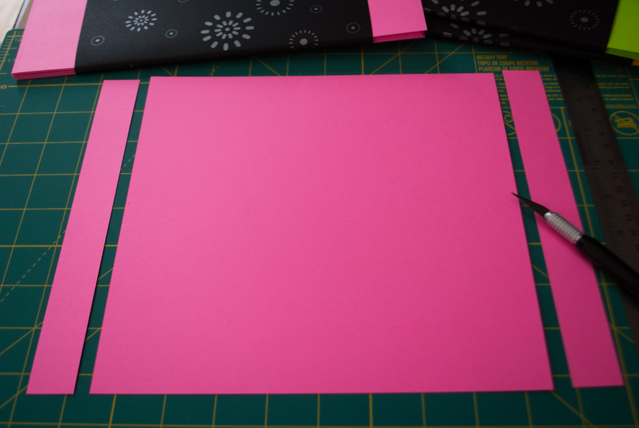 Measure 7cm from the top long edge and score it by dragging the back of your craft knife along the ruler edge – just do it lightly to score it rather than cutting through the paper.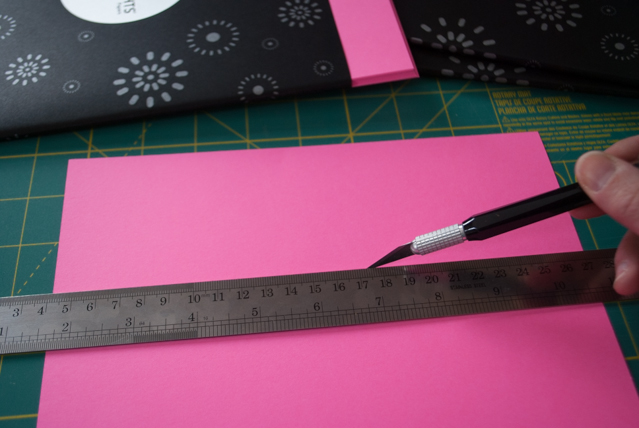 Repeat on the bottom long edge 7cm again.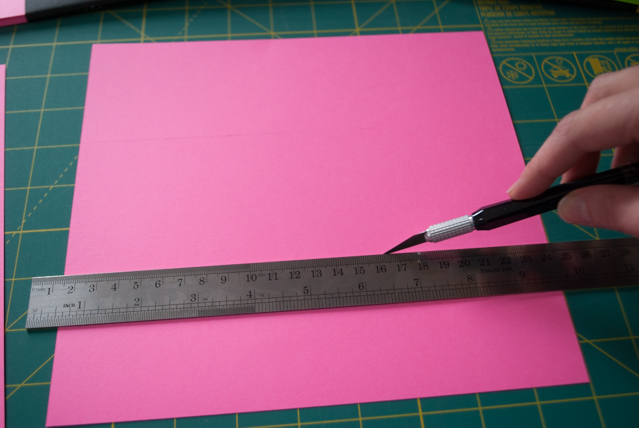 Now on the left side, cut three strips that are 1" wide each, making sure to stop at your score line, so you have three cut rectangles on the top and three on the bottom.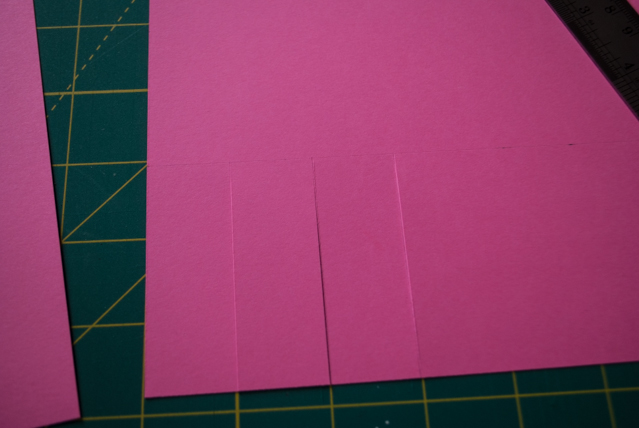 Repeat it on the right side.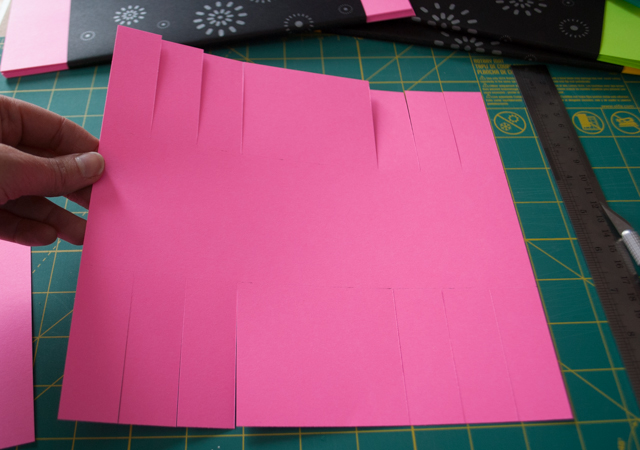 See the squares in the middle top and bottom? You're going to turn those into triangles. Cut to the middle of the center like so…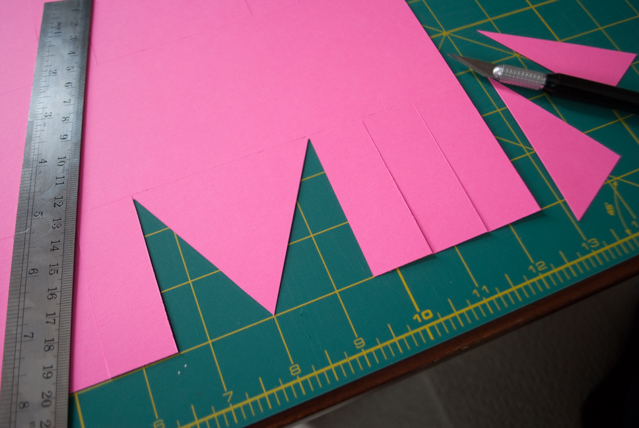 And repeat on the other square.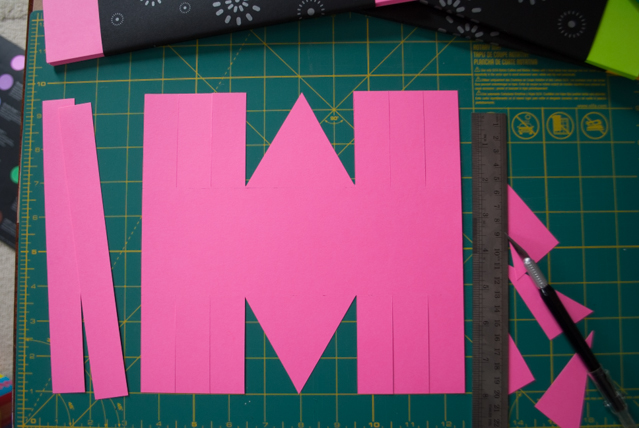 Now let's decorate! Cut 1" strips of three other colors, then trim them down to 7cm long each.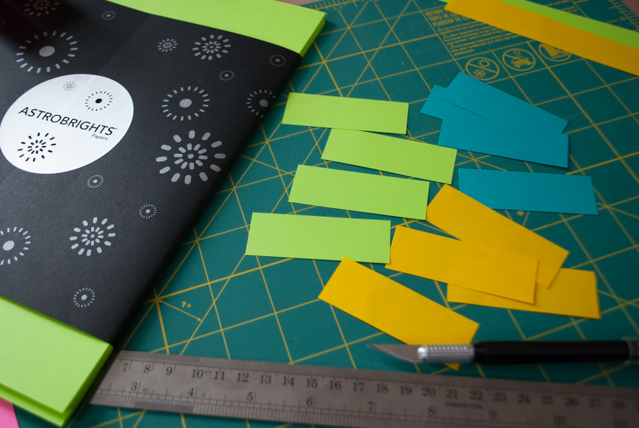 Glue them to the outside of your pink strips, lining them up evenly on the sides. Let them dry.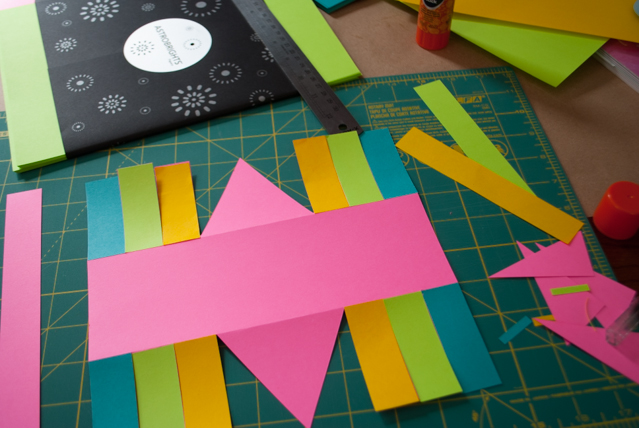 Fold along the score lines and fan the strips into the center of the triangle. The easiest way to do this is to line up the back strips first like so…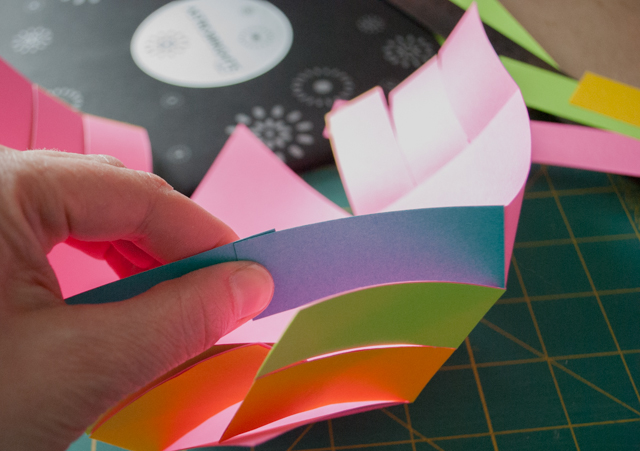 Then fiddle with the other colors until the triangles line up. Staple it together and repeat on the other side of the paper Easter basket.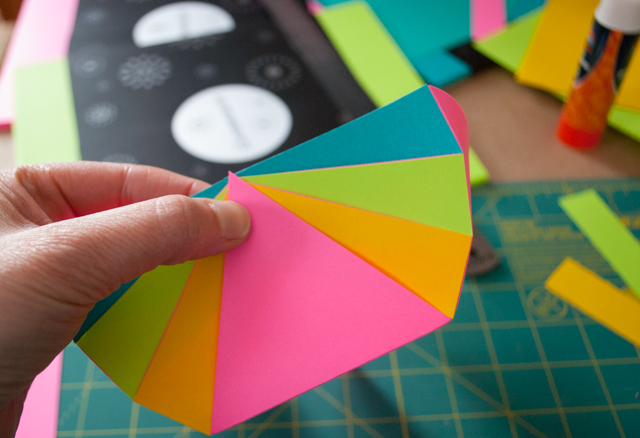 Punch a 2″ circle, or cut a scallop shape, or just free-shape it and fold in half.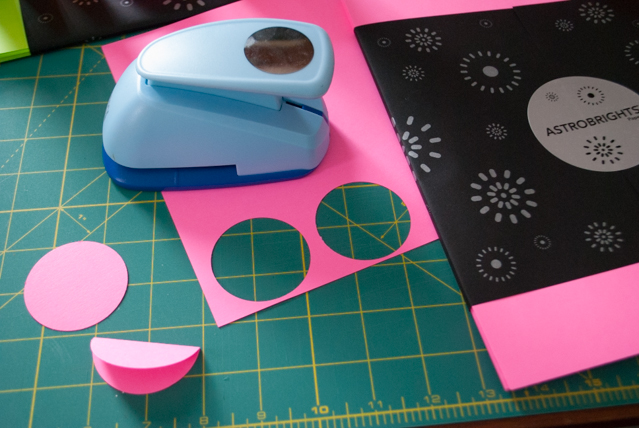 Now here's a little trick I figured out to make the Easter basket handle look cute. Cut a 1″ slit in the middle.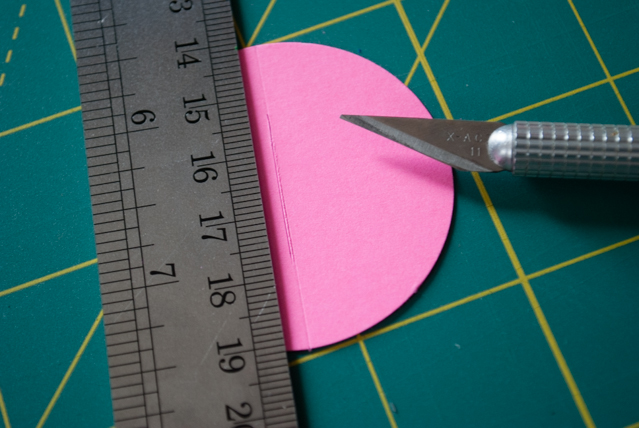 Slide the handle through the slit and glue it to the inside of the circle – I used a glue dot.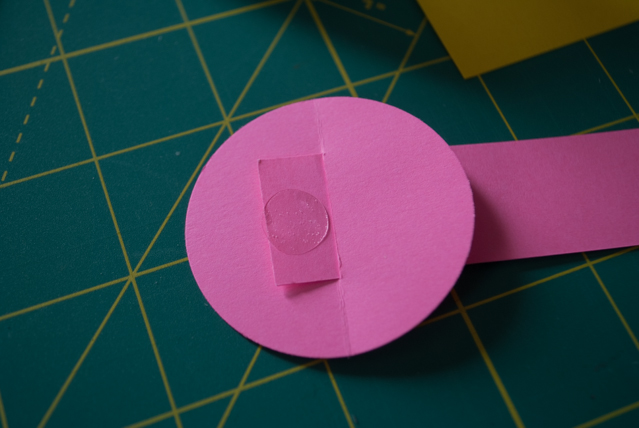 Repeat on the other side.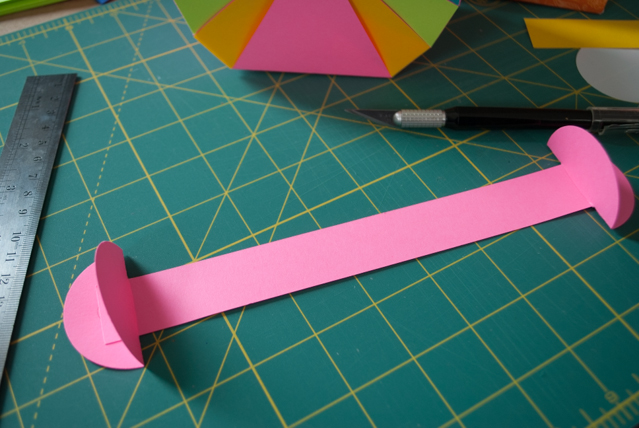 Now glue the circle on the top to hide the staple. Your Easter basket handle will be hidden inside the circle.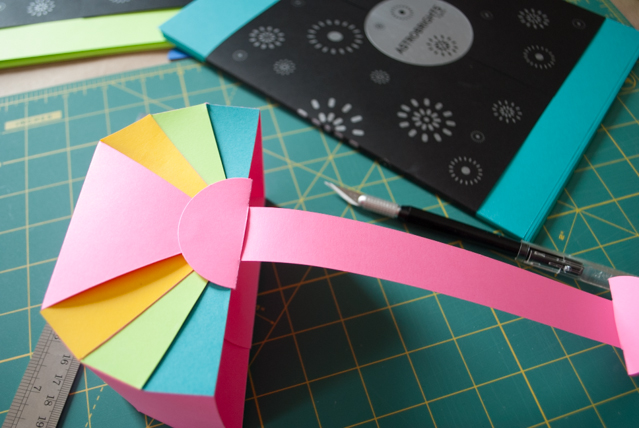 Voila! All done.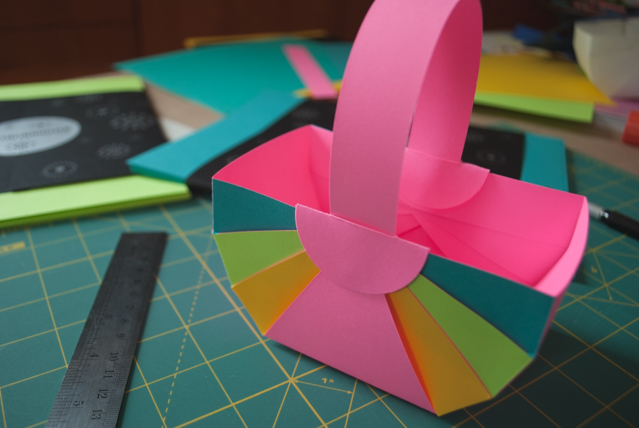 Make your own paper Easter grass by shredding the paper or using your craft knife.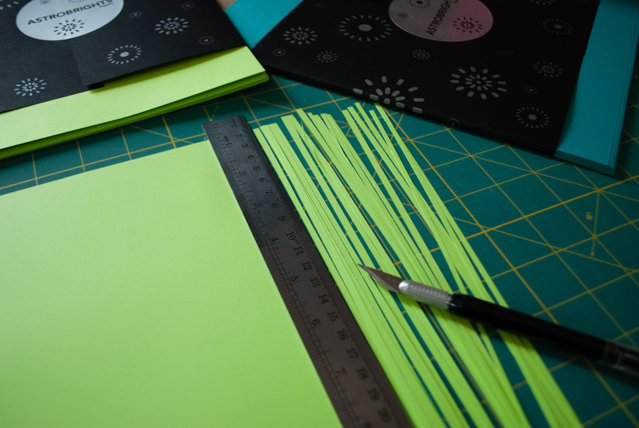 Crumple it up and put inside.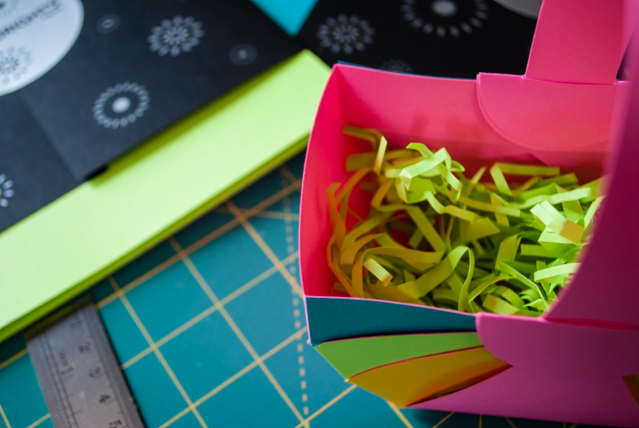 You can punch 1″ circles to make a scalloped edge around the top.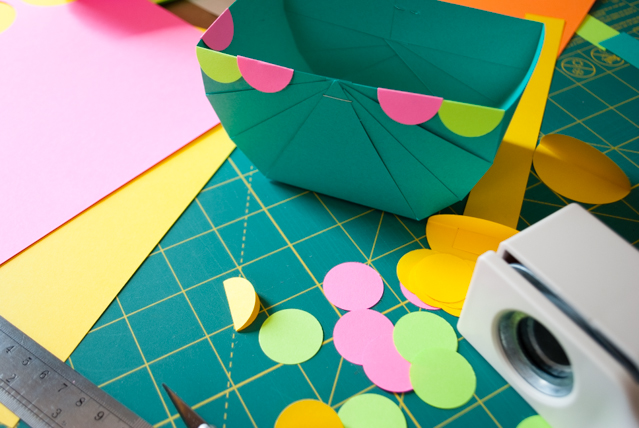 —
And now for the giveaway…
Enter here to #colorize your home this spring with ASTROBRIGHTS® Papers. And good luck!
—
Like it? Share it!
The nicest way to say you like it is to pin it on pinterest, post a comment, follow Merriment Design on Facebook, twitter, pinterest, Google+ or sign up for monthly emails. Enjoy! 🙂
Copyright stuff: You're more than welcome to use this free project and tutorial for personal use. Contact me for commercial use and etsy sales.
Save