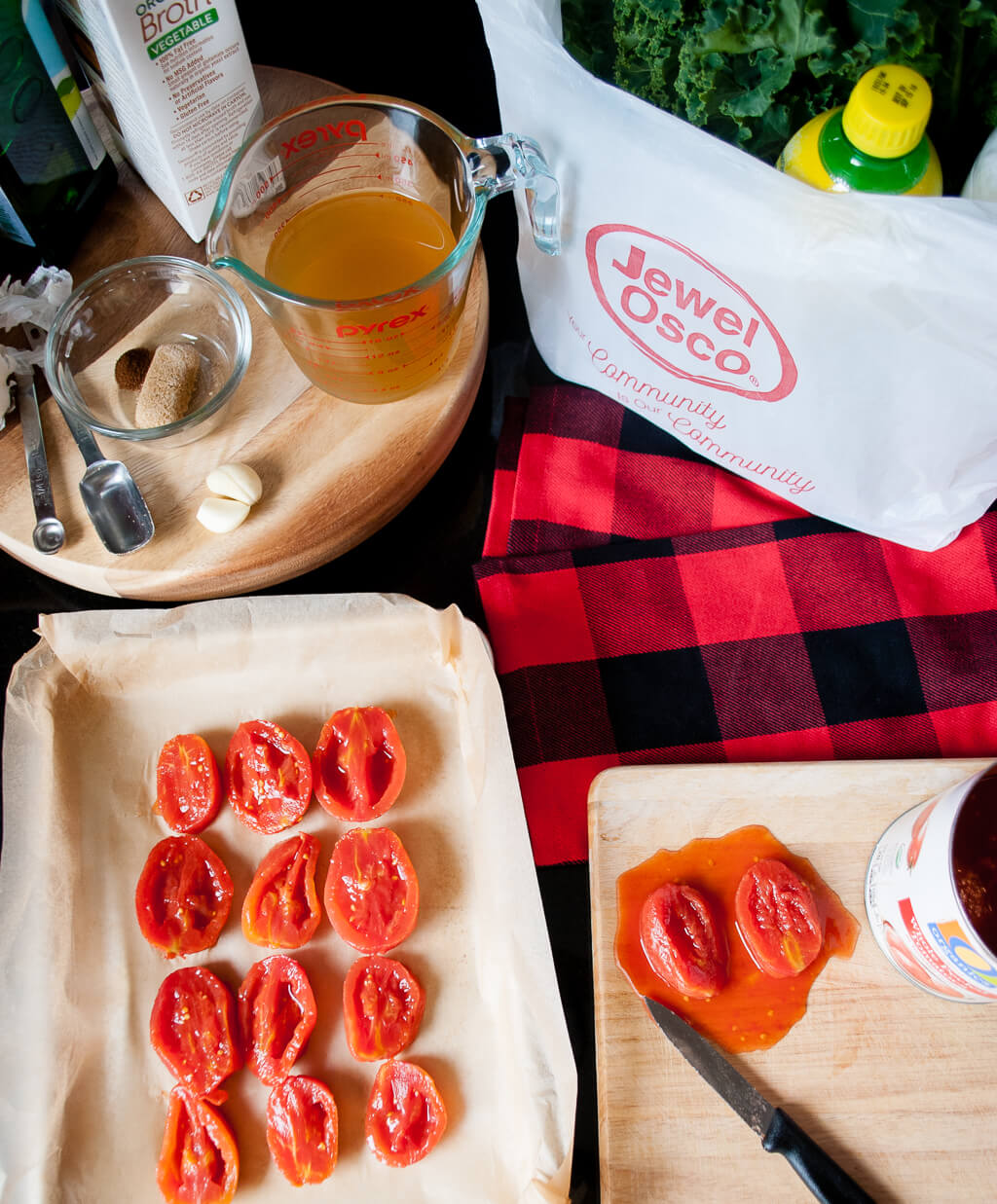 This is a sponsored conversation written by me on behalf of Jewel-Osco to celebrate its new home delivery service in Chicagoland. All opinions and text are mine. #JewelDelivers #ad
Hey Chicagoans, were you as taken by surprise as I was by last week's snow? ❄️ 😱 ❄️ The temperature dip down to wintertime levels makes me want to cook warm, comforting meals that I had when I was a kid. I'm sharing my version of my mom's classic Roasted Tomato Soup recipe below for a toasty and tasty cold-weather meal and kid's lunchbox idea that you can make all winter long. My mom made her roasted tomato soup recipe with milk and our garden's tomatoes that she canned in the summer; I buy canned tomatoes and skip the dairy and my version of her roasted tomato soup recipe is just as comforting.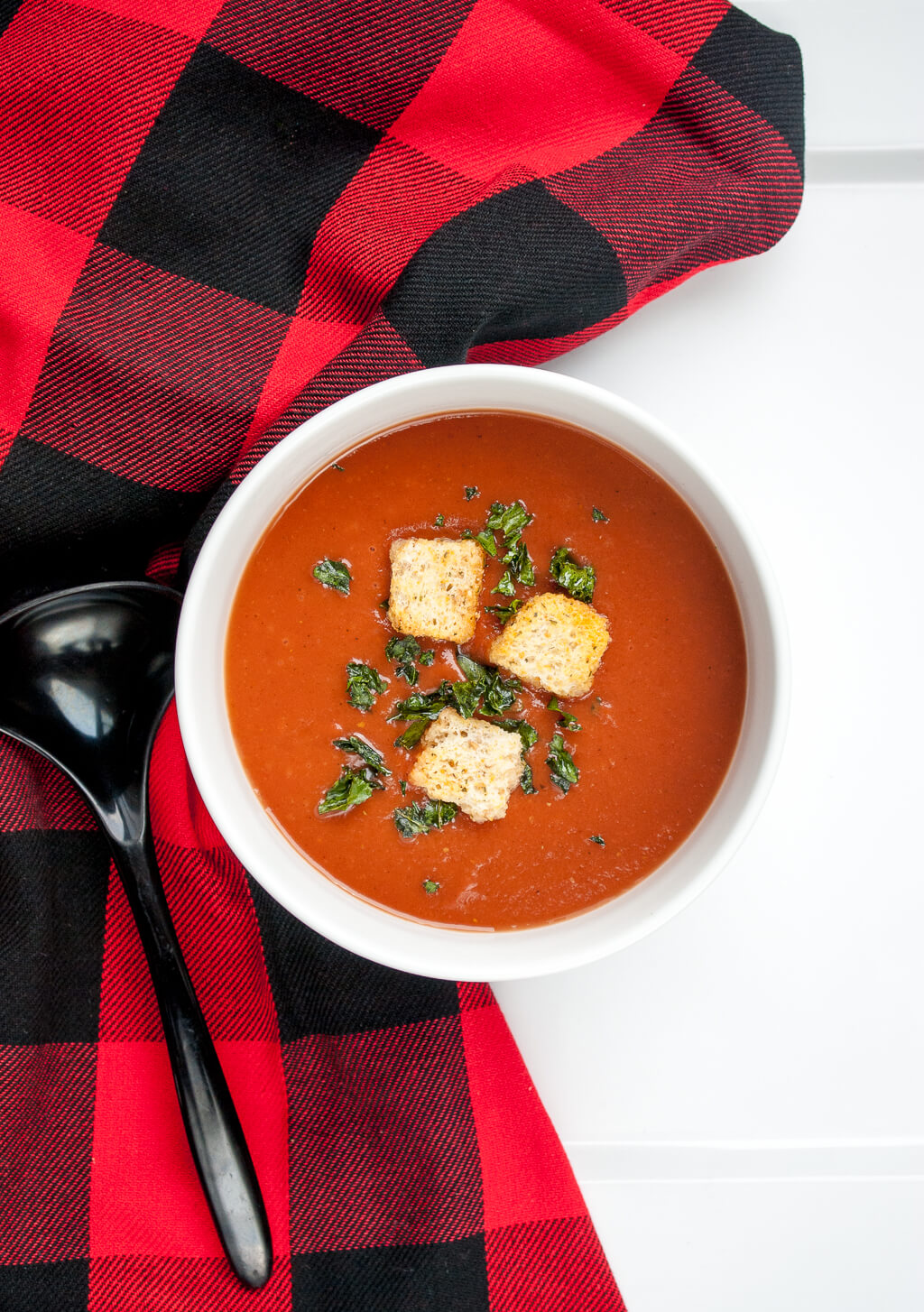 My pantry (as usual) lacked a couple key items for my tomato soup recipe, and I also needed a few fill-in groceries to get us through the rest of the week's meals. Living in the city inherently makes grocery shopping harder. Usually Elise and Liam come with me; on our way home we circle to find street parking and then carry grocery bags up three flights of stairs. It's an involved process, and cold and wet weather compounds it all.
Today I'm helping Jewel-Osco spread the word about its new Home Delivery service across Chicagoland. Jewel-Osco offers 1-hour delivery windows, Shop By History, and Same Day Delivery 7 days a week, from 7:00 am to 10:00 pm. Jewel-Osco gave me the chance to try its new Home Delivery service in Chicagoland and share my experience and opinions with you. I've tried other grocery delivery services in Chicago and wanted to see how they compare.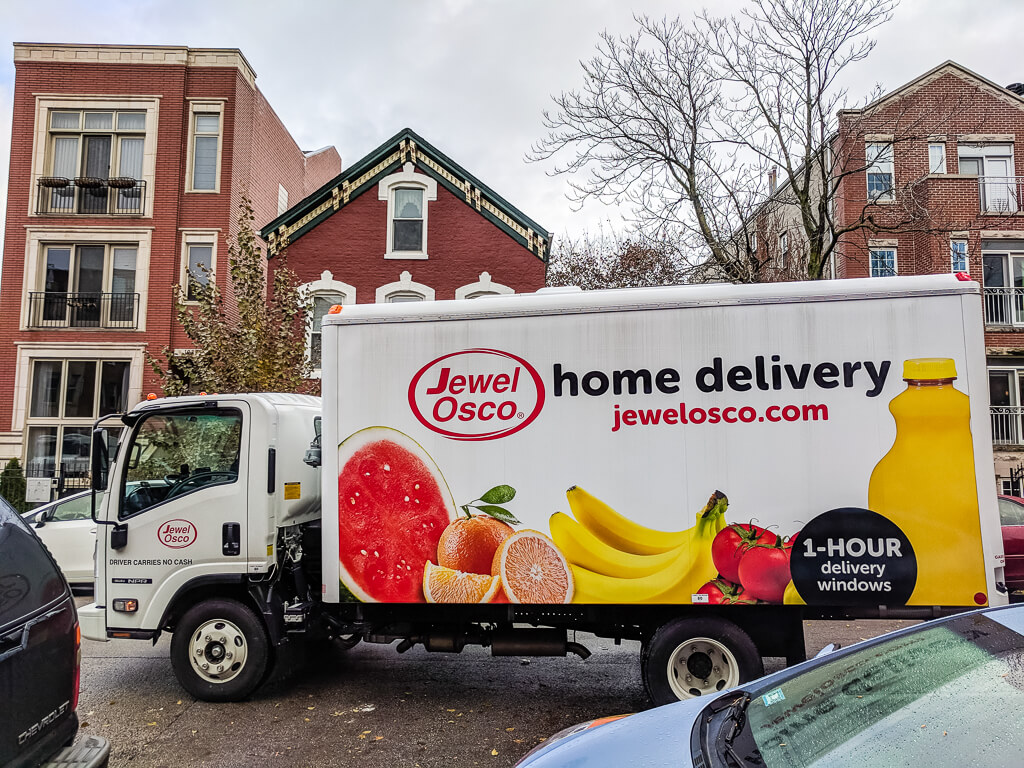 ++++++
1. Same prices as in-store
Jewel-Osco's new Home Delivery service offers the same prices as in-store and includes deals and Red Alert Prices (like my two-for-one Parmesan cheese wedges and free Swanson broth). I'd like to have larger product photos especially when ordering on my phone but overall I found what I needed pretty easily and the minimum $30 per order seemed super reasonable.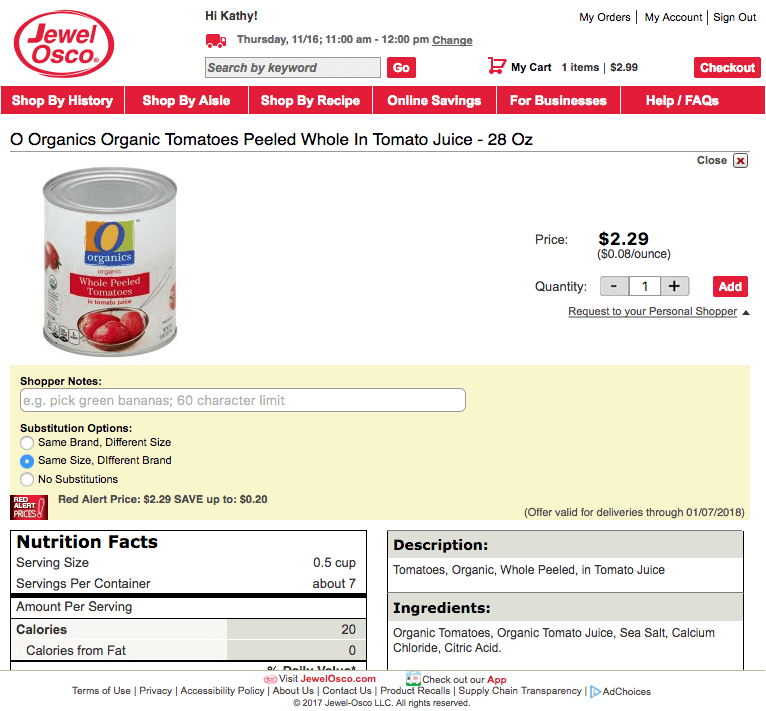 2. Free curbside pickup is also available (with no extra service fee!)
Jewel-Osco offers Drive Up & Go™ curbside pickup at select store locations. There's currently no added service fee for curbside pickup which is pretty amazing that they'll shop up and down the aisles for me for free. I definitely see myself using curbside in the future, especially on the way home from school.
3. Same Day Delivery, plus 1-hour delivery windows
Jewel-Osco gives the option for same day delivery for orders placed before 1pm or future delivery. You can choose an available 1-hour delivery window or save a little bit by selecting an available 2-hour window (like I did) or an environmentally friendly "Green" 4-hour window. Again, windows are from 7AM – 10PM. Home delivery pricing is straightforward:
1-hour delivery window: $5.95 on purchases of $150 or more, $7.95 on purchases under $150
2-hour delivery window: $2.95 on purchases of $150 or more, $4.95 on purchases under $150
4-hour delivery window: typically FREE!
4. Shop By History from your online & in-store purchases
You can find both your in-store and online purchases in one place with the Shop By History feature. It's like your own little mini-grocery store which will make future shopping trips much faster.
5. Bag fees apply in the city of Chicago
I live in the city of Chicago with its plastic bag tax and usually bring my own reusable bags to stores. For my Jewel-Osco Home Delivery order, I paid $0.42 for bags which was totally worth it on this cold and dreary day.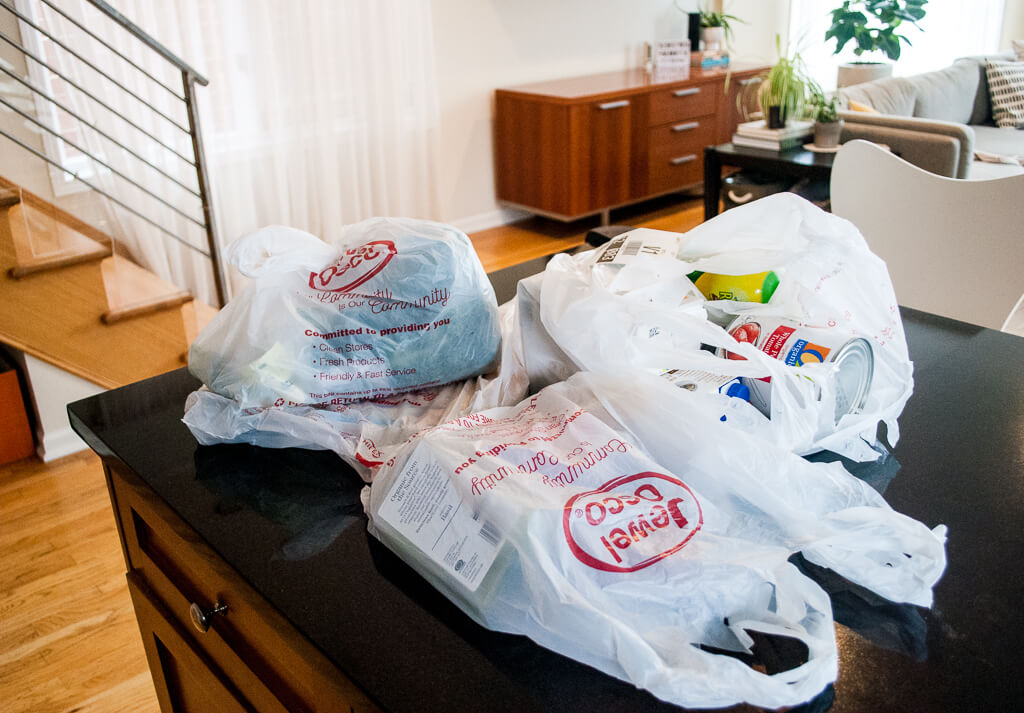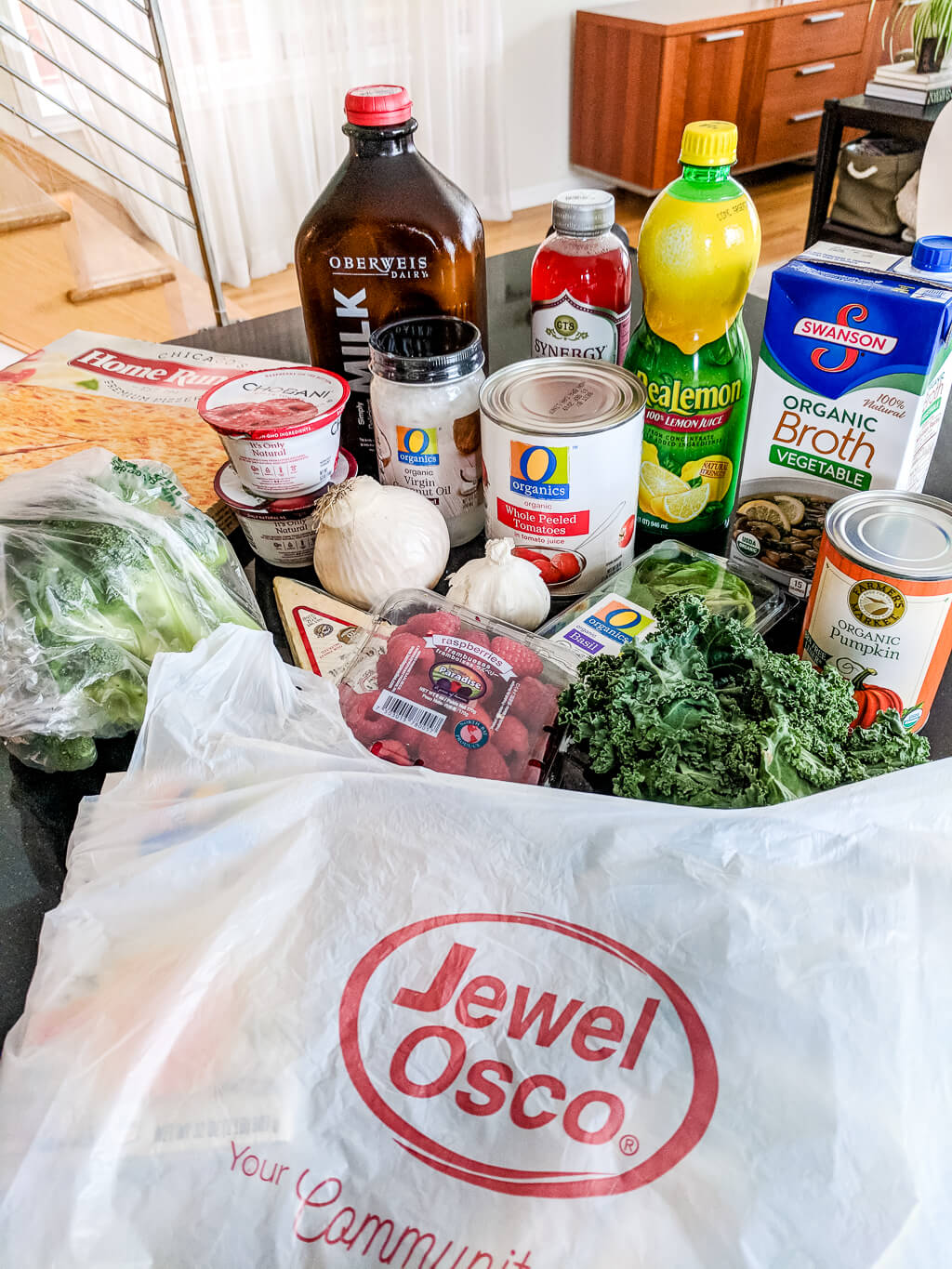 6. Drivers & curbside team members don't accept tips (only gratitude)
Jewel's drivers and curbside pickup team members don't accept tips and drivers will bring groceries to your door or into your kitchen, your choice. My drivers Mario and Ezra let me snap a photo so that I can show you the truck's four separate compartments that keep frozen, chilled and pantry items separate which is another nice perk; my refrigerated groceries arrived cool and frozen pizza actually arrived frozen.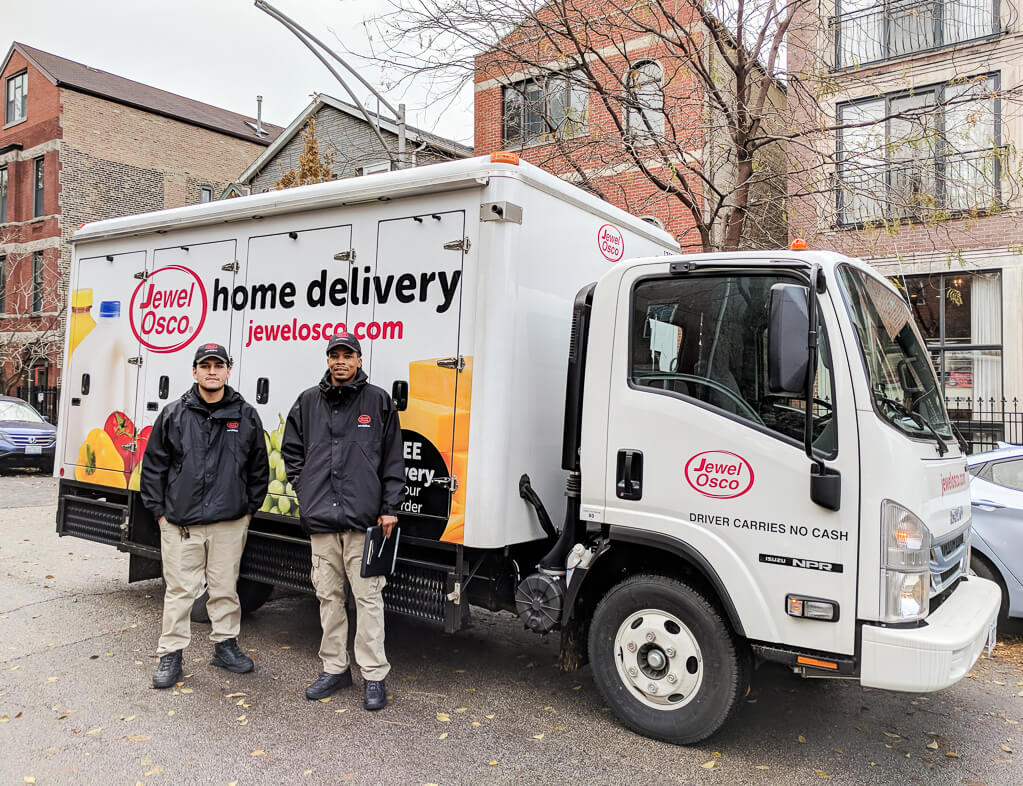 ++++++
Ready to place your own Jewel-Osco delivery / pickup order?
Visit Jewel-Osco's Shop / Delivery page or the Jewel-Osco mobile app and create an account to get started. Be sure to use one of these Jewel-Osco promotions codes for your first order:
$25 Off + Free Delivery on your 1st order when you spend $100 or more with promo code "JEWEL" (valid on orders placed until 2/28/18)
New customers get free delivery on their first online grocery order with the promo code "FREE" at checkout.
++++++
Thanks to Jewel-Osco for letting me try out their new Home Delivery service. Shop for ingredients for my take on my mom's classic roasted tomato soup recipe below, plus the rest of the groceries on your list.

Classic Roasted Tomato Soup Recipe
Prep time:
Cook time:
Total time:
Ingredients
For the soup:
1 28-oz can of peeled whole tomatoes
2-3 cloves garlic, peeled
1-1/2 cup vegetable stock
½ to 1 tablespoon brown sugar
1 teaspoon lemon juice
¼ teaspoon cloves
2 teaspoons olive oil
Black pepper to taste
Salt to taste
For the garnish:
Instructions
My mom roasts her canned tomatoes to make them sweeter. You can skip the roasting part if you're short on time but if you do, then reduce the garlic to 1 small bulb (because it will now be raw) and lean towards 1 tablespoon of brown sugar rather than ½ tablespoon.
If roasting: Preheat the oven to 300 degrees F. Line a baking pan with parchment paper. Drain the tomatoes, saving the juice and pouring it into a blender (you should have about 1-1/2 cups of juice). I pull out each whole tomato and let it the juice drip back into the can, then pour some juice into the blender to reveal more tomatoes. Cut tomatoes in half and place with their cut side up and the peeled garlic onto the lined baking sheet, drizzle with the olive oil, and a pinch of salt and black pepper, and roast for 1 hour. Remove from the oven and let cool for 10 minutes on the baking sheet.
While the tomatoes cool, add the vegetable stock, lemon juice, brown sugar (start with ½ tablespoon) and cloves into the blender with the reserved tomato juice. Add the cooked tomatoes and blend until smooth. Taste and add salt, black pepper or brown sugar as needed.
If your soup needs warming, place it in a pot and heat it on the stove. Store leftovers in a glass mason jar. You can add ¼ cup whipping cream just before serving for a creamy version, but I prefer it dairy-free.
Top with crunchy kale chips and croutons.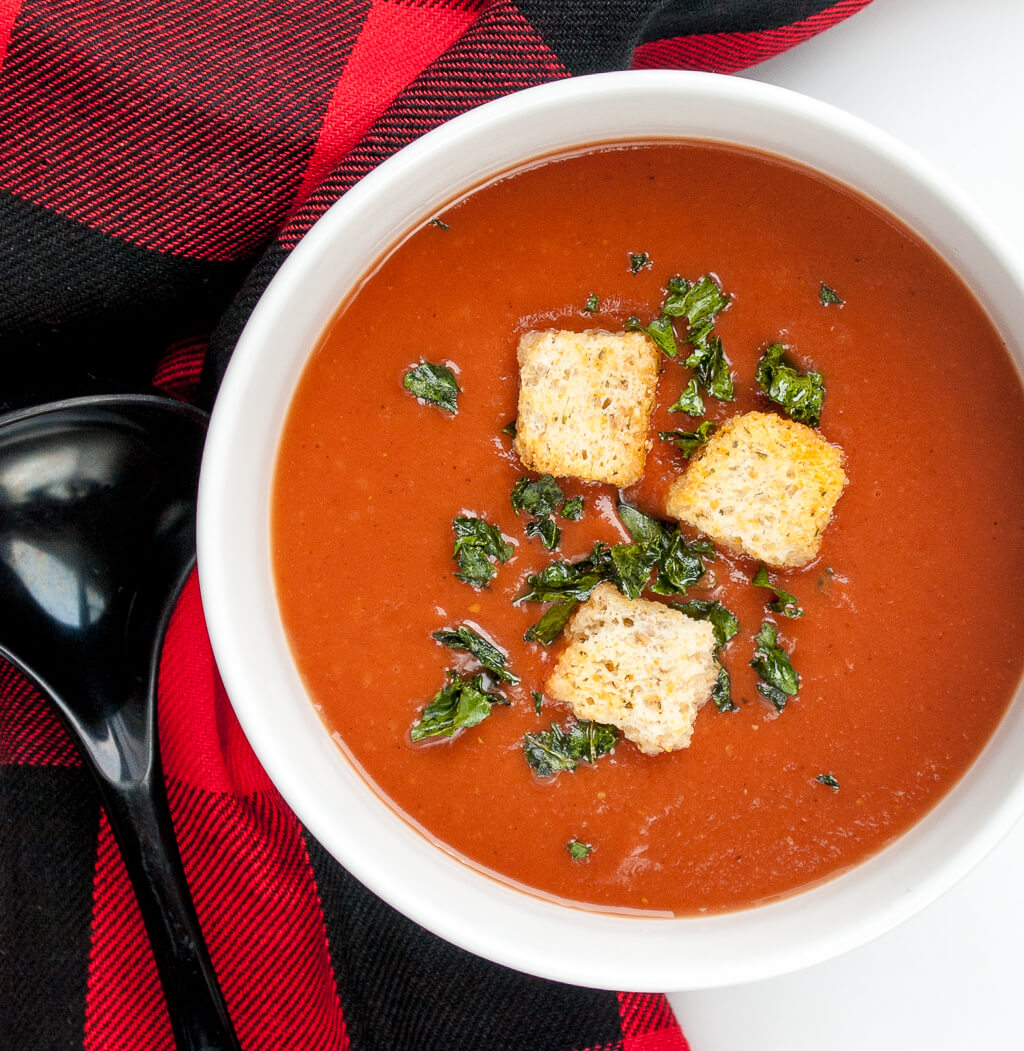 ++++++
Remember to visit the Jewel-Osco Home Delivery site at shop.jewelosco.com or the Jewel-Osco mobile app and create an account to start shopping. Let me know what you think!
This is a sponsored conversation written by me on behalf of Jewel-Osco. The opinions and text are all mine. Comments submitted may be displayed on other websites owned by the sponsoring brand.