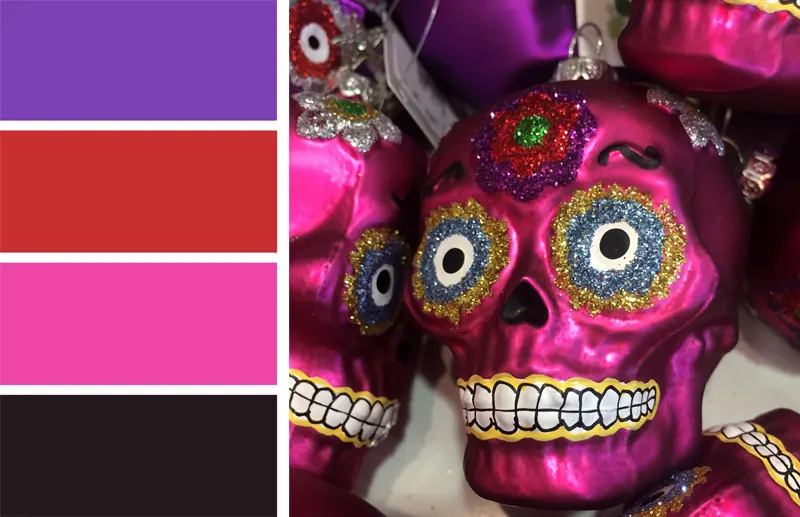 Today I'm sharing a fall color palette to help you colorize your Halloween paper crafts, Halloween wreaths, Halloween party decorations and more.
October's color palette merges Halloween with Day of the Dead (Día de los Muertos): Gravity Grape™, Re-Entry Red™, Fireball Fuchsia™ and Eclipse Black™ …with an optional pop of Gamma Green.™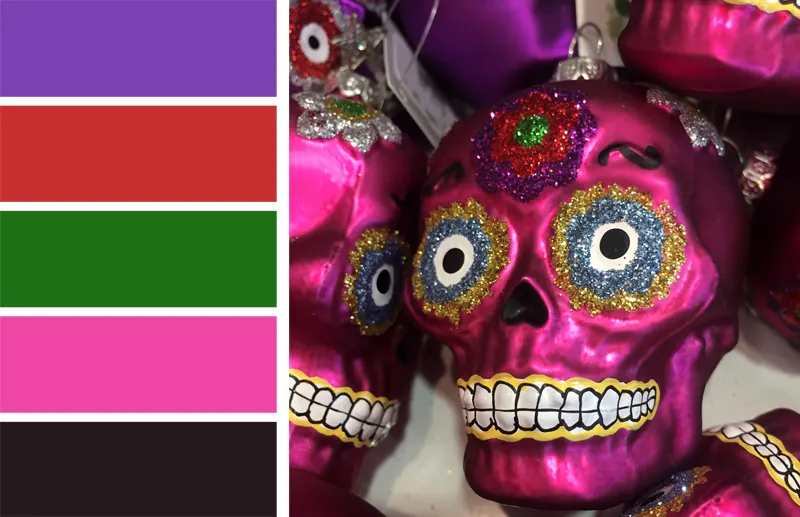 Each month I share an original color palette using ASTROBRIGHTS® Papers who I'd like to thank for sponsoring these posts. All color palettes and opinions are mine. In the past I've been inspired by baseball games and vintage quilts and spring flowers and lemonade and wild berries and beach toys.
Day of the Dead is about families and friends gathering to remember loved ones who have died. I like this sentiment a lot. I feel like Western culture should focus more on remembering those who came before us — all of the people who influenced us, loved us, and helped us become who we are.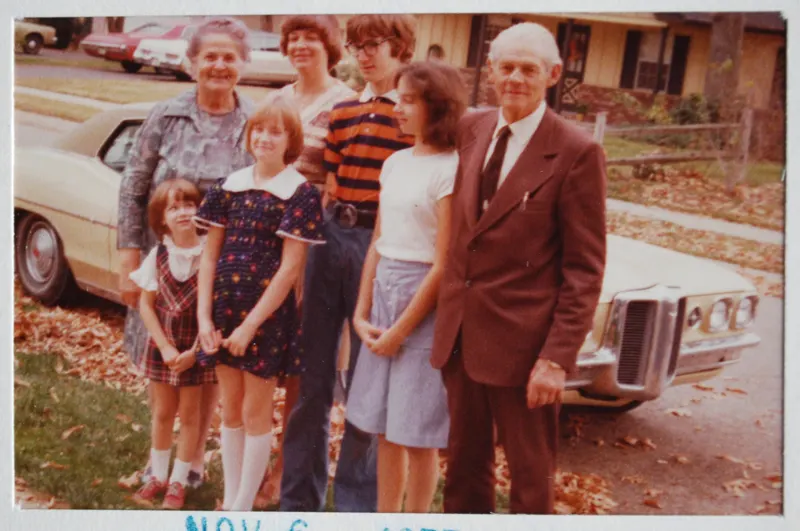 Traditionally celebrated in Mexico for thousands of years, Día de los Muertos has become more mainstream recently in the U.S. And while it's perhaps a bit culturally appropriated, I personally really connect with the spirit (ahem) behind it so I'm melting Day of the Dead into my family's Halloween celebrations …including its bold and bright colors that grab attention.
The colors for Día de los Muertos are typically more bright and bold than Halloween's traditional orange and black. I most often see white skulls with bright pops of color like this window display outside of the Museum of Contemporary Art Chicago.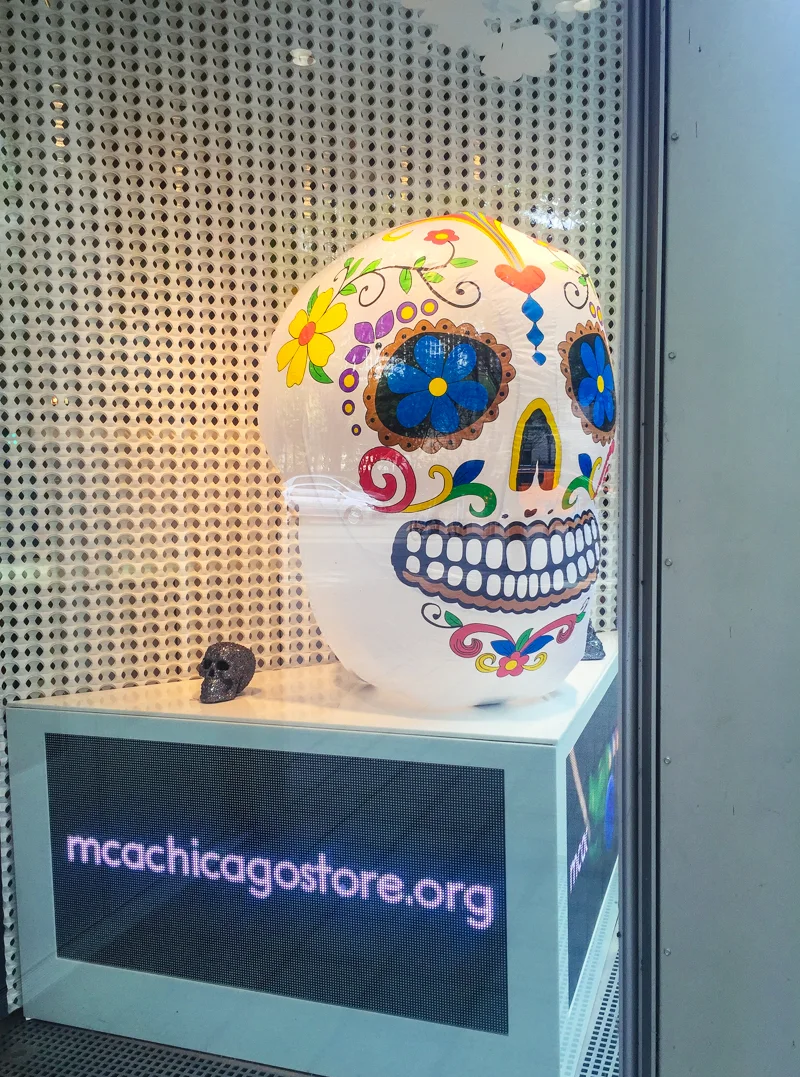 I went inside the MCA Chicago gift shop (which is totally amazing, by the way) and browsed Day of the Dead cultural and coloring books…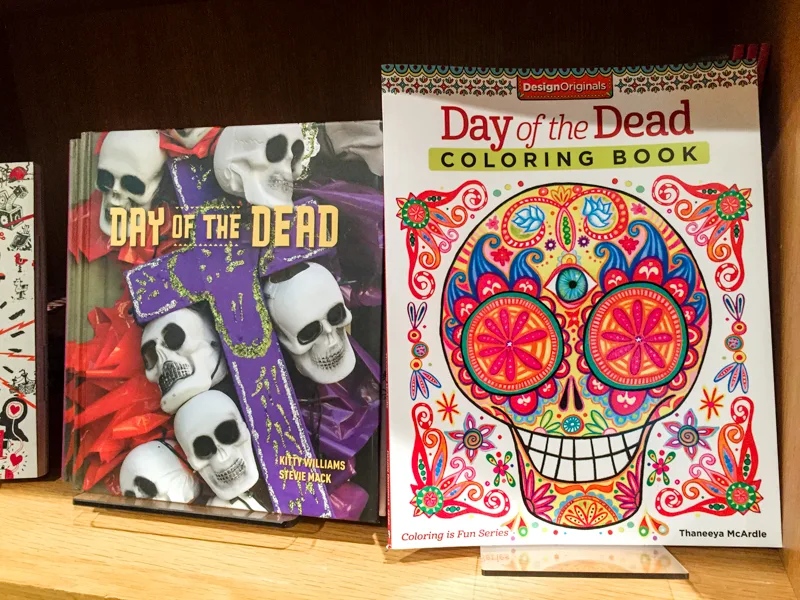 …and I loved the bold use of color in these Día de los Muertos glass ornaments.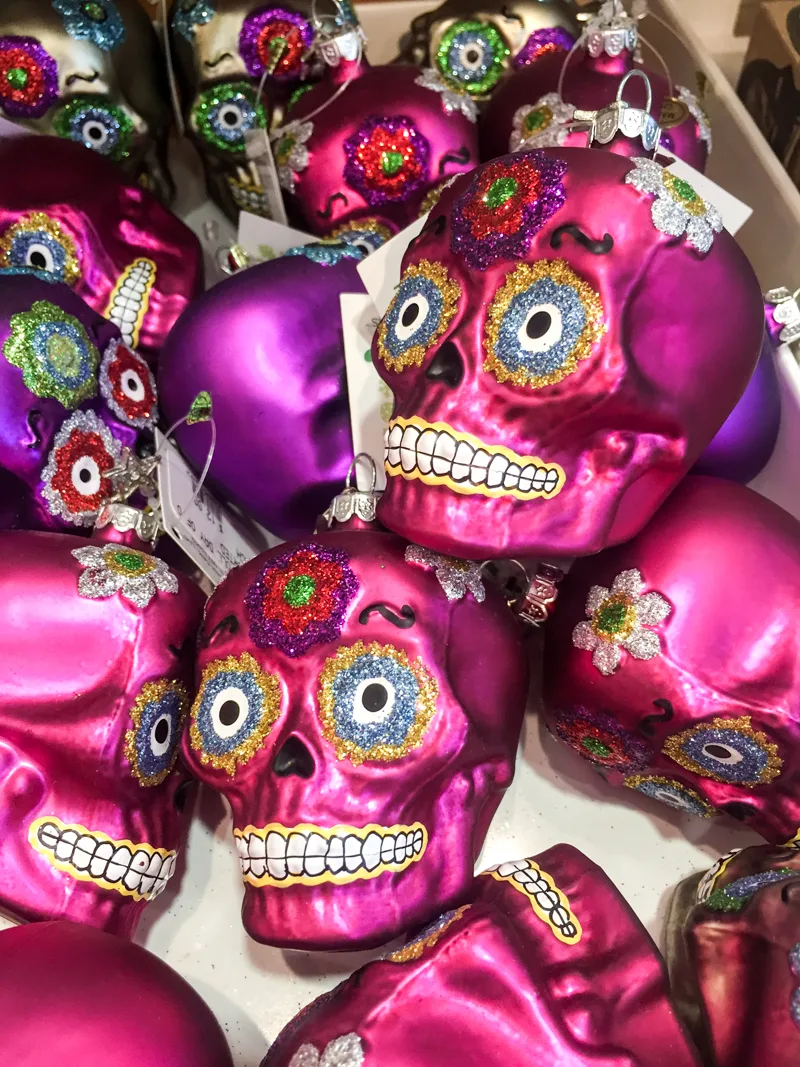 Halloween is lots of fun and it's still my favorite holiday by far and I like the idea of supplementing costumes and candy with a tradition of remembering lost loved ones. This Day of the Dead I'll be particularly thinking about my childhood and college friends Eric, Heather and Glen, my cousin Bob, my uncle Floyd, spunky little Meera, and my grandparents, Rebecca, Nelson, Charles and Beulah. May your spirits shine on.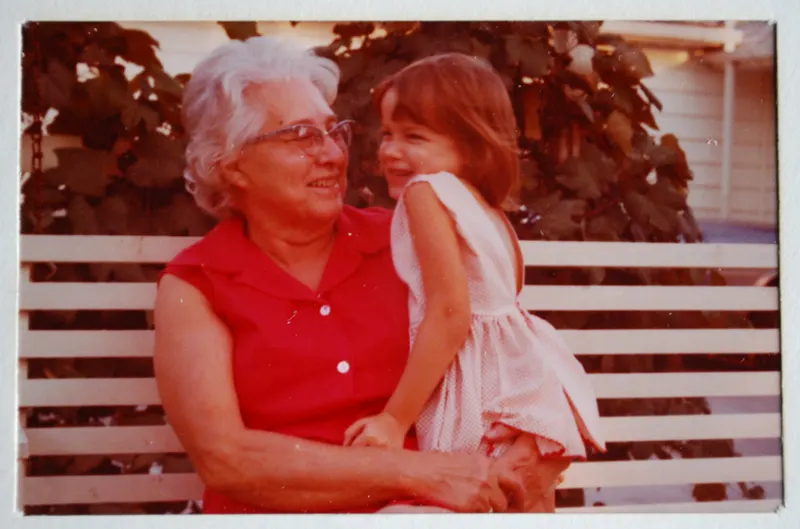 Día de los Muertos inspired October's color palette with these ASTROBRIGHTS® colors, from left to right below:
Gravity Grape™
Re-Entry Red™
Fireball Fuchsia™
Eclipse Black™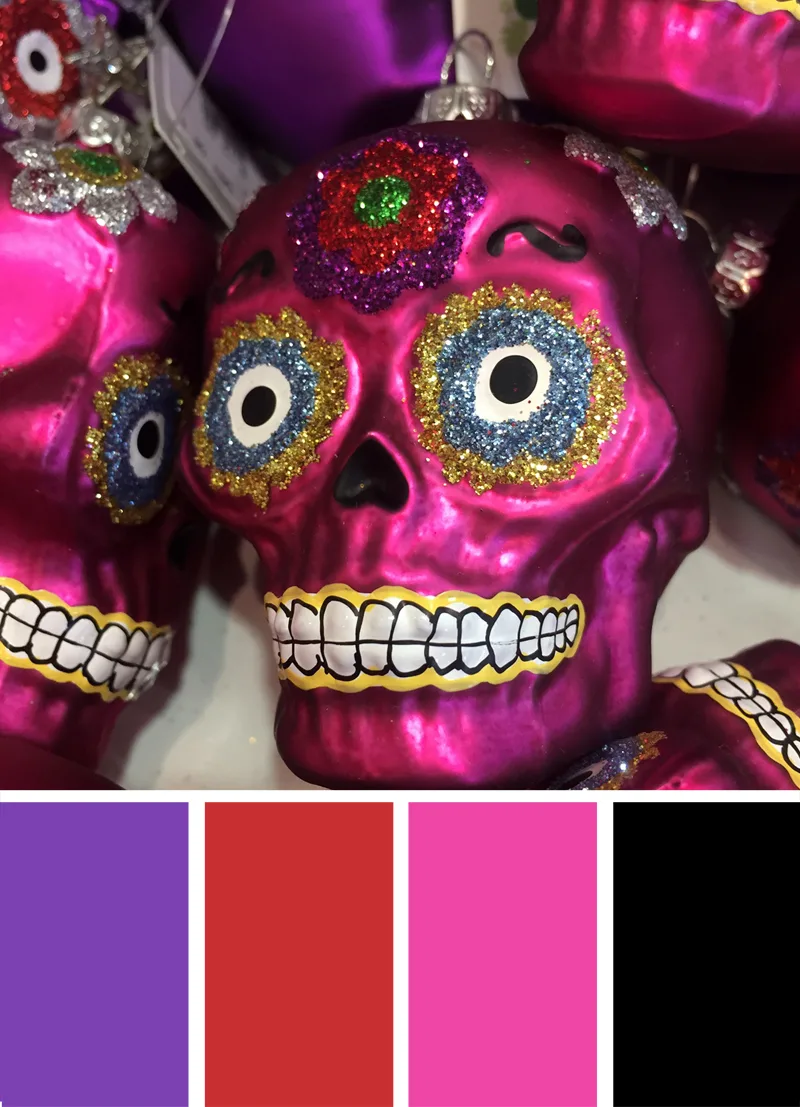 And if you'd like, go ahead and add in that pop of Gamma Green™….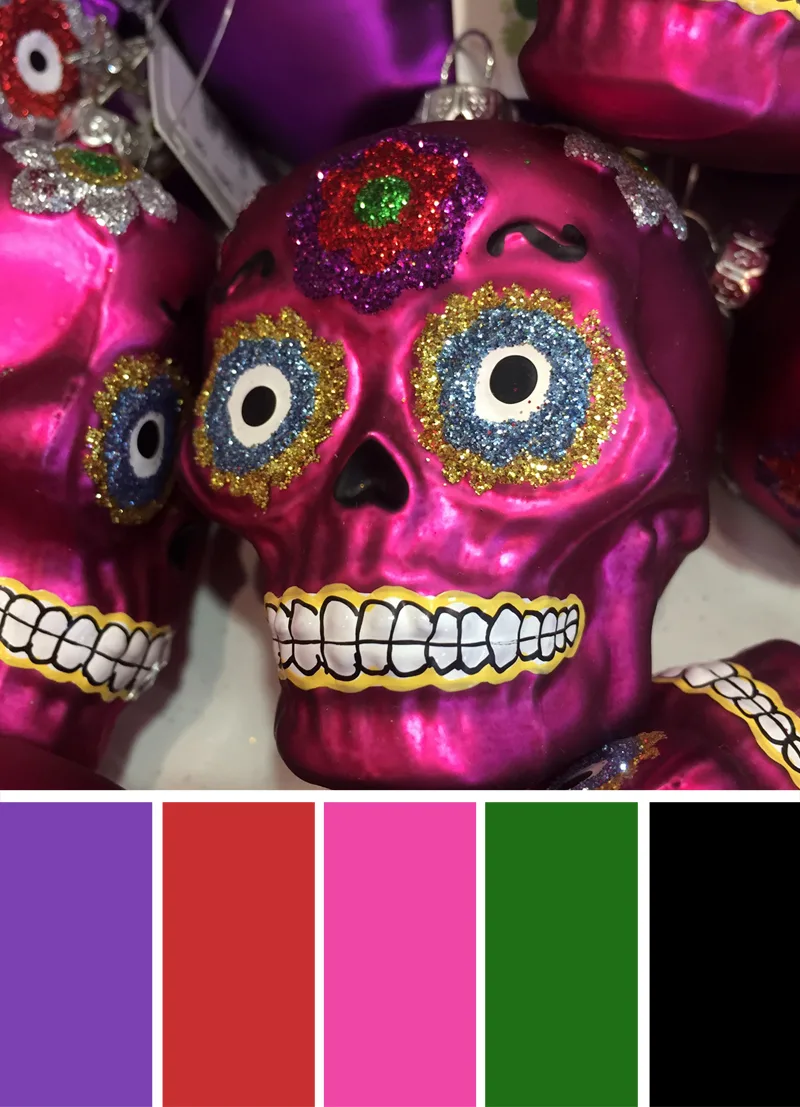 Thanks for supporting the brands like ASTROBRIGHTS® that support Merriment Design. I only share brands that I really love and use myself like on these paper Father's Day tie bunting and napkin rings, how to make DIY paper Easter baskets, and paper heart bracelets for Valentine's Day.
See my past color palettes to help inspire your own:
Check back next month to see the next set of color palettes for more inspiration on how to Colorize™ throughout the year.
And be sure to tell me in the comments below: Who will you remember on Día de los Muertos?