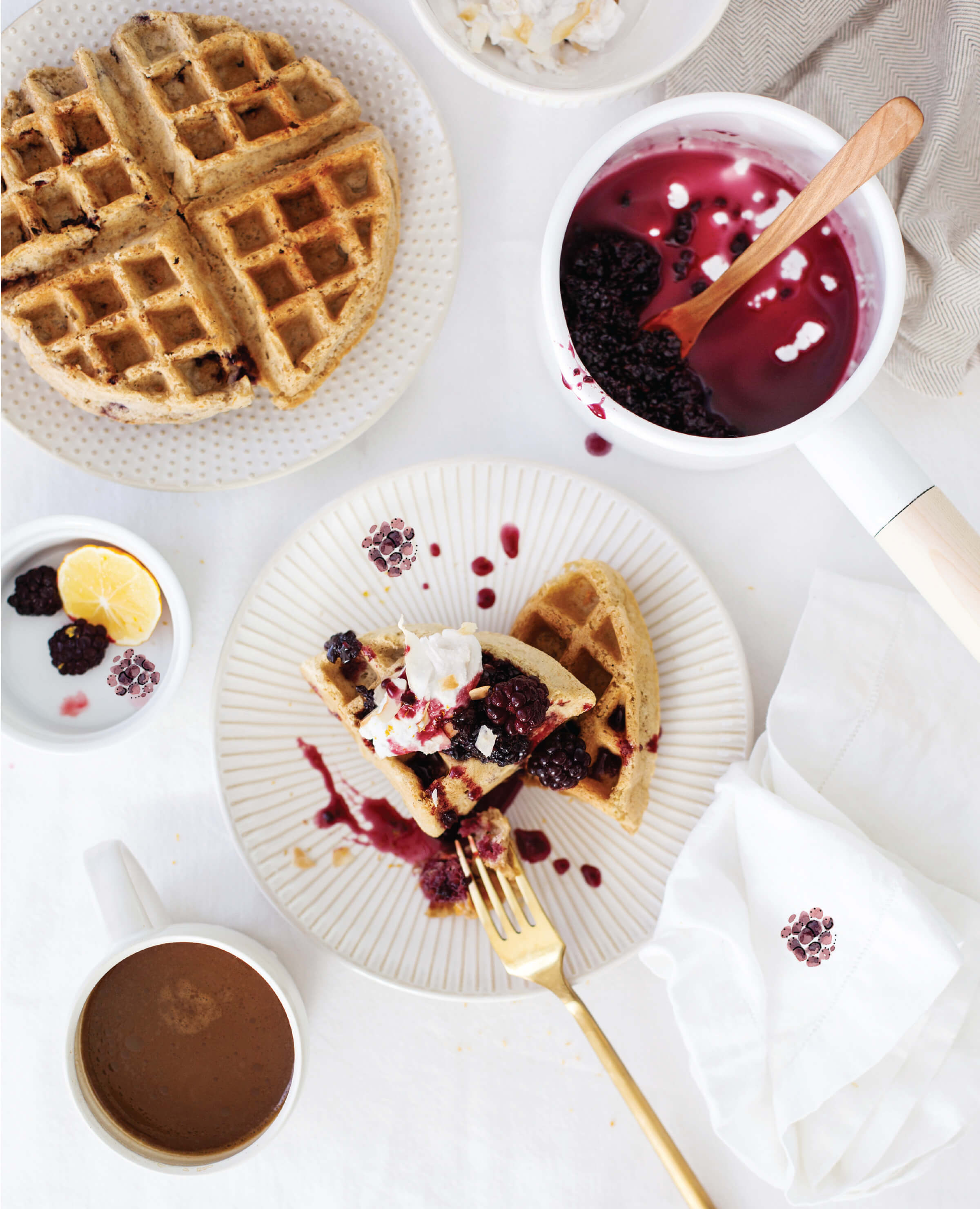 Today I'm sharing the game-changing cookbook Pantry to Plate: Improvise Meals You Love―from What You Have! by Heather Crosby from YumUniverse.
Keep reading to see why Heather's mix-and-match recipes blew me away, preview a gluten-free lemon waffles recipe from the book, and enter to win your own Pantry to Plate cookbook below.
AND IF YOU'RE IN CHICAGO: Come see me and Heather in person at Same Day Cafe in Logan Square on July 19 as part of Heather's cookbook tour. You can taste recipe from the book, drink cocktails featuring Will's famous handmade sodas and spirits from Few Spirits and DIY cocktail stirrers made using wooden stir sticks and washi tape from Paper Mart, plus make your own veggie-stamping reusable natural cotton shopping bags sponsored by Paper Mart. You'll leave the party with a special favor from me and Heather: decadent plant-based pecan and dark chocolate Florentine cookies in super cute window boxes from Paper Mart.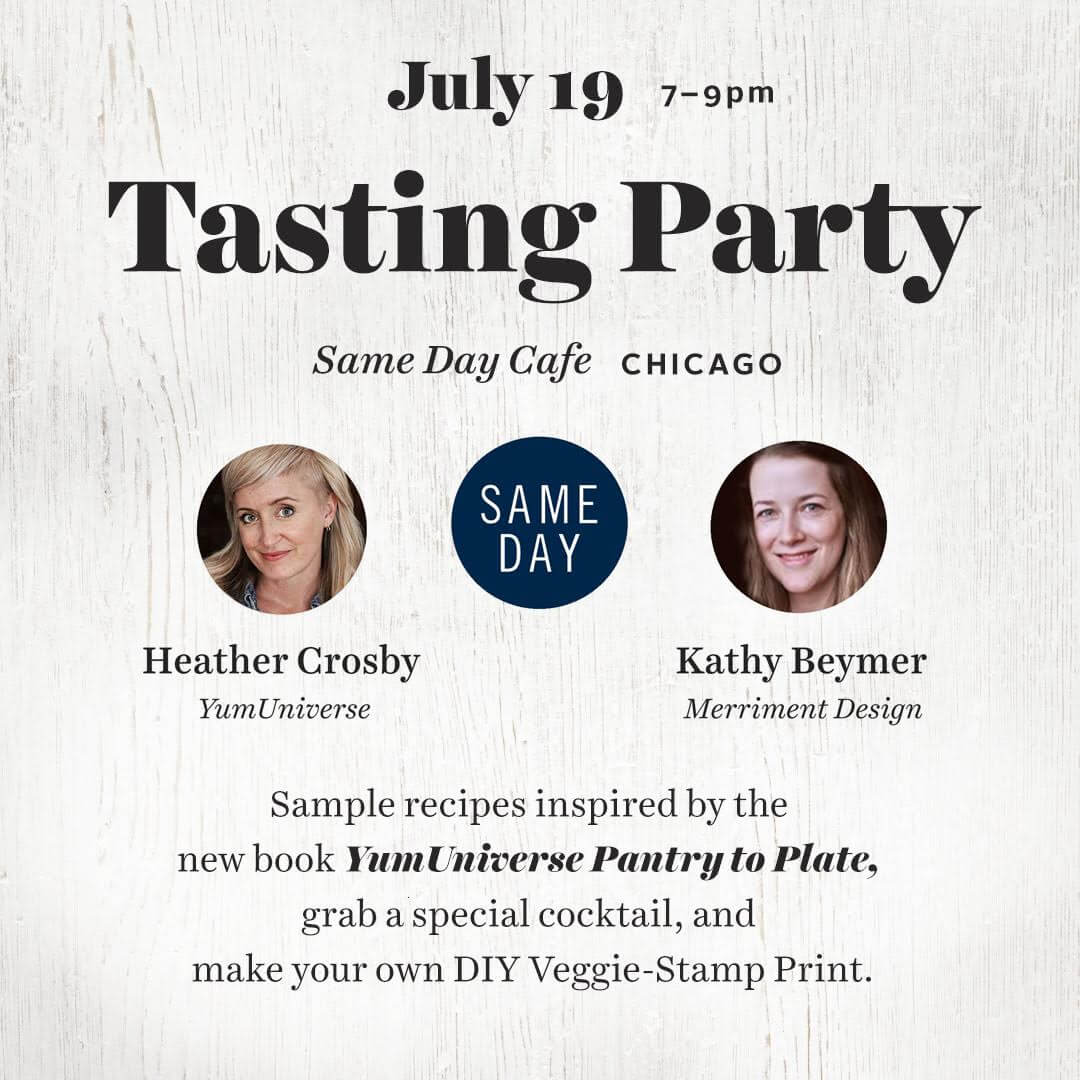 ++++++++++
Last summer I traveled to West Virginia to visit my good friend Heather who you've seen here in our video making beet Valentine's Day cookies tied to handmade heart tea bags and the Gluten Free Baking Academy and Meeting Martha Stewart. She was in the middle of creating her second cookbook, Pantry to Plate, and when she showed me her draft and I freaked out at what she had created: an adaptable and fun mix-and-match playbook for cooking what you want with what you have, right now.
Heather's plant-based cookbook is a game changer for all of us who have tried to make a recipe and either had missing ingredients or didn't like some of them (hello, green pepper and arugula). You see, Pantry to Plate provides mix and match templates so you can cook from what you already have in your pantry.
Mix and match recipes, people!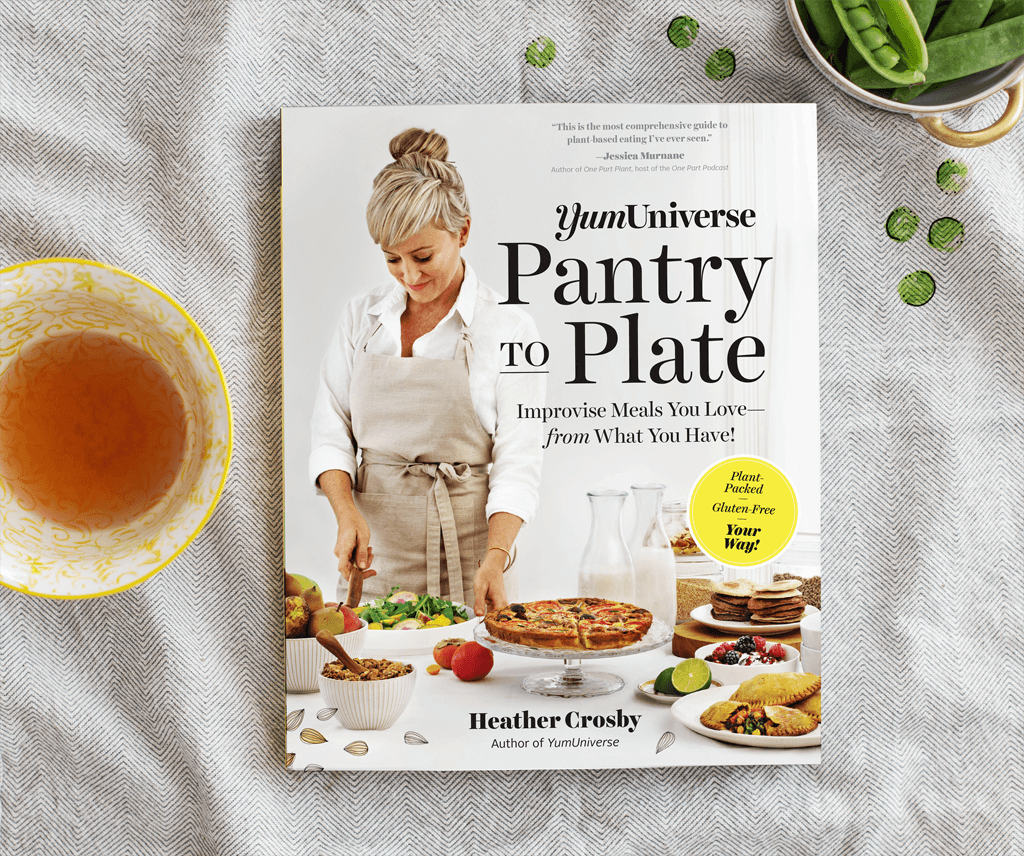 So let's say you have pumpkin instead of butternut, or you don't feel like broccoli, or you'd like to use up those beets you bought at the farmer's market. No problem. Heather shows you how to successfully substitute it all out. It's genius!!
Pantry to Plate is super comprehensive. I'm telling you, it's like a huge phone book of plant-based cooking. Heather includes 97 inspirational plant-based recipes for dinners and breakfasts and snacks and desserts and sauces based on the 30 mix-and-match templates. So far, the kids and I have played a lot with the pancake/waffle template and the cheesy comfort food template that makes a delicious gluten-free, dairy-free Mac & Cheese recipe made using cashews.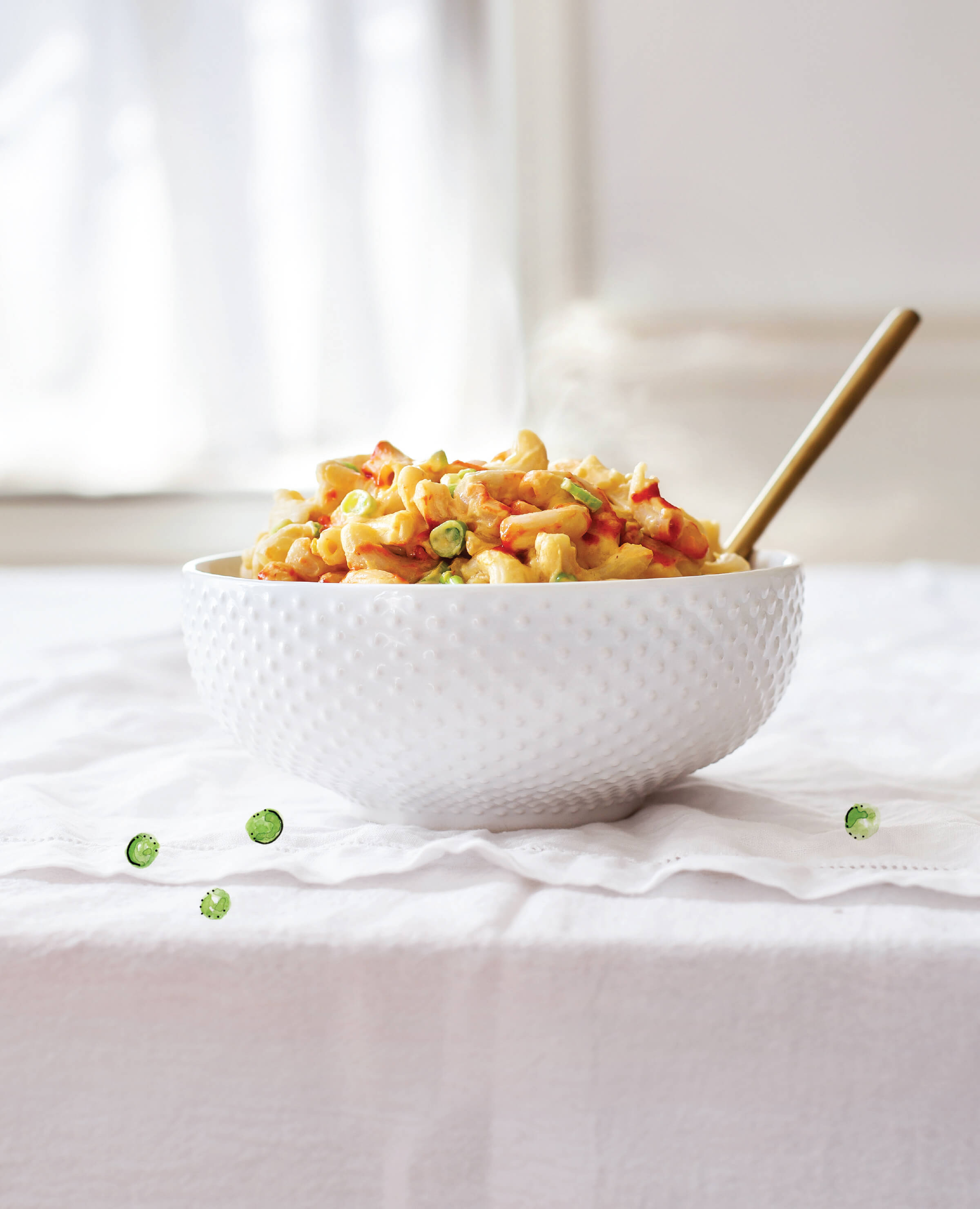 And on top of it all, Heather photographed most of the book and designed the whole thing. Not many people out there are talented enough to not only write their own cookbook but also design it. This gal is.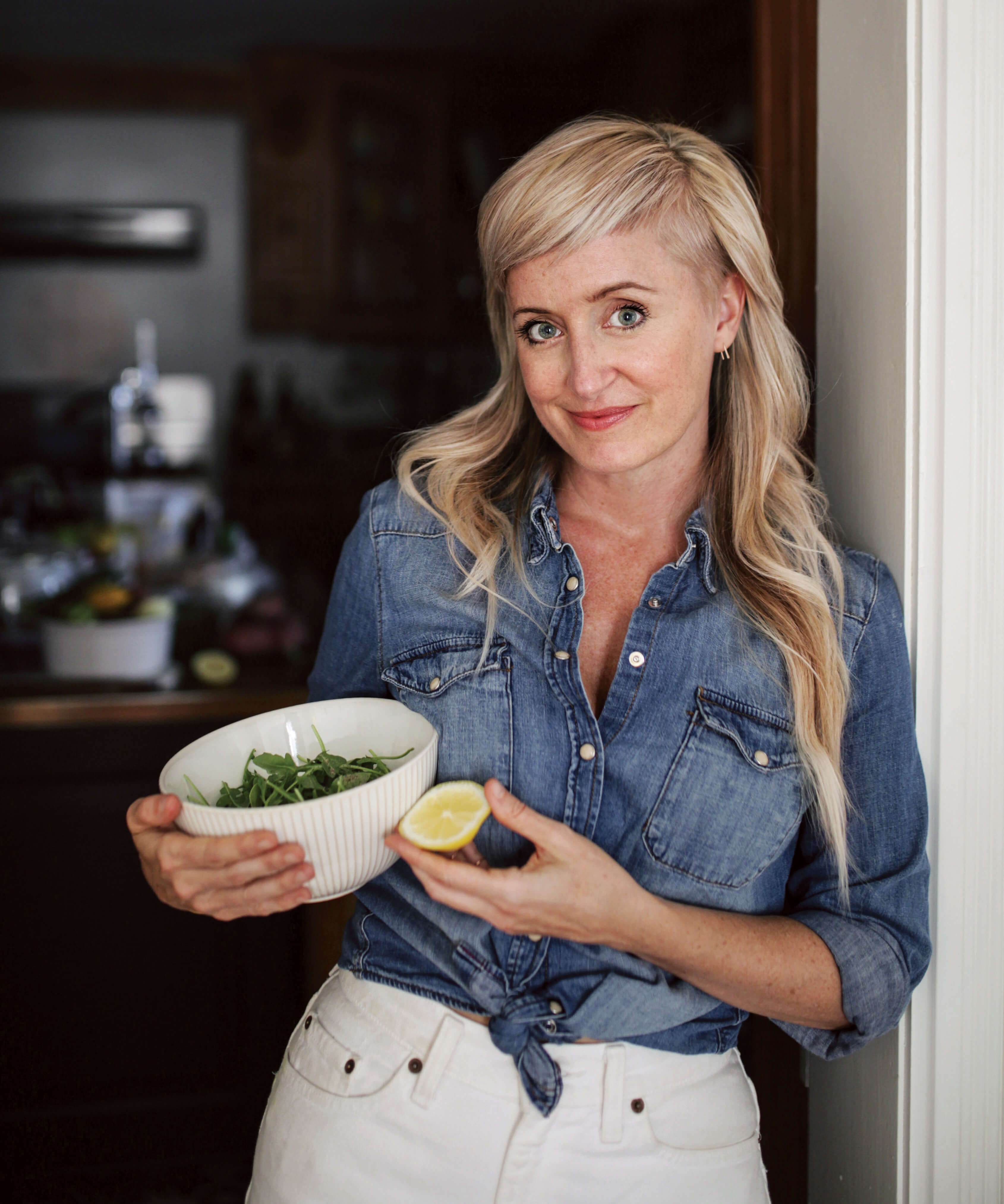 I'm so excited for Heather — and for you to see her amazing, game-changing cookbook. See her recipe below for Meyer Lemon Waffles with Maple-Blackberry Compote, and enter to win your own copy of Pantry to Plate!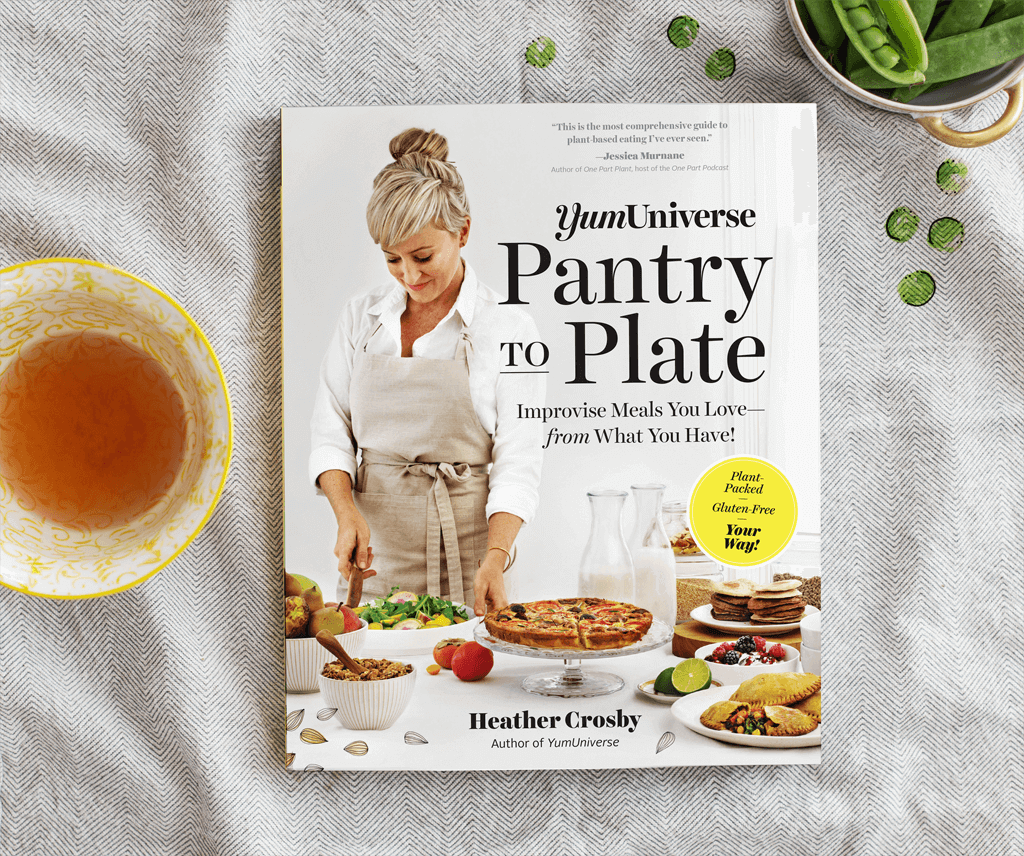 Meyer Lemon Waffles with Maple-Blackberry Compote
When I get my hands on Meyer lemons, my inner schoolgirl squeals! Their sweet, floral flavor makes this recipe special - you'll need one large Meyer lemon (or two small). Can't find Meyer lemons? Regular lemons work fine. No waffle iron? Make pancakes instead.
Ingredients
Maple-Blackberry Compote
3

cups

435 g blackberries

1

teaspoon

lemon juice

¼

cup

60 ml maple syrup
Toasted Coconut Cream (optional)
One 13.5-ounce

400 ml can full-fat coconut milk, chilled

¼

cup

20 g flaked coconut, toasted
Meyer Lemon Waffles
Unrefined coconut oil

½

cup

80 g brown rice flour

½

cup

50 g oat flour

½

cup

60 g sorghum flour

¾

teaspoon

ground psyllium husk

½

teaspoon

baking powder

½

teaspoon

baking soda

¼

teaspoon

sea salt

1½

cups

360 ml water

2

tablespoons

Meyer lemon juice

2

teaspoons

grated Meyer lemon zest
Instructions
Prepare the Maple-Blackberry Compote.
Place the blackberries, lemon juice, maple syrup, salt to taste, and 1/4 cup water in a large pot and bring to a boil over medium-low heat for 10 to 20 minutes, until thickened and the fruit is broken down. Remove from heat and cool.
Prepare the Toasted Coconut Cream (optional).
If making the Toasted Coconut Cream, open the can of chilled coconut milk. Scoop out the solid cream on top and transfer to a large bowl —save the liquid in the fridge for Soup or a smoothie.

Whisk together the toasted coconut and cream and place in the fridge to chill.
Prepare the Waffles.
Preheat a waffle iron and grease with oil.

In a large bowl, whisk together the flours, psyllium, baking powder, baking soda, and salt until thoroughly mixed.

In another bowl, whisk together the water and lemon juice. Fold together with the dry ingredients and then incorporate the zest.

Using a ladle, pour batter into the waffle iron and cook until the edges are crispy. Repeat, adding more oil when necessary, until all batter is used. Top with Maple-Blackberry Compote and a dollop of Toasted Coconut Cream.
Recipe from YumUniverse Pantry to Plate ©Heather Crosby, 2017. Photographs copyright © Heather Crosby, 2017. Reprinted by permission of the publisher, The Experiment. Available wherever books are sold. theexperimentpublishing.com
[clear-line]
Giveaway: Win your own copy of Pantry to Plate
Follow the instructions below before July 26 to win a your very own copy of the Pantry to Plate cookbook.
—
Like it? Share it!
The nicest way to say you like it is to pin it on Pinterest, post a comment, follow Merriment Design on Facebook, Pinterest, Instagram or sign up for monthly emails. Enjoy! 🙂
Copyright stuff: You're more than welcome to use this free project and tutorial for personal use. Contact me for commercial use and Etsy sales.
Save