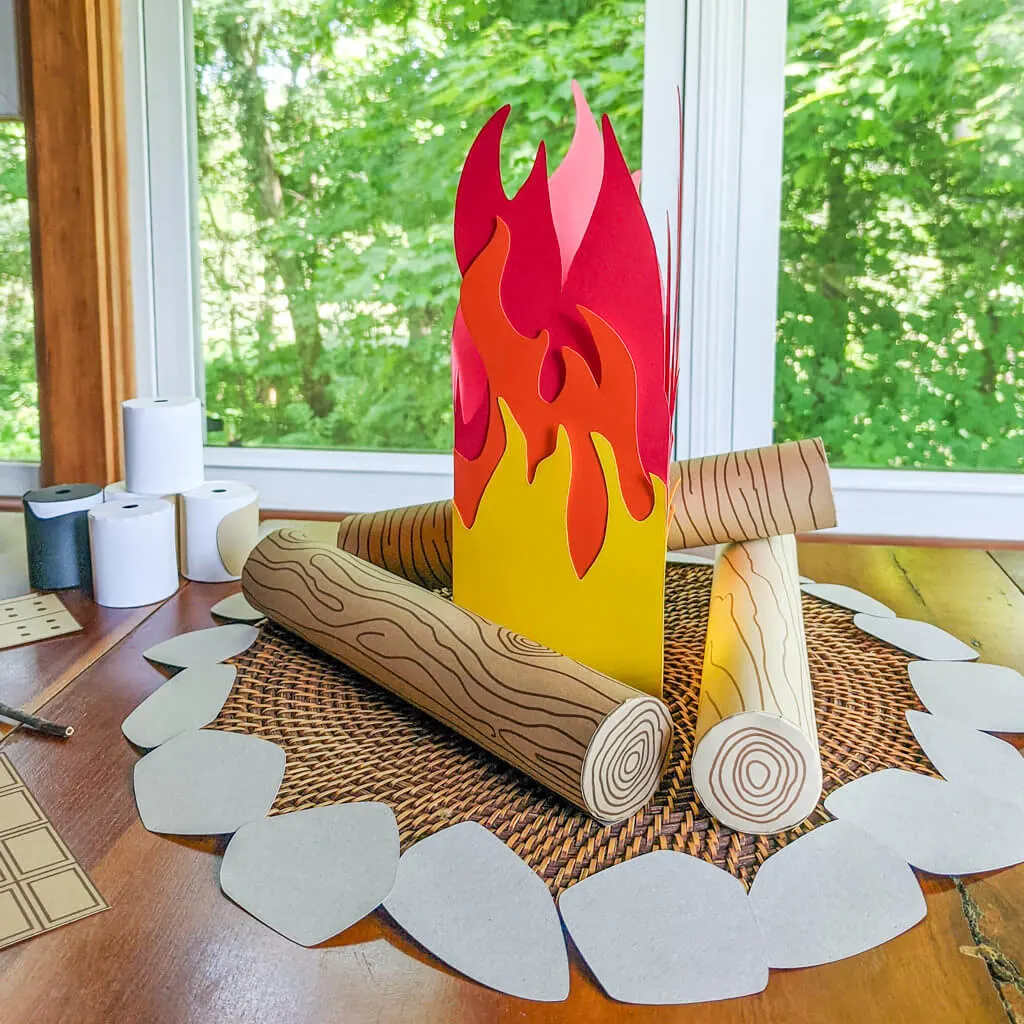 Make an interactive pretend campfire and s'mores play set to bring camping fun indoors, rain or shine! This cute paper craft project features a toasty campfire with wood-grain logs surrounded by a stone 'safety' ring for kids to toast pretend marshmallows until they're golden brown.
Keep reading to see how to download the free printable templates to make this fun, fake campfire for pretend play.
See also: 'Ice Cream paper wreath that looks like sunshine' »
Astrobrights Papers asked me to design a fall paper project to feature at Astrobrights.com, so I decided to keep summer alive and make an indoor pretend s'mores and campfire.
Easy-to-make campfire craft with just a few supplies
This whimsical playset is a fun and easy craft to make with kids and takes just a few supplies that you probably already have at home. The pretend fire pit, fake campfire, and s'mores ingredients are made out of paper and upcycled cardboard tubes from paper towels and toilet paper.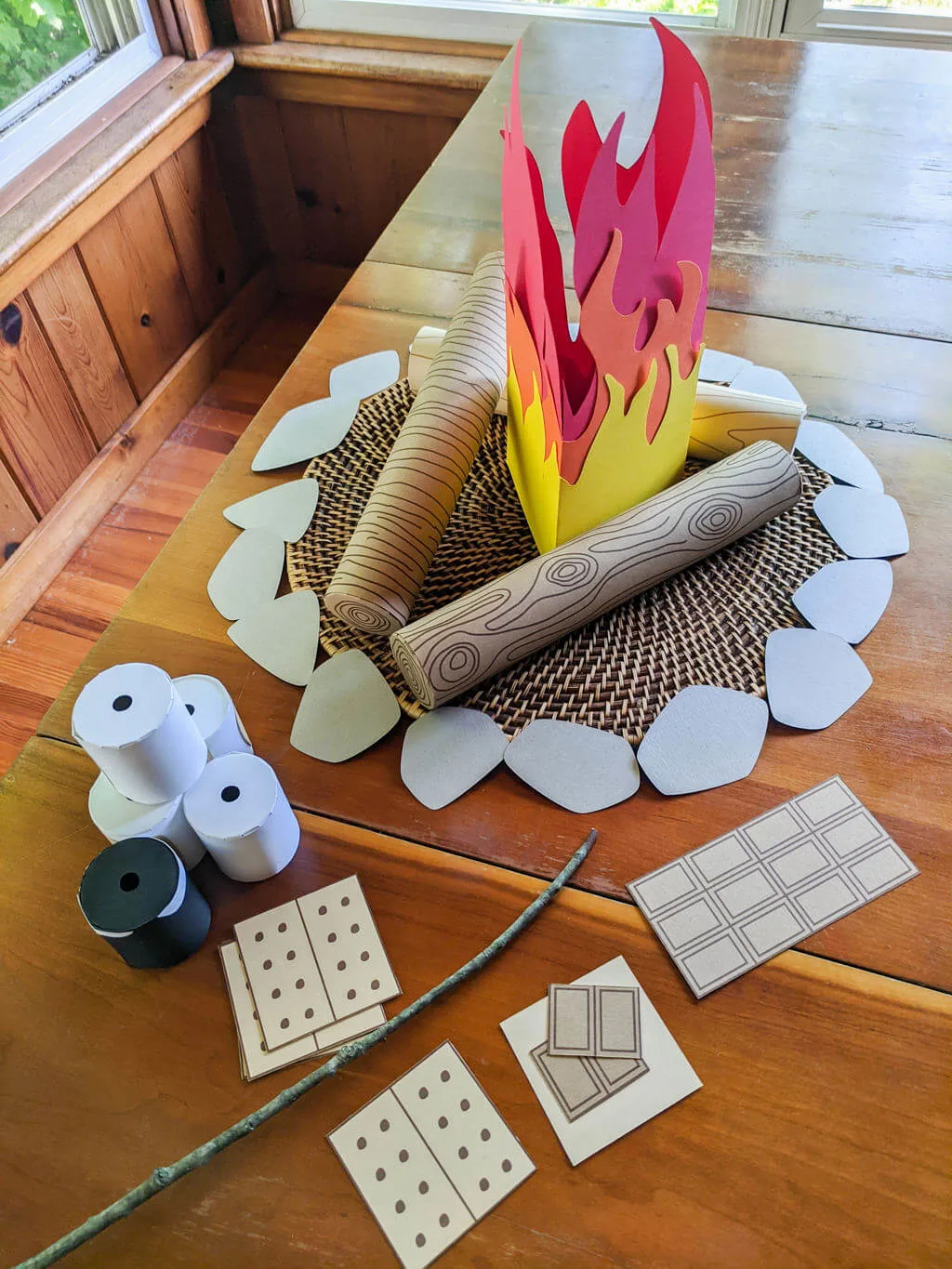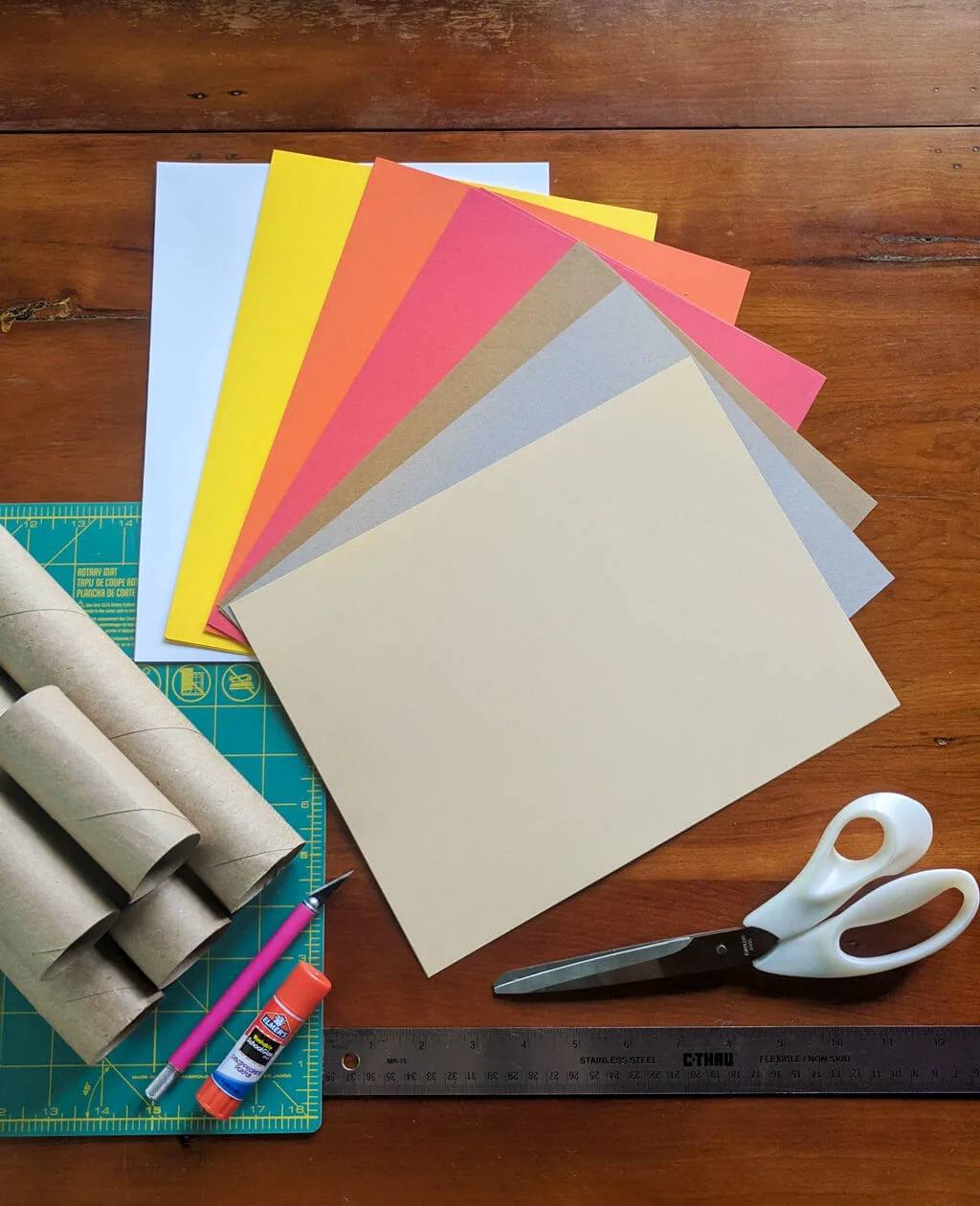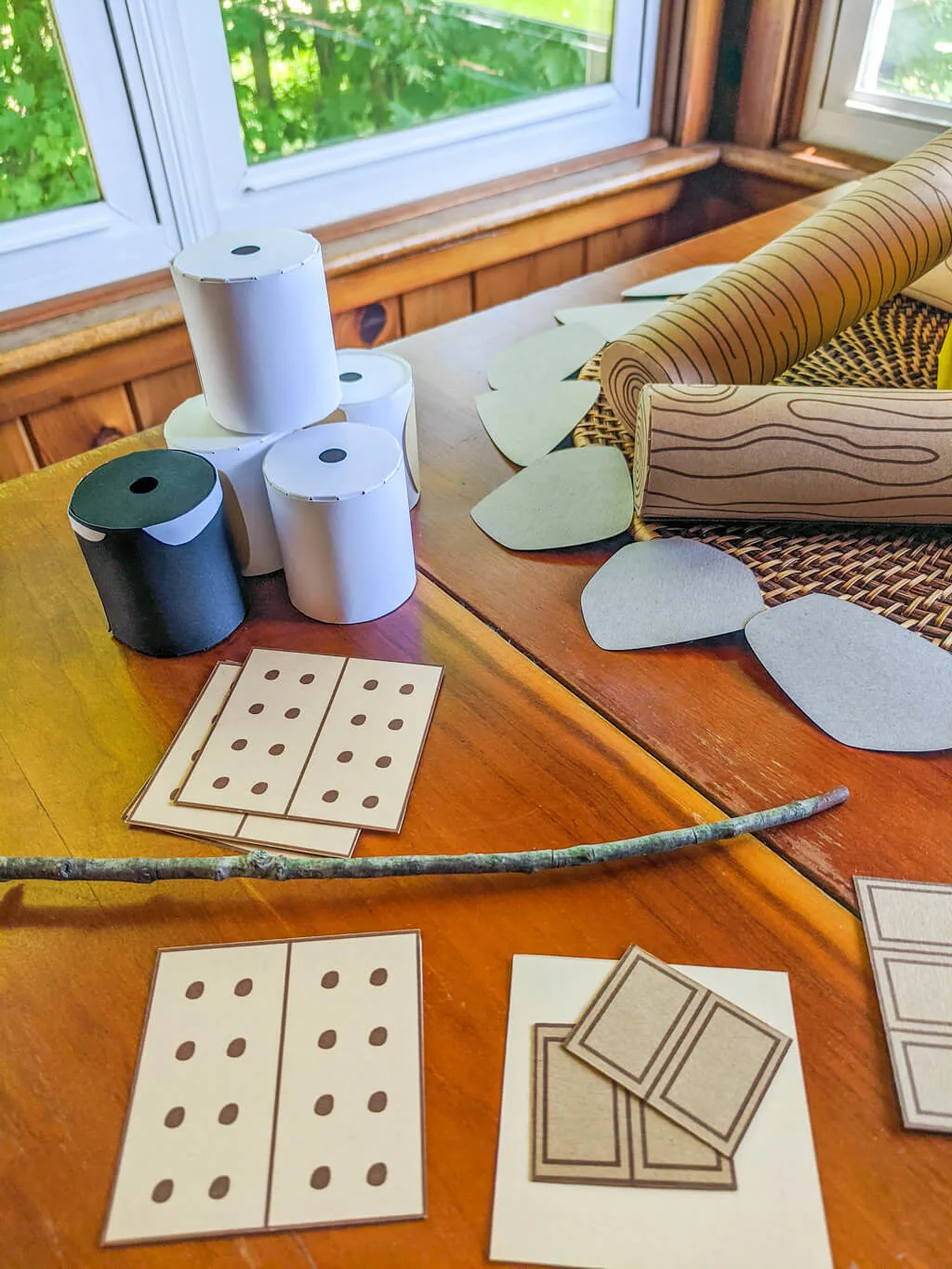 Toast pretend marshmallows on real sticks
Start by building the fire: Stack paper logs, build the stone fire pit, and 'light' the paper flames. Whoa! That's a toasty roaring campfire! Then slip marshmallows onto real wooden sticks for toasting. Liam decided to toast three marshmallows at once.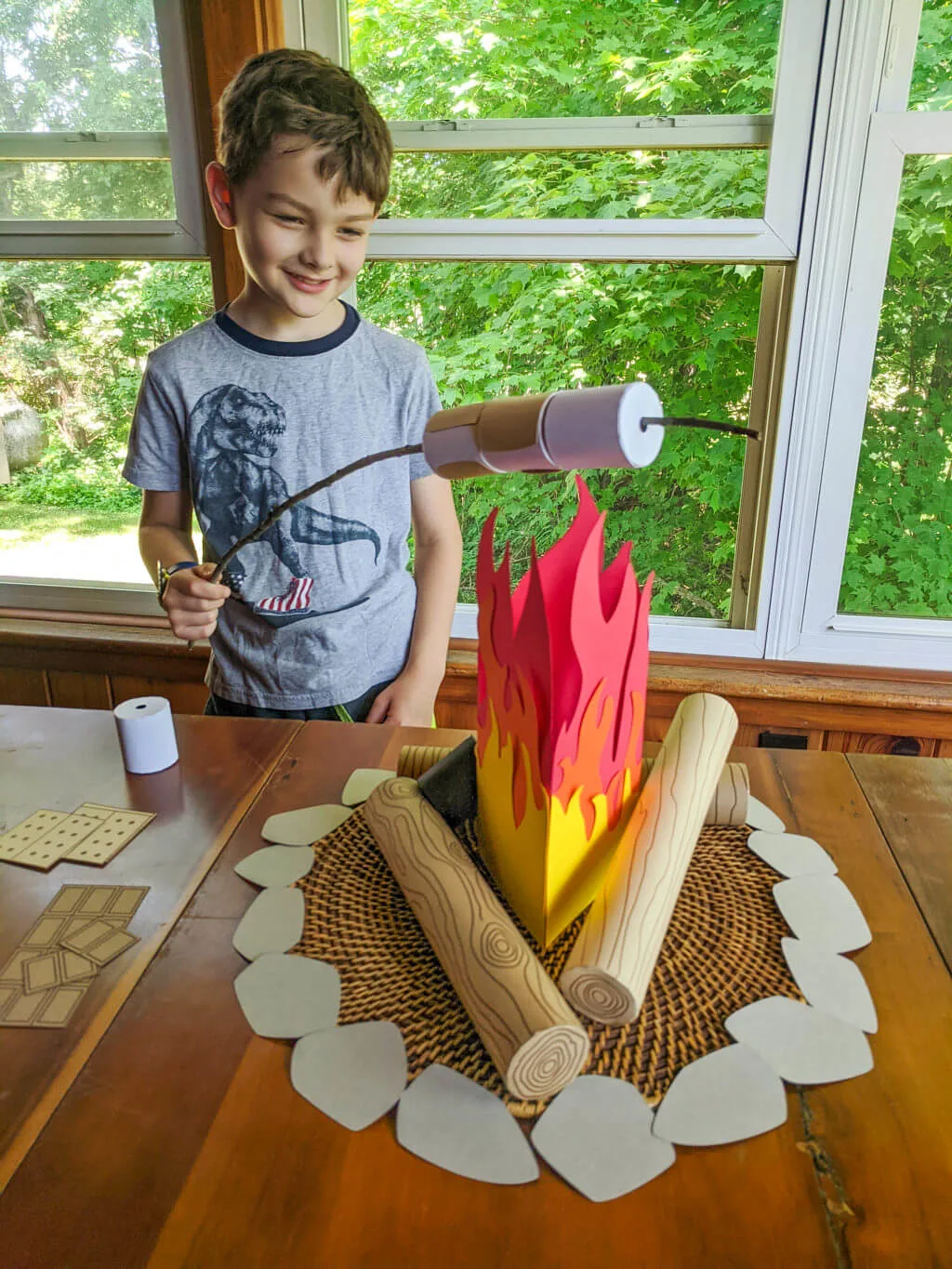 When the marshmallows are ready, just pop them onto paper graham crackers and add some chocolate for a gooey s'mores treat. Yummy!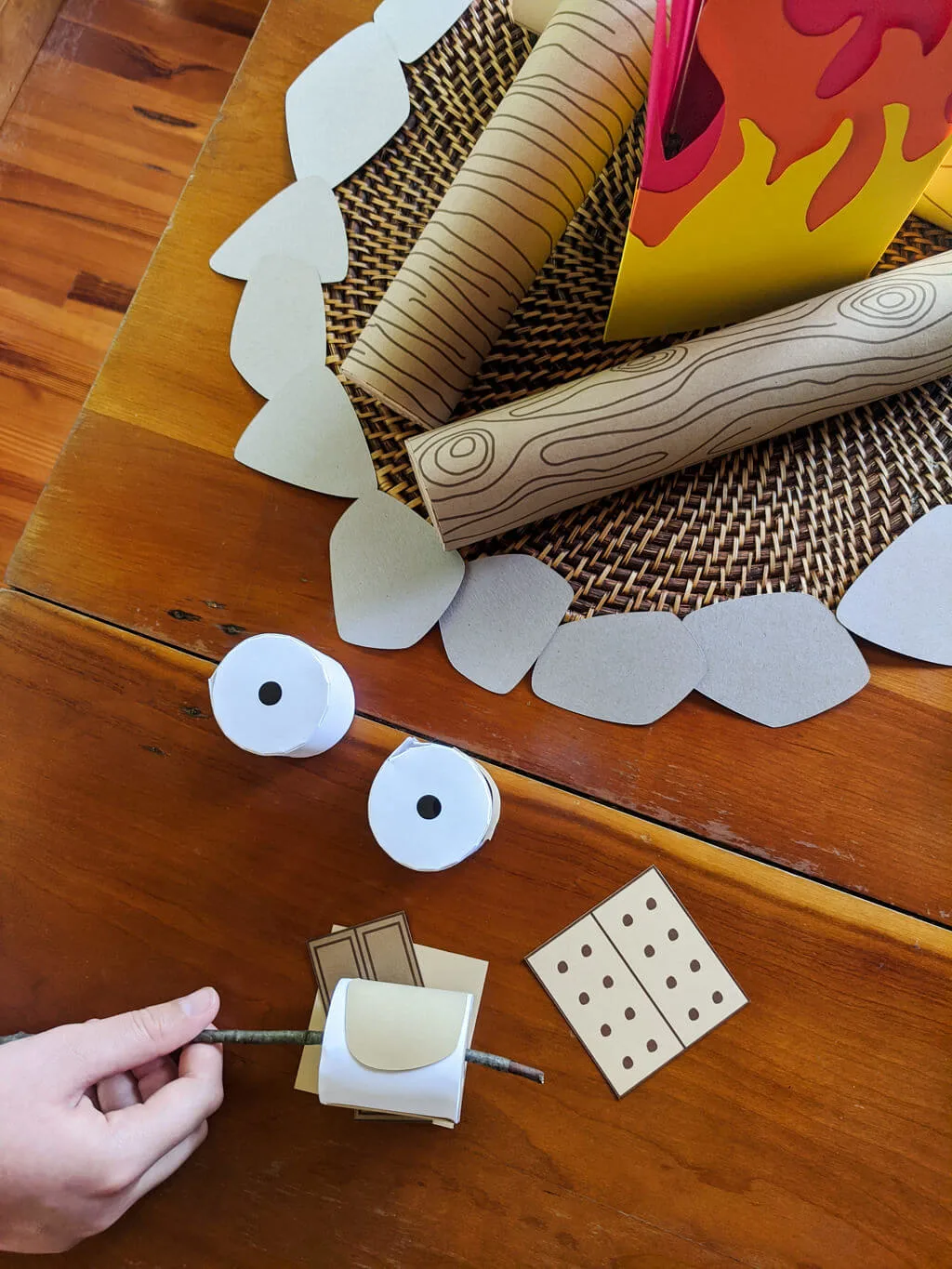 Too close to the flames = burned marshmallows
ACK!! This little marshmallow fell into the paper fire and now it's all burned. Poor little charred marshmallow! Oh well, we'll just try again.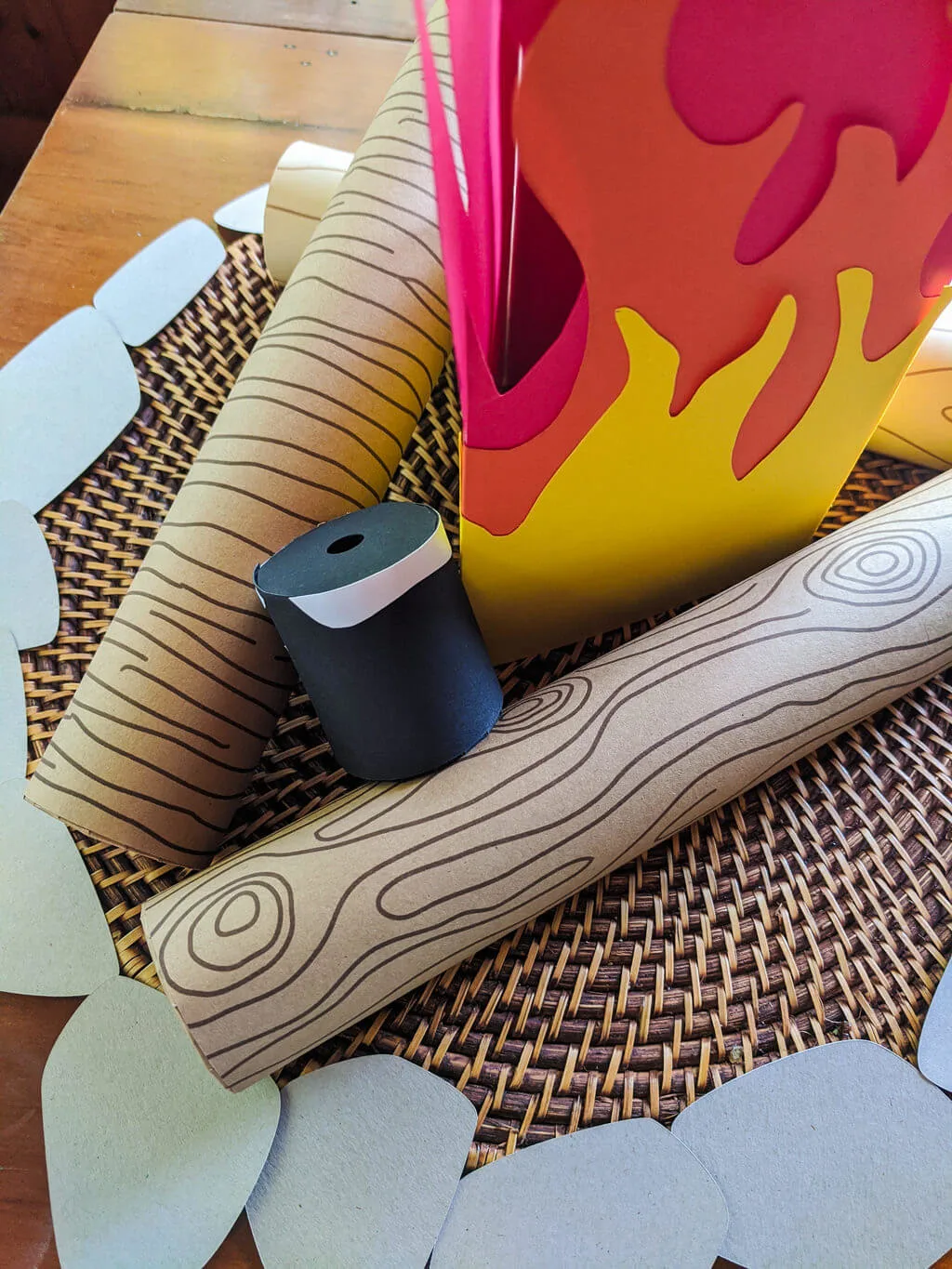 Easier to make than a plush felt campfire
My DIY campfire and s'mores paper play set craft is easier to make than a plush felt campfire because there's no sewing required. And my paper campfire design is more durable and realistic than a tissue paper fire.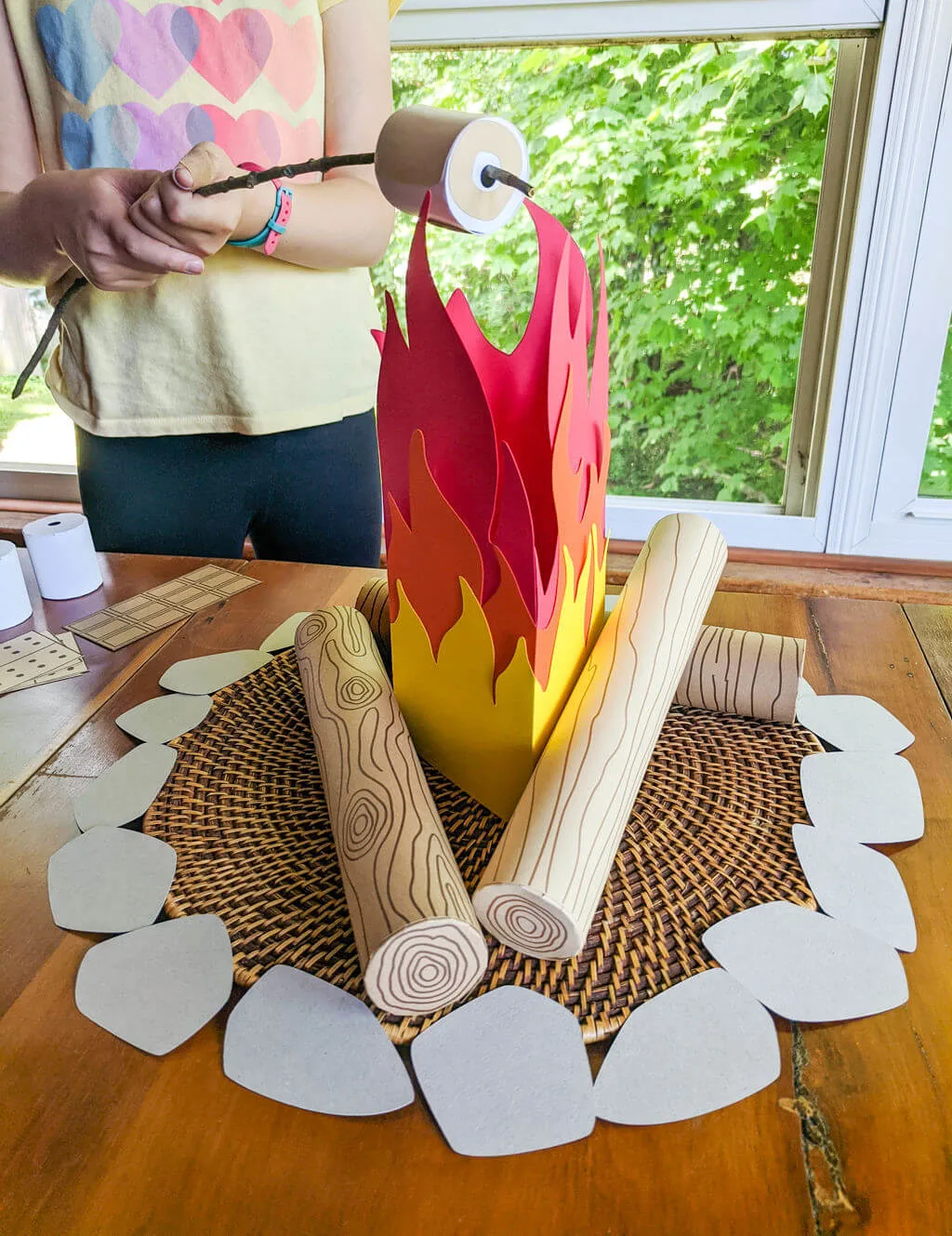 My kids totally inspired this DIY craft idea. Back in March when we were in lockdown in Chicago, the kids built indoor forts and created their own pretend campfire using balled up paper and real sticks. I saw what they made themselves and thought, hey, that's a great idea to make with Astrobrights paper! So thanks to my kids for the inspiration.
Baby Yoda and the American Girl dolls have both been enjoying my pretend campfire and s'mores craft. Hey Joss, your marshmallow is looking great!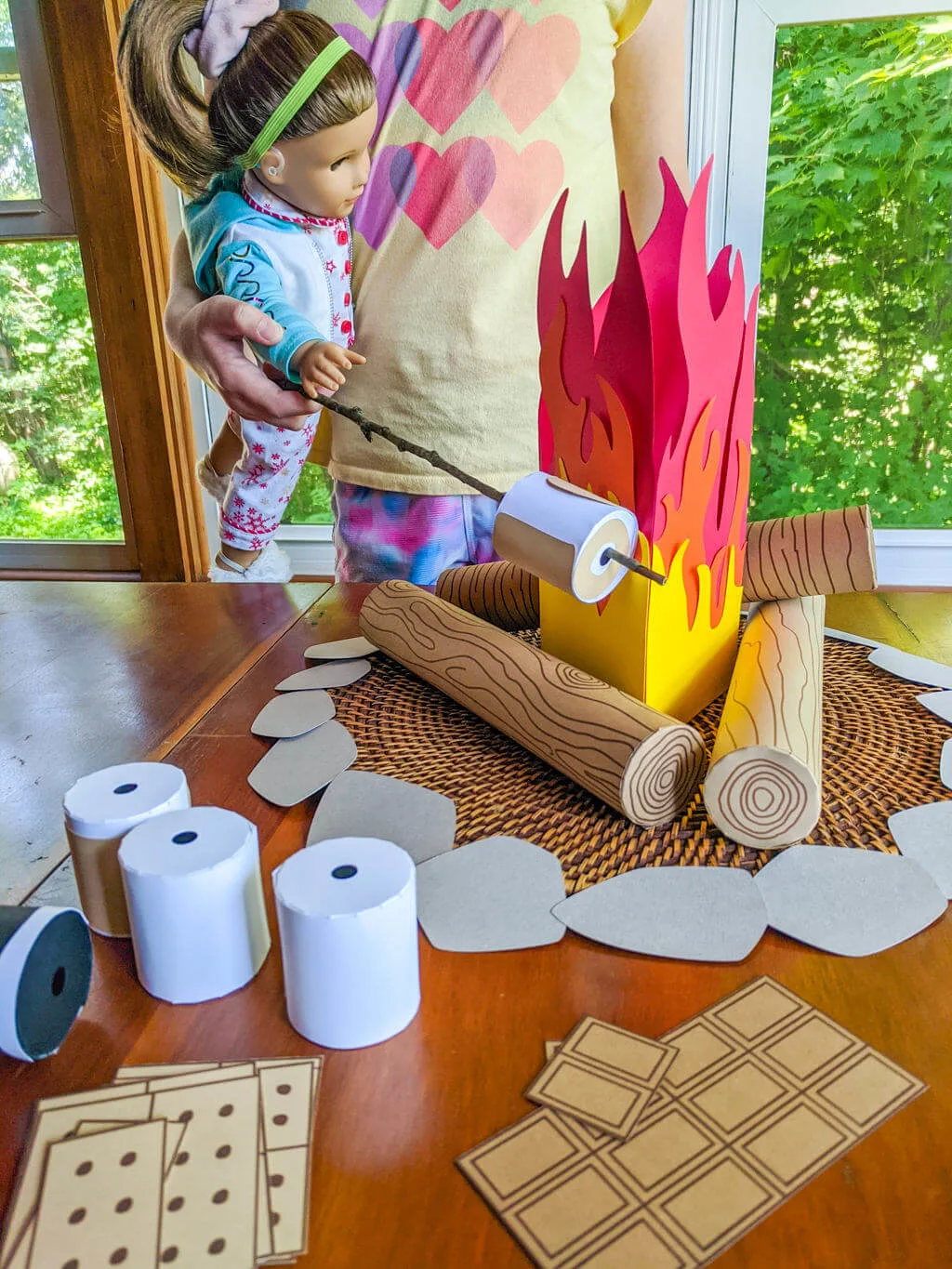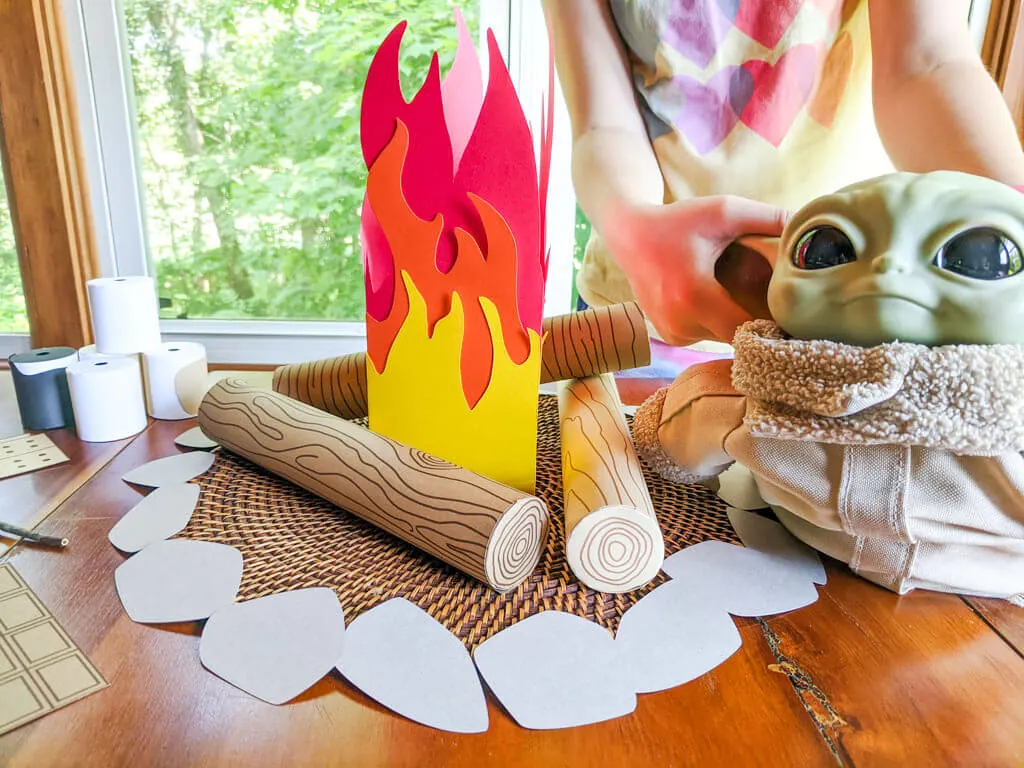 Great craft idea for a camping theme
This pretend campfire is a great activity for a camping theme birthday party, camping theme classroom at school, or simply for pretend dramatic play inside at home. Kids can make as many s'mores as they like with their handmade campfire, rain or shine.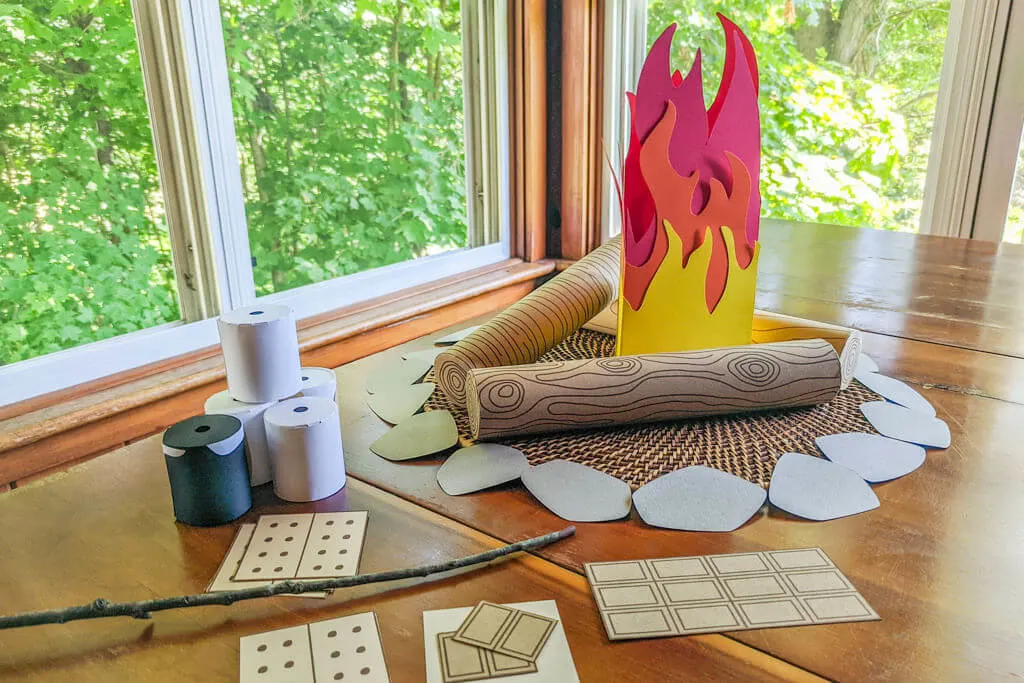 This post contains affiliate links which means that products I recommend may give me a nominal commission at no extra cost to you. Thanks – your clicks help me make more free DIYs!
++++++
Supplies for making pretend s'mores and campfire play set from paper:
—
How to make a DIY fake campfire and s'mores play set from paper:
Visit Astrobrights.com for the full how-to instructions. Here are the basic steps:
Step 1: Print templates onto Astrobrights Papers and cut out logs, stones, and fire flames, marshmallows, chocolate, and graham crackers.
Step 2: Make marshmallows by cutting toilet paper rolls in half with a craft knife to make two 'marshmallows' per roll, and then glue on my free printable marshmallow templates.
Step 3: Make logs by gluing my wood grain templates onto the logs.
Step 4: Glue the red, orange, and yellow flames together, then fold into a triangle shape to secure into a fake campfire.
Step 5: Play!
Head on over to Astrobrights.com for my full pretend campfire and s'mores tutorial and free printables.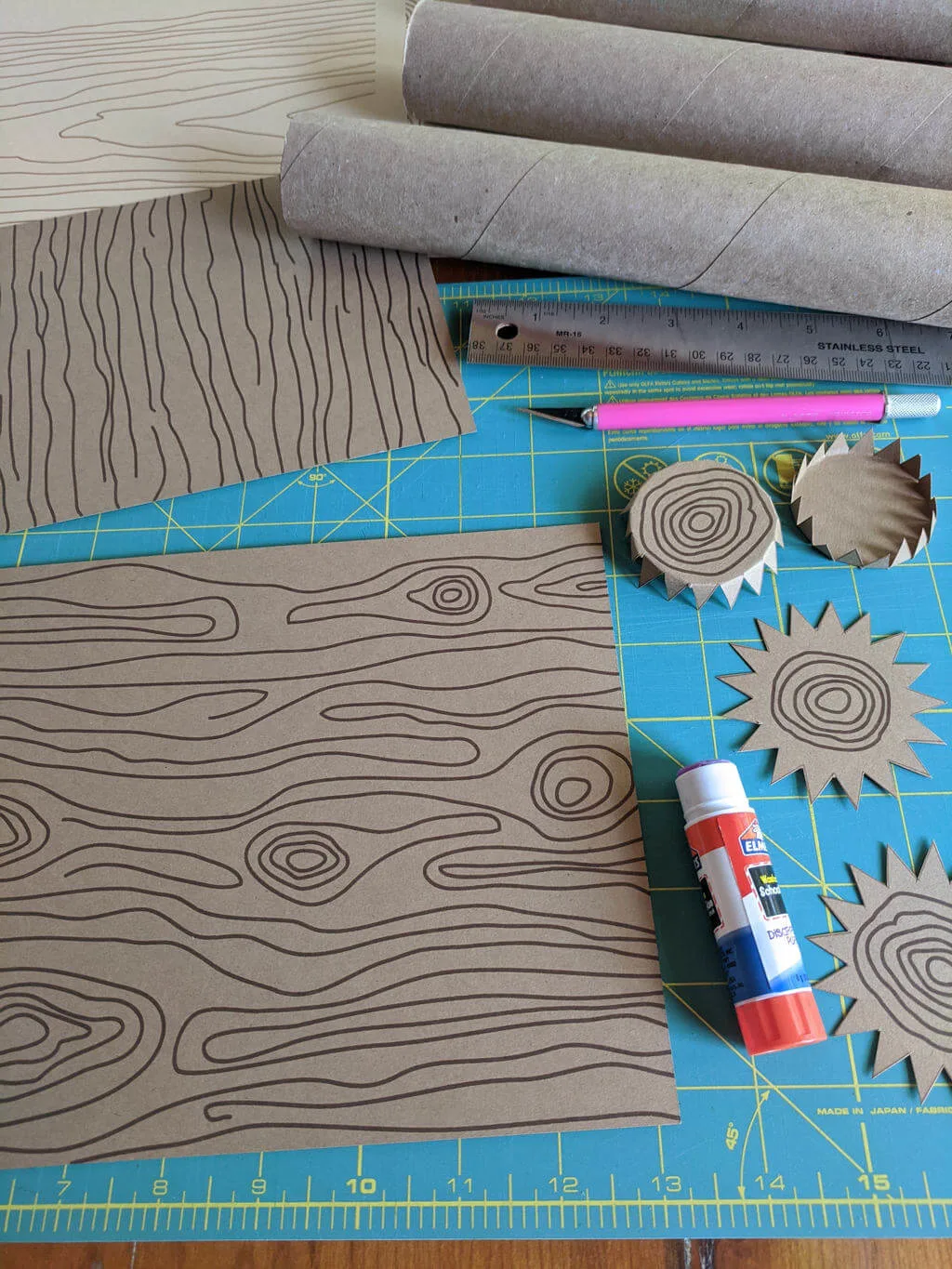 ++++++
Be sure to pin this pretend campfire and s'mores play set craft idea: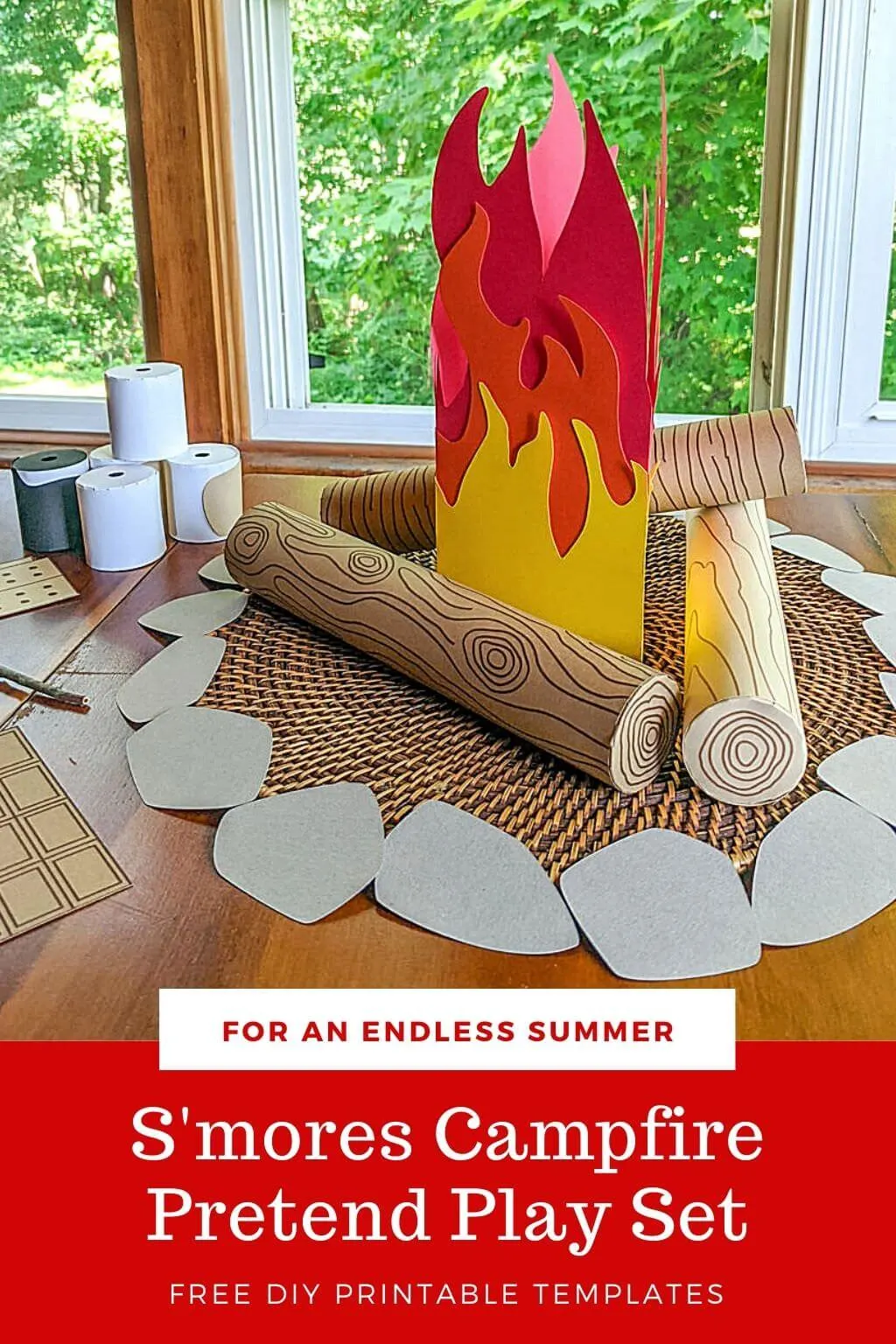 And see more paper crafts for Astrobrights including my Bomb Pops DIY Patriotic Printables, Paper Jewelry craft, Holiday Mittens Printable Gift Card Holder, Paper Easter baskets template, Printable locker decorations, Mother's Day DIY Paper Wreath, Father's Day tie garland, Geometric Dinosaur Birthday Party, Valentine's Day Jokes Cards, and Valentine's Day heart bracelets. Yeah, that's a lot of paper craft projects. Can you tell that I really like working with Astrobrights paper? It's truly my favorite colorful paper.
—
Like it? Share it!
The nicest way to say you like it is to pin it on Pinterest, post a comment, follow Merriment Design on Facebook, Pinterest, Instagram or sign up for monthly emails. Enjoy! 🙂
Copyright stuff: You're more than welcome to use this free project and tutorial for personal use. Contact me for commercial use and Etsy sales.