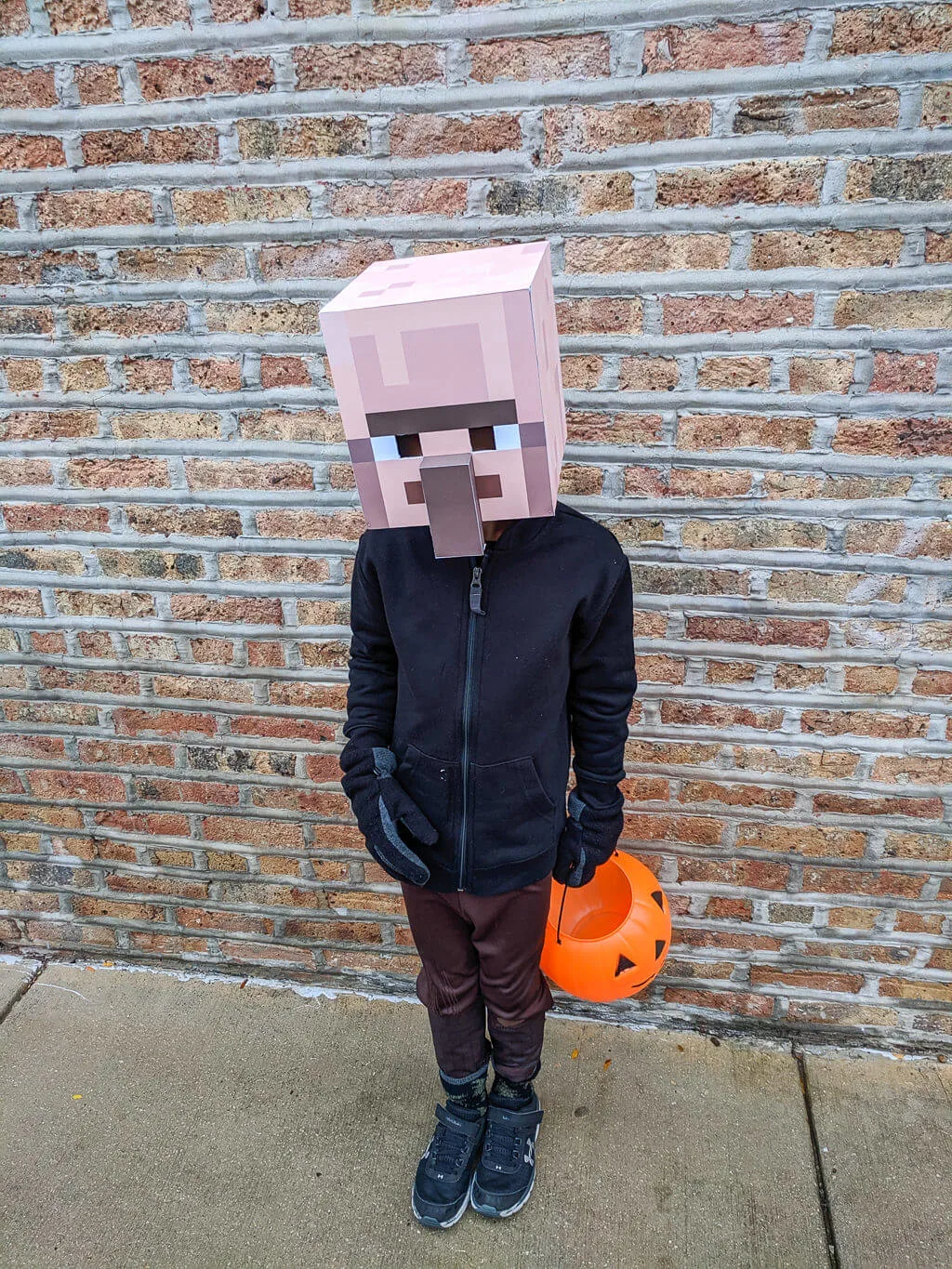 Make my easy Minecraft costume idea for your favorite Minecraft fan! This DIY Minecraft Villager head and emerald make a great Minecraft Halloween costume, Minecraft birthday party, or Minecraft dress up. Liam wore his Minecraft costume head for a school Halloween party and also trick-or-treating for Halloween. It's super easy to make for a last-minute DIY Halloween costume.
How to make a Minecraft Villager costume head
I created a Minecraft free printable for you to download and glue onto a cardboard or foam core box to make a Minecraft Villager with 3D nose. You can also use this technique to make a Minecraft cardboard head for Steve, Creeper, Zombie, Skeleton, and Enderman.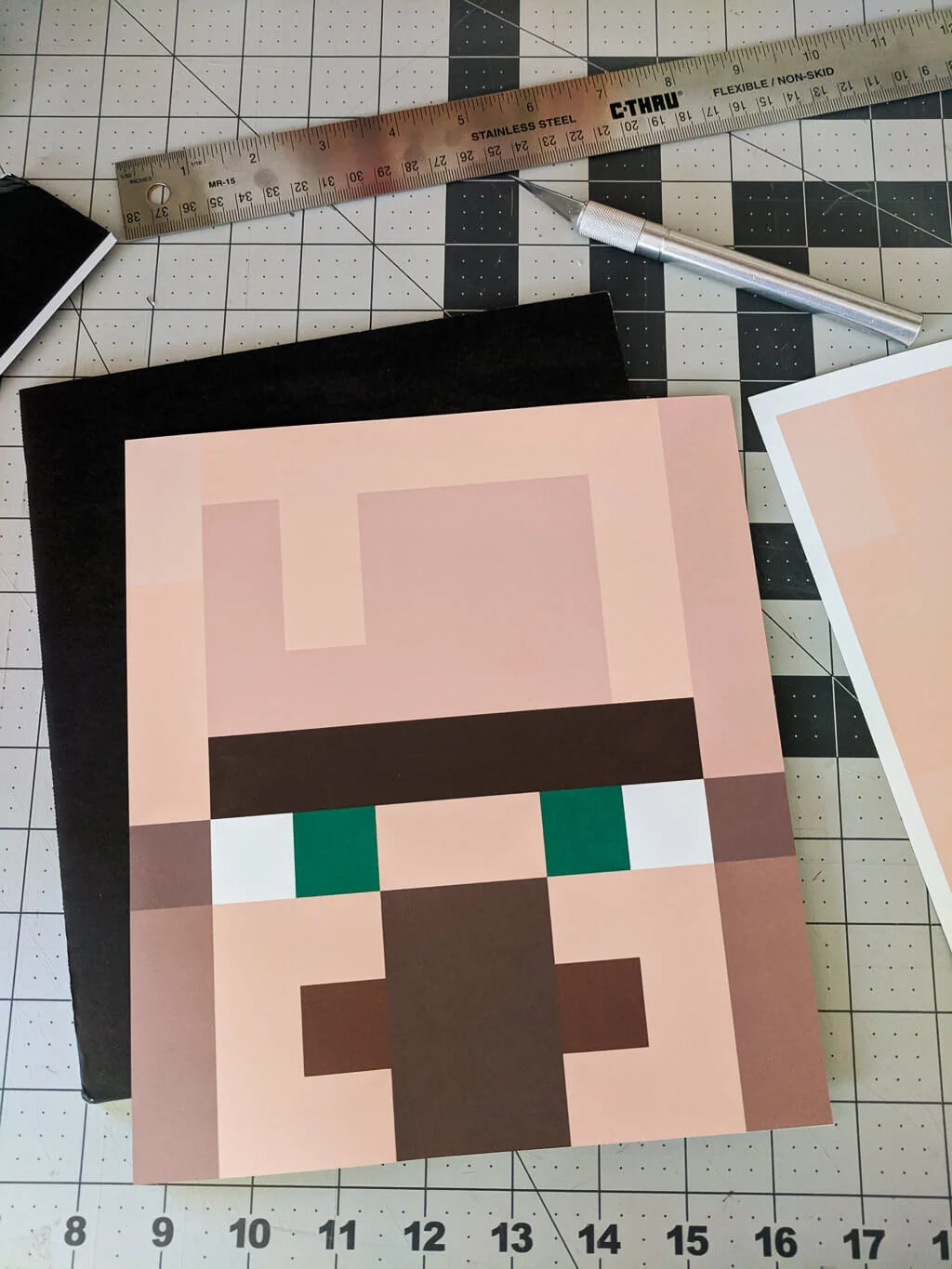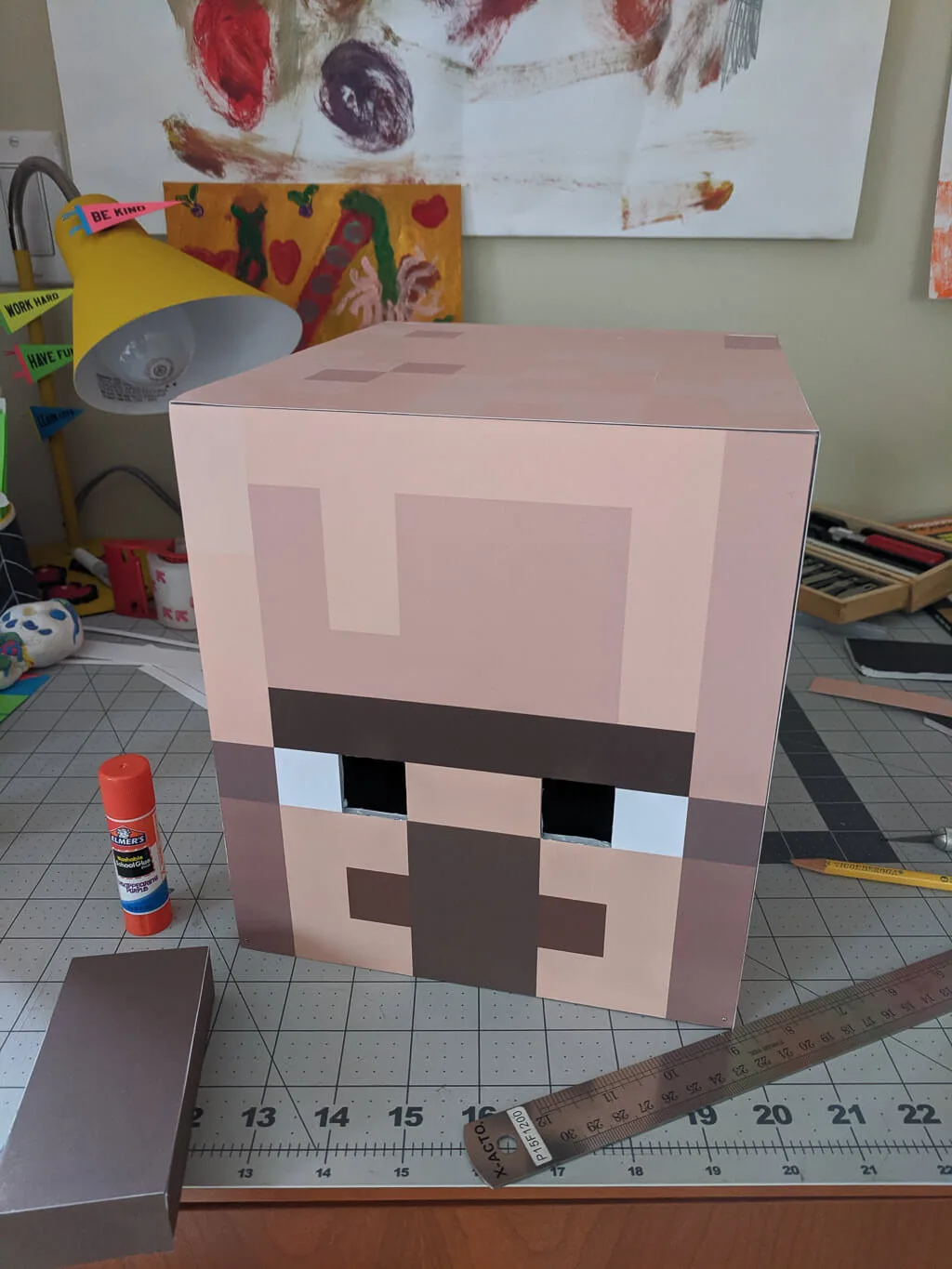 Easy DIY Minecraft Villager Halloween costume
Liam's super into Minecraft this year. He even had a Minecraft birthday party theme this year. So when he told me that he wanted me to help him make a Minecraft Halloween Costume, I wasn't too surprised. But then he said he wanted to be a Villager. Um, what is a Villager?? I had to Google what a Minecraft Villager was and what it looked like. And then, I was able to create this free printable Minecraft villager head for you that makes a great DIY Minecraft costume idea for boys and girls.
See also: 'No-mess Minecraft Creeper t-shirt DIY' »
It was so cold in Chicago on Halloween that we had to wear jackets and gloves on top of our Descendants and Minecraft Halloween costumes. The Minecraft cardboard head actually kept Liam's face and head warm. Leave it to Chicago to have snow on October 31st! What a trick!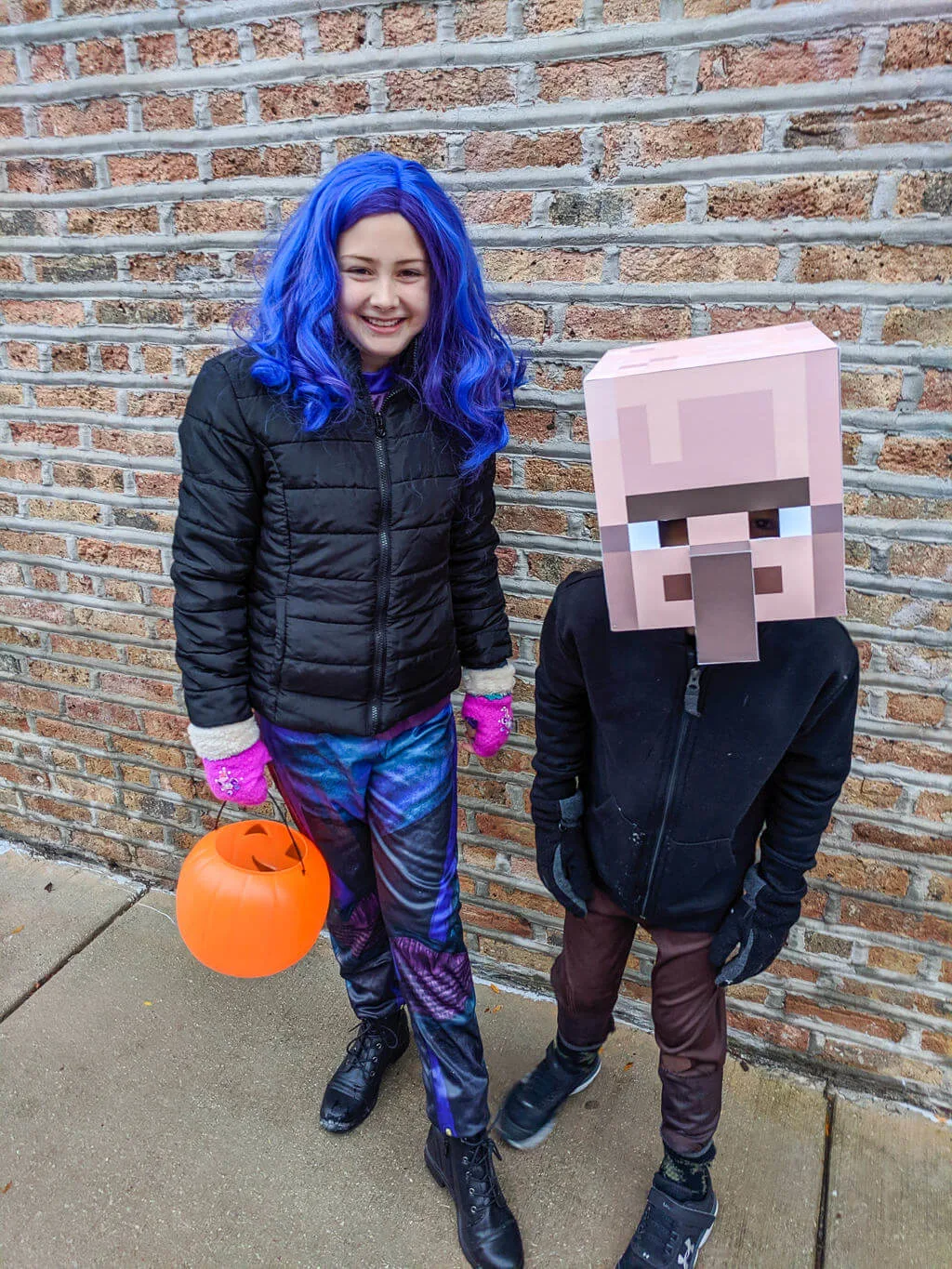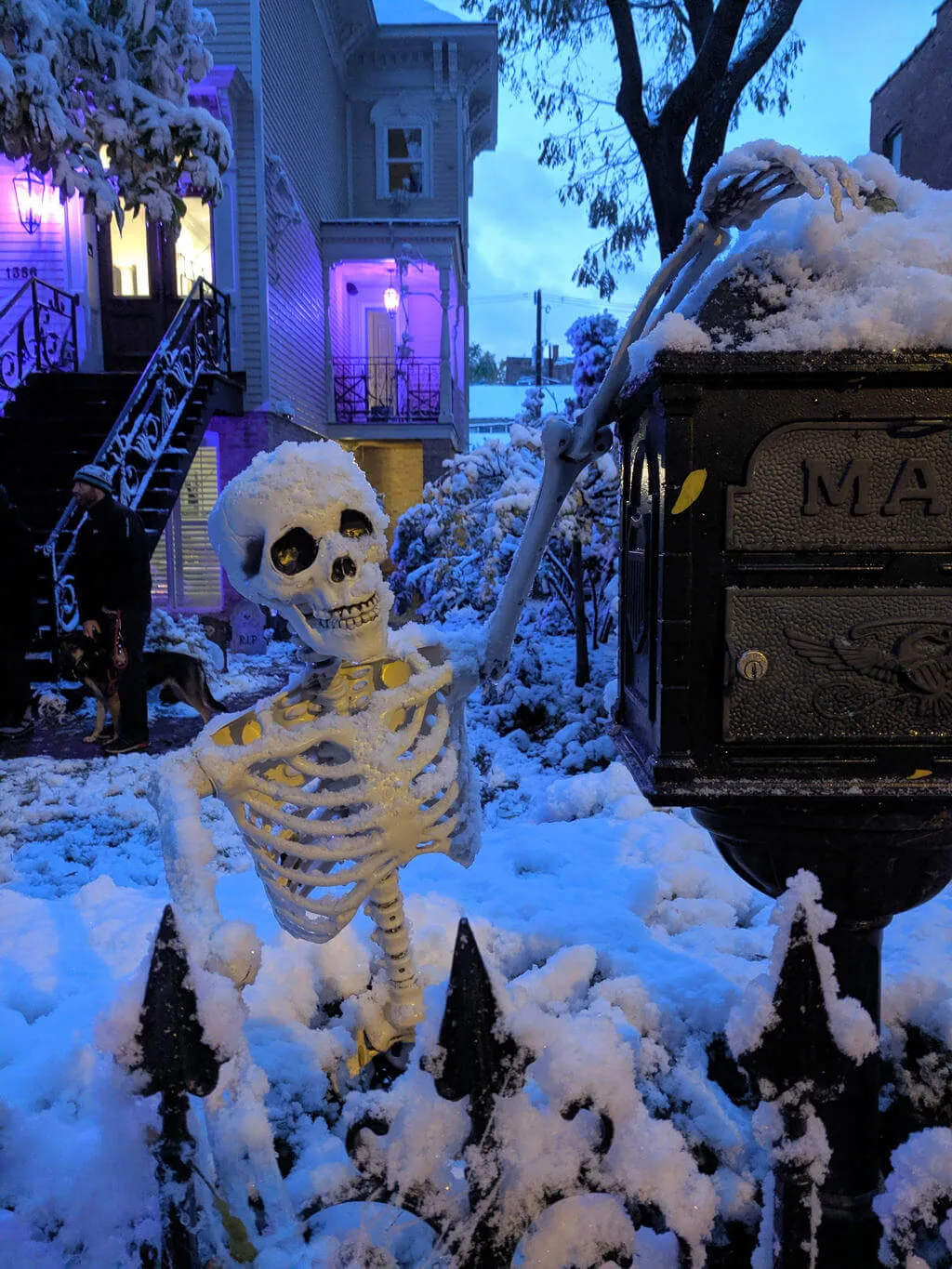 More easy DIY Halloween costumes for kids:
If you like this easy DIY Minecraft head costume, see my other easy DIY Halloween costumes for kids:

Supplies for making a Minecraft Halloween costume DIY head:
—
How to make a Minecraft head for a Halloween costume:
1. Print my free Minecraft cardboard head printable for a Villager
Download my free Minecraft Villager printable with 3D nose. There will be 5 pages to print: 1 Villager face, 2 sides, 1 top, and 1 back. Be sure to print on bright white cardstock paper for the most vibrant colors, and try to use a color laser printer if you can to minimize the chance of colors running if Halloween is a little rainy. Use your craft knife, metal ruler, and self-healing mat to trim away all the white edges. Each page has an extra strip of pixels in case you need to fill in blank slots on your cardboard box as needed.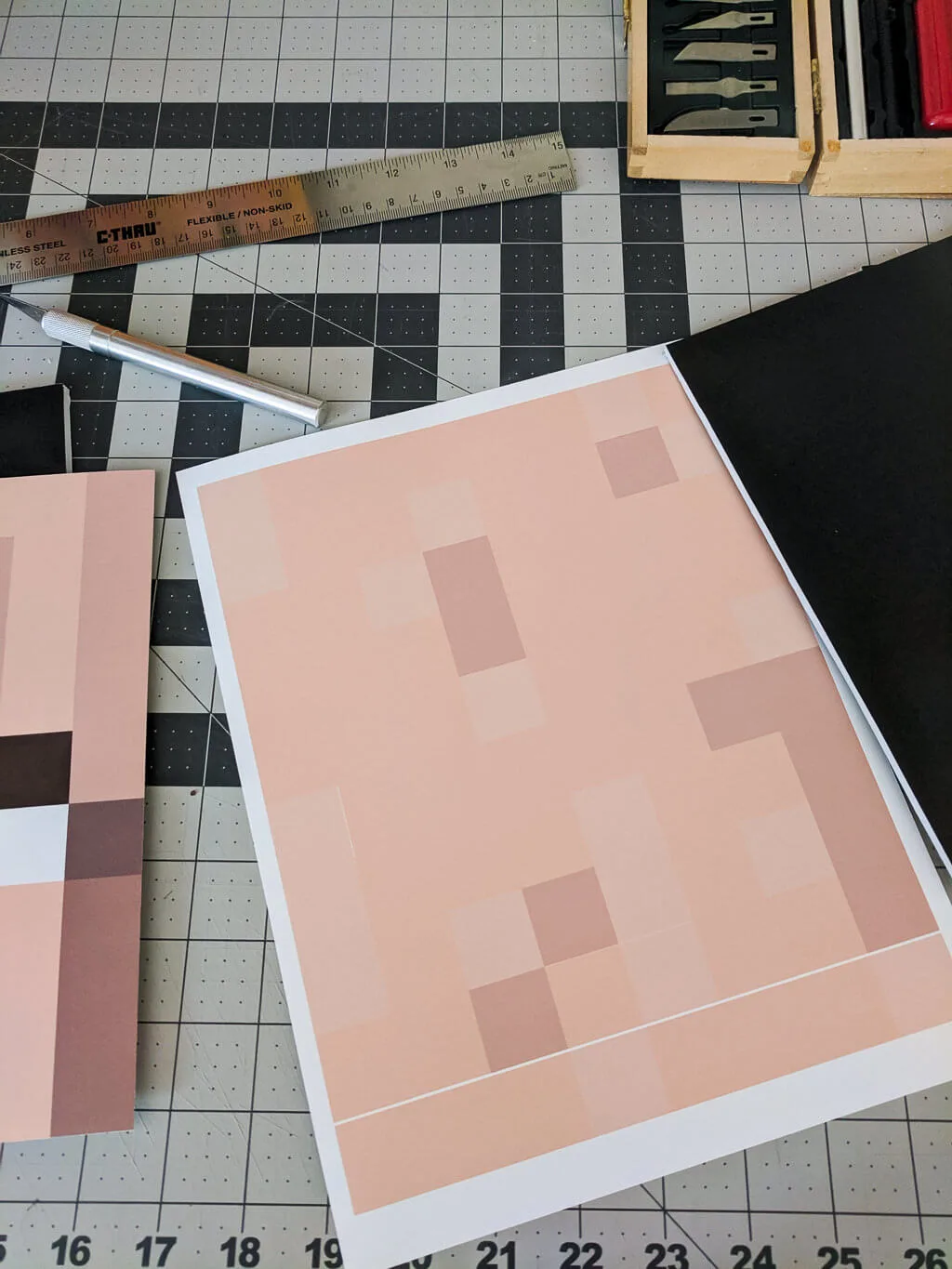 Step 2: Glue Minecraft skins to the sides of the cardboard box or foam core
Use your purple glue stick to adhere the 5 Minecraft skins (face, back, two sides, and top) and Villager face to a cardboard box or 5 pieces of foam core or cardboard cut to be the same size as the printouts. I cut 5 pieces of black foam core the same size as the printouts. Let dry completely. Carefully cut out eye holes from the Minecraft face using a craft knife, metal ruler, and self-healing mat. Then made a cube by gluing the sides of the Minecraft head together using strong glue or a glue gun and glue sticks. Let the Minecraft costume dry completely.
Here are the finished dimensions that I used to make my son's Minecraft head for his Halloween costume:
front side: 9″ tall x 8″ wide
back side: 9″ tall x 8″ wide
right side: 9″ tall x 9-3/8″ wide
left side: 9″ tall x 9-3/8″ wide
top: 9-3/8″ wide x 9″ wide
Yes, I realize that this isn't actually a square block. Not very Minecraft of me, is it? Ha! 😀 I think we must have made it that way to make room for my son's nose? I don't totally remember. But trust me, no one will notice that it's not a square block!
I recommend testing these dimensions out on your child first before you cut the foam core, and if you need to adjust the size then you can print out some extra sheets of my pixels, cut some rows out, and glue them onto the foam core to extend the size to fit your child.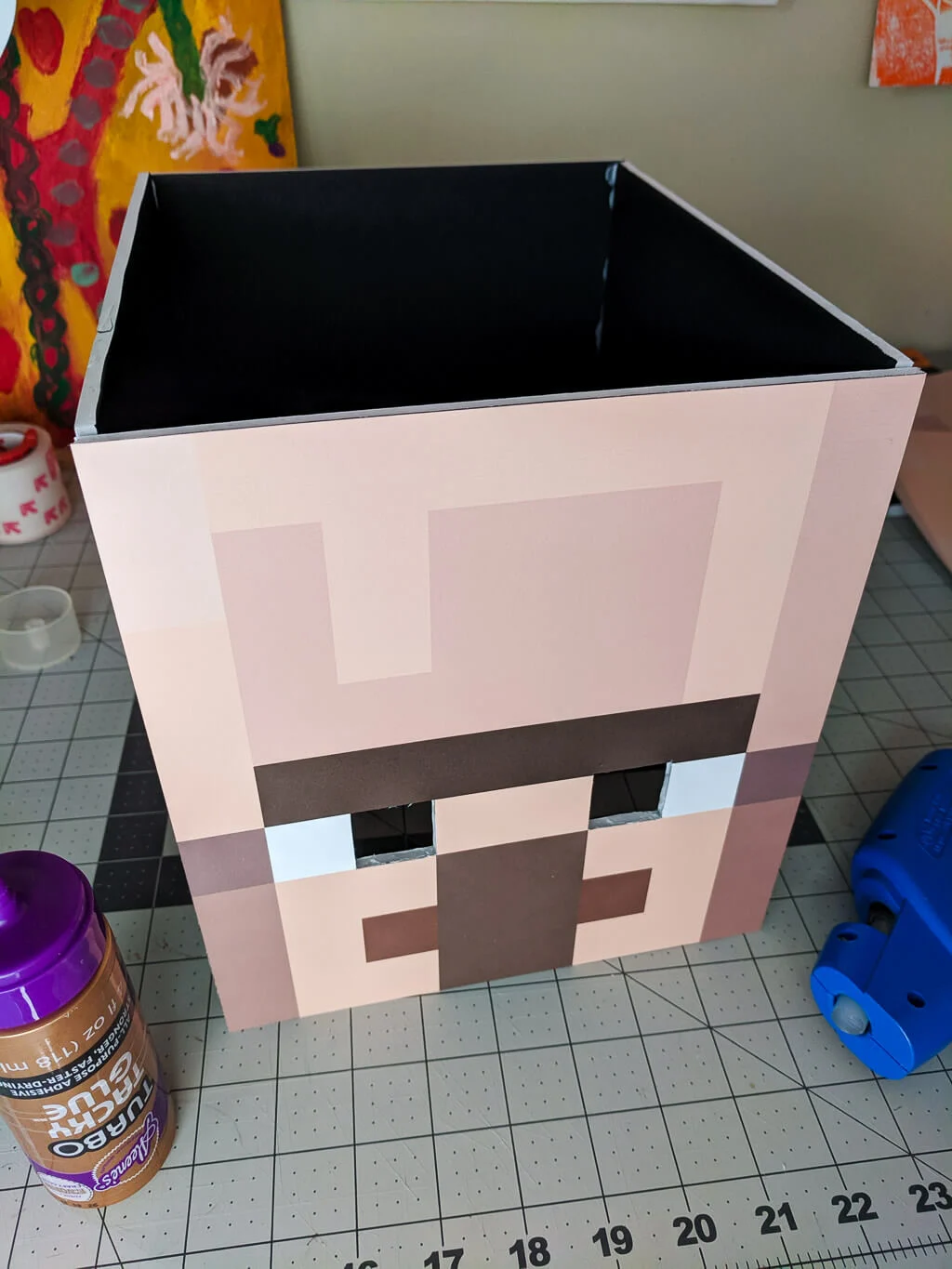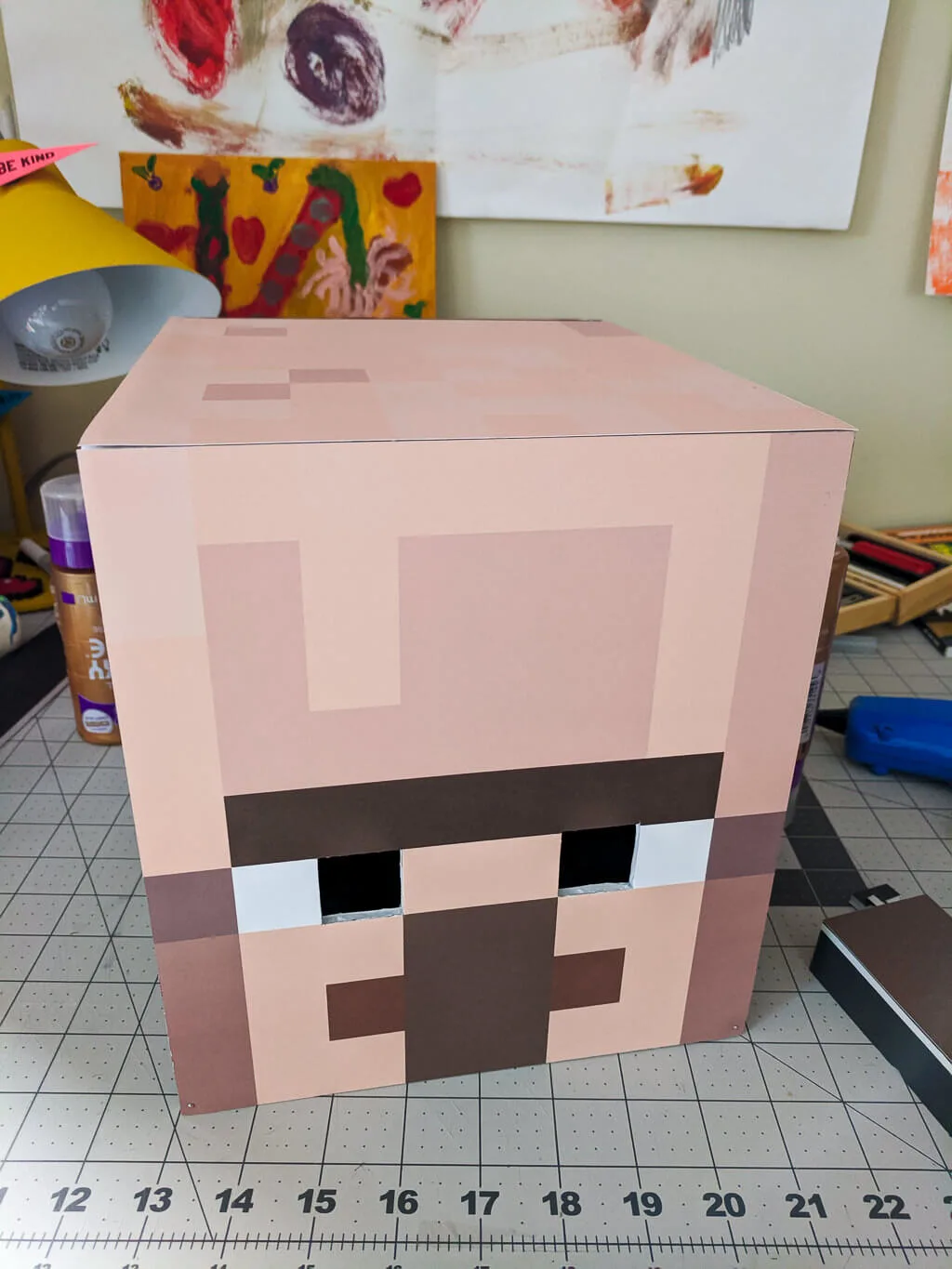 Step 3: Add 3D villager nose to the Minecraft head
Glue the Minecraft villager's nose pieces onto cut pieces of cardboard or black foam core using a purple glue stick and let dry completely. Then glue the pieces into a 3D nose using strong glue or glue gun and glue sticks, and let dry completely. Once dry, glue the nose onto the Minecraft villager face.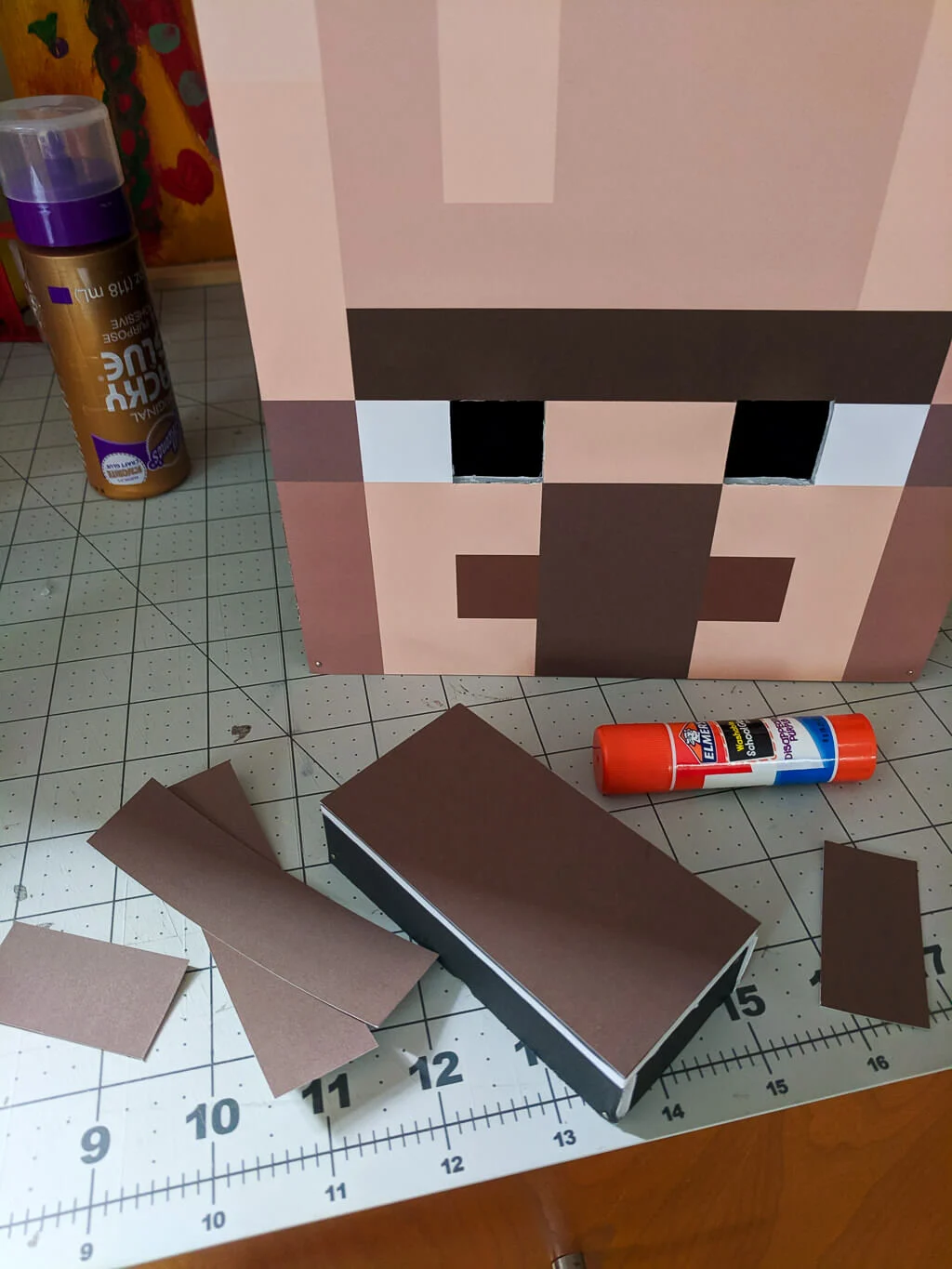 Step 4: Add pillow stuffing to the inside of the head (optional)
I forgot to take a photo of this step, but we added a little pillow stuffing to the inside of the head, just enough to position the mask properly on Liam's head so that he could see out of the eye holes. It also made the Minecraft cardboard head comfortable for him to wear when trick-or-treating. You can permanently glue in the pillow stuffing but we didn't and his cardboard head stayed put just fine at his school's Halloween party.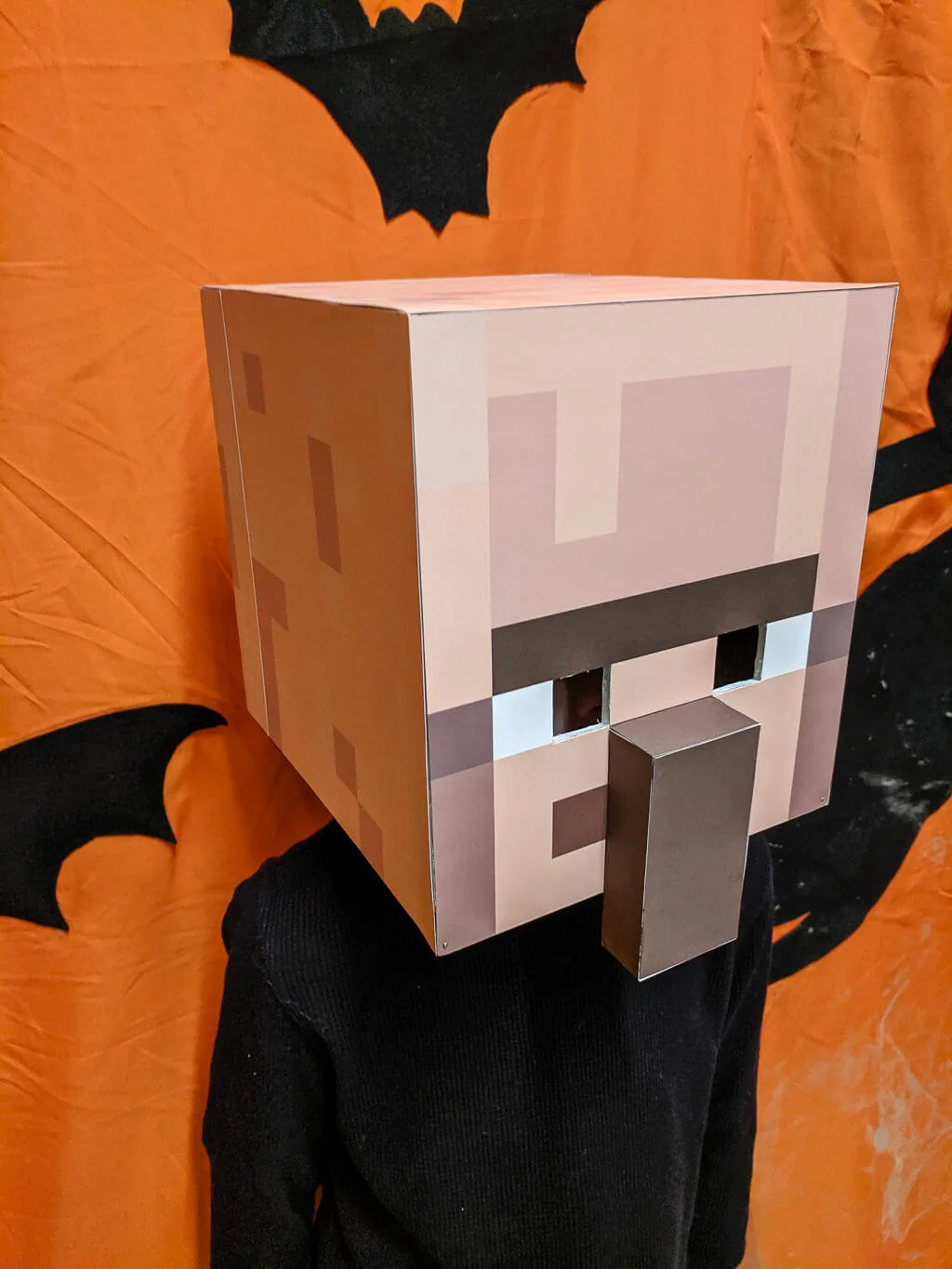 Be sure to pin my Minecraft costume DIY printable cardboard head for a Halloween costume — or even a Minecraft birthday party!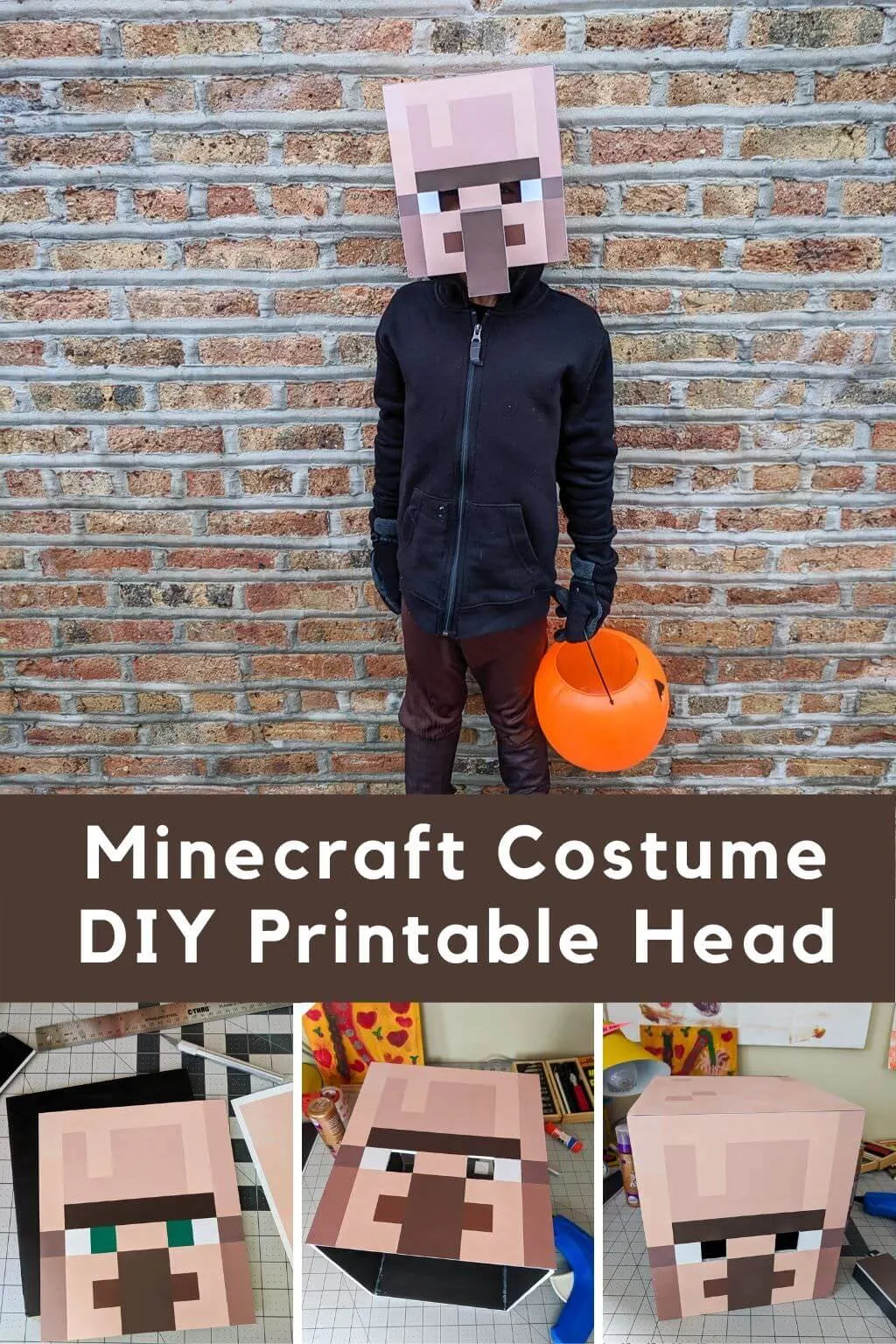 ++++++
And be sure to see more easy DIY Halloween costumes for boys and girls plus spooky Halloween crafts.
++++++
Like it? Share it!
The nicest way to say you like it is to pin it on Pinterest, post a comment, follow Merriment Design on Facebook, Pinterest, Instagram or sign up for monthly emails. Enjoy! 🙂
Copyright stuff: You're more than welcome to use my free project, printable templates, and tutorials for personal use. Contact me for commercial use and Etsy sales. Momma's gotta pay the bills.