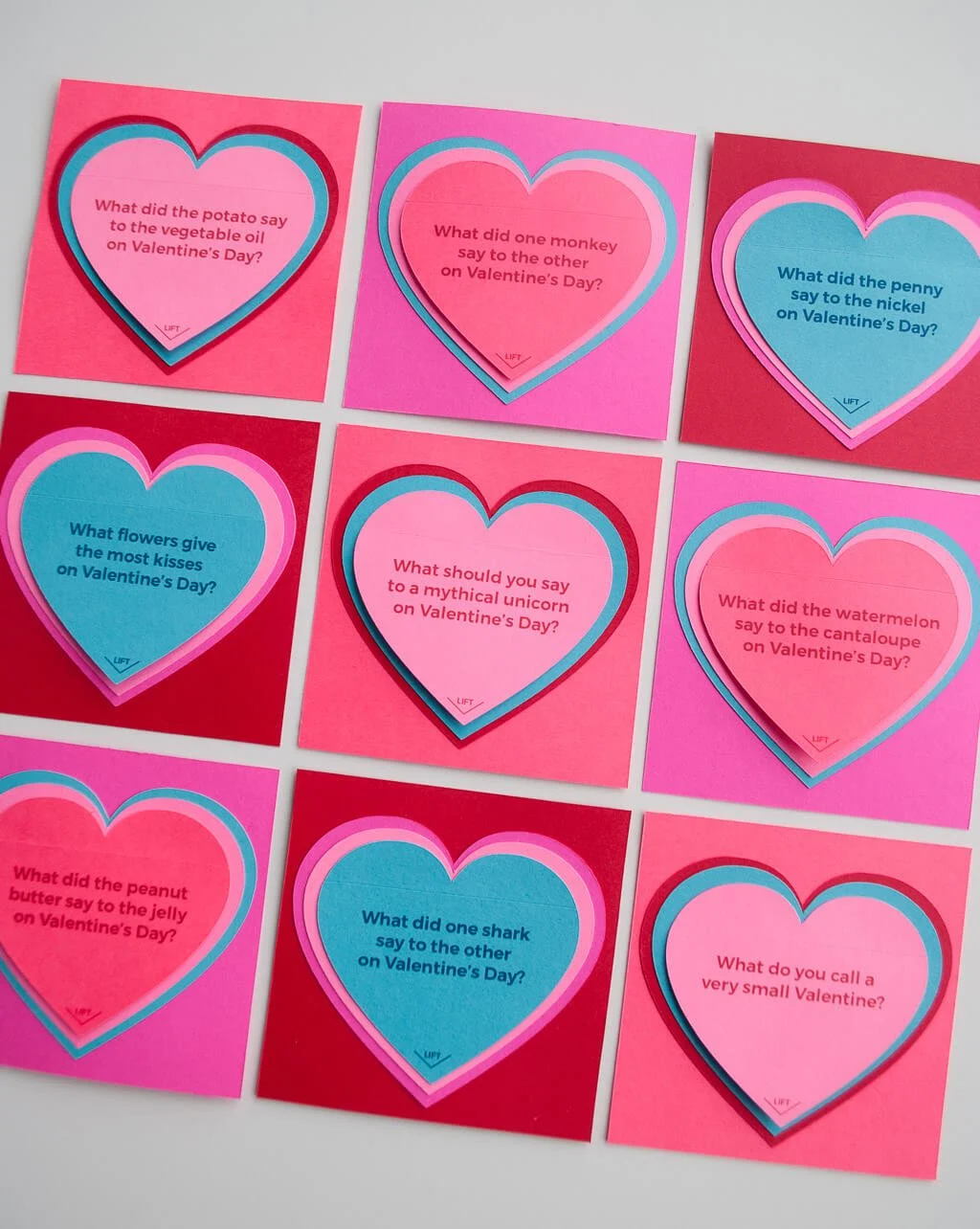 Get ready for your school's Valentine's Day party with these clever and cute DIY Valentine's Day Jokes Cards for kids! These valentines jokes make great handmade classroom valentines and lunchbox notes. I'm giving you all the free printable templates to make your own Valentine's Day jokes cards to give to your favorite kids and school pals. Keep reading to get the free printable to make your own.
DIY Valentine's Day jokes printable cards for kids
My printable valentines cards for kids feature 18 different silly Valentine's Day jokes like:
"What should you say to a magical unicorn on Valentine's Day?"
"What did the ceiling say to the chandelier on Valentine's Day?"
"What did the potato say to the cooking oil on Valentine's Day?"
"What did one shark say to the other on Valentine's Day?"
and 14 more Valentine's Day jokes for kids…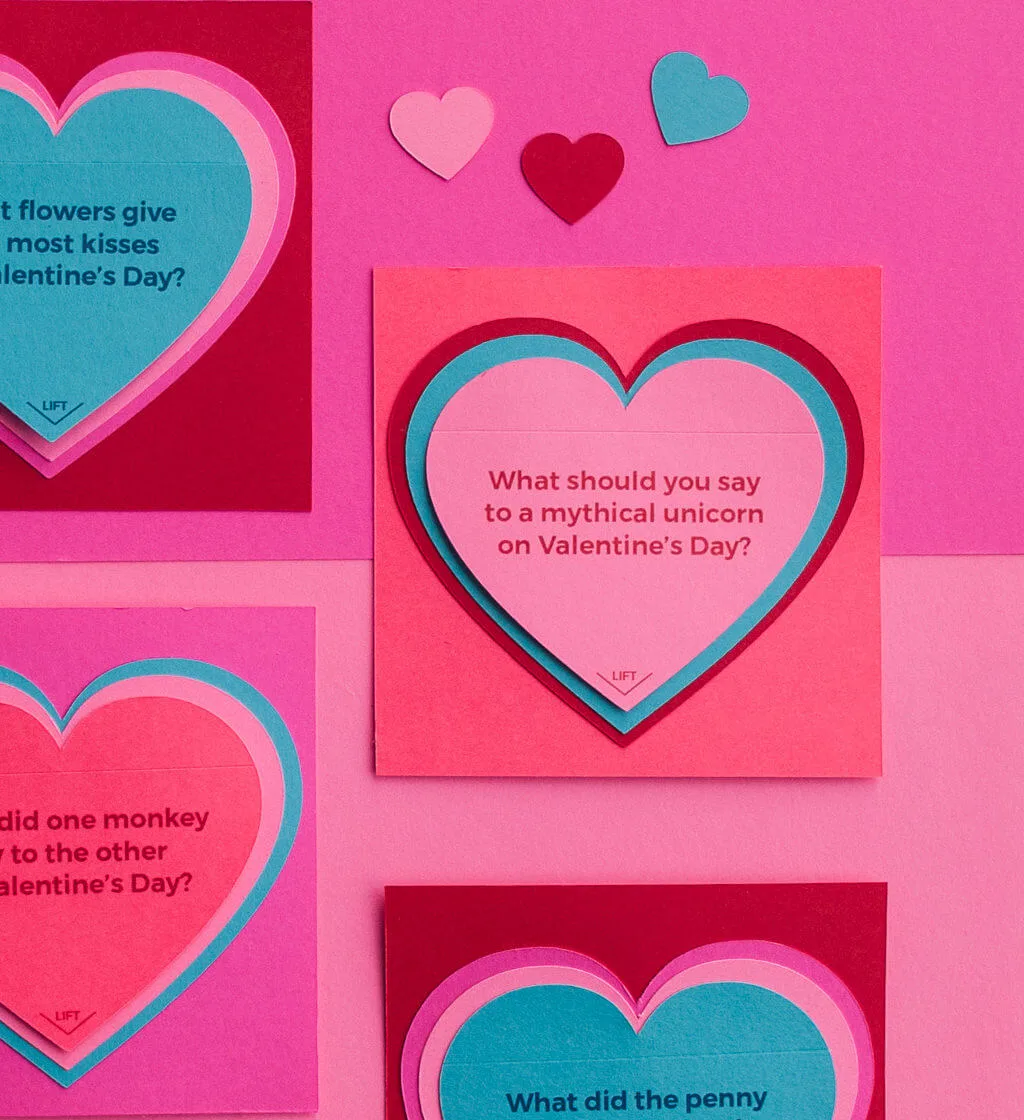 Wanna know the answers? Flip up the top heart to reveal the punchlines underneath the heart. Cute, yes? I love the spirit and silliness of these DIY Valentine's Day Jokes Cards for Kids. They're playful, vibrant and easy to make for classroom friends and teachers. Just print the free printable templates, cut, glue and sign your name.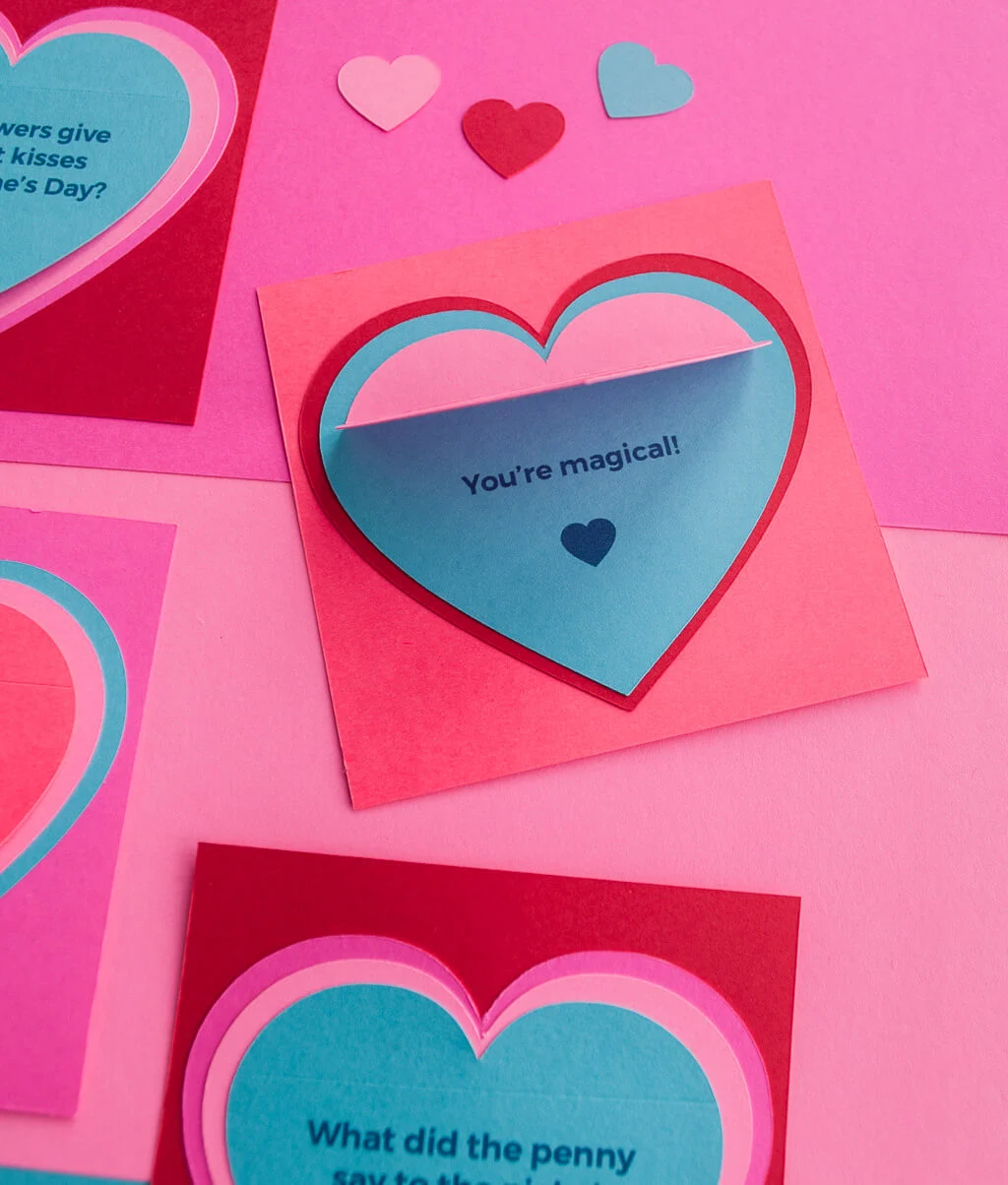 Creative valentine classroom exchange cards
My DIY Valentine's Day Jokes Cards are fun and friendly without being too romantic, so it's a great valentines idea for boys and girls to make for their classroom valentines exchange cards. Kids can sign their names on the backs and add a couple small hearts for extra love.
Now what do you call a very small Valentine? A valen-tiny!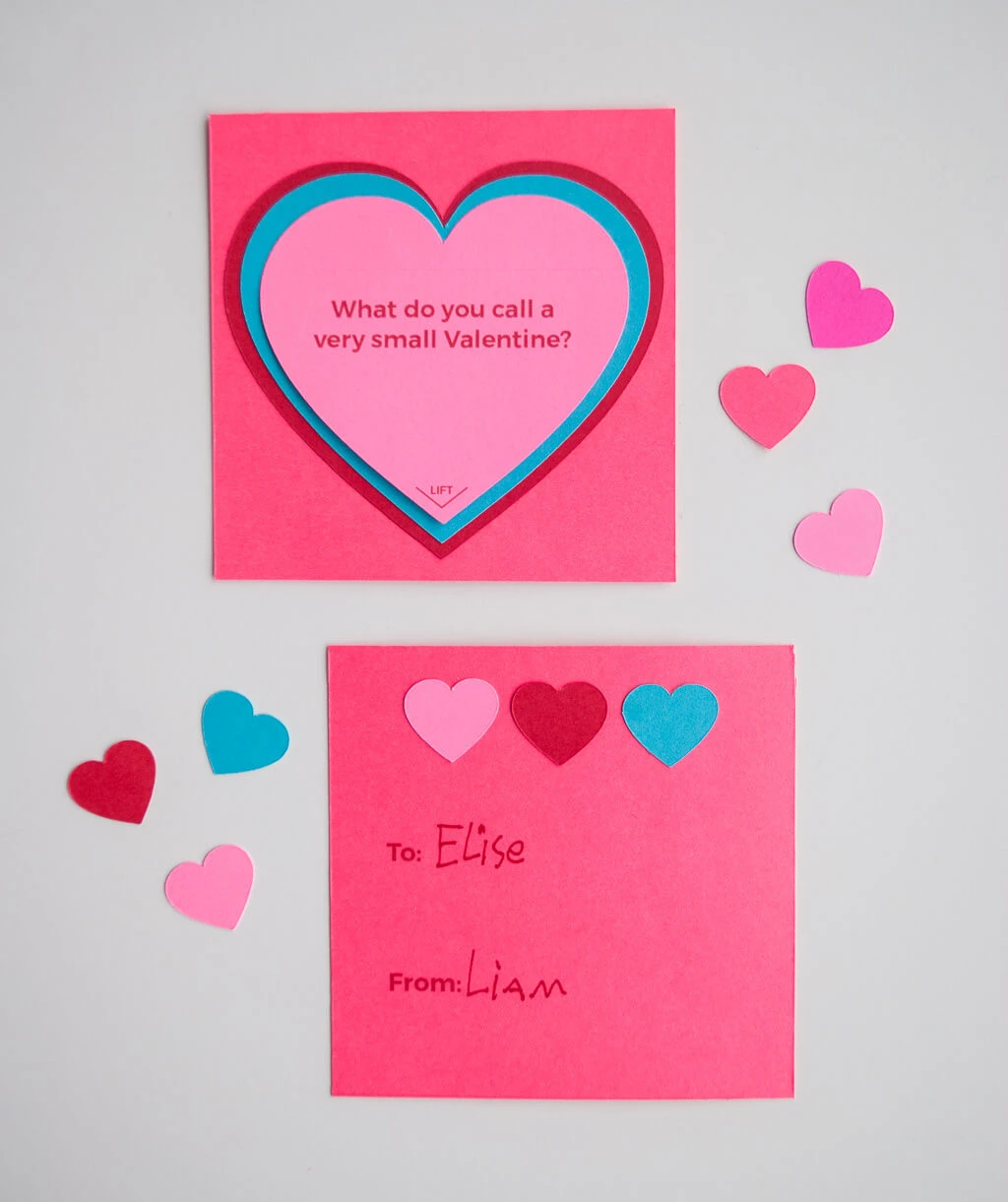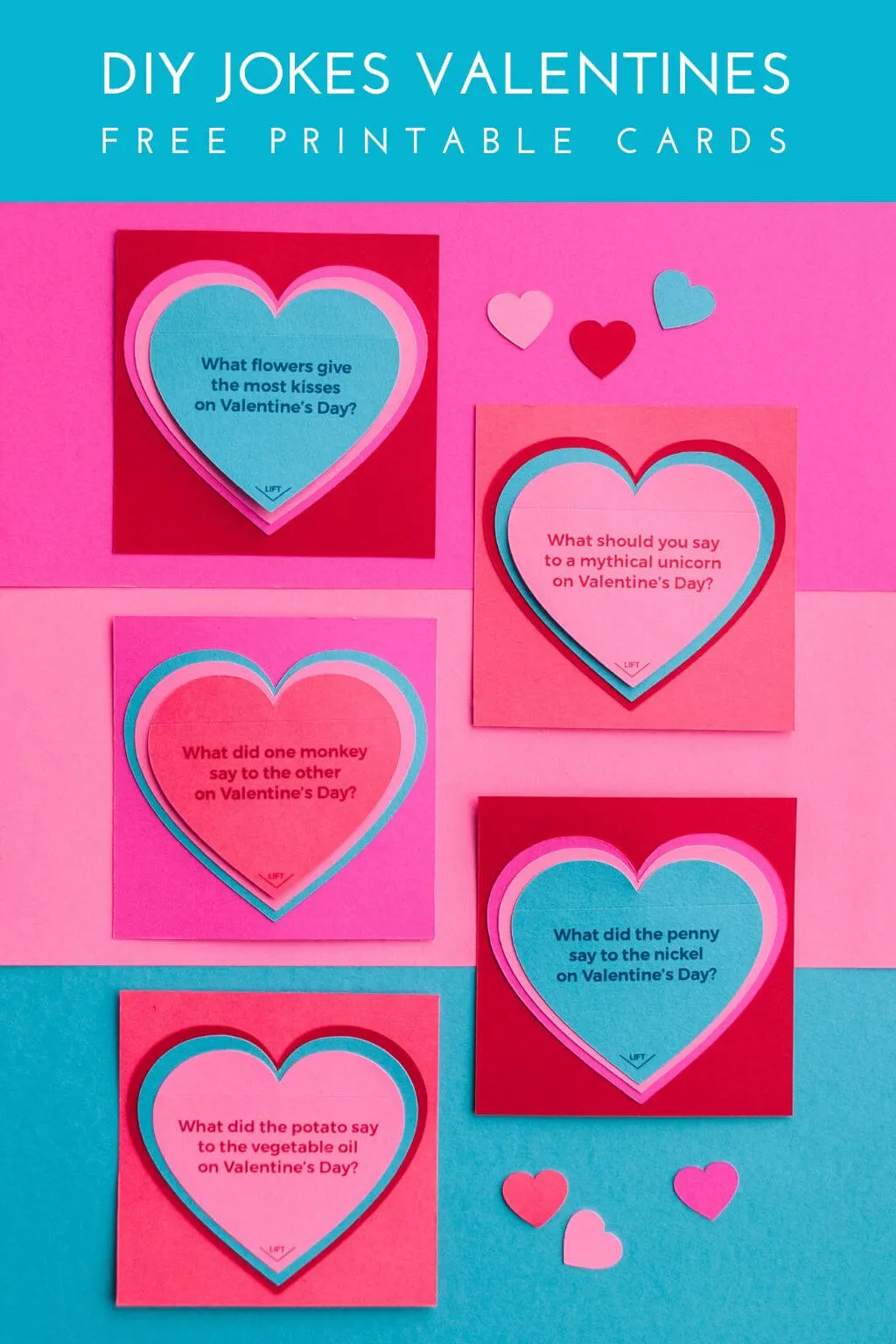 Making classroom cards is great Valentine's Day craft activity for kids
My 6-year-old son, Liam, got a joke book in his Christmas stocking and he's all into telling us silly jokes these days. Last year, we made our own DIY LEGO classroom Valentines so I thought it would be fun to make DIY valentines with Valentine's Day jokes for him to pass out to his classroom friends at school. We gathered up a bunch of heart-themed jokes and even made up some of our own using punch lines from other jokes.
I designed these printable Valentines cards for ASTROBRIGHTS® Papers who sponsored this project. I'm happy to announce that I'll be contributing four projects to Astrobrights.com this year including printable templates and full step-by-step instructions. Thanks, Astrobrights, for sponsoring this post. I only work with brands that I use and love.
See also: 'Easy DIY Valentine's Day Paper Heart Bracelets' »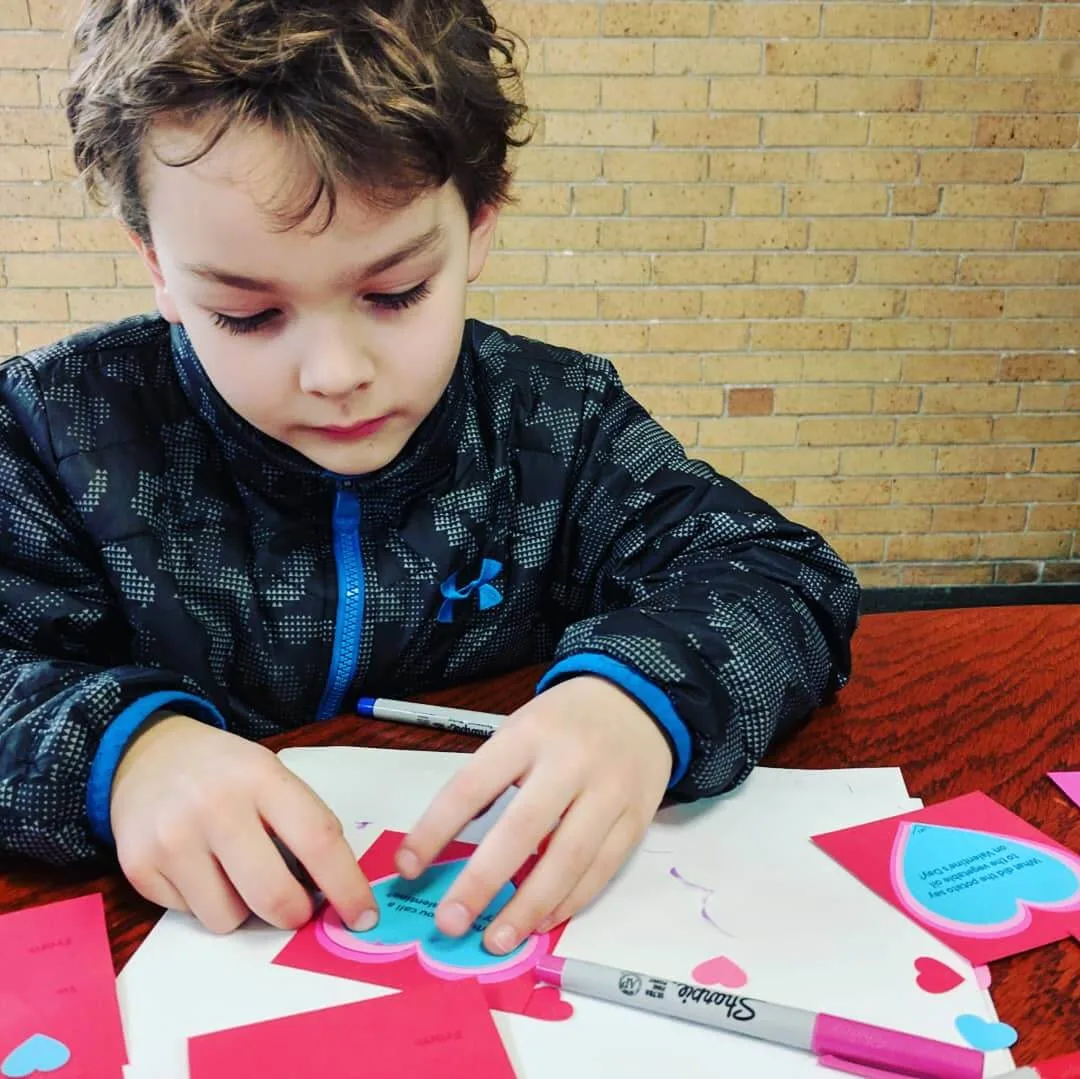 Tuck a joke into lunchboxes on Valentine's Day
And my printable Valentine's Day Joke Valentines also make great lunchbox notes. You could make 14 to count down to Valentine's Day — just put one into your child's lunchbox each day from February 1 – 14 — or make one lunchbox note for February 14. I would choose this joke for lunchbox notes on Valentine's Day: "What did peanut butter say to the jelly on Valentine's Day?"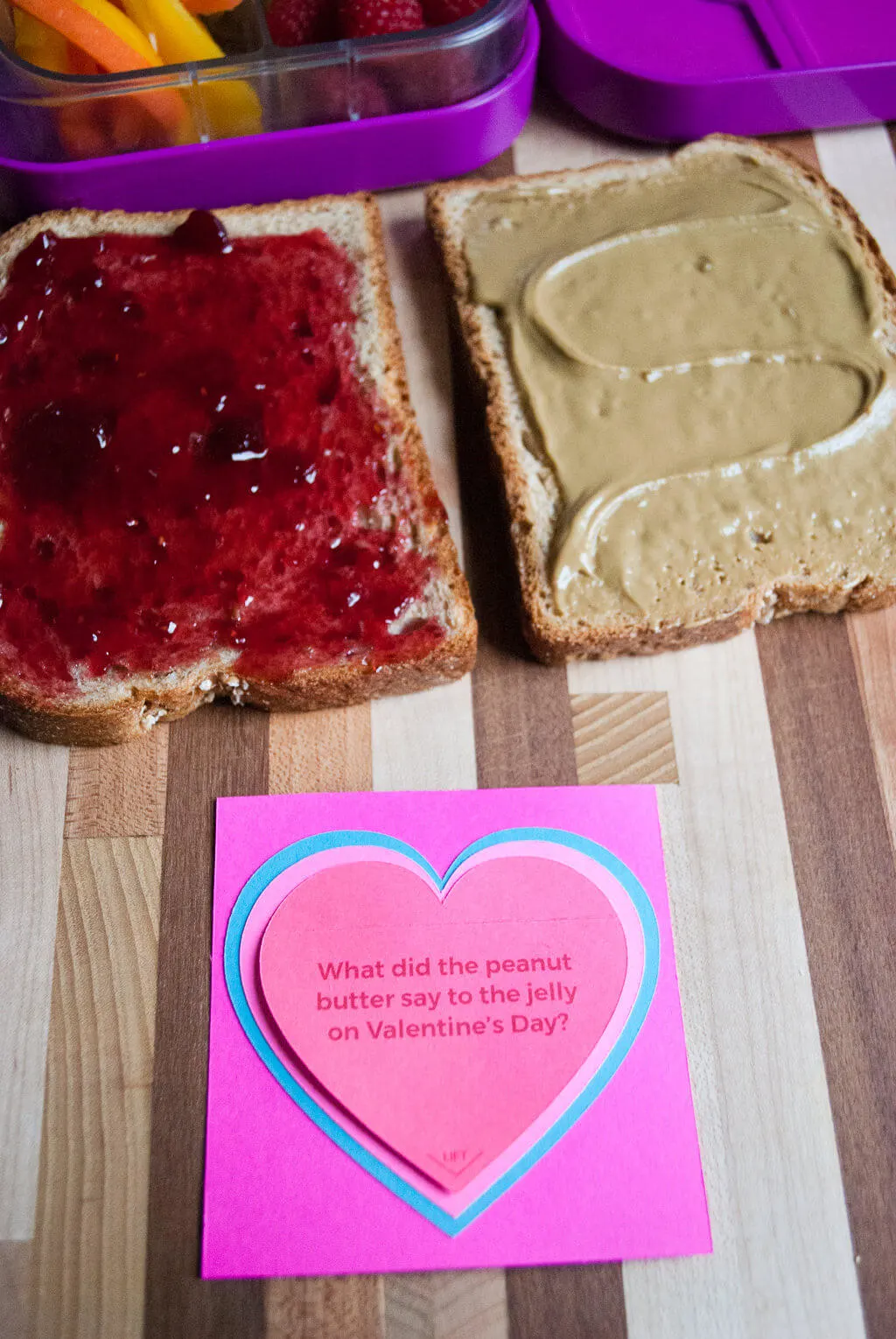 You only need a handful of supplies to make these DIY Jokes Valentines: ASTROBRIGHTS Papers, glue, scissors, and a craft knife and ruler (or butter knife). Color-wise Liam and I chose Fireball Fuchsia™, Pulsar Pink™, Plasma Pink™, Celestial Blue® and Re-Entry Red™ from my Valentine's Day Sugar Cookies color palette inspiration.
++++++
This post contain affiliate links which means that products I recommend may give me a nominal commission at no extra cost to you. Thanks – your clicks help me make more free DIYs!
++++++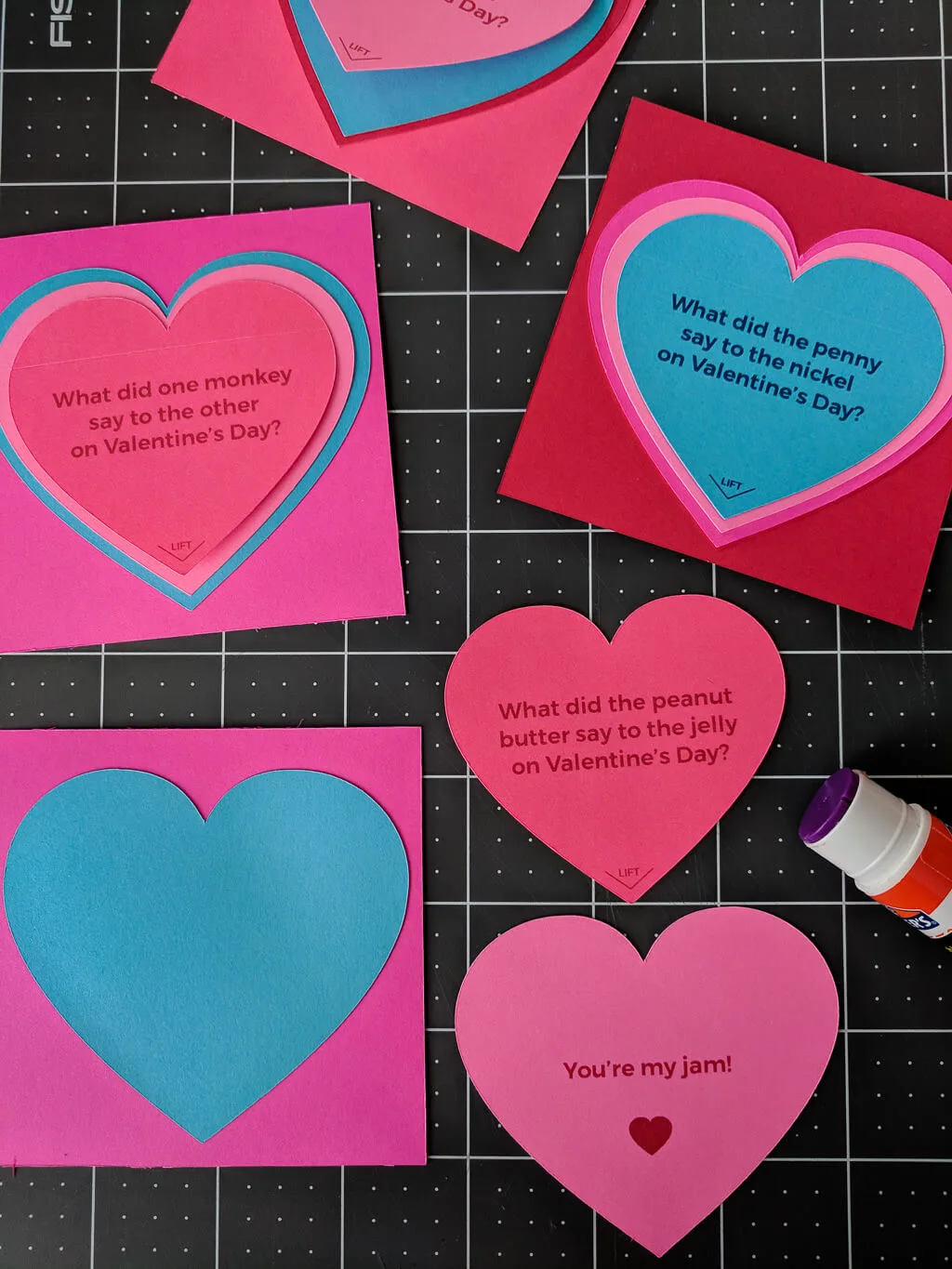 I hope you enjoy these bright and cheerful DIY Valentine's Day Jokes cards. Head on over to Astrobrights.com for my DIY Joke Valentines tutorial.
Get the DIY Joke Valentines Templates
++++++
Be sure to pin my DIY Valentine's Day Jokes Cards for Kids: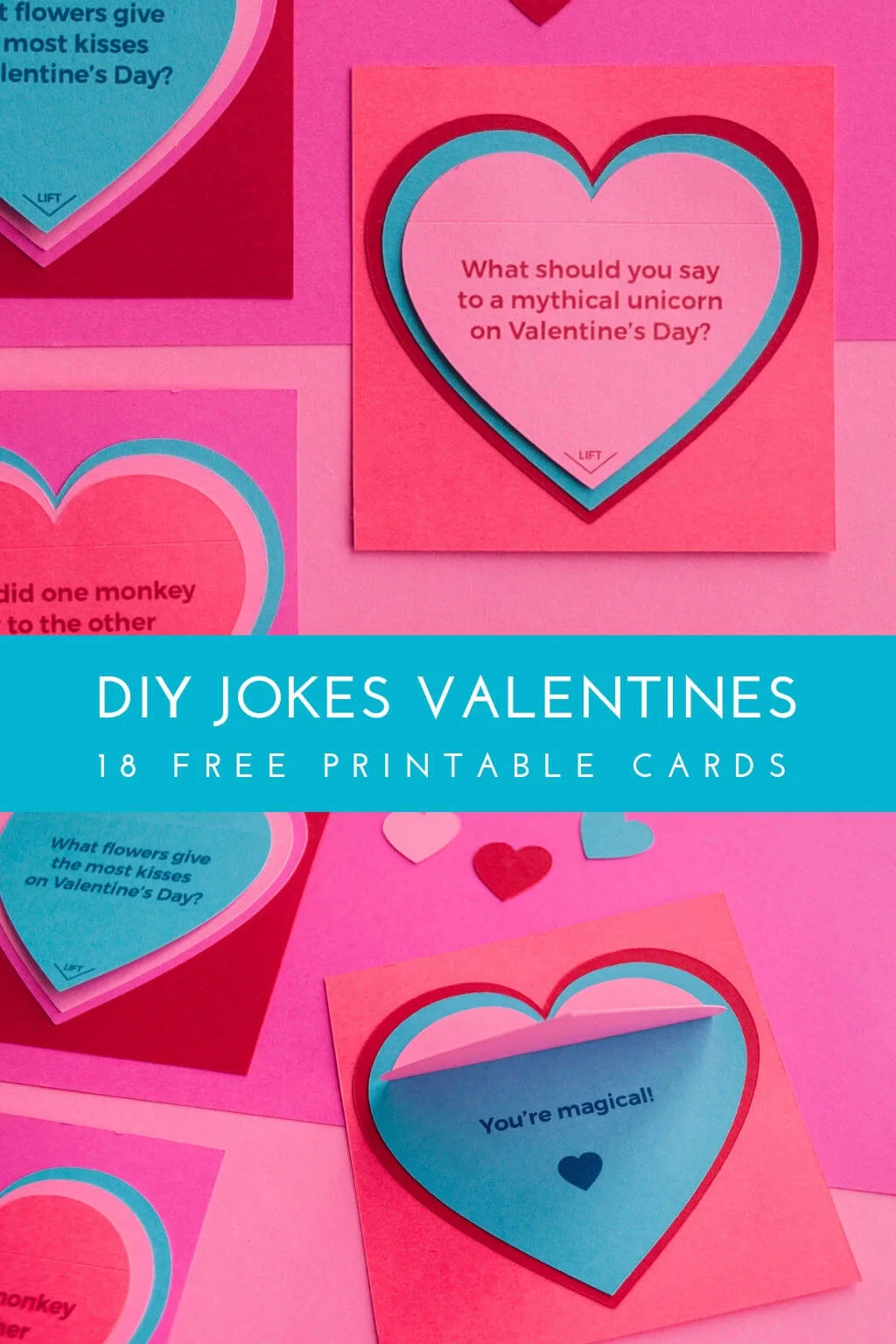 ++++++
And see more projects featuring ASTROBRIGHTS Papers like my Valentine's Day heart bracelets, paper sunshine and ice cream wreath, Father's Day tie garland, Geometric Dinosaur Birthday Party, and much more.
Thank again to Astrobrights for sponsoring this Valentine's Day craft project. Now what flowers give the most kisses on Valentine's Day??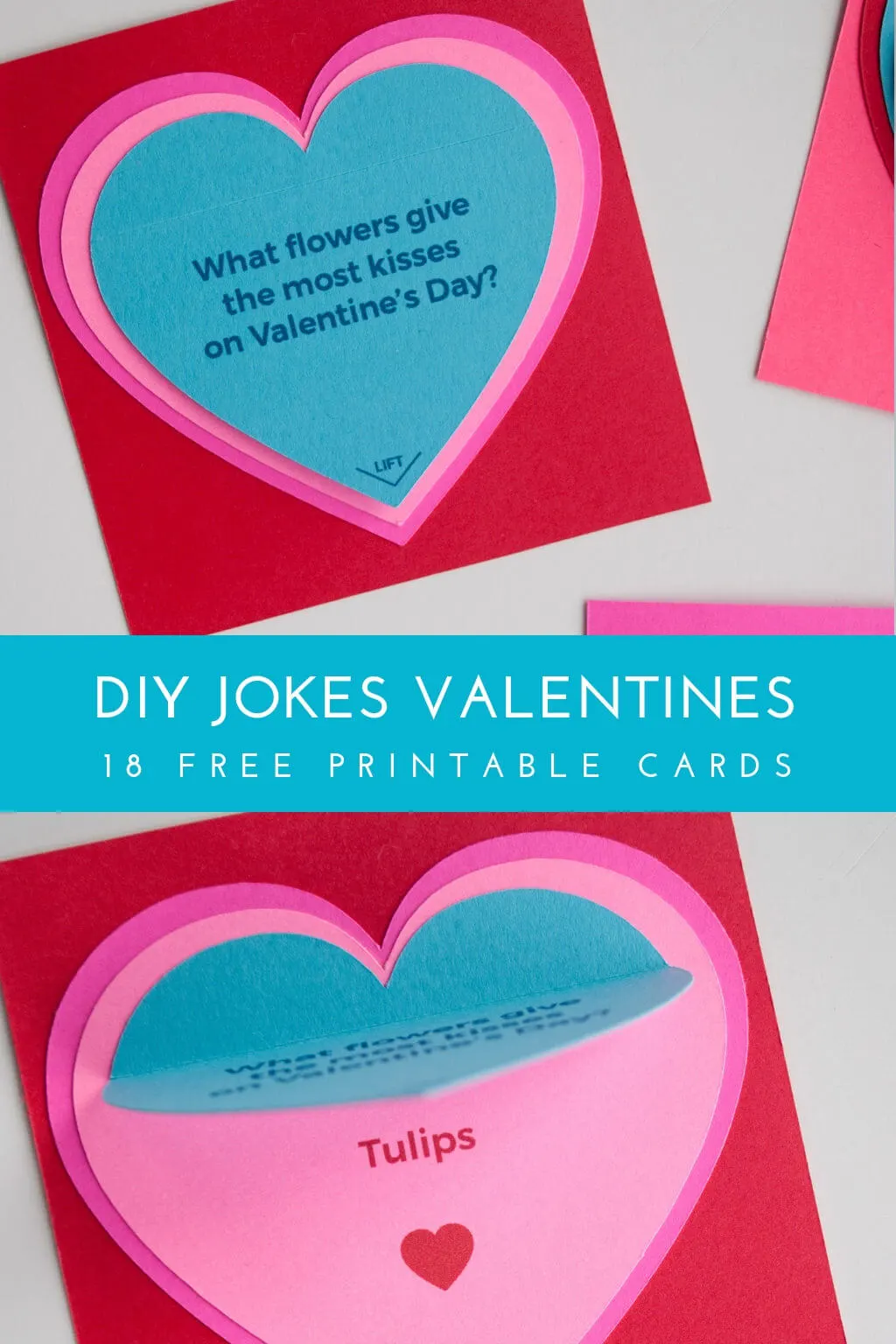 —
Like it? Share it!
The nicest way to say you like it is to pin it on Pinterest, post a comment, follow Merriment Design on Facebook, Pinterest, Instagram or sign up for monthly emails. Enjoy! 🙂
Copyright stuff: You're more than welcome to use this free project and tutorial for personal use. Contact me for commercial use and Etsy sales.