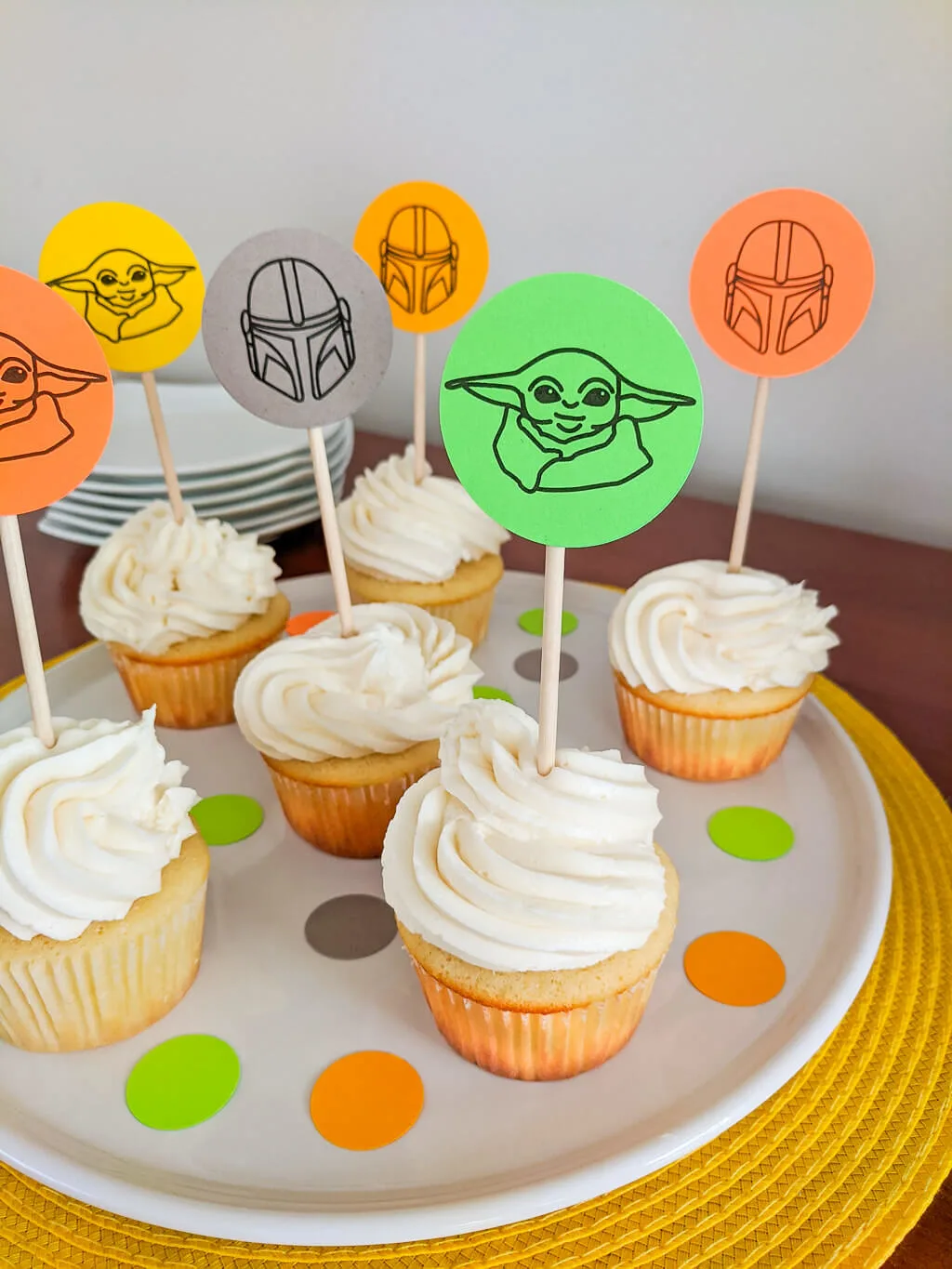 This is the way …to make Mandalorian birthday Star Wars cupcake toppers for a Mandalorian birthday party! My free printable Star Wars cupcake toppers feature Mando in his Mandalorian helmet and of course, fan-favorite Baby Yoda (aka The Child).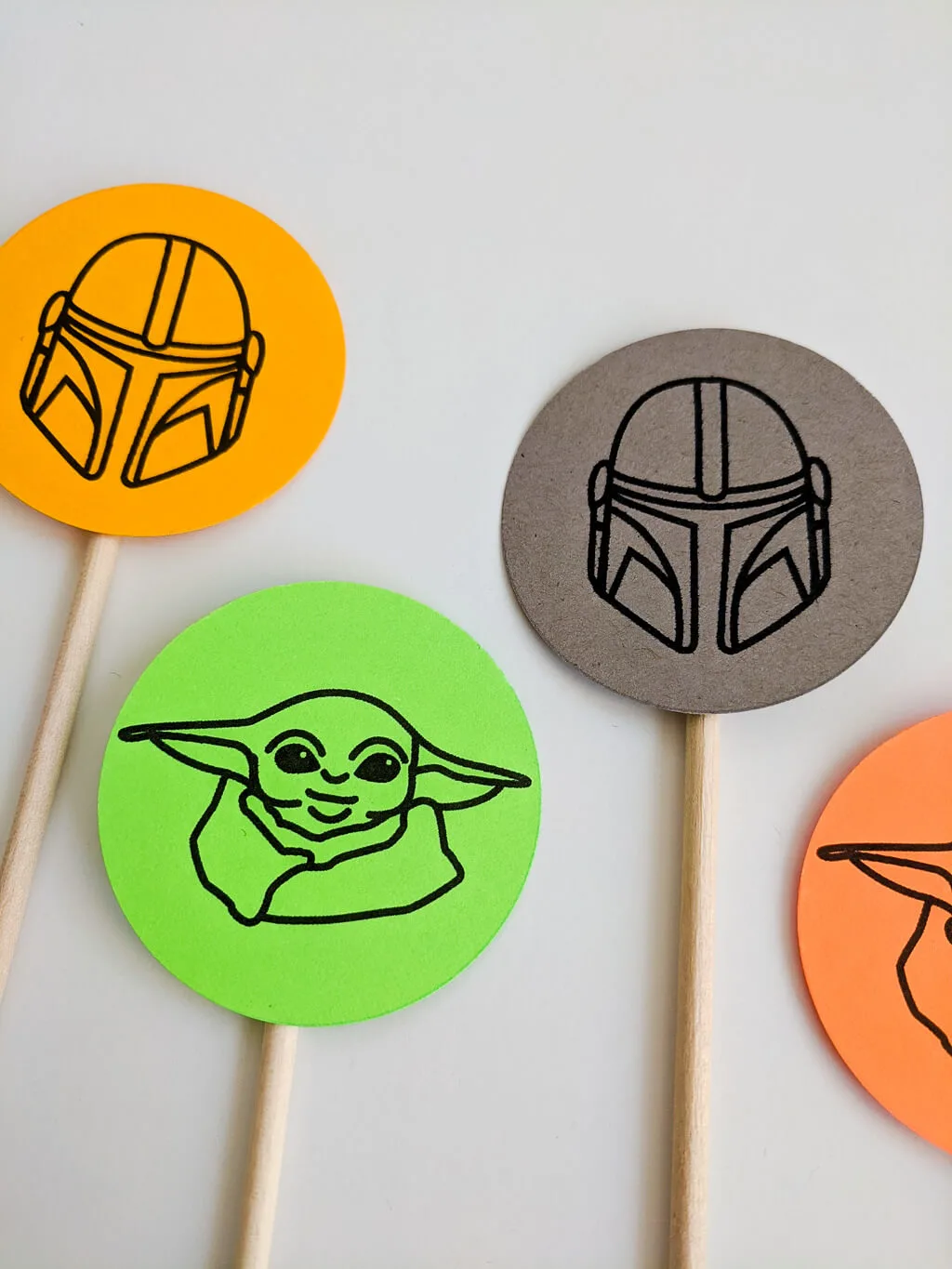 My free printable Star Wars Mandalorian cupcake toppers are simple to make yourself at home — no need to run out to Party City, Walmart, or Etsy. This DIY project includes free printable Star Wars cupcake toppers; for instance, free printable Baby Yoda cupcake toppers (aka The Child). It's a quick and easy Mandalorian dessert idea for a birthday party or bake sale.
See also: 'Baby Yoda cake with free printable ears cake topper' »
These Mandalorican cupcake toppers coordinate with my free printable Star Wars cupcake toppers with Luke, Leia, Han Solo, Chewbacca, Boba Fett, Lando Calrissian, Darth Vader, and the rest of the original Star Wars trilogy crew that I made for Elise's 'Episode VI: Return of the Birthday' Star Wars birthday party theme. Choose to mix and match them as you wish.
First up: Baby Yoda cupcakes, aka The Child: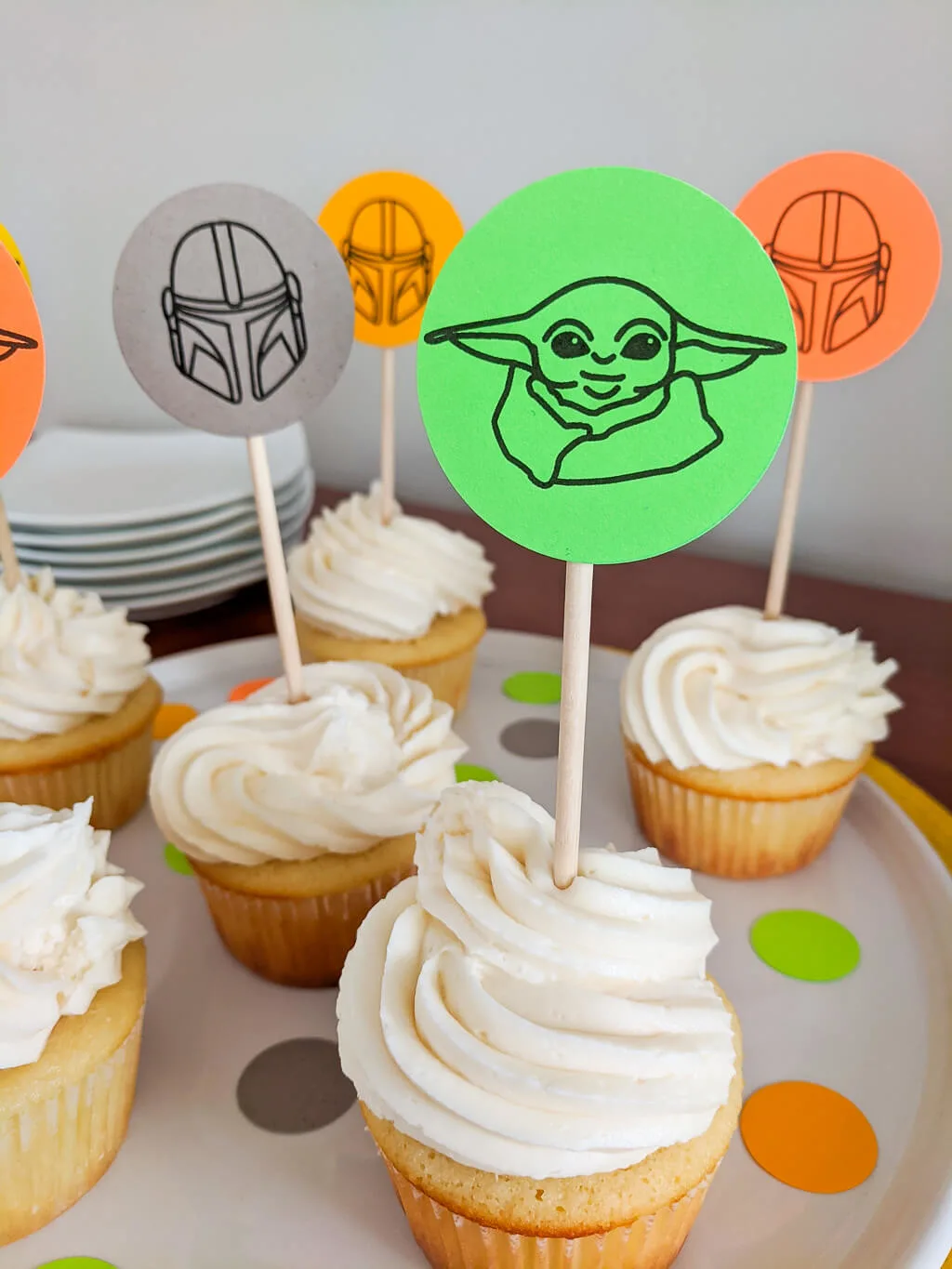 And next, Mandalorian cupcakes featuring the Mandalorian helmet: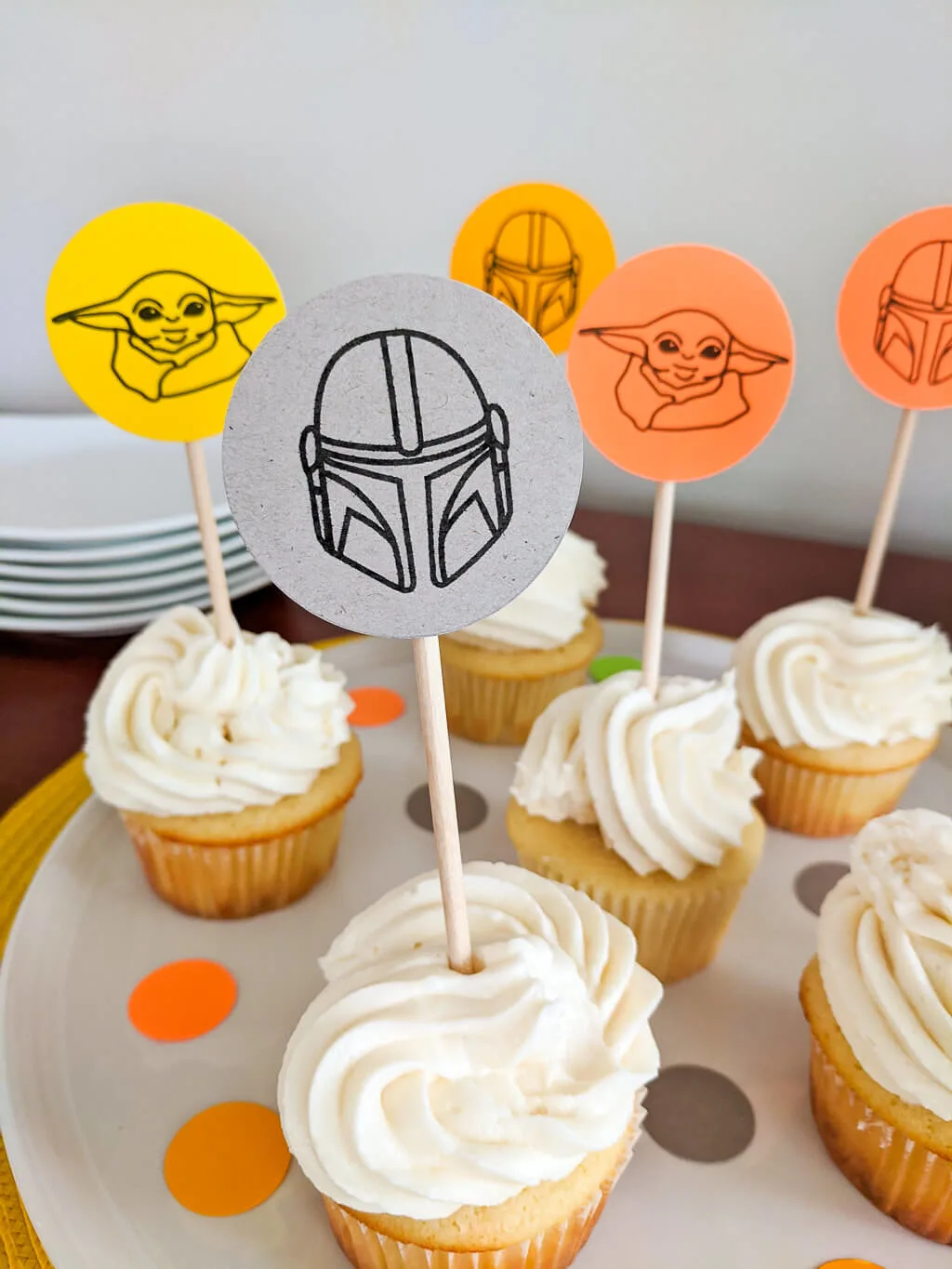 While these cupcake toppers aren't Baby Yoda edible cake toppers, my Star Wars cupcake toppers are super cute and easy to make especially for a crowd. And if you'd rather make a Star Wars The Mandalorian cake for your Star Wars birthday party, then be sure to check out my Baby Yoda birthday cake with free printable The Child ears cake topper.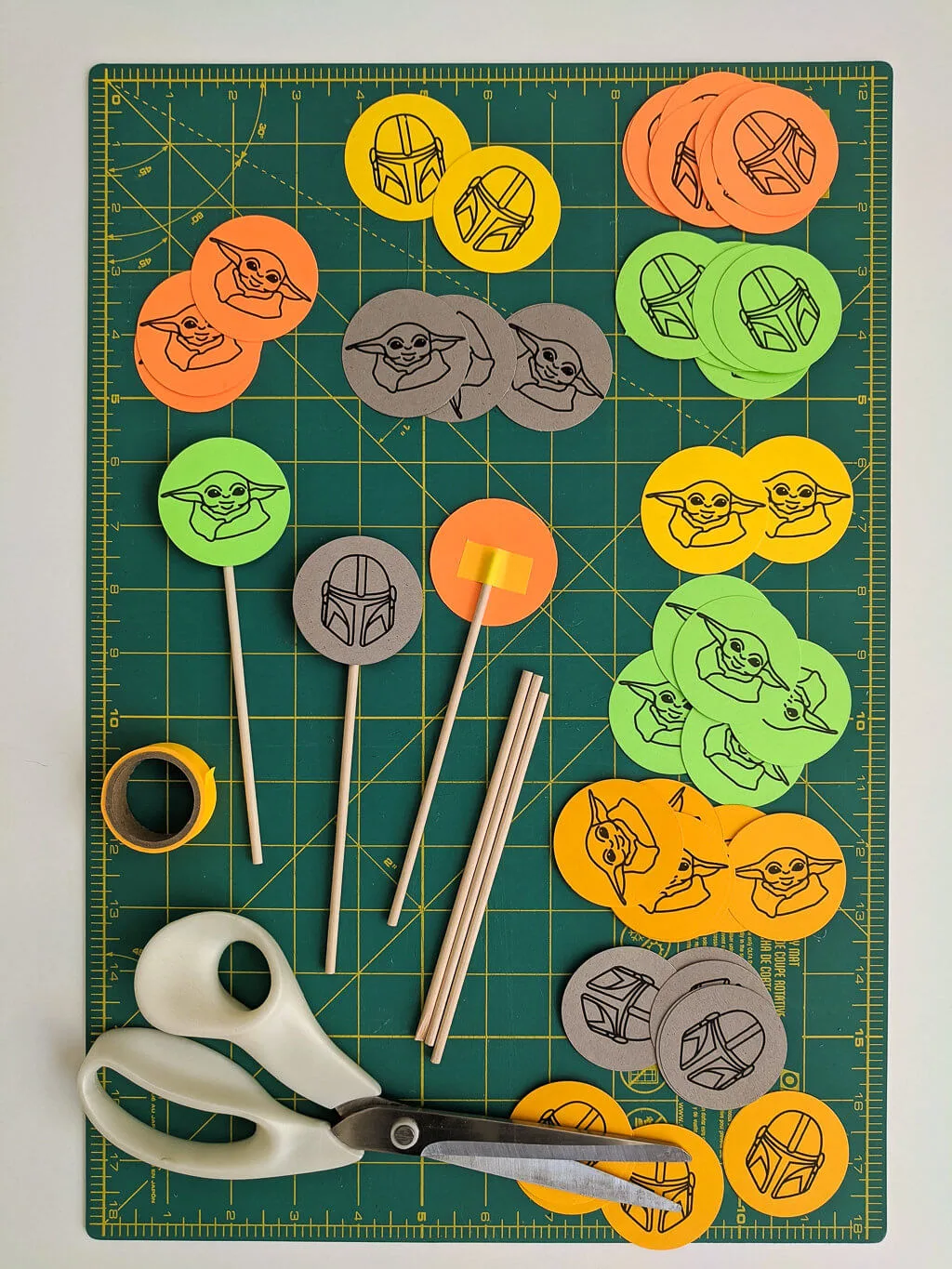 This post contains affiliate links which means that products I recommend may give me a nominal commission at no extra cost to you. Thanks – your clicks help me make more free DIYs!
++++++
Supplies for making Star Wars The Mandalorian cupcake toppers featuring Baby Yoda and The Mandalorian helmet:
—
How to make The Mandalorian DIY cupcake toppers:
Step 1: Print my Mandalorian cupcake toppers free printable template
Choose your own Mandalorian birthday party colors. I chose my favorite brand of bright cardstock paper in orange, green, yellow, and tan to match the Tatooine sunset from The Mandalorian Episode 5 that featured a return to the two-sun planet. Download my free printable Mandalorian cupcake toppers template. Print full size; do not scale nor print-to-fit.
Step 2: Cut out my Baby Yoda and Mando cupcake toppers
Use a 2″ circle craft punch or good paper scissors to cut out my Mandalorian cupcake toppers. You can print all Mando, all Baby Yoda, or a combination of the two.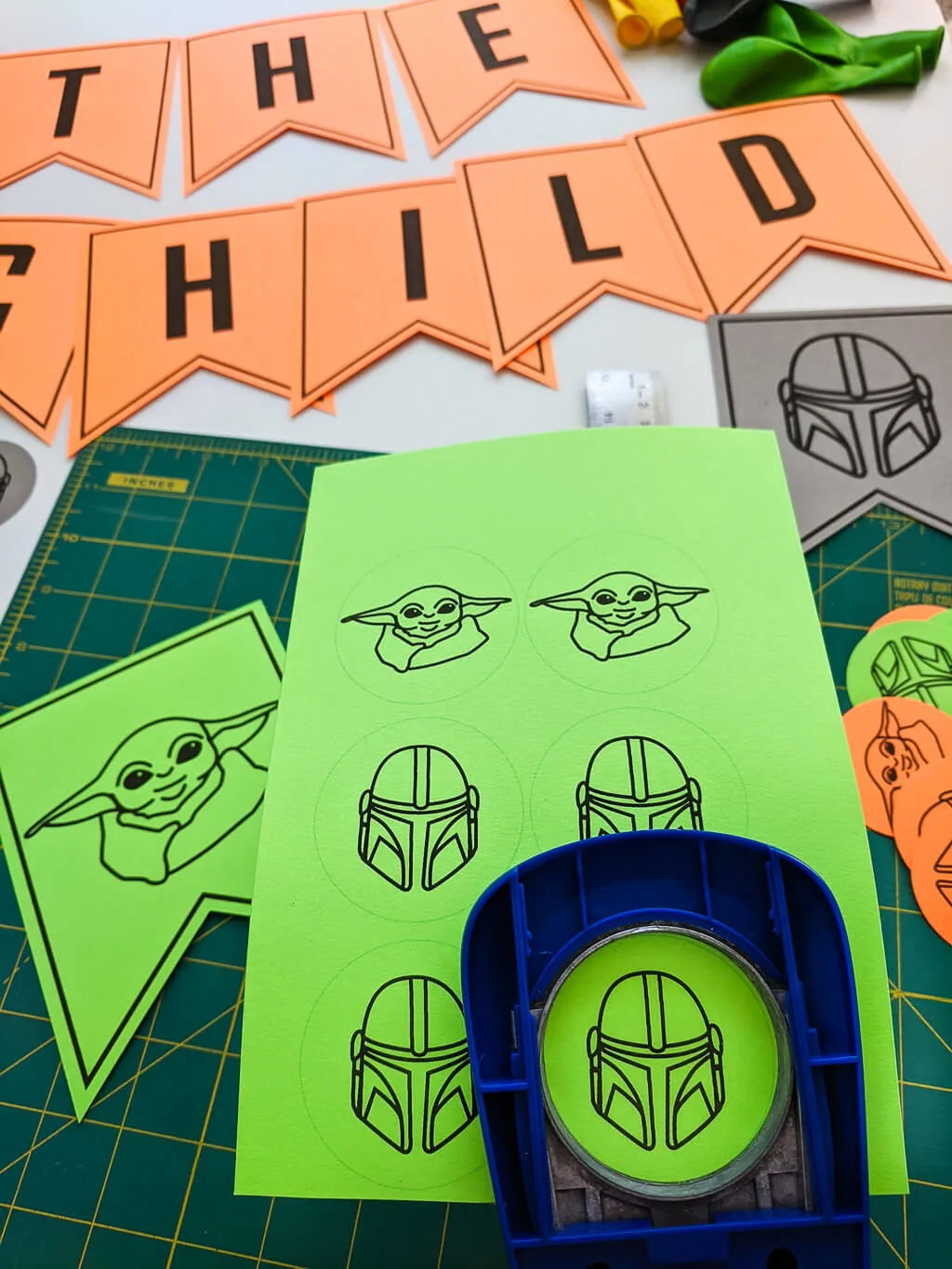 Step 3: Attach Star Wars cupcake toppers to wooden coffee stirrers or lollipop sticks
Use washi tape to attach my Star Wars cupcake toppers to 6″ lollipop sticks or wooden coffee stirrers. I'm a huge washi tape fan; check out my washi tape floral artwork that was featured in the popular 'Washi Tape Crafts' book.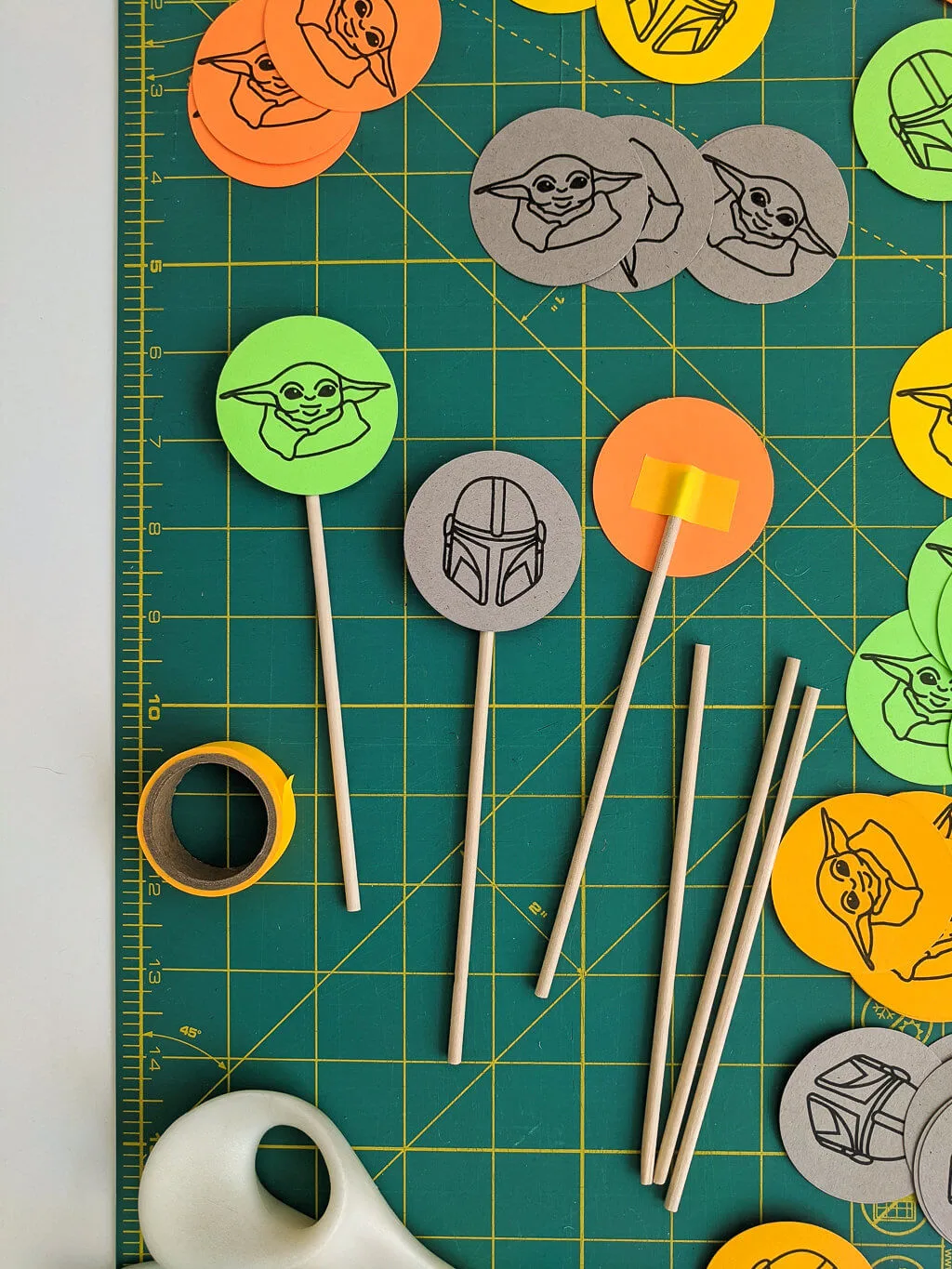 Step 4: Place Star Wars cupcake toppers into cupcakes
I kept it simple and baked the Cakegirl's vanilla cake recipe with bakery buttercream frosting in white cupcake liners. You could also go with a Tattoine sand theme by crunching up a graham cracker to top the buttercream.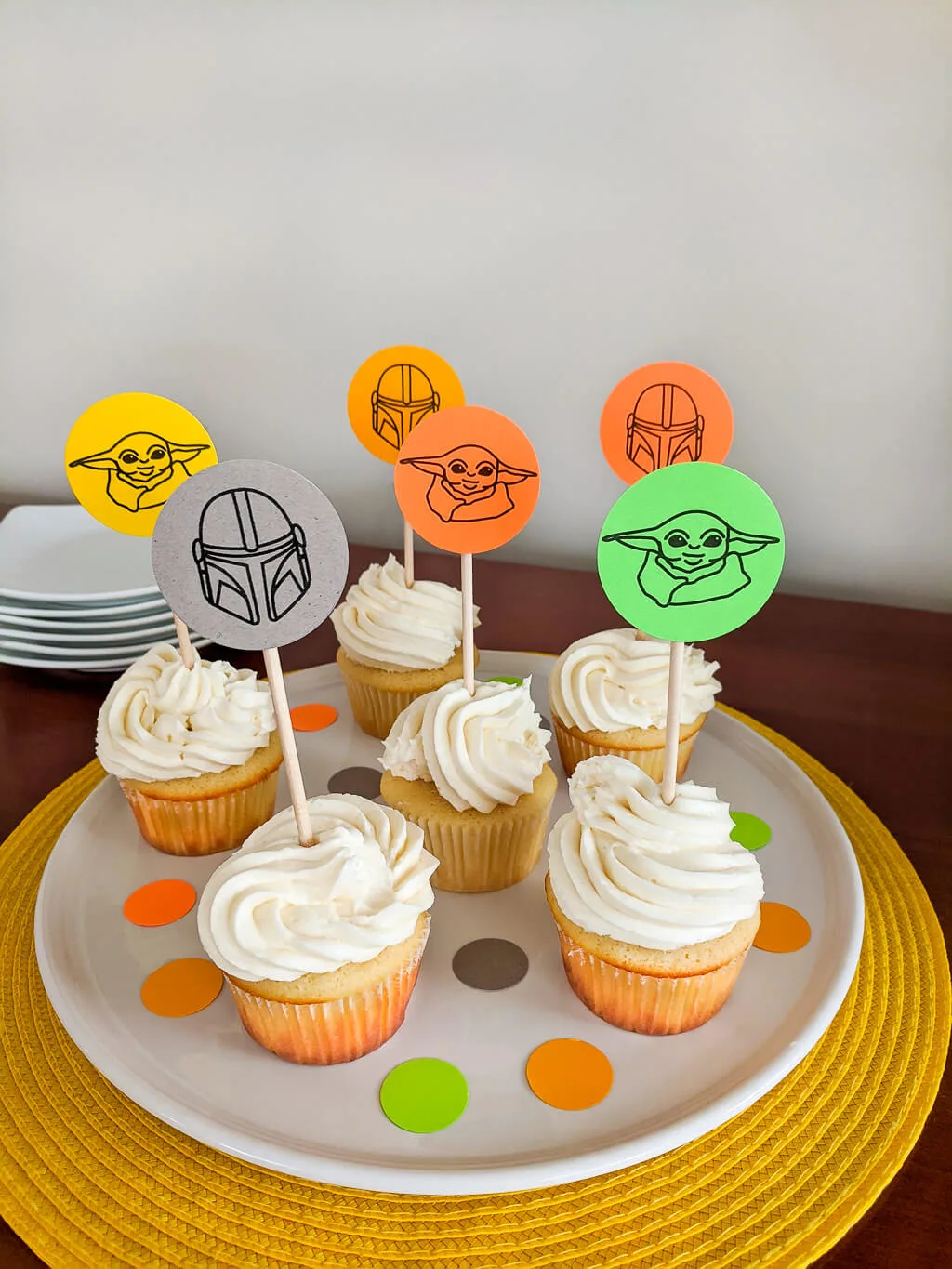 ++++++
Be sure to pin these free printable Mandalorian cupcake toppers for later: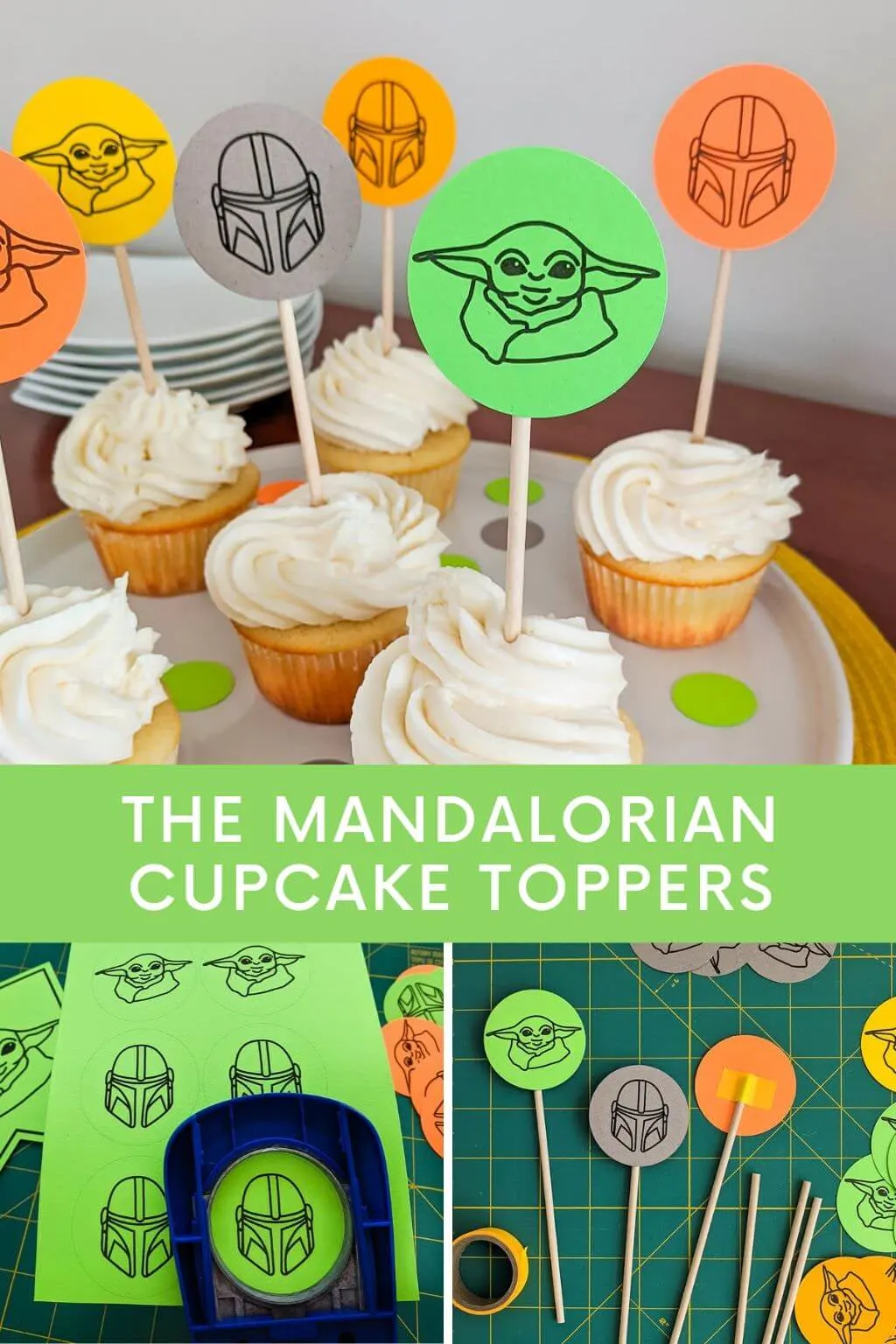 ++++++
And be sure to check out my easy birthday cakes for boy birthday parties and girl birthday parties.
—
Like it? Share it!
The nicest way to say you like it is to pin it on Pinterest, post a comment, follow Merriment Design on Facebook, Pinterest, Instagram or sign up for monthly emails. Enjoy! 🙂
Copyright stuff: You're more than welcome to use this free project and tutorial for personal use. Contact me for commercial use and Etsy sales.