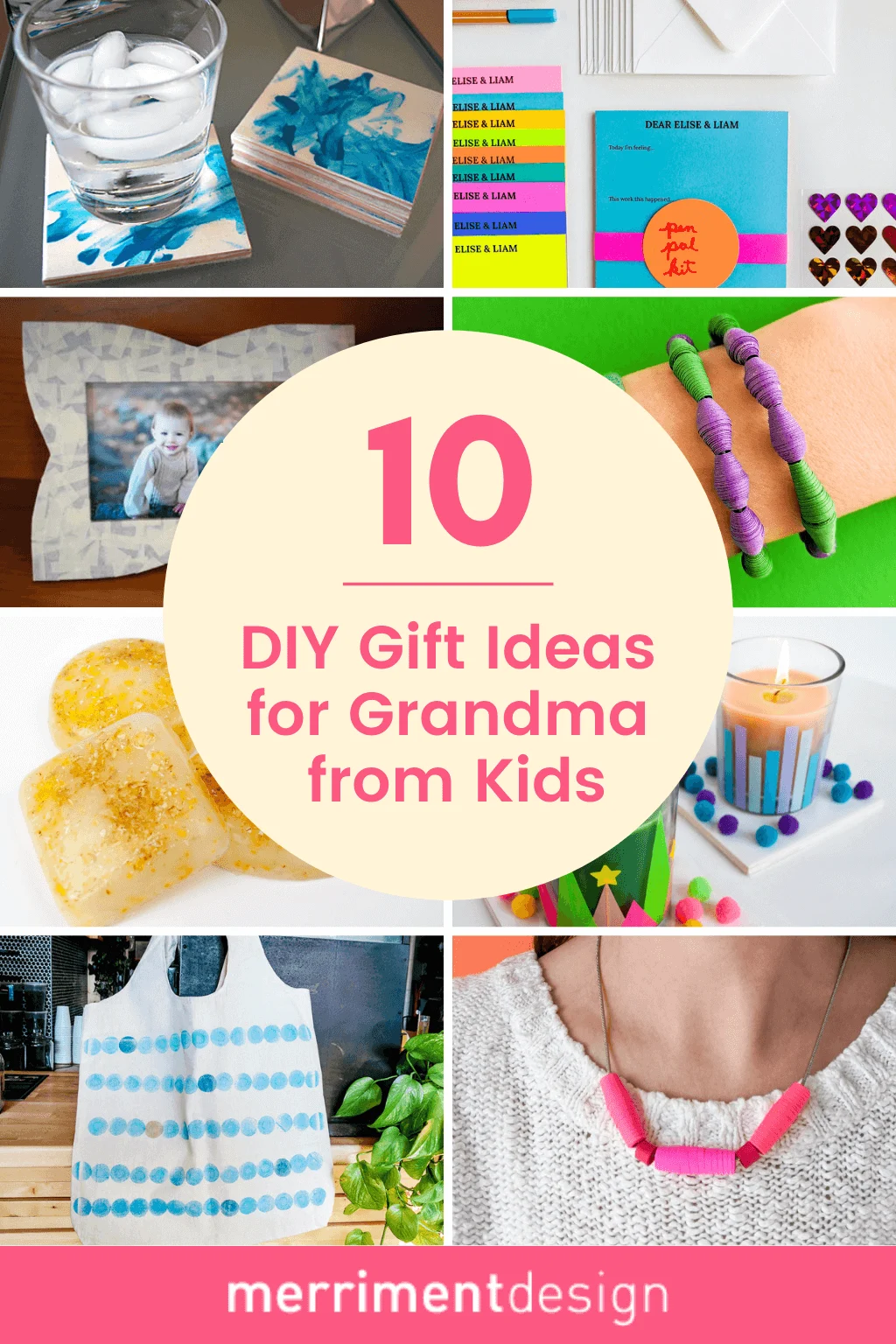 There's nothing that Grandma wants more for Christmas and birthdays than a gift made by her grandchildren. Here are 10 super fun and useful DIY Gift Ideas for Grandma that kids can make – yay! There are a lot of useful gifts on this list. I'm a sucker for useful gifts so you'll see many DIY gift ideas below that Grandma can actually use. No knickknacks here to clutter up Grandma's shelves.
DIY gift ideas for Grandma that all ages of kids can make
I've included DIY gift ideas for grandparents that all ages of kids can make, from toddlers to teens. After each idea, I've included the age that I would recommend for each craft project, like preschoolers, toddlers, ages 2-5, ages 6-9, tweens, and teens. There's a bunch of easy DIY gift ideas and some more involved handmade gift ideas, too. Many of these gifts can be made in one sitting. Siblings can help each other, too. Be sure to add my printable mitten gift tags when wrapping her gift. Are you ready to make a handmade gift for Grandma?
Merriment Design is supported by readers like you. If you buy products that I recommend, I may earn an affiliate commission at no additional cost to you. Thanks – your clicks help me make more free DIYs!
+++
Make colorful DIY pen pal stationery for Grandma to write letters to the kids. Print out my free personalized pen pal letter printable template onto colorful paper and package it up with stamps, envelopes, markers, and heart stickers. This craft idea is good for all kids' ages: toddlers, preschoolers, elementary, tweens, and teens.
+++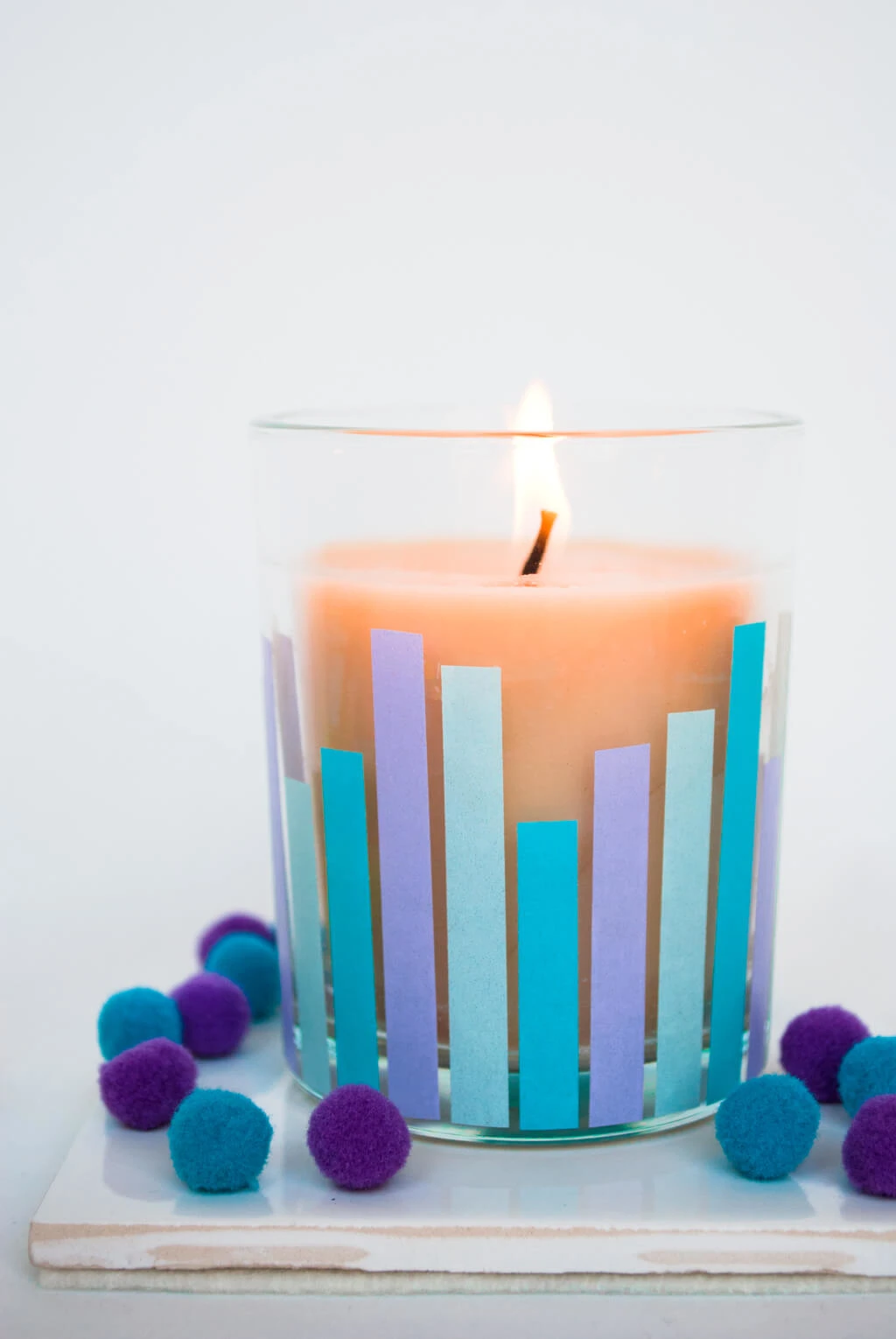 Take a plain candle in a glass jar — either a candle in a clear or frosted glass jar or a candle in a chic black glass jar — and add a little washi tape for a super cute burst of color. Try adding stripes, squares, triangles, circles, or see how to use a hole punch to make circles and stars from washi tape. Choose Grandma's favorite colors! This washi tape DIY candle craft idea is good for all kids' ages: toddlers, preschoolers, elementary, tweens, and teens.
+++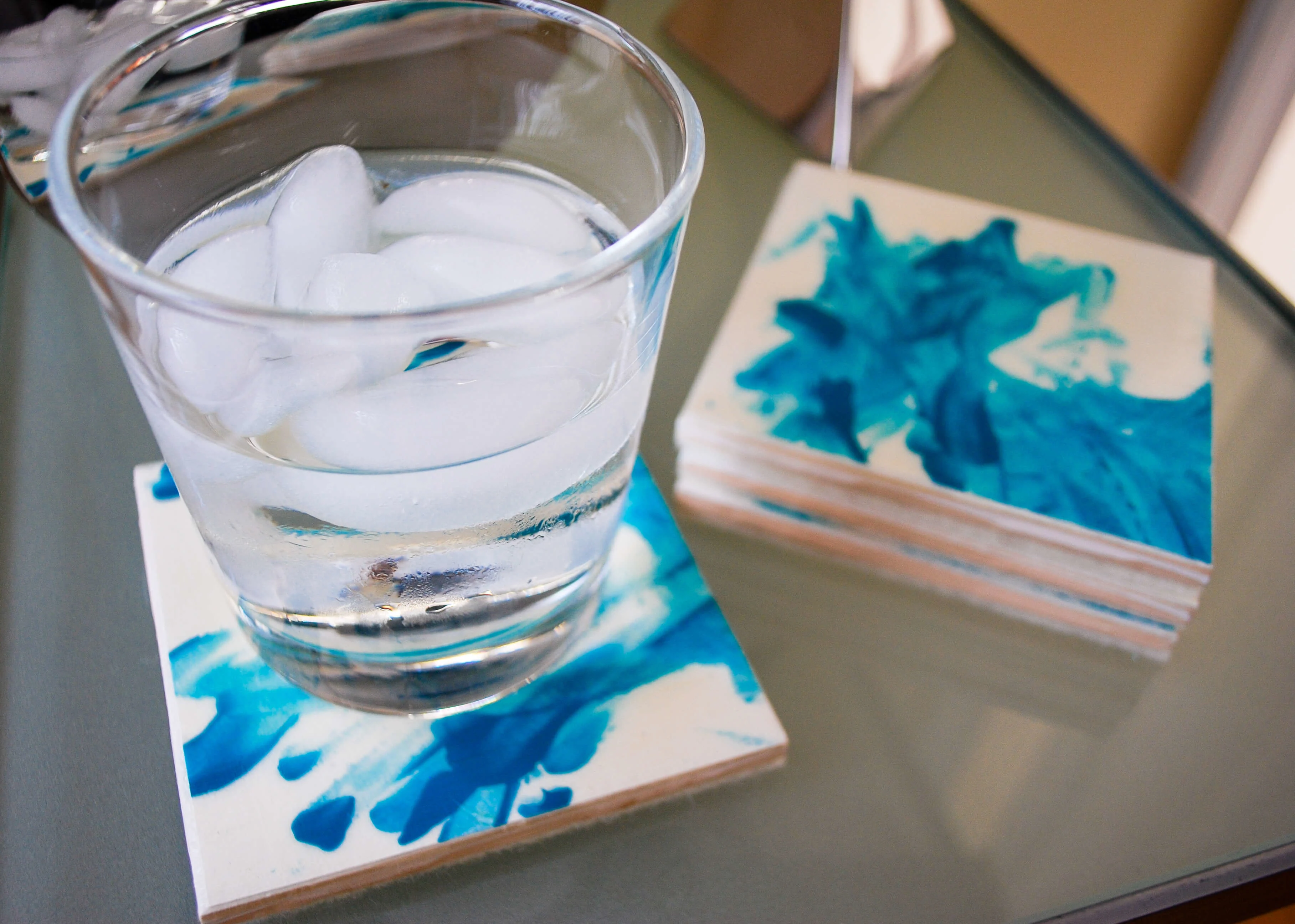 I love these DIY fingerprint coasters that Elise made when she was two years old. I think they look so modern and cool. This craft idea is good for toddlers and preschoolers. Package the drink coasters up with a fun coffee mug and bag of fancy coffee beans.
+++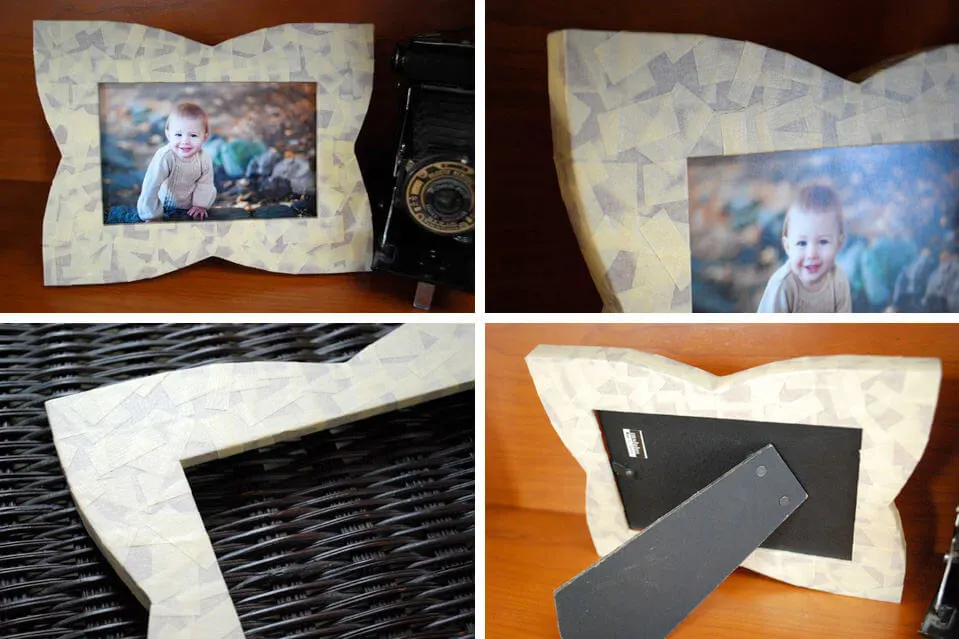 Grandmas love to display photos of their grandkids! Decorate a photo frame with pieces of masking tape. This is a great gift upcycle idea — you can find inexpensive frames at a resale shop or the Dollar Store. Kids can help stick the masking tape onto a photo frame and choose a photo to put inside for Grandma. Alternatively, kids could make this frame using colorful washi tape. This craft idea is good for all kids' ages: toddlers, preschoolers, elementary, tweens, and teens.
+++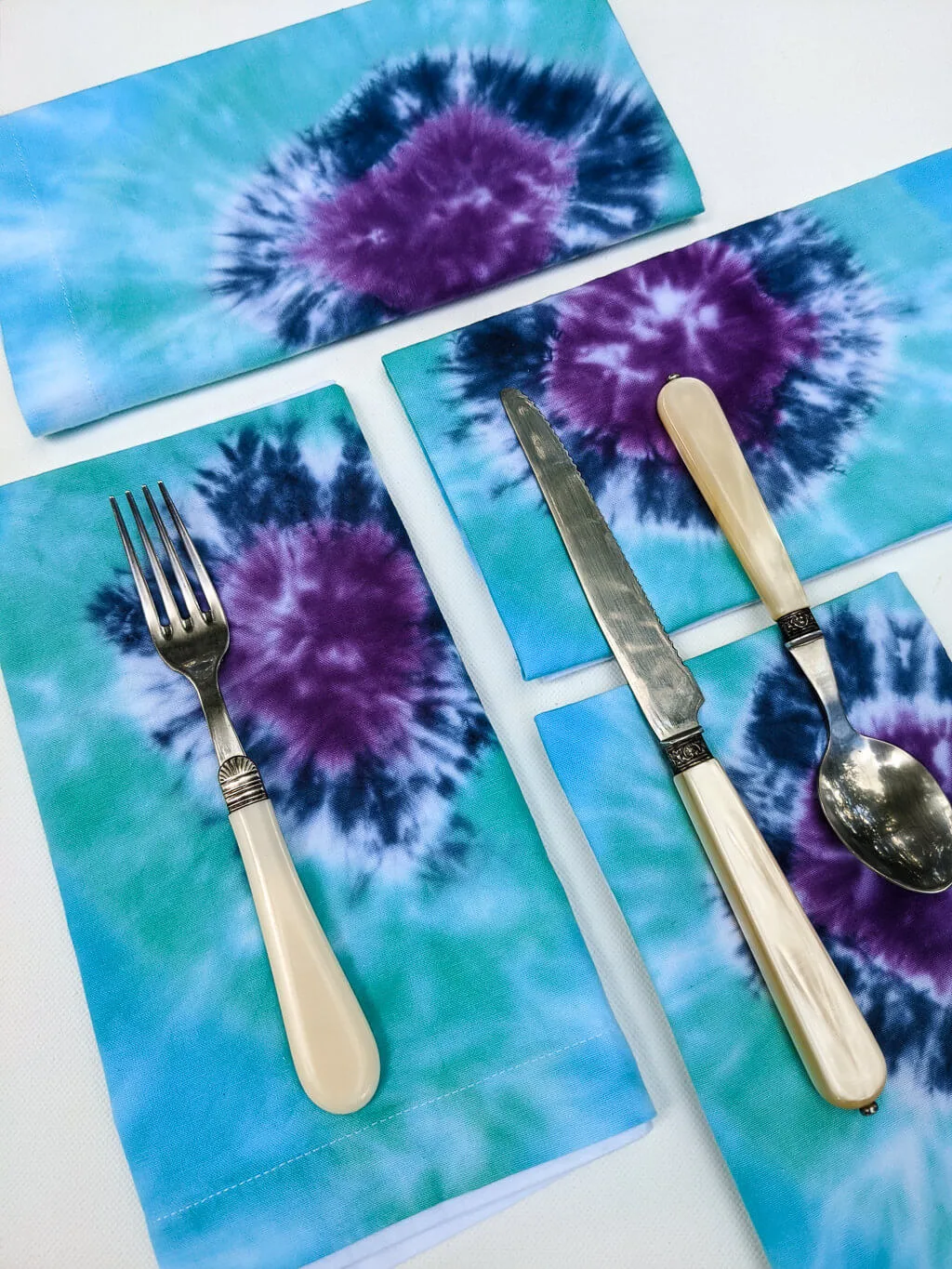 Kids love to tie-dye! Pick up a pack of white cloth napkins and make a set of pretty tie-dye napkins for Grandma. You'll likely have enough dye left over for the kids to make some tie-dye t-shirts for themselves. This kids craft is probably best for age 7 and up, and tweens and teens really, really love it.
+++
Grab some onions, a carrot, potatoes, celery, or apples to make fruit & veggie stamped DIY gifts. Fruit & veggie stamping is super easy and fun to do. Cut potatoes into shapes like crosses or squares and start stamping on cloth tote bags, kitchen towels, or even t-shirts. This craft idea is great for all ages – toddler, kindergarten, ages 6-9, tween, and teen.
+++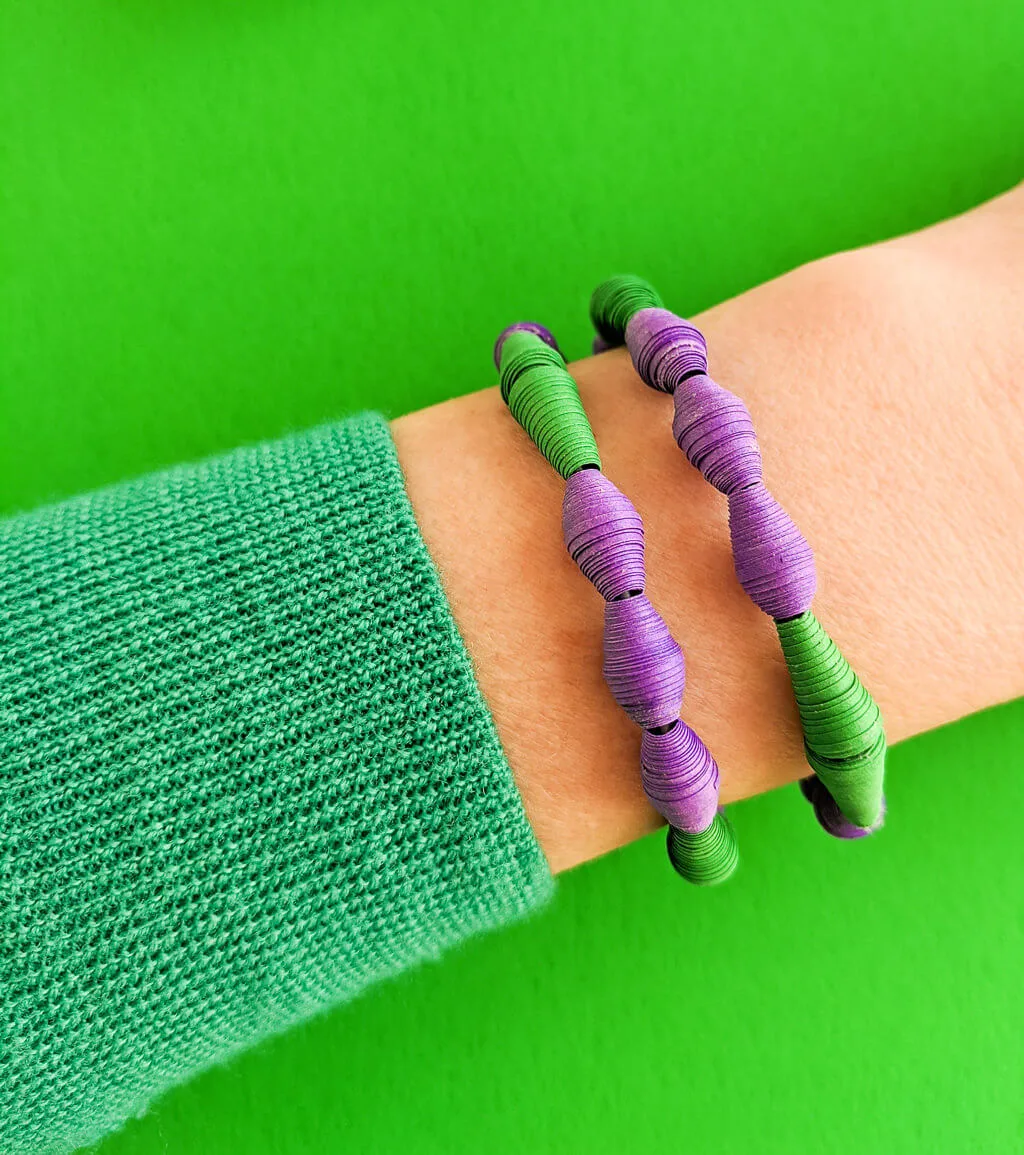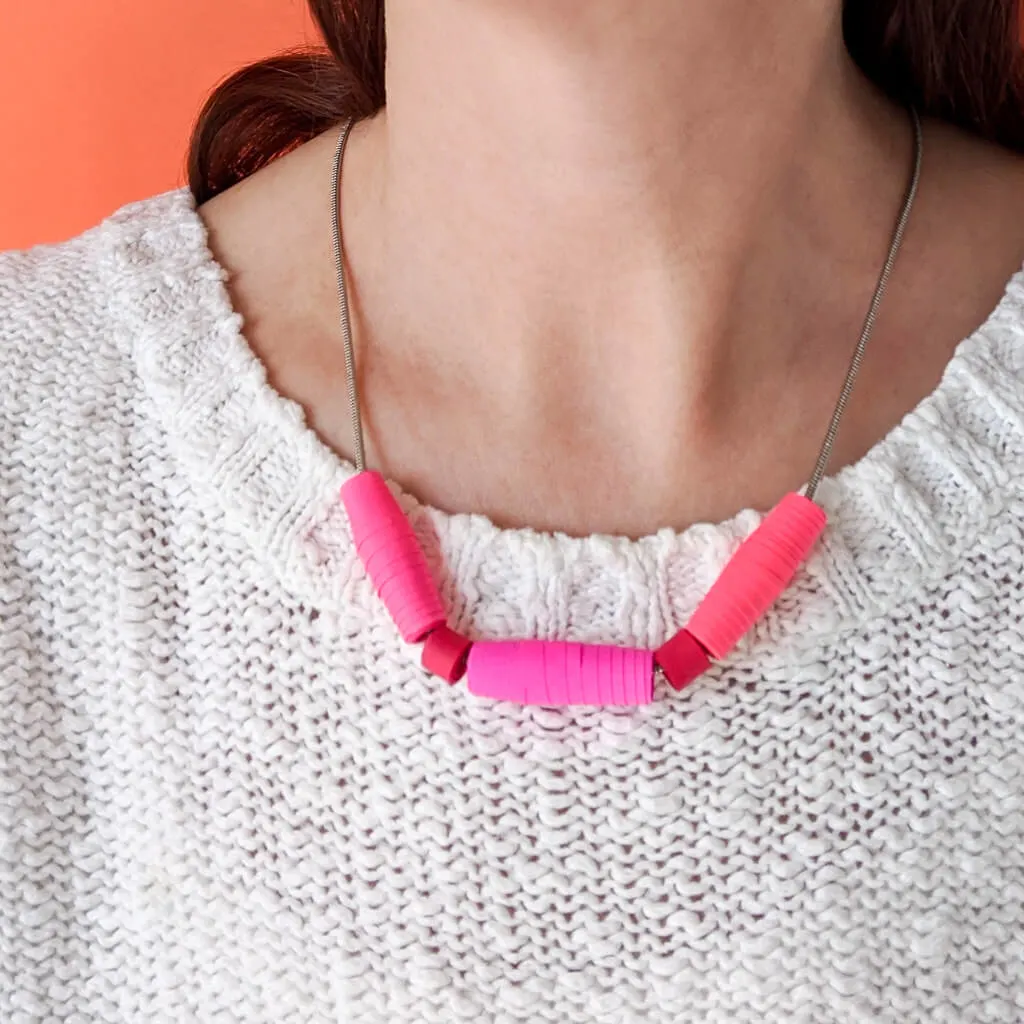 Making DIY paper beads is super addictive. See how to cut long triangles and wind them up to make paper beads. Make a couple of paper beads and you've got a necklace. Make a whole bunch of paper beads and you can make Grandma a bracelet. This kid's craft activity is a great way to use up paper scraps and is best suited for age 8 and up, tweens, and definitely teens who may make one piece of jewelry for Grandma and one for themselves.
+++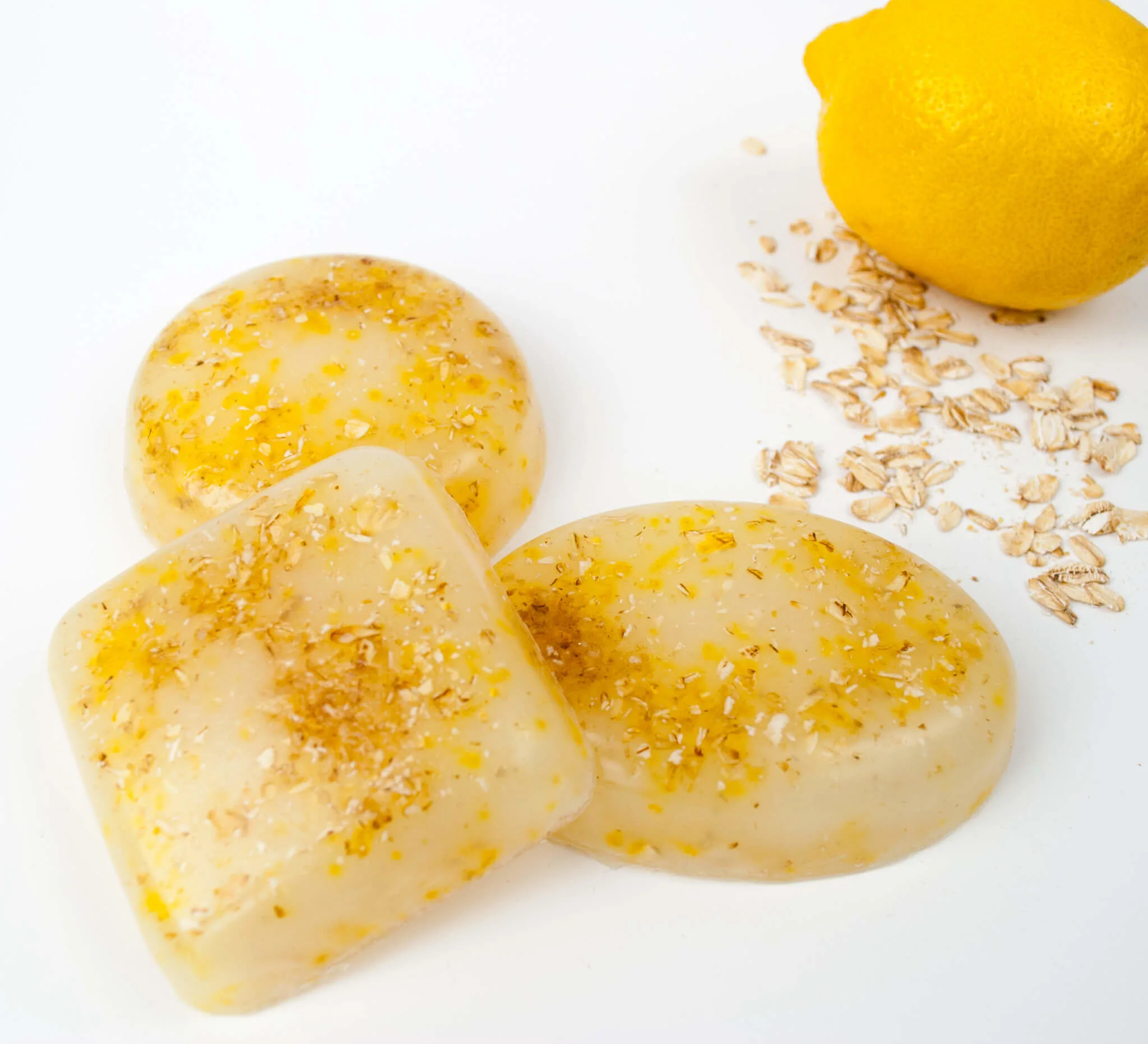 Making handmade soap doesn't have to be difficult — just start with a good melt-and-pour soap base and get creative in your combinations. This DIY gift idea involves melting soap so the adults will want to do the pouring for younger kids. All ages can measure ingredients, grate the lemon, and add the goodies into the soap mold. This craft idea is good for pre-school kids and older.
+++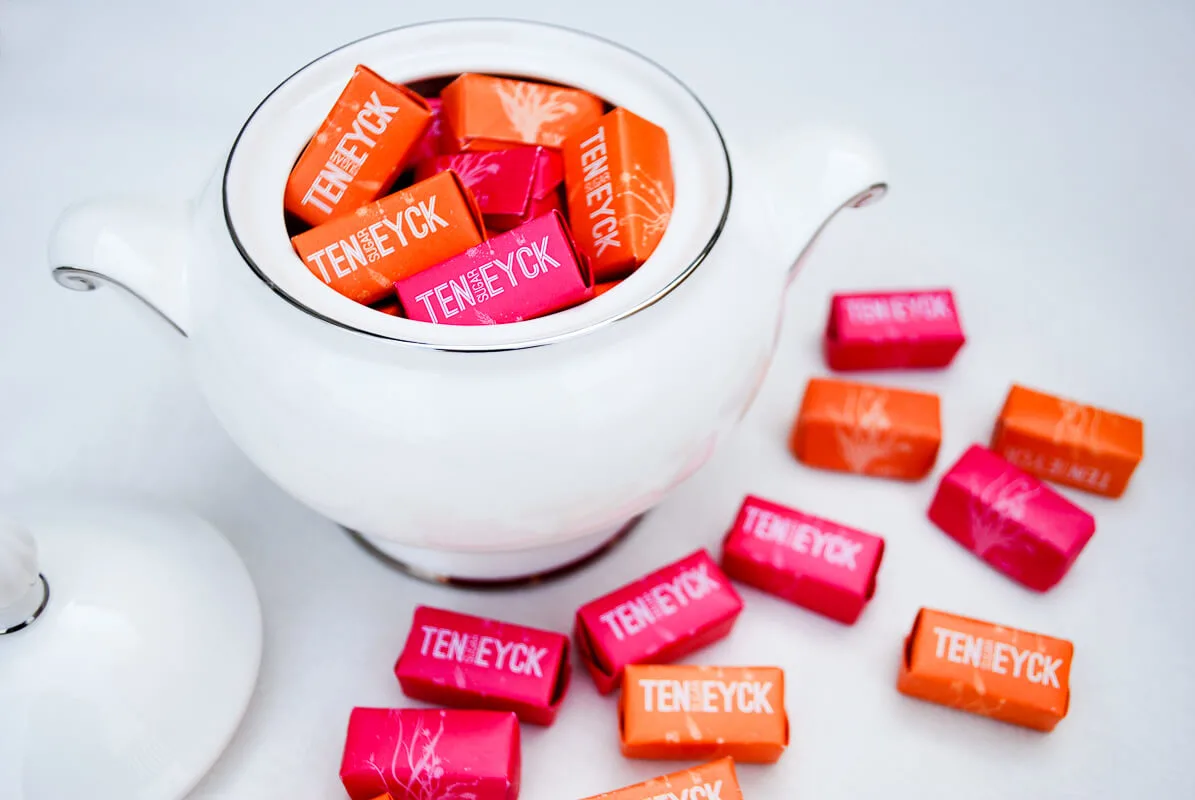 Does Grandma like tea? Follow my sugar wrapping tutorial to see how to wrap sugar cubes for Grandma with fancy labels. Download my 'Sugar' wrapper printable template, or you can use it as a guide and have the kids color their own template for Grandma. Or if your grandma is super cool, she may like my Def Leppard Pour Some Sugar On Me printable sugar cube template (yaaas!). Be sure to watch my video to see how to wrap sugar cubes up for Grandma. Package up the sugar with some fancy tea like this blooming tea at Etsy. My wrapped sugar cube idea is best suited for age 7 and up, tweens, and teens.
+++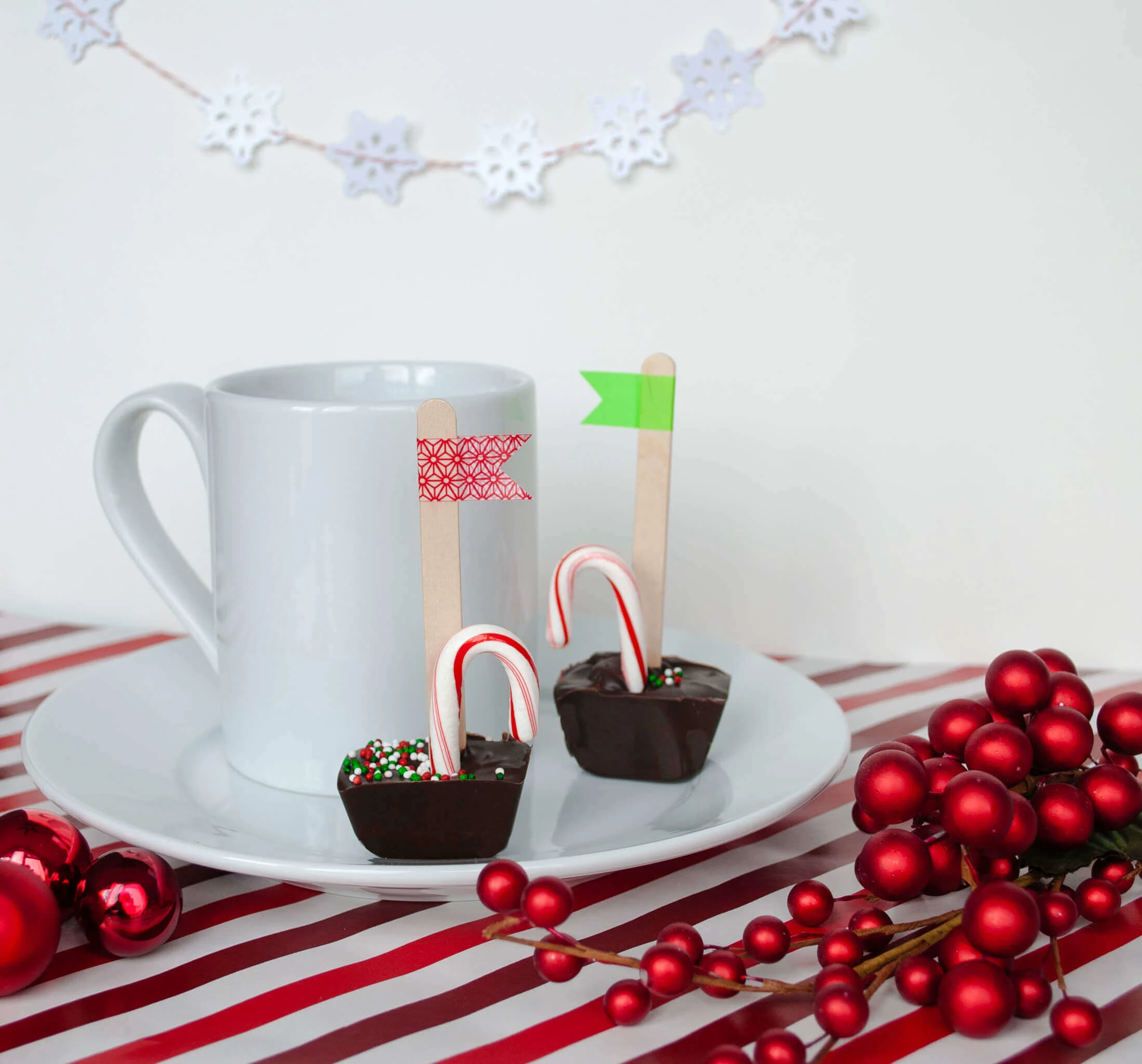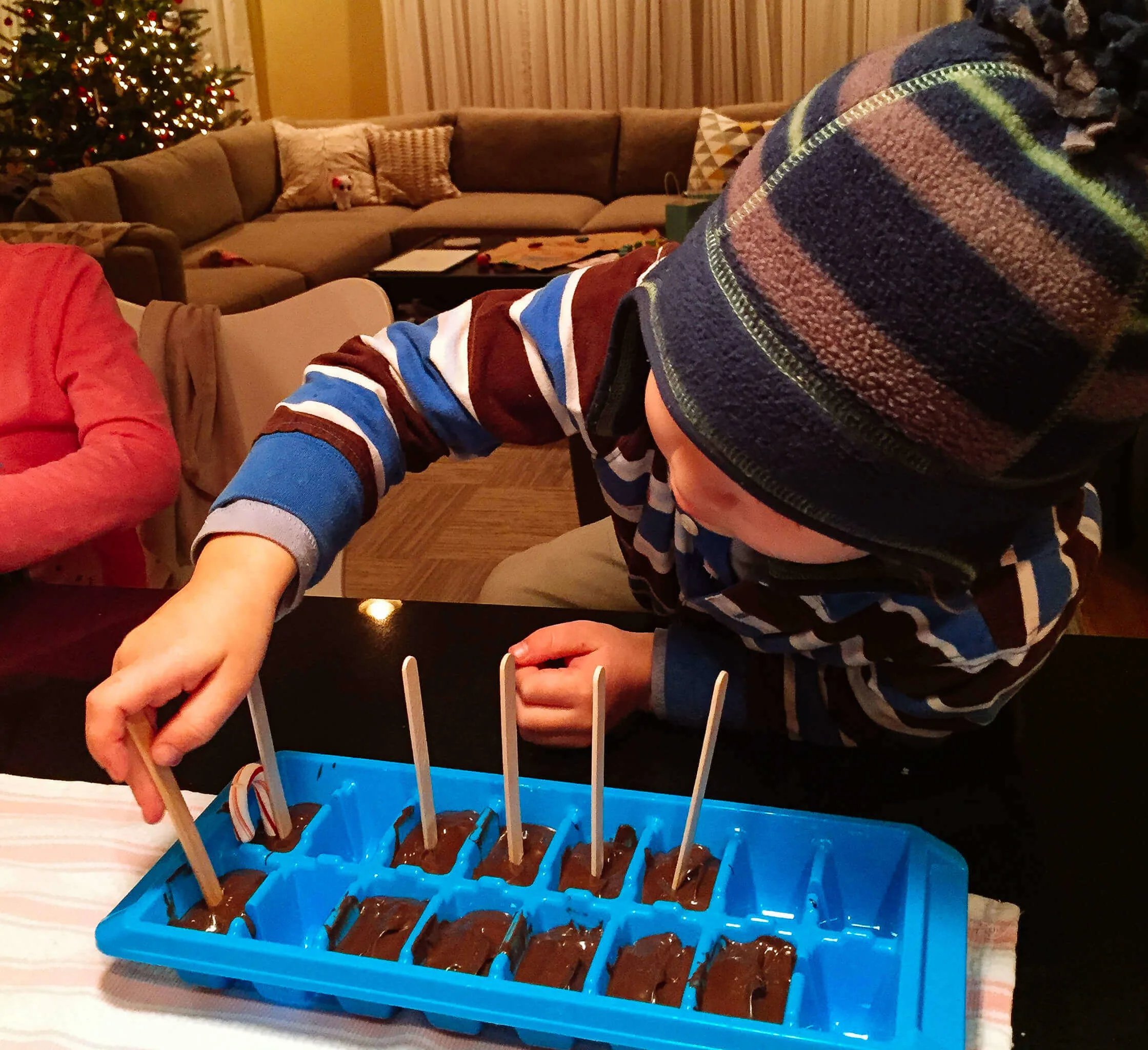 My kids loved making these for their teachers to go along with their teacher's mitten gift card holders, and I bet Grandma would like them too. See how to make chocolate stir sticks and package them up for Grandma. This craft idea is good for pre-schoolers and older.
++++++
Be sure to pin these DIY gift ideas for Grandma from the kids: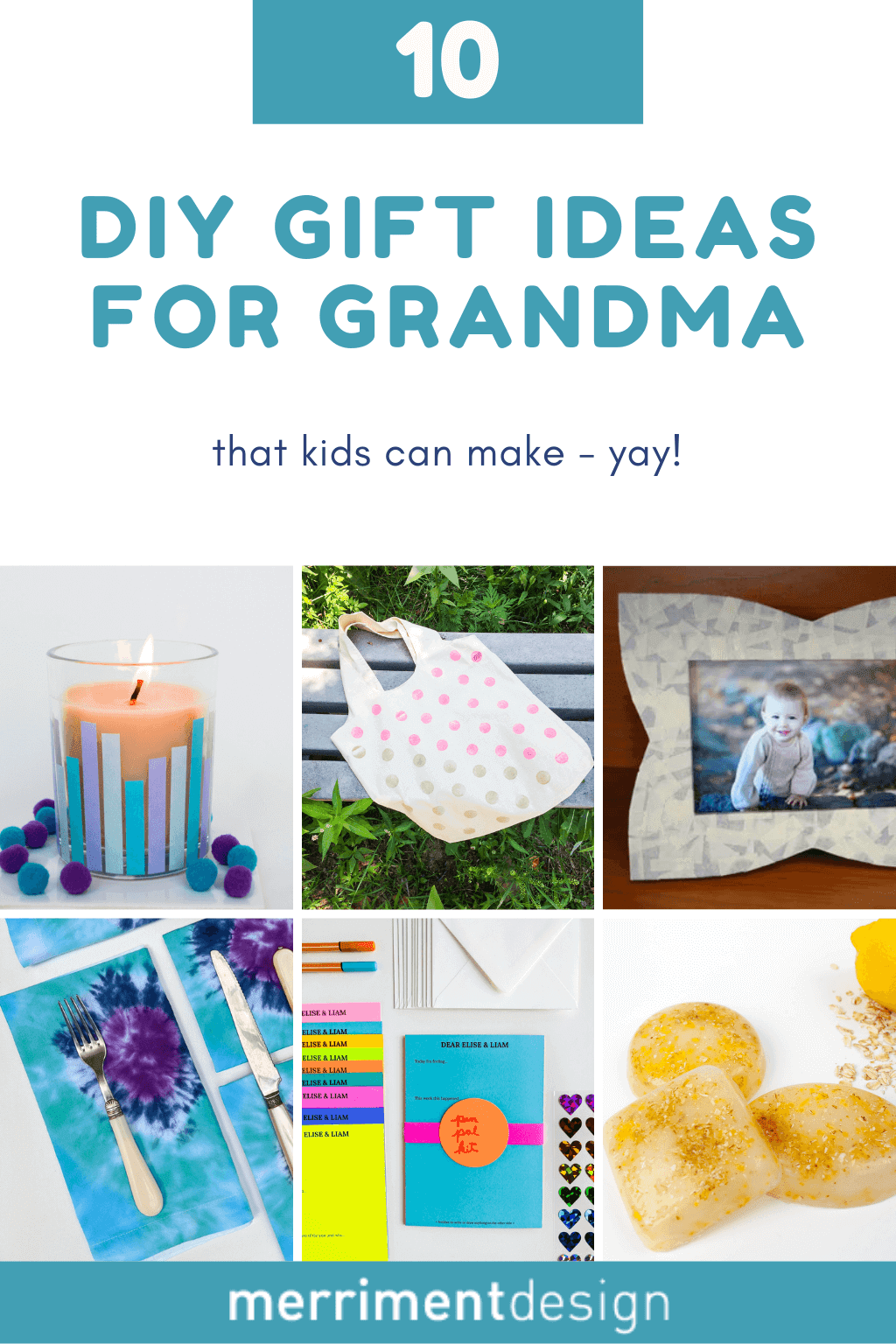 ++++++
And see more DIY gift ideas plus a Swedish tea ring recipe for Christmas breakfast.
—
Like it? Share it!
The nicest way to say you like it is to pin it on Pinterest, post a comment, follow Merriment Design on Facebook, Pinterest, Instagram or sign up for monthly emails. Enjoy! 🙂
Copyright stuff: You're more than welcome to use this free project and tutorial for personal use. Contact me for commercial use and Etsy sales.