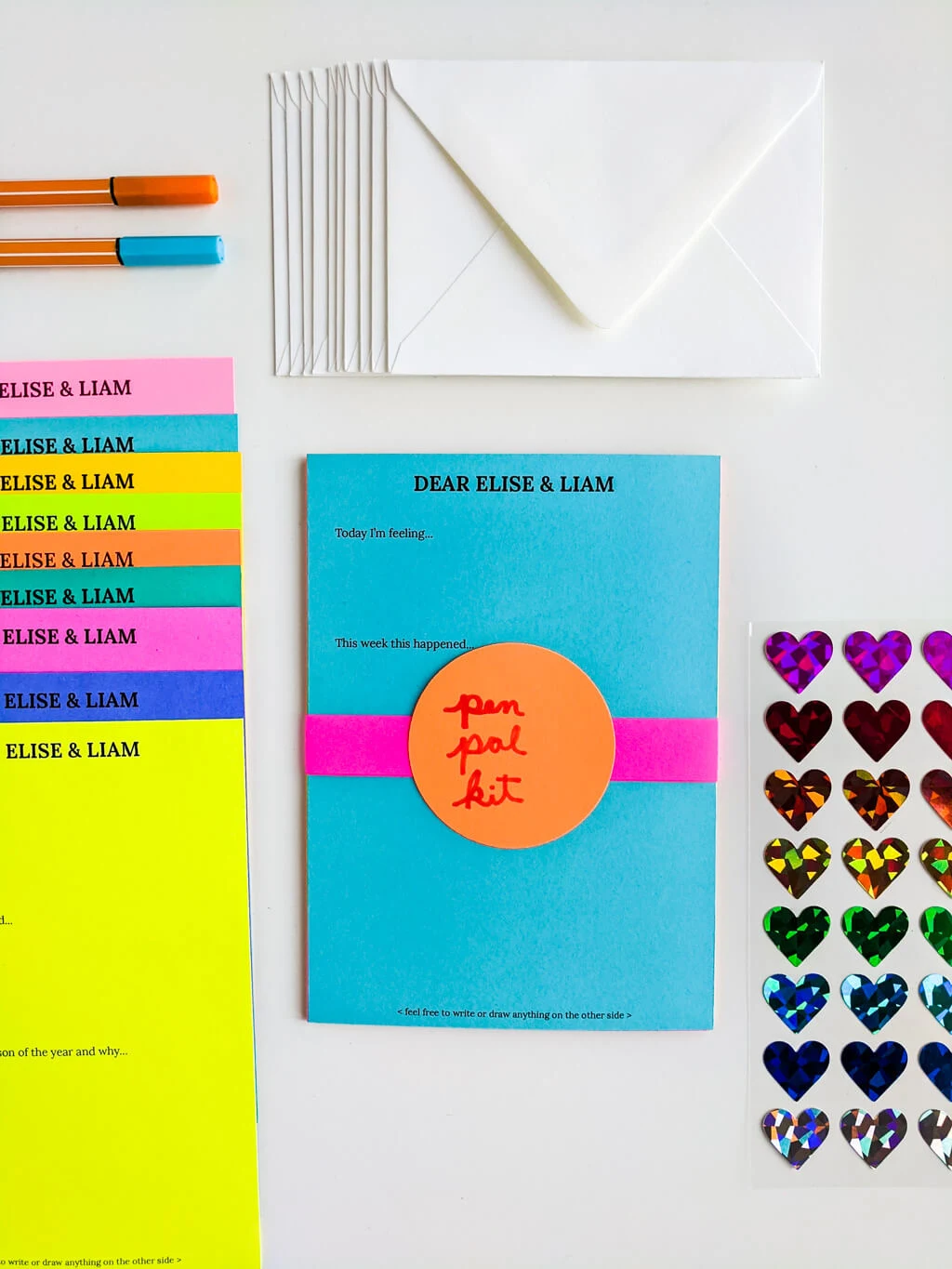 The kids and I made a DIY Pen Pal kit for Grandma as a handmade Christmas gift idea. I'm a sucker for useful DIY gifts, and what's more important than the kids and Grandma getting to share stories with each other all year?
My free printable DIY Pen Pal Kit template includes 12 sets of stationery with pre-filled questions that make writing letters easier. Just pop answer the questions and pop into the mail. We packaged our Pen Pal Kits with stamps, envelopes, pretty writing pens, and shimmery heart stickers.
Thoughtful DIY gift idea for Grandma
It's not always easy to think of good gift ideas from the kids for Grandma's birthday, Christmas, Mother's Day, and Grandparent's Day. And it's even harder to think of thoughtful gifts for Grandma. When I saw this Pen Pal Kit at Anthropologie I just loved the idea so much, and while that kit is much prettier, it's also $25 for eight letters and my free printable Pen Pal Kit is, well, free. Plus I picked each letter's pen pal questions based on what the kids wanted to know about their grandparents.
See also: 'Fingerpainting Coasters DIY' »
It's been really nice for the kids to get letters in the mail from Grandma on this colorful stationery. And it helps support the USPS mail — bonus!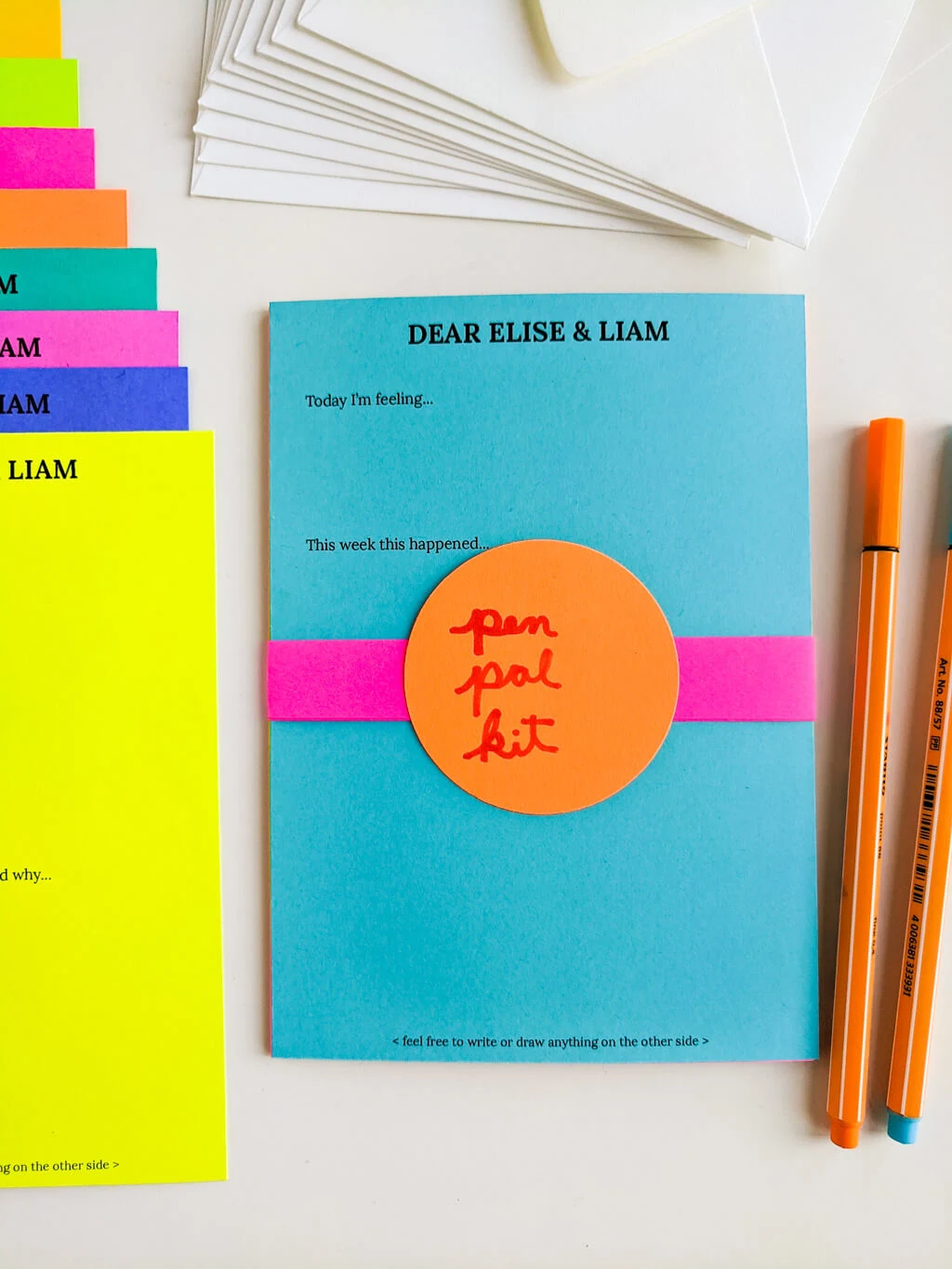 Customize your Pen Pal Kit questions
I've set up my printable Pen Pal Kit template to be editable. All you do is type into the PDF to change names and questions. Each letter begins with "Today I'm feeling" and "This week this happened." And then there's a custom question on each letter. Here are some of the pen pal questions that my kids chose for their grandparents:
This is a story about my first job
Here's one of my favorite things about myself
Today I'll tell you what makes me happy and what makes me angry
Here's a story about one of my favorite trips that I've taken
Today I'll tell you about my grandma or grandpa
And I'll be honest: I didn't know how my mom would answer many of these questions, either. So it's kind of a good gift for me, too.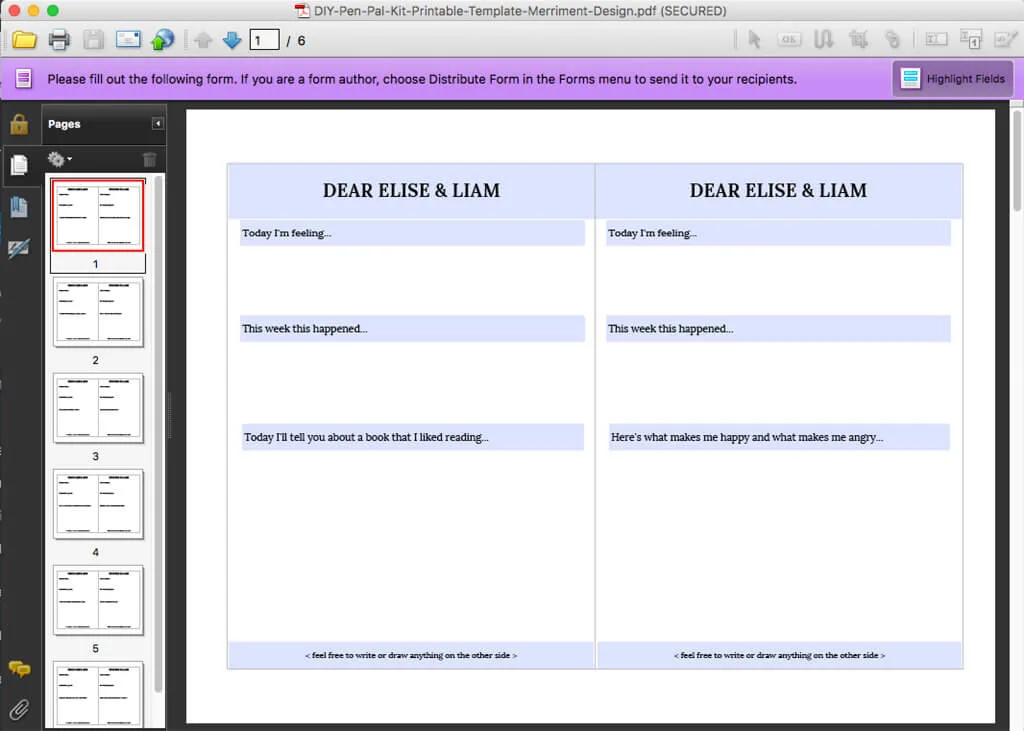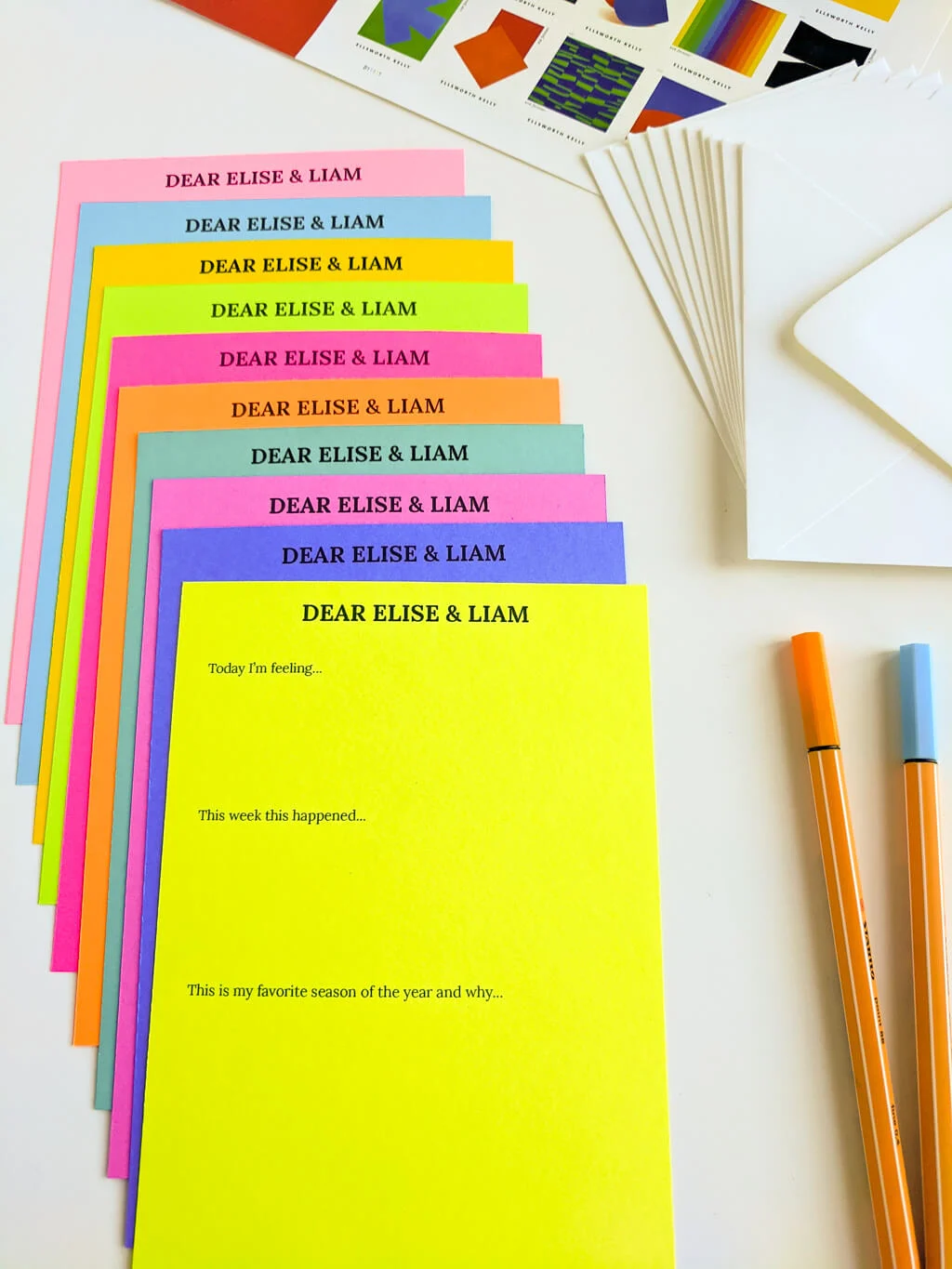 Good for keeping in touch with friends and relatives
We made this Pen Pal Kit printable template as a DIY gift idea for grandparents, but you also could give it to far-away friends and relatives. Making a Pen Pal kit is an easy handmade gift idea that helps bring people together. And I think we could all use that right about now, yes?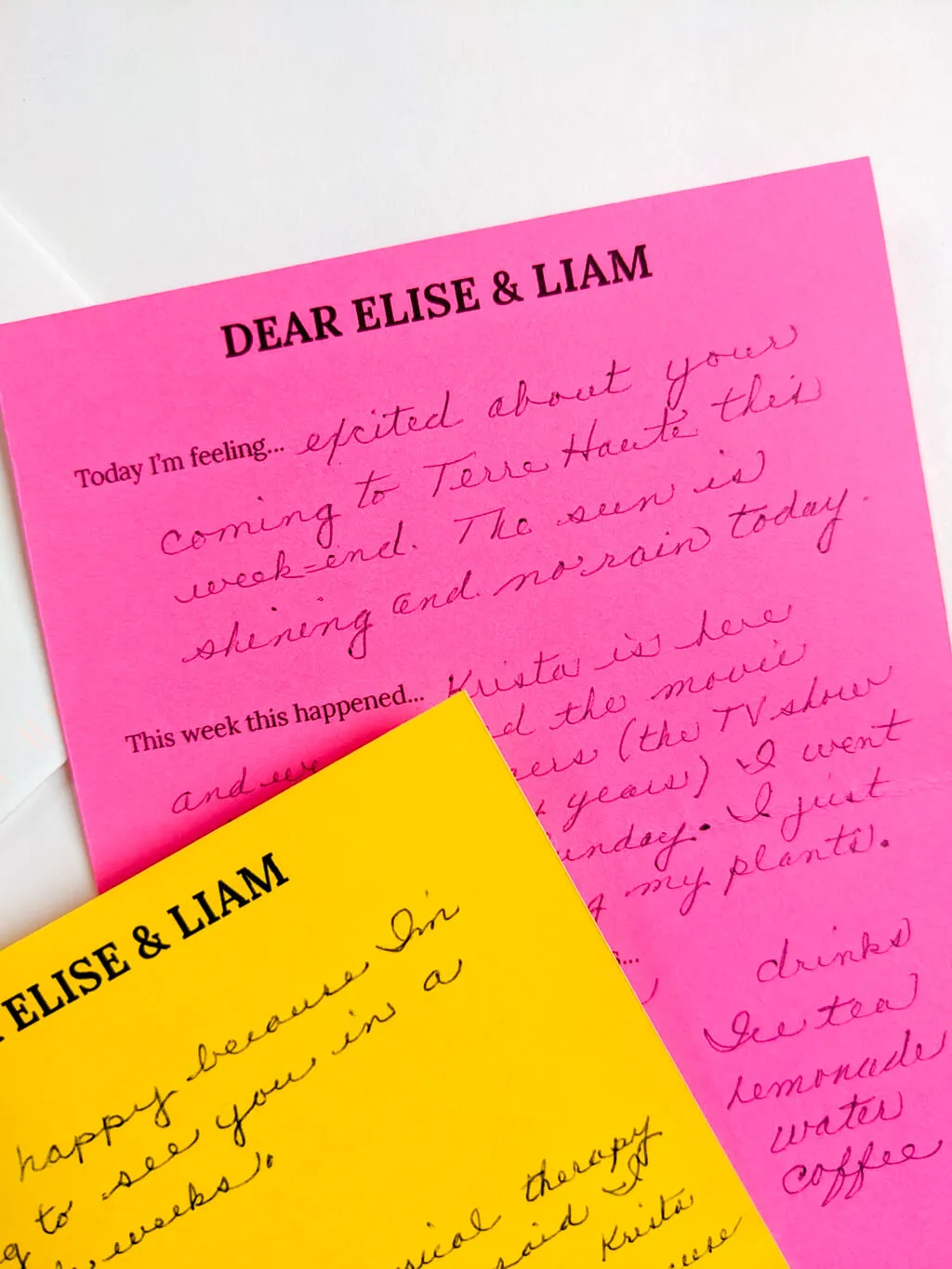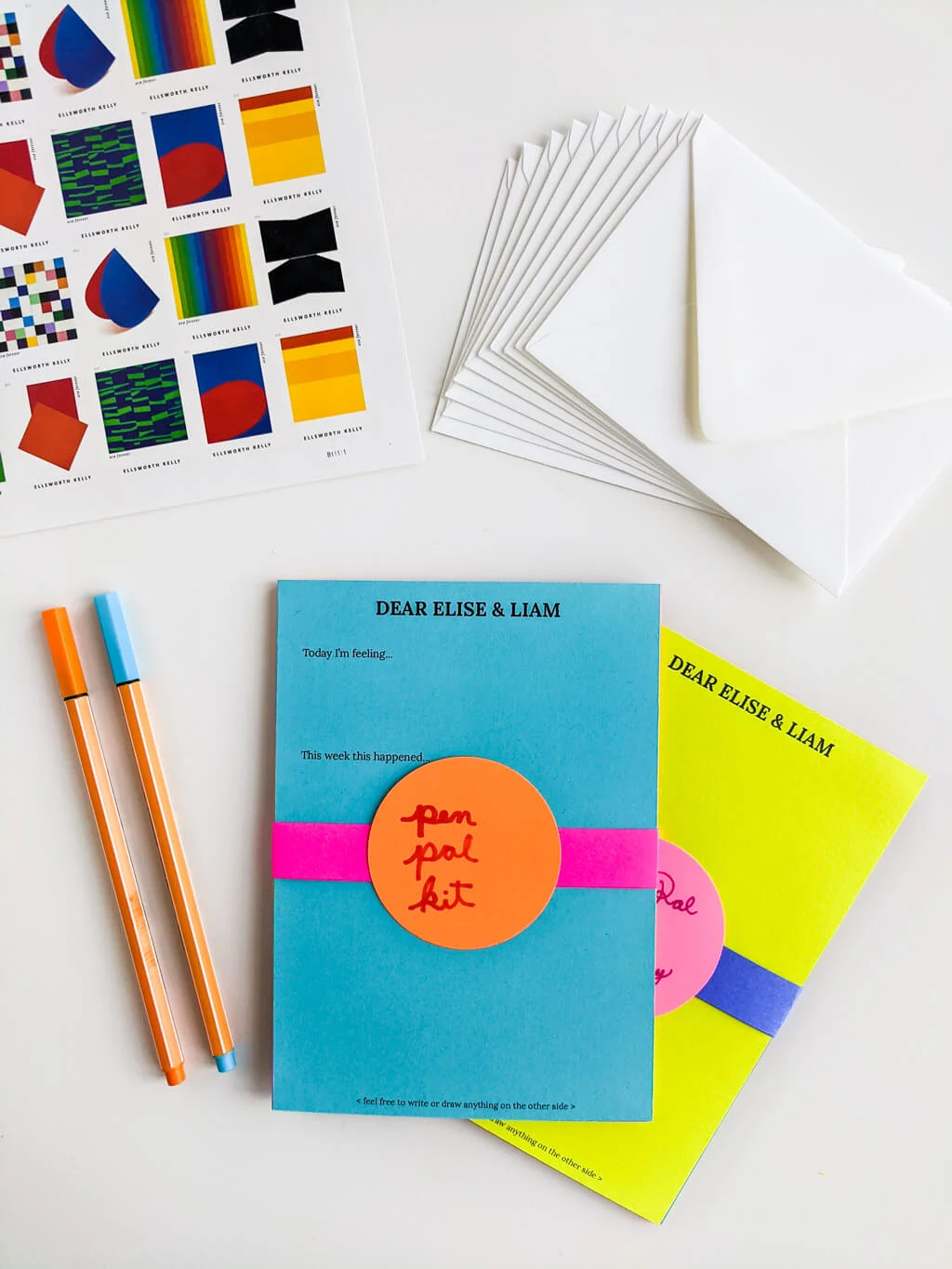 This post contains affiliate links which means that products I recommend may give me a nominal commission at no extra cost to you. Thanks – your clicks help me make more free DIYs!
++++++
Supplies for making a Pen Pal Kit DIY gift:
++++++
How to make a Pen Pal Kit DIY gift for Grandparents:
Step 1: Download and personalize the Pen Pal Kit
Open my editable Pen Pal Kit PDF into Adobe Reader (rather than a web browser; editable PDFs are fussy in web browsers). Type into the fields to personalize the name and any questions that you'd like to adjust.
Step 2: Print stationery onto colorful cardstock paper
This kit makes two sets of letters. Print onto your favorite colors of cardstock. Cut the stationery into two sheets, and separate them into two stacks.
Step 3: Package it up with envelopes, stamps, and stickers
Cut a long strip of cardstock paper, wrap it around the stationery stack, and secure with a piece of washi tape. Punch a 2″ circle, write "Pen Pal Kit," and secure to the strip using washi tape. Wrap them in a box with envelopes, stickers, fun markers, and stamps.
++++++
Be sure to pin this Pen Pal Kit DIY gift idea: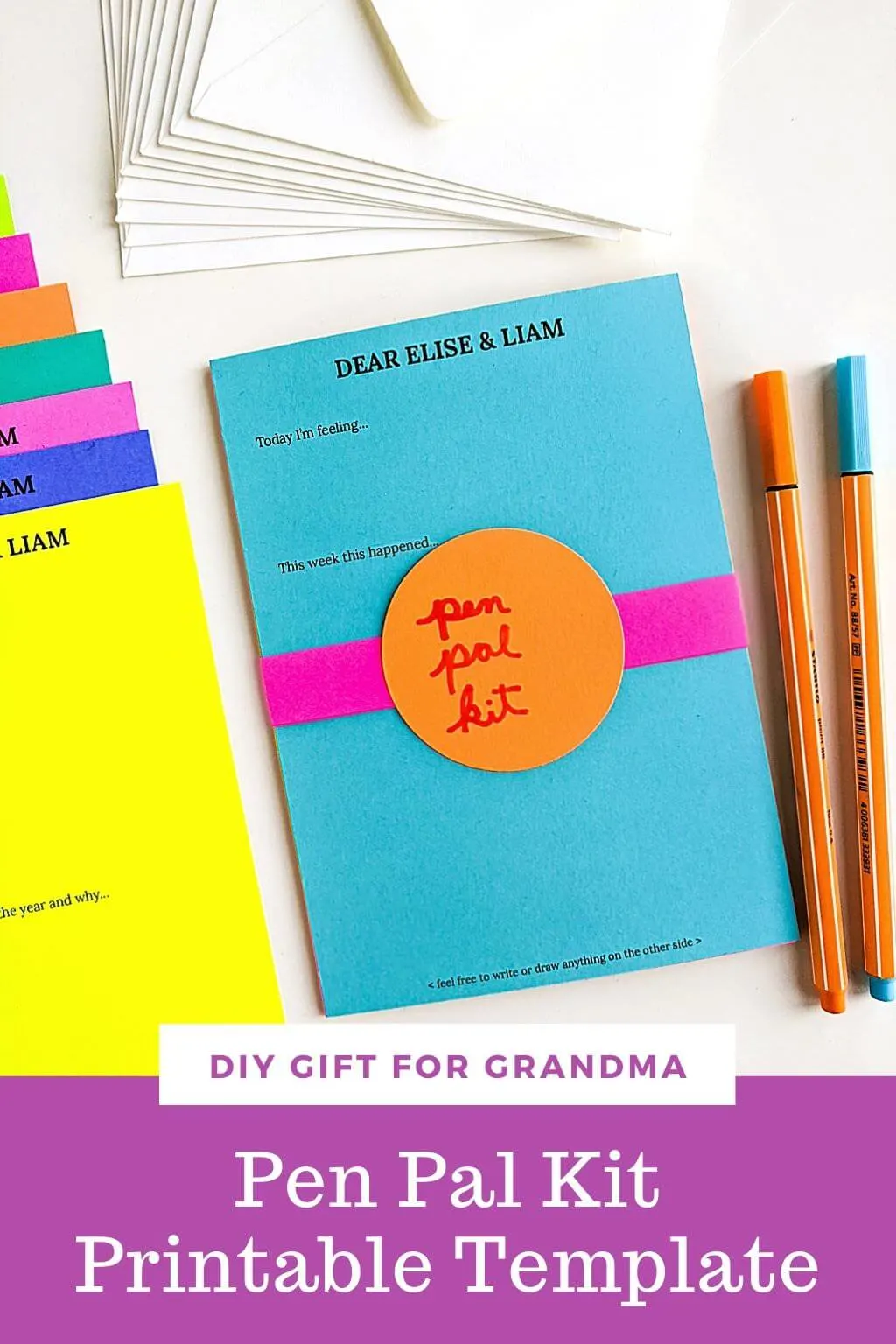 ++++++
And see more DIY gift ideas like my Tie Dye Cloth Napkins and Paper Bead Jewelry.
—
Like it? Share it!
The nicest way to say you like it is to pin it on Pinterest, post a comment, follow Merriment Design on Facebook, Pinterest, Instagram or sign up for monthly emails. Enjoy! 🙂
Copyright stuff: You're more than welcome to use this free project and tutorial for personal use. Contact me for commercial use and Etsy sales.