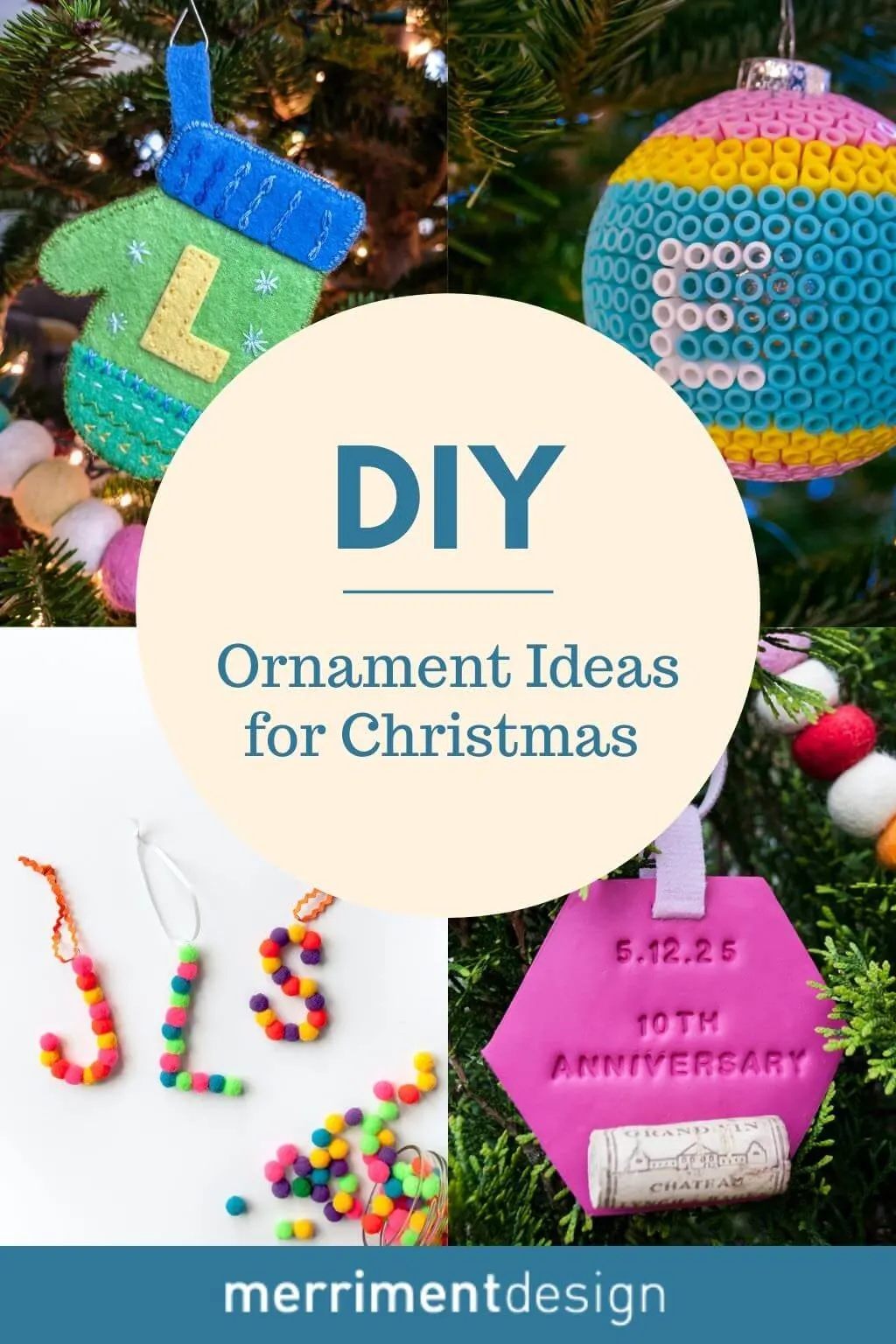 'Tis the season for making handmade Christmas ornaments! I'm sharing my favorite one-of-a-kind Christmas ornament DIY ideas to make for kids, family, and friends. These DIY Christmas ornaments are a meaningful way to decorate your Christmas tree.
DIY Christmas ornaments for kids
My DIY ornament ideas can be made with kids or given to kids. I like to turn ornament making into a fun winter activity for the kids so that we can create memories together. Two birds, one stone, you know? We started making ornaments together when Elise was four years old, and it's become a special holiday tradition. I like the idea of my kids hanging the ornaments that we made together on their own Christmas tree someday.
Felt, clay, glass balls, and fuffy pom-poms
Grab your felt, ceramic clay, clear glass ball ornaments, and fluffy mini pom-poms! My handmade Christmas ornament ideas use some of my all-time favorite Christmas craft supplies. You know that I also love fabric and paper, so I'll be adding some fabric and paper Christmas ornament DIY ideas soon …but no ornament ideas using glitter (glitter gives me the hives, so Scrooge says that there will be no glitter.) Keep reading for my one-of-a-kind handmade Christmas tree ornament ideas.
Merriment Design is supported by readers like you. If you buy products that I recommend, I may earn an affiliate commission at no additional cost to you. Thanks – your clicks help me make more free DIYs!
+++
This fun Christmas ornament is easy to make with kids. Kids love Perler beads! See how to take any clear plastic ball ornament or clear plastic ball ornament and decorate it with Perler beads — no ironing required. Elise and I made the pastel letter 'E' ornament below when she was only four-years-old, and it made for a great winter craft activity. And now that she's grown, it's a nice memory when we hang it on our Christmas tree each year.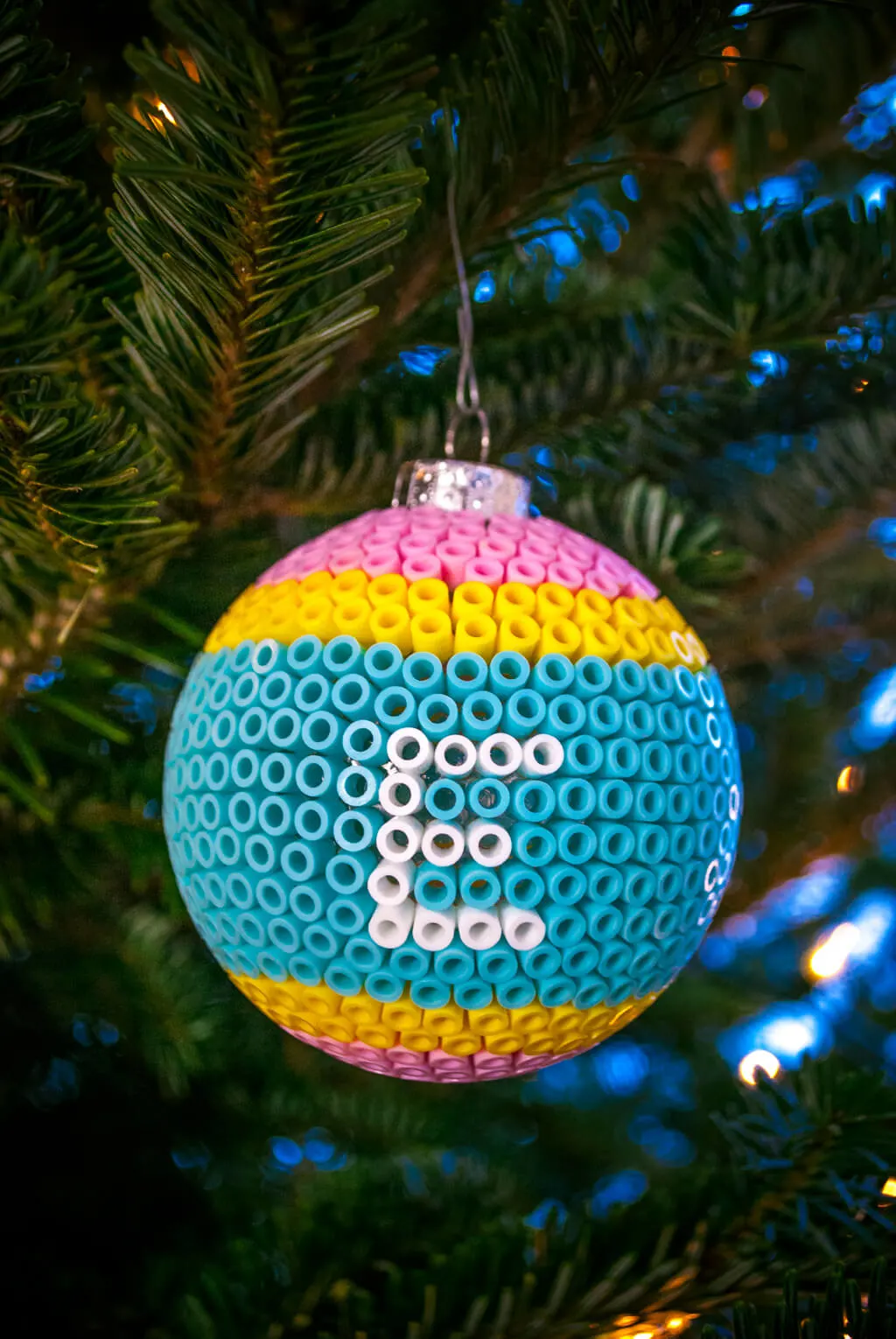 +++
Here's another easy handmade Christmas ornament craft make with kids, and it takes just two supplies. The fuzzy mini pom-poms come in festive colors and they're fun to work with. Kids can mix and match the pom-pom colors together to make fun combinations. And this DIY ornament idea makes really cute DIY gift tags for wrapped packages …well, unless you're in my family like mine where all four kids' name begins with K.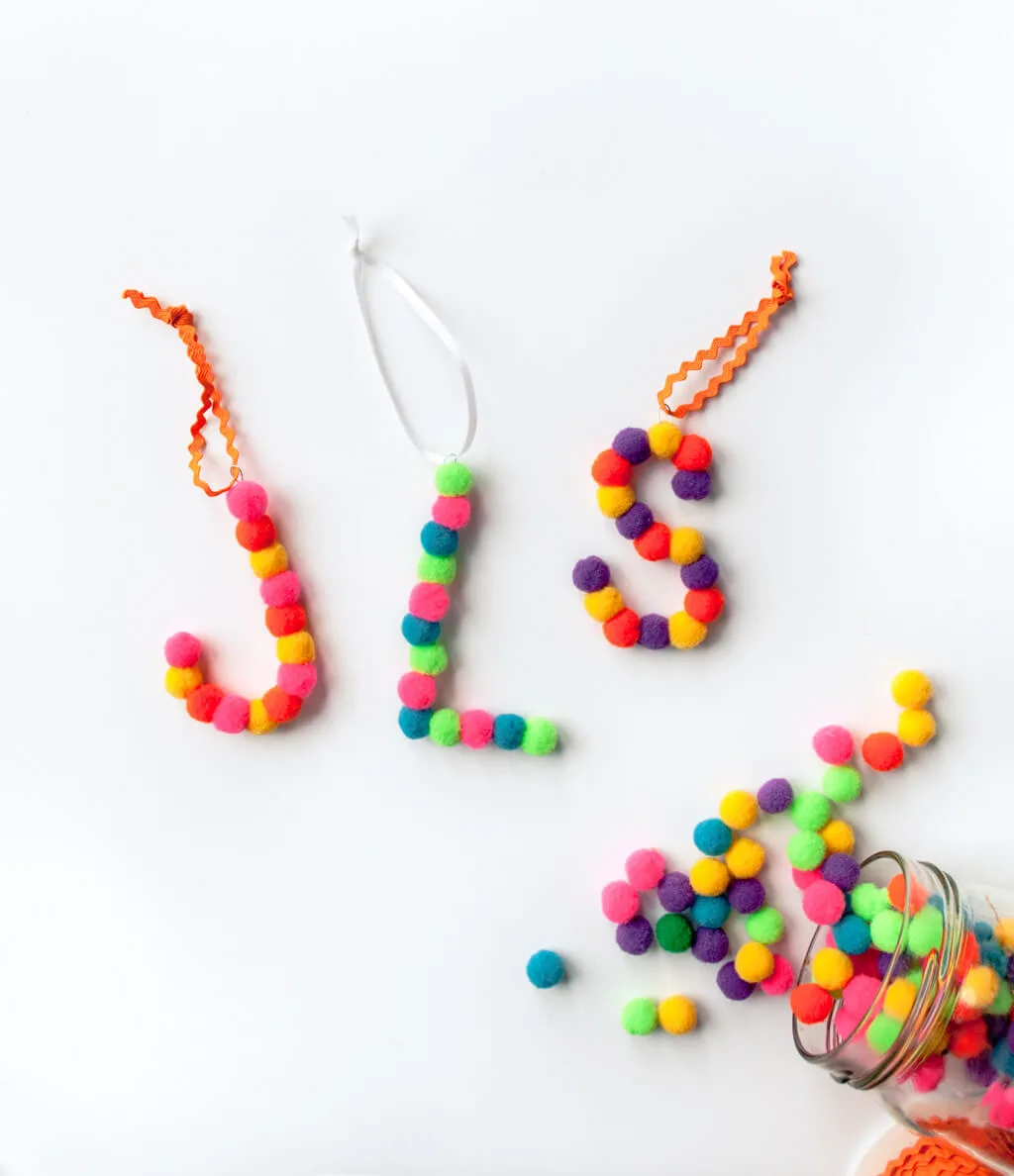 +++
So you might be seeing a pattern here with ornaments that double as gift tags. This next ornament DIY idea has an extra twist: remembering special dates. Mark important days like weddings and anniversaries with these modern ceramic clay hexagon ornaments. You can just give the ornament itself, or I like to attach these clay ornaments to a bottle of wine. When the wine is gone, attach the cork to the ornament itself, if you choose.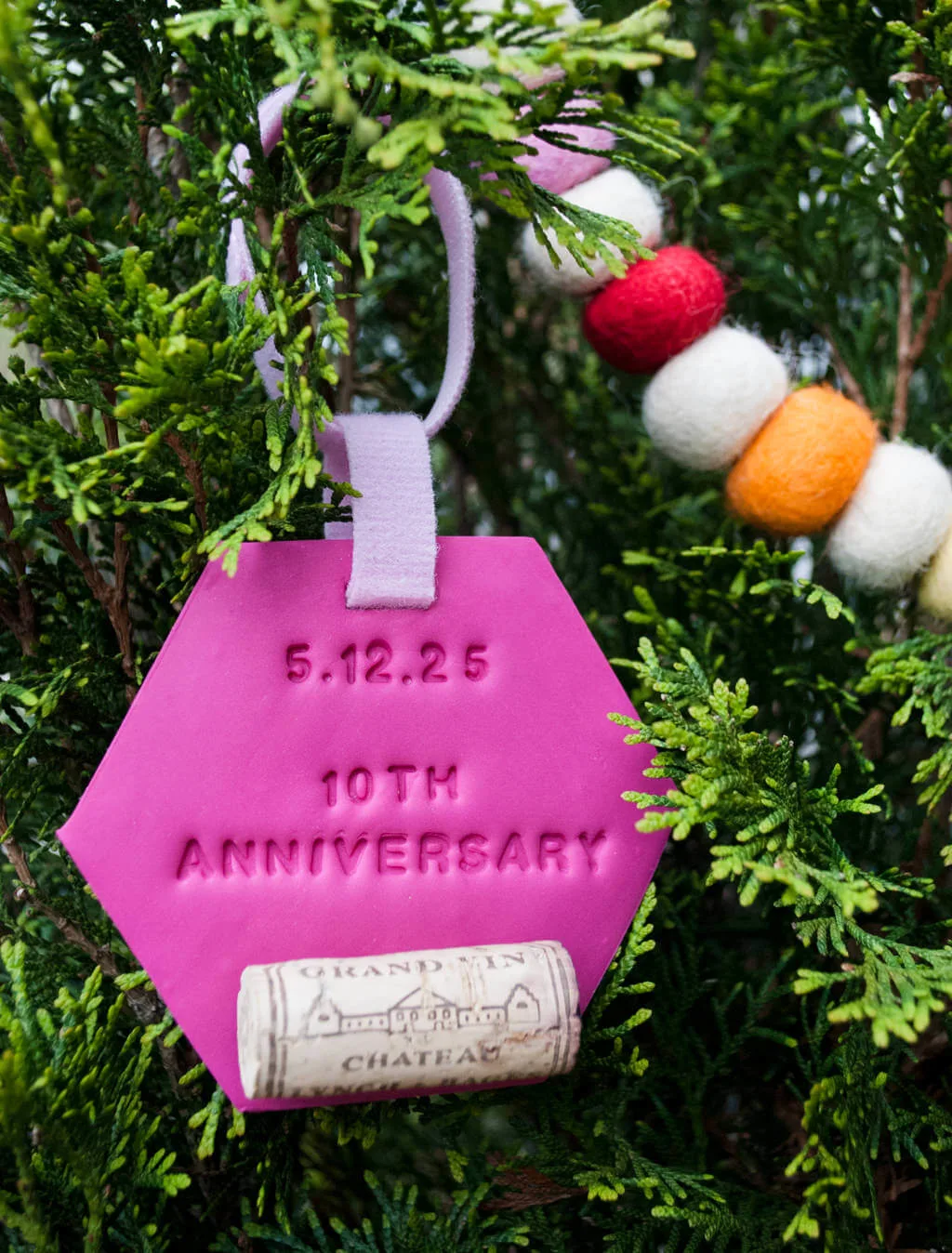 +++
I love mittens for the holidays. I use mitten shapes each year on our mitten gift tags and paper giftcards holder templates for teachers and coaches, so naturally, felt mitten ornaments were next. Personalize the mittens with their initials and favorite colors.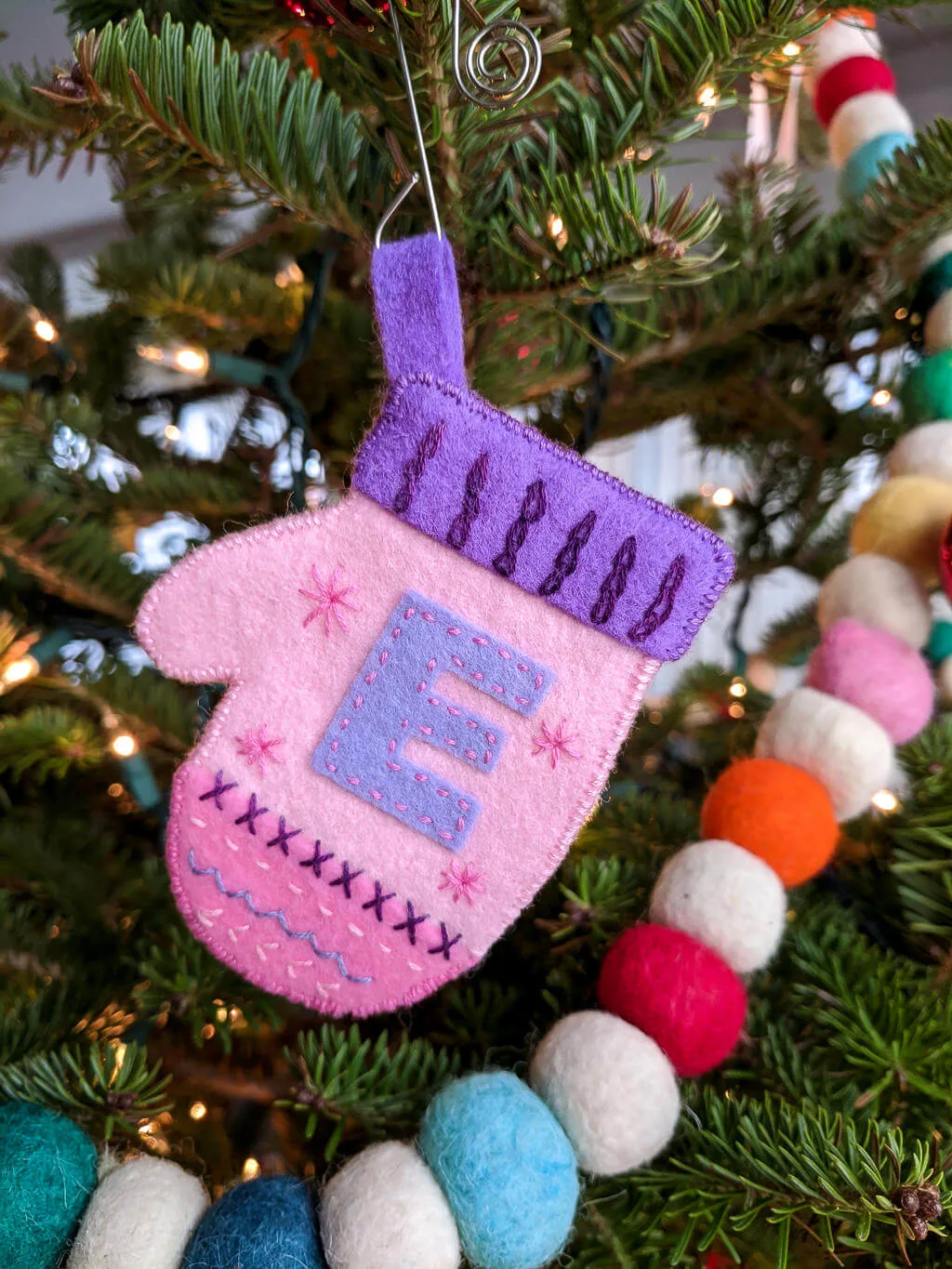 This wool felt is so pretty and comes in a bunch of festive colors. You can use wool felt or recycled felt for these cute felt mitten ornaments, and add as many embroidered details as you like. I added hearts on the backs and initials on the fronts.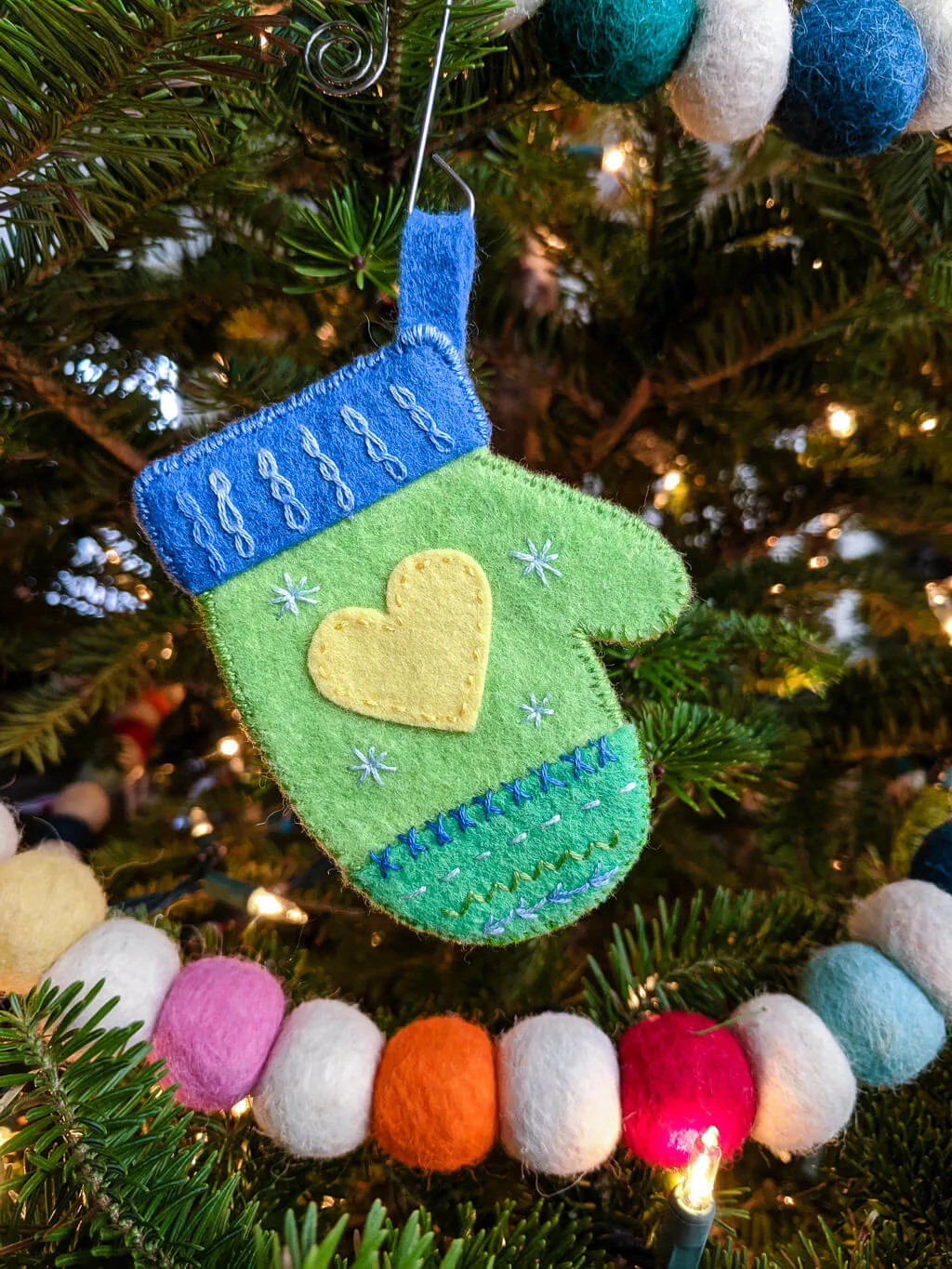 DIY Christmas ornaments as gifts
Make these one-of-a-kind Christmas ornaments for family and friends! I like to personalize handmade Christmas ornaments and give them as gifts. Personalized the ornaments with first initials, special dates, and favorite colors. Our family loves pulling out our Christmas ornaments each year and remembering when we made them, or who gave them to us. Handmade Christmas ornaments are meaningful keepsakes. Which handmade Christmas ornament idea do you want to make this season?
+++
Be sure to pin my Christmas Ornament DIY ideas: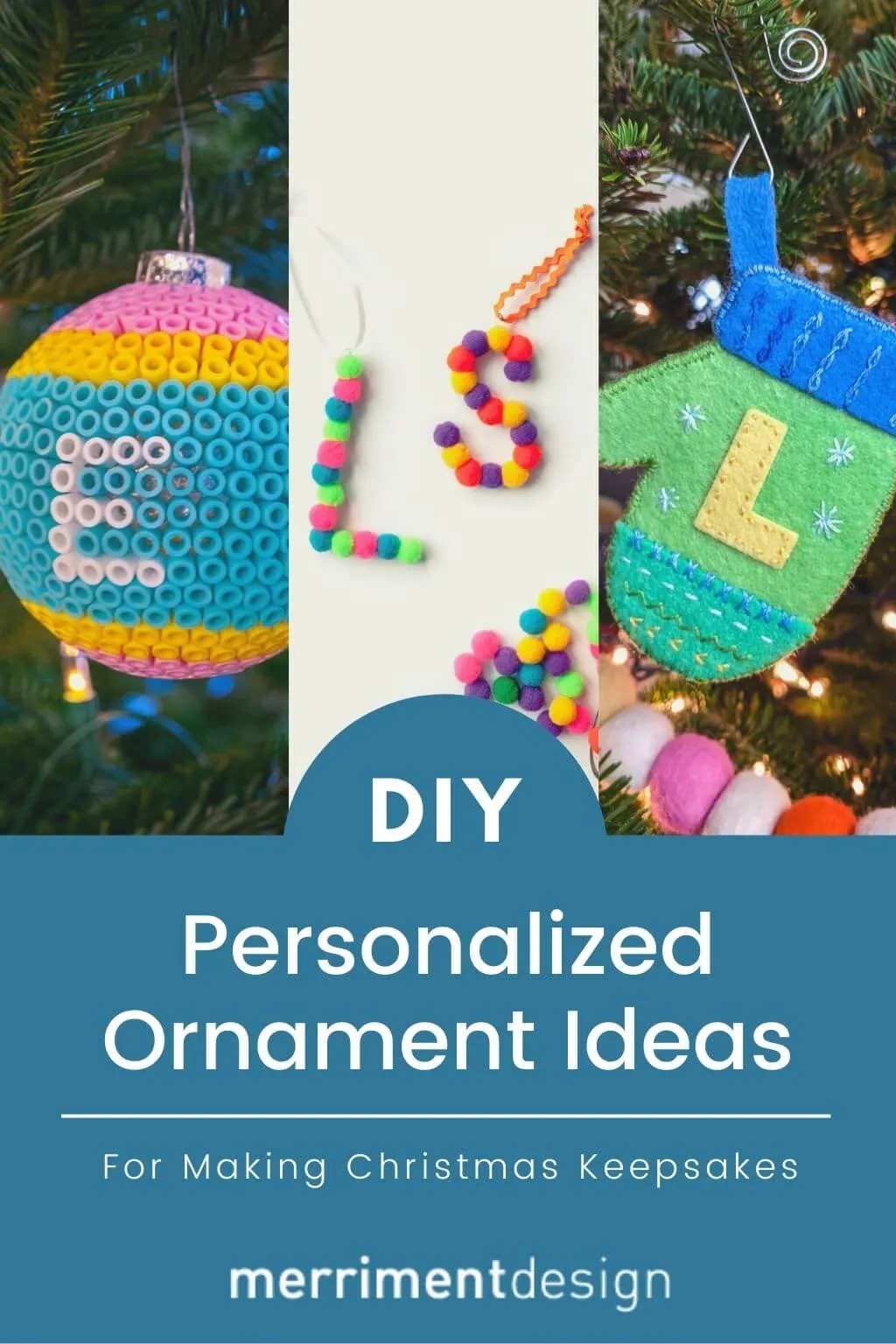 ++++++
And see more Christmas craft projects and recipes like my Printable Mittens Gift Card Holder Template and Four Gift Christmas (Want, Need, Make, Read) printable gift tags.
—
Like it? Share it!
The nicest way to say you like it is to pin it on Pinterest, post a comment, follow Merriment Design on Facebook, Pinterest, Instagram or sign up for monthly emails. Enjoy! 🙂
Copyright stuff: You're more than welcome to use this free project and tutorial for personal use. Contact me for commercial use and Etsy sales.