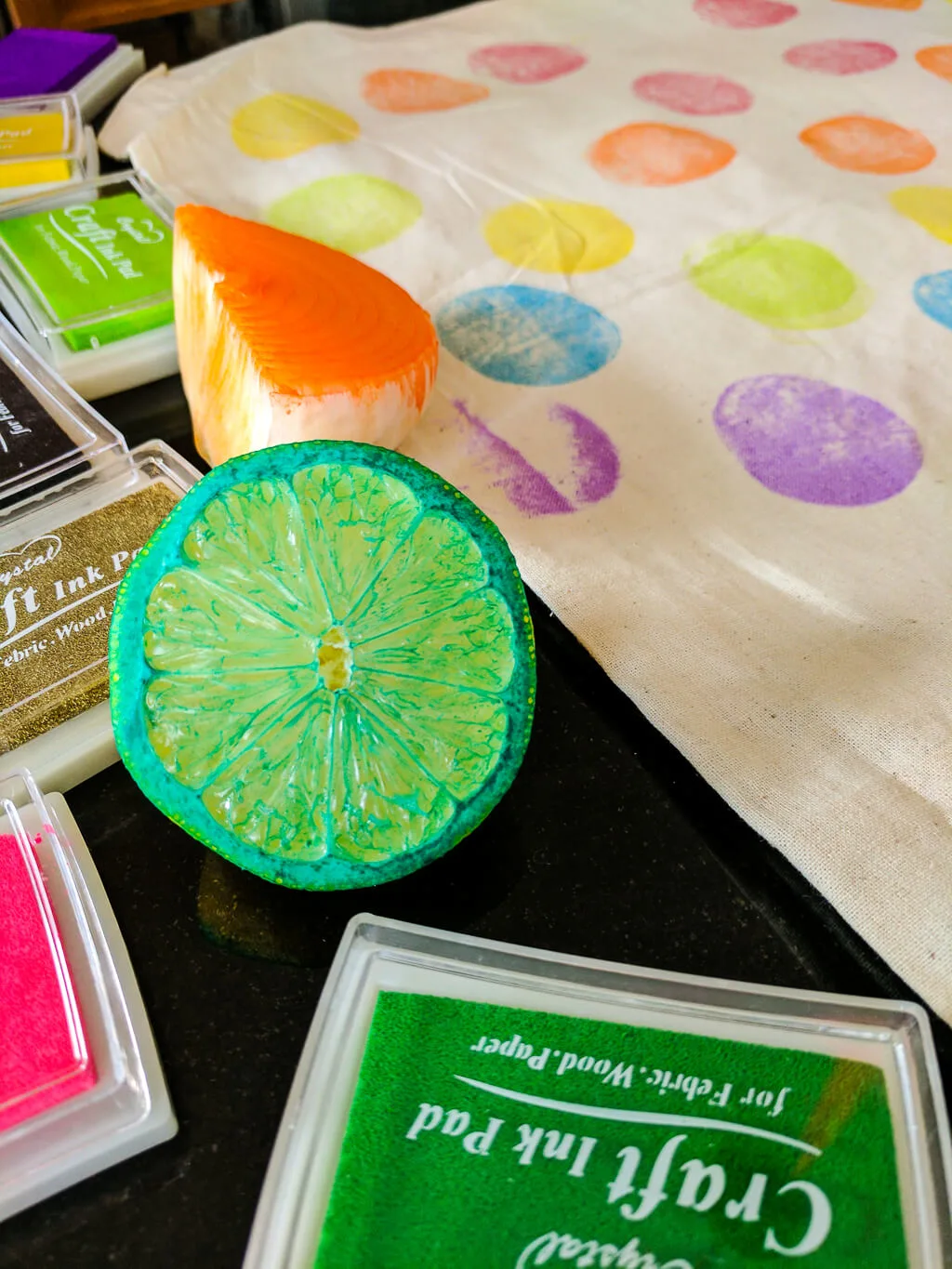 Fruit and veggie stamp your own DIY reusable grocery bags and say goodbye to both paper and plastic. This eco-friendly shopping tote is really easy to make …and very hard to screw up ? And there are so many possibilities, even carrot polka dots!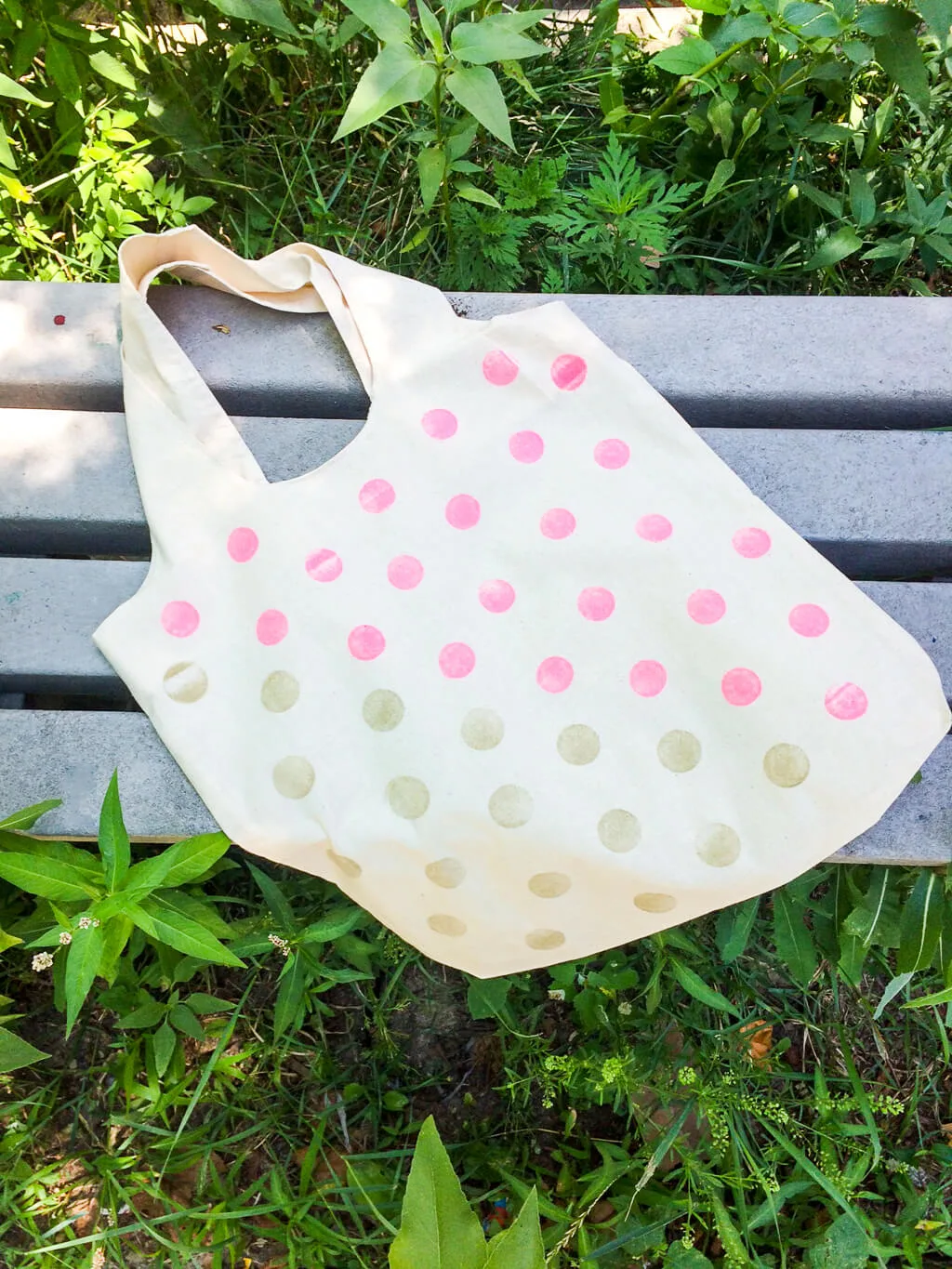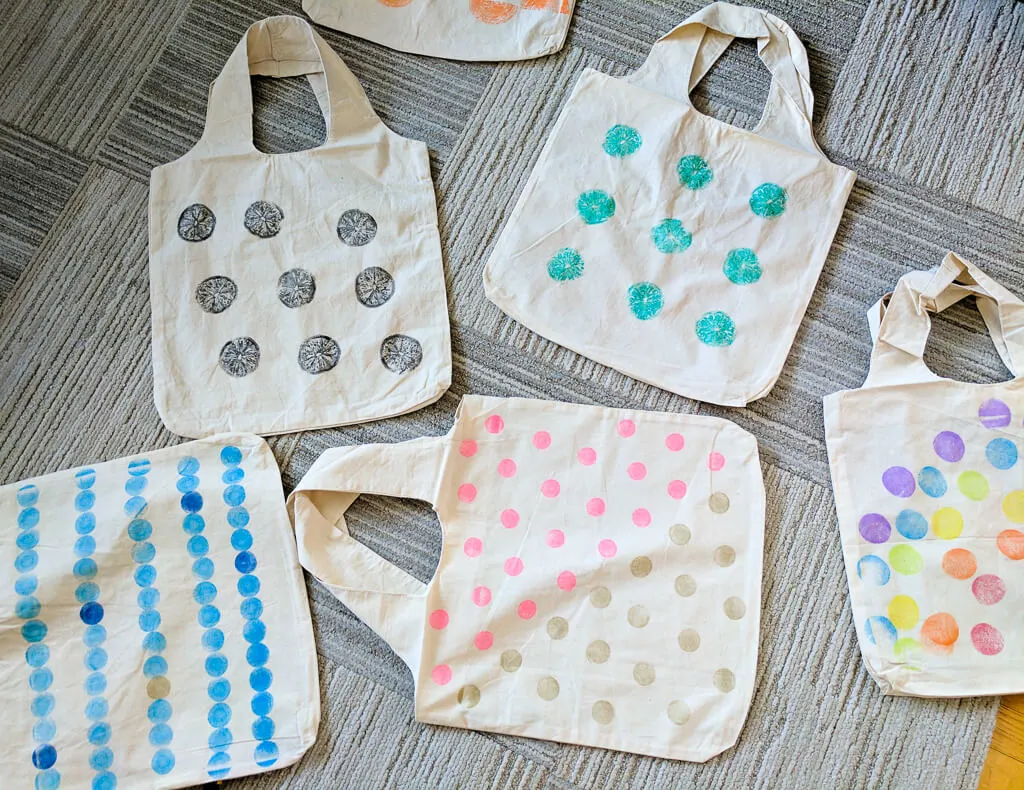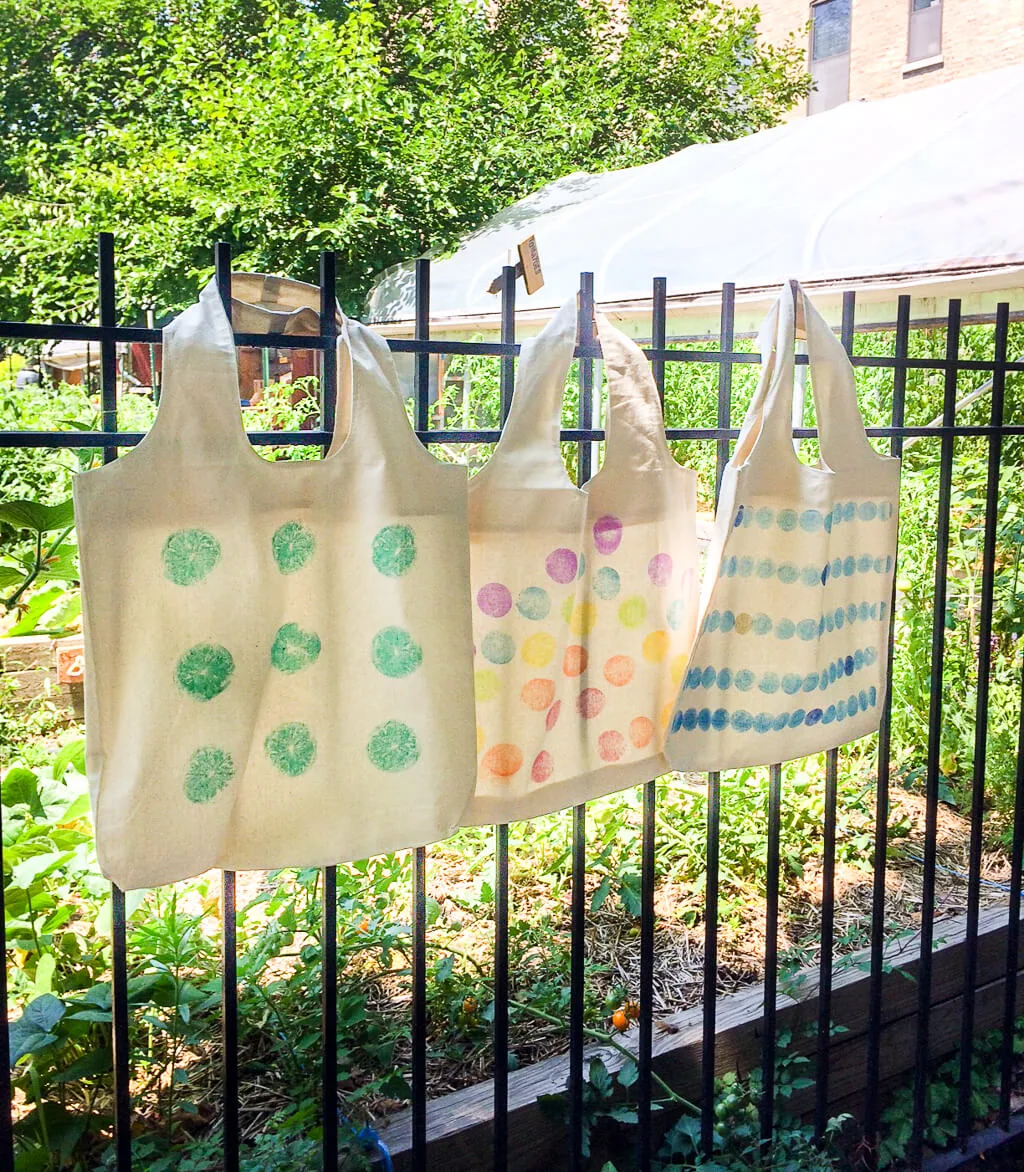 Did you ever veggie stamp with potatoes when you were a kid? Remember how fun it was? It still is!
Today's throwback easy DIY project is sponsored by Paper Mart. All opinions are mine. And I'm telling you, *anyone* can veggie stamp …kids, adults, the crafty, and the not-so-crafty. My friend Heather from YumUniverse tried a variety of fruits and vegetables and here's what we liked best: lemons, onions, carrots and potatoes. Just cut fruits and veggies, stamp onto a natural cotton tote bag, let dry overnight, and heat-set the with an iron.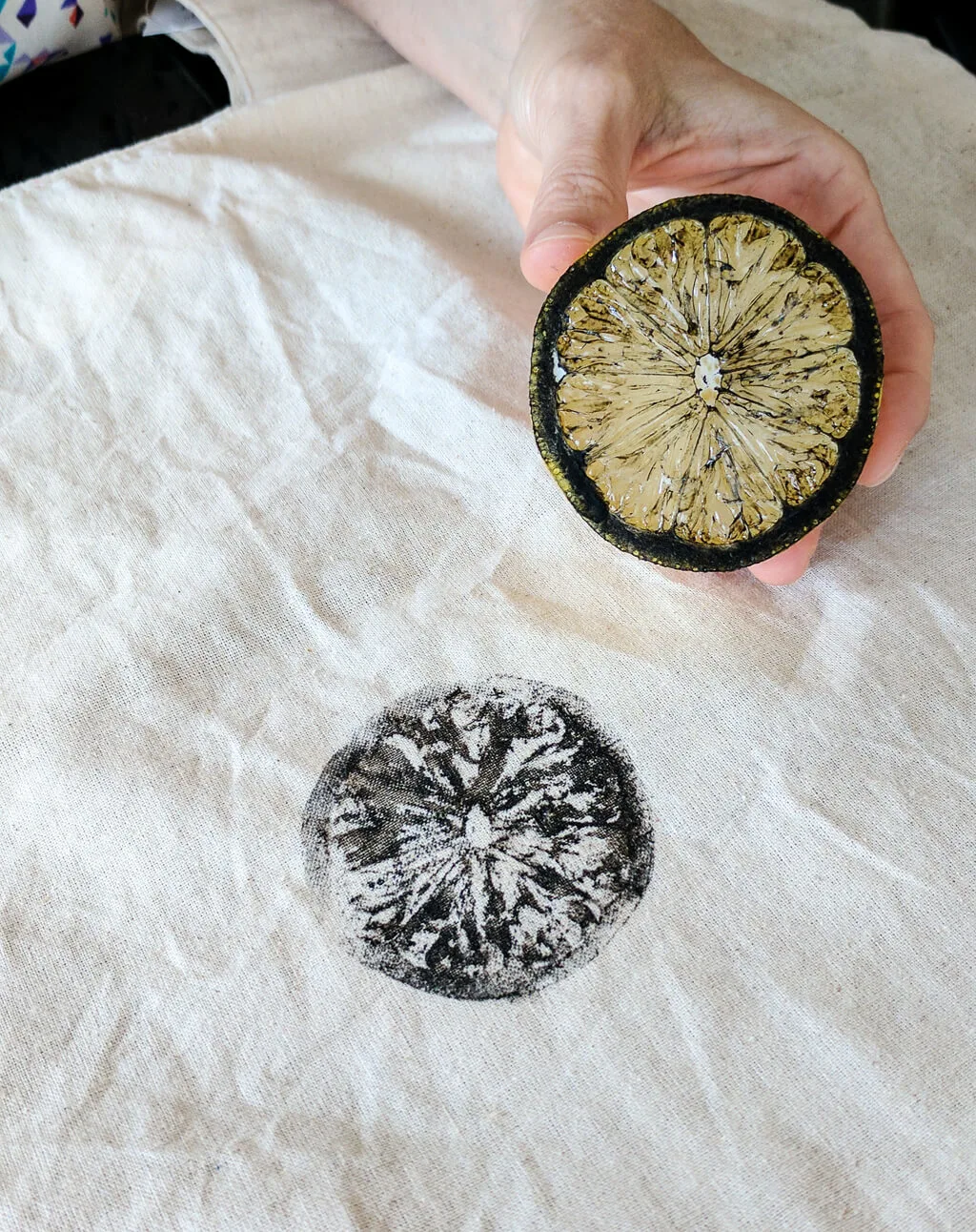 We tested out a few bags at home with fruit and veggie stamping and were instantly hooked — each bag turned out so different, and so great!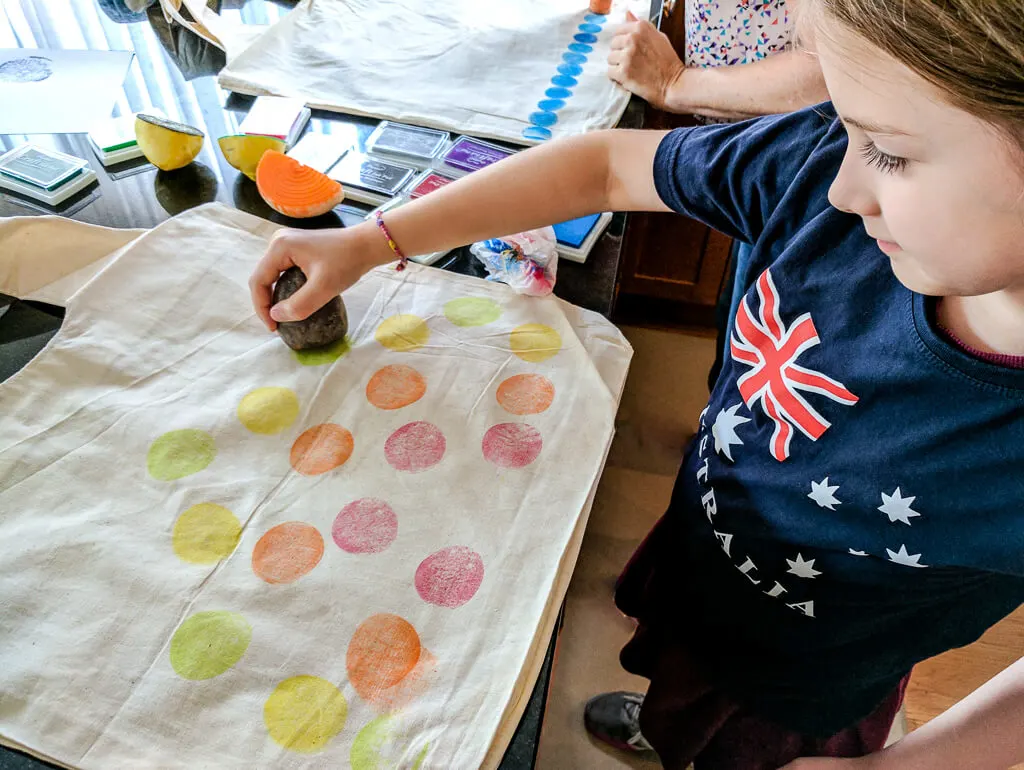 Heather and I co-hosted a Cookbook Tasting Party at Same Day Cafe for her latest cookbook, YumUniverse Pantry to Plate. Party guests tasted recipes, drank cocktails sponsored by Few Spirits, and made their own DIY grocery bags using fruit and veggie stamping onto natural cotton reusable totes. Paper Mart generously provided their large natural cotton eco-friendly tote bags for each party guest. And wow, guests loved it! Even people who downplayed their creativity were able to fruit stamp and veggie stamp their own super awesome reusable grocery bags.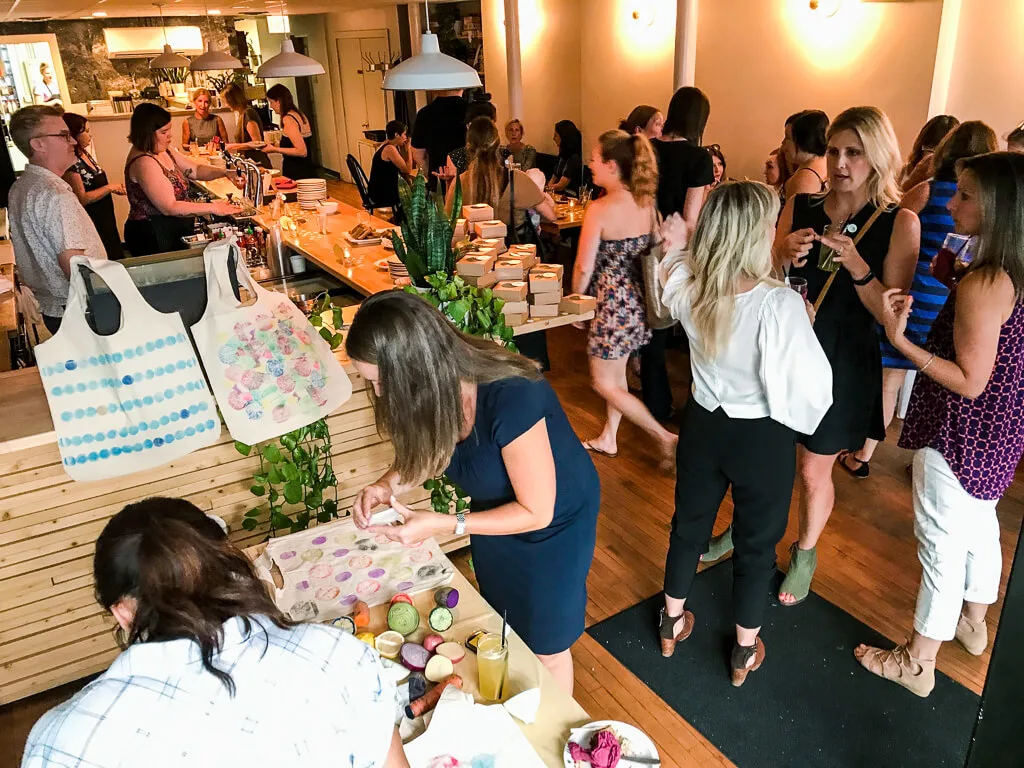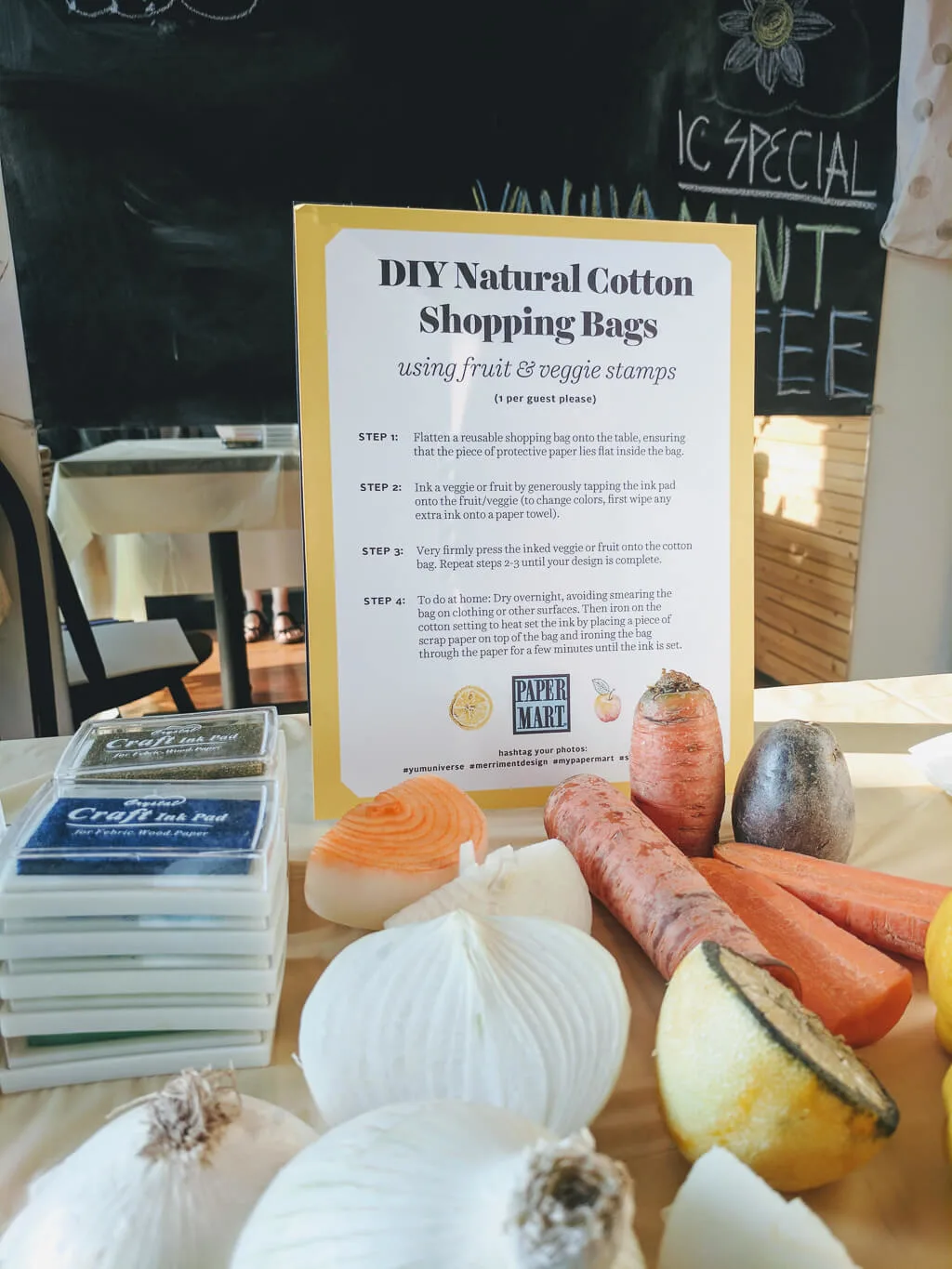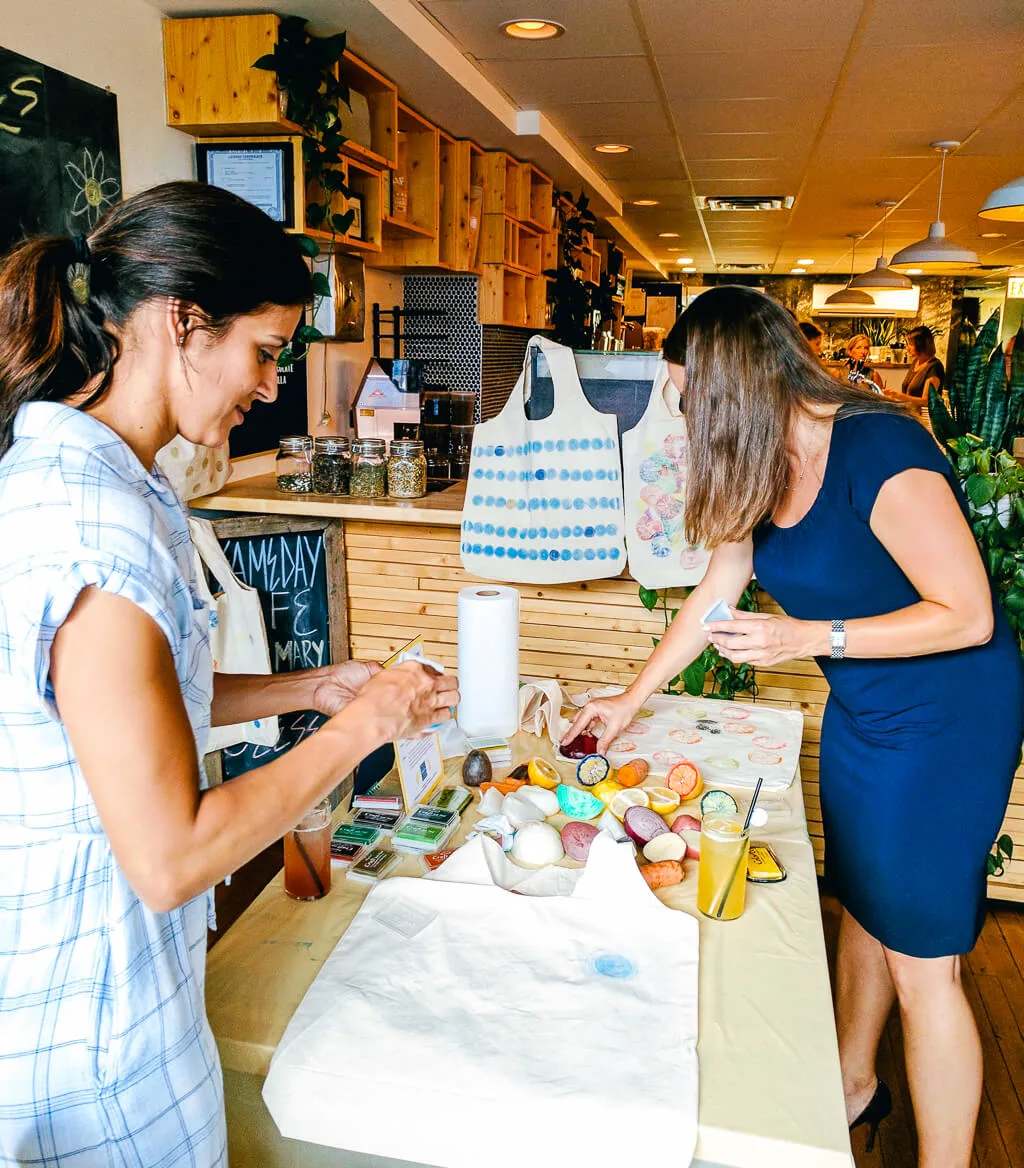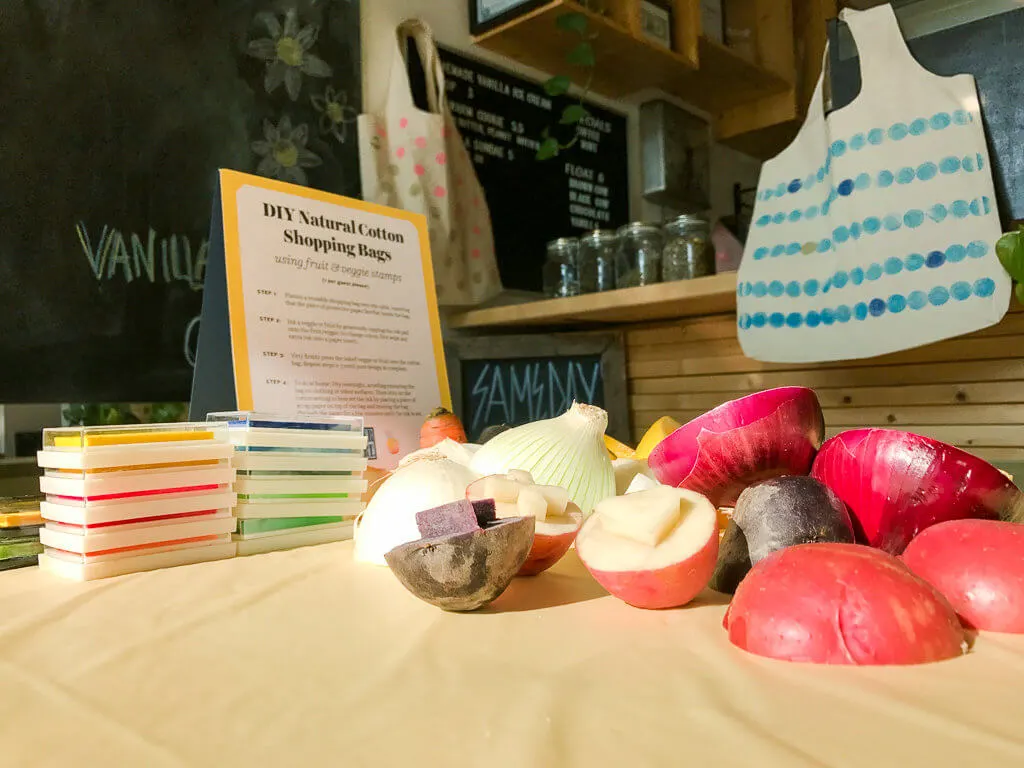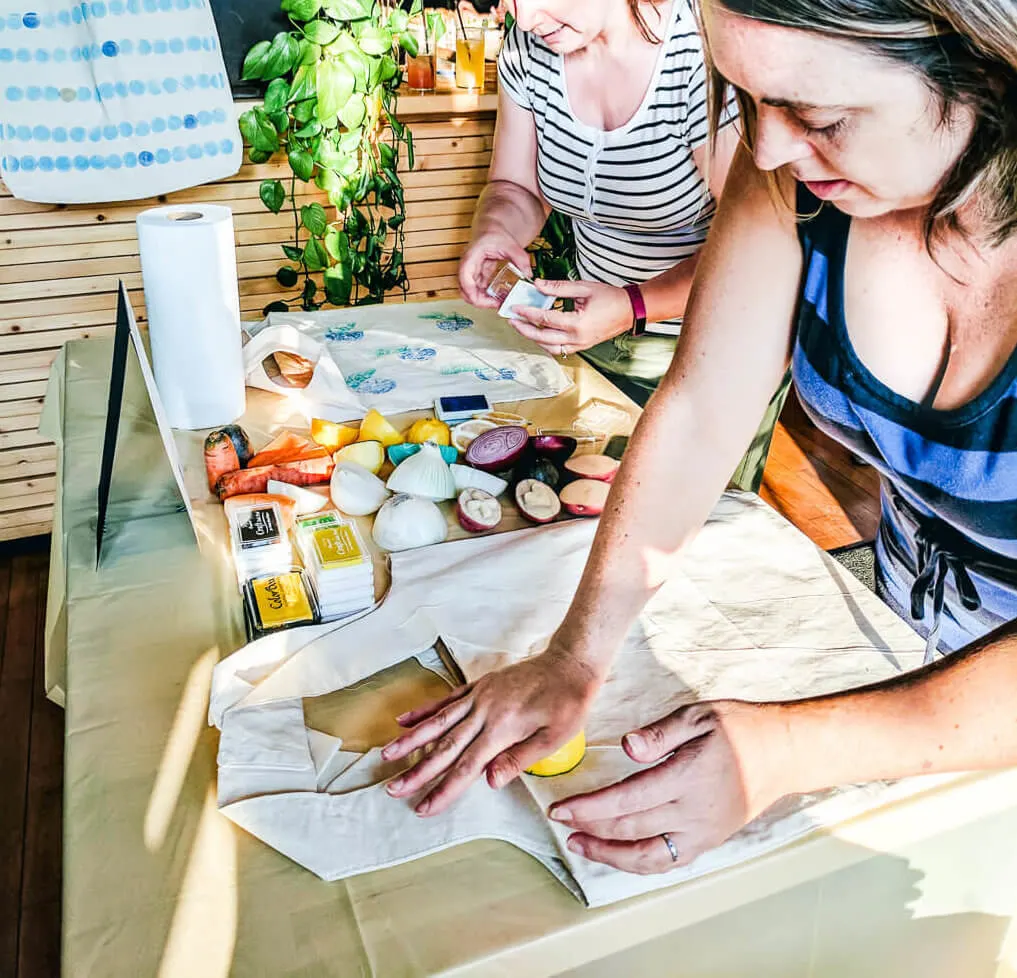 Paper Mart's natural cotton bags come with wide sturdy handles, can be comfortably carried over the shoulder, and used over and over again. Chicago now requires shoppers to use reusable bags so I'm using my fruit and veggie stamped shopping bag all over the city — from the grocery story to Walgreens to the local farmer's market.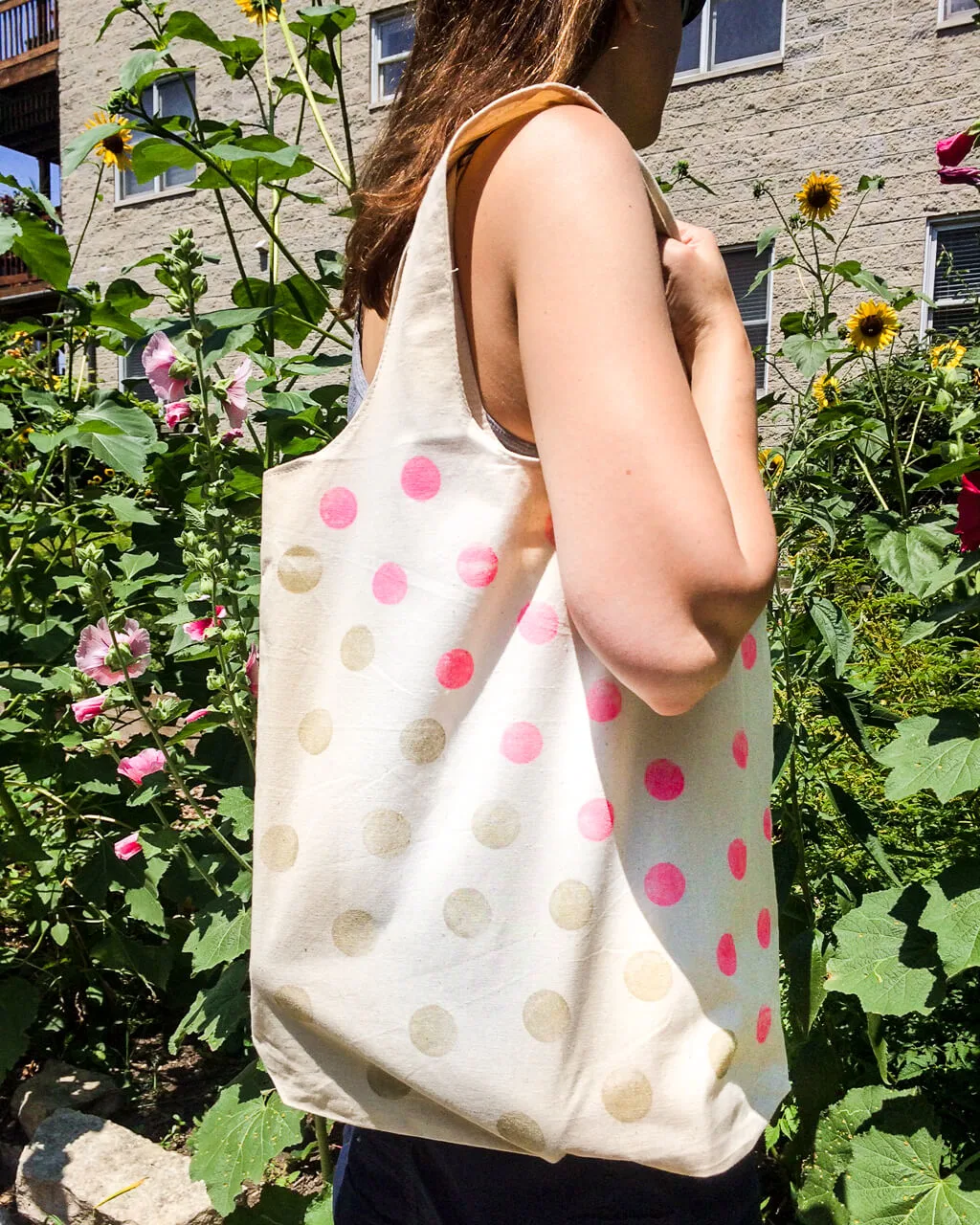 I'm really impressed with Paper Mart's reusable large natural cotton tote bags. I know that I could sew my own fabric grocery bag from scratch but at Paper Mart's price and quality, personally I'd rather just customize theirs with fruit and veggie stamping. Thanks so much, Paper Mart. These bags are awesome.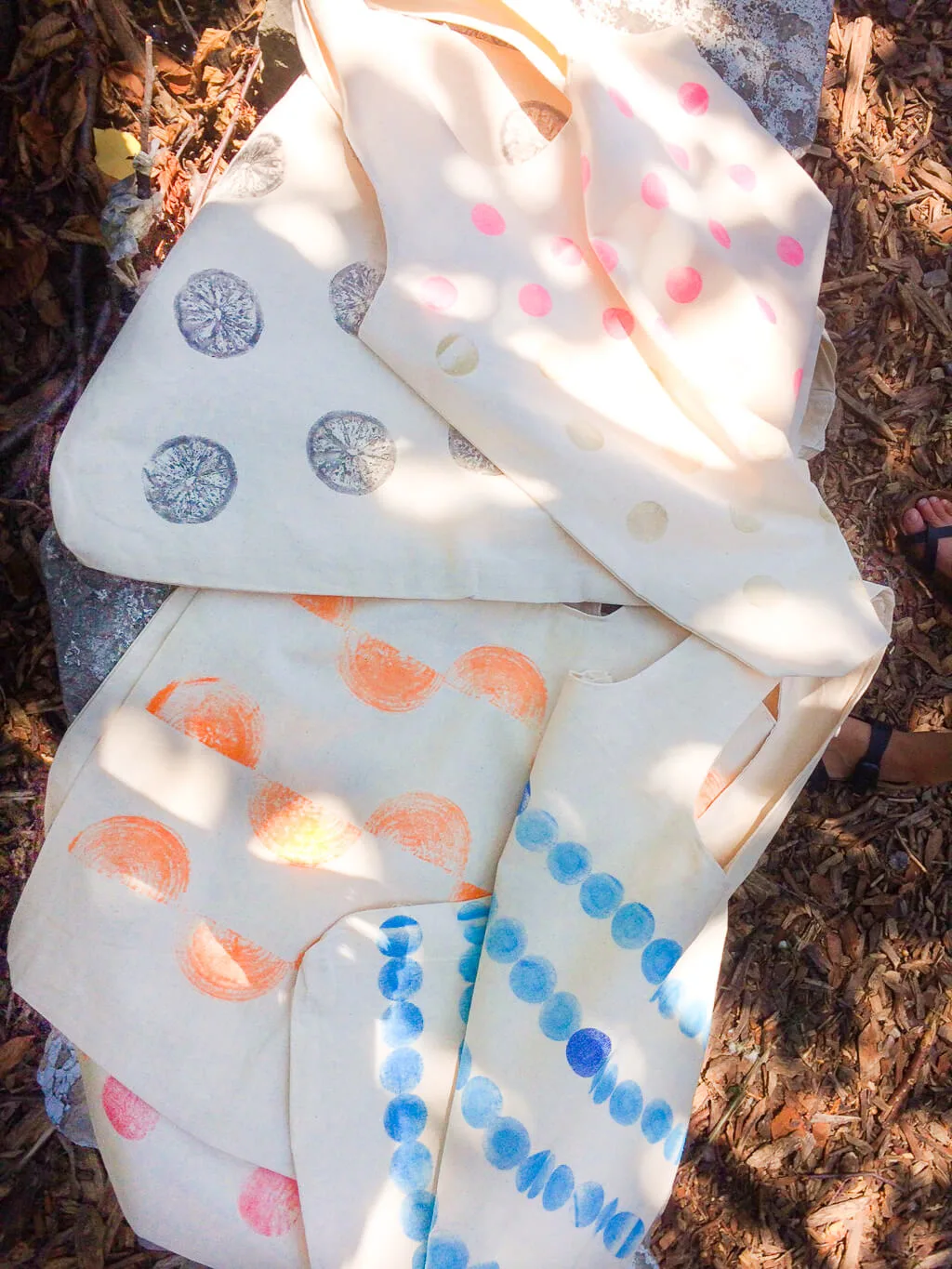 ++++++
Supplies for making DIY reusable grocery bag using fruit and veggie stamping: (with links and images from affiliates)
Fruits & vegetables – we liked lemons, potatoes, onions, celery, carrots
Sharp knife and cutting board
Large piece of scrap paper
Iron and ironing board
—
How to DIY fruit and veggie stamps on reusable shopping bags:
Slice fruits and veggies into shapes. We liked potatoes, carrots, lemons and onions.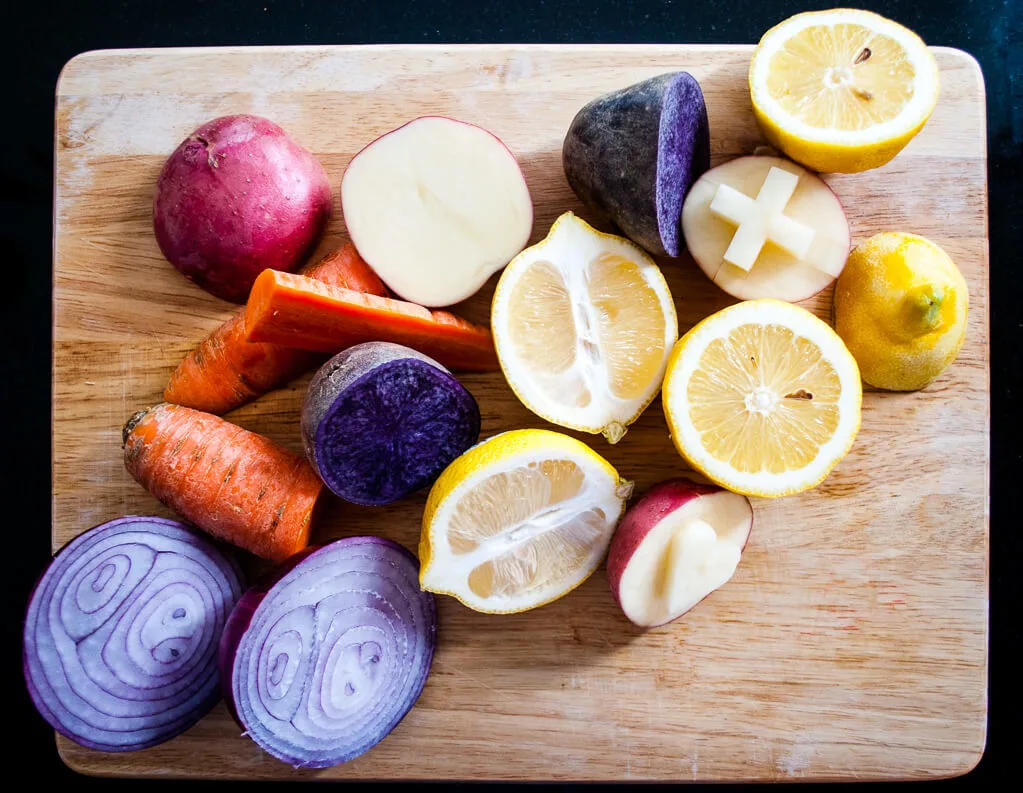 Flatten a natural cotton tote onto the table, ensuring that the piece of protective paper lies flat inside the bag. Ink a veggie or fruit by generously tapping the ink pad onto the fruit/veggie (to change colors, first wipe any extra ink onto a paper towel). Very firmly press the inked veggie or fruit onto the cotton bag. Repeat steps 2-3 until your design is complete.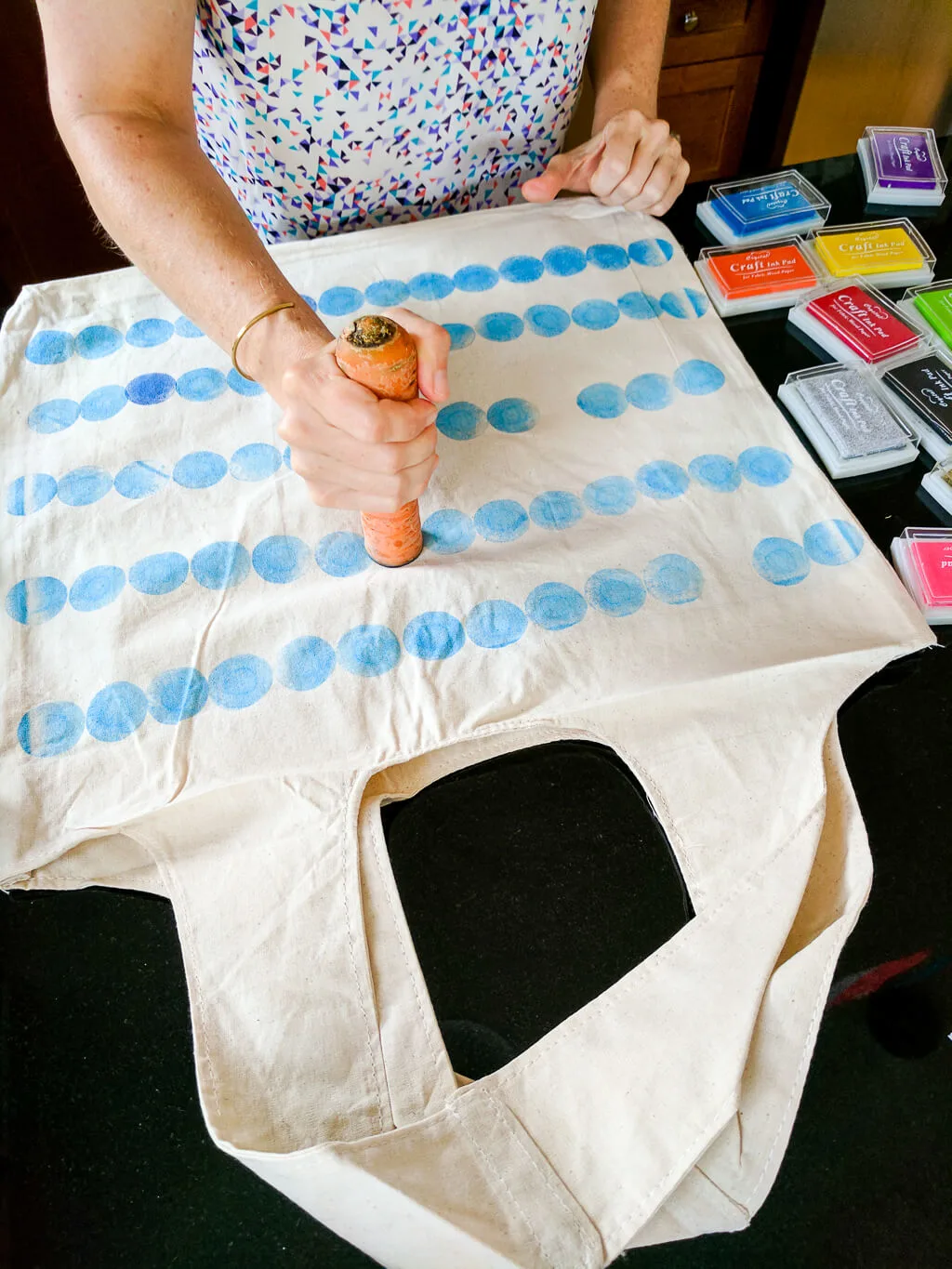 Let dry overnight, avoiding smearing the bag on clothing or other surfaces. Then iron on the cotton setting to heat set the ink by placing the piece of scrap paper on top of the bag and ironing the bag through the paper for a few minutes until the ink is set.
And head off to the farmer's market!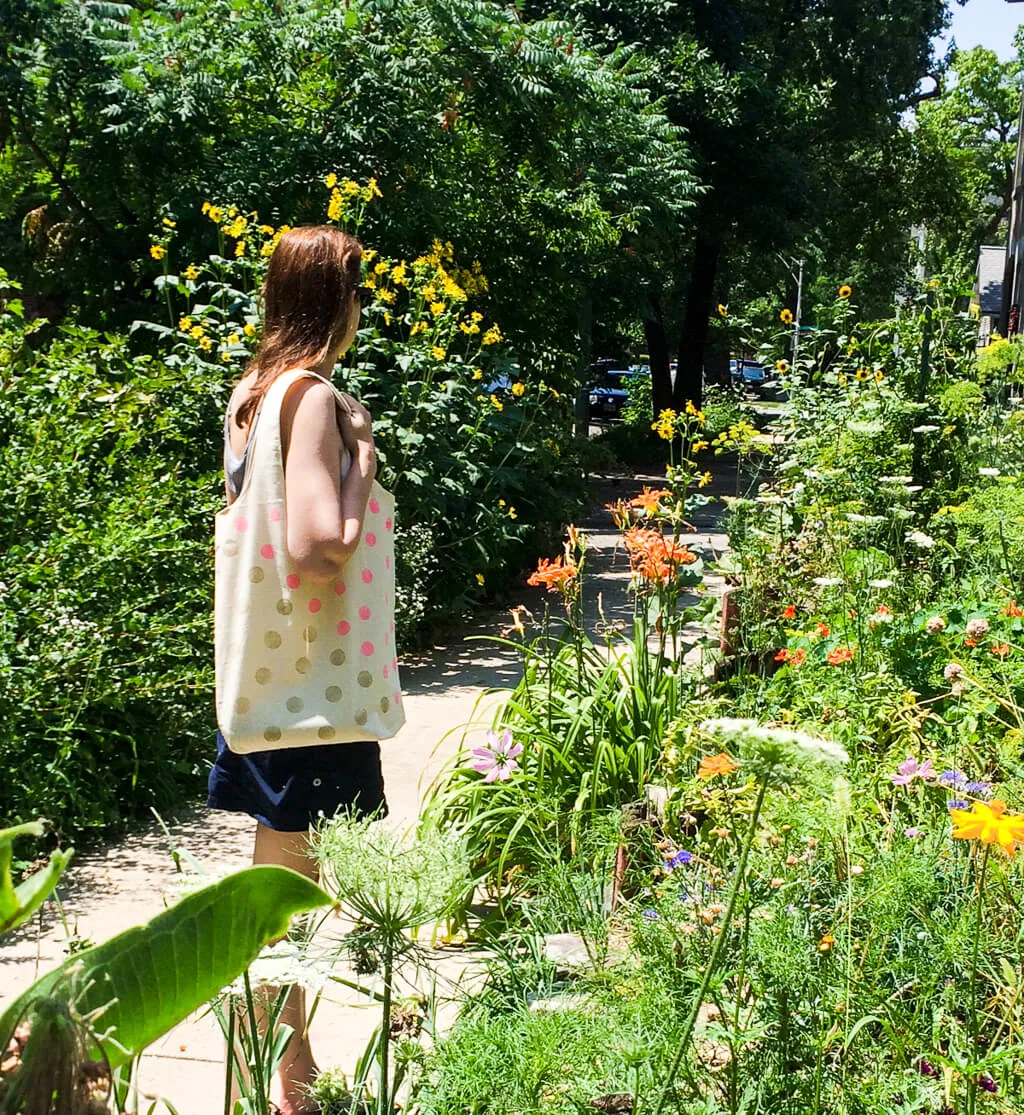 —
Be sure to pin this DIY fruit & veggie stamped grocery bag project for later:

And how about this lemon?

And tell me in the comments below, which shape do you like best: lemon ? onion, potato, or carrot ??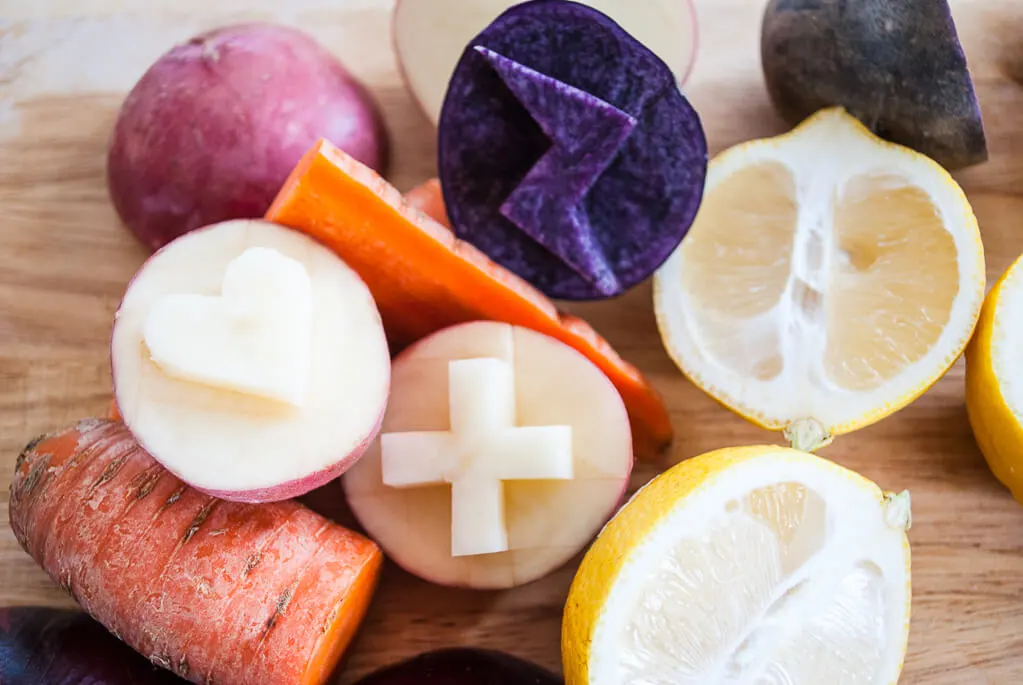 —
Thanks again to Paper Mart for providing the reusable grocery bags for our Cookbook Tasting Party at Same Day Cafe!
—
Like it? Share it!
The nicest way to say you like it is to pin it on pinterest, post a comment, follow Merriment Design on Facebook, twitter, pinterest, Google+, instagram or sign up for monthly emails. Enjoy! 🙂
Copyright stuff: You're more than welcome to use this free project and tutorial for personal use. Contact me for commercial use and etsy sales.
Save