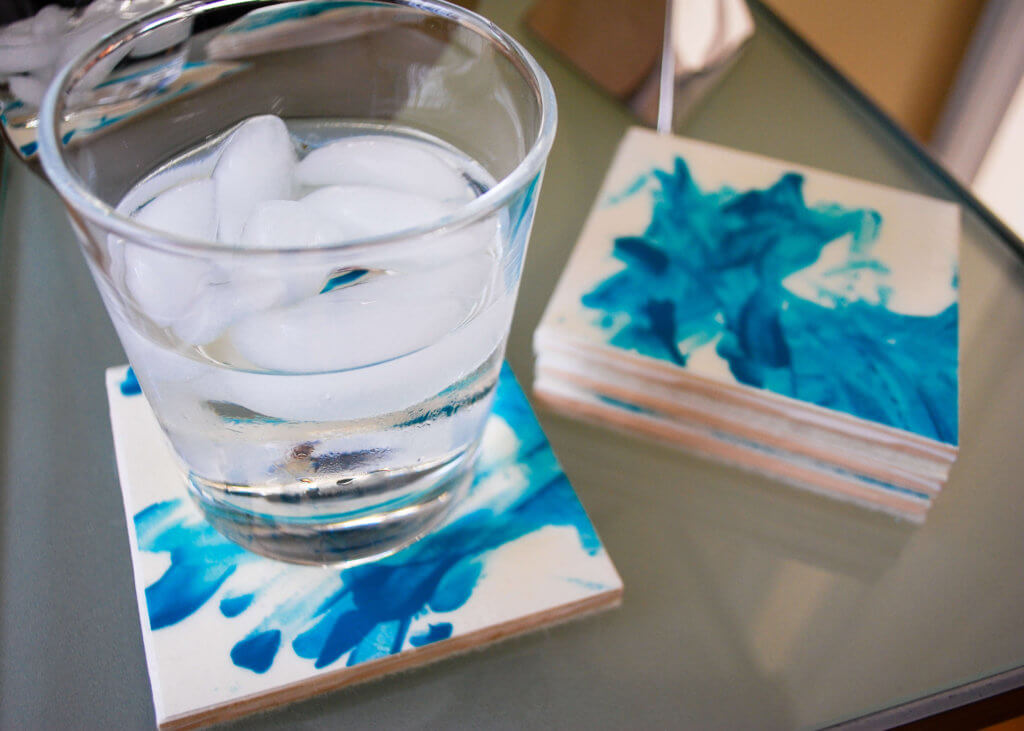 I made these modern tile coasters using ceramic tiles, Glossy Mod Podge and my two-year-old's fingerpainting artwork. Making your own decoupage tile coasters is crazy easy, I love how they turned out, and Elise got to dig her hands into some goo.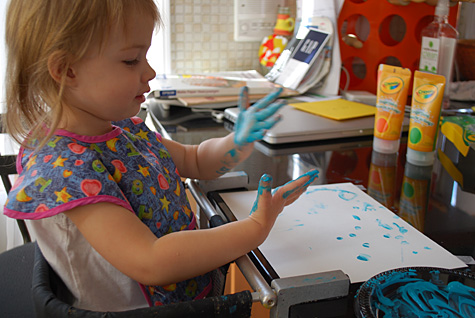 These handmade ceramic tile coasters were a DIY birthday gift for my sister Krista who just redecorated her TV room to be more modern and mostly white with turquoise accents. She got help from a super affordable online-only design service called CopyCatChic.com that charges a nominal fee for a custom design board, product links and a scaled floor plan to your room's dimensions. Here's Krista's custom board: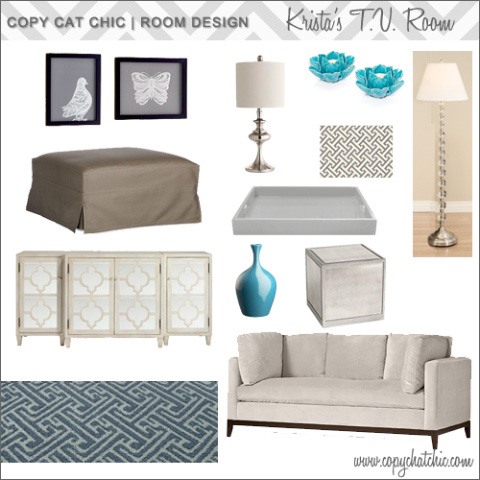 So for Krista's birthday I got her a West Elm cream throw for her couch and Elise and I made these ceramic tile coasters – they add to the room, yes?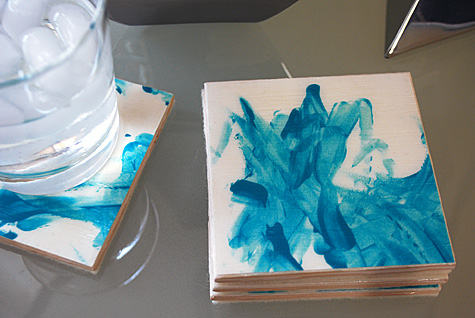 I like that this ceramic tile coaster gift is warm and personal without looking TOO handmade if you know what I mean. The key with using kid's artwork on stuff like this is to keep it simple, like Elise's monochromatic fingerpainting shown here. Otherwise these tile coasters would scream "kiddie artwork in my adult room" – not the goal.
I first saw the make your own tile coaster idea at Style Me Pretty and Prudent Baby has a version with really great instructions and photos. A good idea is worth gifting.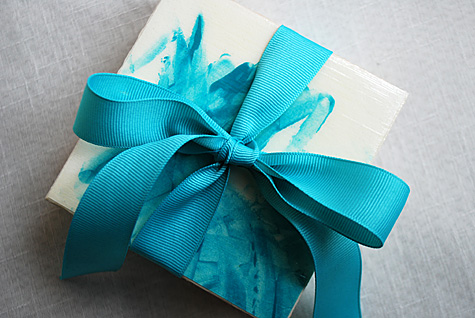 WANNA MAKE IT?  Keep reading for my free step-by-step tutorial and supply list for making your own handmade ceramic tile coasters from fingerpainting artwork –>
This post contain affiliate links which means that products I recommend may give me a nominal commission at no extra cost to you. Thanks – your clicks help me make more free DIYs!
++++++
Supplies for making modern tile coasters with fingerpaint:
++++++
Instructions for making modern tile coasters with fingerpaint: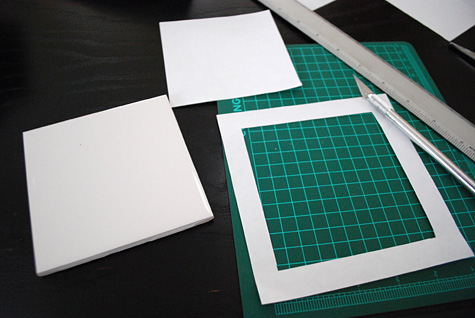 Whenever I'm cropping from a larger piece of artwork or fabric I like to make a pattern to help figure out what areas to crop. To make your own pattern, trace a paper square the same size as your ceramic coaster tile. Draw a square inside with about a 1/4″-1/2″ border.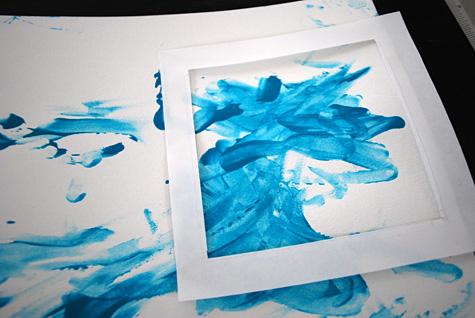 Now you have a little window to use to figure out what piece of the artwork you'd like to crop and cut for your coaster.
And here's a tip: Fingerpainting can make paper pretty bumpy. I actually had Elise fingerpaint onto acid-free 90 lb. watercolor paper and it didn't actually stayed pretty flat. And it's more of a matte finish which I prefer over the slick shiny fingerpainting paper.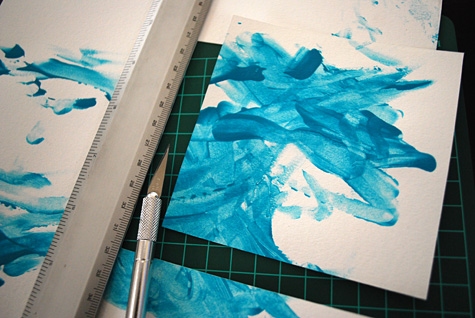 Cut out the square using a metal ruler (or ruler with a metal edge), X-Acto knife and self-healing mat.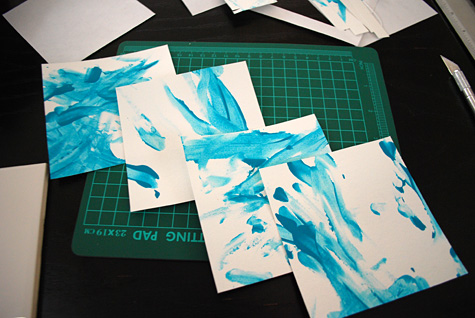 Here are the four squares that I cropped for the coasters from Elise's fingerpainting artwork.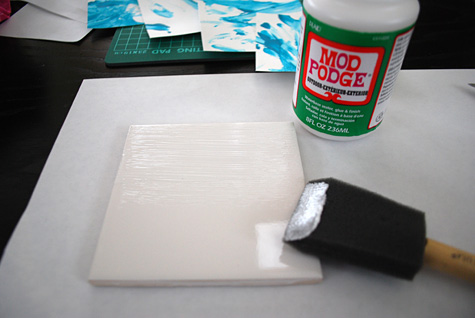 Brush a thin layer of Mod Podge on the top of the ceramic coaster.
Now before you do this, you can paint the edges with white paint to cover up the unfinished sides. I didn't do this but next time I will.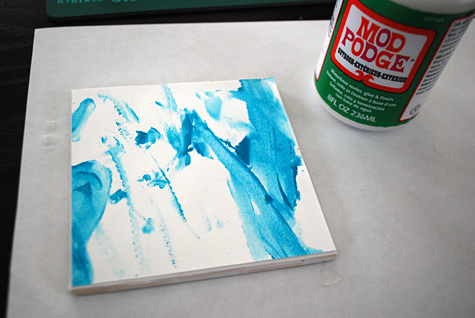 Place the fingerpainting artwork square on top of the Mod Podge, carefully smoothing out all the bubbles, being careful not to tear the artwork (see the tip above about reducing bumps in fingerpainting artwork).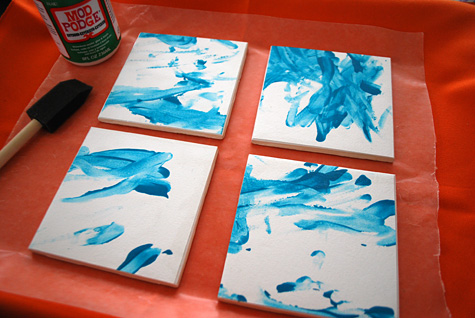 Brush a thin layer of Mod Podge on top of the artwork. Brush in one direction because you'll be able to see the brush strokes, the thinner the layers the better. Let it dry completely, about 15-20 minutes or so.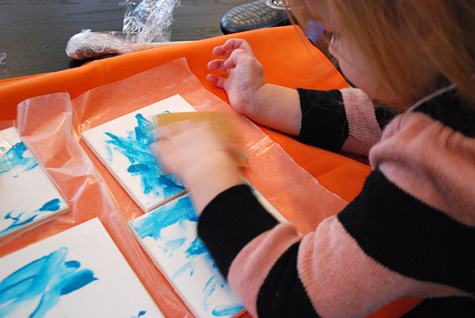 I wanted the coasters to be as smooth as possible so I sanded between coats. Sanding worked on my decoupaged custom fabric covered baby wipes popup container but honestly, I don't know if it really helped that much on this project but it Elise liked helping. Maybe it was because I used Outdoor Mod Podge instead of the regular Matte. Anyway, I brushed on the Mod Podge in the same direction each time but if you brush opposite directions if you want a cross-hatch pattern Repeat the thin Mod Podge layers until you like how it looks; I did four layers of Mod Podge.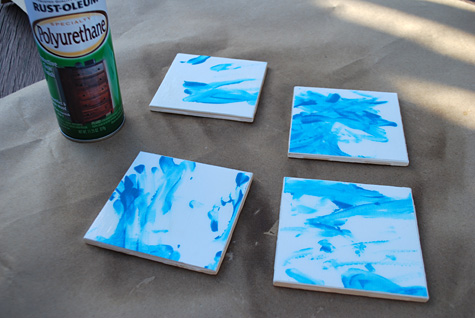 Spray polyurethane or Beacon Decoupage Sealer or other spray sealer on the top of the coasters according to your sealer's directions. From what I've read yes, you really have to do this step to seal it all up for hot drinks. Do really thin coats – I did three.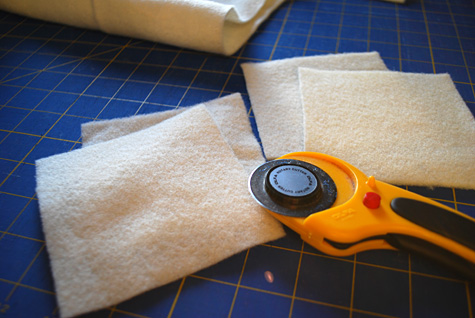 Cut felt squares (or thin corkboard) for the bottom of the tiles the same size as your tile using self-healing mat, rotary cutter and clear plastic ruler or good fabric scissors. Glue it on the bottom using Elmers glue or other craft glue – spread it out really thin with your fingers (or  you can just use your Mod Podge, this occurred to me after I already glued them on). Flip over and let dry.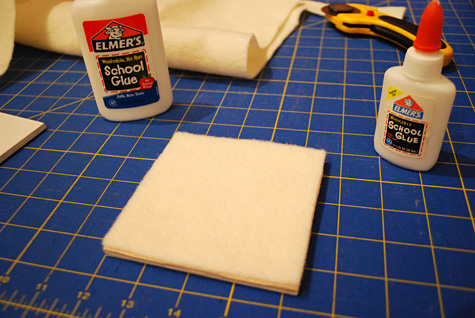 From what I read at Prudent Baby you're supposed to wait a whole month to put a hot drink on these coasters to let the Mod Podge and sealer fully cure. In the meantime they look great in Krista's new TV room.
—
Like it? Share it!
The nicest way to say you like it is to pin it on pinterest, post a comment, follow Merriment Design on Facebook, twitter, pinterest, Google+, instagram or sign up for monthly emails. Enjoy! 🙂
Copyright stuff: You're more than welcome to use this free project and tutorial for personal use. Contact me for commercial use and etsy sales.