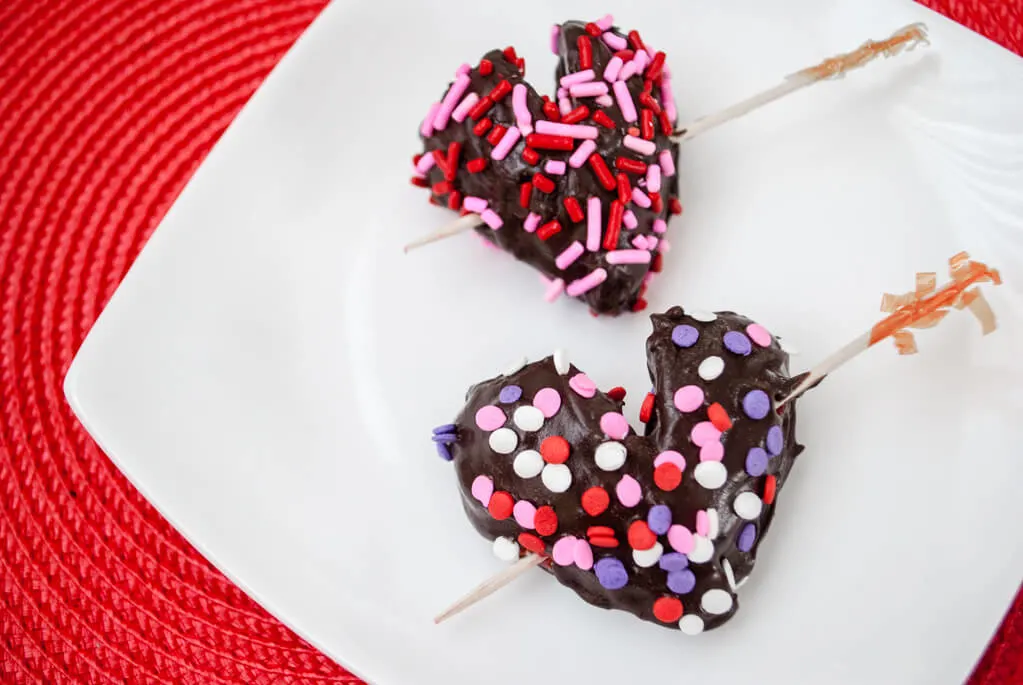 This easy chocolate-covered strawberry hearts recipe is a sweet treat for Valentine's Day that you can make with kids. These heart-shaped chocolate strawberries look pretty yummy, right? We already ate them all!
We also made some more traditional super easy chocolate-covered strawberries that were a big hit, too.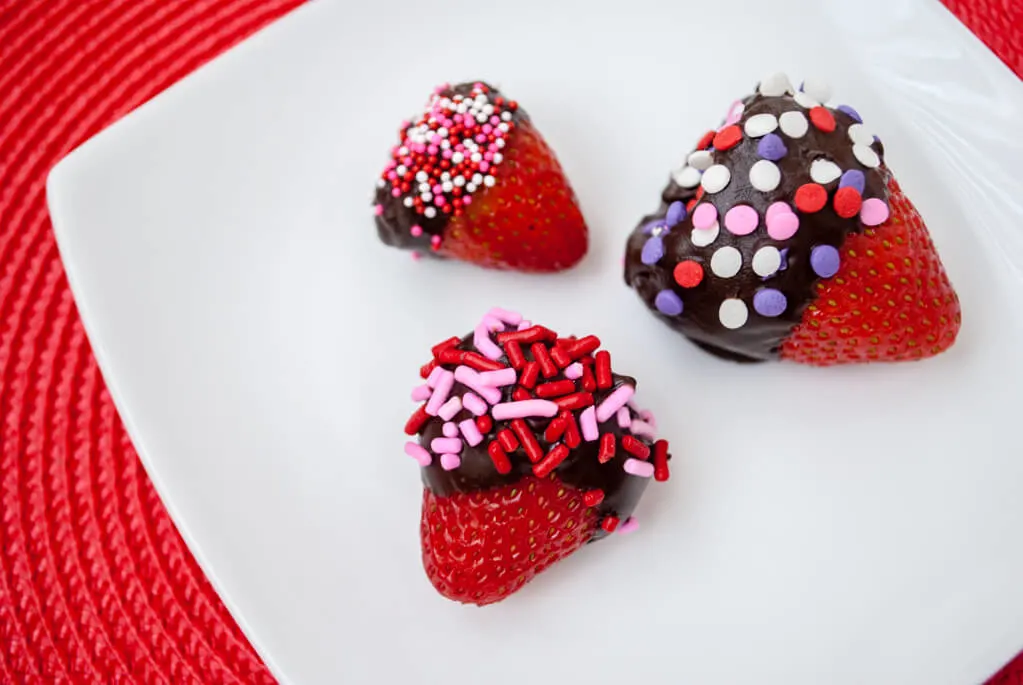 Easy Valentine's dessert to make with kids
Today I'm sharing some tips on how to make heart-shaped chocolate-covered strawberries with young children. I saw these awesome marshmallow-filled chocolate strawberry hearts by 1 Fine Cookie and thought they were super cute but who was I kidding? It was too advanced for yours truly and my pint-sized assistant.
See also: 'Felt heart DIY bracelets for kids' »
We simplified our heart-shaped strawberry Valentine's dessert below, and if you want the full awesome marshmallow-filled recipe please see 1 Fine Cookie. Keep reading to see how we made a kid-friendly version of chocolate-covered strawberry hearts.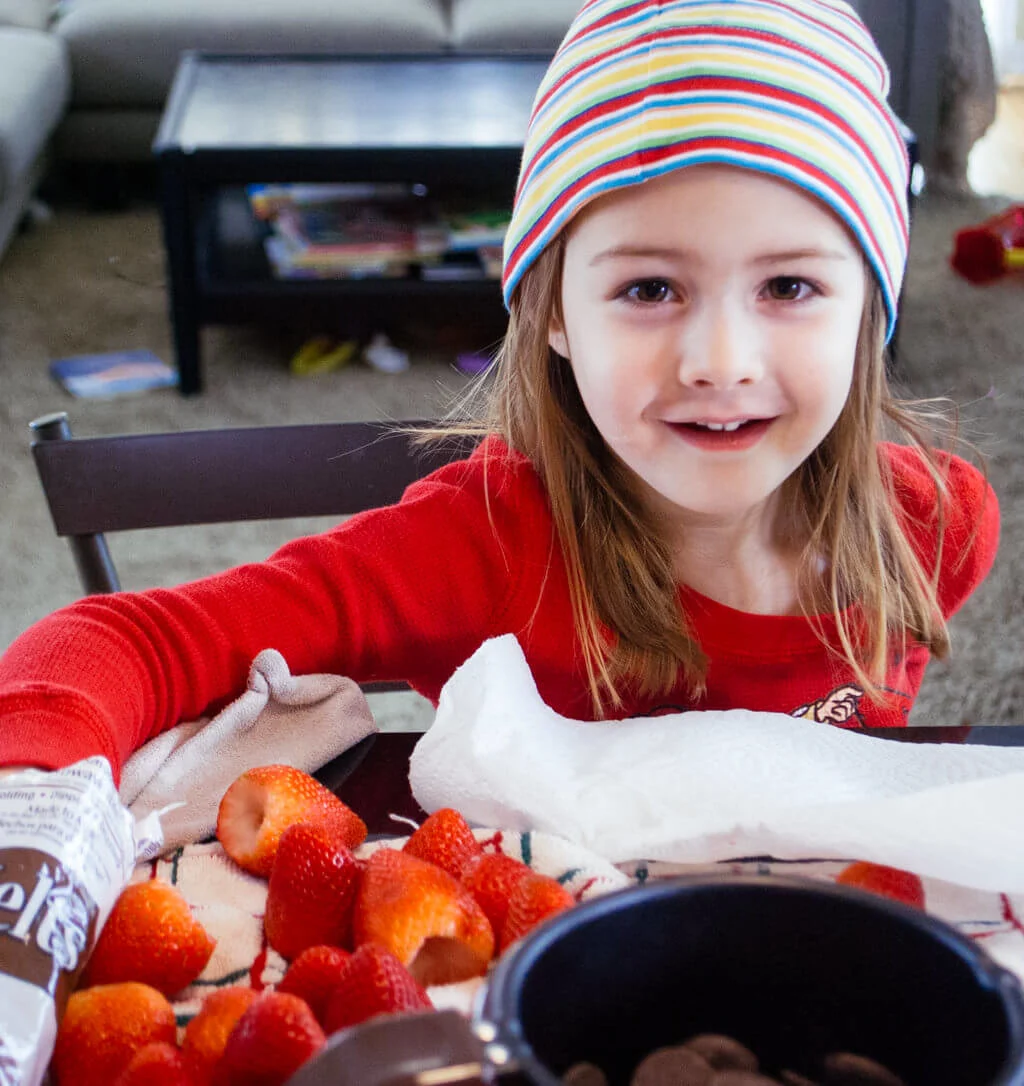 Merriment Design is supported by readers like you. If you buy products that I recommend, I may earn an affiliate commission at no additional cost to you. Thanks – your clicks help me make more free DIYs!

Supplies for making chocolate-covered strawberry hearts with kids:
How to make heart-shaped chocolate-covered strawberries with kids:
Step 1: Melt the chocolate and wash the strawberries
First, have kids pour the chocolate candy melts into an unplugged melting pot like Wilton Chocolate & Candy Melt Melting Pot, or gently heat the chocolate wafers in a saucepan on the stove. Avoid the microwave if you can. While the chocolate is melting a safe distance from the kids, have kids wash the strawberries – they can do it! Dry the strawberries after washing.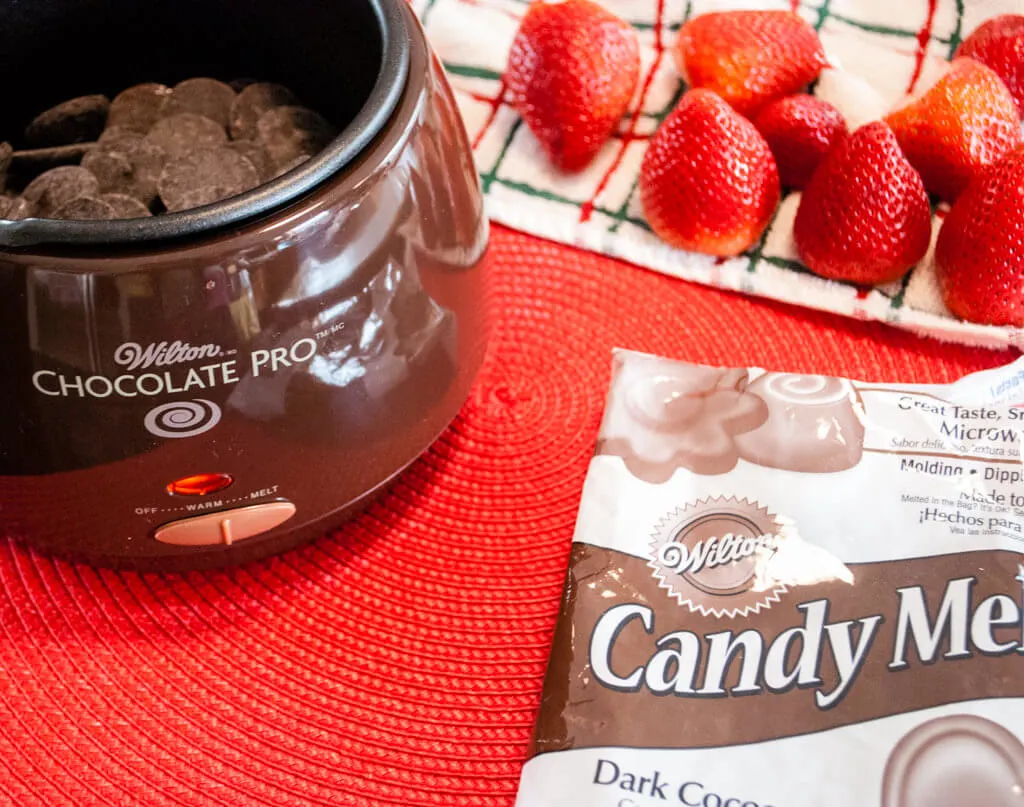 Step 2: Cut strawberries into hearts
Next, cut strawberries – older kids can do this step but I found that I had to do it for a five-year-old. We made our strawberry hearts by cutting strawberries in half and then half again, then taking off a smidge of one and secure with a toothpick on an angle like this…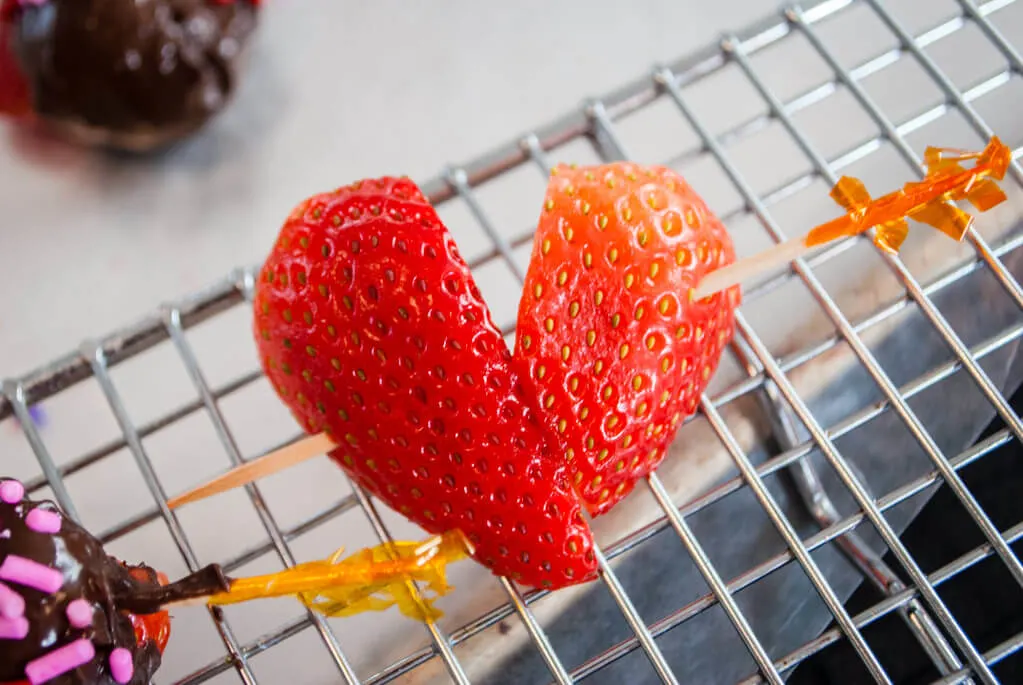 Why cut off the angle? Well, it looks more like a heart once it's covered in chocolate. We made some that we only cut in half like this…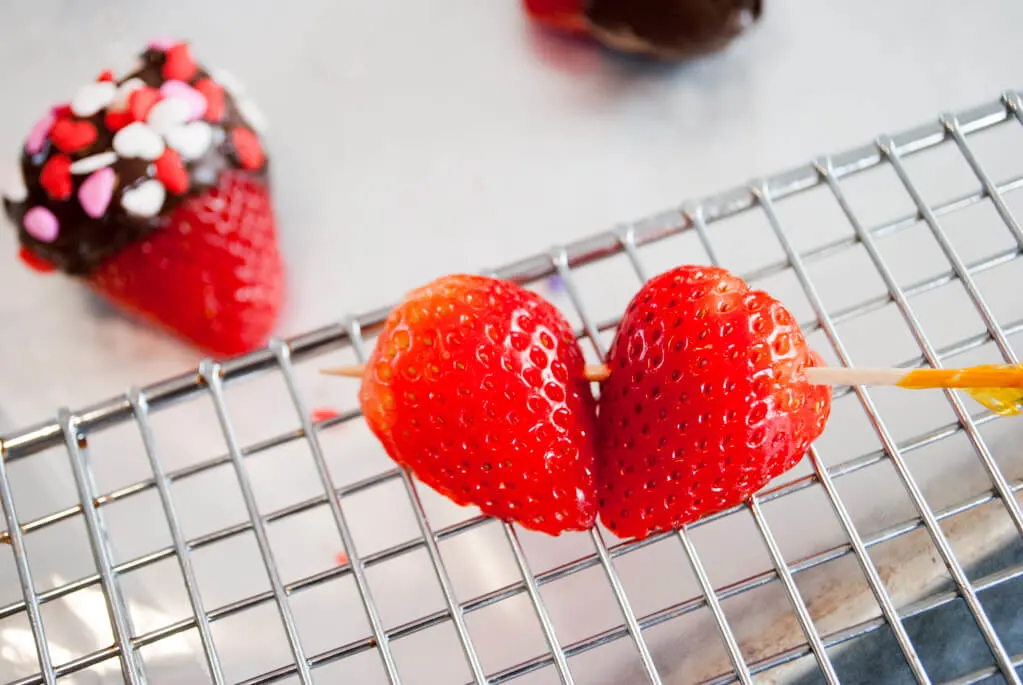 …which was cute until covered with chocolate and then it didn't really look too much like a heart. However, this method is easier for kids to put in the toothpick so it's sort of a trade-off. If you want the kids to do it themselves, just use the simple heart version and it will look more like the heart below…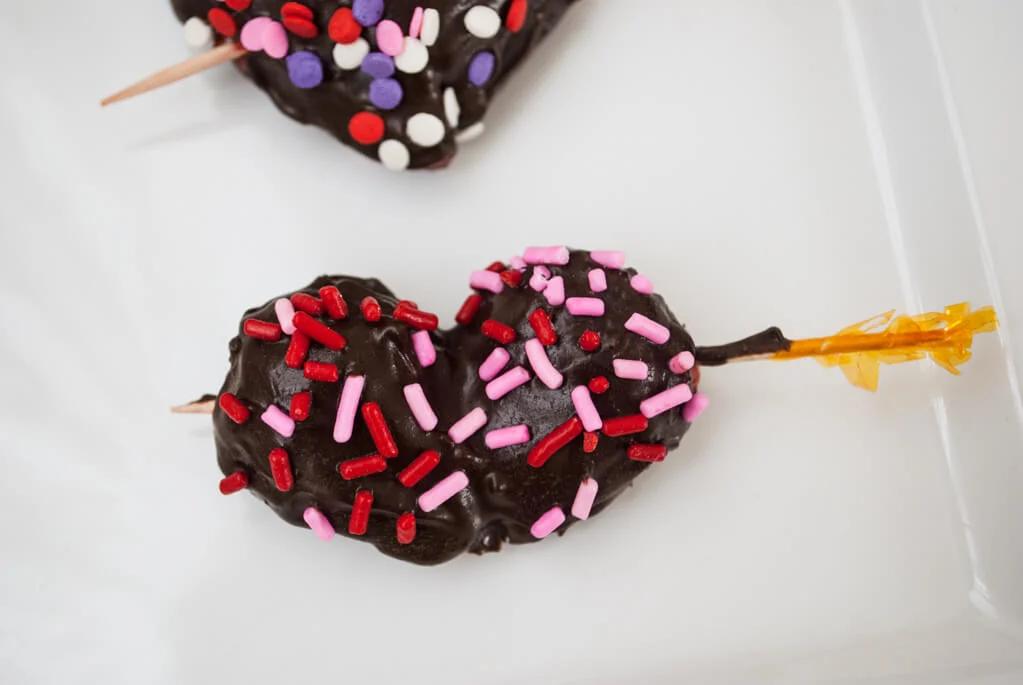 Step 3: Cover strawberry fronts with chocolate
OK, so now that strawberries are assembled, cover the top with chocolate. Kids can do this step. We tried dipping and it didn't work so well…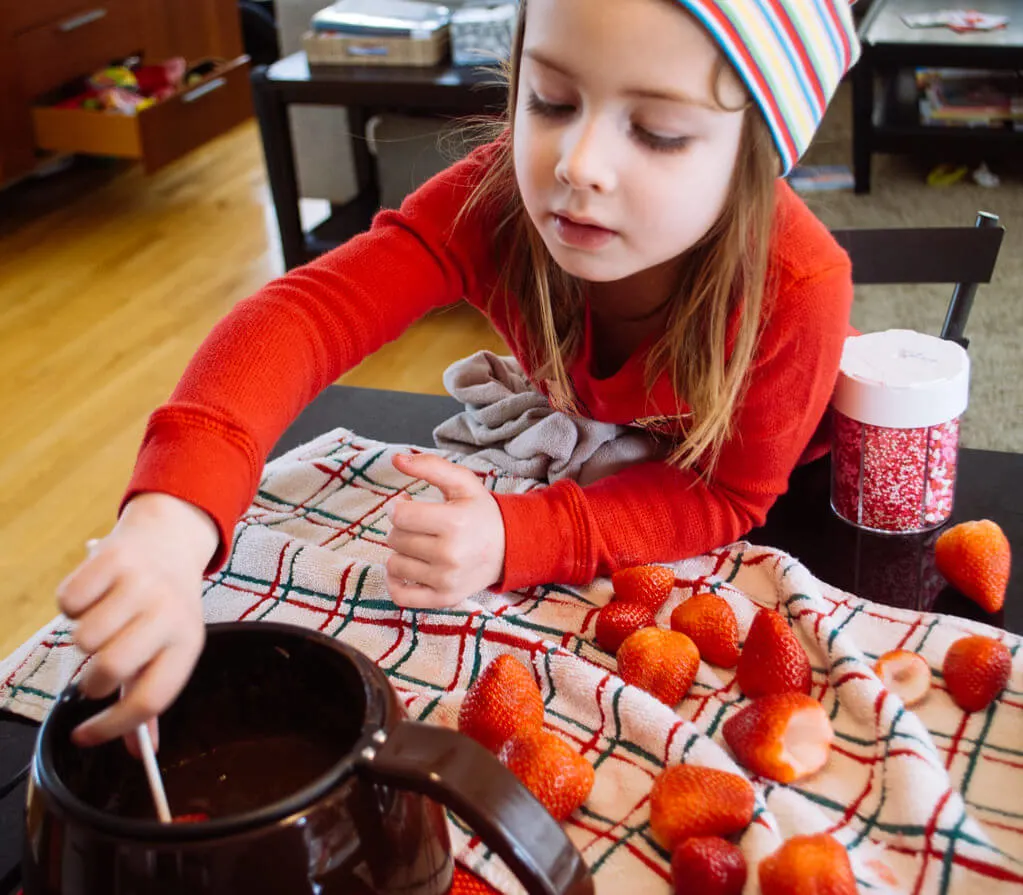 So instead we used a rubber-tipped baby spoon to spoon on the chocolate – perfect! Kids can do this step.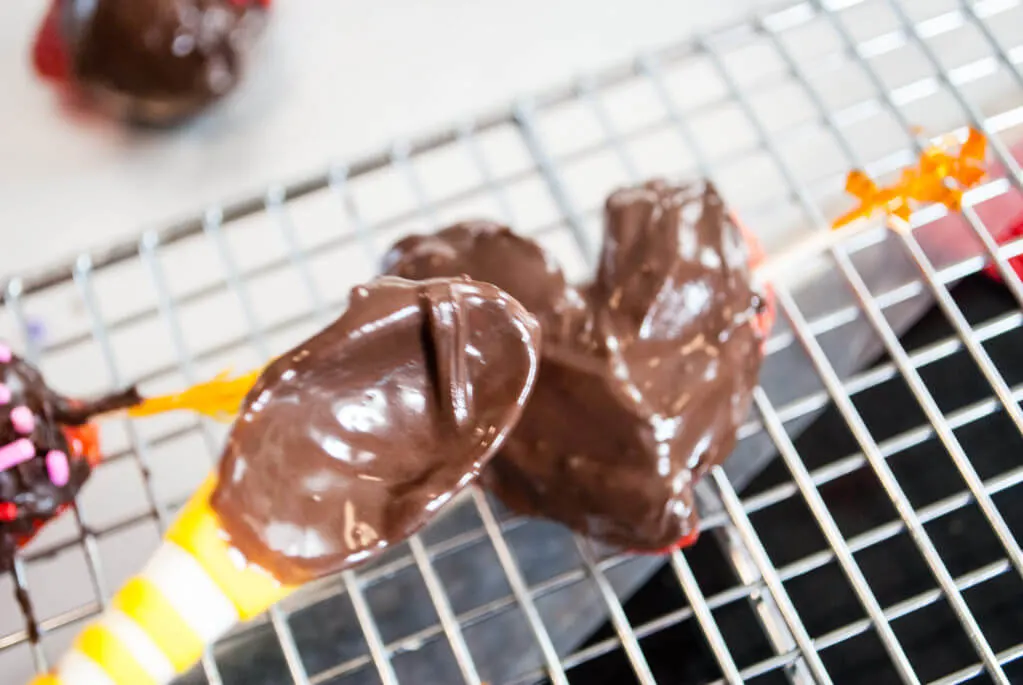 Step 4: Add Valentines sprinkles to the strawberries
Sprinkle time! Lots of sprinkles! Kids excel at putting on the sprinkles on their own.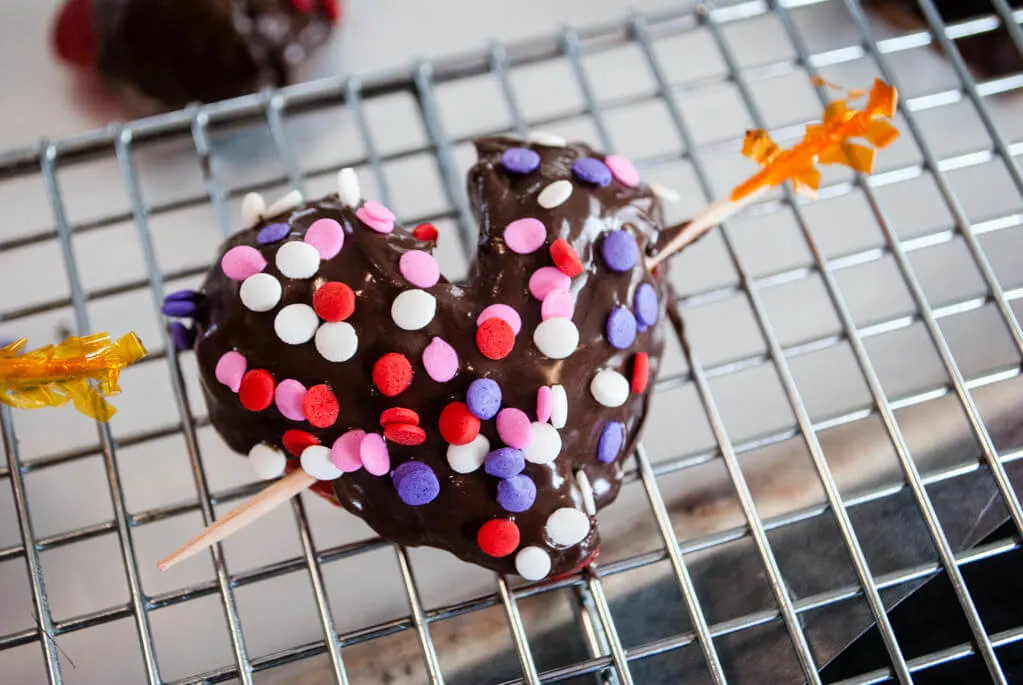 Step 5: Cover the strawberry backs with chocolate
Pop it in the fridge until the chocolate has hardened, then be sure to seal up the back too. Flip the strawberry over and spoon chocolate on the backside.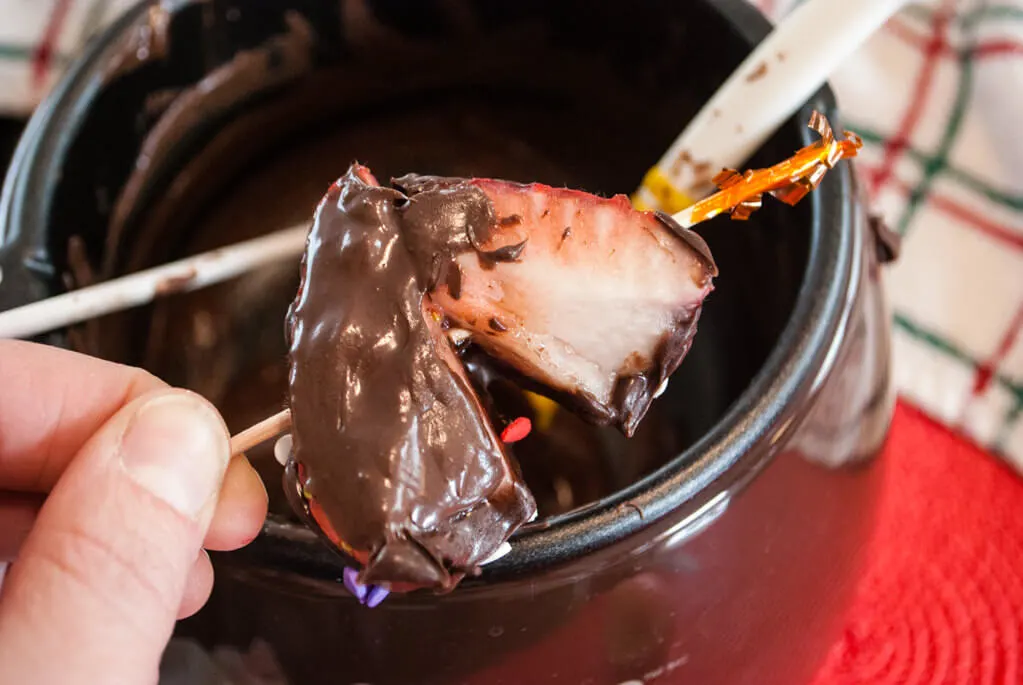 To make the more traditional chocolate-covered strawberries, we decided to first take off the green stem and fill the caps instead.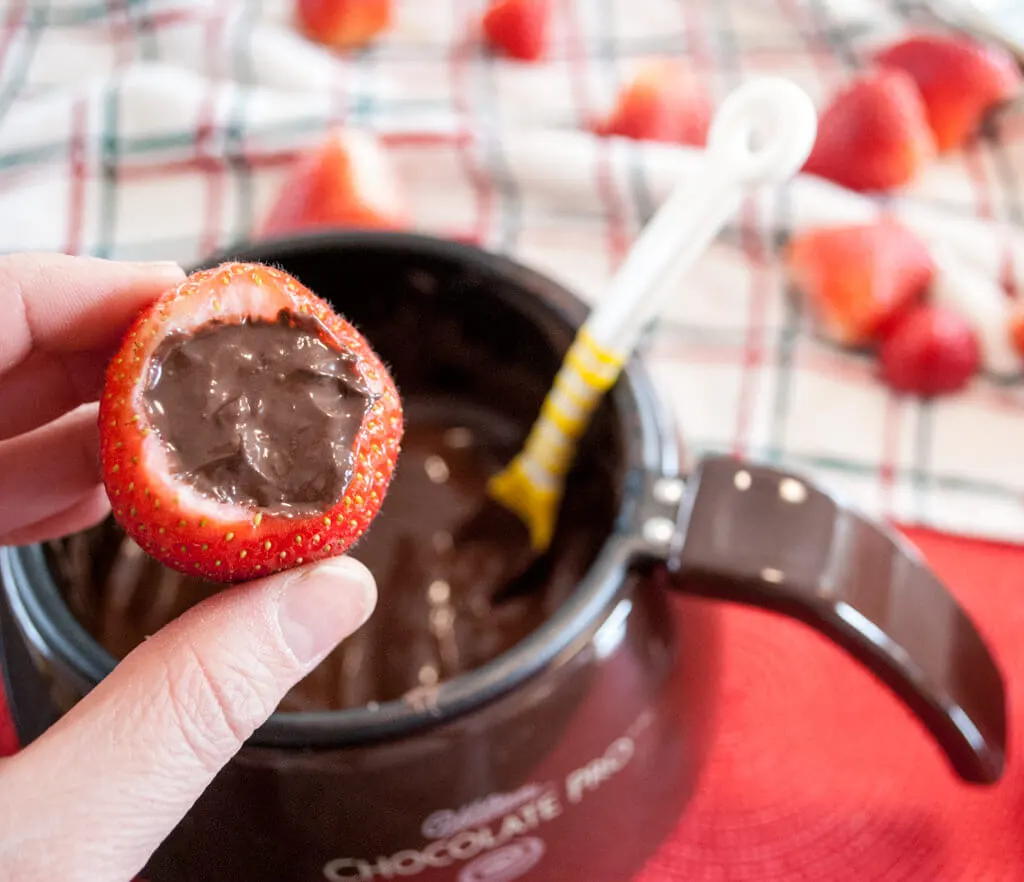 Then dip the top half totally into the chocolate.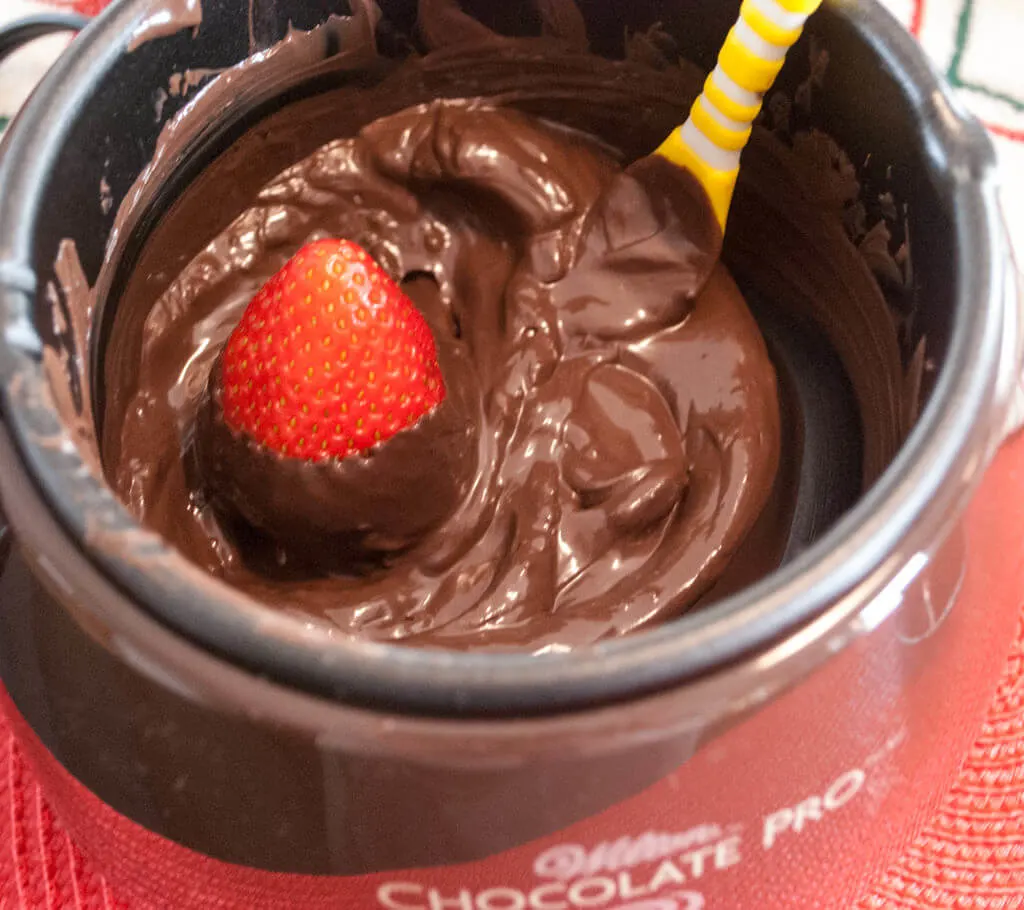 Sprinkles! Let the kids go nuts here…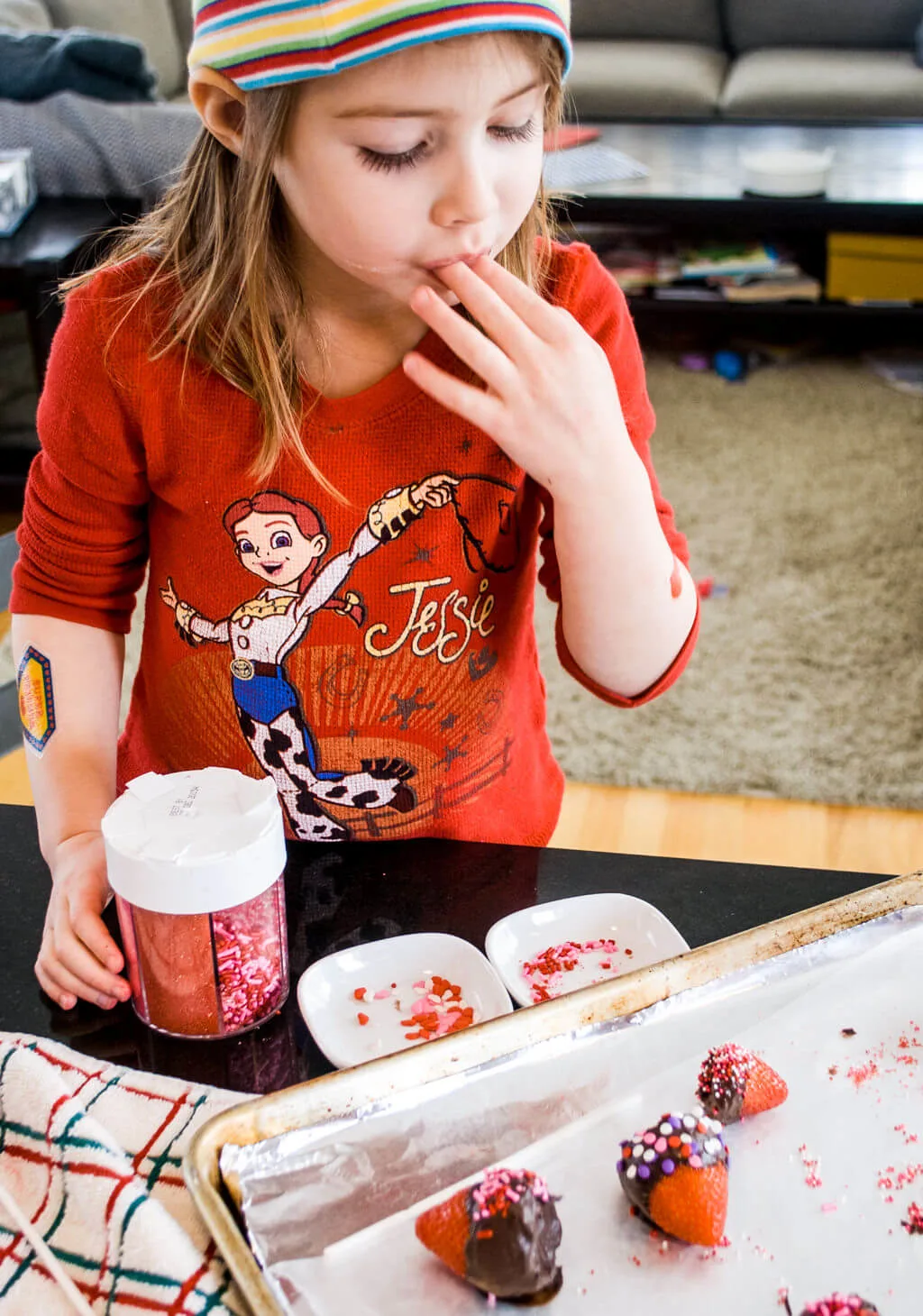 Pop them in the refrigerator to harden.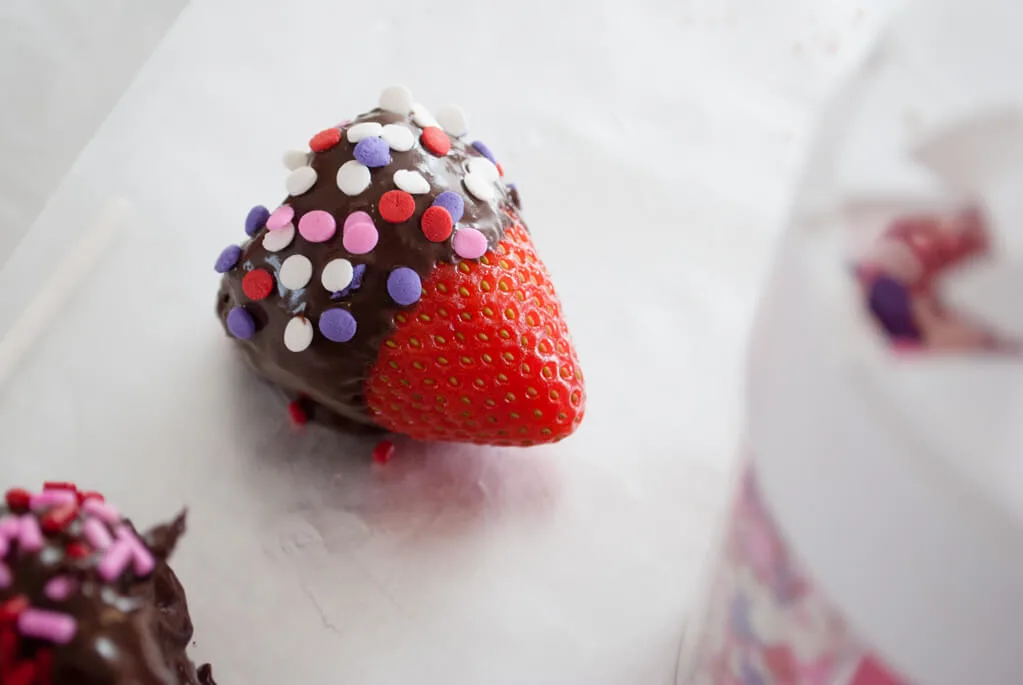 How to store chocolate-covered strawberries
Store chocolate-covered strawberries in the refrigerator. They won't last too long because the strawberries are cut, but eating them soon clearly wasn't a problem for us. You can check out 1 Fine Cookie for the full recipe for chocolate-covered strawberry hearts including marshmallow filling. Happy Valentine's Day!
Be sure to pin these chocolate strawberries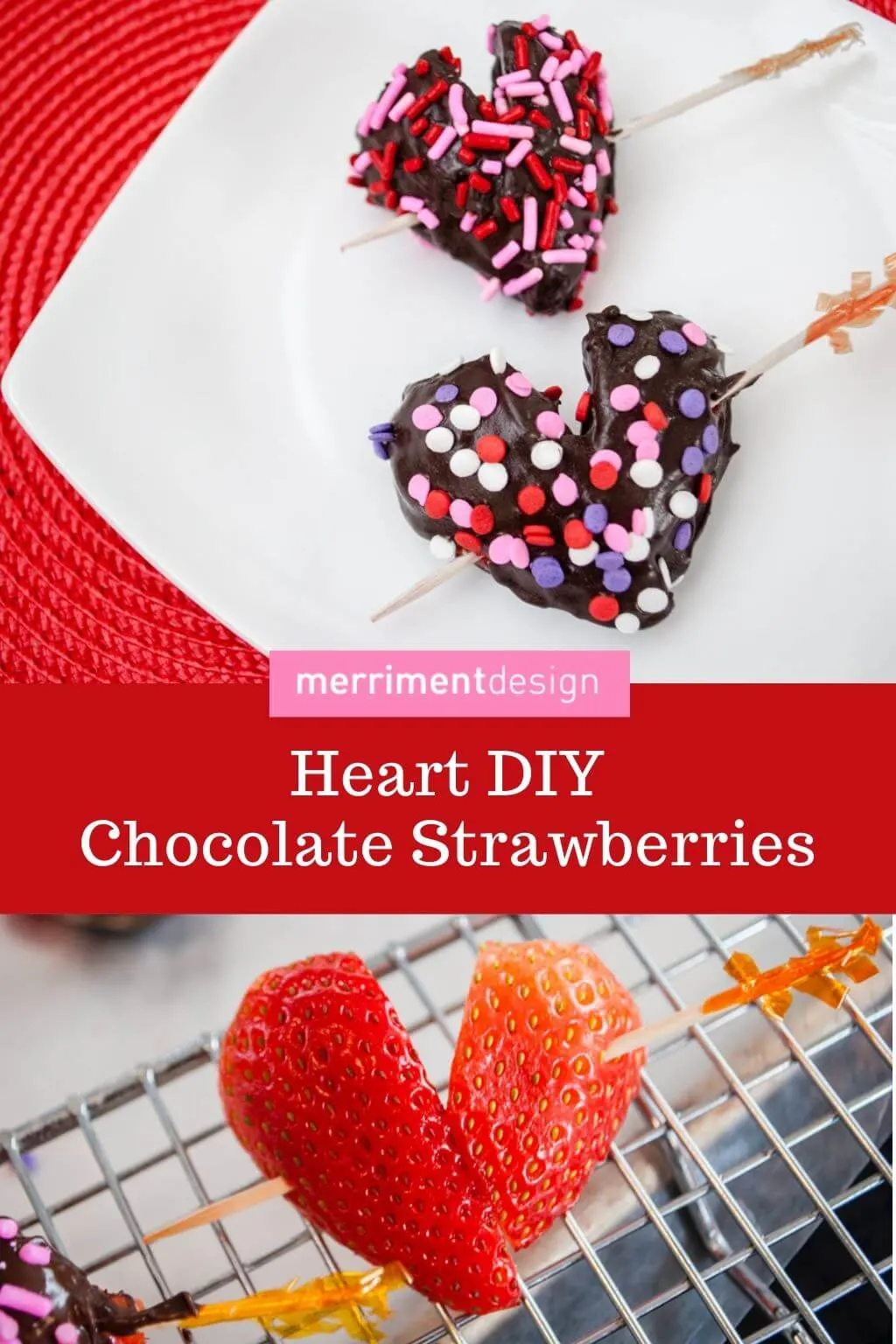 ++++++
Like it? Share it!
The nicest way to say you like it is to pin it on Pinterest, post a comment, follow Merriment Design on Facebook, Pinterest, Instagram or sign up for monthly emails. Enjoy! 🙂
Copyright stuff: You're more than welcome to use my free project, printable templates, and tutorials for personal use. Contact me for commercial use and Etsy sales. Momma's gotta pay the bills.