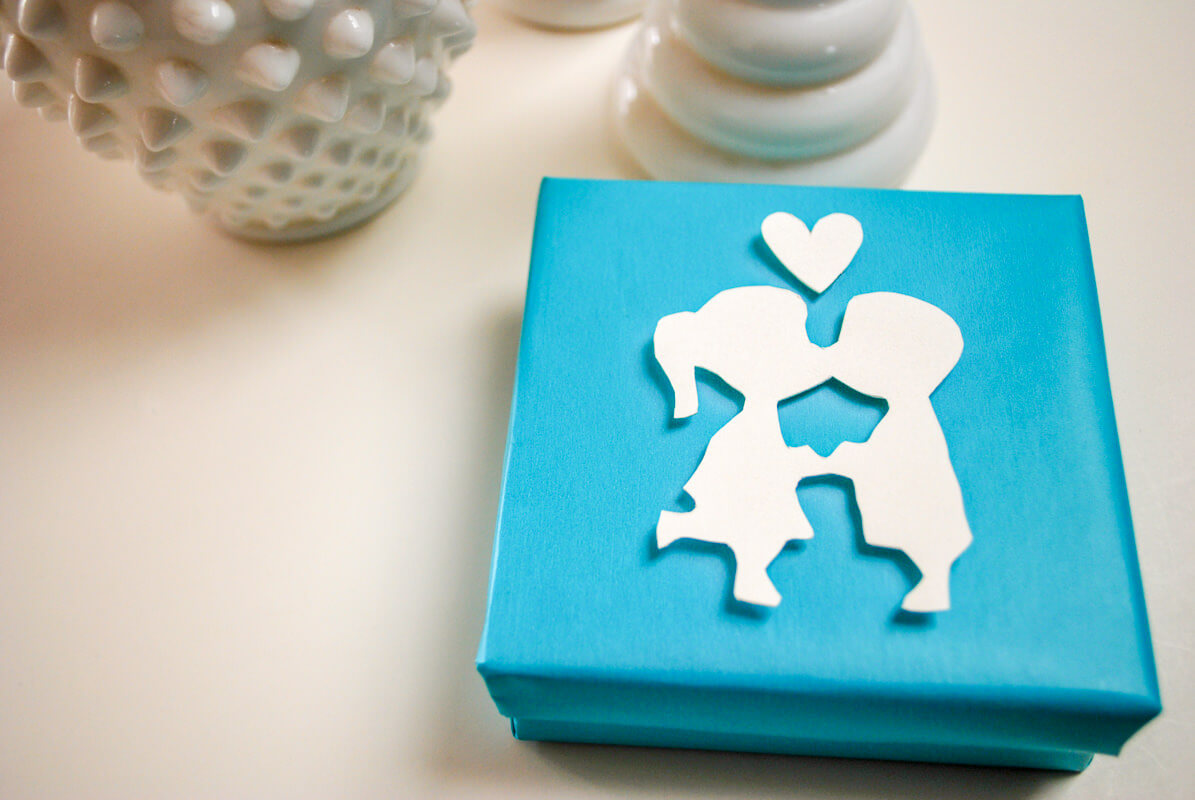 Years ago I bought a vintage kissing couple pendant at a Manhattan summertime flea market. I wore the sweet thing ad nauseum, which you can see here in this summer cider and berry smoothie post that includes this photo of me fawning over Stephanie and Dale at the Green City Market.
See also: 'Make Valentines using recycled magazines' »
But then the clasp on my kissing couple pendant broke …and I was heartbroken. Since then I've kept my broken pendant in a ceramic bowl on my dresser. Then it occurred to me to give it a new life by scanning and enlarging it to make this romantic gift wrapping package decoration for my good friend's bridal shower.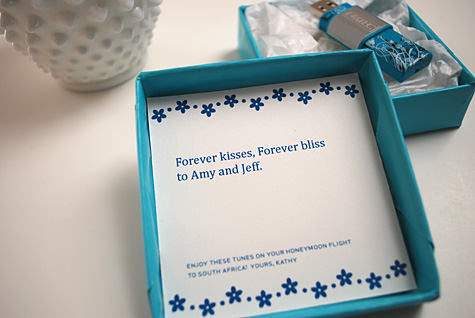 My friend Amy and I met in the second grade on the DeVaney school playground. She was the new kid and I asked if she wanted to jump rope. We've been friends ever since. Last weekend I was giddy to stand up as a bridesmaid in Amy's Greenwich Village wedding to Jeff Hock. I needed to gift wrap a USB drive filled with music that I bought them to enjoy on their honeymoon flight to South Africa. And I needed to take the wrapped box through airport scanners.
Supplies for making vintage kissing couple gift wrap:
—
How to make kissing couple gift wrapping paper:
Make your mix on a USB (burning a CD-ROM is so 2000)
Purchase MP3s and move to your recipient's USB drive. I included a couple old romantic favorites: "This Old Love" by Lior and "Reminiscing" by The Little River Band."
Wrap your box TV-style Ever notice how on TV gift boxes are never wrapped closed? Well, that's kind of what I needed to take on the flight just in case TSA needed to search my carry-on baggage. And as a side-bonus it keeps the presentation intact after unwrapping. Wrap the lid and the base of your box separately, ensuring that the blue wrapping paper fully covers the inside sides.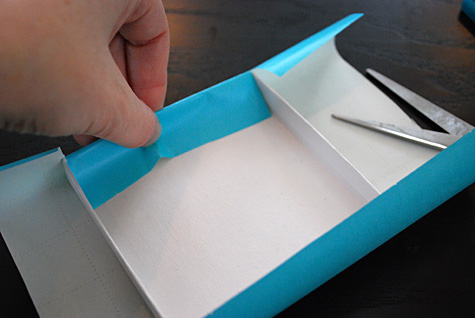 Download and print my free template of the inside box message. I have included a blank version on the template that you can use as is, or if you'd like to customize it, just download a free trial version of Adobe Illustrator or rent time at your local FedEx Office.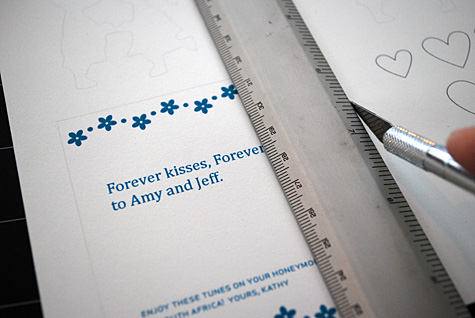 Affix your heartfelt message on the inside lid of the box using rubber cement.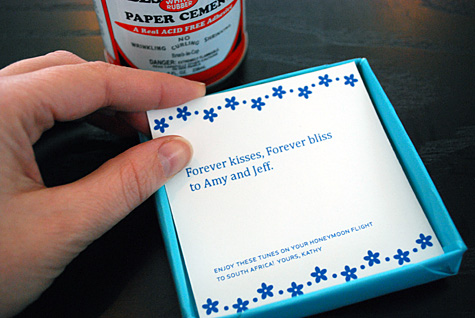 Add the kissing couple
Print my free kissing couple template on white card stock and carefully cut out the shape using an Xacto knife and self-healing mat.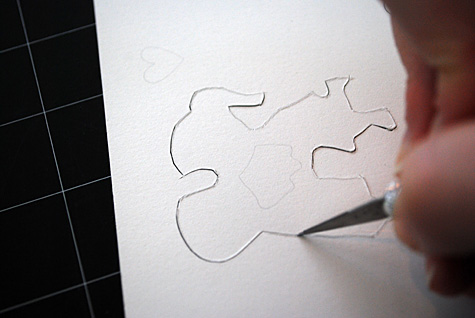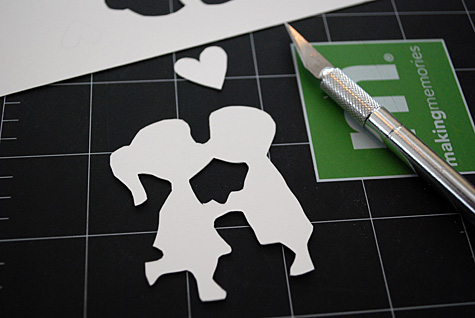 Cut foam mounting squares into smaller squares. I used gray removable squares that I already had but I recommend buying white for this project.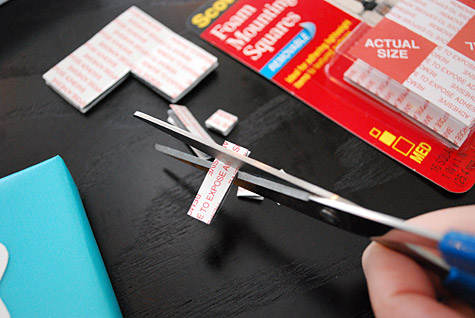 Peel off the backing and stick on the back of the kissing couple and heart.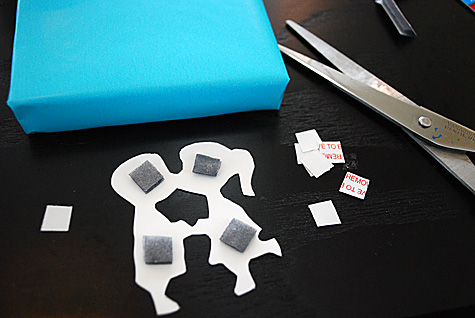 Affix to the box for a slight 3D effect. Put the USB drive in the box and close. Forever kisses, forever bliss to Amy and Jeff!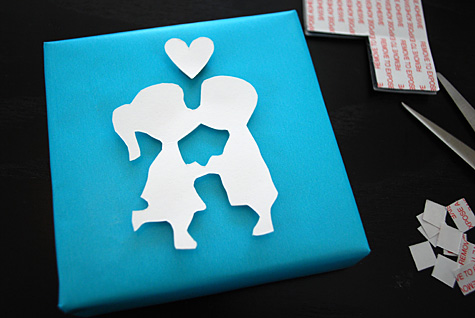 ++++++
Be sure to pin this project for later: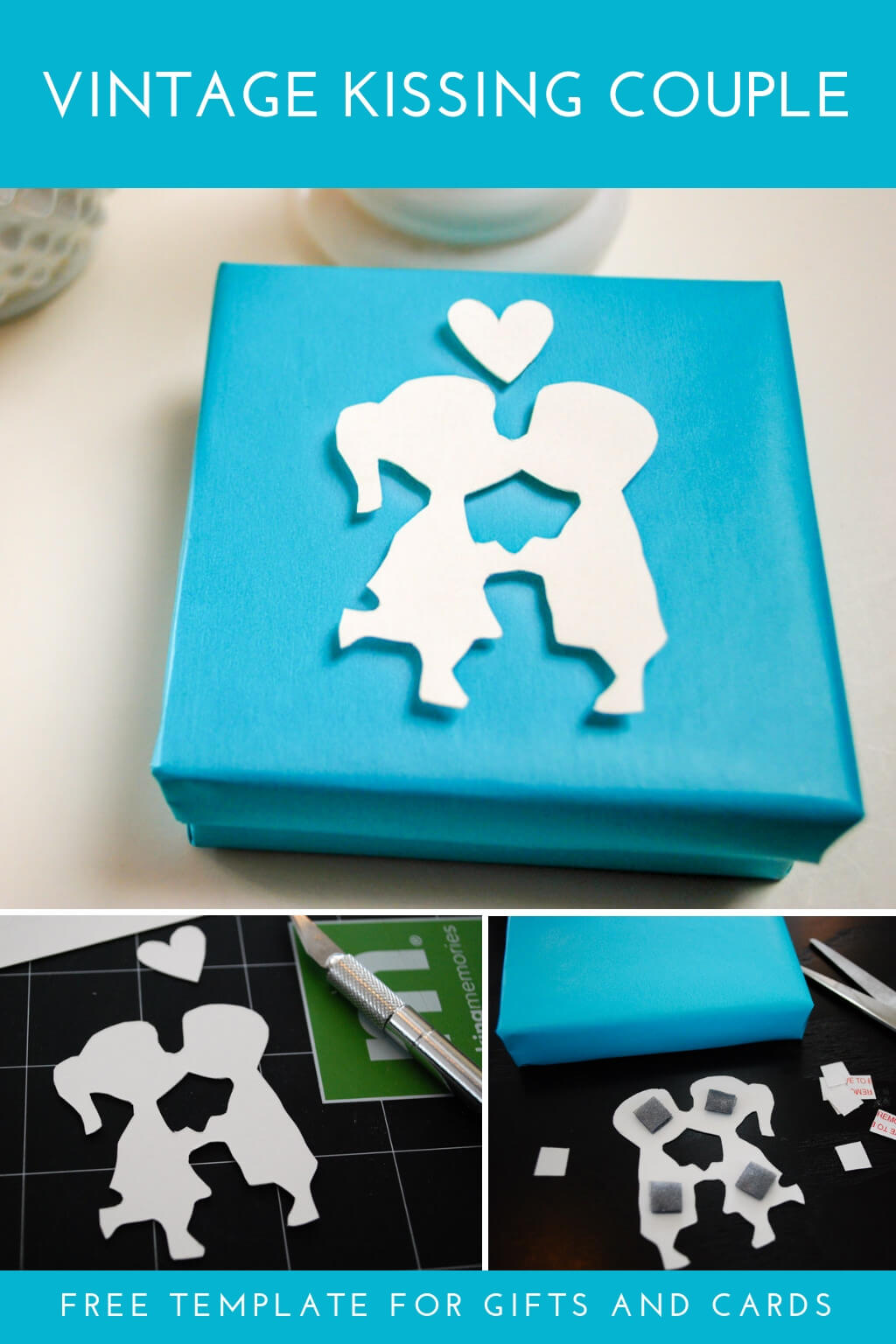 ++++++
Be sure to see more free printables and easy Valentine's Day DIYs.
—
Like it? Share it!
The nicest way to say you like it is to pin it on Pinterest, post a comment, follow Merriment Design on Facebook, Pinterest, Instagram or sign up for monthly emails. Enjoy! 🙂
Copyright stuff: You're more than welcome to use this free project and tutorial for personal use. Contact me for commercial use and etsy sales.