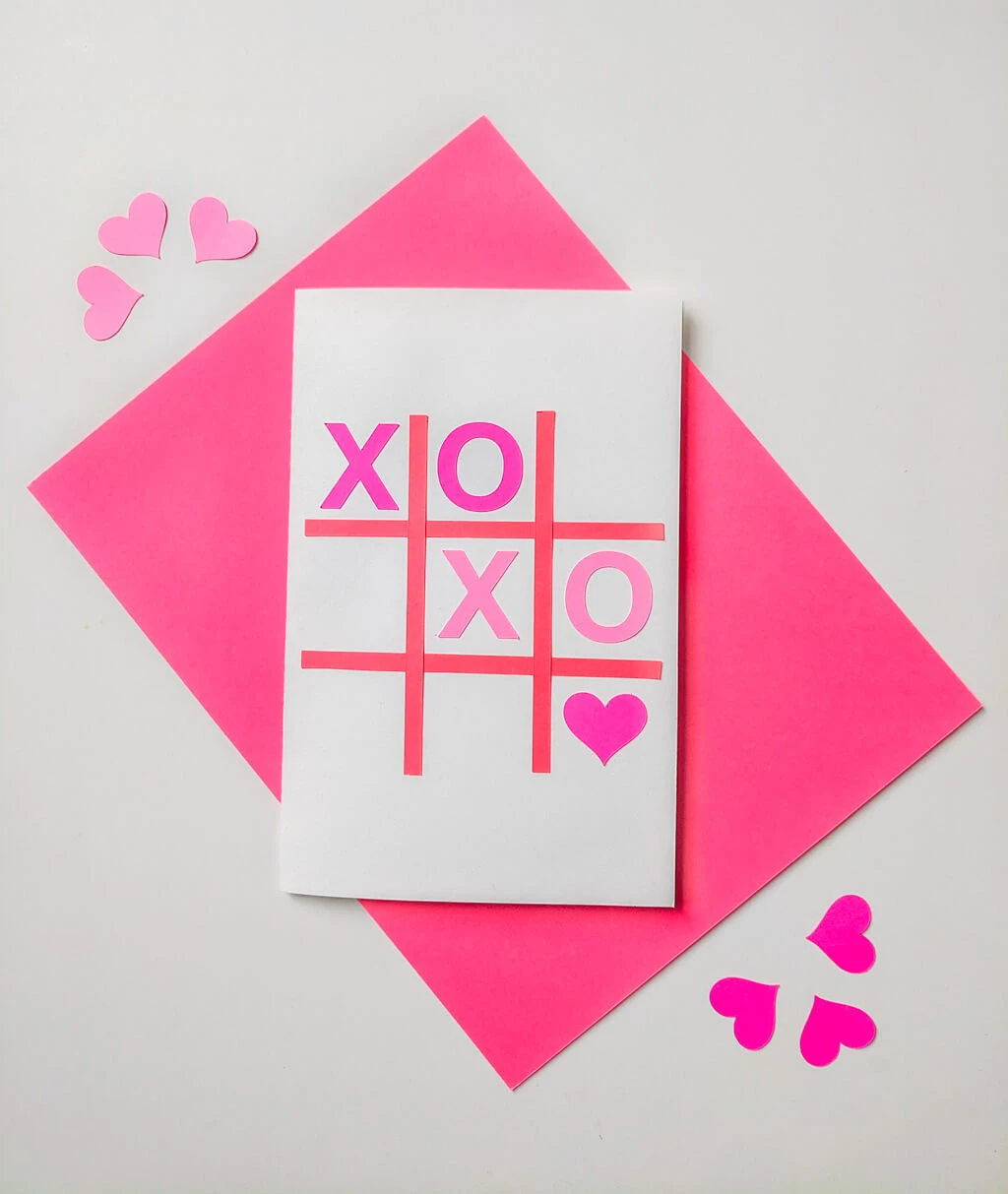 Make this simple yet romantic XOXO tic-tac-toe DIY Valentine Card for him or her! All you need is a little bit of colorful paper, a pair of scissors, and my free printable Valentine's Day card template.
I like to make my own DIY Valentine's Day cards for my husband and I'll be honest, some of my handmade Valentine cards have been cuter than others. I really like my XOXO tic-tac-toe card design — it's a simple and sweet way to say I love you to your husband, boyfriend, wife, or girlfriend. And it's super quick to make yourself at home. I even have a fully printable version for you if you're super stretched for time.
See also: 'Free Printable Valentine: XOXO You & Me Forever And Ever' »
XOXO Valentine card to DIY at home
Tic-tac-toe (or noughts and crosses in Commonwealth English) reminds me of marriage. Hang with me on this for a minute. First, there's the obvious Xs and Os — hugs and kisses. And then to play the game, we have to take turns marking spaces and fill in the 3×3 grid together. And in the end, there's no winner.
After I came up with this idea and made the card, I started Googling to write this post for you and saw that I'm not the only one to notice that XOXO hugs and kisses relate closely to a tic-tac-toe board. I still like my simple Valentine's card design and it's unique-looking compared with others so I'm posting it here knowing that great minds think alike.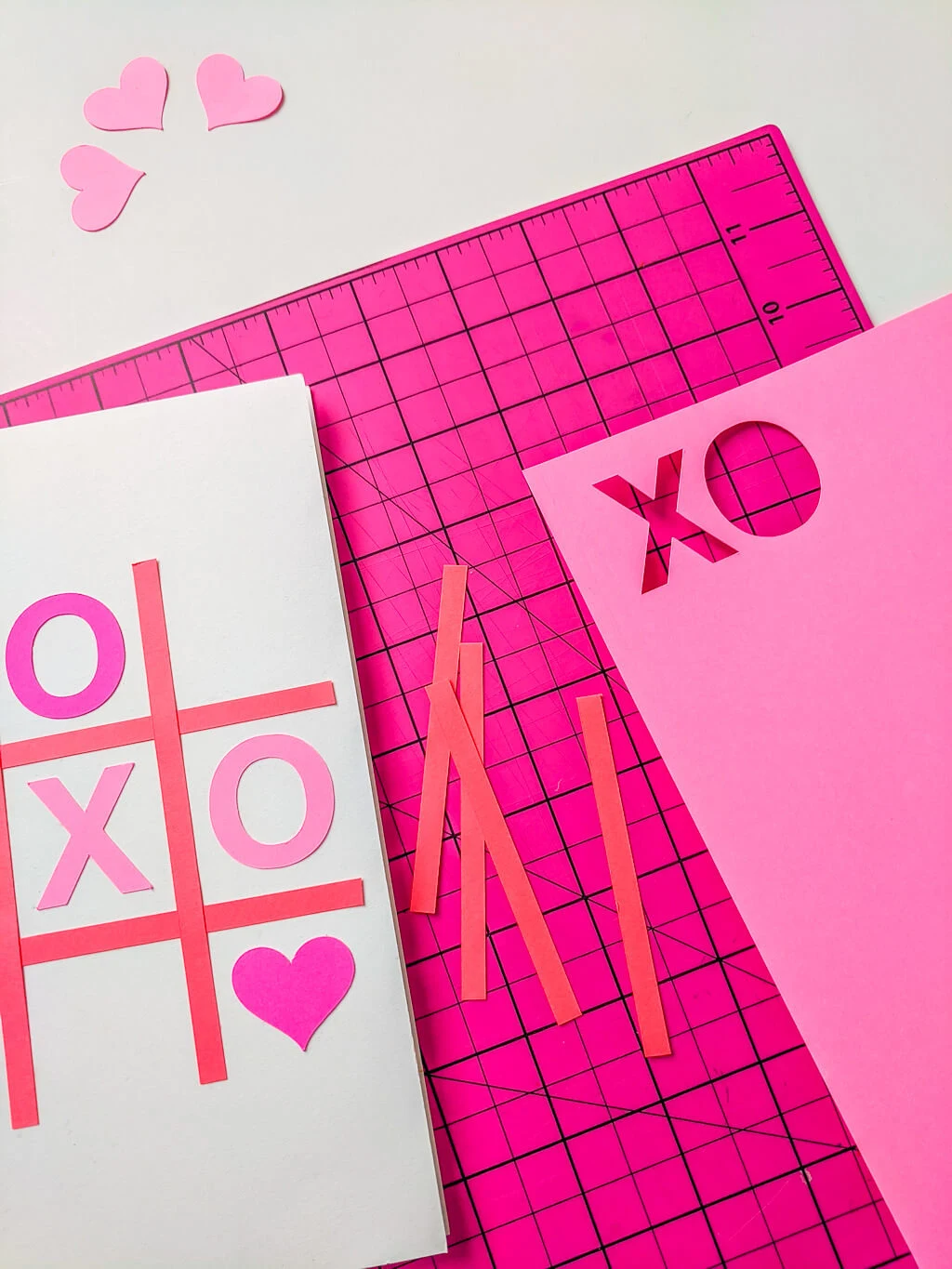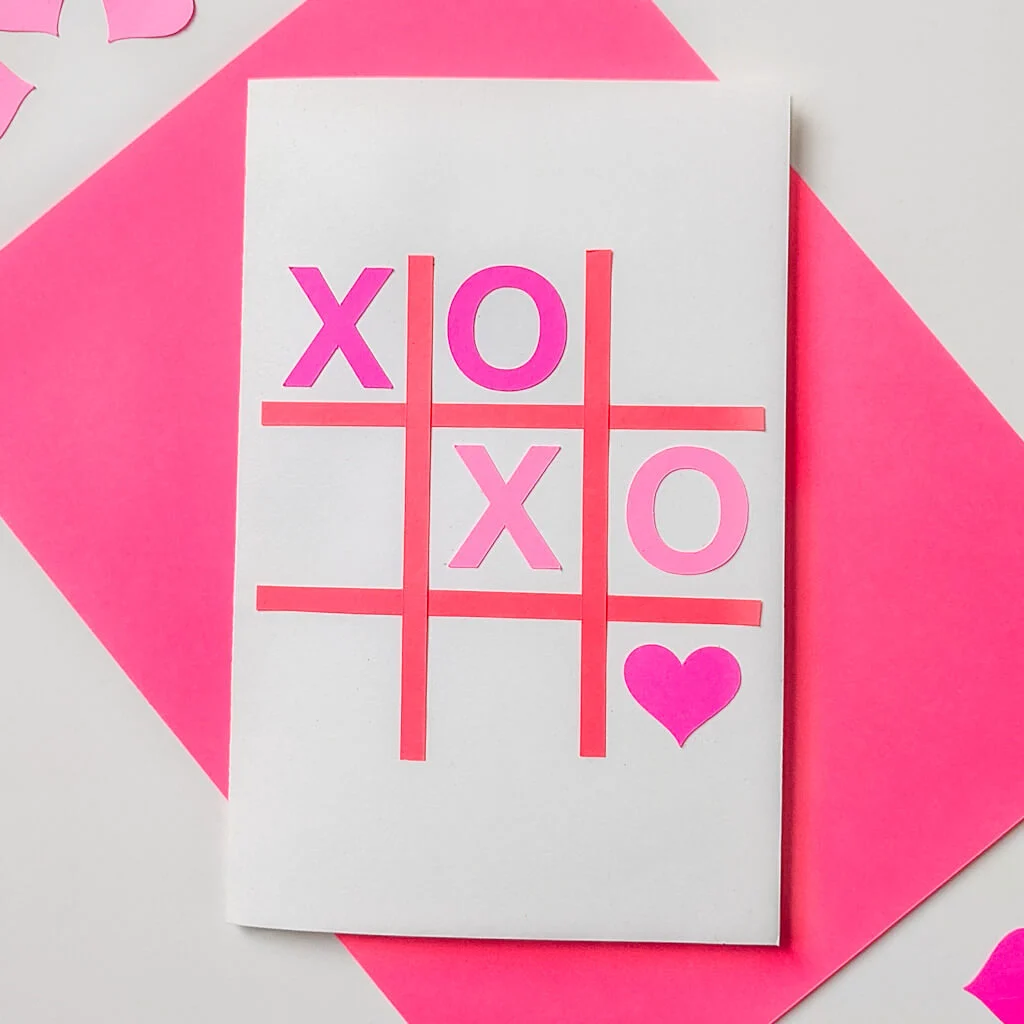 Merriment Design is supported by readers like you. If you buy products that I recommend, I may earn an affiliate commission at no additional cost to you. Thanks – your clicks help me make more free DIYs!

Supplies for an XOXO Valentine Card DIY for Him or Her:
How to make an XOXO Valentine Card DIY for Him or Her:
I'm giving you two ways to make this card: a totally printable version, and a DIY handmade version. If you want a quick and easy Valentine then you can just print my Kathy's free printable DIY Valentine card XOXO tic-tac-toe template (PDF) on white cardstock paper and you're done. Or you can follow my instructions below to make a more handmade Valentine's Day card with cut paper. It is a bit more effort but isn't your sweetie worth it?
Step 1: Fold the white paper in half
Take your letter-sized white cardstock paper and fold it in half lengthwise.
Step 2: Print my XOXO tic-tac-toe template
Download and print my free printable Valentine card template onto pink, hot pink, and red cardstock paper. Or you can print the template onto plain white paper and then trace it onto colored paper.
Step 3: Cut out the XOXO and tic-tac-toe board
Cut out your card pieces using good paper scissors. Or alternatively, you can use my SVG file if you have a paper cutting machine. Just contact me for the SVG file.
Step 4: Glue the Valentine card together
Glue the tic-tac-toe board and XOXOs together using a glue stick.

Be sure to pin this easy XOXO Valentine Card DIY: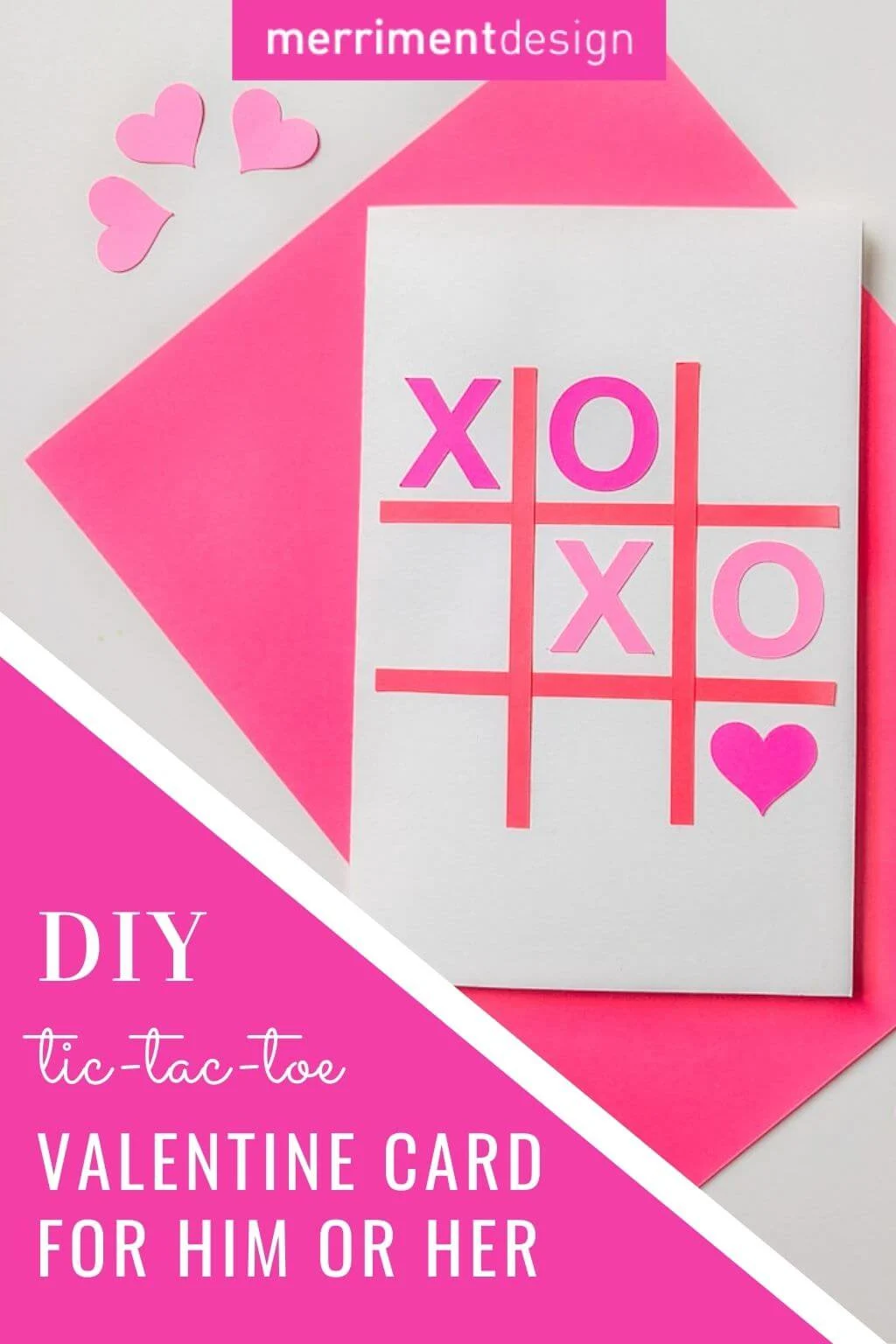 ++++++
And see more Valentine's Day DIY crafts, cards, and sweets to make at home like my easy paper heart bracelets Valentine's Day craft for kids, and a Valentine's Day card made from recycled security envelopes.
—
Like it? Share it!
The nicest way to say you like it is to pin it on Pinterest, post a comment, follow Merriment Design on Facebook, Pinterest, Instagram or sign up for monthly emails. Enjoy! 🙂
Copyright stuff: You're more than welcome to use this free project and tutorial for personal use. Contact me for commercial use and Etsy sales.