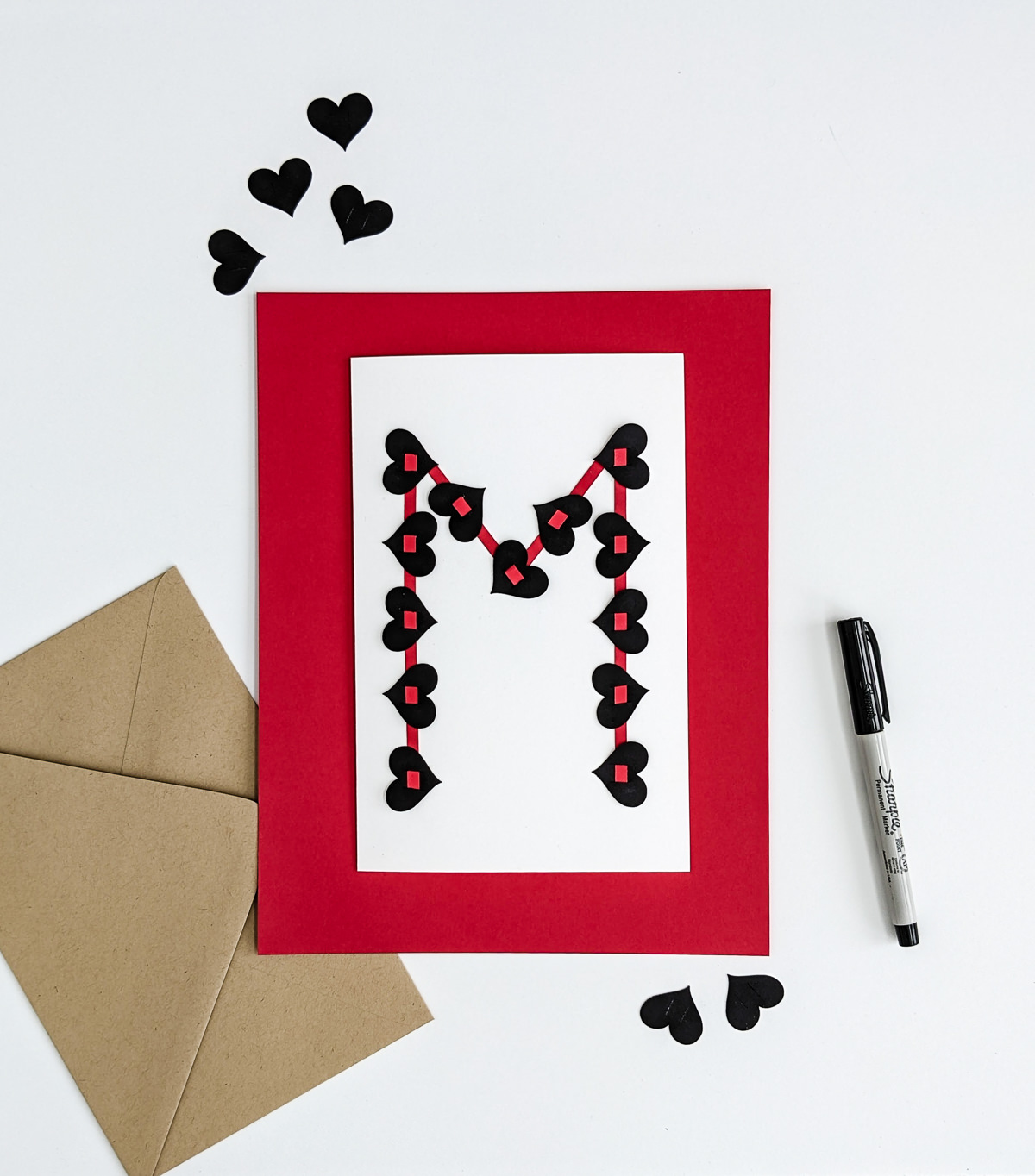 Looking for cute Valentines for teens? My Valentine's Day card DIY is the polar opposite of a mushy, romantic Valentine. The black hearts lean emo yet they're still hearts that show love and affection. My personalized monogram valentine is a great Valentine's Day card to make for teens, especially teens who aren't super into Valentine's Day. Keep reading to see how to make my monogram Valentines for teens.
See also: Monogram cake pops for Valentine's Day dessert >
Cute monogram DIY Valentines for teens – high schoolers and middle schoolers
I made this monogrammed Valentine's Day card for my high schooler niece, Madison, who actually doesn't really like Valentine's Day. I wanted to send her something from us that shows we love her, so I made her a darker version of my heart alphabet letters DIY Valentine's Day card with black hearts and attached a gift card inside using washi tape. Don't you absolutely love the black hearts contrasted with the red strips? They're giving me throwback '80's The Cure vibes for sure.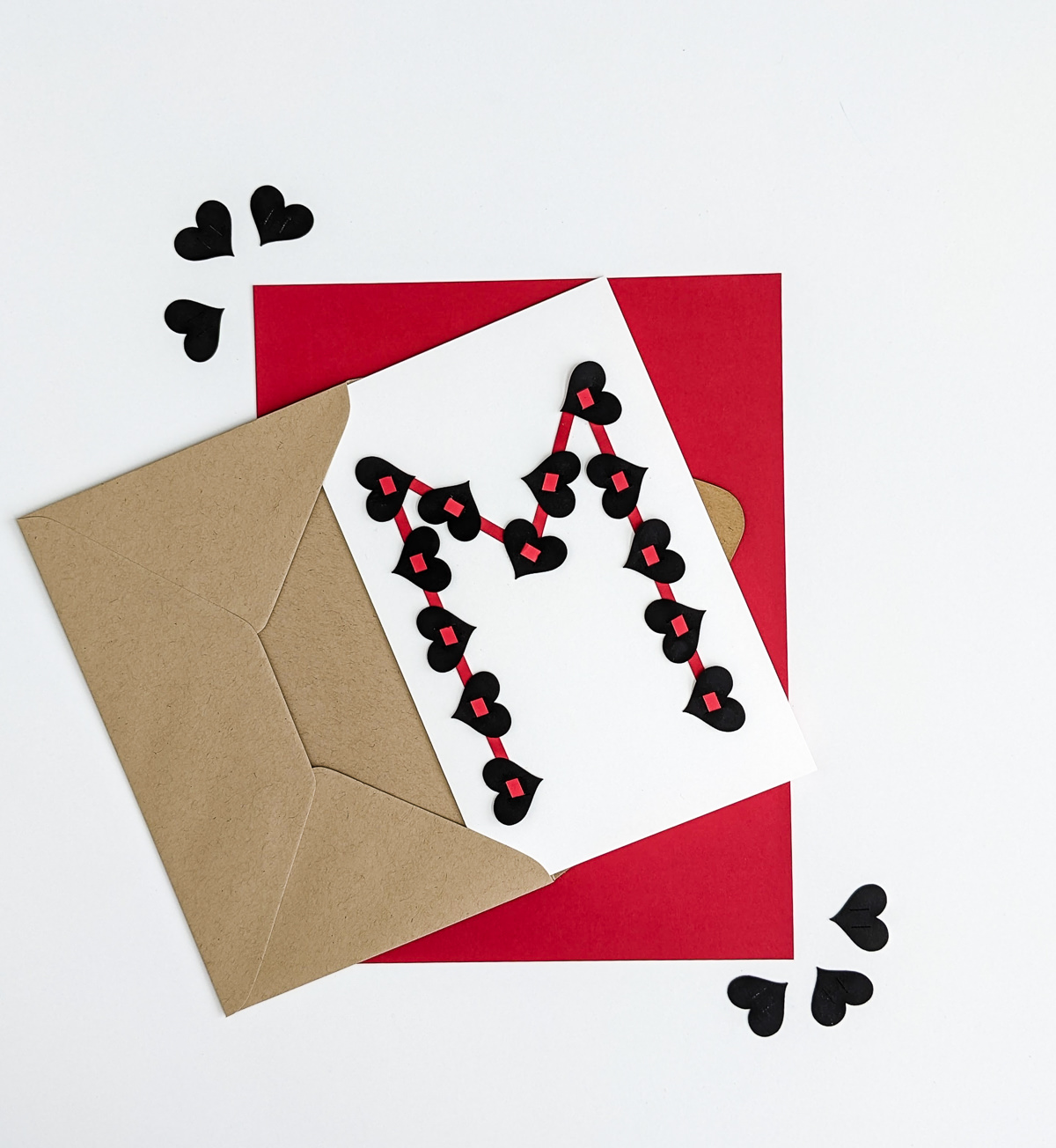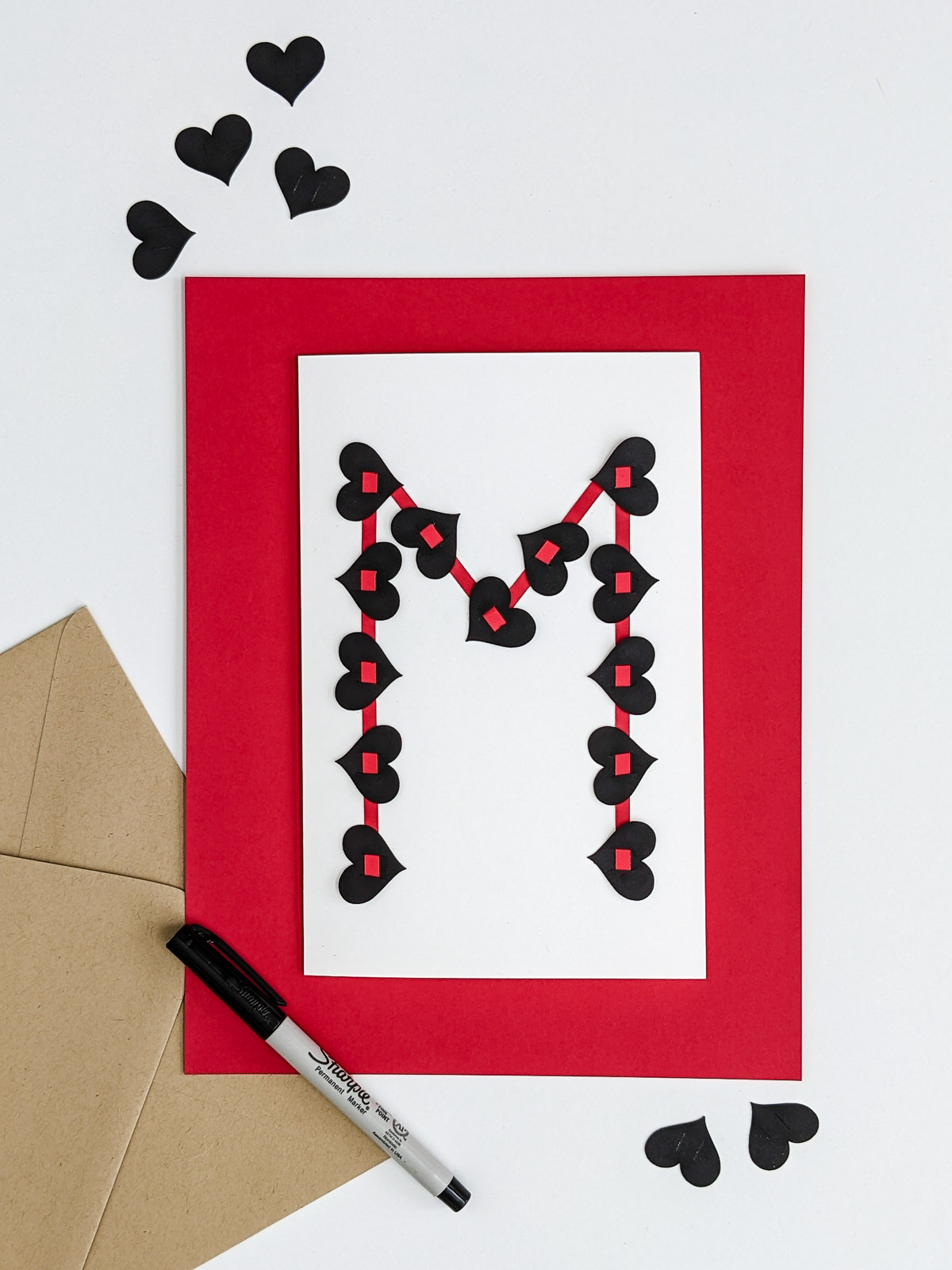 Cute handmade Valentines for teens from parents or aunts and uncles
My handmade monogram can either become a Valentine's Day card or even wall art. You could even create heart monograms for each family member and frame them for Valentine's Day wall art.
More easy Valentine's Day card DIYs and crafts

Supplies for making monogram DIY Valentine's Day cards for teens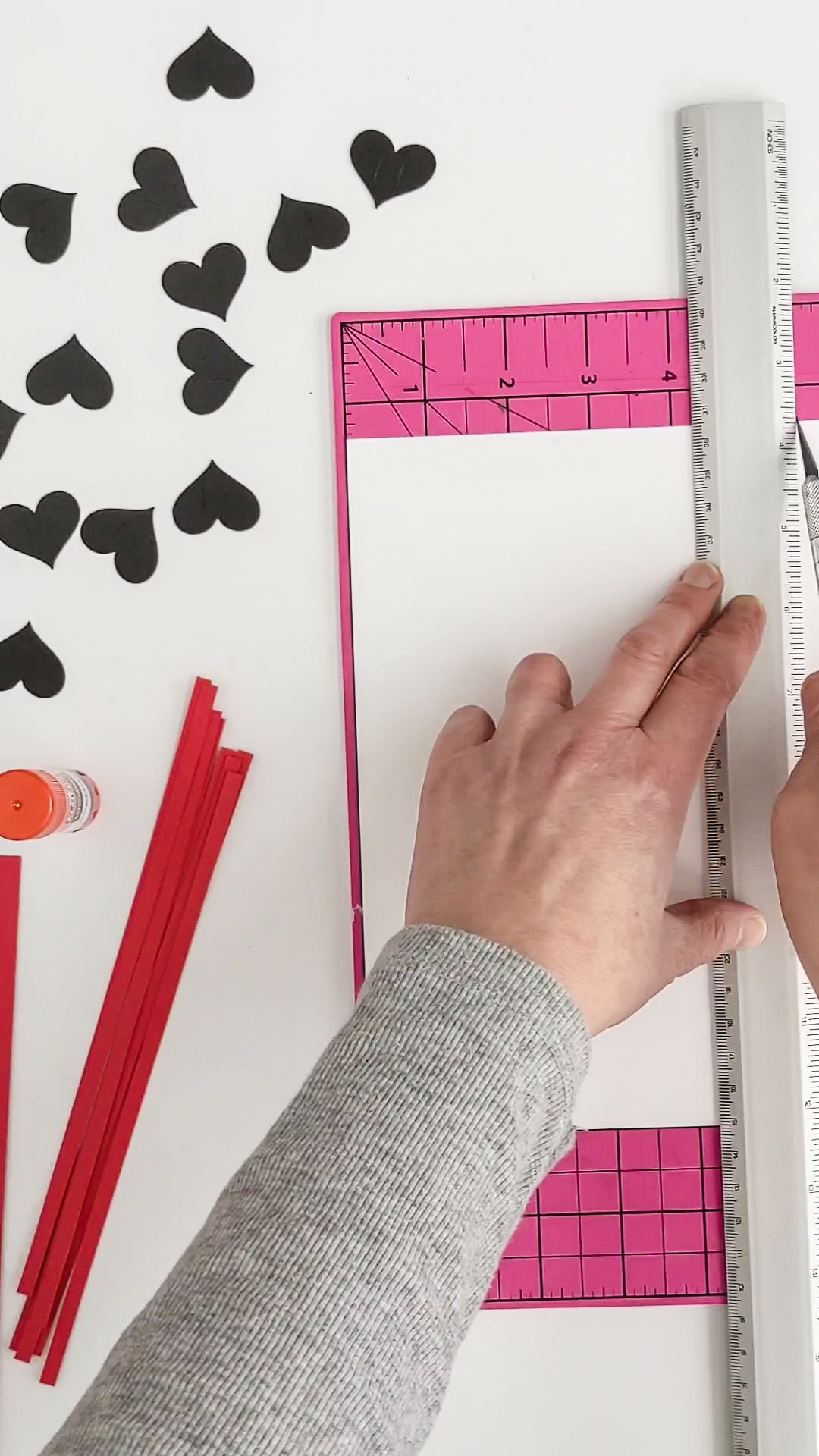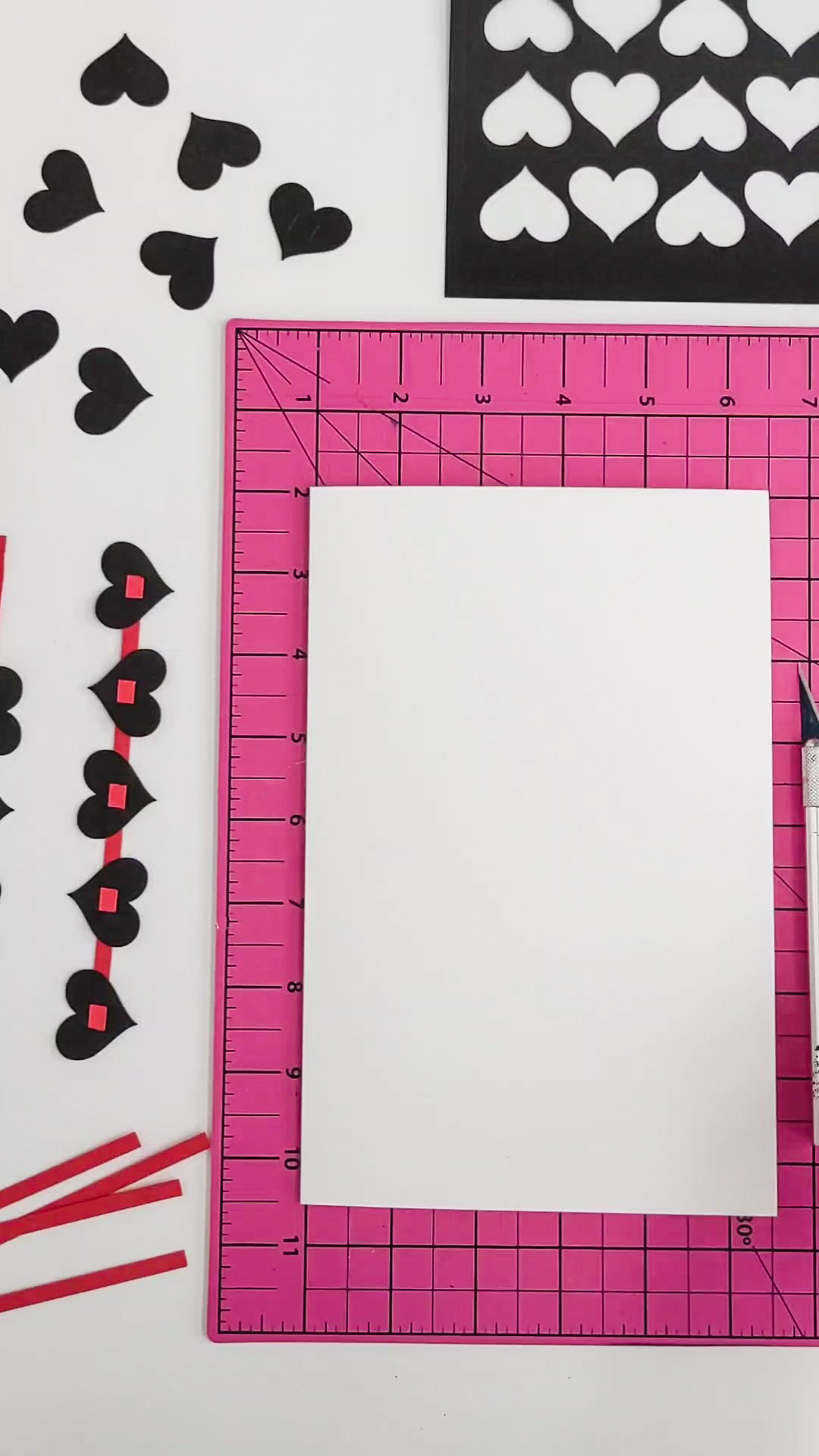 Step 3: Slip black hearts onto thin strips of paper
Cut thin strips of cardstock paper, either use my template or cut them slightly less than 1/4″ wide. The strips need to be cardstock paper so that it's thick enough to weave without bending. This step is quicker if you have a paper cutting machine and use an SVG file, just contact me for that file. Or cut two slits into each paper heart using a craft knife and self-healing mat. Then carefully thread the hearts onto the cardstock paper strips, alternating directions.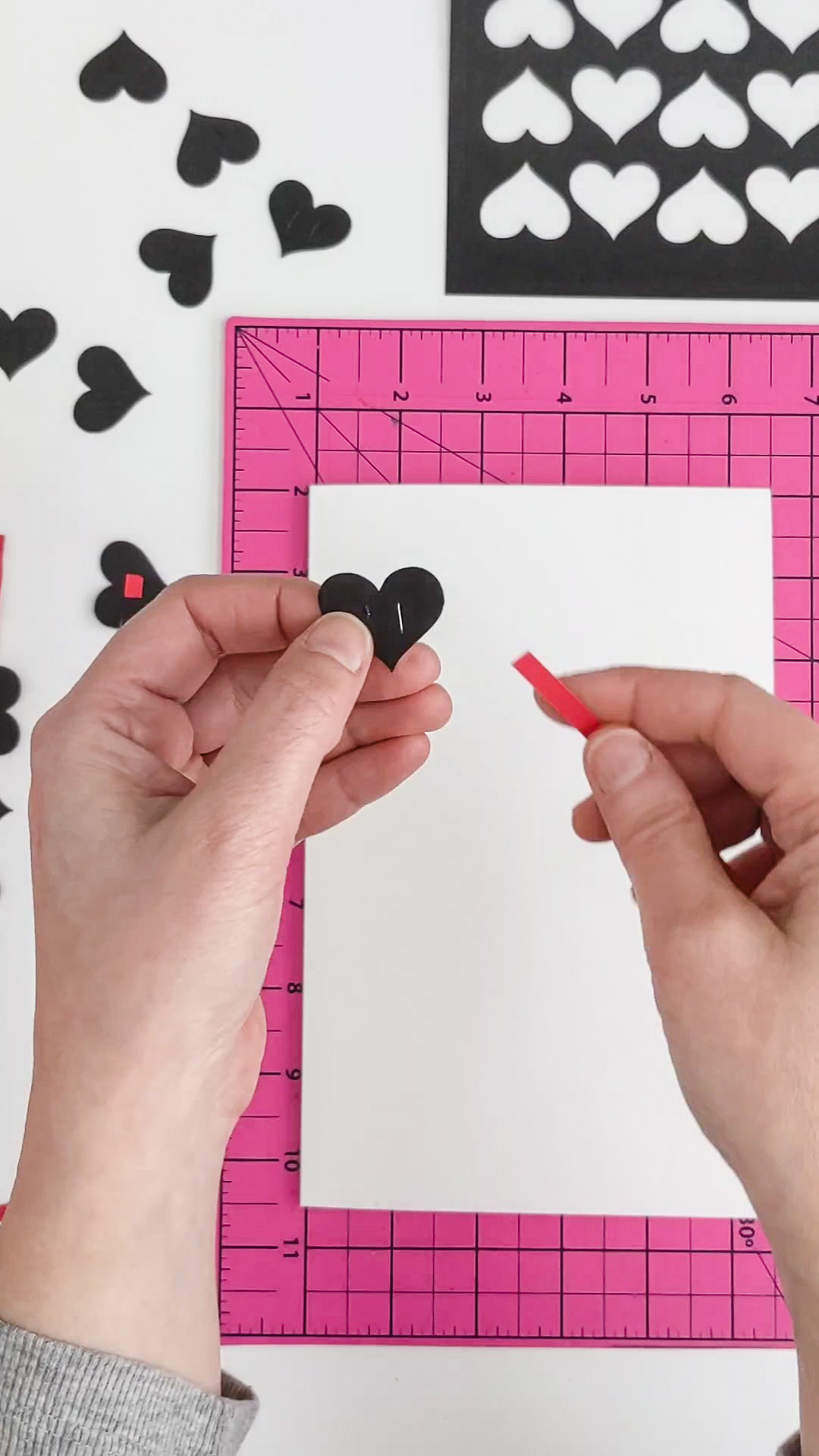 Step 4: Make a monogram out of thin strips that fits the card front
Then cut the strips so that they'll form a monogram to fit onto the front of the card. Admittedly, this craft is easier for letters that use straight lines rather than curves. For curved monograms, you could go for more of a Greek look by using angles instead of curves.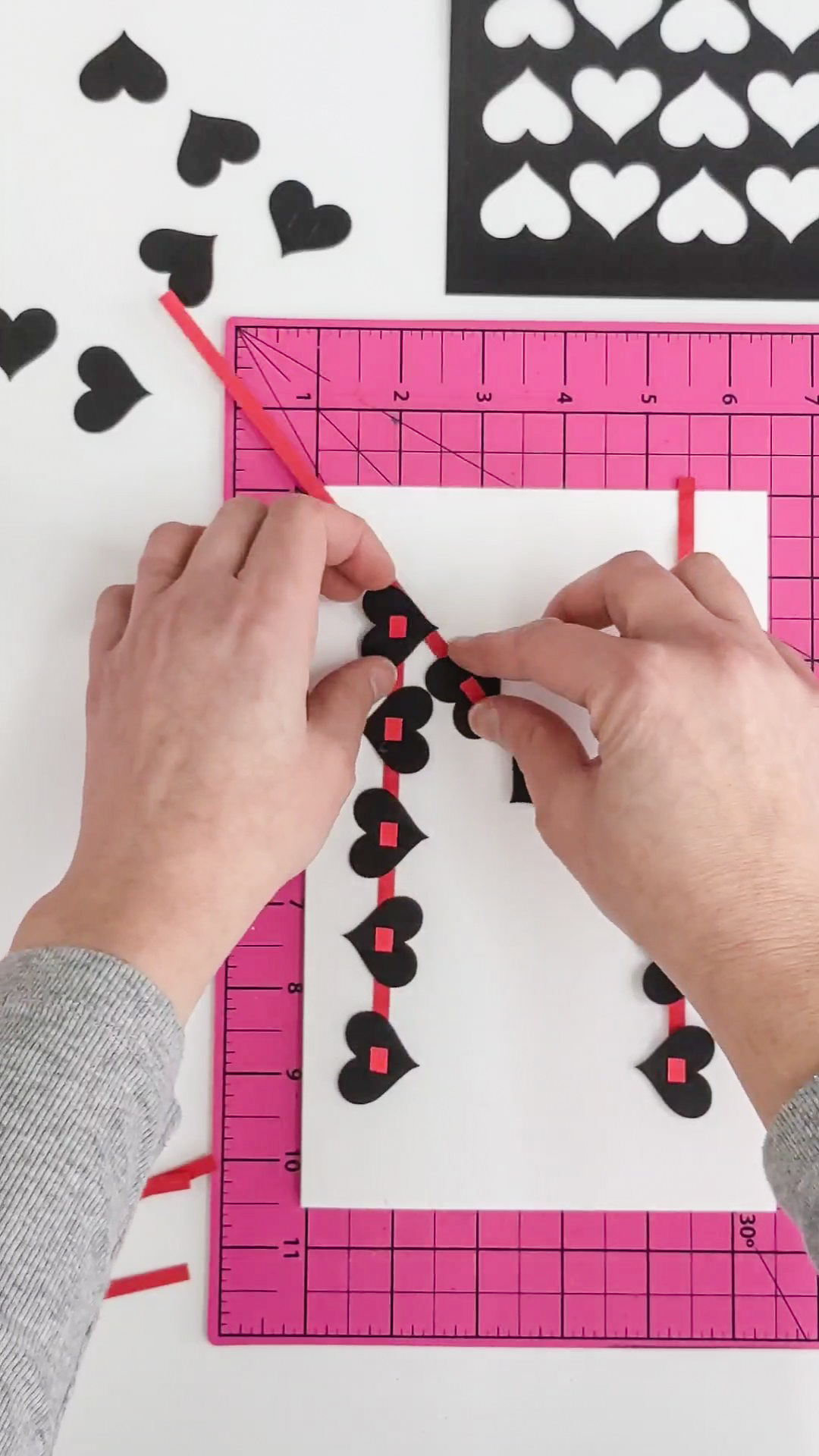 Step 5: Glue the monogram to the Valentine
Put the heart strips onto the card and shape them into a monogram. Attach the monogram using a glue stick.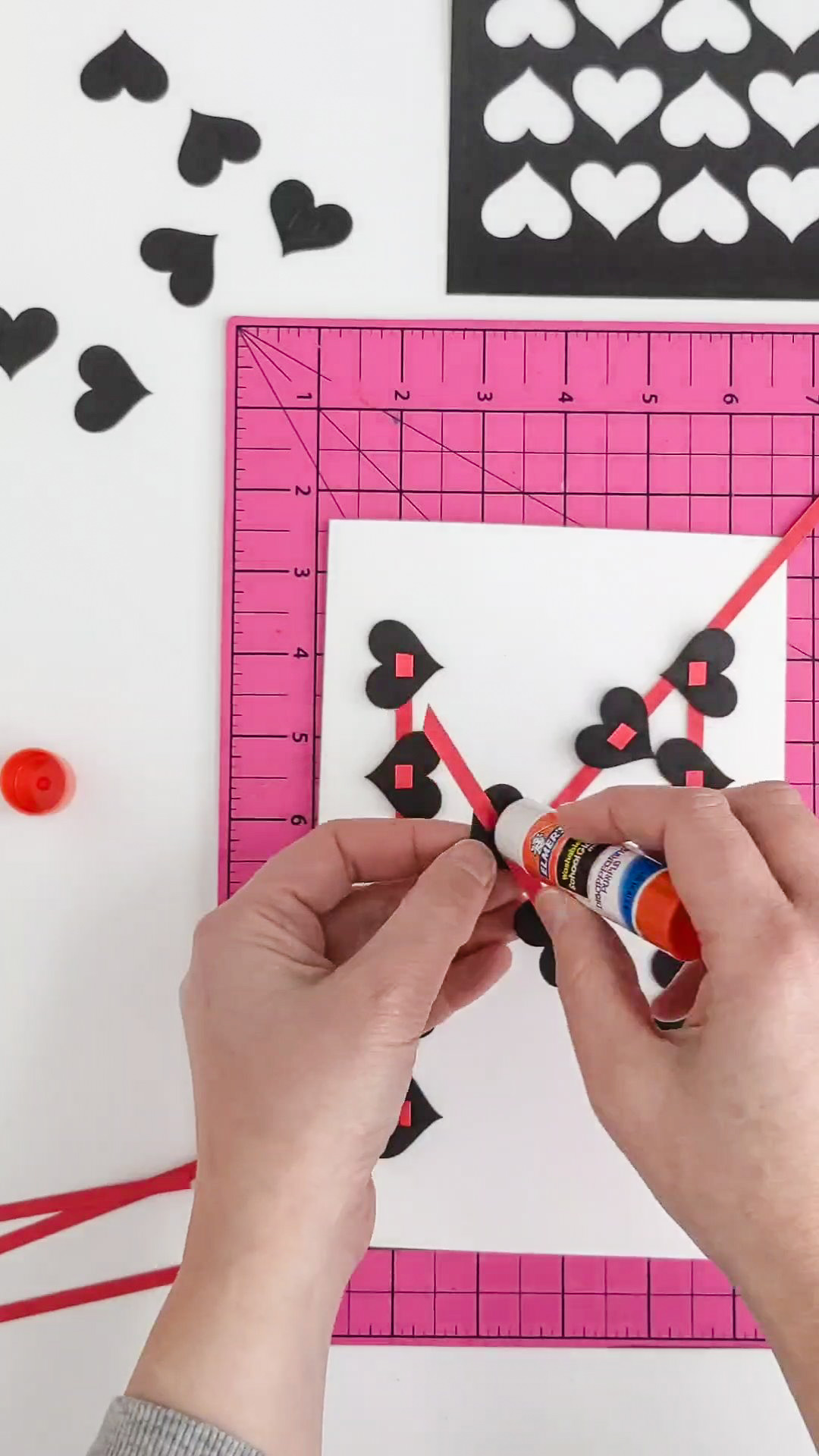 Step 6: Write a note inside for your teen
You can also include a gift card inside your monogram Valentine's Day card. Just tape it inside using a little bit of washi tape. Happy Valentine's Day!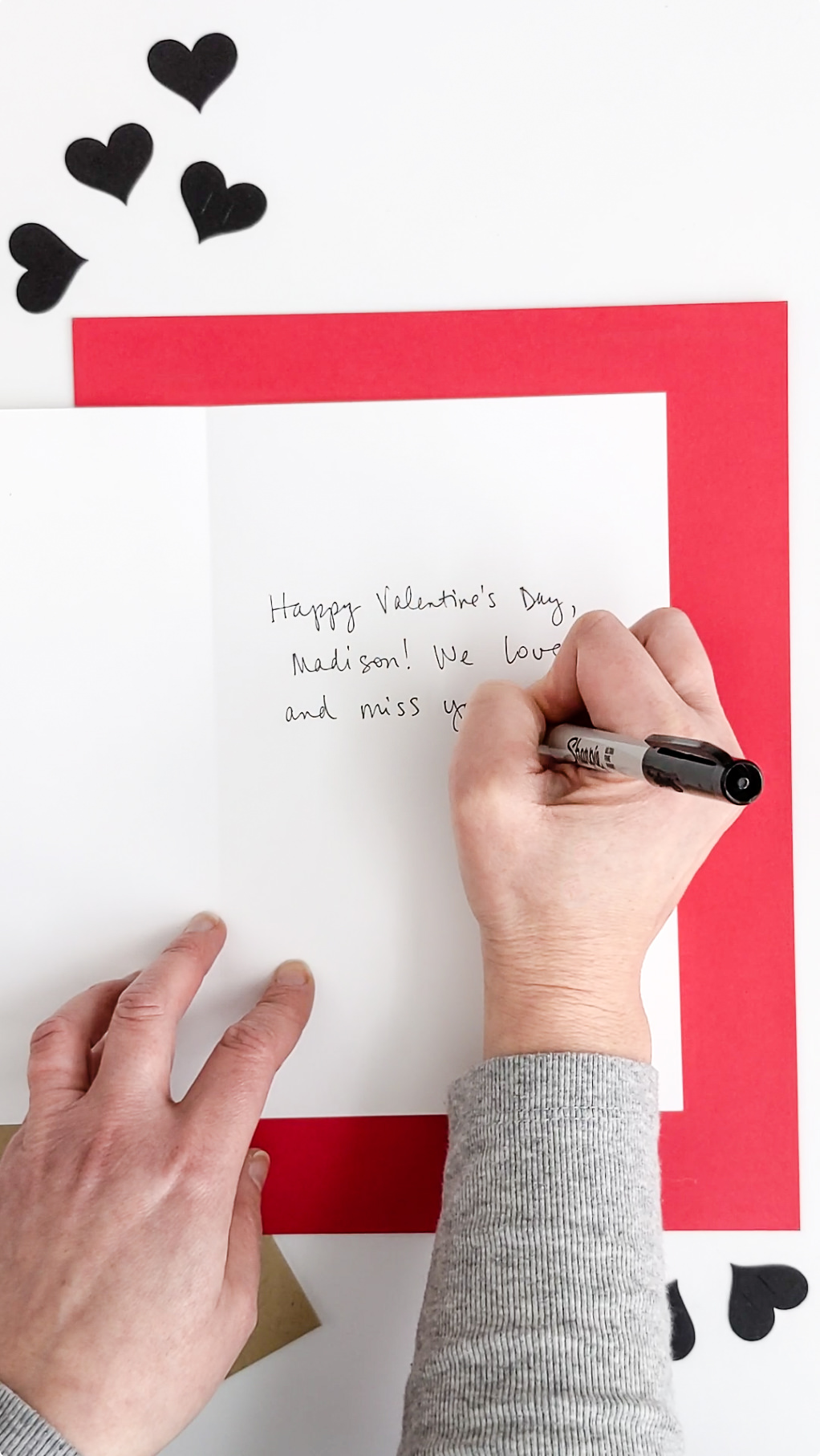 Be sure to pin my DIY valentine for teens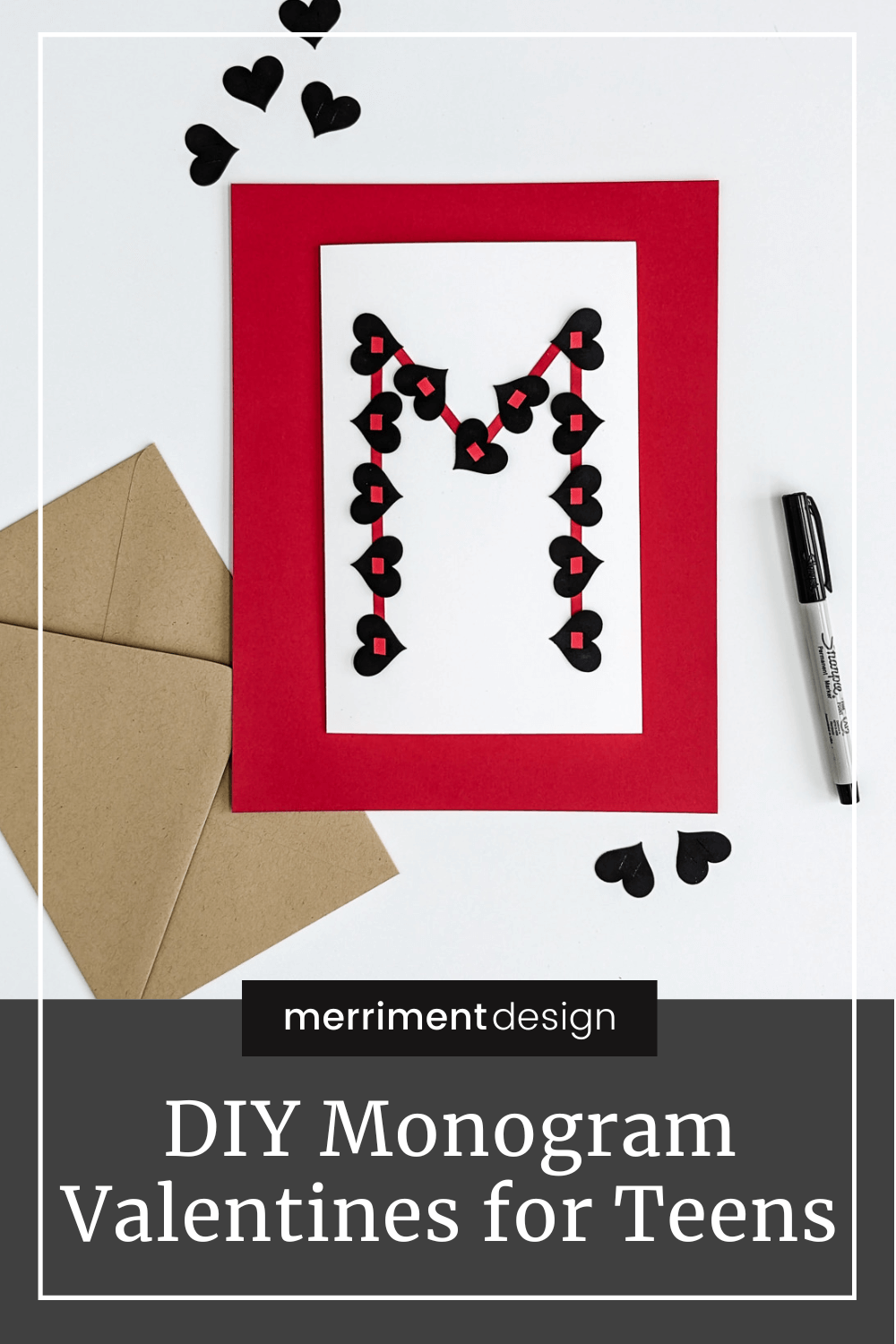 And see more Valentine's Day crafts like this XOXO valentine card, handmade Valentine from recycled magazines, and easy Valentines desserts like these mini heart cake pops and chocolate-covered strawberry hearts.
++++++
Like it? Share it!
The nicest way to say you like it is to pin it on Pinterest, post a comment, follow Merriment Design on Facebook, Pinterest, Instagram or sign up for monthly emails. Enjoy! 🙂
Copyright stuff: You're more than welcome to use my free project, printable templates, and tutorials for personal use. Contact me for commercial use and Etsy sales. Momma's gotta pay the bills.