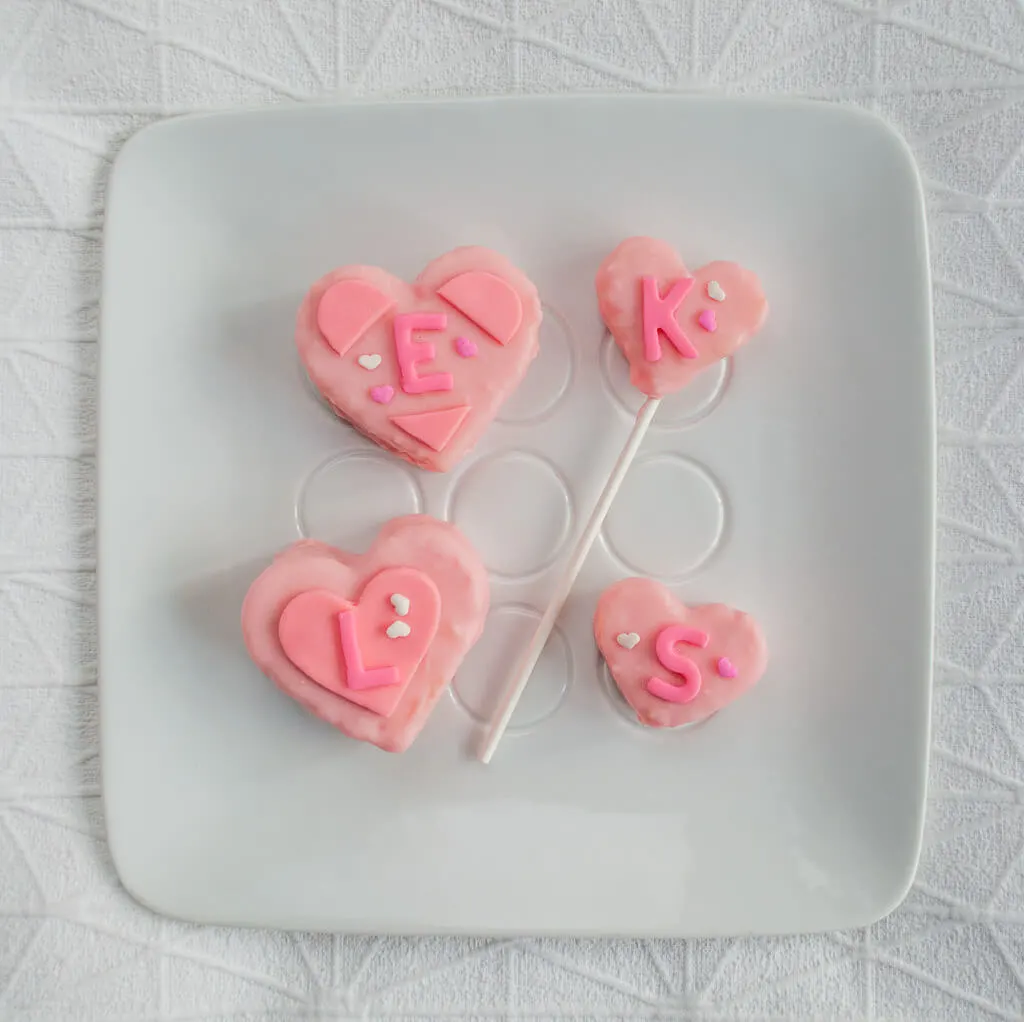 Make these mini heart cakes for your sweetheart for Valentine's Day! These little treats are filled with vanilla cake, covered in melted pink chocolate, and topped with edible fondant monogram letters and heart sprinkles. Mini heart cakes pops make an easy Valentine's Day dessert idea for your kids, husband, and friends that's fun and easy to make. It's just enough of a special treat without going overboard on sugar.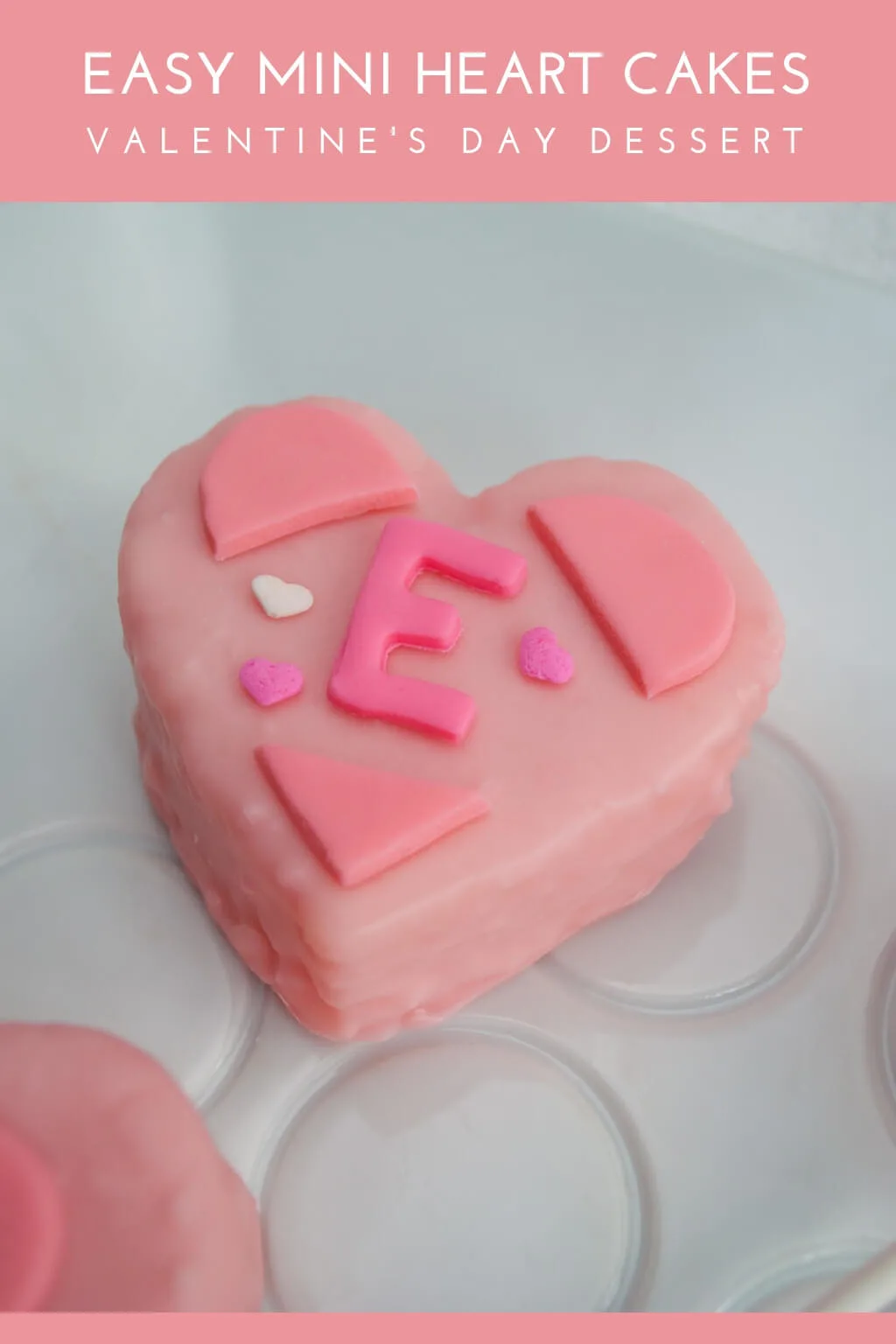 The kids and I had fun cutting out the mini heart cake pops with cookie cutters and decorating them with fondant and sprinkles. I think that the mini heart cakes turned out really cute!
See also: 'DIY Chocolate Covered Strawberries for Valentine's Day' »
We made monograms for each family member by cutting out fondant letters. And we had some extra cake that wouldn't fit the larger heart cookie cutters, so we made some smaller heart cake pops on lollipop sticks to use up the extra cake. We decorated the mini heart cake pops using pink chocolate, fondant letters, and heart sprinkles.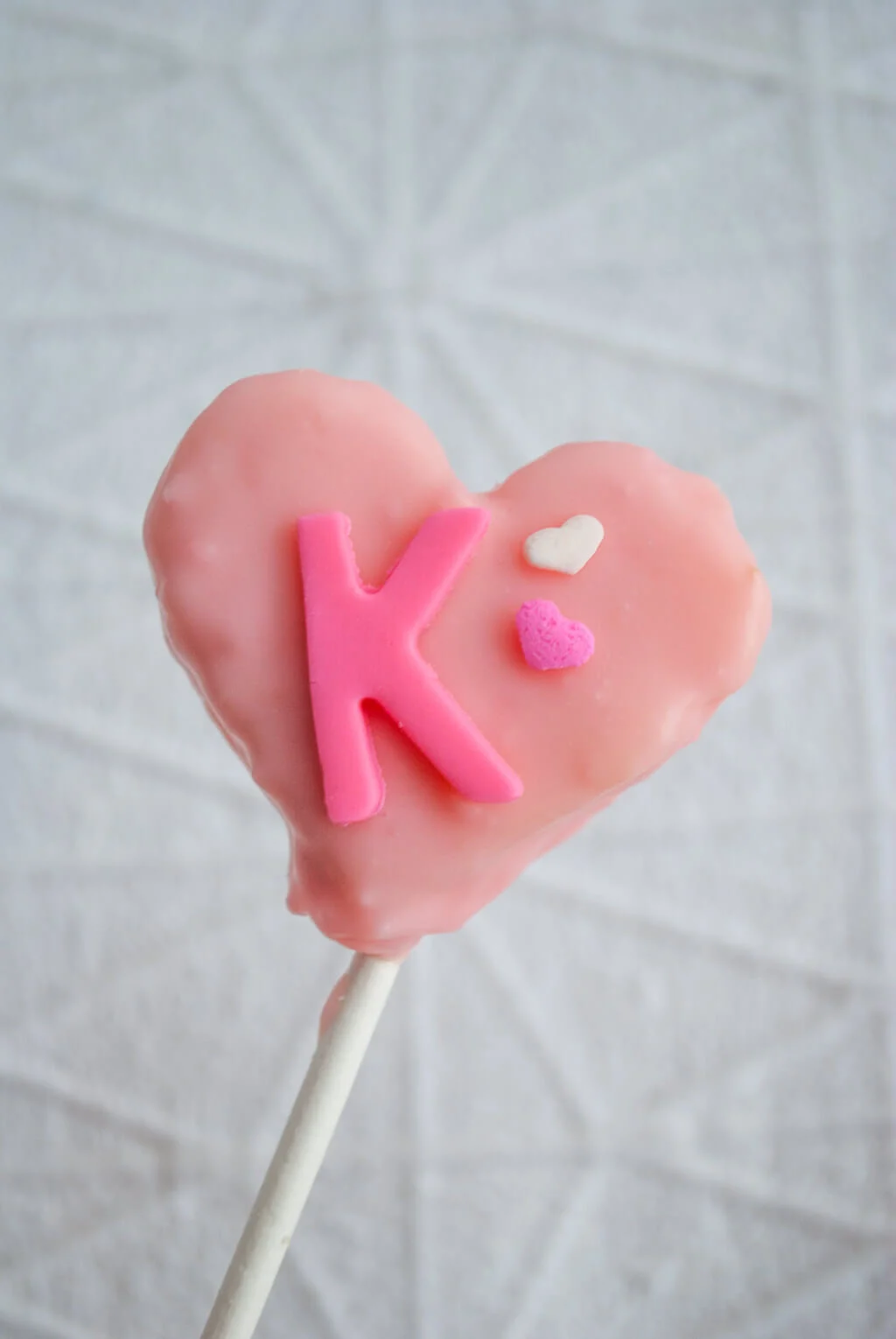 We made these mini heart cakes during the polar vortex in Chicago. Our outside temperature dropped to -21 degrees and felt like -44 degrees. Needless to say, we weren't able to go outside. For TWO DAYS. Yeah. So we stayed in our pajamas all day and baked a lot.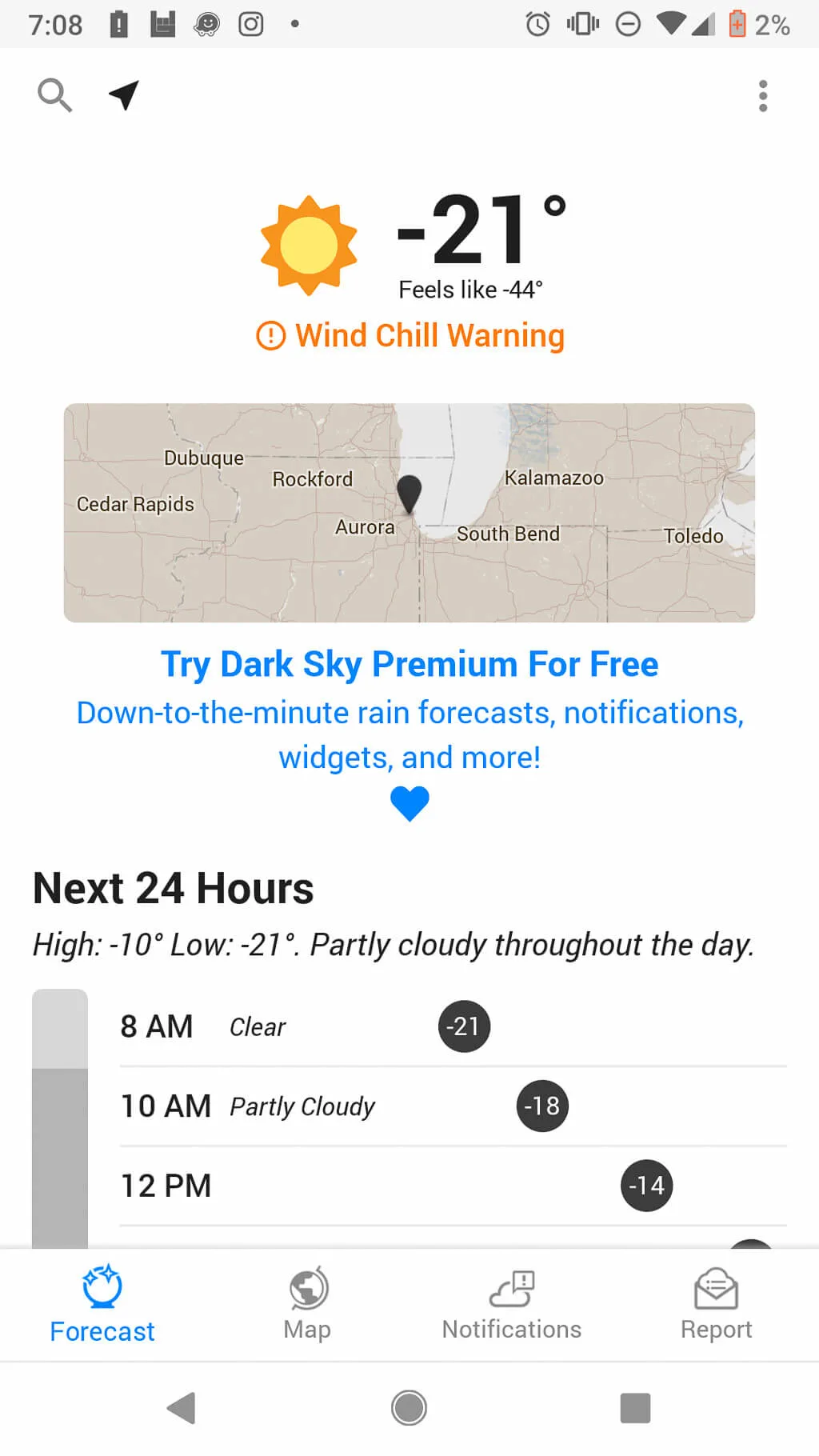 First, we made pumpkin banana muffins and wanted to keep baking. So I dug into the freezer and got out an extra frozen cake from Elise's mermaid birthday cake. I always seem to have an extra cake in the freezer from birthdays because sometimes I make extra cake. And we had pink chocolate that Grandma gave Elise's along with a chocolate making kit.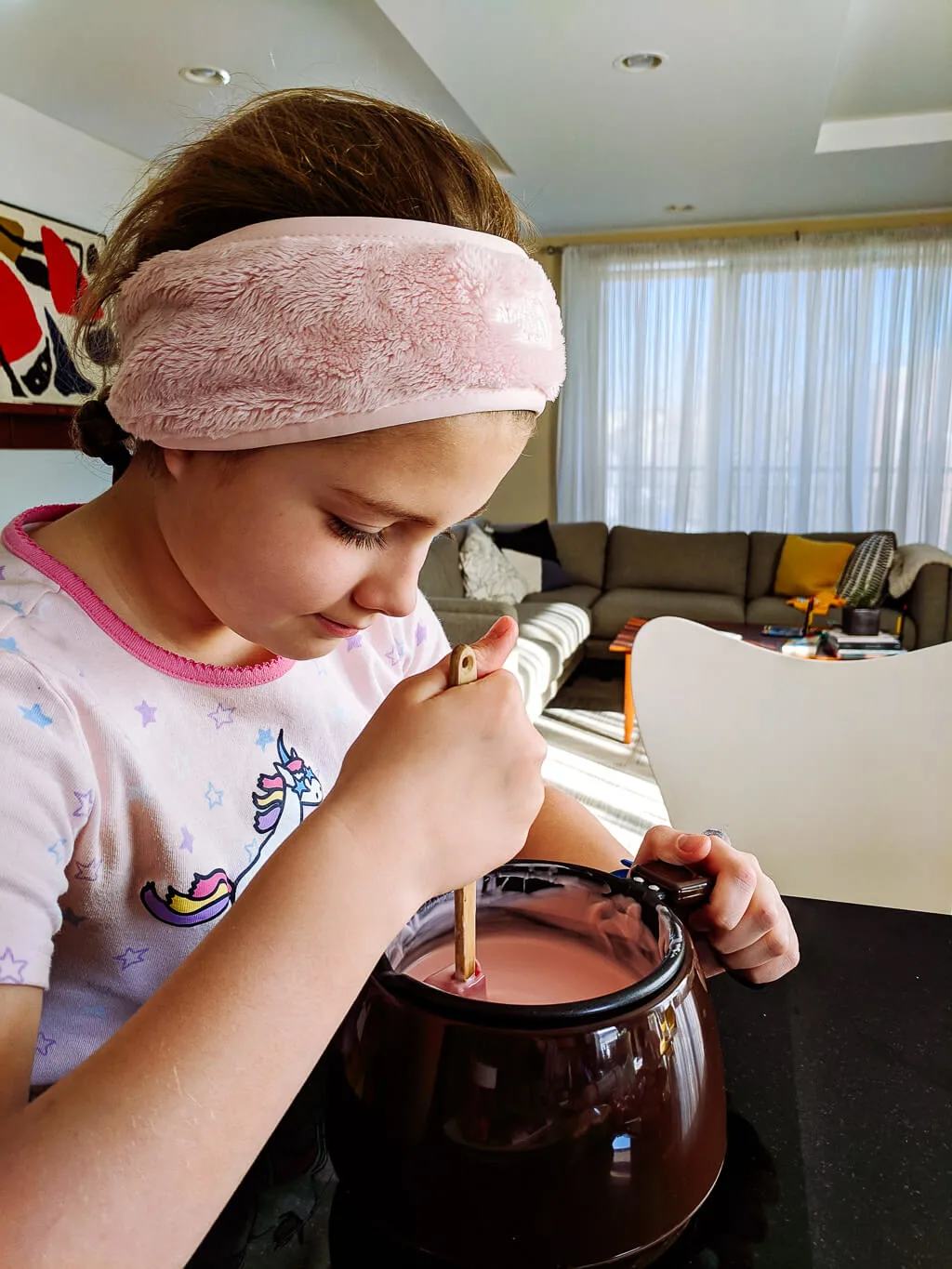 I made L-shaped letter mini birthday cake petite fours for Liam's 1st birthday party (his Hugs & Kisses themed party), and I like making easy cakes, so I thought these mini heart cakes would be a breeze. And well, to be honest, it took me a few hearts to get this right. It's been awhile since I'd dipped anything in chocolate and sadly a couple cake hearts bit the dust before I got the dipping right. You'll see some lumps and bumps on my mini cakes but they're made with love and taste awesome.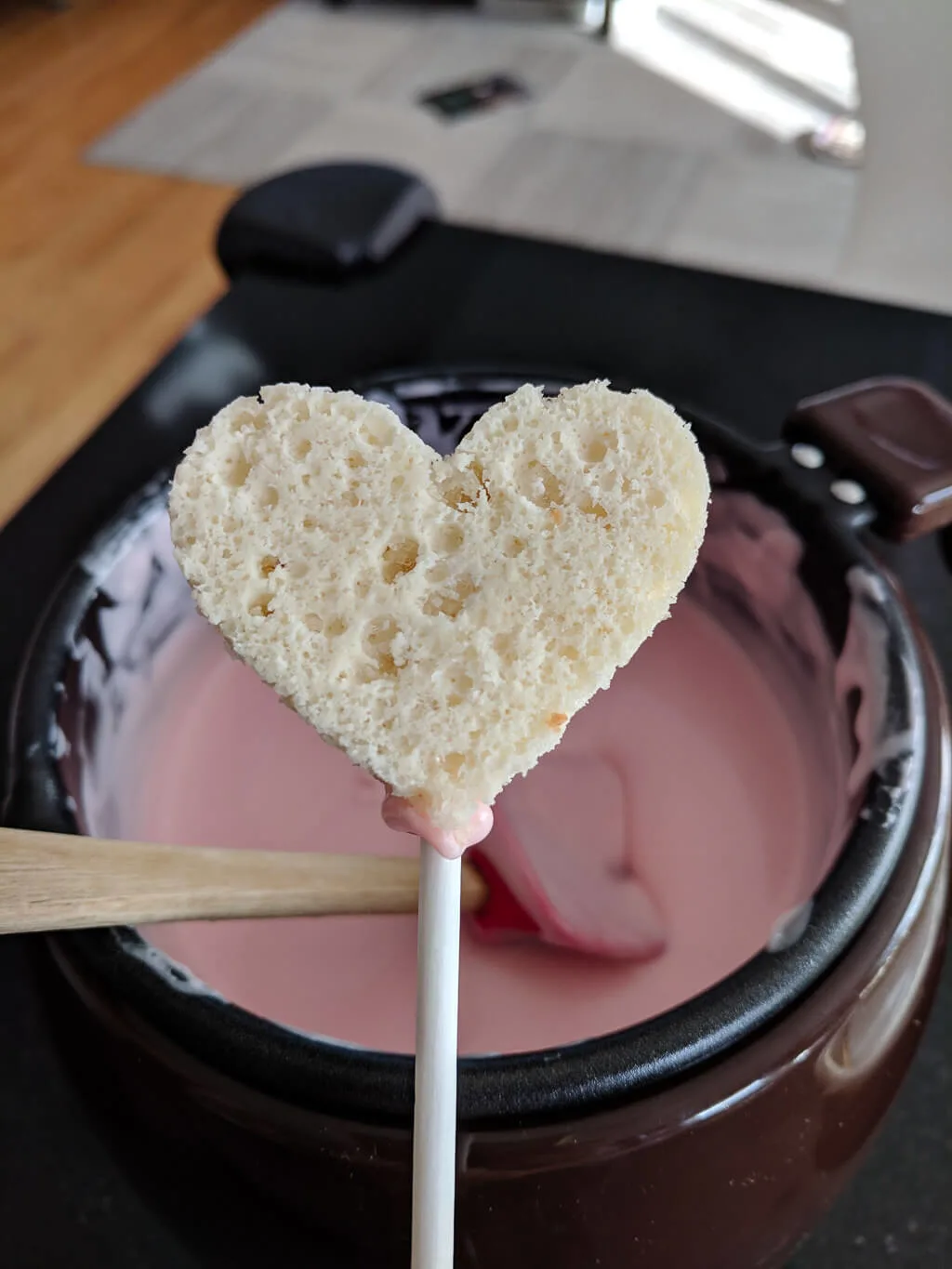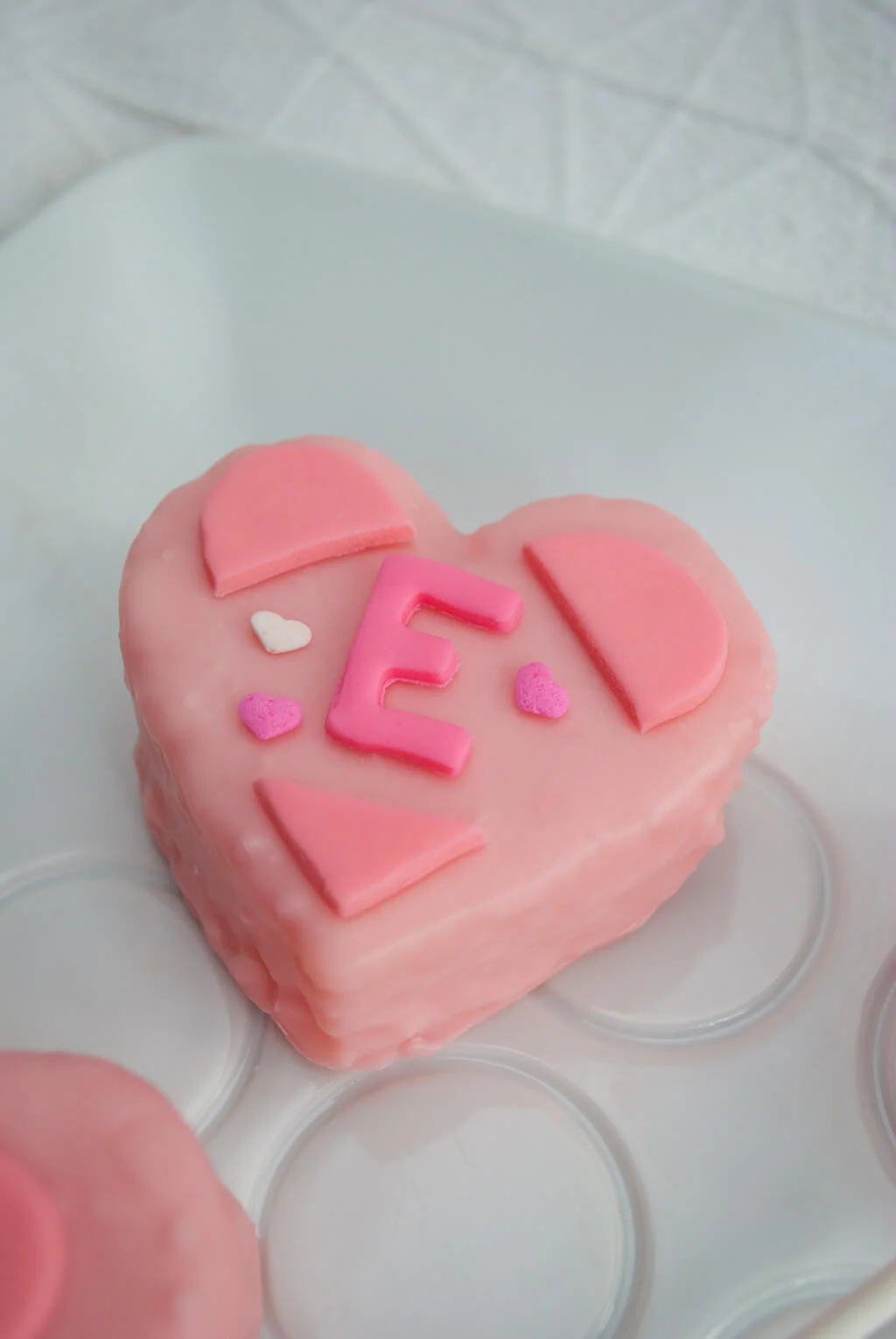 ++++++
Supplies for making mini heart cakes valentines dessert:
This post contain affiliate links which means that products I recommend may give me a nominal commission at no extra cost to you. Thanks – your clicks help me make more free DIYs!
—
How to make mini heart cakes valentines desserts:
Step 1: Cut hearts out of cake using heart-shaped cookie cutters
You can either buy frozen pound cake or bake up a pound cake mix. I used frozen vanilla cake left over from Elise's mermaid birthday cake (this is the best vanilla cake recipe). Slice the cake into 1″ depth slices …the heart cookie cutters set will work better with a 1″ depth.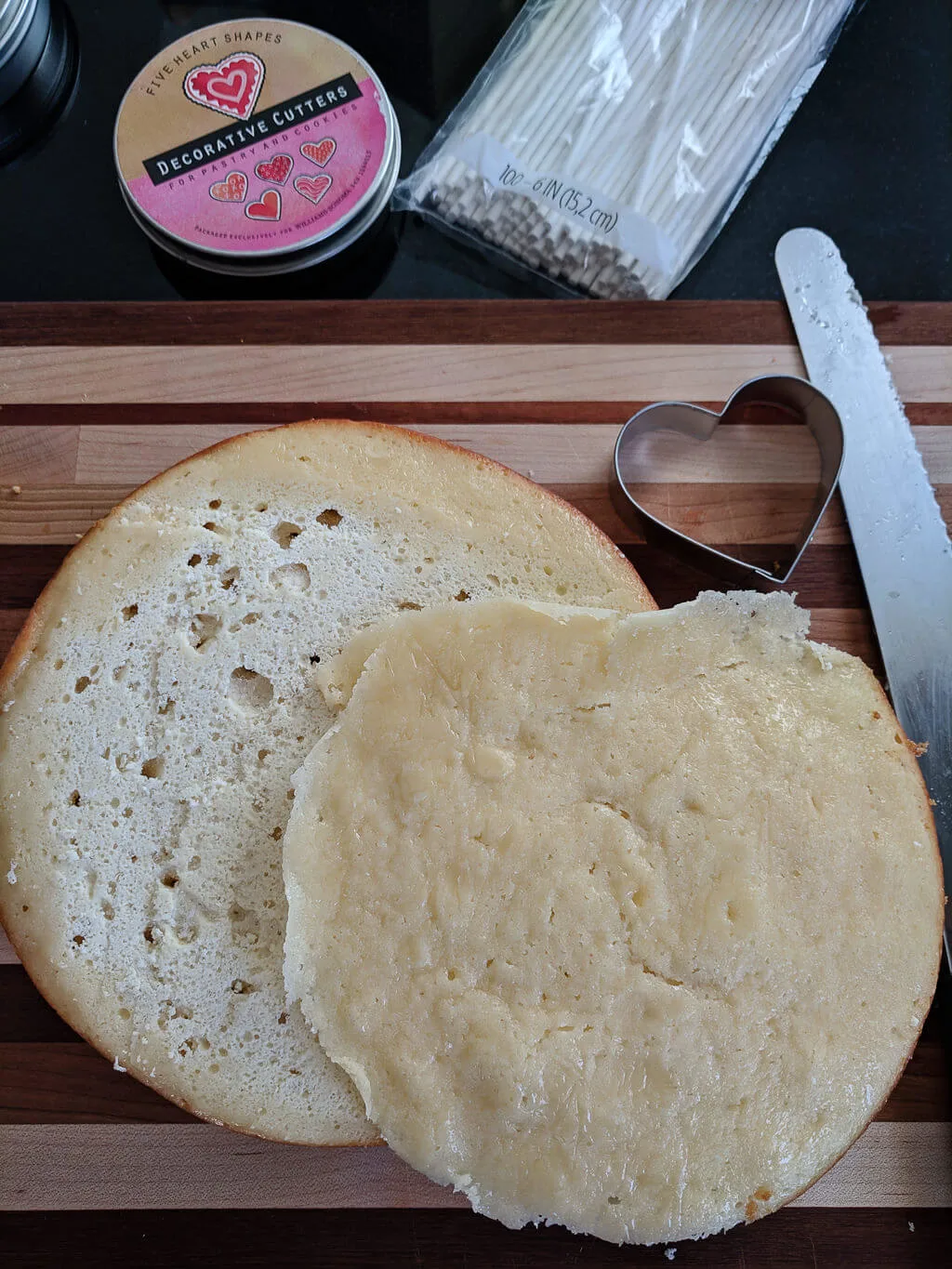 Cut hearts out of the cake using heart-shaped cookie cutters.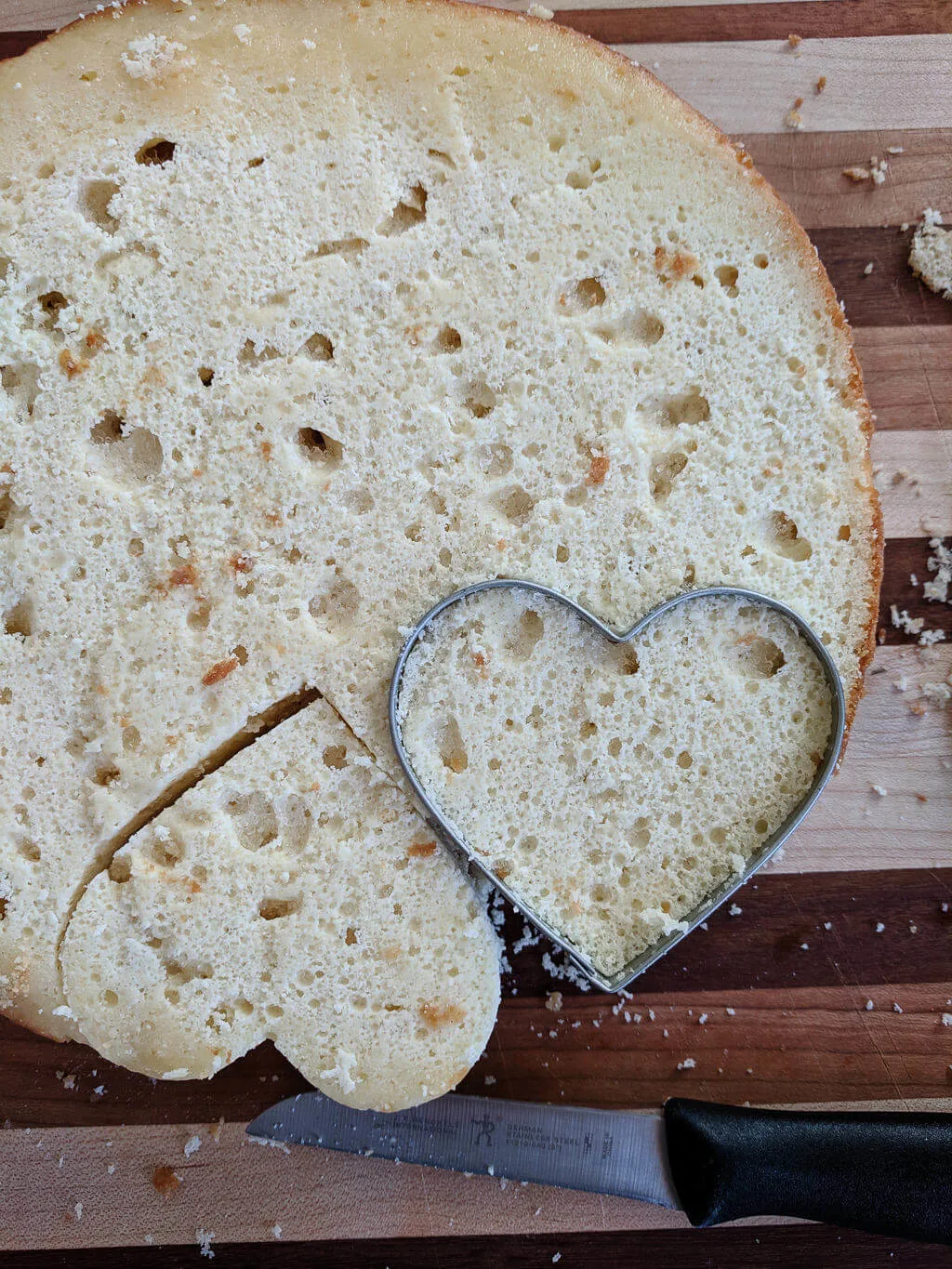 Step 2: Melt pink chocolate candy melts and spoon over cakes
Melt the pink chocolate candy melts. I like using a chocolate candy melting pot because it keeps the melting chocolate warm while you work, but you can also melt it following the package instructions. Pour over the cakes using a silicone spatula. We only had a half-bag of melting chocolate so I let the extra melted chocolate run back into the pot. This method meant that I got some crumbs into my coating chocolate, so if you have enough chocolate I would recommend doing this step on a wire rack instead. We just didn't have any extra chocolate to waste.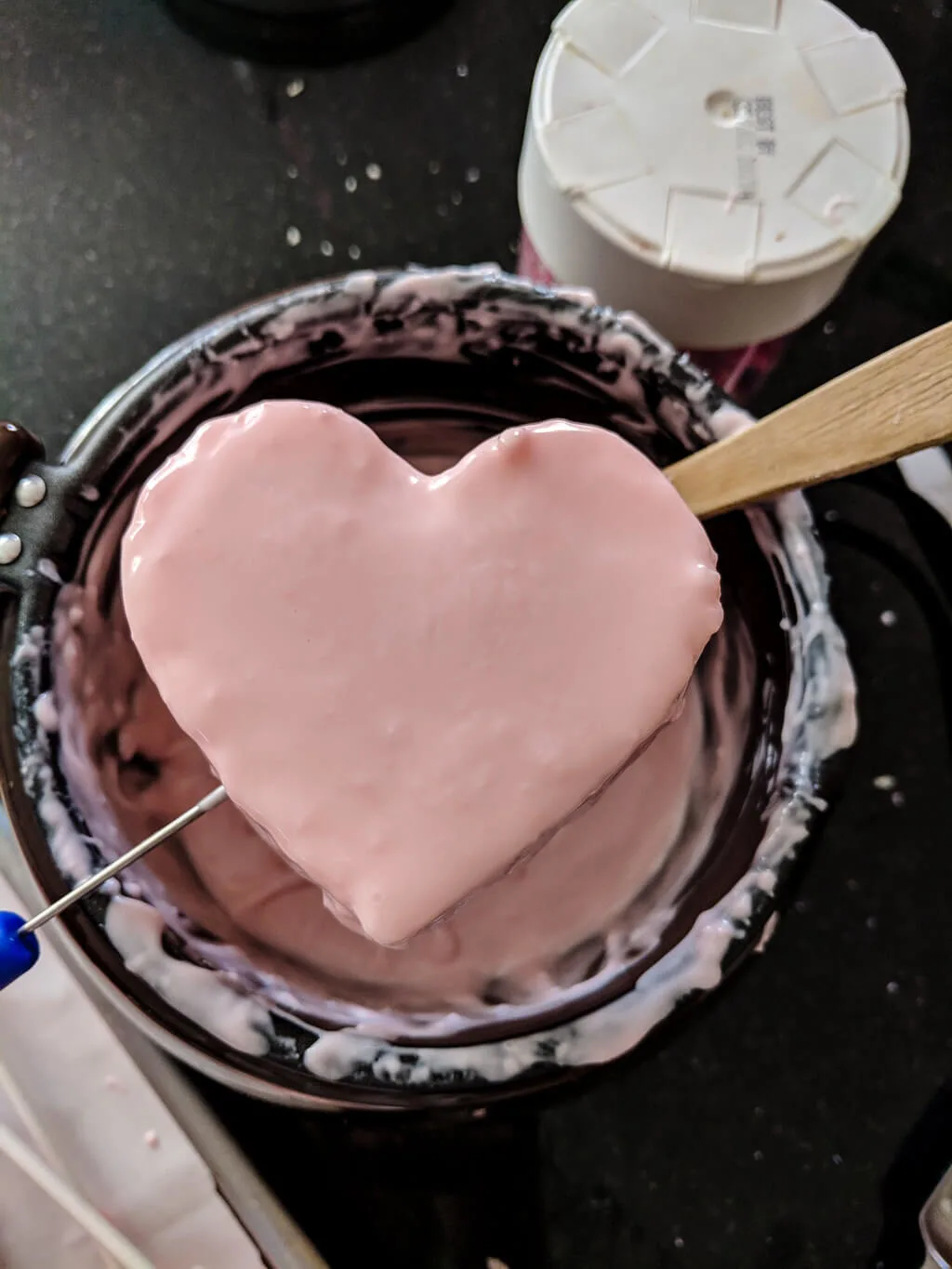 Step 3: (Optional) Decorate using fondant letters
Pop the mini heart cakes into the freezer to set. While the chocolate is hardening, cut out fondant letters for your sweeties using small alphabet cookie cutters. Then affix to the top of the cakes using a little bit of melted chocolate and cool again.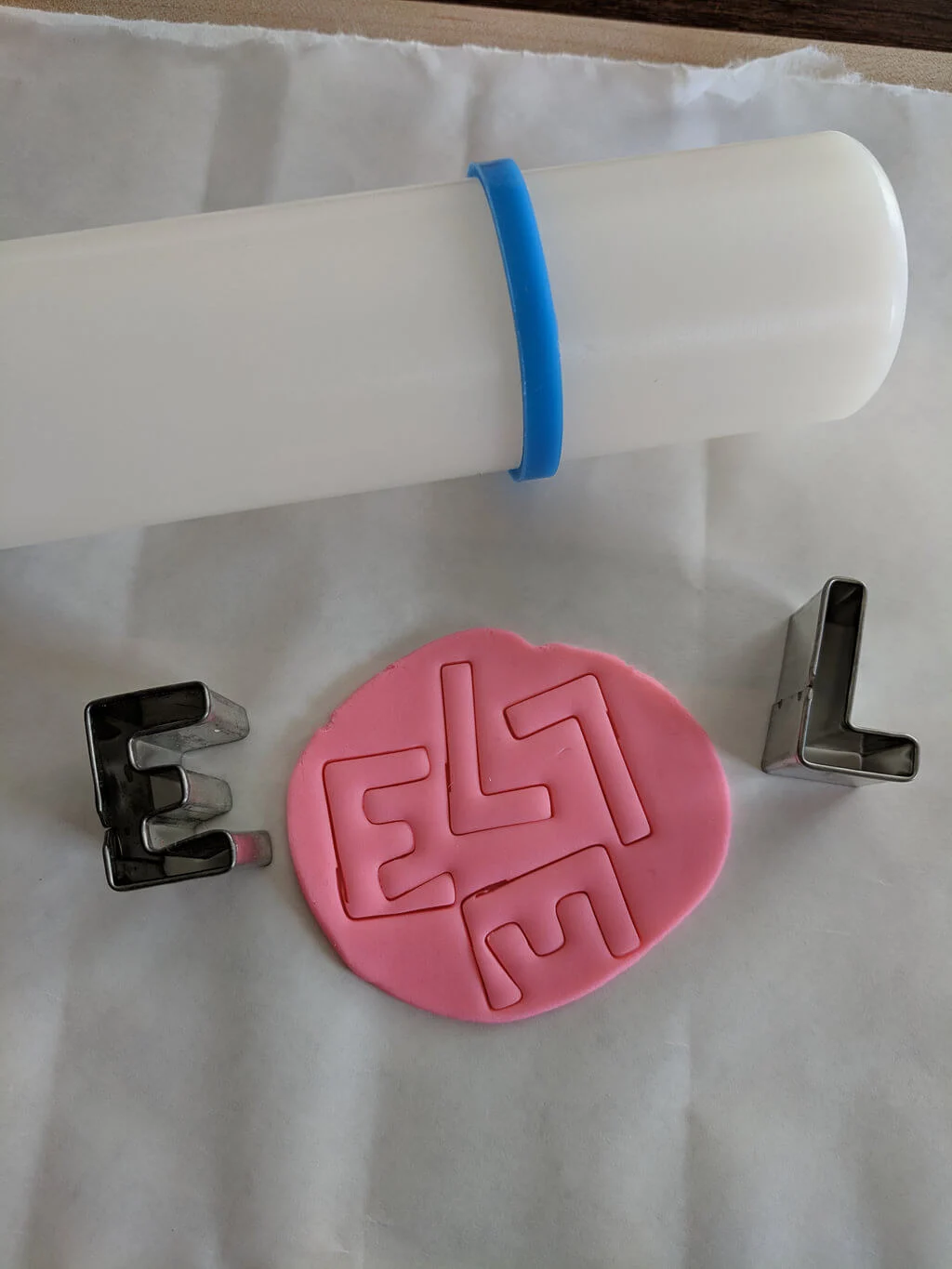 ++++++
Be sure to pin this mini heart cakes project for later: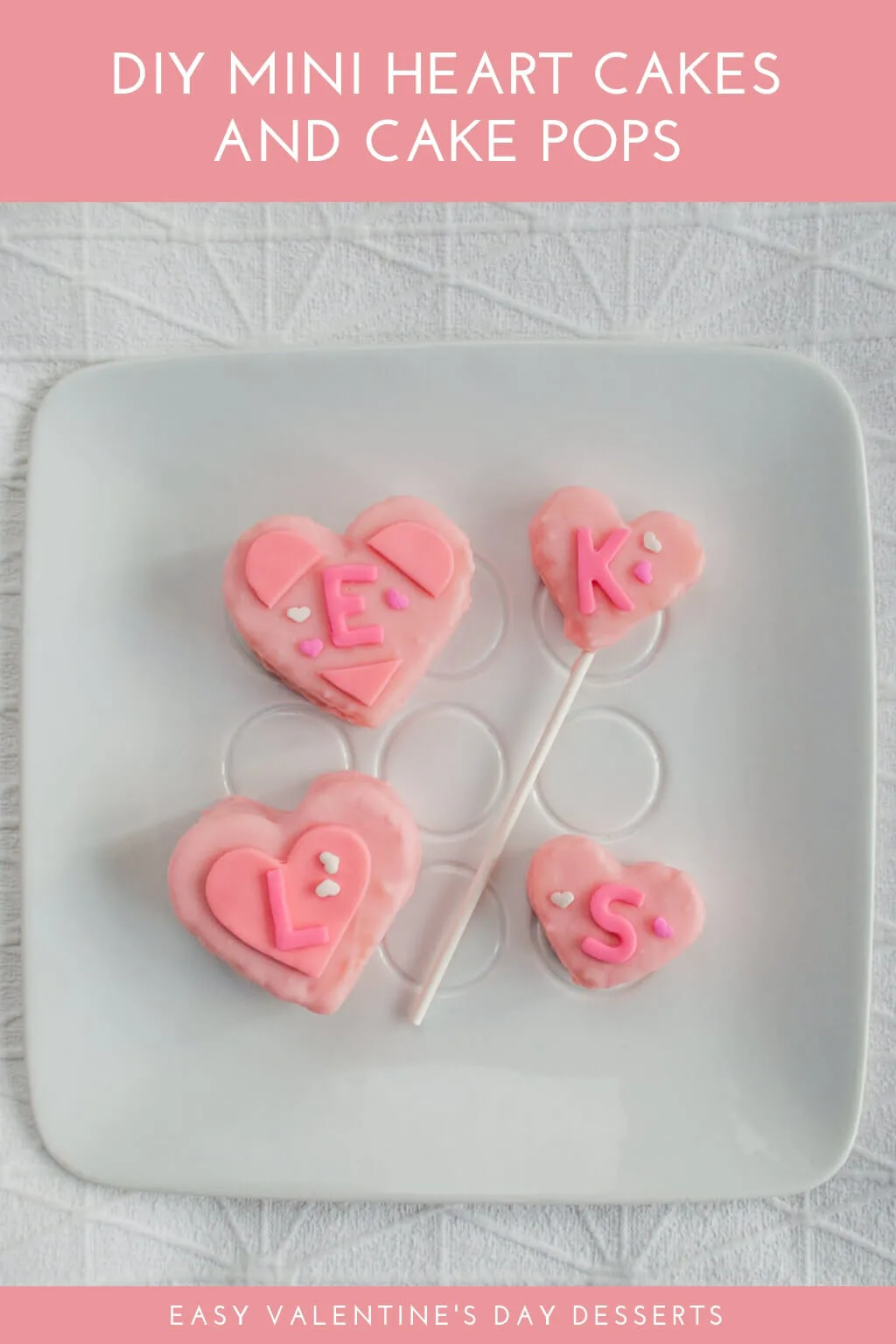 ++++++
And see more easy Valentine's Day DIY projects like my DIY paper heart bracelets kid's Valentine's Day craft project, DIY Valentine's Day card made from recycled magazines, and this Sriracha salt hot n' spicy DIY Valentine's Day gift.
—
Like it? Share it!
The nicest way to say you like it is to pin it on Pinterest, post a comment, follow Merriment Design on Facebook, Pinterest, Instagram or sign up for monthly emails. Enjoy! 🙂
Copyright stuff: You're more than welcome to use this free project and tutorial for personal use. Contact me for commercial use and Etsy sales.