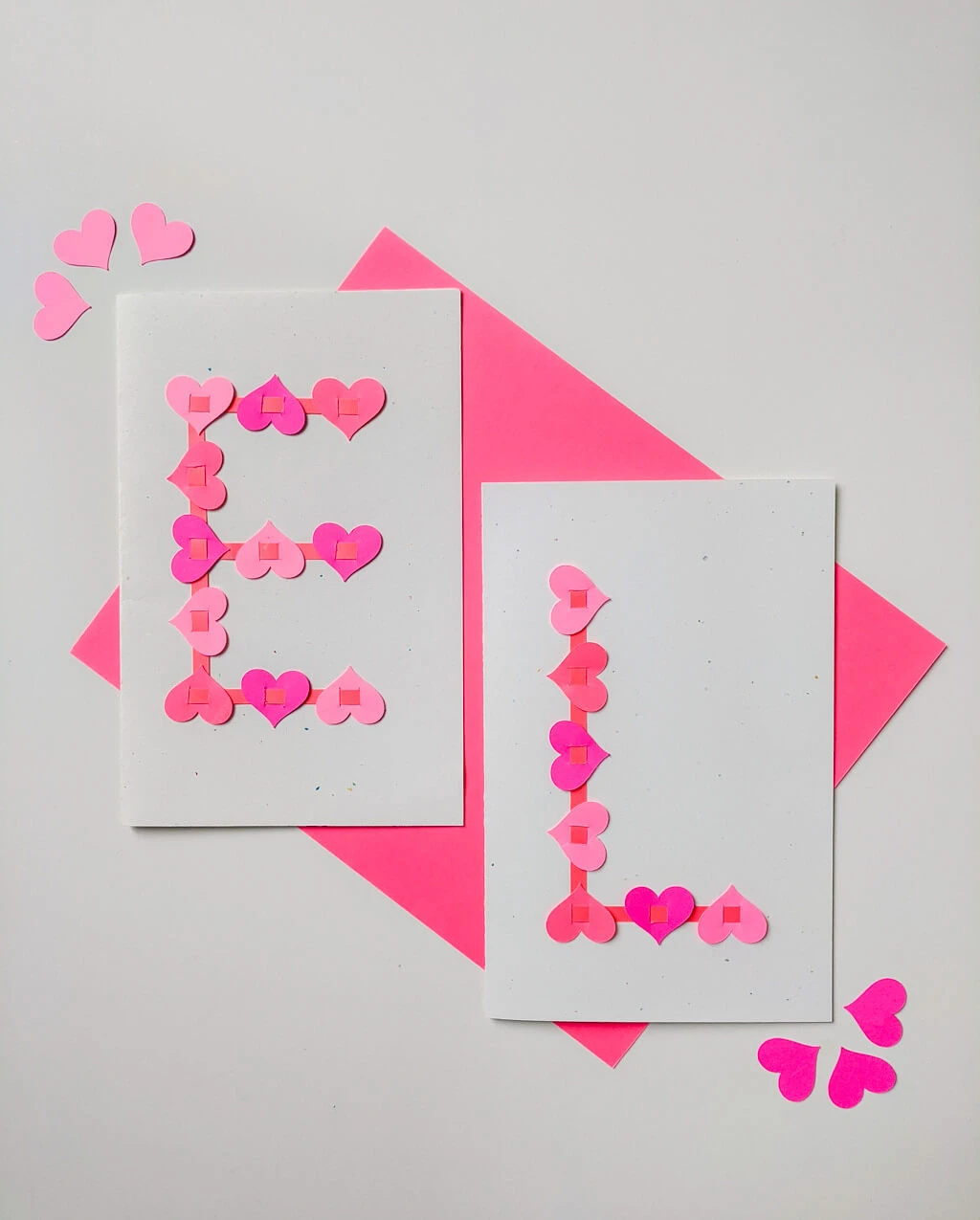 I really love these simple heart alphabet letters that I turned into handmade Valentine's Day cards for the kids. Not only is the woven-heart look pretty cool looking but they were also super easy to make. See how to make your own personalized heart letter initials to make cards or wall art for Valentine's Day.
Making handmade Valentine's Day cards is becoming an annual tradition. I used to buy Valentine's Day cards but honestly, they're so easy to make. Some of my handmade Valentine's Day cards have been better than others but most of them turn out pretty well. And these simple heart alphabet letters look pretty special. Handmade cards send the most love!
See also: 'XOXO Valentine's Day card printable for him or her' »
This handmade Valentine's Day card has a woven look to it that I really love. I cut two small slits into each of the paper hearts so that they slide onto the strips of paper that make up the alphabet letters.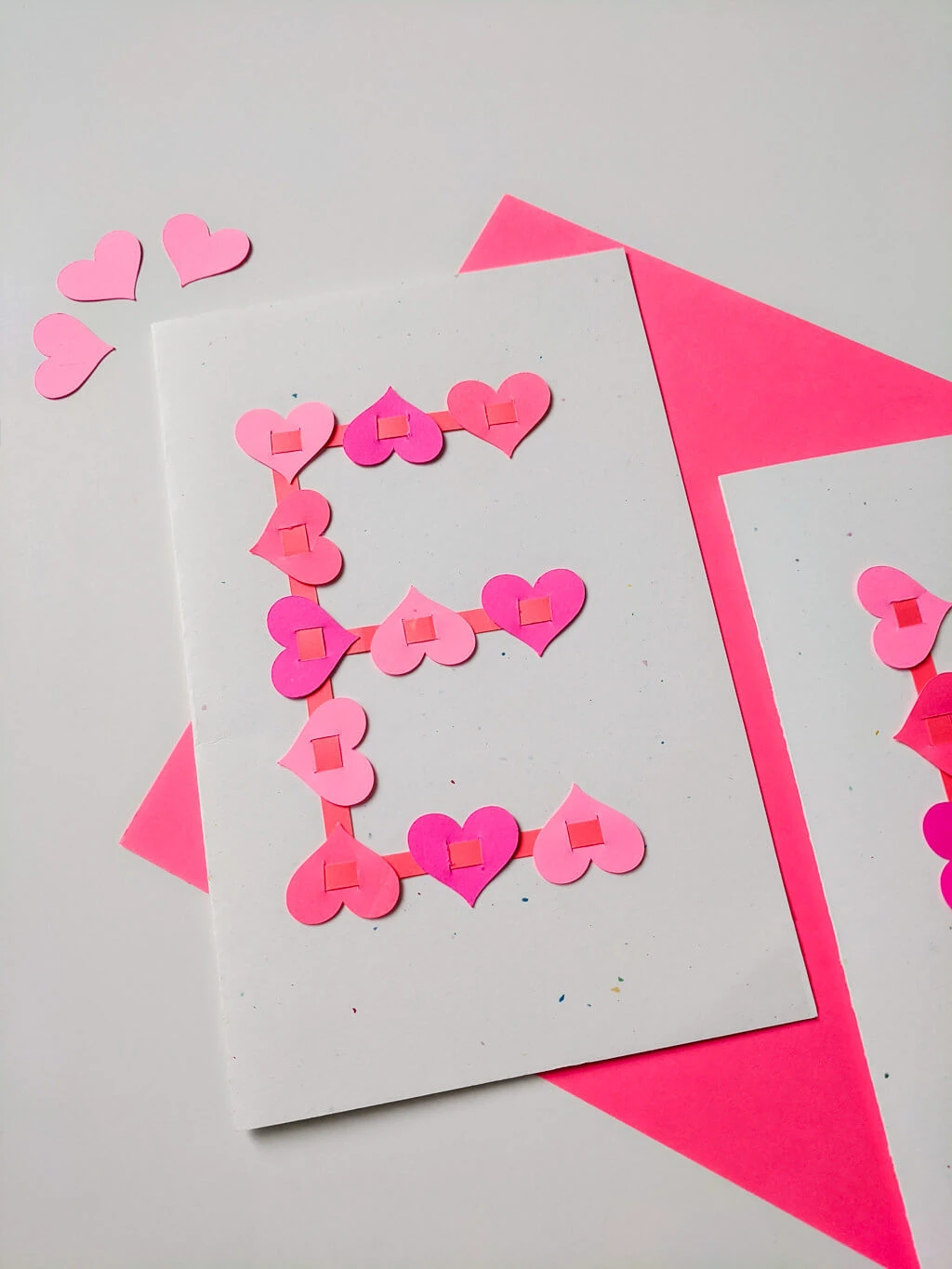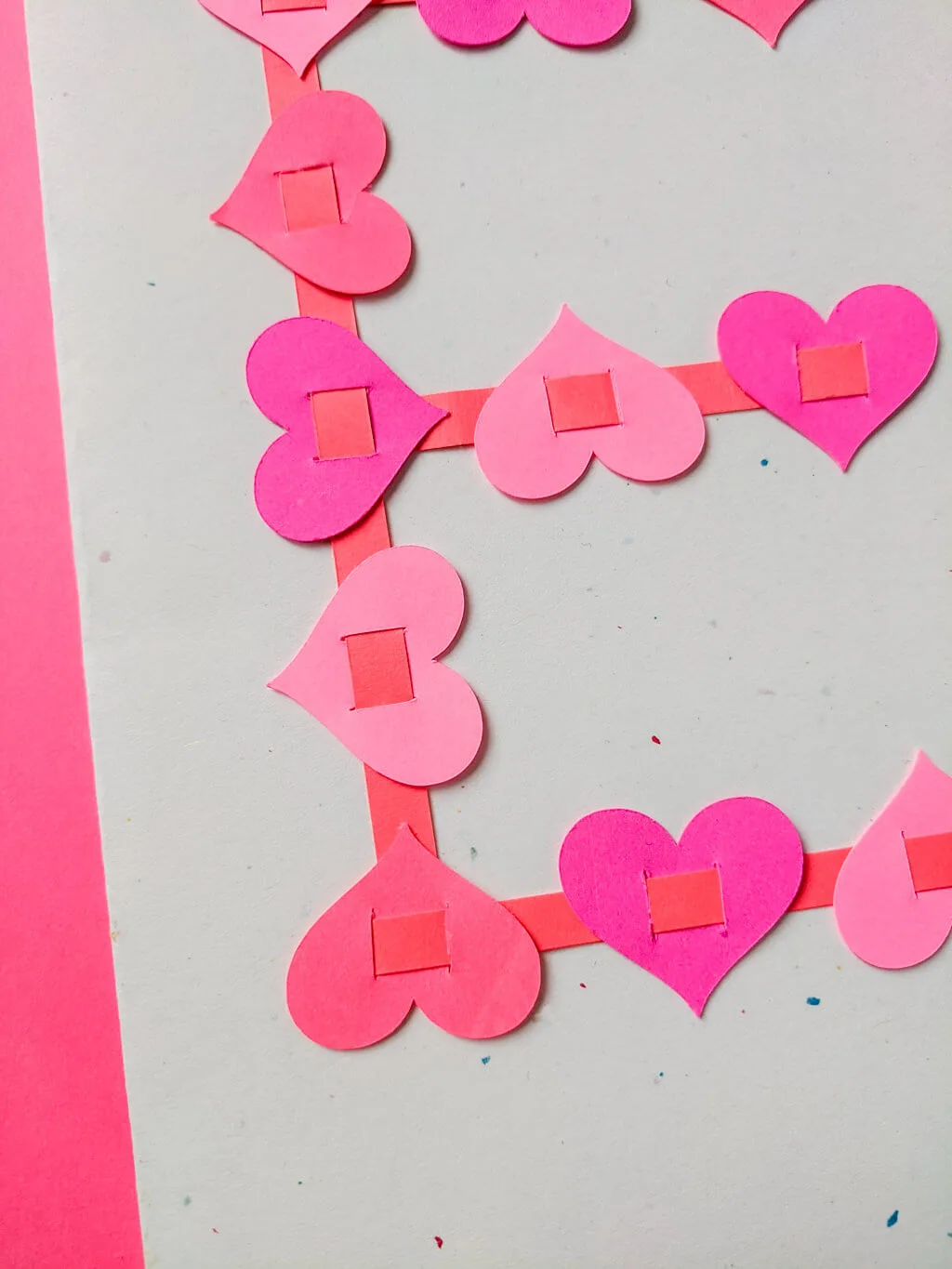 Make heart alphabet letter handmade cards for your sweeties
I made these heart alphabet letters into simple, personalized Valentine's Day cards for Elise and Liam. I used confetti white paper for the card itself, and then I added a heart letter initial "E" for Elise….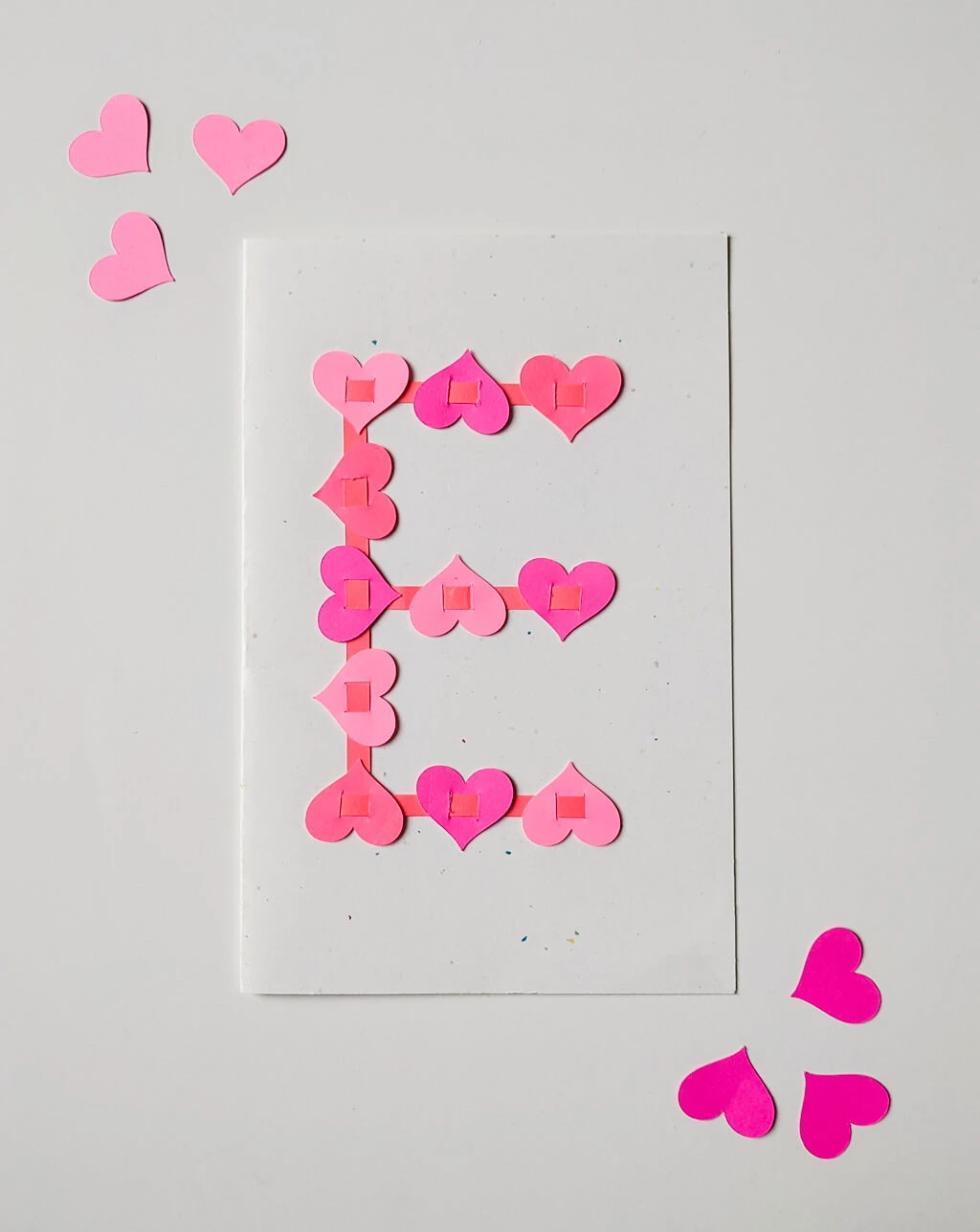 And a heart letter initial "L" for Liam.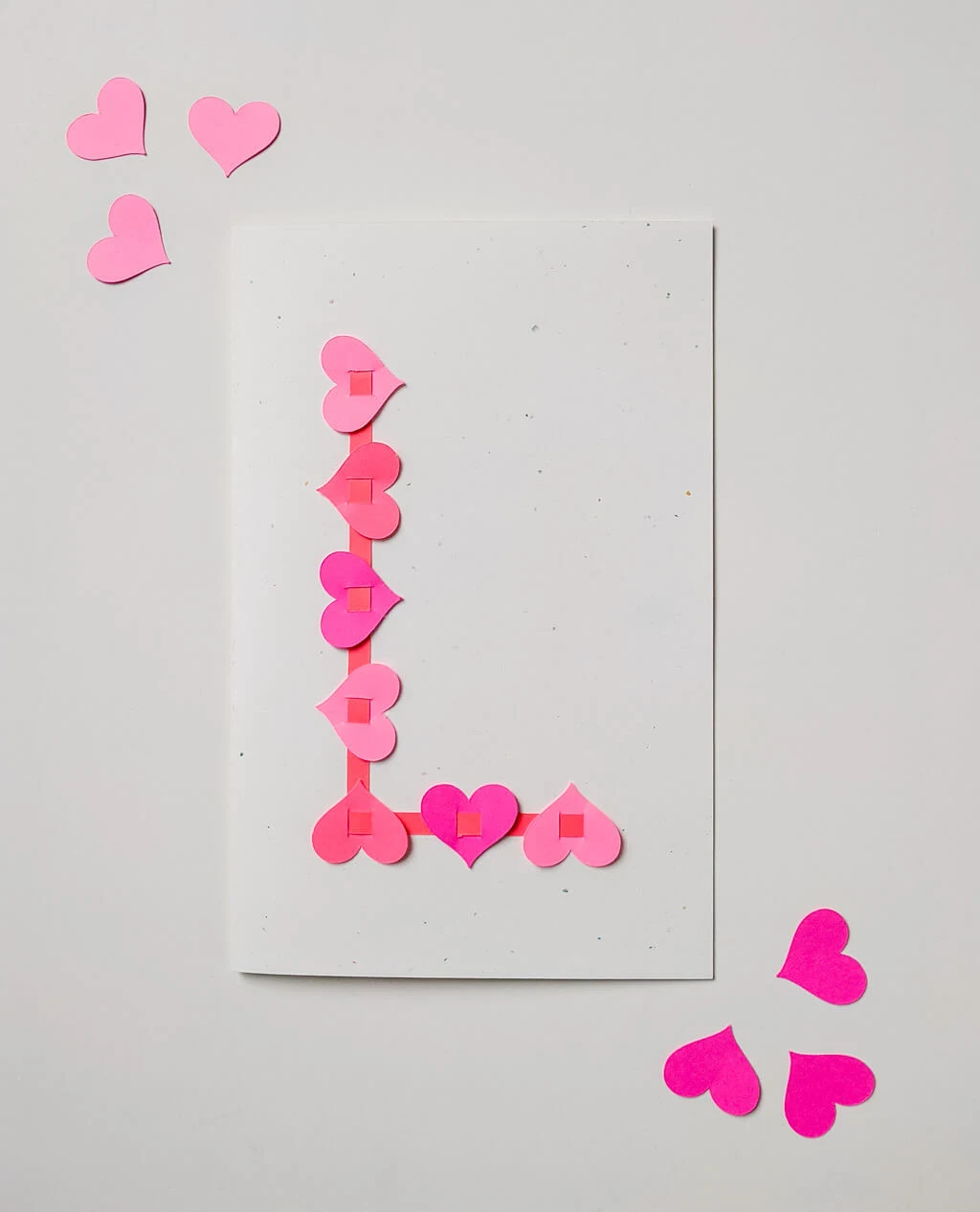 Weave paper hearts onto paper strips
Do these woven hearts look familiar? They're the same ones that I used to make these handmade paper heart bracelets craft for Valentine's Day with Elise. I had some extras hearts from that project, which is what inspired this heart alphabet letter handmade cards idea. You'll use the same weaving technique that we used on her bracelets.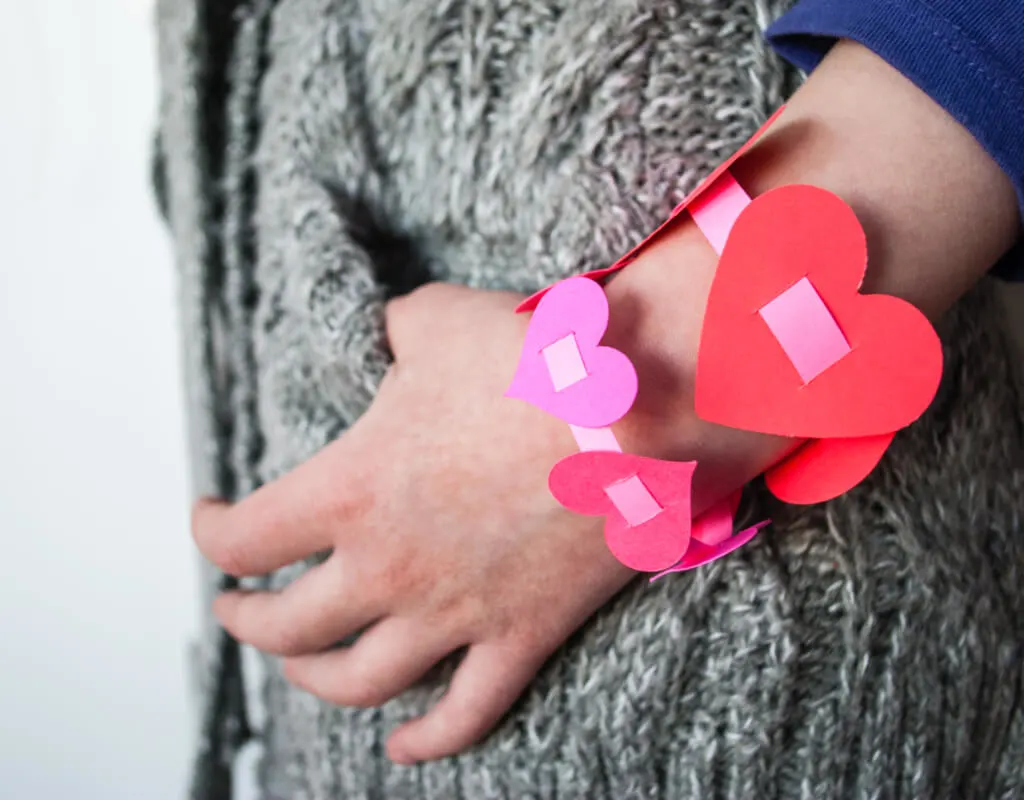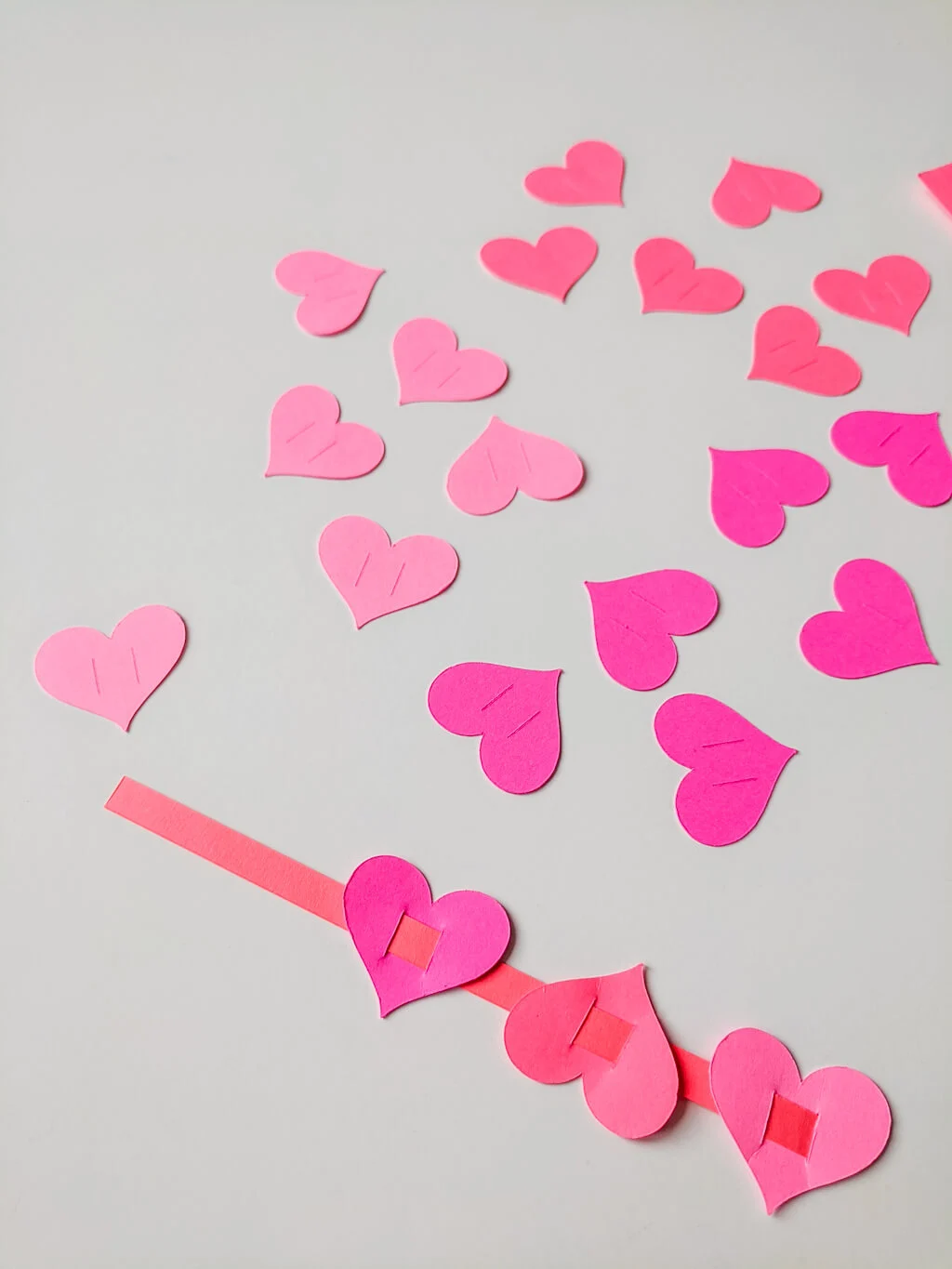 Turn heart alphabet letters into DIY Valentines wall art
I'm a big fan of seasonally changing out wall art. You could totally frame these personalized heart alphabet letters to make DIY artwork for your wall. Make a letter for every family member, pop them inside white frames, and hang them on the wall. Give this Valentine's Day craft project a try!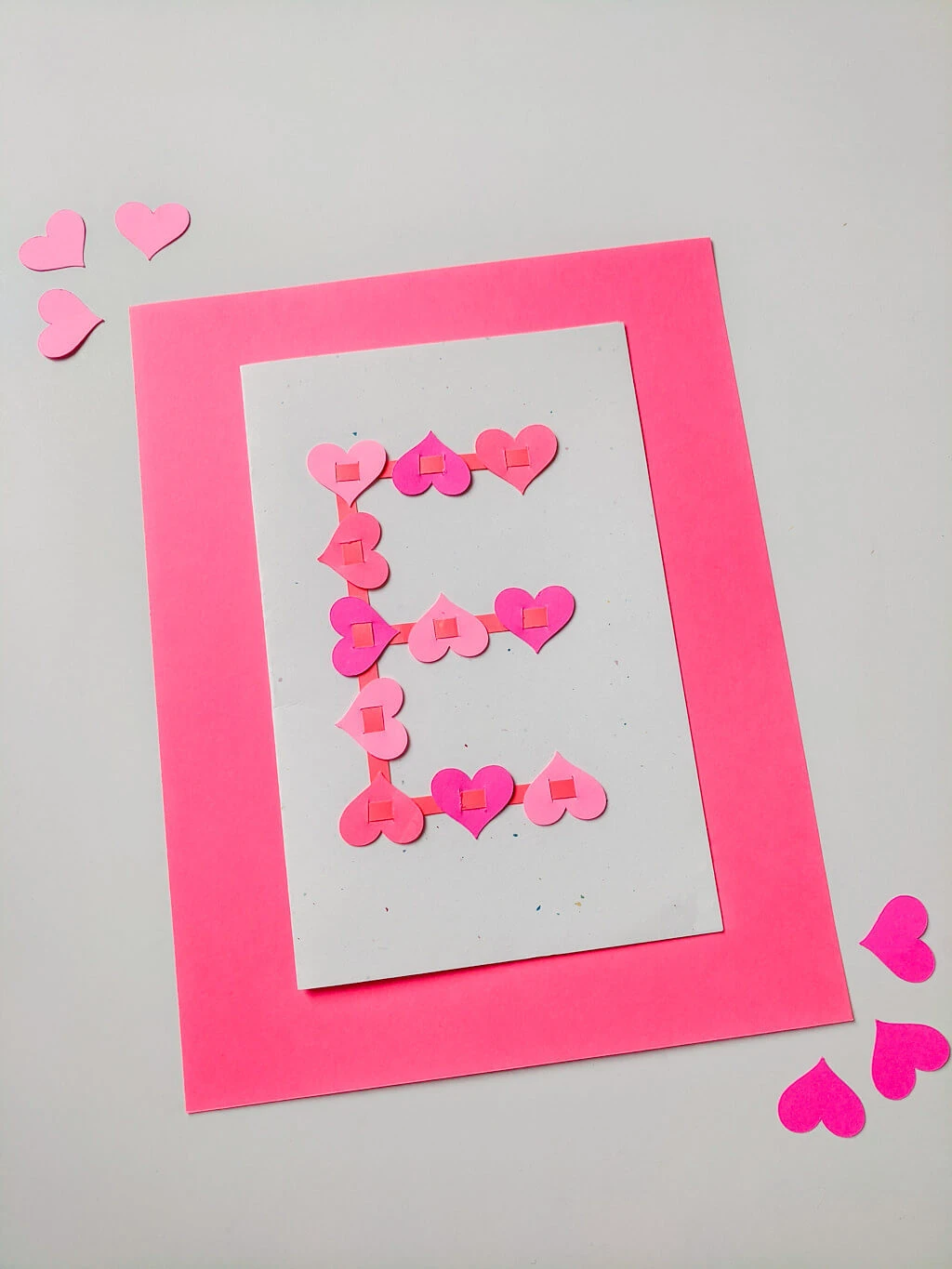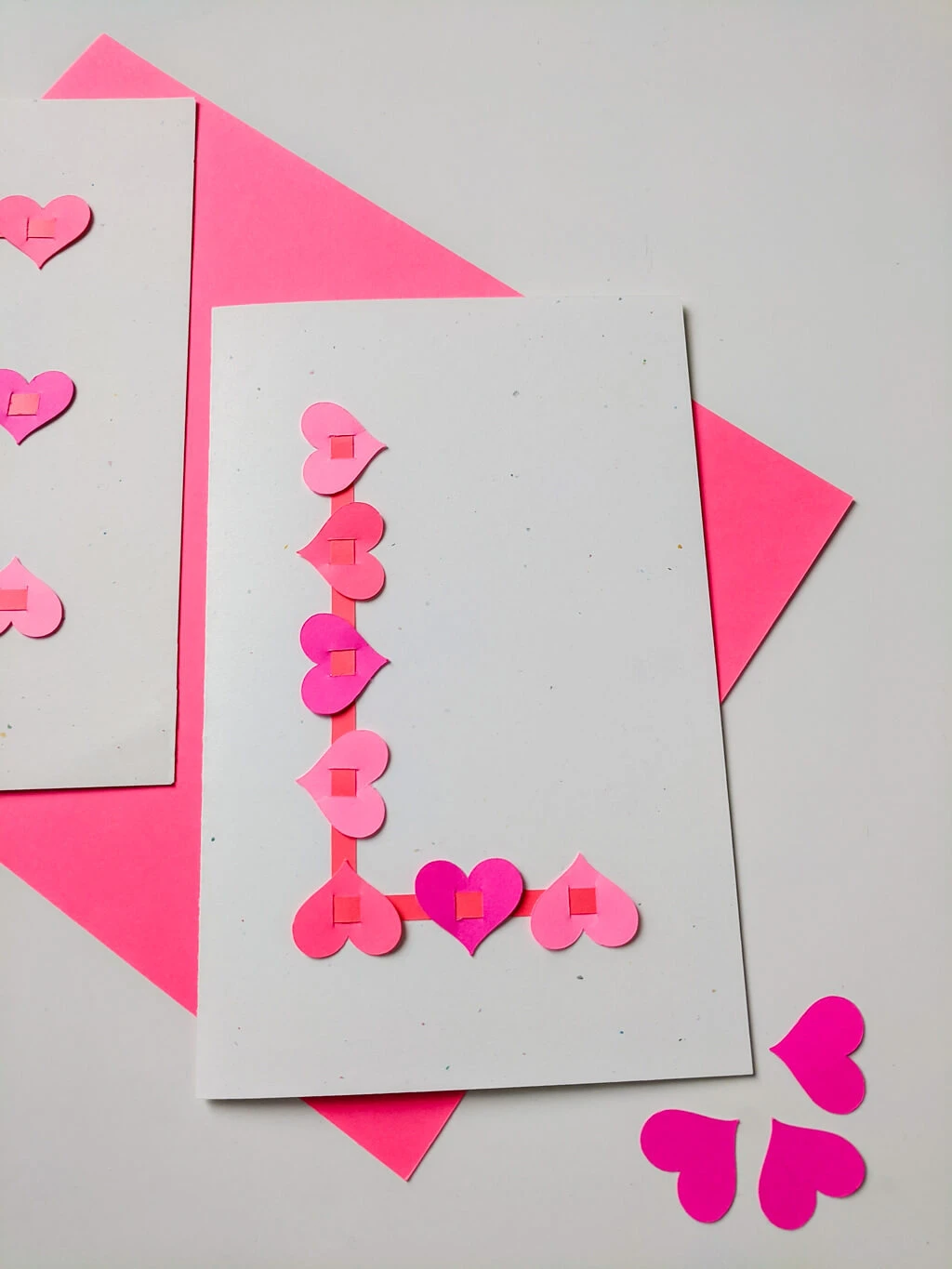 Merriment Design is supported by readers like you. If you buy products that I recommend, I may earn an affiliate commission at no additional cost to you. Thanks – your clicks help me make more free DIYs!
++++++
Supplies for making paper heart alphabet letters for Valentine's Day:


++++++
How to make paper alphabet letters from hearts for Valentine's Day:
Step 1: Fold white paper in half and cut out paper hearts
Fold your white cardstock paper in half lengthwise. I used confetti white cardstock paper but you can choose to use plain bright white cardstock paper. Then cut out paper hearts either using a heart paper punch or by downloading my heart template file (PDF). If you have a paper cutting machine you can email me for the SVG file. I used three colors for my hearts using my favorite colored cardstock paper, Astrobrights. This is not a sponsored post for Astrobrights although I do partner with them; I just love their paper and use it on my own, too.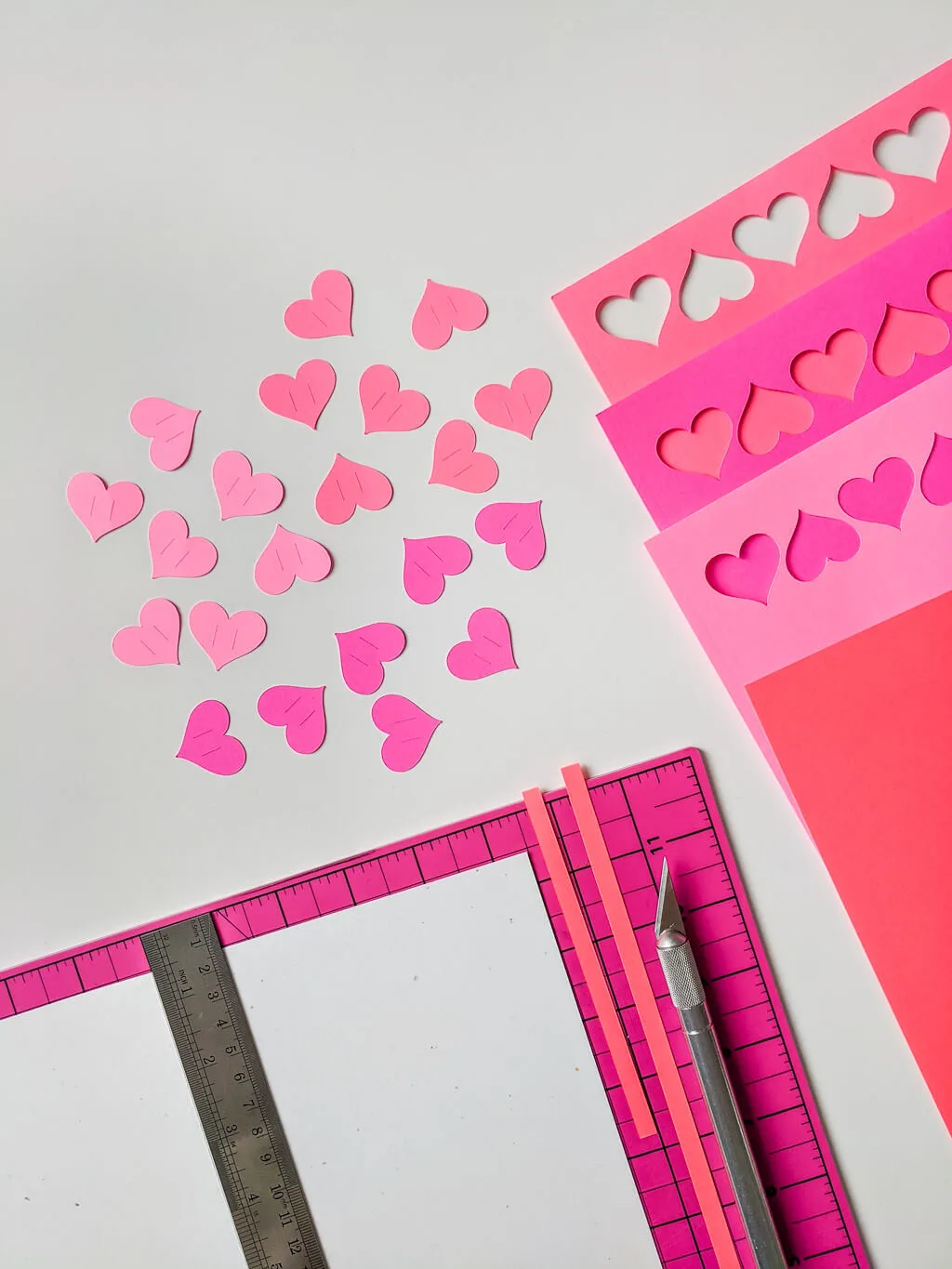 Step 2: Shape your alphabet letters to fit the card front
Cut thin strips of cardstock paper, see my template or cut them slightly less than 1/4″ wide. It needs to be cardstock paper so that it's thick enough to weave without bending. Then cut the strips so that they'll form a letter that will fit onto the front of the card. Admittedly, this craft is easier for letters that use straight lines rather than curves. For curved alphabet letters, you could go for more of a Greek look by using angles instead of curves.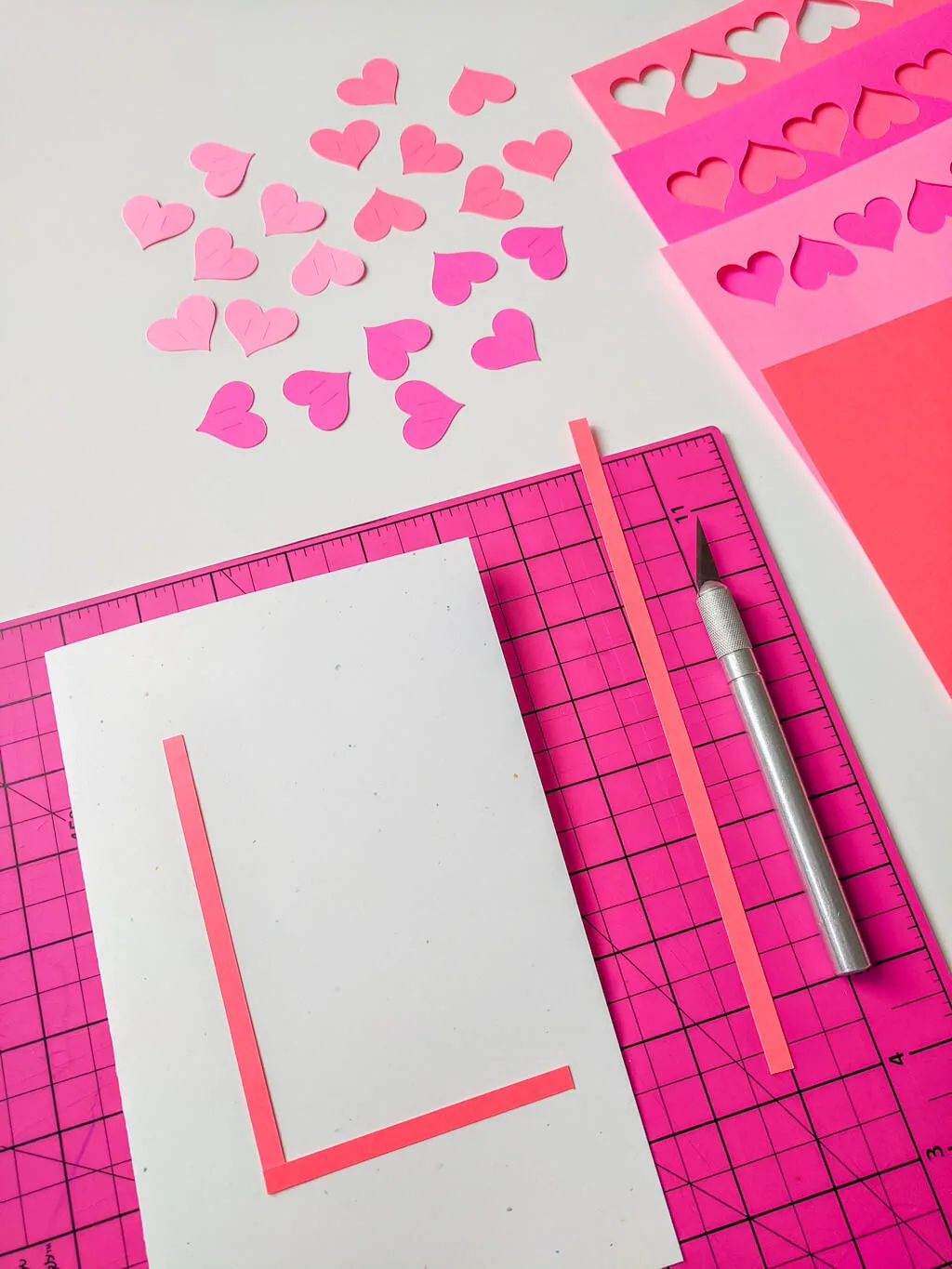 Step 3: Thread colorful hearts onto the paper strips
Cut two slits into each paper heart using a Craft knife and self-healing mat. This step is quicker if you have a paper cutting machine and use an SVG file, just contact me for that file. Then carefully thread the hearts onto the cardstock paper strips, alternating colors and directions.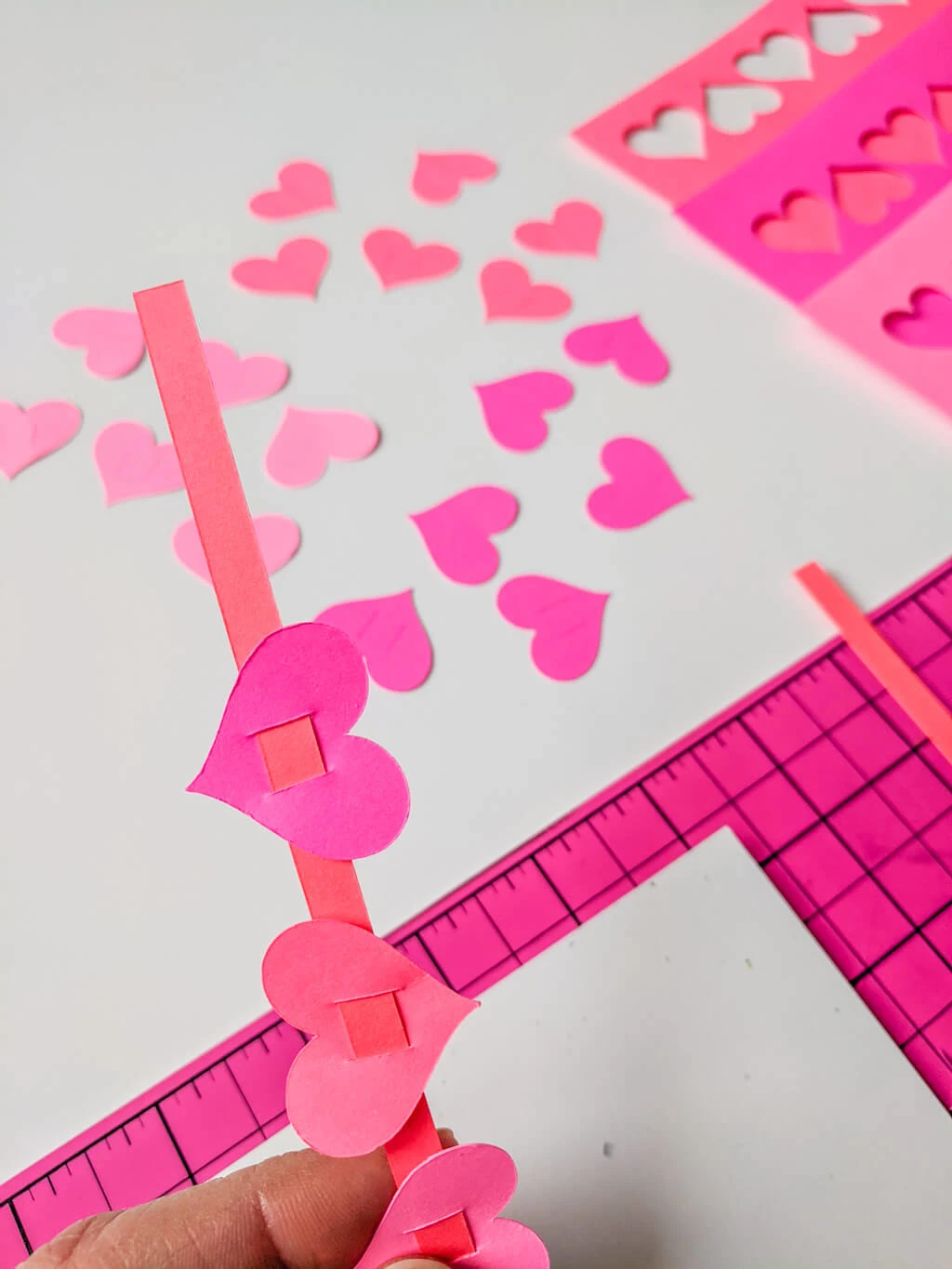 Step 4: Glue the heart alphabet letters to the Valentine's Day card
Measure again where the letters should come together, then attach using a glue stick.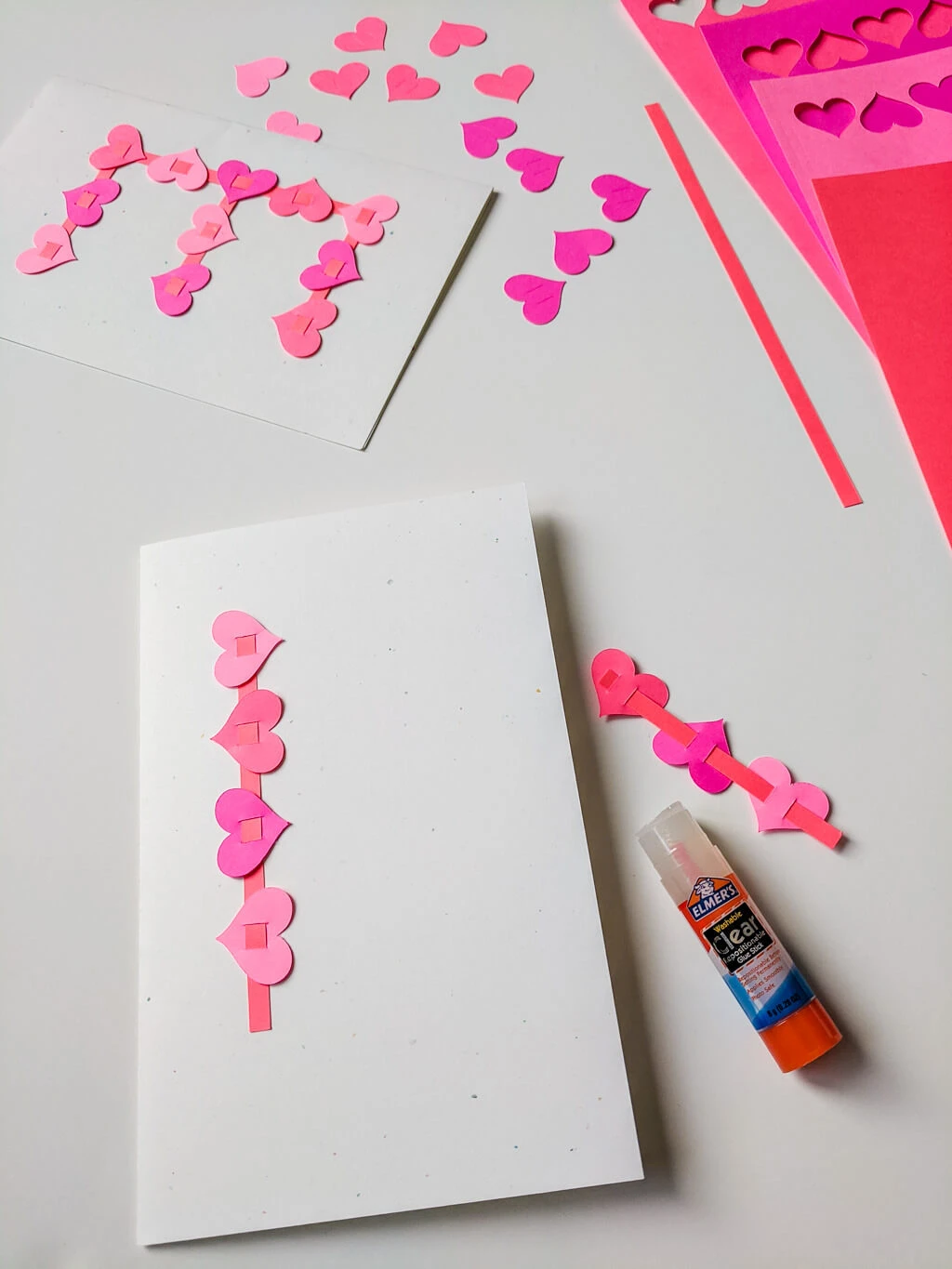 ++++++
Be sure to pin this heart letter alphabet Valentine's Day craft: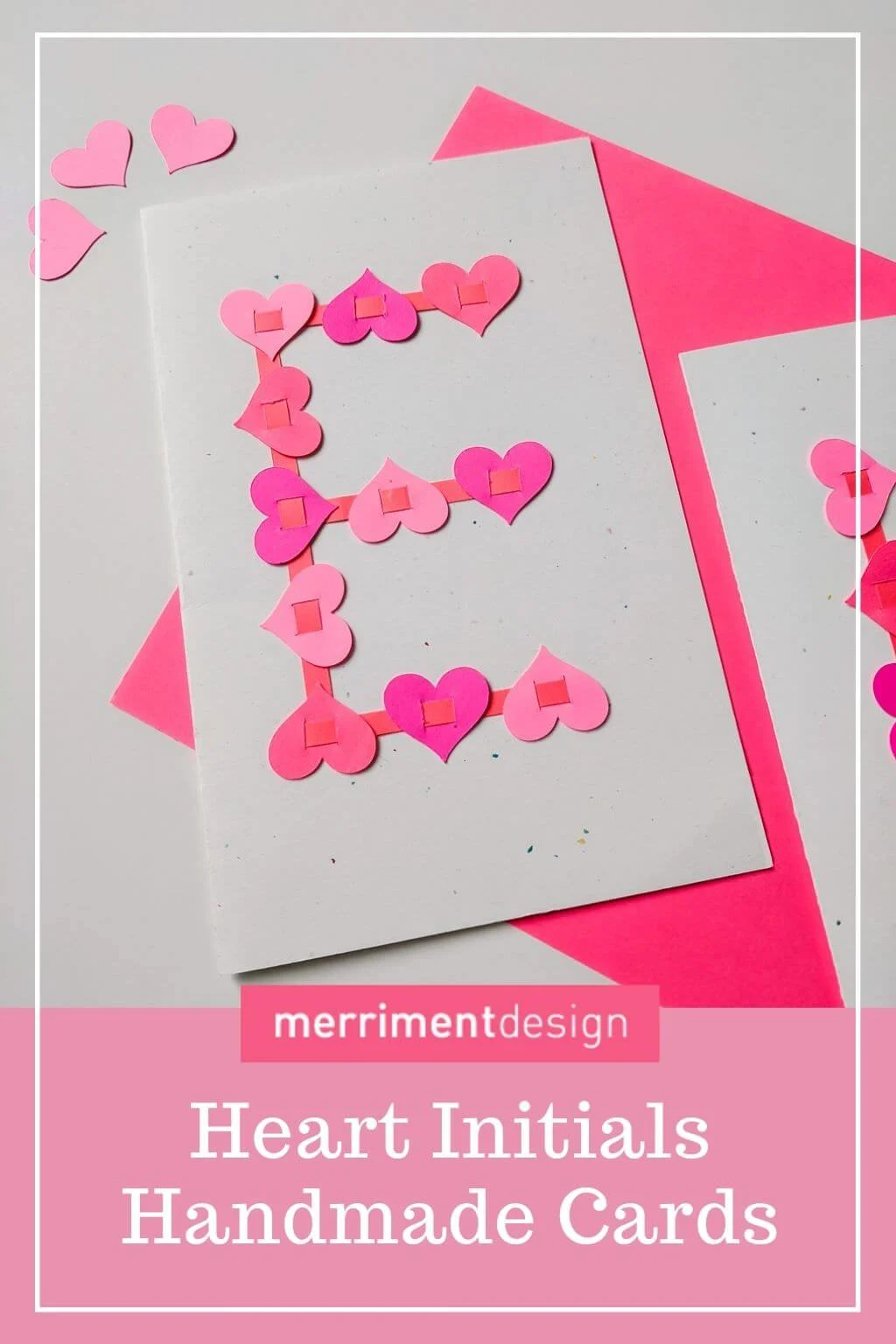 ++++++
And see more Valentine's Day crafts like this XOXO valentine card, handmade Valentine from recycled magazines, and easy Valentines desserts like these mini heart cake pops and chocolate-covered strawberry hearts.
—
Like it? Share it!
The nicest way to say you like it is to pin it on Pinterest, post a comment, follow Merriment Design on Facebook, Pinterest, Instagram or sign up for monthly emails. Enjoy! 🙂
Copyright stuff: You're more than welcome to use this free project and tutorial for personal use. Contact me for commercial use and Etsy sales.