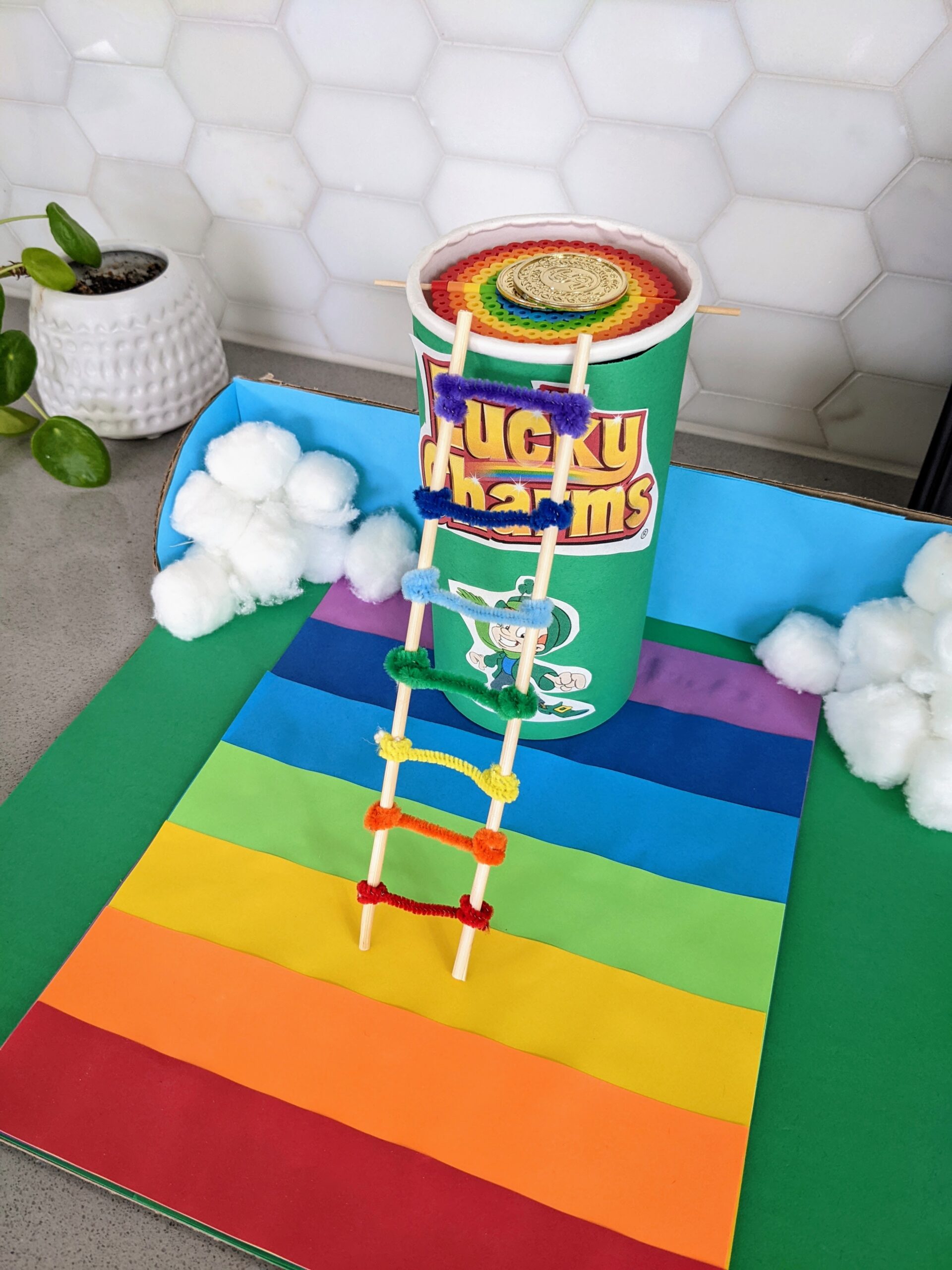 Ah, the leprechaun trap – a simple machine that kids make to try to capture elusive, gold-loving tiny leprechauns. It's kind of like a mouse trap but with a whole lot more rainbows! Leprechaun traps have one purpose: to creatively lure in leprechauns so they'll take you to their pot of gold coins hidden at the end of the rainbow.
My 9-year-old kid, Liam, designed this simple leprechaun trap himself! My favorite part is his rainbow trap door made from Perler beads and toothpicks. Liam's leprechaun trap idea is easy and fun to make, and perfect for elementary school kids. So, gather your supplies and let's get started. Who knows, you may just end up with new pet leprechaun and a whole lot of gold coins this St. Patrick's Day! ☘️🌈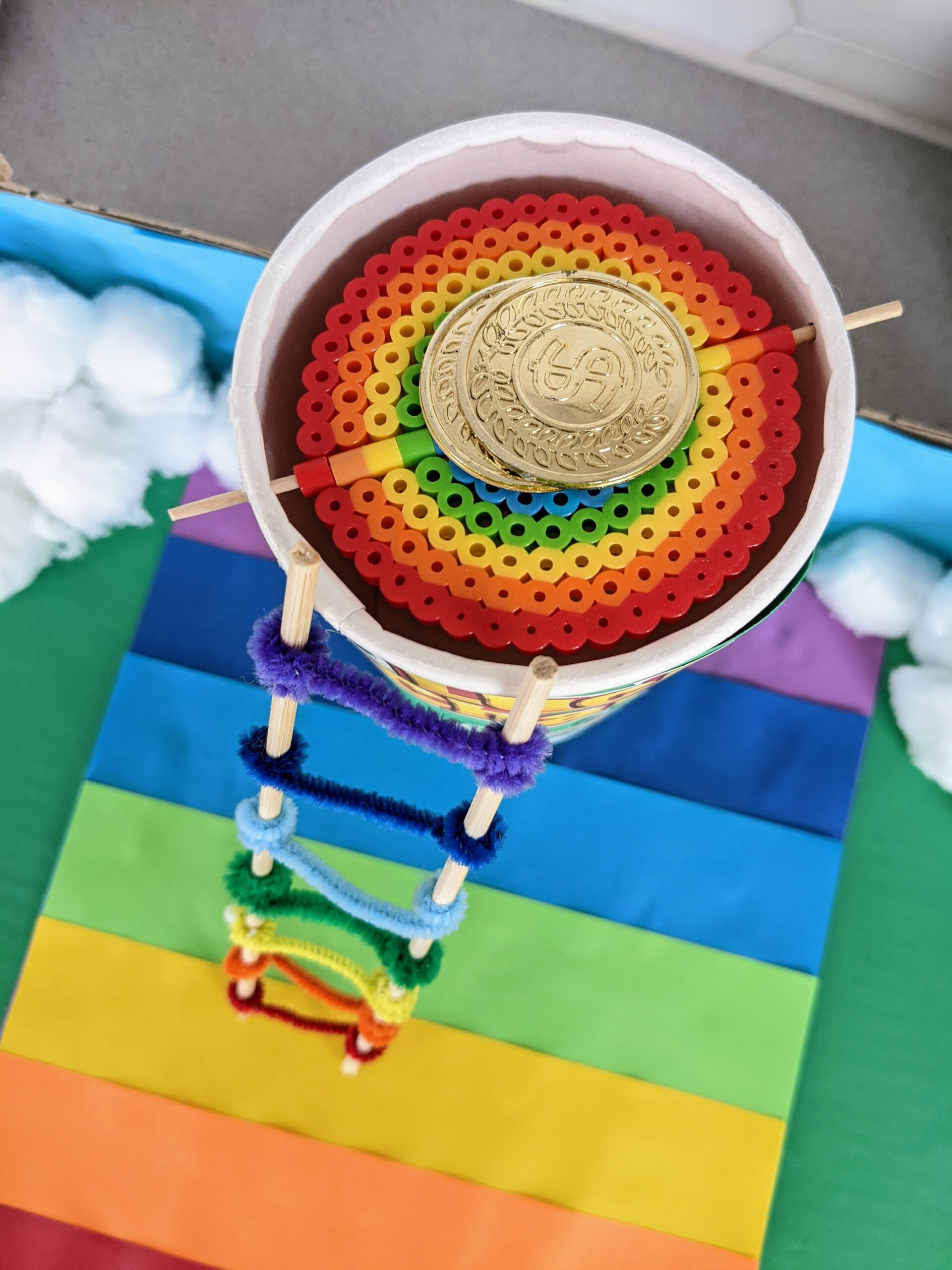 See also: How to make DIY St. Patrick's Day necklaces and pins from Shrinky Dinks >
What is a leprechaun trap?
A leprechaun trap is a popular STEAM project that kids make as a fun and imaginative way to capture a leprechaun. Building a leprechaun trap teaches kids about simple machines like levers, wheels, pulleys, inclined planes, screws, and wedges. Leprechauns are mythical creatures from Irish folklore often portrayed as mischievous beings who love gold coins. The educational idea behind a leprechaun trap is to have kids build something using simple machines to attract a leprechaun and then prevent it from escaping. Kids typically make leprechaun traps with household items as a fun St. Patrick's Day craft activity.
VERY IMPORTANT LEGAL DISCLAIMER: Please be advised that making a leprechaun trap is meant to be a creative STEAM experience for kids, and is not intended nor guaranteed to capture real, live leprechauns. 😜
How to make a magical trap door to catch leprechauns
The hallmark of Liam's leprechaun trap design is his clever trap door. It's a rainbow circle made from Perler beads with toothpicks on each side, which STEAM fans know is a lever. And the ladder is an inclined plane. Science is fun, peeps!!
I wasn't surprised that Liam included Perler beads in his design. He's a huge Perler bead fan. But I was pretty impressed that he turned a Perler beads circle into a lever that swings when leprechauns step onto it to grab the gold coins.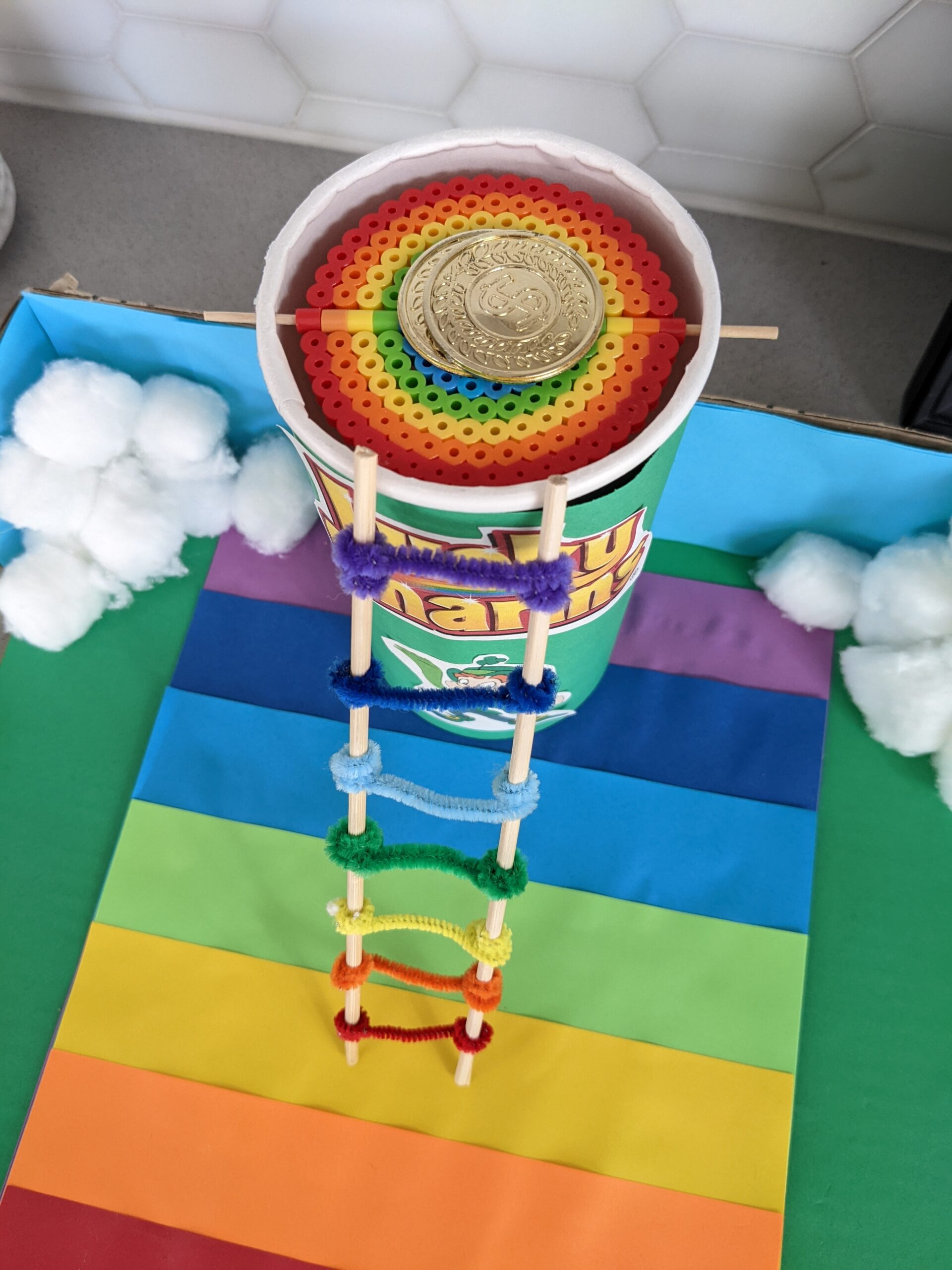 I'll be honest: I hadn't heard of leprechaun traps until Liam brought home the assignment from elementary school. And can I be even MORE honest? I was a little worried he'd expect me to design it for him (because I'm kind of a crafter, you know). But I'm happy to say that I was wrong! Liam planned and designed this contraption all by himself with very little help from Mom and Dad other than ironing the Perler bead trap door and helping him cut a cardboard base with a box cutter.
Here's Liam's original plan, pre-trap door which was added during the build phase: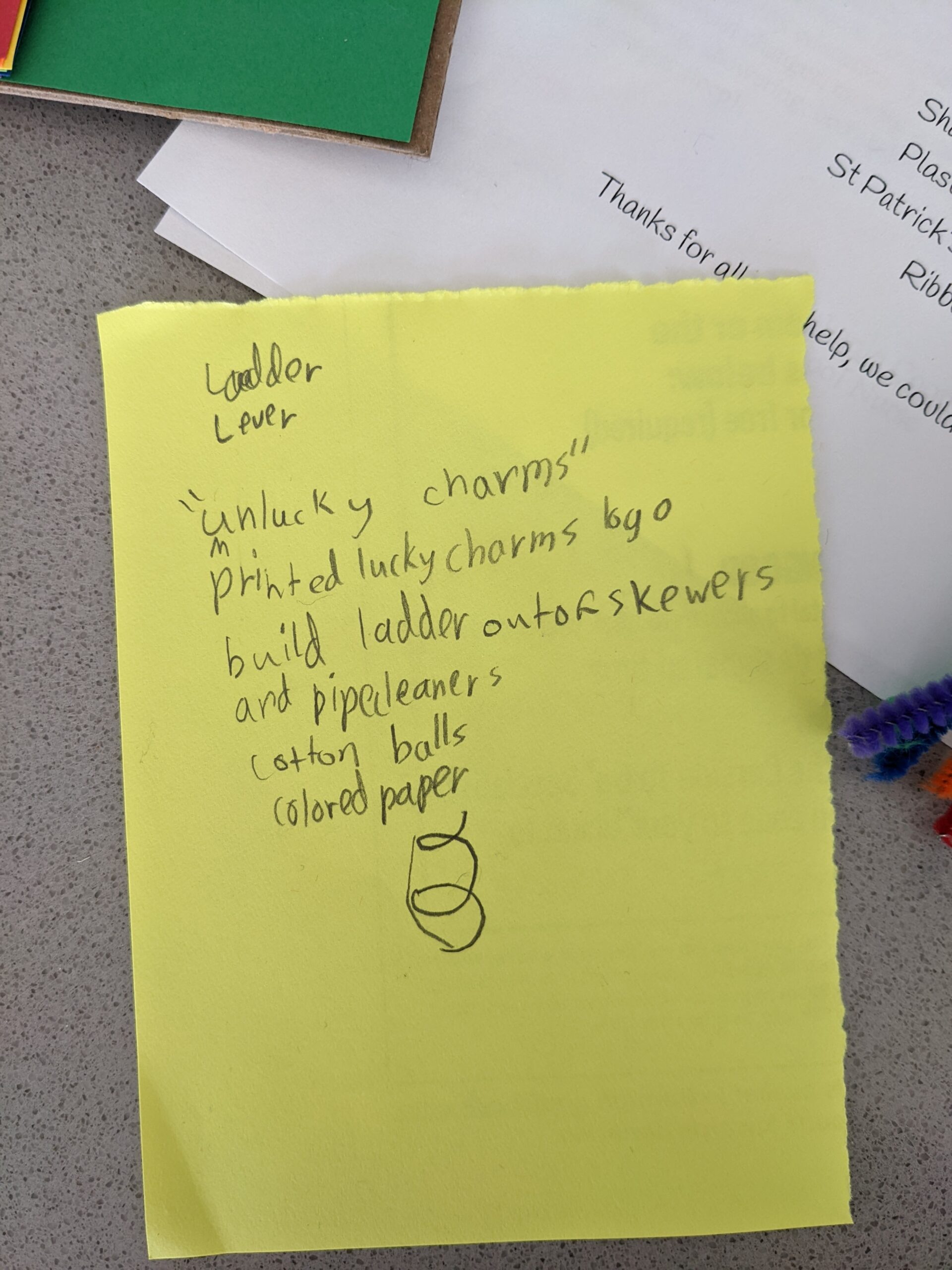 Liam calls it the 'Unlucky Charms' leprechaun trap because he said it'd be an unlucky day for the Leprechauns who get caught.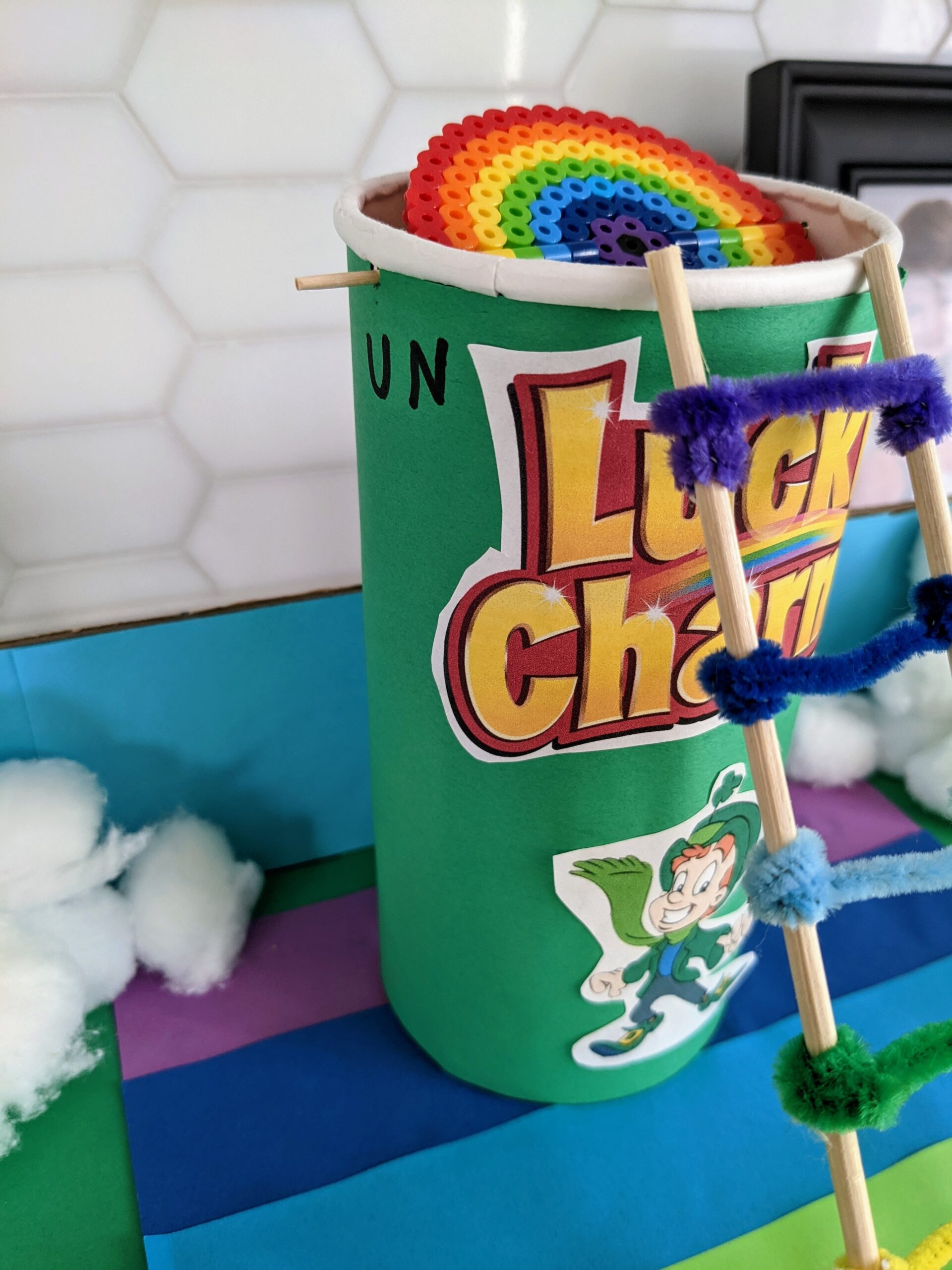 Supplies for making an easy leprechaun trap:
Empty cardboard cylinder (like from breadcrumbs or Pringles) and cardboard box from your recycle bin
Cotton balls (optional)
Fancy gold coins for bait ☘️
+++
How to make a leprechaun trap with a Perler bead rainbow trap door
Step 1: Make the Perler bead rainbow trap door
Use a circle pegboard to make two half rainbows connected with the middle purple center. Have an adult iron the Perler beads so they fuse together. You'll fill in the two gaps in the next step.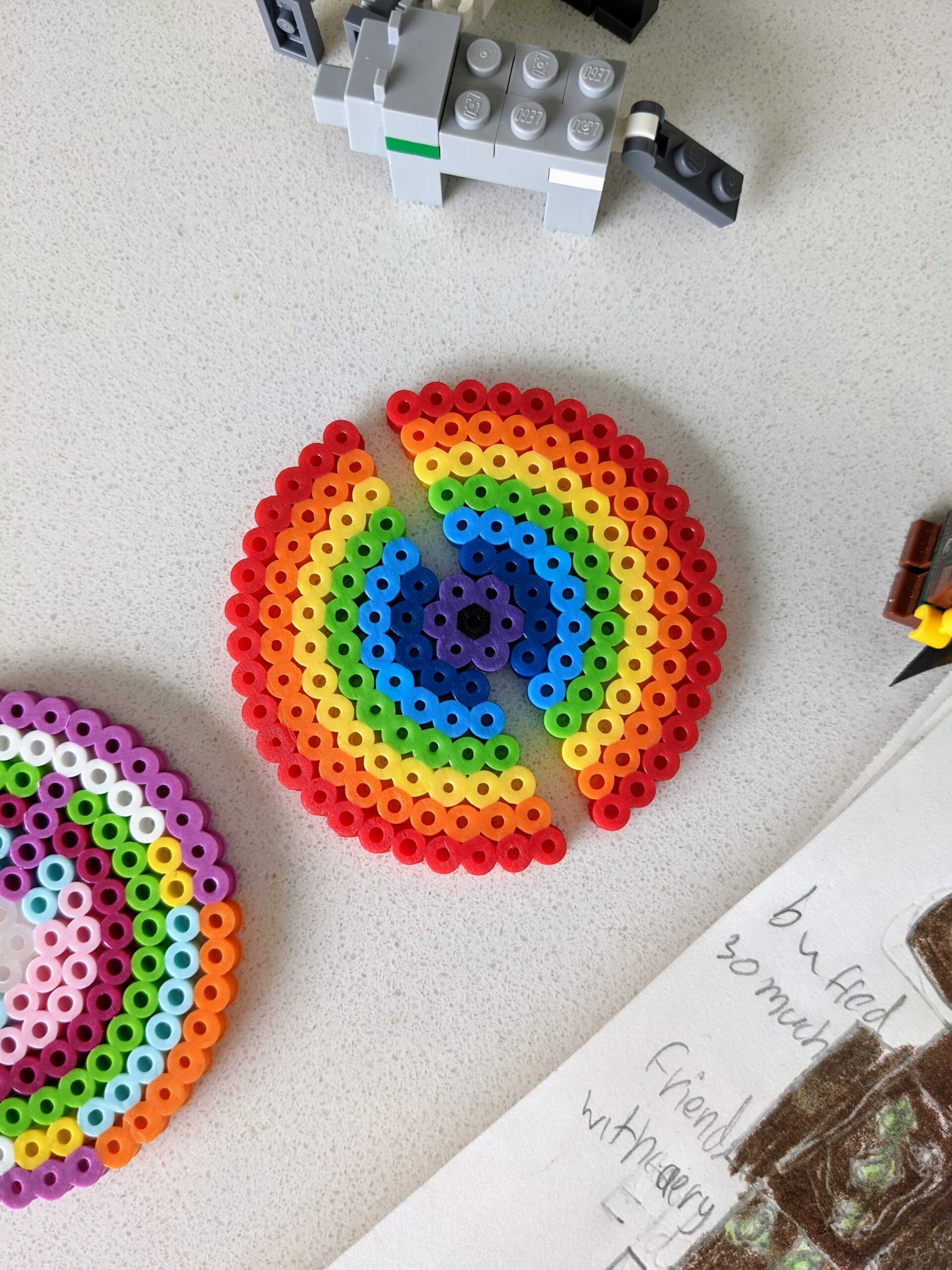 Step 2: Add toothpicks to the trap door to create a lever
Slip some Perler beads onto two toothpicks, no ironing required, then stuff them inside the two empty spaces on the trap. It should fit pretty snuggly, so no glue should be needed.
Step 3: Wrap a cardboard cylinder with green paper
We recycled an empty breadcrumbs cylinder. Pringles chips cans would also work well. Cover the cylinder with colorful paper to make it cuter, then punch two holes at the top using a hole punch.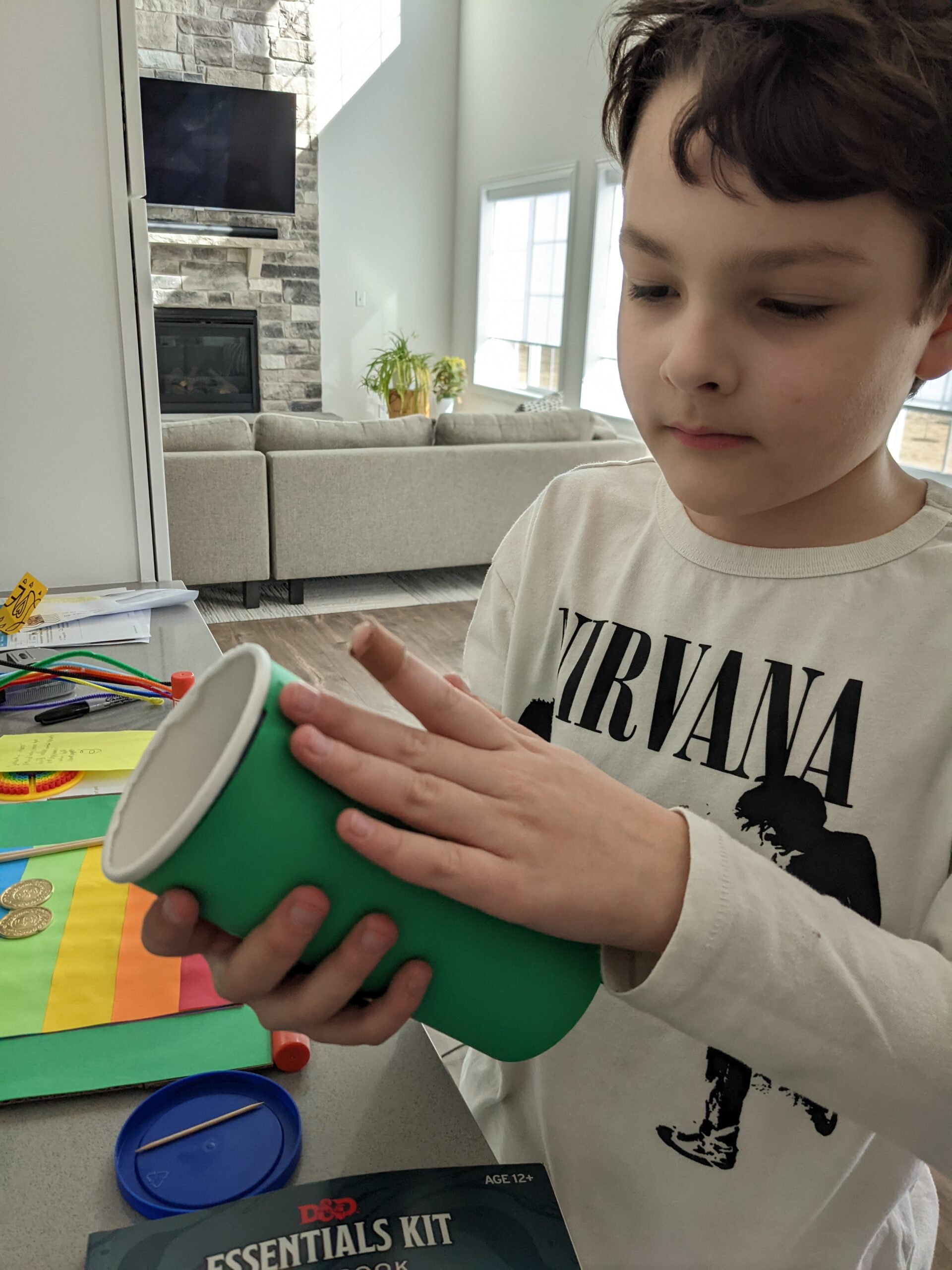 Step 4: Make a ladder (inclined plane) from pipe cleaners and chopsticks or wooden skewers
Wrap pipe cleaners around two wooden chopsticks or wooden skewers to make steps. And yes, rainbow colors are preferred.
Step 5: Make a base and add rainbows
Cut a large base from a recycled cardboard box. Add paper rainbows to decorate the base, then add the the cylinder on top. You can add some cotton balls for clouds.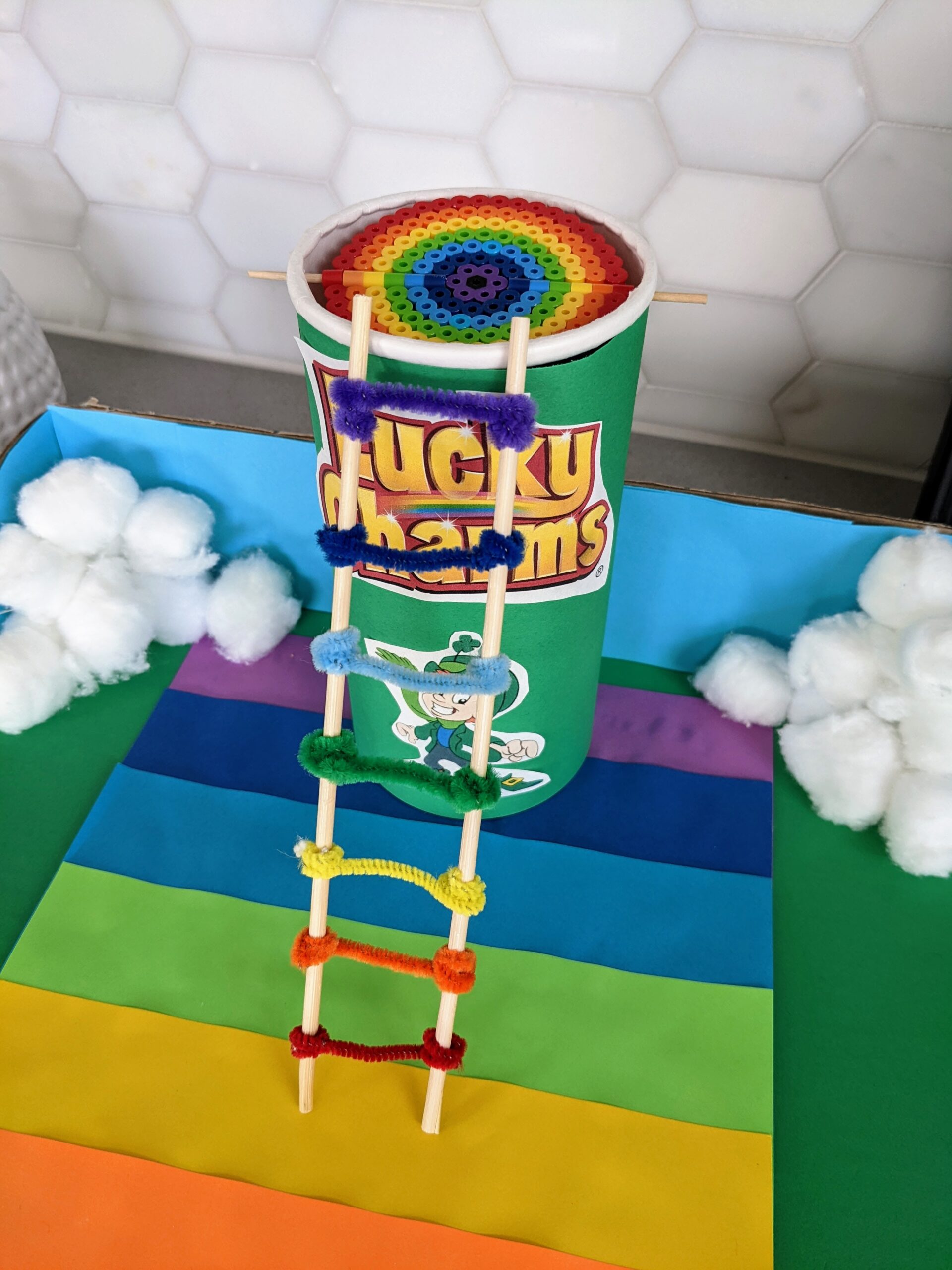 Step 6: Load the leprechaun trap with bait
Add fancy gold coins on top of the trap to lure the leprechauns. Then sit back and wait for the leprechauns to arrive.

More easy Leprechaun trap ideas for kids
Looking for more Leprechaun trap ideas? Here are some more simple leprechaun trap ideas for kids to make using household items and a little bit of creativity.
Shoebox trap: Using a shoebox, cut a small door on the side and place a ladder leading up to a pot of gold (made from yellow construction paper or a small toy). Leave a note asking the leprechaun to come inside to collect the gold.
Rainbow trap: Create a rainbow out of colorful paper or streamers and place a pot of gold at the end. Leave a note inviting the leprechaun to come and collect the gold.
Rainbow bridge trap: Make a bridge out of popsicle sticks or small planks of wood and paint it in rainbow colors. Place a pot of gold at one end and a note asking the leprechaun to come across the bridge to collect it.
Staircase trap: Cut out paper stairs and place them leading up to a pot of gold. Place a note asking the leprechaun to climb the stairs to collect the gold.
Treasure Chest trap: Create a treasure chest from a cardboard box and decorate it with green paint, glitter, and shamrocks. Place a pot of gold inside and a note asking the leprechaun to open the chest to collect the gold.

Be sure to pin my Leprechaun trap tutorial for kids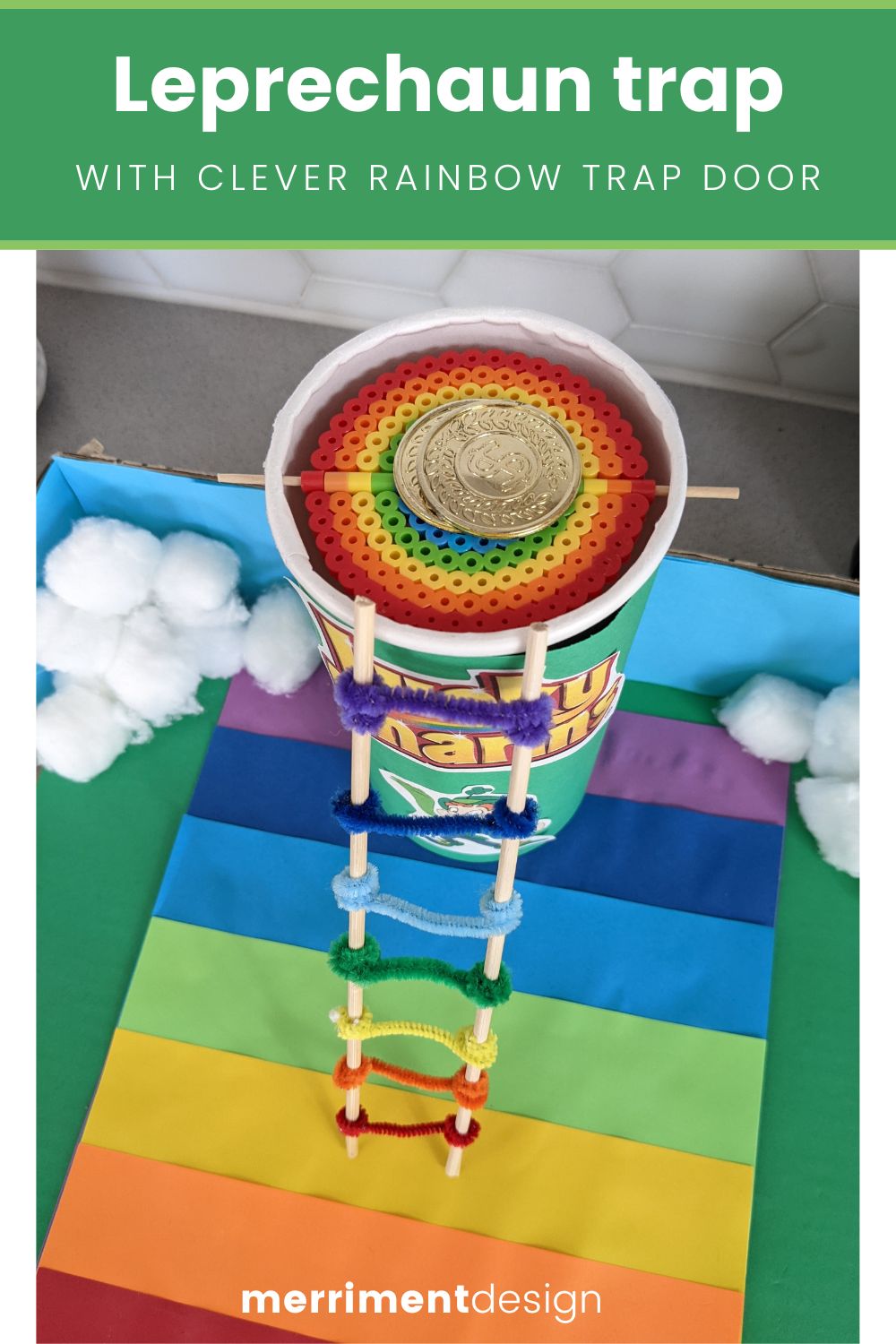 And check out more fun St. Patrick's Day crafts for kids like my Rainbow Headphones for Gamers and St. Patrick's Day DIY Necklaces and Pins PLUS fun recipes like my 5-Ingredient Green Chocolate Peanut Butter Cups and Personalized Pot Pies.