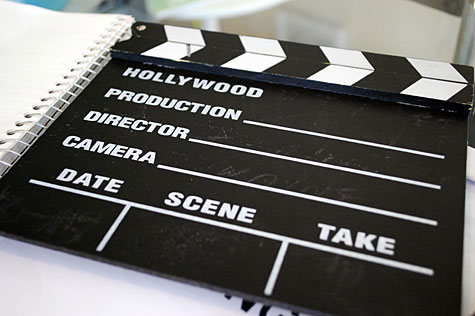 Mary and Brenda Maher of Cakegirls are two of the most talented and inspiring self-taught ladies I've ever encountered. Their cakes are not only totally original and visually arresting but taste delicious too (I'm a sucker for the chocolate fudge cake with chocolate mousse).
So when Mary called me last week while I was in Austin for SXSW to see if we were available to film a segment for their reality TV show, Amazing Wedding Cakes on the WE tv network, I couldn't say "yes" fast enough. Oh, and I was able to convince Shane too 🙂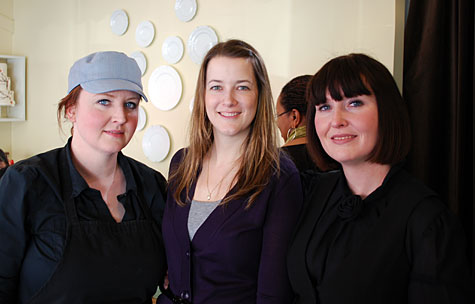 As you know, Cakegirls made our bold and tasty poppy wedding cake based on a swatch of retro poppy fabric that we gave them. The cake they created added edible flair to the poppy theme that we also used on our sewn poppy fabric invitations, sewn return address envelopes with custom stamps, table numbers, ring bearer pillow, place cards, sewn zigzagged programs, menu, reserved signs, whimsical flower garland "altar" and bridesmaid's handbags.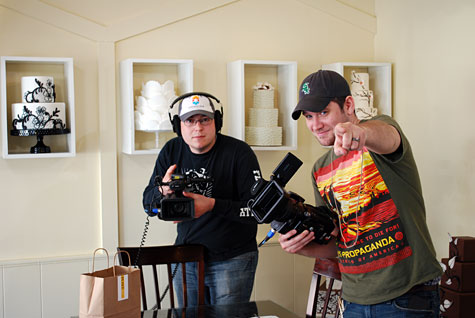 The entire Amazing Wedding Cakes crew was so friendly that they made the whole process seem like a piece of cake (oof). And it was super fun to get a little glimpse into the television show making process.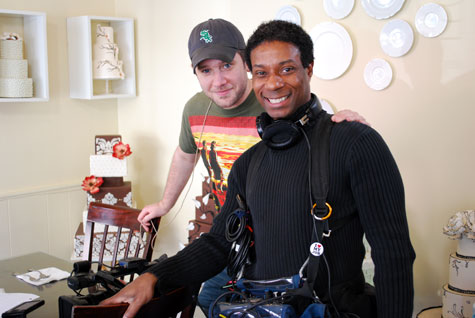 So set your TiVo for Amazing Wedding Cakes on the WE tv network (find your local airtime). And Chicagoans, be sure to check out Cakegirls in Roscoe Village for your weddings, baby showers, birthdays and other special events. Their cakes are the best.