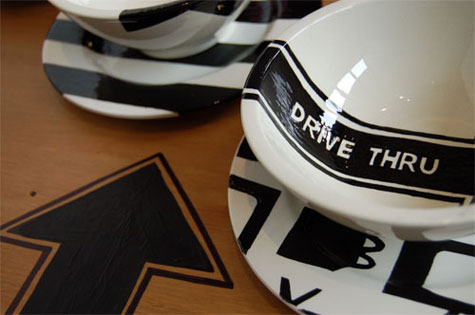 Did you know that more than 96 billion pounds of edible food is thrown away in the U.S. every year? Creative and resourceful Merriment reader Sarah Roarty painted her own unique and unified set of dishware that focused on her love for food and interest in American Food culture.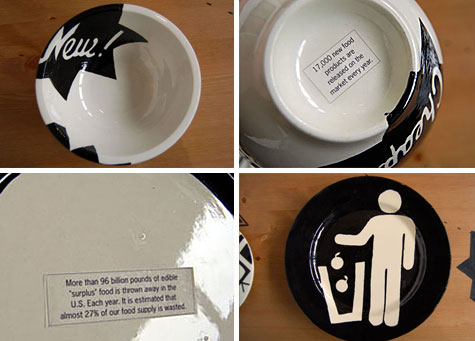 Sarah shows that it's easy to create a set of dishes of your own by simply picking a theme and running with it, creating this particular theme to remind herself and others to be conscious consumers every day. Often times we forget where our food really comes from and the journey it takes to get to the plate, so Sarah juxtaposed everyday signs with facts.
She used materials that most pottery studios have to create her dishware. Most people think of these studios as only being for birthday parties and showers but using your local studio is a fun way to create a unique set of dishware all your own without having to be a ceramics expert. All in all the process cost around $100 for a set of 12 dishes, which isn't bad for a unique set of dishes that are dishwasher and microwave safe.
Supplies:
Paper (for stencils)
Sponges
Pencil
Brushes, various sizes
Ceramic Paint
Unfired plates and bowls (found at local pottery studio)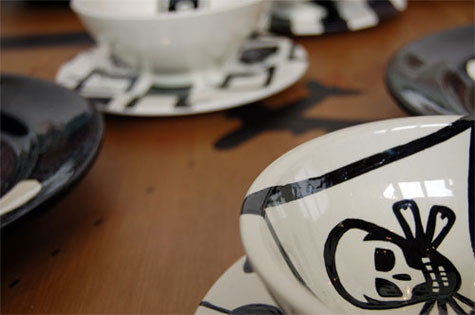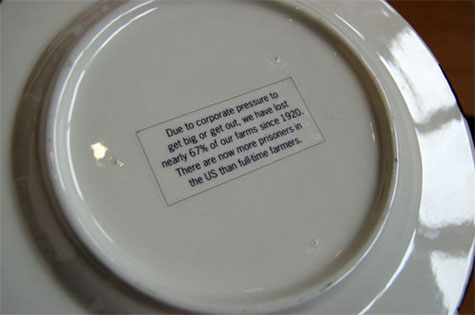 1. Gather all of the materials. Find a local pottery studio where you can buy most supplies, including the unfired dishes. A craft store will have brushes and paint as well, but getting supplies from the place you'll be firing your dishes is easiest so you know your paint is safe and ready for the kiln.
Sarah took her dishes home instead of painting at a studio so she could take her time and do the painting at her leisure, but she bought materials from the place she would be firing them.
2. Create designs or patterned stencils on paper. The thinner the paper, the easier it is for the stencil to form to the dish (very key when adding a stencil to bowls). The more detail the stencil, the harder it will be to paint. Stick to more simplistic patterns if this is your first attempt. Sarah created her stencil shapes on the computer and printed them out but hand drawn shapes work as well.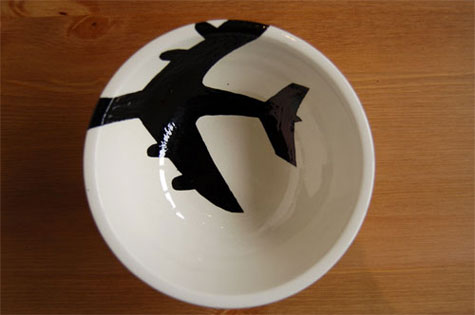 Be creative with your designs. Think of a theme or pattern you would like to follow to make your set cohesive. The designs themselves do not all have to be the same (the more variety the better) but having visual links like a consistent color or symbols help unify the dishware.
3. Once your stencils are all cut out, place them on the bowls and plates and with a pencil, draw an outline of the stencil. The pencil will disappear once the plate is fired, so do not worry about marking the plate up too much.
4. Use the pencil outlines you just created on the plate to fill in your designs. Paint several coats on the plate for a more opaque result. Don't worry about imperfections when painting, that's what makes these plates uniquely your own.
5. Wrap the dried dishware lightly for transporting back to the studio. Take your plates and bowls back to the studio to have them fired. Make sure to specify that you want these to be microwave and dishwasher safe for everyday use. The usual pickup times are around a week. Enjoy your new set of unique dishware!