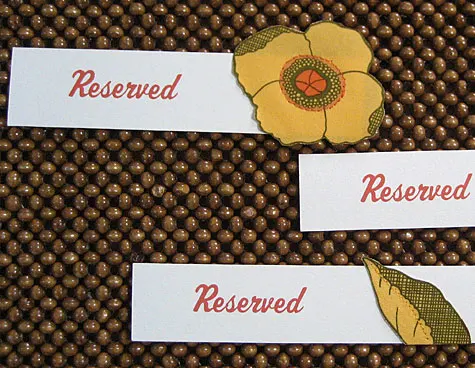 Here's a detail that I thought of late in the wedding planning game. We put these reserved cards on front-row ceremony chairs intended for our families. It was easy to make them and they coordinated nicely with our sewn wedding invitations, ceremony programs, table numbers and other printed materials.
Supplies:
Using Adobe Illustrator or even PowerPoint or Word, type the word "Reserved" on rectangles roughly 1.5 inches by 6 inches each (you can adjust based on the size of your embellishment). Print and cut.
Iron on interfacing if you're using thin fabric to give it some weight. Cut out your embellishment shapes; I used flowers and leaves. Sew organically; I sewed a circle in the flowers and up the stem of leaves. Your edges should intentionally left loose, and it looks best if your embellishment spills over the rectangle sides.
Like this theme? Then try our sewn poppy fabric invitations, sewn return address envelopes with custom stamps, table numbers, guest towels, ring bearer pillow, place cards, sewn zigzagged programs, menu, whimsical flower garland "altar" and bridesmaid's handbags.
Don't feel like making them yourself? Contact me and I'll help.
COPYRIGHT NOTE: You're more than welcome to use this project and pattern for your own personal use. Please post a comment below or email me if you use this project so I can smile when I see that it's being used. Craft and pass it on!