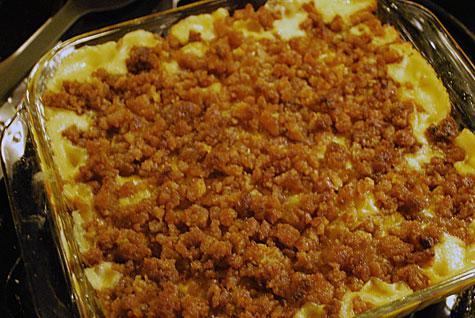 This PB&J mac and cheese recipe got 4th place beating in a Chicago charity cooking competition besting not only Stephanie Izard, Top Chef winner, but also Roger Herring, chef and owner of Socca in Chicago. Hip hip yay!
——
Peanut butter & jelly mac and cheese. Yeah, that's right.
My totally original recipe for this peanut-butter-infused creamy cheddar cheese sauce topped with crunchy grape jelly breadcrumb crust placed 4th out of 19 cheftestants in the sMACkdown charity mac and cheese competition benefiting the Organic School Project. Yay!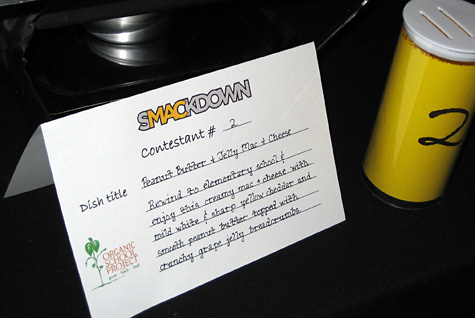 "There was macaroni and cheese with apples; with oxtail; with mustard and pumpernickel; with truffle oil; and, most inventively, with peanut butter and jelly…." Gapers Block, 2009.
Peanut butter and cheddar is a flavor combination you'll either love or hate. As someone who grew up snacking on cheddar cheese spread with peanut butter, I'm squarely in the "love" camp.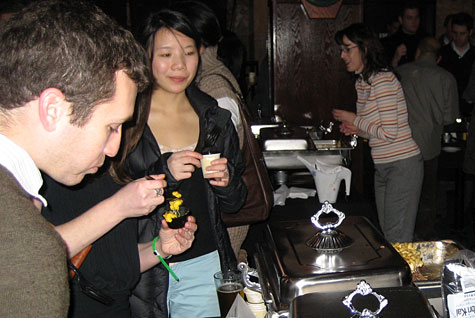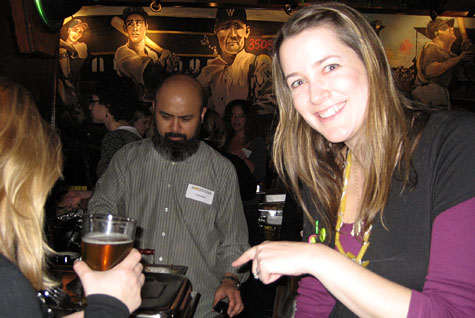 Another highlight was chatting and drinking beer with my favorite Top Chef winner Stephanie Izard who also shares her entry here …what a totally down-to-earth and inspiring lady (and I admit, I was pretty stoked to have bested her in the taste-off). Eight professional chefs and eleven amateur cooks like me competed at Goose Island Brewery for the title including Chef Guiseppe Tentori (Boka), Chris Pandel (The Bristol), Roger Herring (Socca) and James Gottwald (Rockit).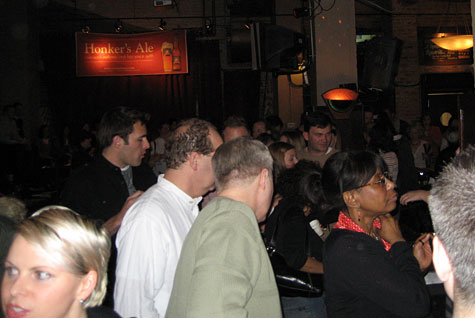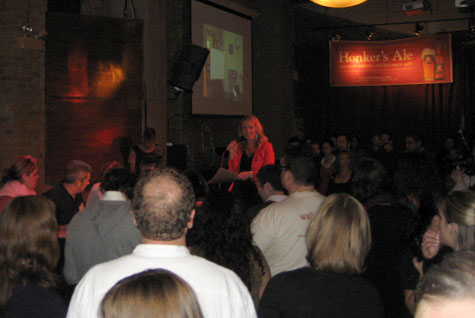 Who won? Chef James Gottwald of Rockit Bar & Grill triumphed with his tasty oxtail mac & cheese …it was my second favorite next to the tried but true 1990s staple, Truffle Mac and Cheese (yum).
So rewind back to elementary school, get over analyzing it, and give my peanut butter & jelly mac and cheese recipe a try!

Peanut Butter Mac and Cheese Ingredients:
1 pound elbow macaroni
2 tablespoons butter (for macaroni)
3 tablespoons unsalted butter (for cheese sauce)
3 tablespoons flour
3 cups whole milk
1 cup half-and-half
4 tablespoons smooth natural peanut butter
2 1/2 cups of sharp yellow cheddar cheese, shredded
2 1/2 cups of mild white cheddar cheese, shredded
Salt to taste
Enough butter to butter your baking pan

Make the peanut butter mac and cheese
Bring a pot of water to a boil. Add the macaroni and cook 7 minutes or until al dente. Drain and cool immediately with cold water. Return to a pot.
Melt the butter in a large, deep skillet over medium heat. Whisk in the flour and cook for about 1-2 minutes, stirring constantly to keep lumps from forming. Gradually whisk in the milk and simmer, whisking often, until the mixture is smooth, about 10 minutes. Stir in 5 cups of cheese until melted. Stir in the peanut butter; feel free to use a bit less or a bit more according to how subtle or strong you'd like it to be (NOTE: I used a blend of mild and sharp cheddar cheeses so if you're using more mild cheeses use a bit less and if you're using more sharp cheeses use a bit more). Season with salt to taste.

Add 2 tablespoons of butter to the macaroni to coat. Add the cheese sauce to the macaroni, stir well.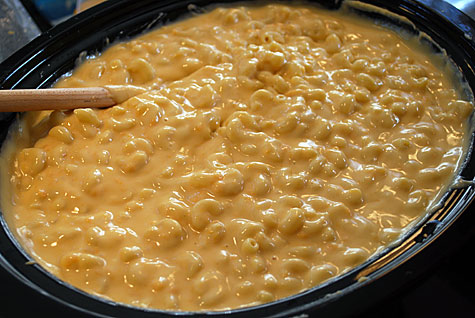 Pour macaroni into a greased 3-quart baking dish and top with jelly breadcrumb topping (see recipe below). Bake for 30 minutes in a 350 degree oven or until hot and bubbly.

Grape jelly crunchy breadcrumb topping
4-5 cups fresh homemade bread crumbs (see directions below)
4-8 tbsp butter (depending on your taste)
1/4 cup grape jelly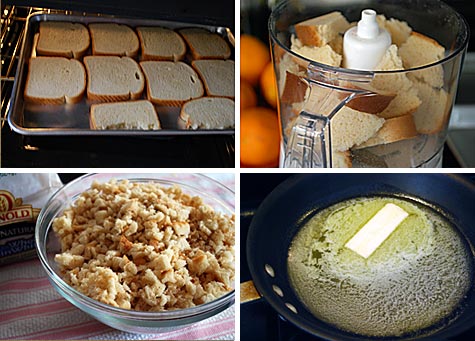 Place bread piece/slices on an ungreased baking sheet in a single layer to dry out. Bake in a 300F oven for 10-15 minutes; turn them over about halfway so they dry evenly. Remove from oven and let cool. Tear dried bread into smaller pieces and place in your food processor; chop into course breadcrumbs.

Melt butter in a medium, deep skillet. Add breadcrumbs and toast just until lightly brown. Add in grape jelly, allow to melt, and stir to coat. Continue to toast until starts to get crunchy. Remove from heat and set aside. Put on top of mac and cheese before baking. See you at recess!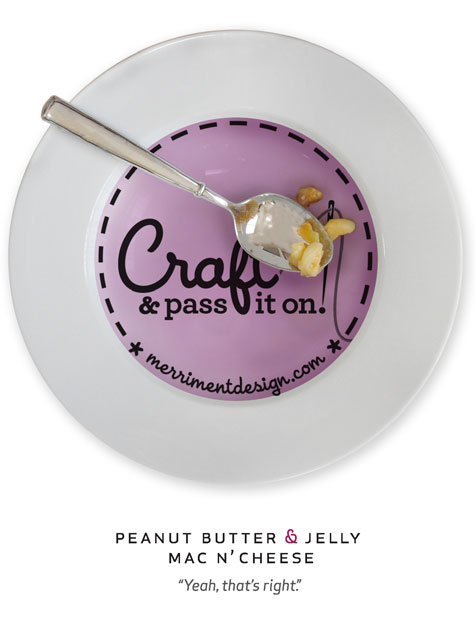 PB&J Mac and Cheese logo by Yan Yan and plate illustration by Heather Crosby.
COPYRIGHT NOTE: You're more than welcome to use this original Merriment recipe for your own personal use. Please post a comment below or email me so I can smile when I see it's being used. Craft and pass it on!