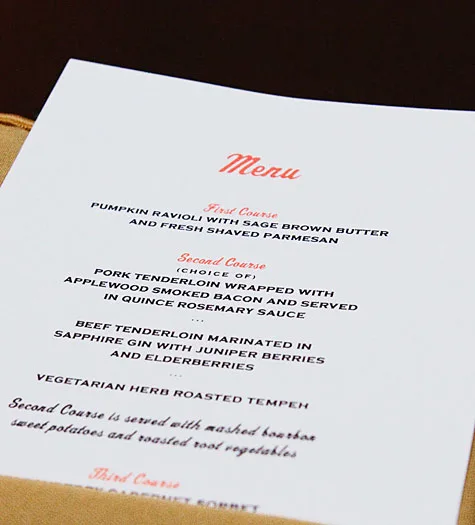 Time consuming, yes. Overkill, perhaps. But I think wedding menus are totally worth it.
Wedding menus are that extra detail that helps add anticipation while guests wait to be served at their tables. But unlike invitations that often go to couples and families, you will need to make one menu for each and every guest. Every crafty bride needs to decide what she's going to spend time on and what she's not …and so for me, simple menus were the way to go.
Supplies:
Menu template (PDF, edit using Adobe Illustrator CS3 and Spoleto and Copperplate fonts)
Paper cutter
I designed our menus on half a sheet of 8 x 11 paper, or two menus per page, which made printing and cutting a breeze. Use fonts and colors that complement your invitations and programs. Brown and dark gray are softer and nicer than stark black. Type up your menu, print, and cut down the middle. It's that easy.
The secret is the way you describe your food. Think Top Chef and open that thesaurus. Describe the sauces and fillings. Don't forget the sides. And if you have a cake or dessert bar, be sure to include instructions. We directed people to come down after dinner to the first level for dessert.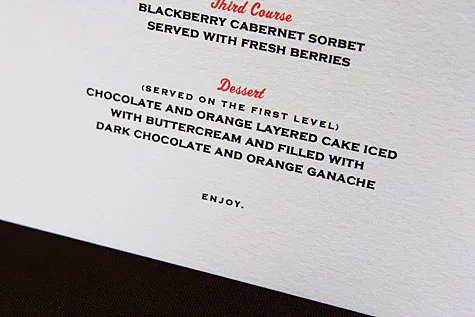 Our caterer tucked our menus into folded gold napkins at each plate. Simple and lovely.
Like this theme? Then try our sewn poppy fabric invitations, sewn return address envelopes with custom stamps, table numbers, guest towels, ring bearer pillow, place cards, sewn zigzagged programs, reserved signs, whimsical flower garland "altar" and bridesmaid's handbags.
Don't feel like making them yourself? Contact me and I'll help.
COPYRIGHT NOTE: You're more than welcome to use this project and pattern for your own personal use. Please post a comment below or email me if you use this project so I can smile when I see that it's being used. Craft and pass it on!