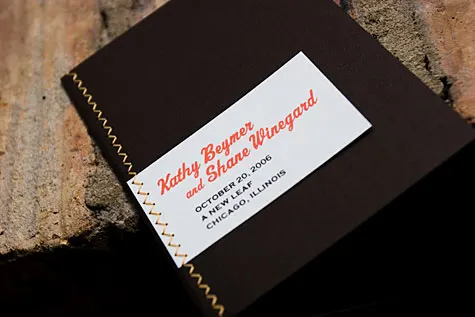 I had a ball designing our ceremony programs as small, handsewn booklets. Our non-denominational readings that Shane and my friend Liz found were super cool and so I wanted to our guests to be able to follow along.
Supplies:
Yellow thread
Sewing machine
Program templates: name, pages 1-4, page 5 (PDFs open in Adobe Illustrator CS3 with Spoleto and Copperplate fonts)
Paper cutter (or ruler and box cutter or scissors)
The first step is to write your program content. Programs can contain as much or as little information as you want. Wedding party names and relationship to you, ceremony, words to readings, thank yous to your guests, your forwarding address or anything else you'd like to say. We had five pages in our booklets; any fewer than three means you should probably use a more simple program style.
Our wedding ceremony readings included an excerpt of 'A Farewell to Arms' by Ernest Hemingway, An Apache Wedding Blessing, and re-interpreted lyrics of 'This Old Love' by the Australian singer Lior, which was also as our wedding song (we'll grow old together …sigh).
Now you're ready to lay out your program pages, using fonts and colors from your invitation for cohesiveness. Each 8 1/2 x 11 page is divided into four A2-sized mini-pages. If you don't have Illustrator, just use PowerPoint and break each page into four quadrants. Print and cut apart your page. For big cutting jobs like this I like to use a ruler and box cutter to quickly cut through stacks and stacks at a time.
For the front cover, use the names Illustrator template to create your cover. Or use PowerPoint to create your own name strips at 3 1/4″ x 1 3/4″. Cut them apart.
Place the pages in order inside an A2 folded card. Place your names on the front about 3/4″ from the bottom flush with the folded edge of the card. No need to be exact here. Set your sewing machine to a double zigzag stitch. Sew along the folded sized of the card through the names, folded card cover and program pages. You can either backstitch which is quicker …or avoid the look of backstitching by tying knots on the ends like I did. If your machine only has a zigzag stitch I recommend just buying the thickest thread you can because it's more time consuming to double back across the length. Using a denim needle also helps.
Your names on the cover will be loose, adding to the handmade feel.
Like this theme? Then try our sewn poppy fabric invitations, sewn return address envelopes with custom stamps, table numbers, guest towels, ring bearer pillow, place cards, sewn zigzagged programs, menu, reserved signs, whimsical flower garland "altar" and bridesmaid's handbags.
Don't feel like making them yourself? Contact me and I'll help.
COPYRIGHT NOTE: You're more than welcome to use this project and pattern for your own personal use. Please post a comment below or email me if you use this project so I can smile when I see that it's being used. Craft and pass it on!