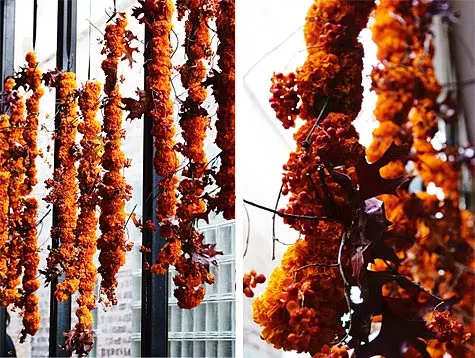 One of the biggest challenges of getting married in a "non-traditional" space is that the backdrop might look a too plain or stark during your ceremony.
We got married in a Chicago loft space with exposed brick, glass and steel. So we decided to add warmth and focus by creating an "altar" of our own. Based on our orange, brown and yellow color theme my friend Liz concepted and sketched the idea of having us stand on an orange rug, surrounded by candles on metal pedestals, with an orange floral garland "altar" hanging above.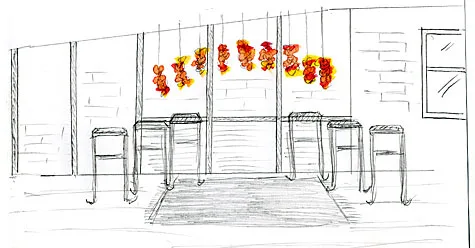 The wizards at A New Leaf used the sketch to create nine floral garlands made of marigolds, bittersweet and dried oak leaves hanging from brown silk ribbon. While we used a florist to execute Liz's concept, this project could also be done DIY.
Creating an "altar" in non-traditional spaces gives focus to the room and adds personality to your ceremony and wedding photos.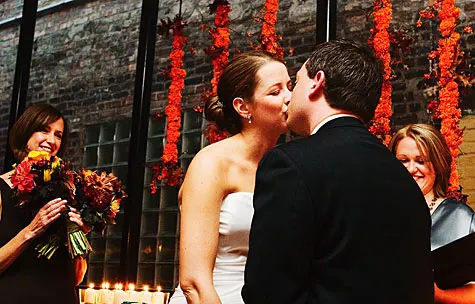 Supplies:
Marigolds or mums
Bittersweet
Dried oak leaf branches
Satin ribbon
Twine
Scissors
Floral wire and cutters
Thumbtacks or ceiling hooks
Cut your twine to the length you'd like for your strand; ours were about 2.5 feet long each. Take 6-9 marigolds or mums, cut the stems about 2 inches from the flower head and wrap them together with floral wire close to the flower heads. Affix the floral bundle to the twine using more floral wire. Repeat until you have the coverage that you'd like up and down the twine, leaving about 4 inches at the top of the twine free to tie to your satin ribbon. Trim any end of the stems that peek out as needed.
Add bittersweet and dried oak leaves in the same way. Affix bittersweet and oak leaf branches sporadically up and down the strand, being sure to balance the branches around the strand so that weight-wise the strand will hang straight down. Refrigerate strands until use, either before or after adding your bittersweet and oak leaves depending on available space.
Cut a long piece of stain ribbon; the length will depend on your ceiling height. Tie the ribbon securely to the twine, making several tight knots. Trim any extra twine.
Hang your altar from the ceiling using thumbtacks or ceiling hooks. We used nine strands and varied the heights to create a seasonally stunning backdrop to our candlelit ceremony.