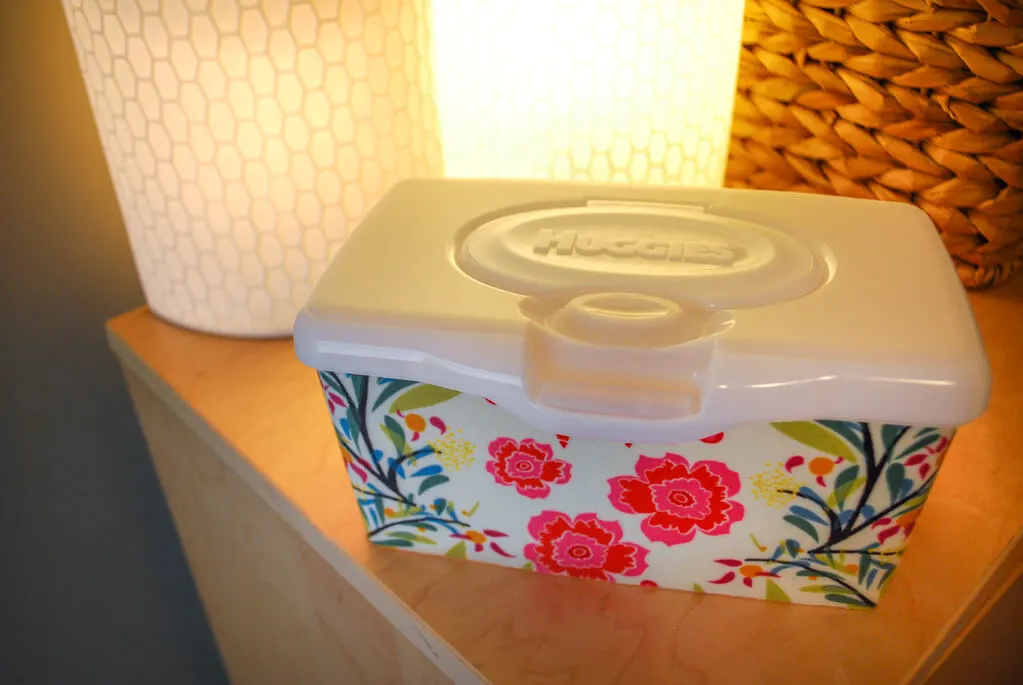 This DIY baby wipes container craft will put the finishing touch on your nursery decor. My baby wipes box has become a fixture on Elise's shelf so I thought why not make it extra pretty? So I decided customize it by covering it with fabric. Here's what the baby wipes pop-up container tub looked like before: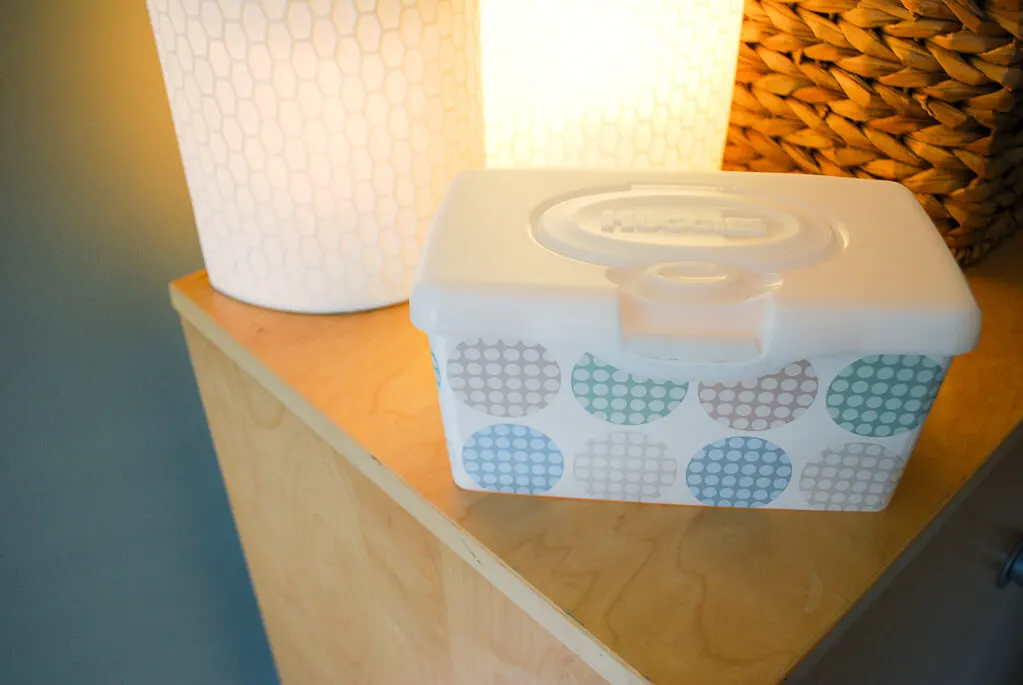 Not too bad but I wanted something more custom. So I grabbed some leftover Anna Maria Horner fabric from Elise's drapes and a bottle of Mod Podge to cover and decorate my baby wipes container in fabric so it would coordinate with the rest of the room.
I decoupaged the fabric on to seal it up – have never done it before but I remember my mom using Mod Podge left and right when I was little. It was actually super easy to do and you can finish it under a couple hours including drying time.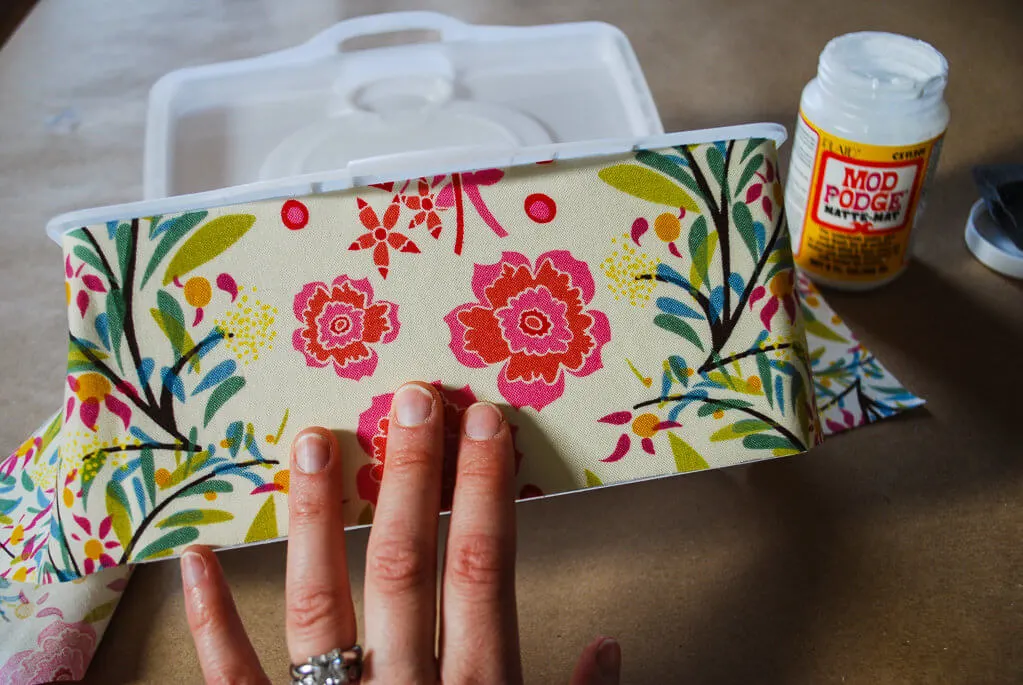 Here are the drapes behind baby Elise in a cute little outfit that my friend Jennie sent to use. I love how the wipes box coordinates with her room now. My friend Kim came over to snap some super girly photos of my little girl…

—
Supplies for making a DIY Baby Wipes Container Craft to Match Nursery Decor:
—
How to make a DIY baby wipes container craft to match nursery decor:
1. Assemble the DIY baby wipes container craft pattern
Print and cut out Kathy's free pattern for covering a Huggies Sensitive Wipes plastic popup tub (PDF). The free pattern is on multiple pages so cut them out and tape them together to make one pattern. Give it a test to see if it will fit your container and if not, you can always make your own pattern.
2. Line the wipes box (optional)
My fabric was thin enough that I could see the label through it so I decided to line my box using my favorite "secret" interfacing – blackout drapery lining. This will give you a completely blank slate to cover with your fabric.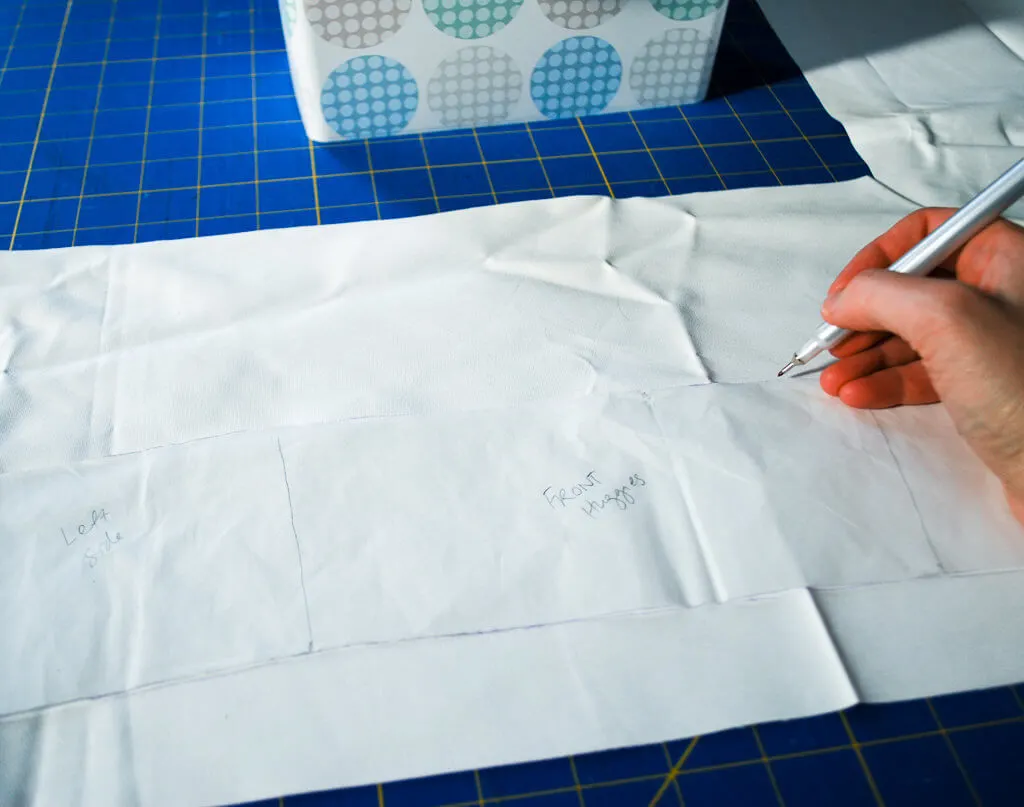 Place the PDF pattern onto the blackout drapery lining. Trace around it using a disappearing fabric ink pen. Cut out and set aside. As you can see, mine was pretty wrinkled so I ironed it a bit as well.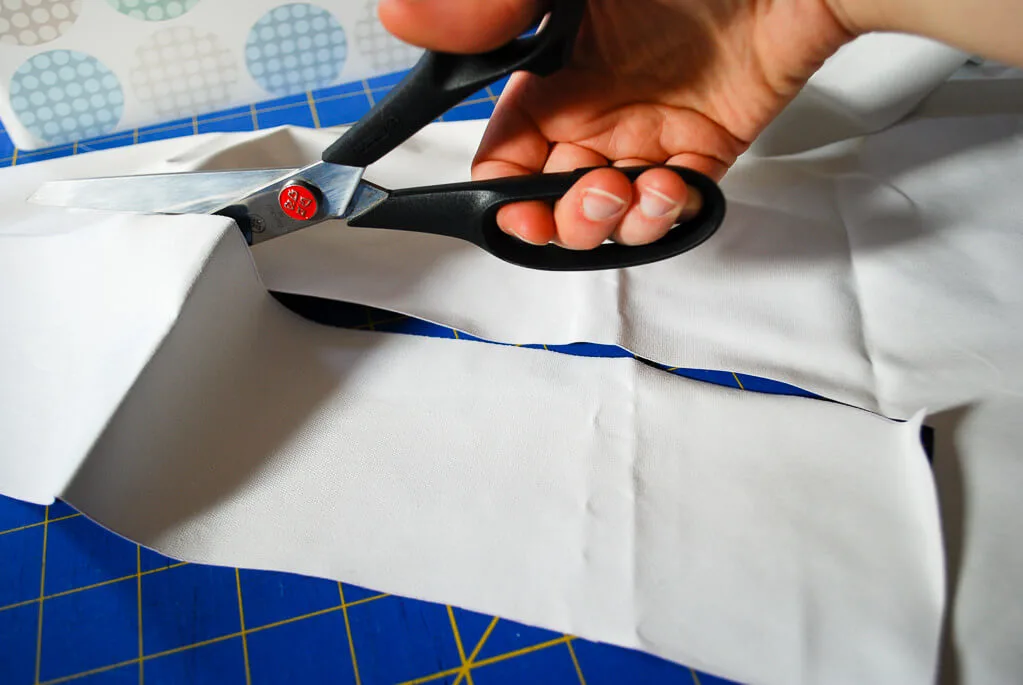 3. Cut fabric
First, iron your fabric – I recommend using spray sizing to make it extra crisp.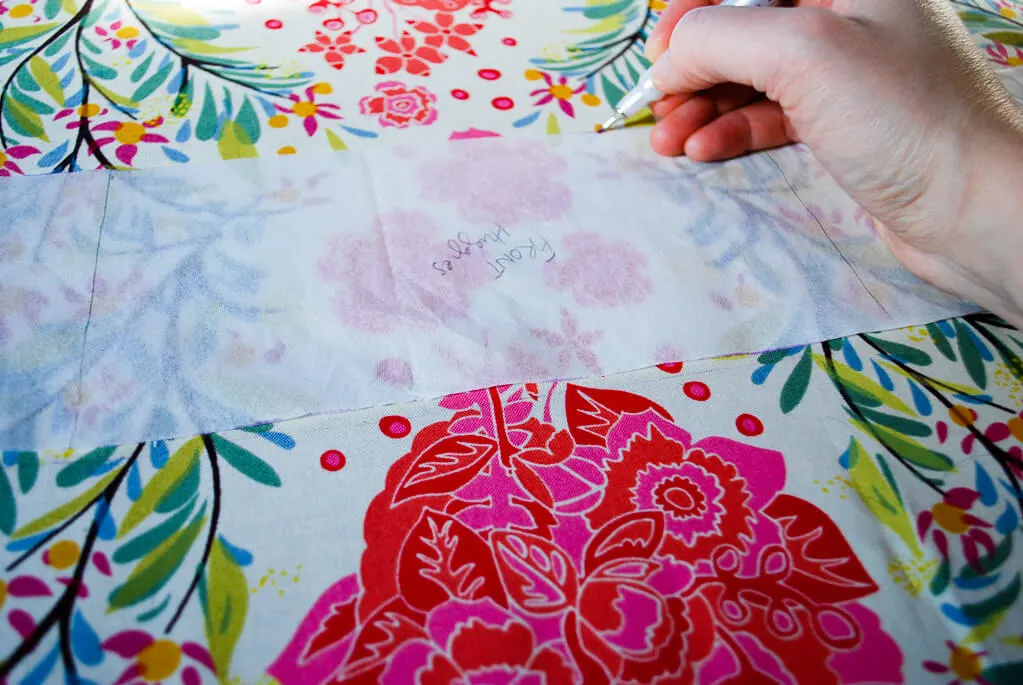 Place the PDF pattern on your fabric, making sure any pattern (like my flowers) is centered. Trace around the template using a disappearing fabric pen. Cut it out using good fabric scissors and set aside.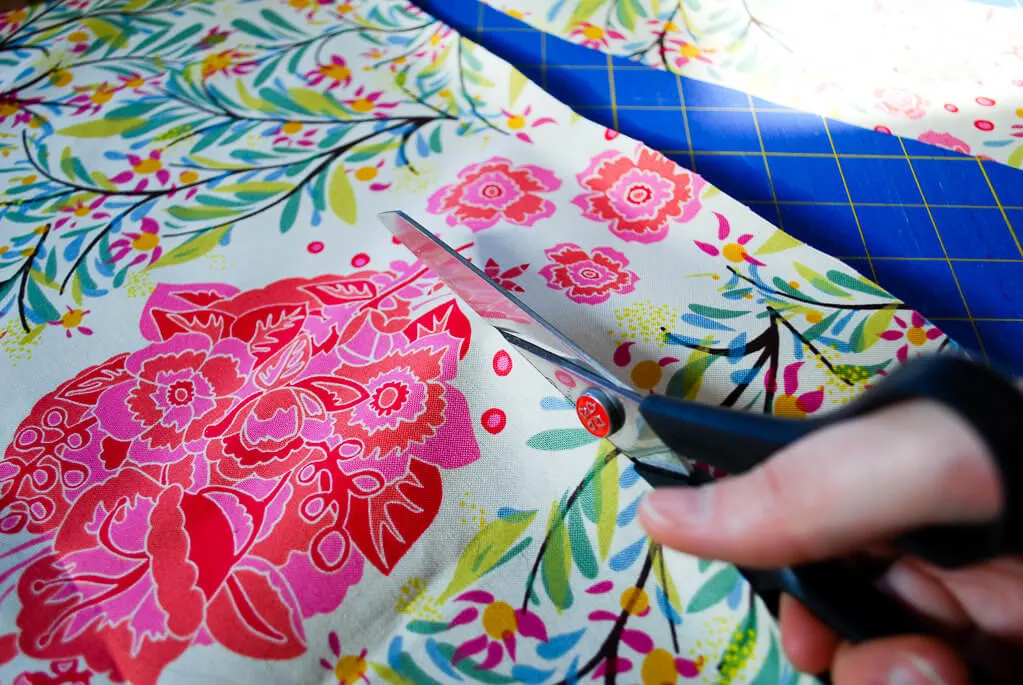 4. Decoupage and sand
I got some great Mod Podge tips from J Caroline (via howaboutorange). Worth a read before you get started if you're new to decoupaging with fabric.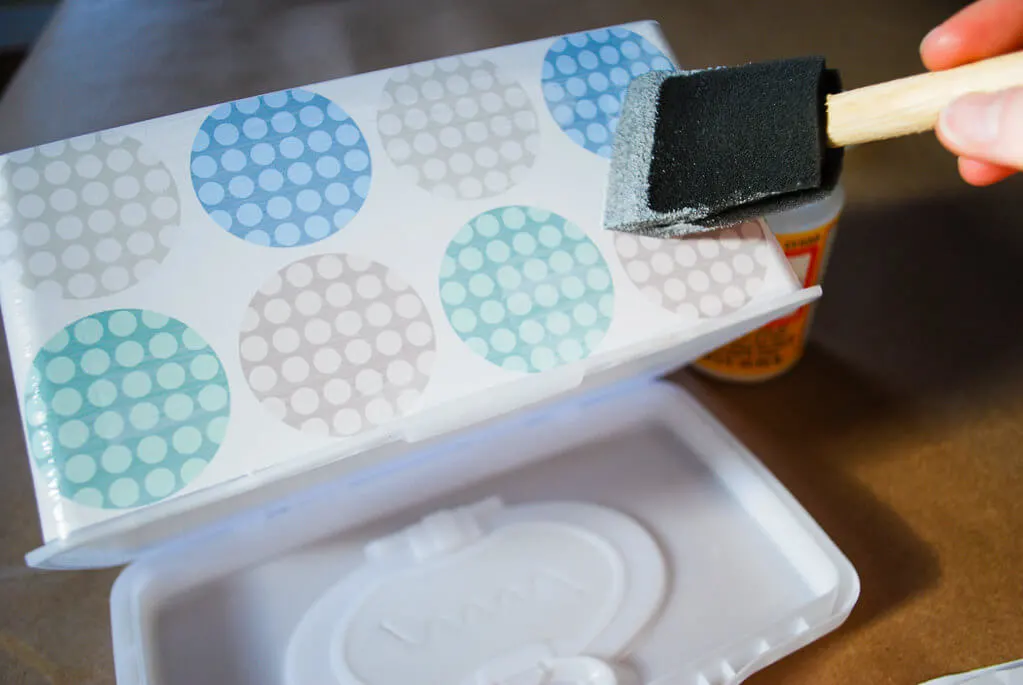 Apply a thin coat of Mod Podge onto the front and two sides of of your Huggies wipes tub container (hold off on the back for now).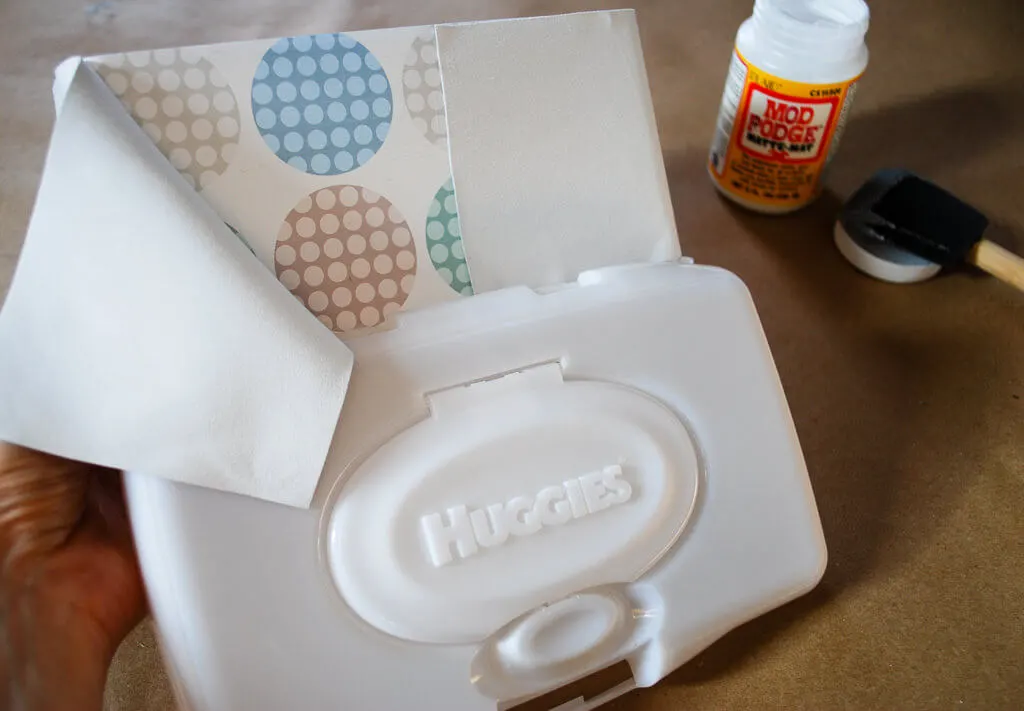 If you're using blackout drapery lining, place the lining on the front and smooth, working your way across each side. Try really hard not to stretch your fabric as you adhere it to the container; otherwise, you'll have more trimming to do later.
Now coat the back and smooth the lining to cover – your seam should overlap a little bit but you can trim it as needed at this point. Now you have a blank slate.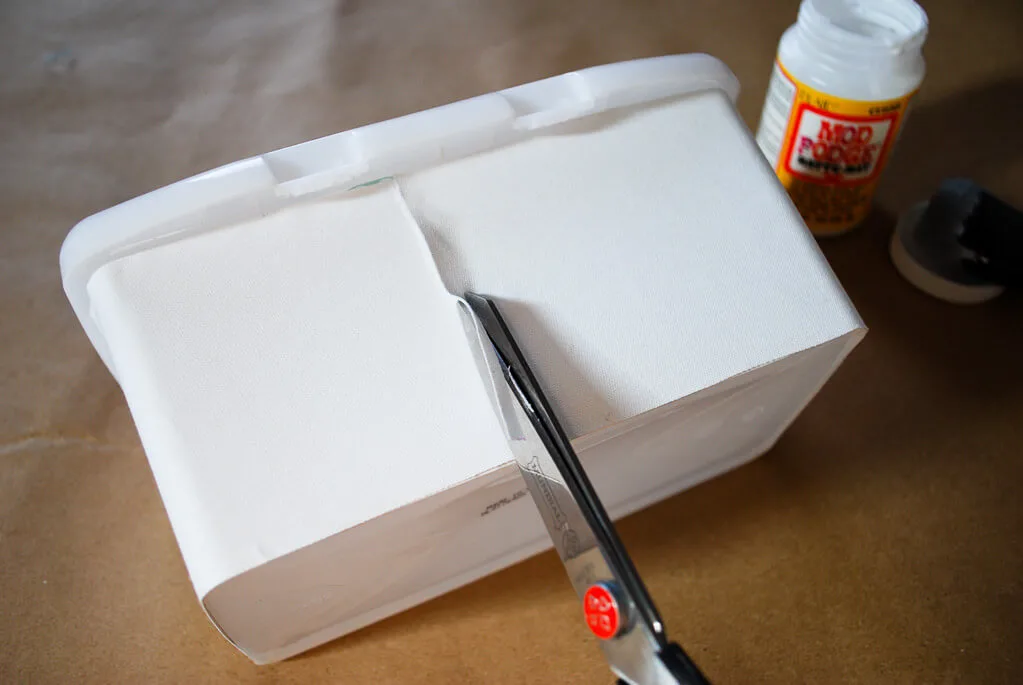 Place the box upside down and allow it to dry a bit; I waited about 10 minutes. Here's a tip – wrap your sponge in plastic wrap between coats so you don't have to wash and dry it each time.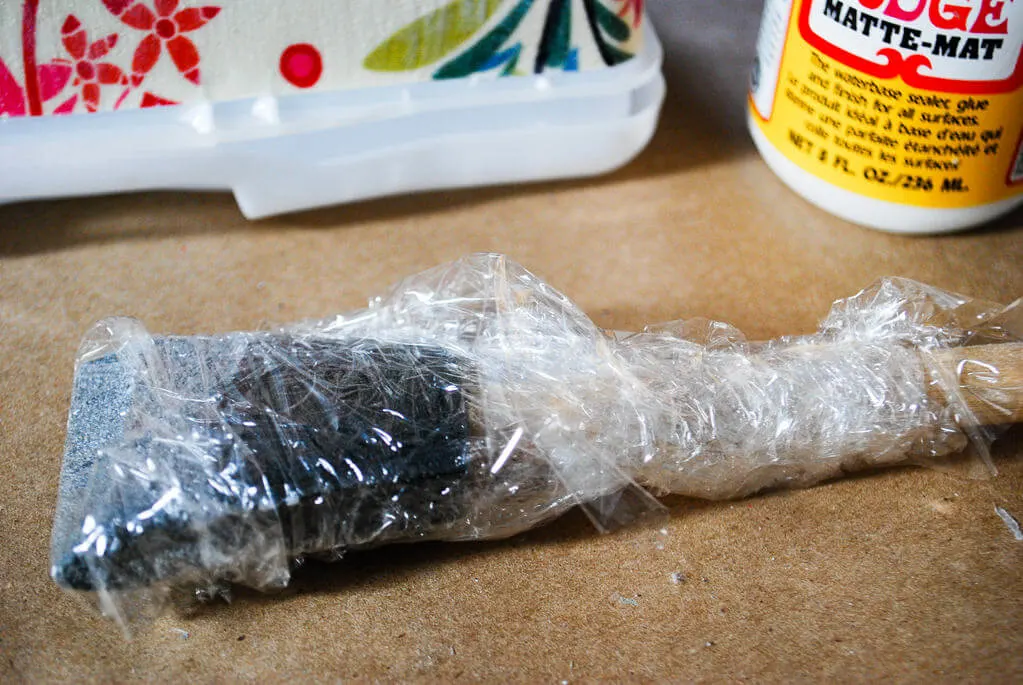 Apply another thin coat of Mod Podge on top of the blackout drapery lining front and two sides (again hold off on the back for now). Repeat the instructions above to adhere the fabric.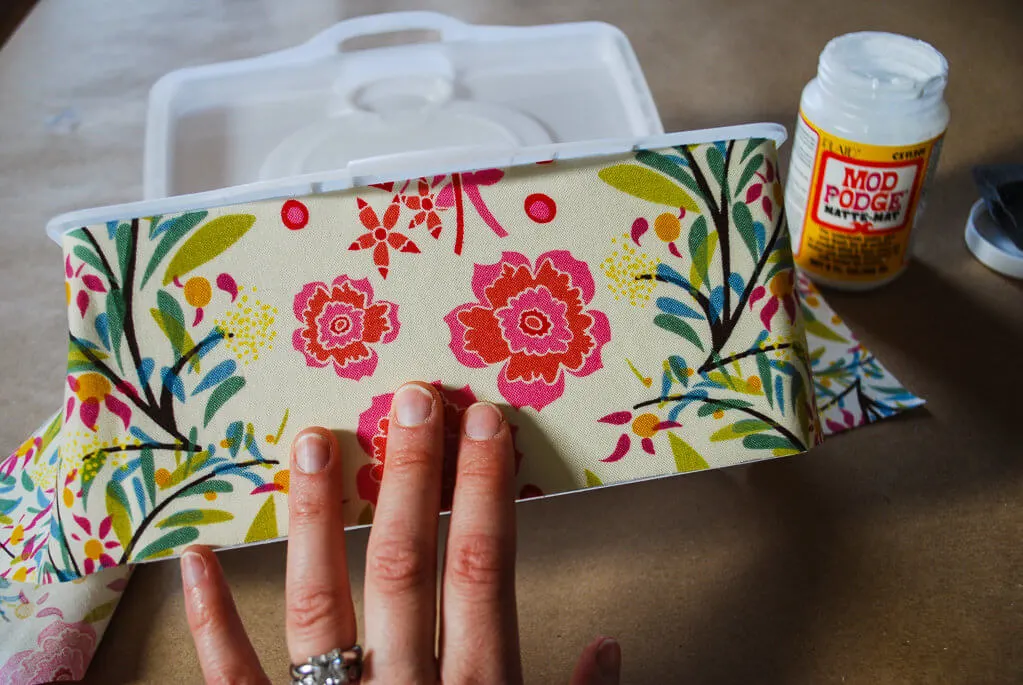 Now do the back. Carefully cut any stray threads and any fabric that stretches below the edge of the tub container. Apply a thin coat of Mod Podge on top of the fabric on all sides.
Let it dry about 15 minutes or until it's no longer tacky (remember to wrap your brush in plastic in the meantime). And repeat.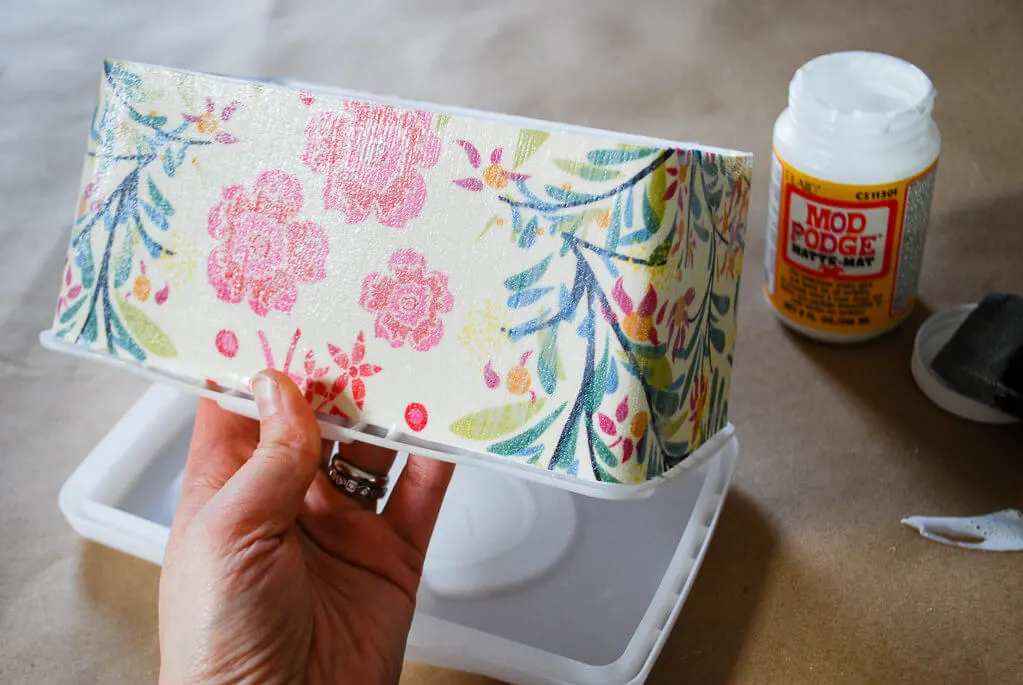 Sand lightly using 400 grit sandpaper until smooth. Wipe dust clean. You can add a third coat if you'd like. Allow to dry, then lightly sand.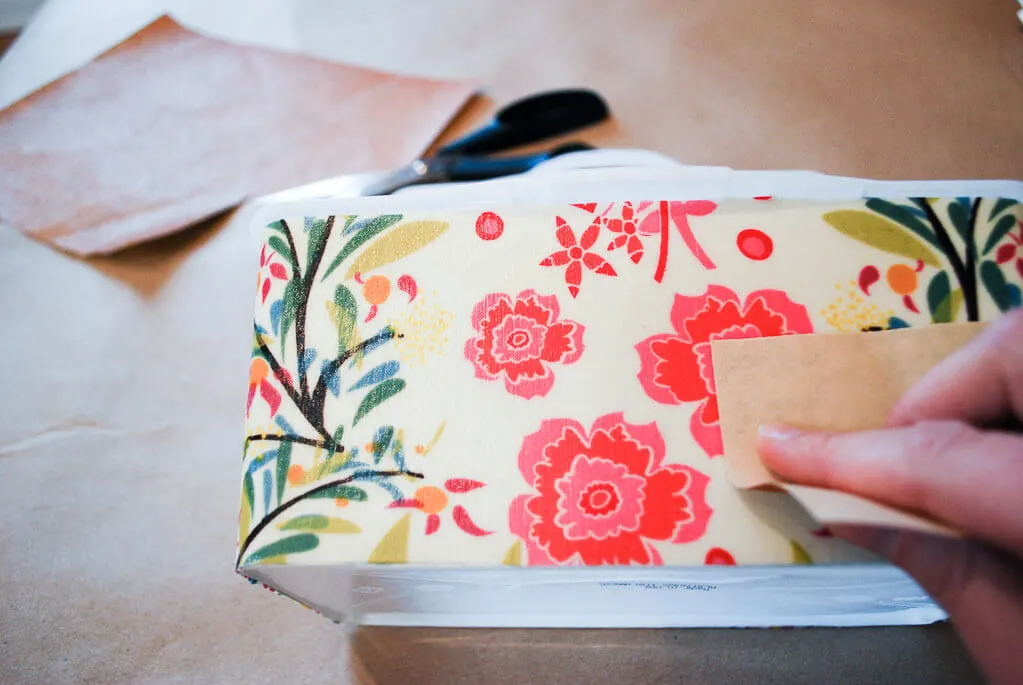 Fill your finished container with Huggies Sensitive Wipes refill packs.
And if you asked me if I like the smell of Mod Podge I couldn't deny it. I think I'll be making this DIY baby wipes container craft as my new go-to DIY baby shower gift.


++++++
Be sure to pin this DIY baby wipes container craft for later.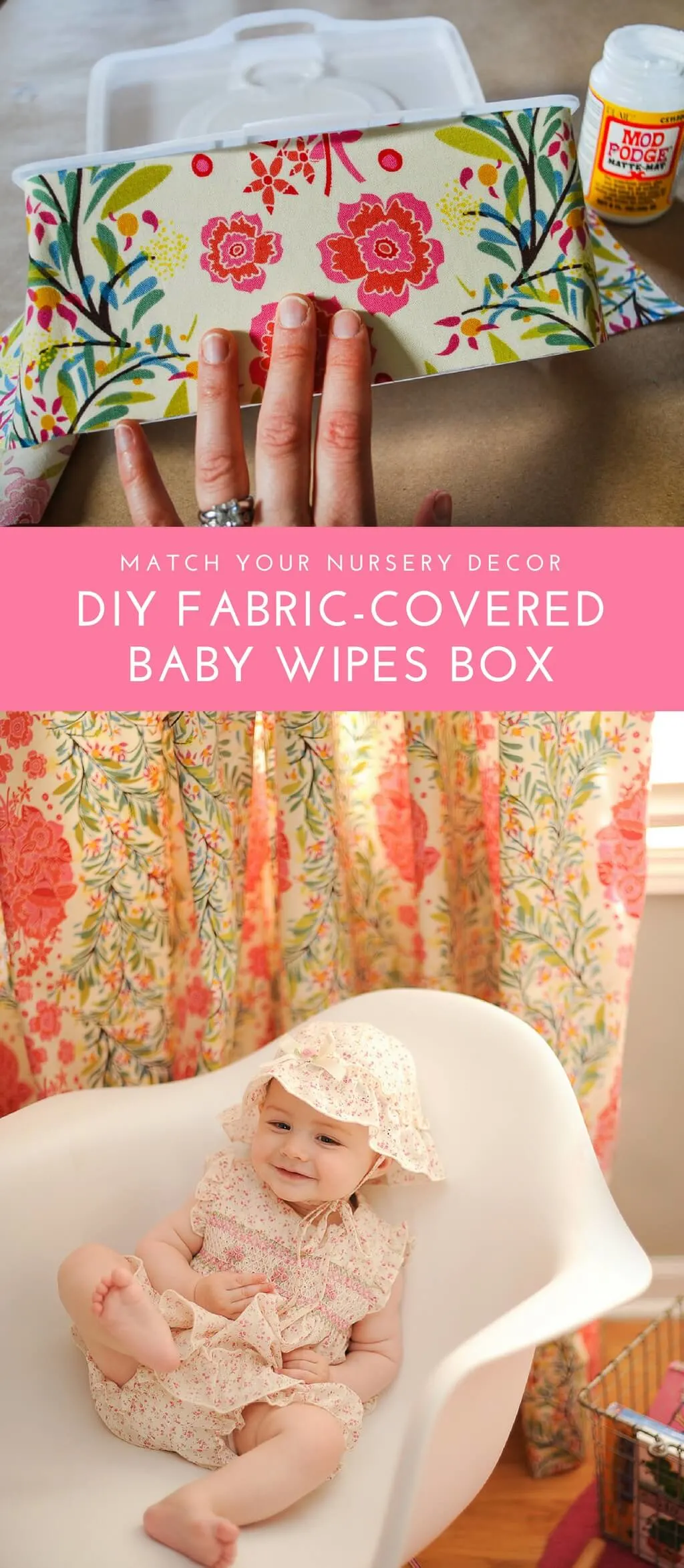 ++++++
—
Like it? Share it!
The nicest way to say you like it is to pin it on pinterest, post a comment, follow Merriment Design on Facebook, twitter, pinterest, Google+, instagram or sign up for monthly emails. Enjoy! 🙂
Copyright stuff: You're more than welcome to use this free project and tutorial for personal use. Contact me for commercial use and etsy sales.