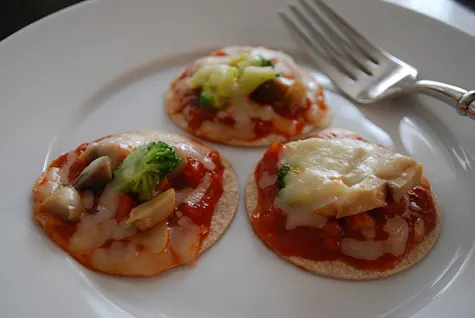 Mini pizzas have quickly become a dinnertime staple at our house. They're just so cute and easy to make, and Elise can help with the recipe. The final mini pizzas are about 2-1/2 in diameter – perfect for kids to handle on their own or for adults to pop in their mouths amuse-bouche-like. I usually let Elise handle the cheese…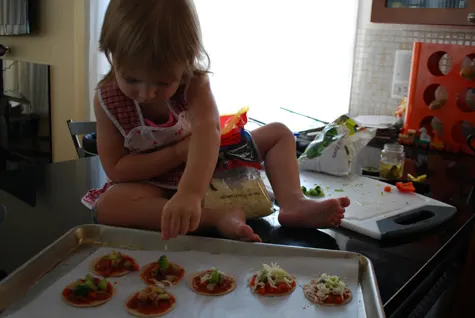 …which she tends to handle as "one for you, two for me."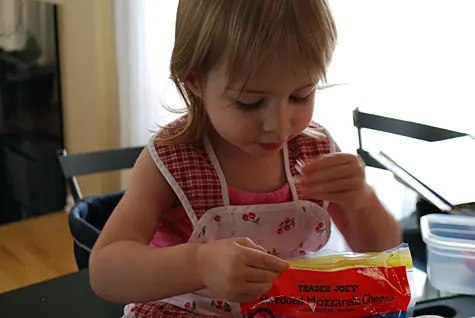 Using tortillas to make pizzas isn't anything new – I'd made full-size ones before. But then we got a Dora and Diego Let's Cook
cookbook from the library with a recipe for Dora's Pirate Pizza Coins. Hmm, using cookie cutters to make tiny tortilla pizzas? Why didn't I think of that before??
The secret is a simple 2 inch or 2-1/2 inch biscuit cutter. You can easily cut about about 8-12 circles depending on the size of your cookie cutter from one 10-inch whole wheat tortilla. Mix and match toppings for variety or picky eaters. And somehow the sauce doesn't soak through — I made them as appetizers (using slightly less sauce) for a ladies' Sixteen Candles summer movie night out in the park and they held up really well.
Elise and I tend to make the mini pizzas with a tomato sauce base but next I want to try pesto topped with Parmesan and fresh tomato. And I'd like to try some cuter cookie cutter shapes like flowers, hearts or dinosaurs
. Mmm, mini pizzas.
Adapted from Let's Cook
:
Ingredients:
10-inch wheat tortillas
Tomato sauce, or pesto, or both
Your choice of grated cheese – Elise likes mozzarella, I like fresh Parmesan
Your choice of toppings: We like red pepper, mushrooms, cooked bacon, spinach (steamed and chopped), and broccoli (we chopped frozen to save time).
I like this recipe because it's like my kitchen sink frittata recipe in that you can make it with pretty much whatever you have in your refrigerator.
Supplies:
Preheat oven to 375 degrees F. Place parchment paper in the bottom of a jelly roll baking pan or cookie sheet.
Using 2-1/2″ circle biscuit cutters or other similarly sized shaped cookie cutters, cut 10-12 rounds out of the tortilla. Arrange circles on the parchment paper so they are not touching.
Spread tomato sauce or pesto on the tortilla circles. Top with toppings and cheese. Bake about 6 minutes or until cheese is bubbly.
—
Like it? Share it!
The nicest way to say you like it is to pin it on pinterest, post a comment, follow Merriment Design on Facebook, twitter, pinterest, Google+, instagram or sign up for monthly emails. Enjoy! 🙂
Copyright stuff: You're more than welcome to use this free project and tutorial for personal use. Contact me for commercial use and etsy sales.