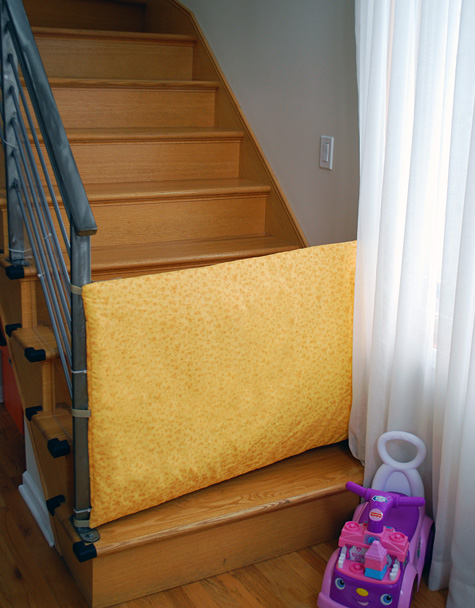 Here's how to make a fabric safety gate for baby and toddlers for the bottom of stairs or between doorways. This DIY fabric baby safety gate has given me a lot of piece of mind these past months. We tried store-bought safety gates at the bottom of our stairs but couldn't figure out how to work around our awkward window angle so had to return them. So for a long time we had nothing – eek!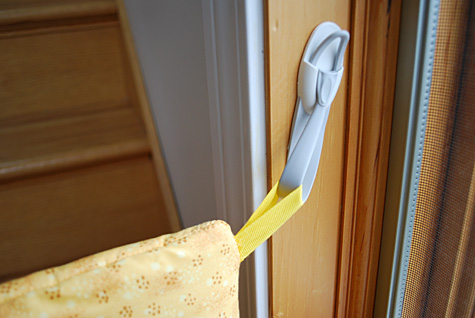 Elise at 1-1/2 years old likes to climb up the stairs all the time. But now when this fabric baby gate is up, she asks me if she can climb! I just unlatch the ribbon loops from the 3M Command Cord Bundlers (very easy), open the gate and follow her up. She has learned to ask me first and go up with me. I don't know how long she'll be this cooperative but it's worked for the past couple of months without a hitch.
Years ago my friend Yoko Terretta made a fabric baby gate for the bottom of her stairs. Her daughter is now way past toddler age so she drew me a photo of her old fabric baby safety gate: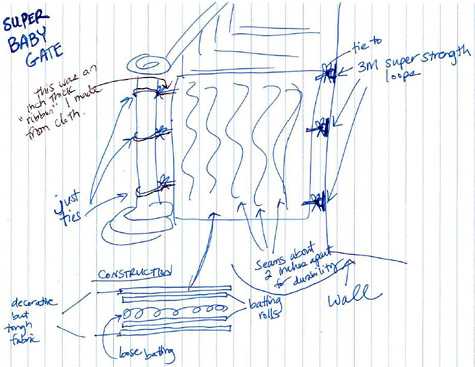 I made some assembly adjustments when making the fabric safety gate for the bottom of our stairs and it's worked great! And with my long monkey legs I can actually step over it pretty easily if I'm feeling too lazy to unhook the loops.
That said, I've gotta state some legal disclaimers on this one: ** Using this fabric baby safety gate idea is at your own risk. ** I will assume no responsibility for any injuries if this type of gate doesn't work out for your family. You have to judge your own parenting style and your child's behavior before deciding to use a DIY fabric safety gate. This DIY fabric baby gate is not tested for safety by any formal organization.
** DO NOT use a DIY fabric safety gate for the TOP of any stairs ** — it's just not sturdy enough. Never, never. But it's working on the bottom of our stairs in slowing down Elise – and I bet it could be a decent room divider too.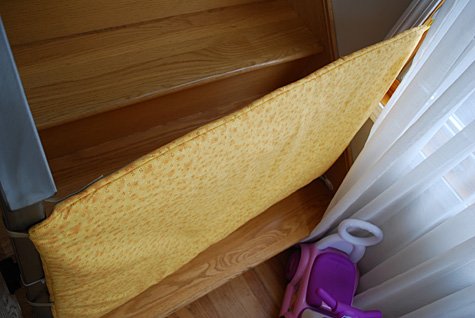 WANNA MAKE IT? Free sewing pattern, step-by-step tutorial instructions and supply list for making my DIY Fabric Safety Gate for Baby and Toddlers –>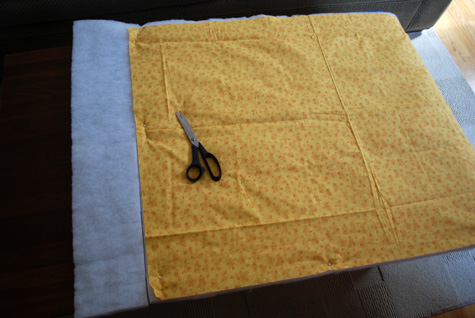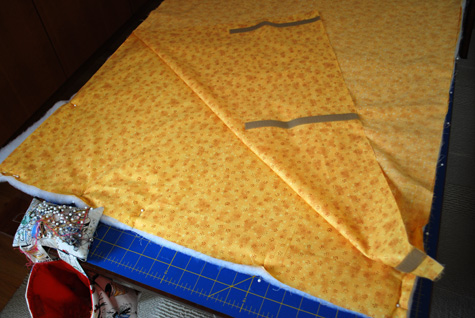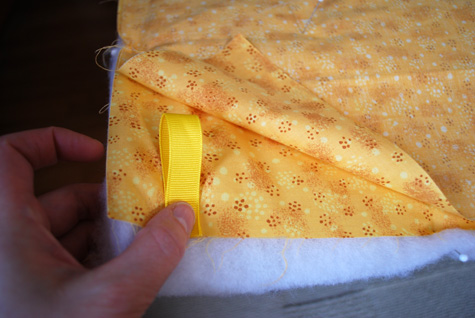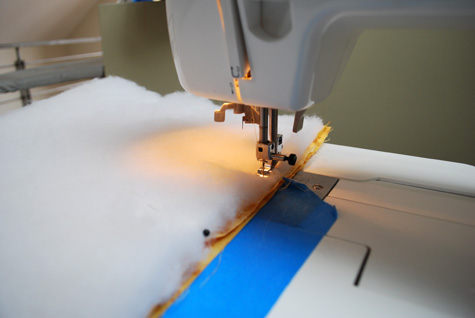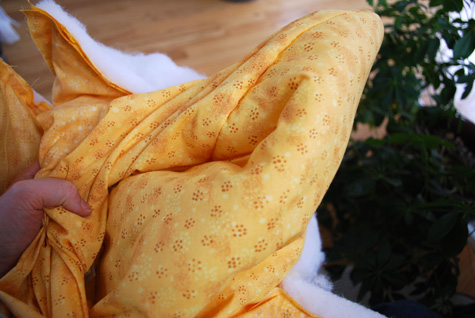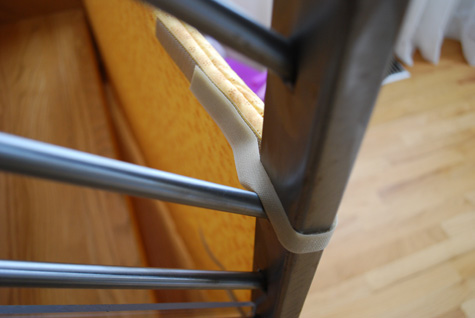 Supplies:
Please post a comment if you use this project – it makes me smile. And you can post your photos to our "I made it!" flickr photo group.
:: How to make a fabric safety gate for baby and toddlers ::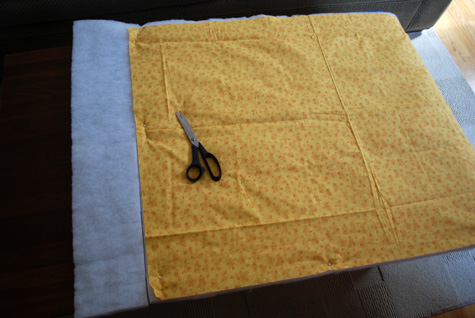 This is definitely a project you will need to customize for your own situation and measurements, so please read all the instructions carefully before cutting anything out.
Measure the opening that you want for your fabric baby safety gate. Cut two rectangles of fabric the same size – this assumes you're going to sew 5/8″ seams which will build in a bit of spacing for your loops later in the process. My finished size was 30″ high x 43″ wide so I cut two fabric rectangles this size. You can use your Dritz Air Soluble Marking Pen to make things easier.
Then cut one piece of batting the same size as your two rectangles using good fabric scissors.
Now here's where I'm going to tell you what I did and then I'll give you a "hindsight is 20/20″ instructions. So read all of these instructions first before moving forward.
Cut 4 pieces of Velcro long enough to wrap around your banister and attach securely to the back of the fabric safety gate. Mine were 8.5" long. Separate the cut Velcro into two pieces each. Place one piece of Velcro in the middle of one of your short sides, pinning it onto the right side of the fabric. Sew around the Velcro to attach it to the fabric front like in the photo above.
Repeat on the top edge of the fabric piece on the short end, placing the Velcro one inch down from the raw edge. Repeat on the bottom. You should now have three pieces of Velcro sewn to the front side of one of your fabric rectangles.
Now here's my hindsight: I think the finished baby safety gate would look better if I would have shortened the length of the Velcro that's sewn to the fabric. That's because when the other end of Velcro wraps around your banister, it's naturally going to be short on the other side. So play around with the length a bit before you sew the Velcro down. Alternatively, you could use ribbon ties here instead of Velcro which was Yoko's original idea and probably would look a bit cuter but perhaps less sturdy than Velcro.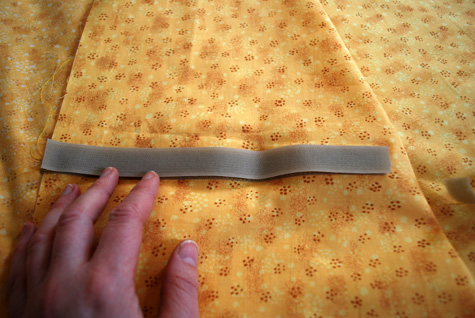 Now place the other pieces of the Velcro on top of their mates – three pieces in all.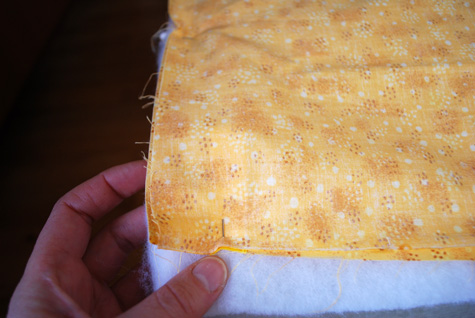 Place the batting down on your table and layer one of the fabric rectangles on top, face up. Place the other fabric rectangle face down so that the two right sides of the fabric are together. Pin it all together on the batting side – it will make it easier to sew later if you are sewing with the fabric side down.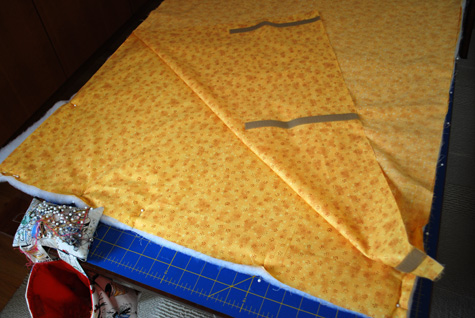 Above is a photo of how I started to pin it before I moved the pins to the batting side. But it's a good photo to show you how the fabric baby safety gate is coming together.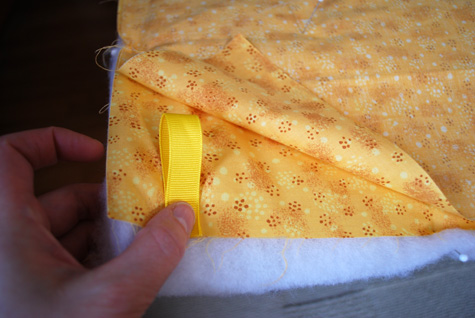 Make ribbon loops. Cut 3 pieces of ribbon – mine were 5 inches long each. Fold the ribbon in half to make a loop. Place one loop between your fabric layers about 1″ down from the short side's top raw edge (the opposite side of all the Velcro). Repeat for the bottom and the middle ribbon loops. Sandwich these three ribbon loops between the two fabric rectangles and pin the whole stack together (again, pin from the batting side and then up like the pins above).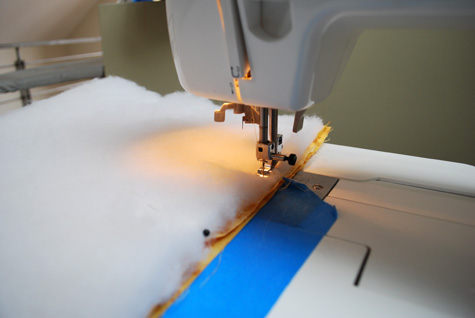 Place the fabric down on your sewing machine and stitch 1/2″ seams *almost* all the way around the rectangles, making sure to catch all three layers – the batting and two fabric rectangles – all around. Leave an opening about 20″ long on the ribbon loop side.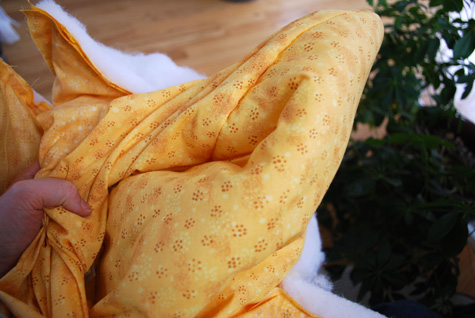 Turn the fabric gate right-side out through the opening.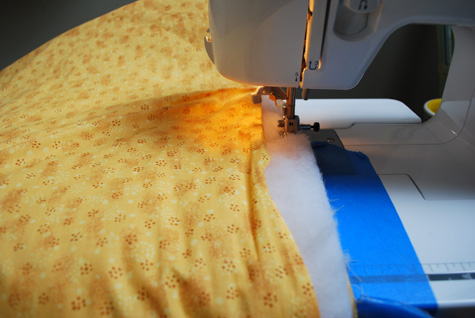 Optional: Sew close to the edge to sew the batting to one layer of fabric (it made it easier for me to turn it down).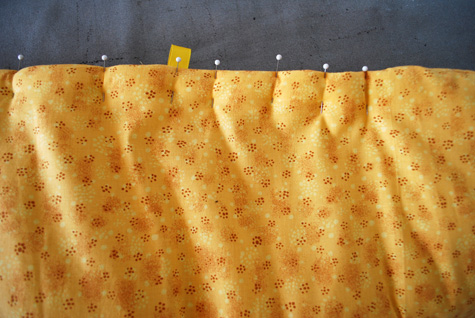 Now turn down the opening, pin, adjust the middle loop as needed, and sew.
Now here's another optional step (one I didn't do). Yoko then quilted her fabric baby safety gate – you can refer to her drawing. I didn't do it and mine works fine.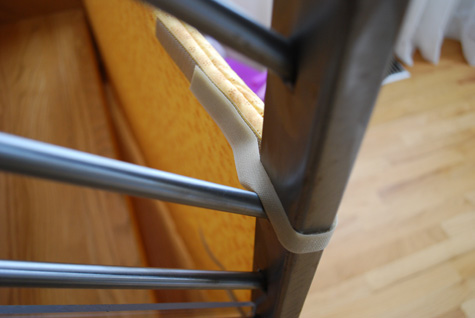 Attach the Velcro side to your banister and secure. TIP: I measured my gate height so that it would be right above the horizontal railing here which really helps keep the whole thing from sliding down. If I didn't have these rungs on my banister, I think I would use more batting (see Yoko's drawing) to make the whole fabric gate more able to stand up on its own.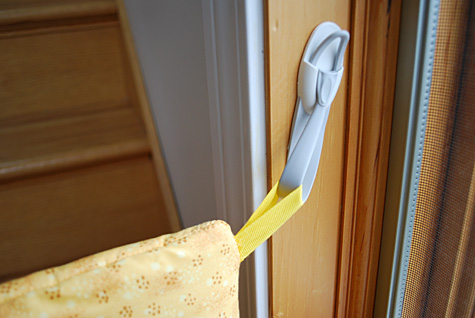 Pull the fabric safety gate taut to see where to put your Command Cord Bundlers. Following the 3M instructions, adhere three Command Cord Bunders onto your wall. Once it's secure, you can hook on the ribbon loops. This photo really shows how wonky our situation was — I had to adhere them inside the window itself!
To open the gate, just slip the ribbon off of the Command Cord Bundlers, roll the gate onto itself a bit, rest it on the stairs, and climb!
COPYRIGHT NOTE: Please post a comment if you use this project – it makes me smile. And you can post your photos to our "I made it!" flickr photo group. You're more than welcome to use free pattern and how t0 step-by-step tutorial for your own personal use. Contact me for any commercial use – this includes etsy sellers.