Throw a Star Wars Birthday Party theme with this galaxy of colorful DIY Star Wars birthday party ideas for girls and boys, from Star Wars decorations and Star Wars games to Star Wars birthday printables and Star Wars cakes and cupcakes, including the cutest handmade BB-8 birthday cake that you can make yourself. Who says Star Wars birthday party decorations have to be just black and white??
DIY Star Wars party decorations in lightsaber colors!
Star Wars is a battle between The Dark and The Light …yet a birthday party should still feel like a party, you know? These Star Wars birthday party decorations come in a light saber color theme — green, blue, purple and red — plus yellow because, well I like yellow, plus the requisite black and white. And this Star Wars birthday party theme works great for both girls and for boys.
My daughter Elise was turning 6 so our Star Wars party inspiration began with Episode VI: Return of the Jedi. We jokingly called Elise's Star Wars birthday party Episode VI: Return of the Birthday and that set the tone for our entire Star Wars party theme. This whimsical and colorful Star Wars birthday party was a huge hit and also so much fun to plan …just like Beggar's Canyon back home.
Keep reading for Star Wars birthday party games, Star Wars birthday party decorations, Star Wars birthday party ideas, Star Wars birthday cakes, Star Wars favors, Star Wars party supplies, Star Wars printables, and more. Yub Nub!
++++++
First: what I made for our Star Wars party and what I bought
I like to keep party costs in check. I made most of the printables below and printed most of them at home – most of them are free and I printed on colored cardstock paper. The Star Wars stairs cost under $20 to print at an office supply store.
What I made for Elise's Star Wars party:
What I bought for Elise's Star Wars party:
++++++
This old-school free printable Star Wars birthday banner features green for Yoda, BB-8 and Qui Gon, blue for Luke, R2D2 and Jedi Anakin, Purple for Mace Windu, Chewie, Han, Lando and Ewoks, Red for Vader, Jabba and Boba Fett, and yellow for Leia, C3PO and Padme. This free printable is black and white, so you can really print it on any color that you wish. I chose light saber colored card stock paper to print two sets of this Star Wars birthday banner. You can also add my printable Star Wars sign with a star-filled galaxy background – just type to personalize name and age.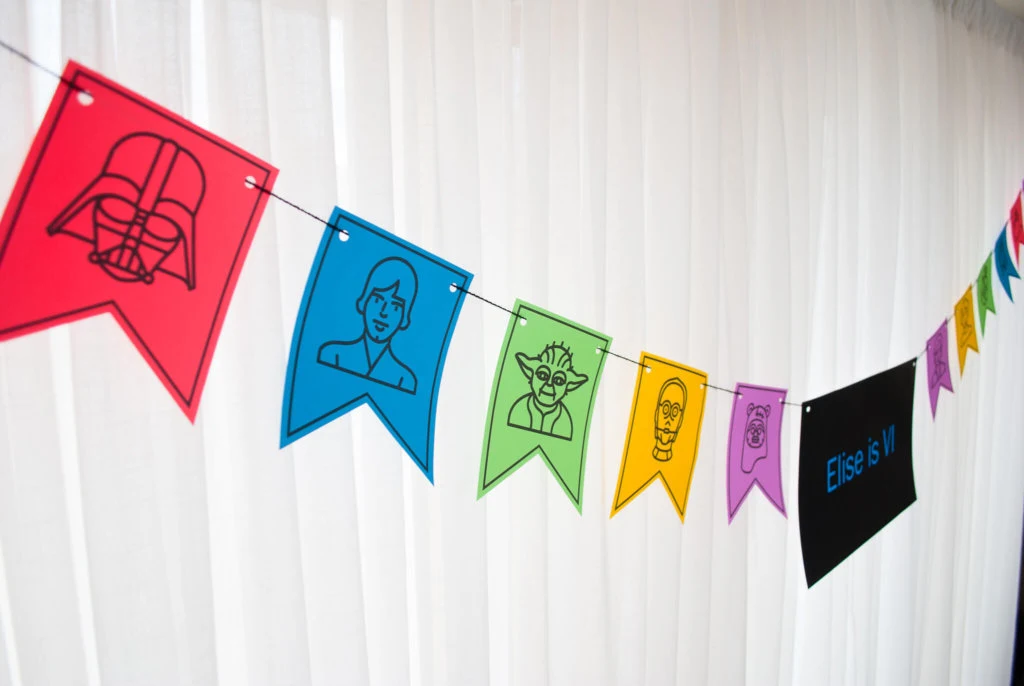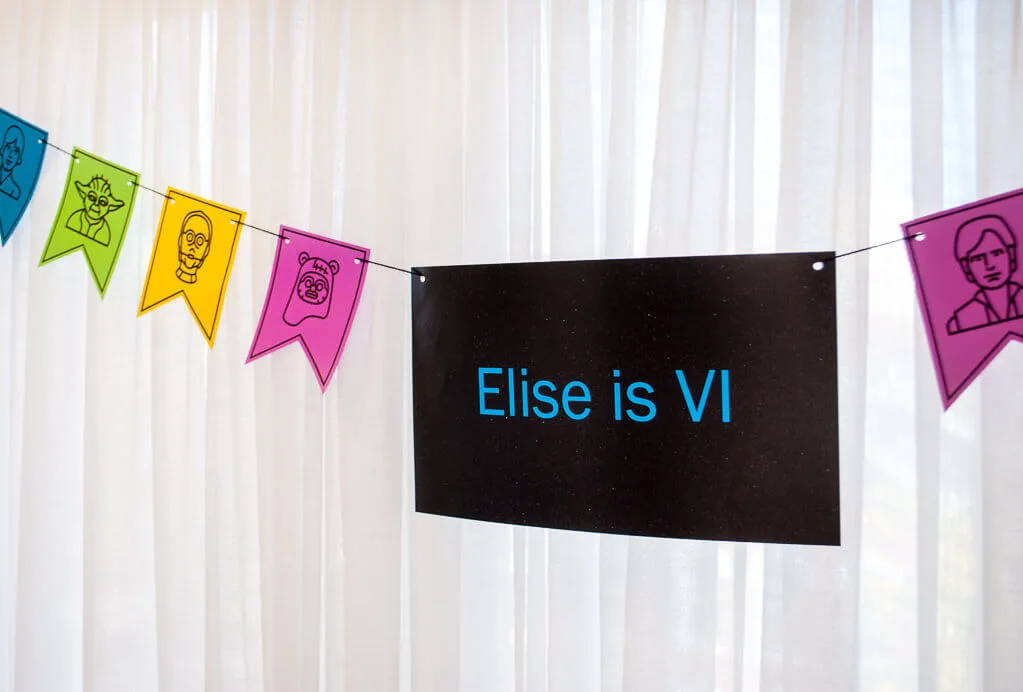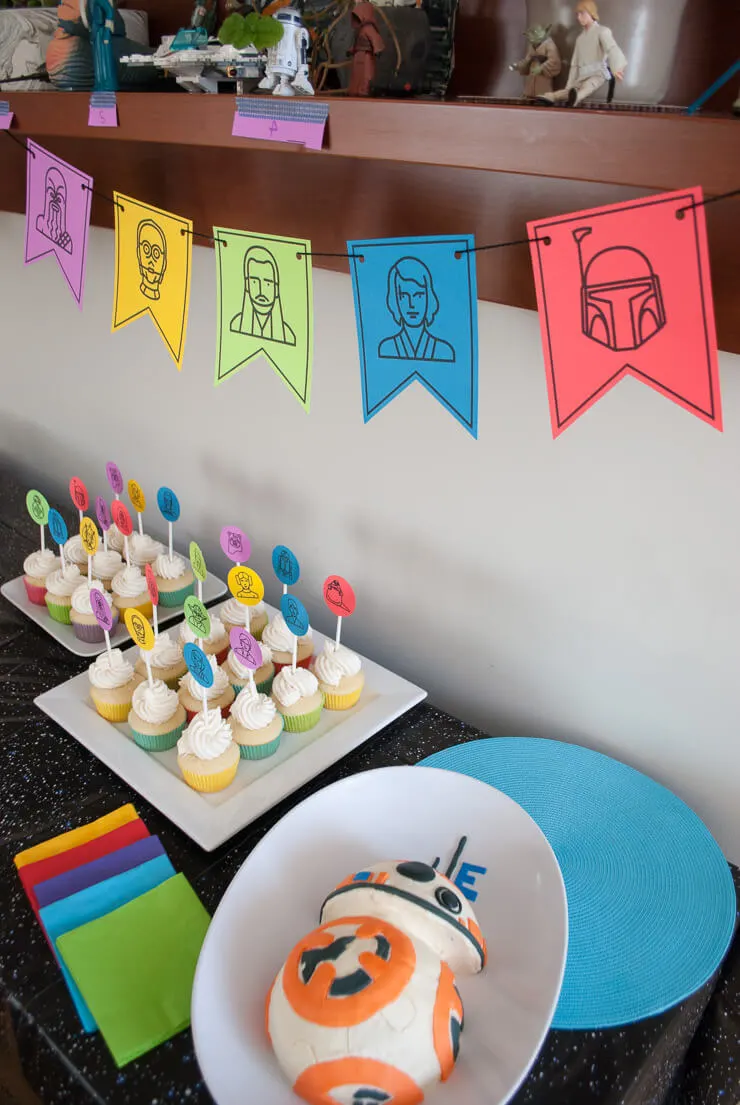 ++++++
Print these cute free printable Star Wars cupcake toppers to match the free printable Star Wars birthday party banner. Be sure to bake your cupcakes in lightsaber color liners and top with vanilla buttercream icing. I also share the toppers and the best-tasting cupcake and buttercream icing recipes to use, and I tell you, these recipes taste like a bakery.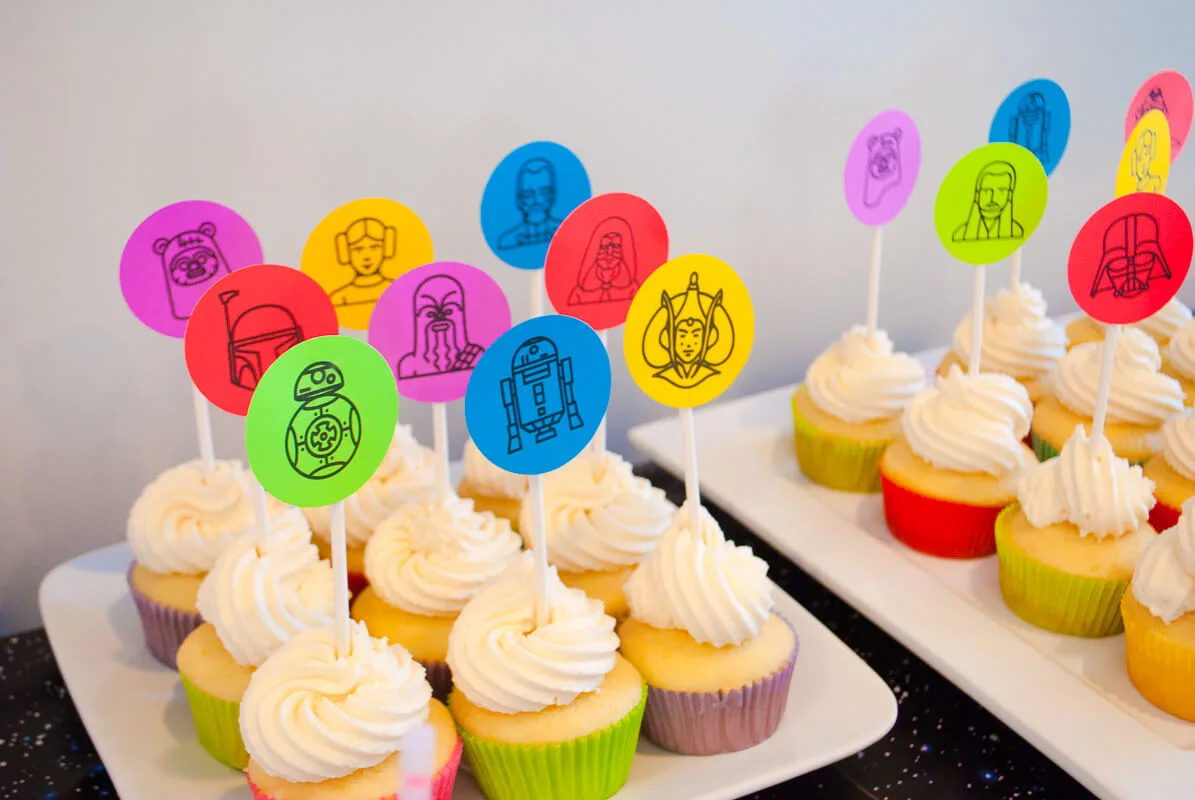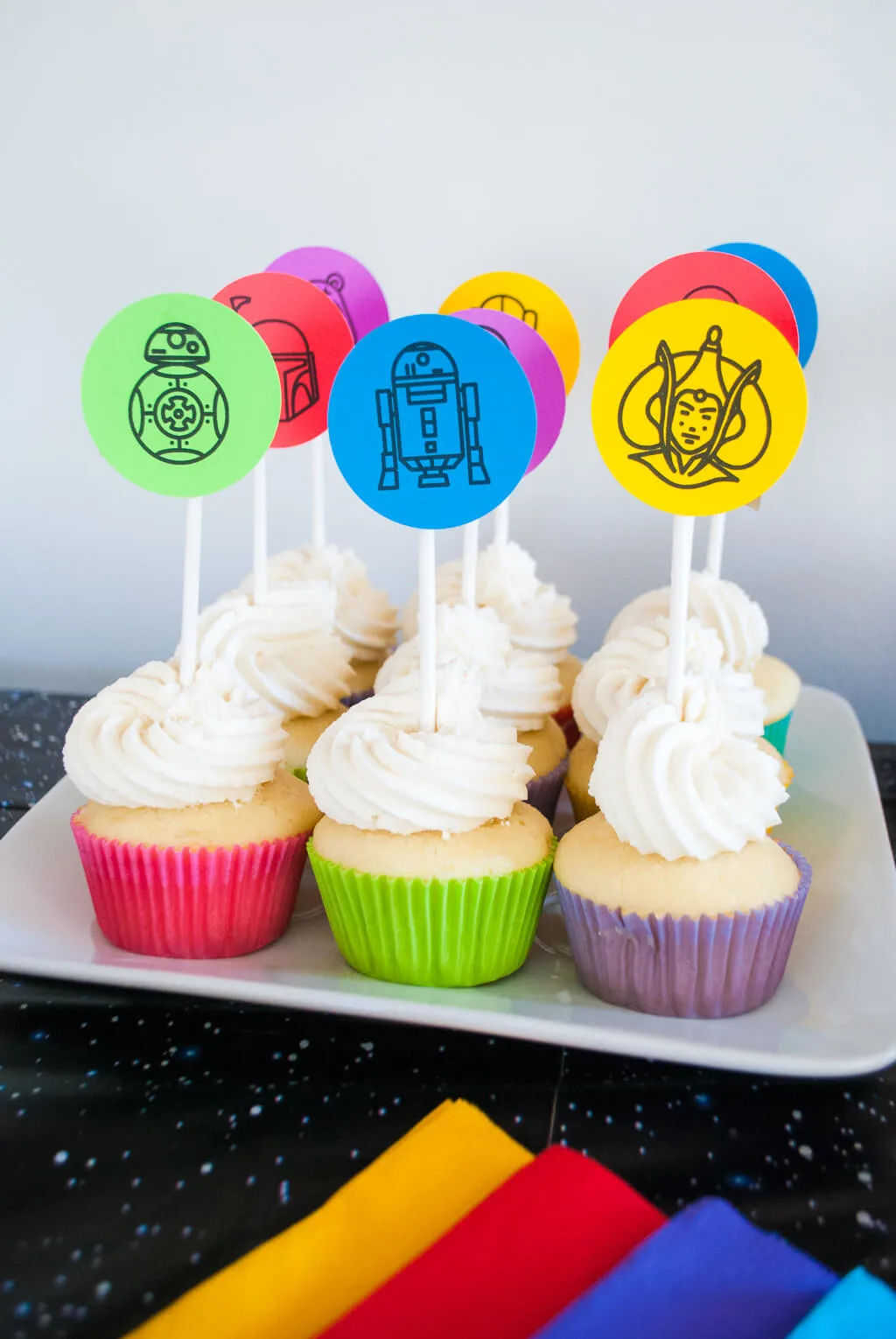 ++++++
My BB-8 Star Wars birthday cake is super easy to make when you follow my free step-by-step baking instructions. BB-8 starts with a regular 3-D ball pan that you can use for future birthday cakes. It's a super easy and fun Star Wars birthday cake to make, and I'll show you how to space out the steps so that it's low-stress to make. And yes, I know that BB-8's head is a little too big. You can shave yours down a bit more.
You can see more Star Wars birthday cake ideas on my Star Wars birthday party Pinterest board.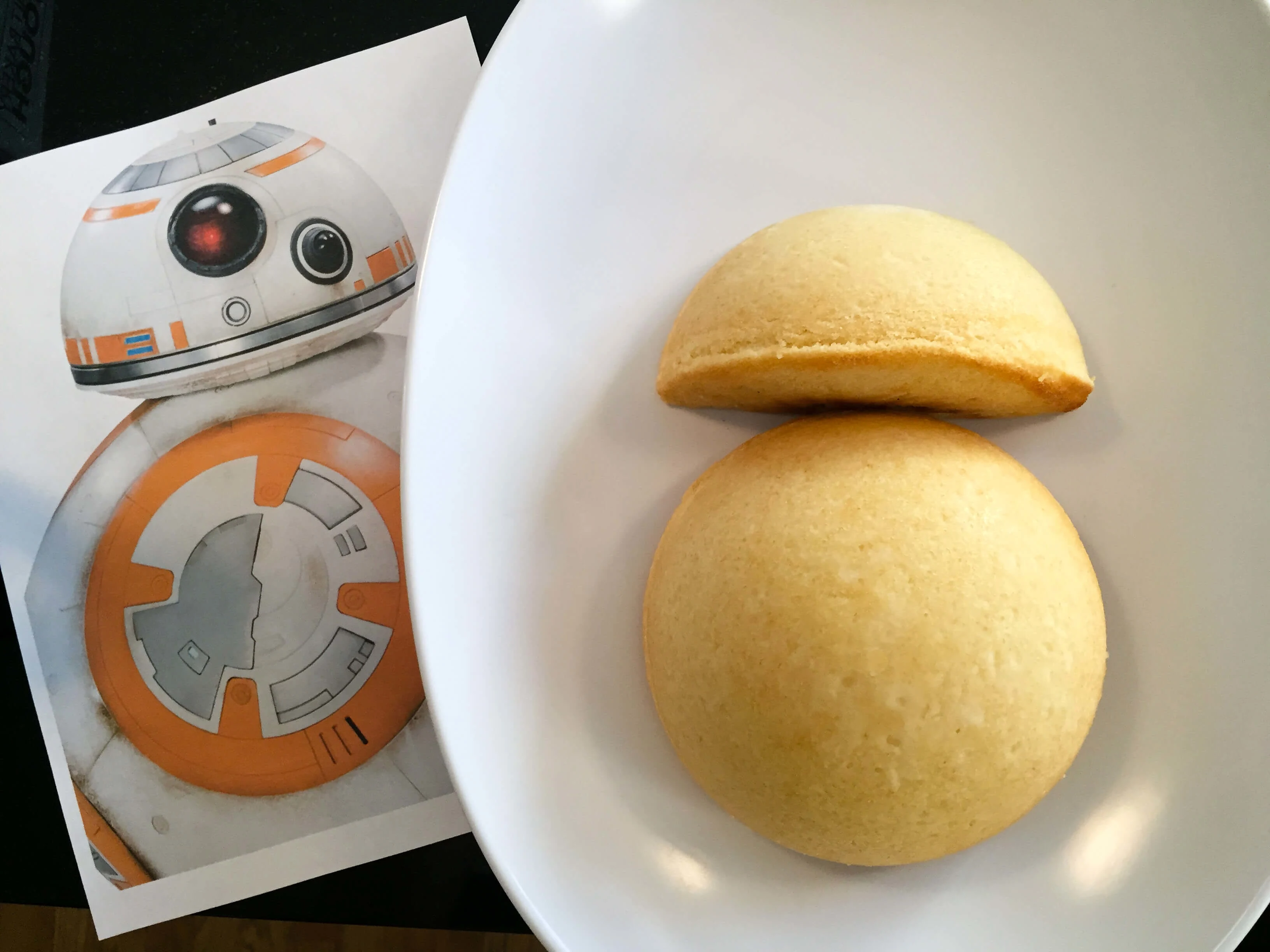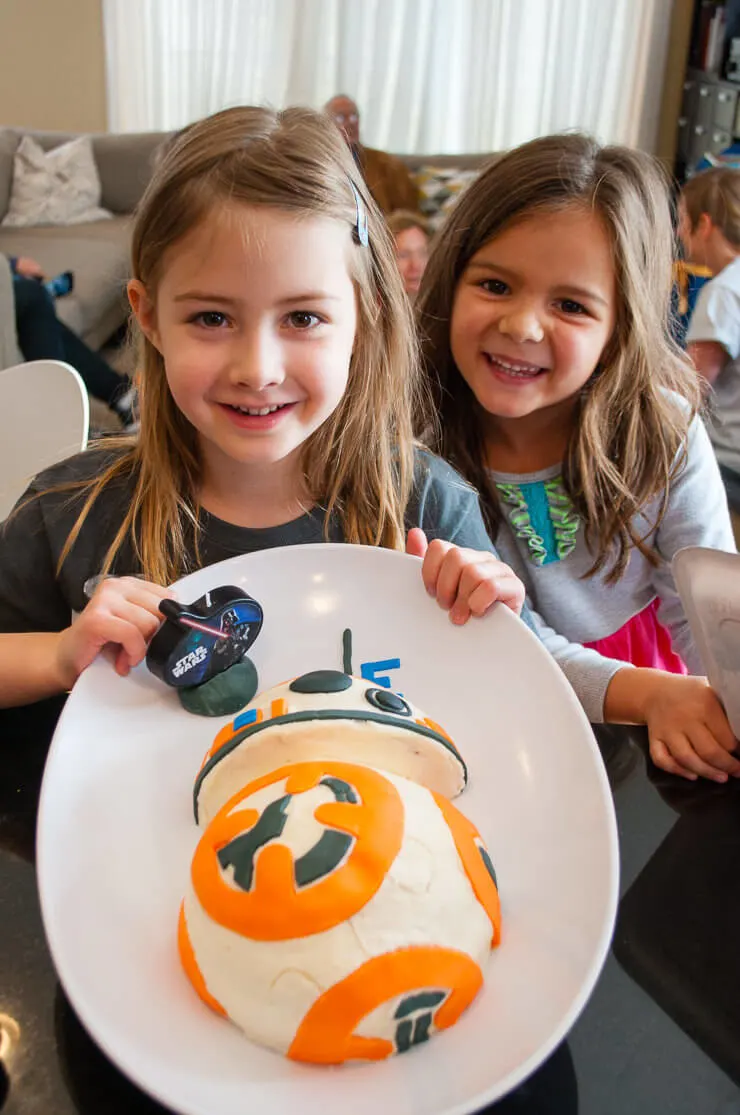 ++++++
++++++
This showstopper Star Wars birthday party decoration for stairs is a lot easier than you think. It's a pretty funny parody too …adults and kids both loved it. Elise was turning 6 so we based our parody on the Return of the Jedi opening crawl and called it Episode VI: Return of the Birthday. This Star Wars opening crawl birthday party decoration will take you only 15 minutes to make with my help.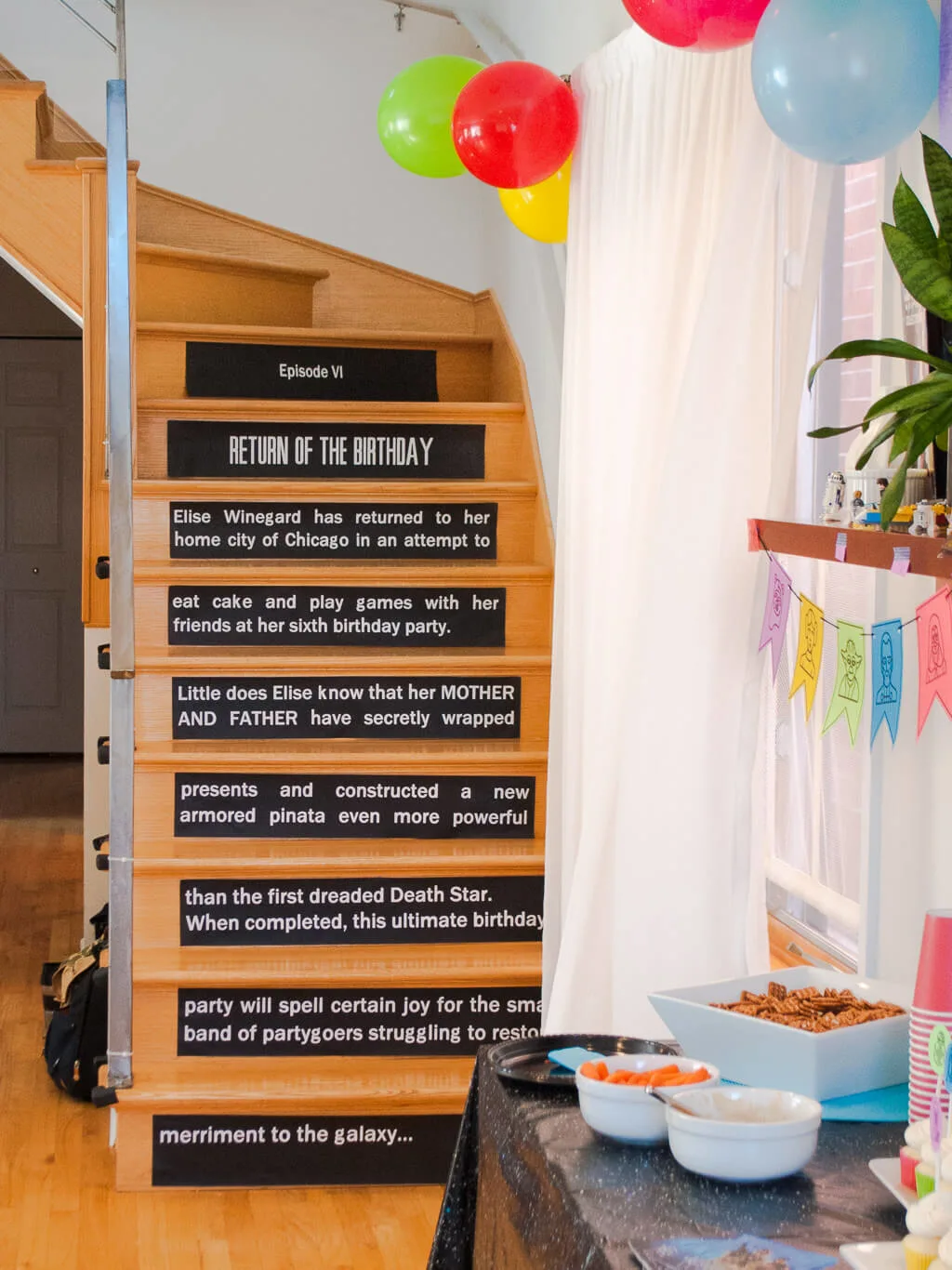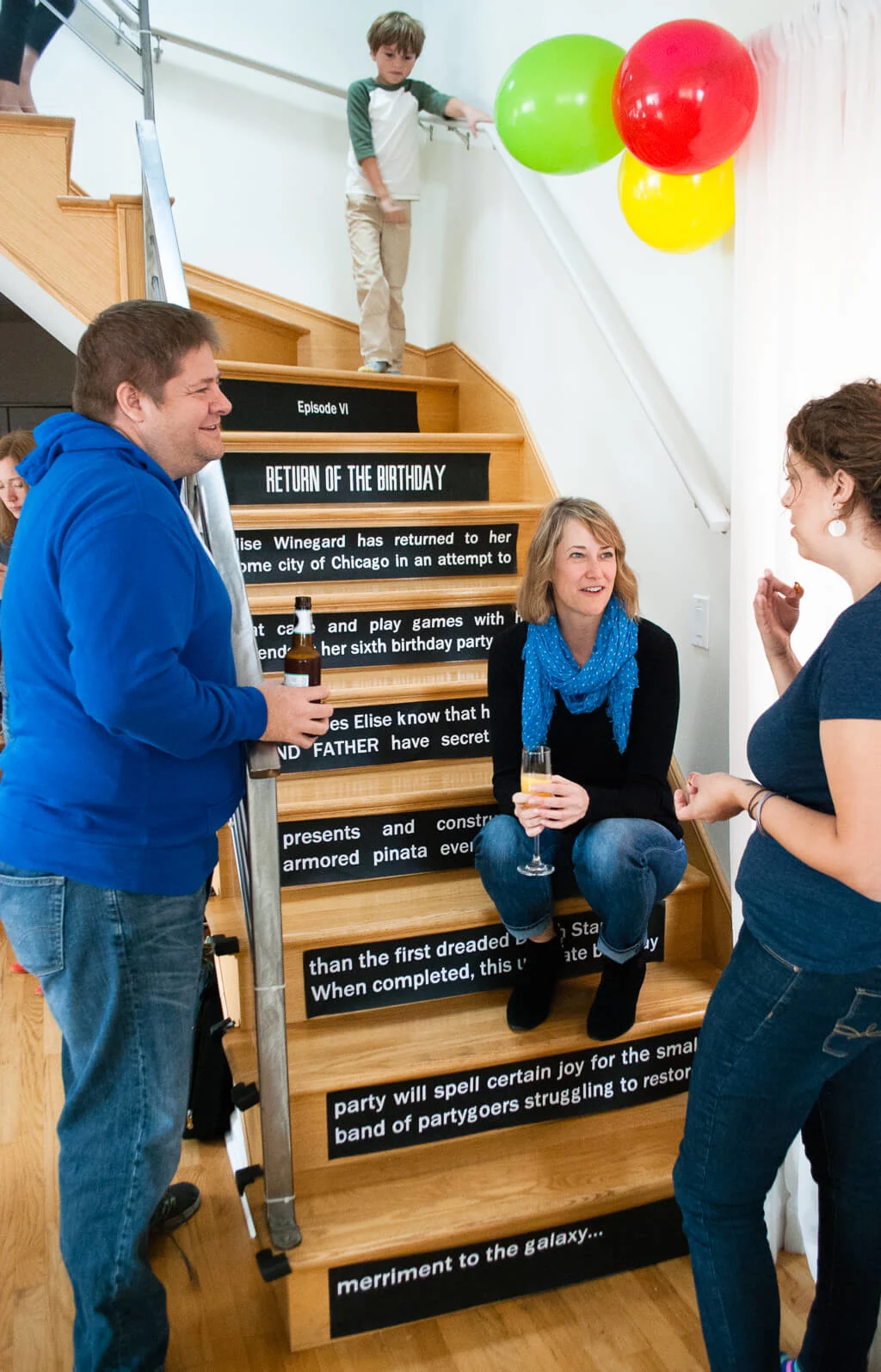 ++++++
We turned this Star Wars party game into a trivia game – each correct answer got a chance to free Han (and his friends) from the dreaded Carbonite. Even the adults gathered round for this Star Wars party game trying to answer the trivia questions and watching the 'carbonite' bubble and foam and slowly reveal its contents. The kids loved this Star Wars birthday party game so much that we played it twice. I'm glad that I bought two sets of Star Wars minifigures in bulk for favors! And Elise helped me make the carbonite so that part made for some fun mother-daughter party prep.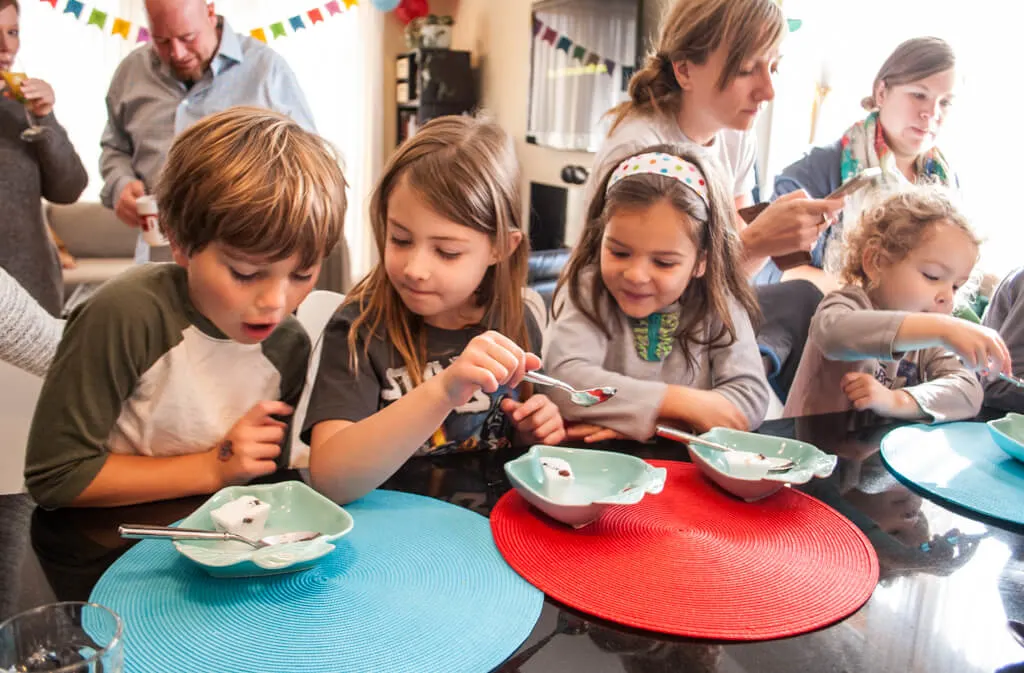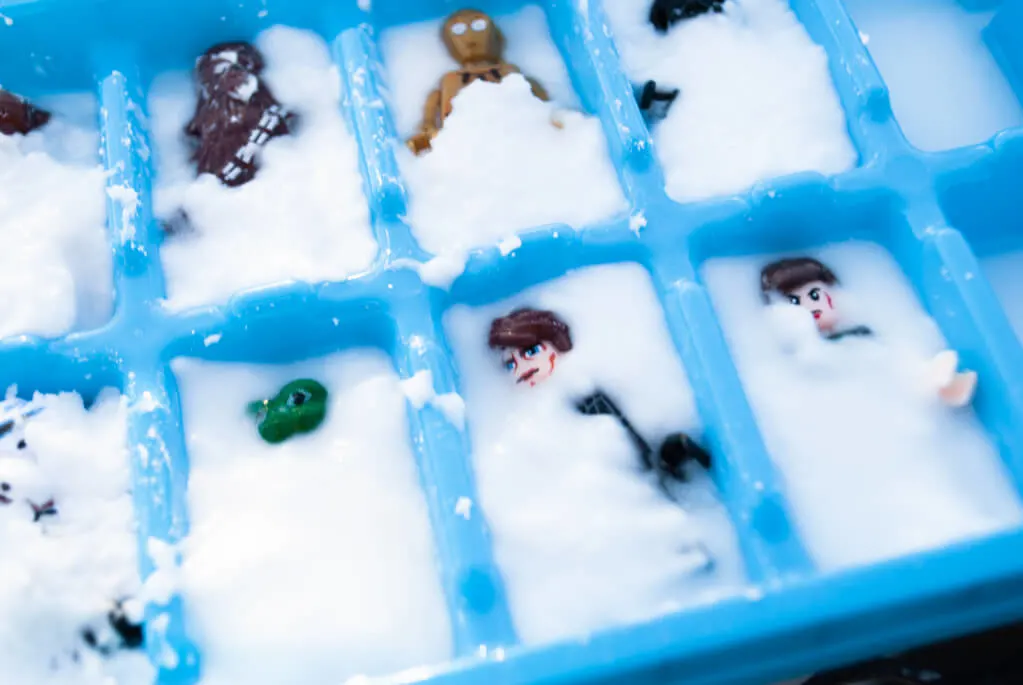 ++++++
Be just like Luke: Put on a blindfold and use the Force to pin the lightsaber onto Darth Vader. Wait a minute, should we really be giving this guy back his lightsaber?? Anyway, this Star Wars Party Game kept the kids engaged and excited and you can play it inside or out.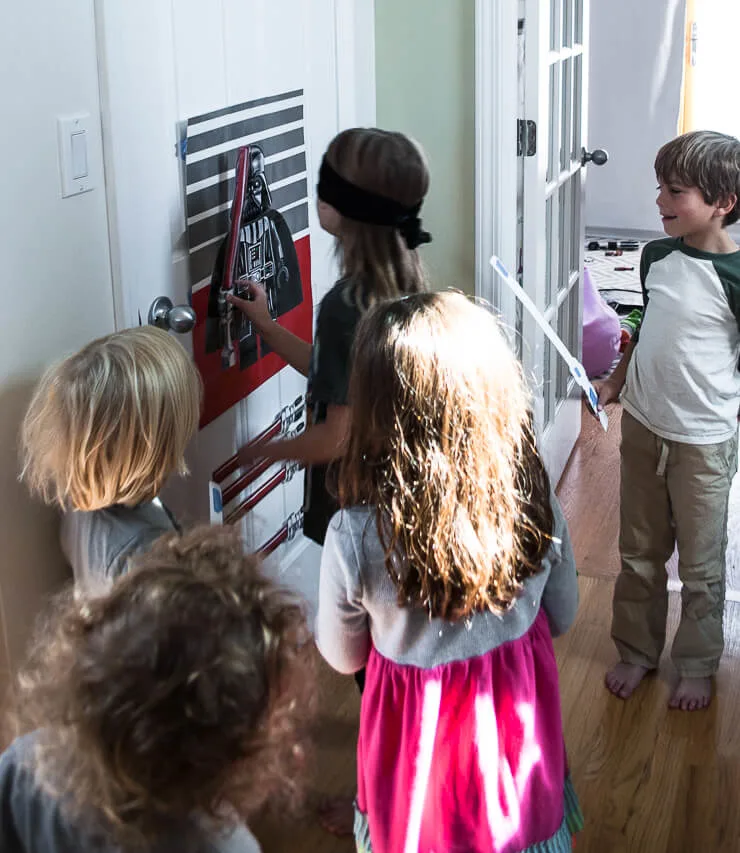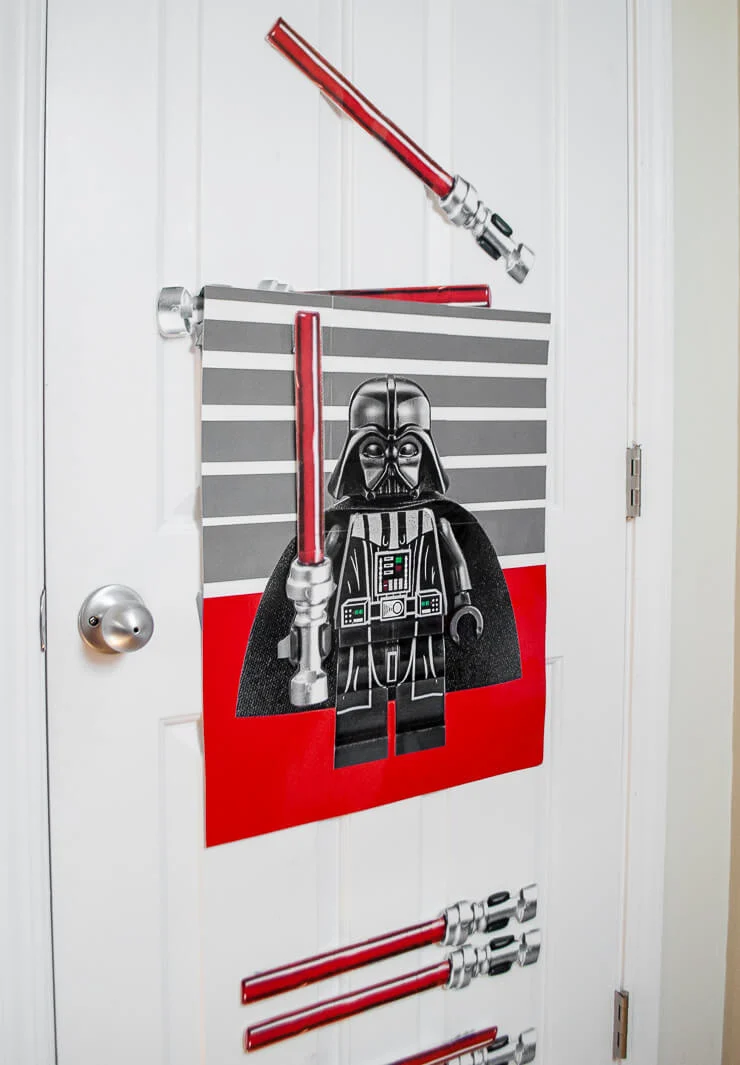 ++++++
Everyone gets excited when they see those classic blue words on the screen. Print my free 'A long time ago in a galaxy far, far away….' Star Wars printable party sign for your front door. To add a little humor, I added Elise's baby photo to my sign — what a long long time ago! Download your free blank 'A long long time ago..' sign here …adding a baby photo is optional but encouraged.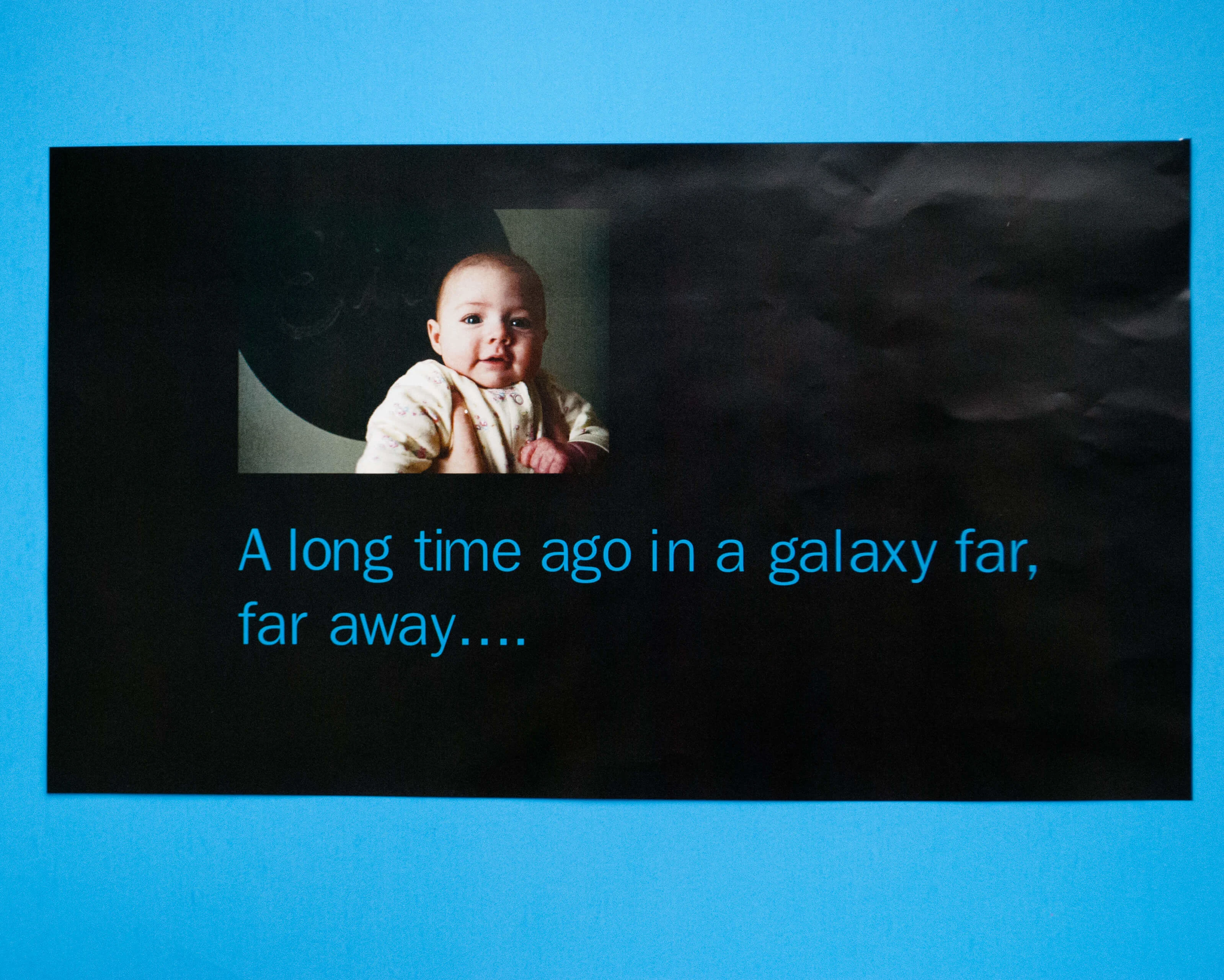 ++++++
I feel that it's important for kids to help decorate their own birthday parties, especially in this age of Pinterest-perfect birthdays. I'm not a fan of perfect parties – it's more important to get the kids involved. Elise drew a super cute picture and created an elaborate diorama on a shelf depicting Episodes 1 – 6. Pretty cool when you look at it up close, and she enjoyed walking guests through the story.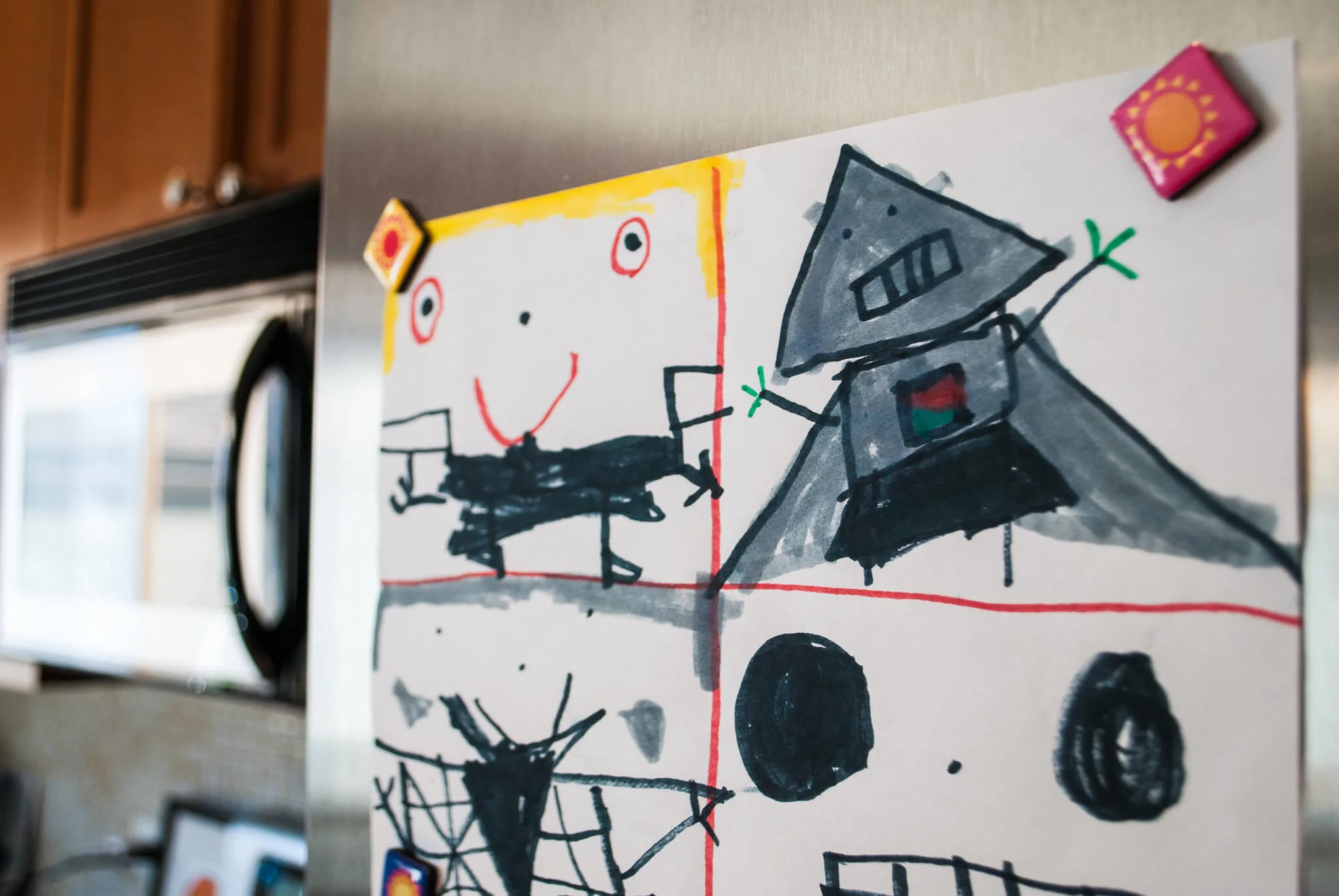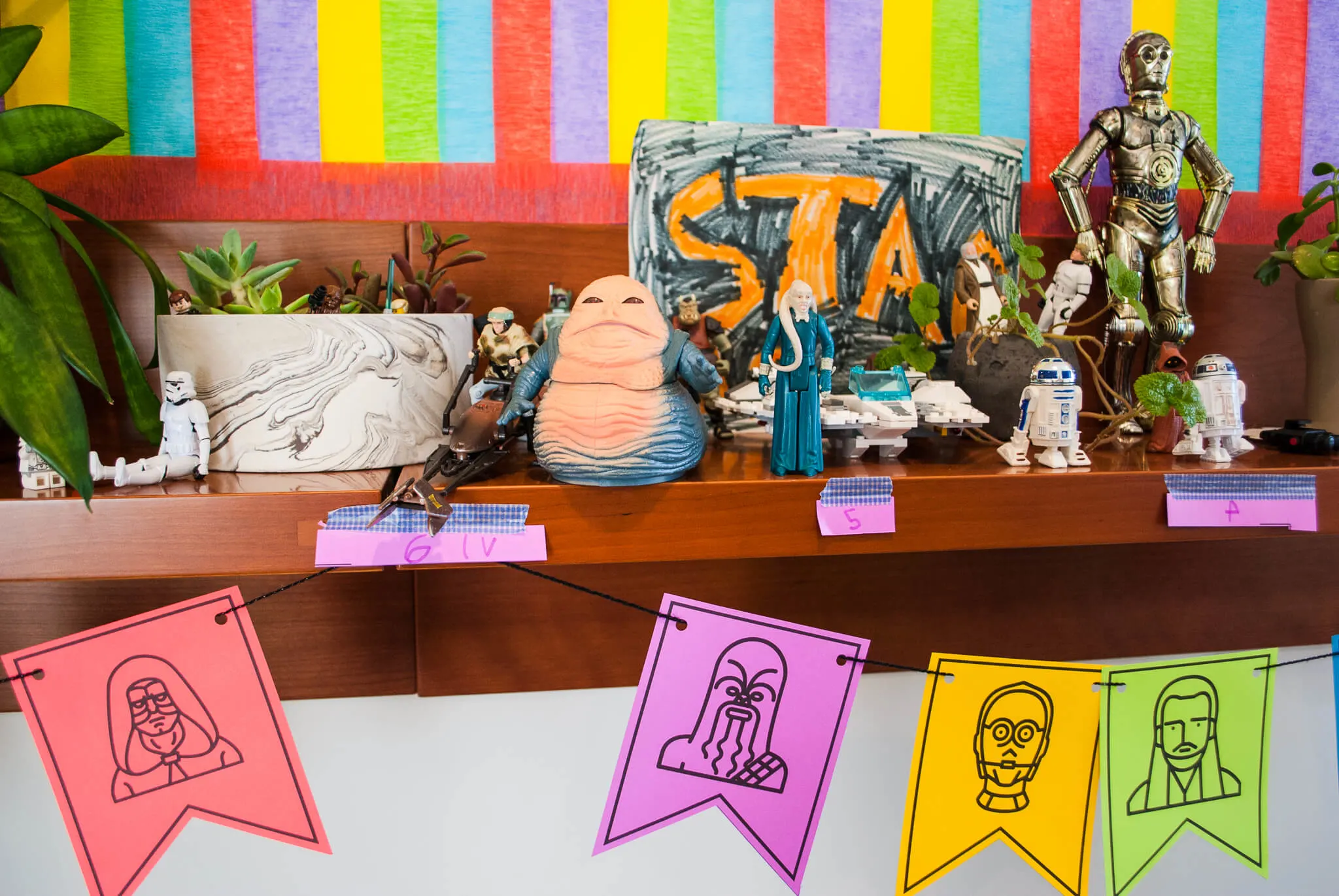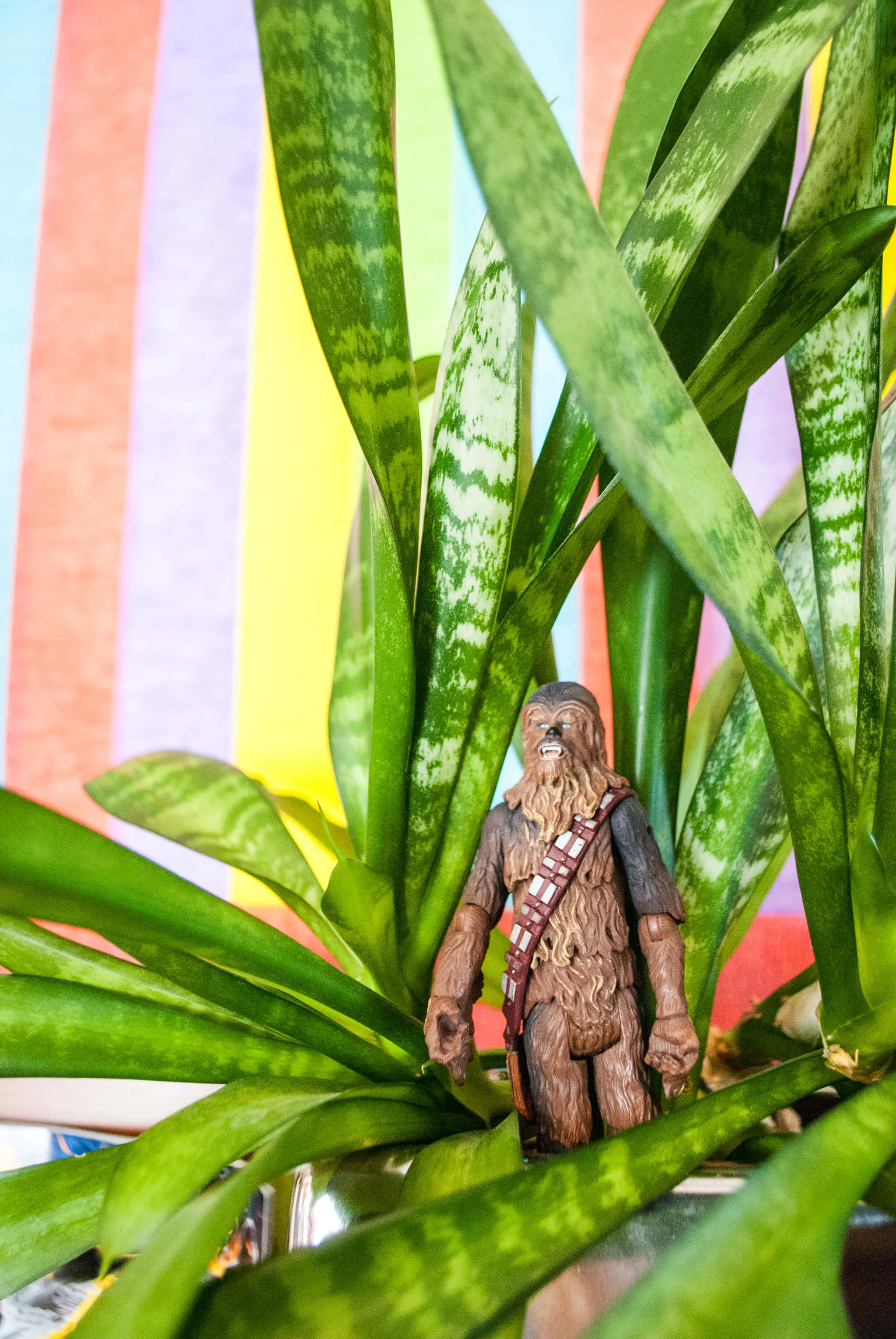 ++++++
DIY Star Wars lightsabers from pool noodles
Now here's a rare DIY shortcut: Make very simple pool noodle lightsabers, no extra decoration needed. Truly. Don't spend a lot of time decorating hilts or using duct tape or anything like that. You may have seen elaborate pool noodle lightsabers on Pinterest but I'm telling you, it's not worth the time. Spend your time on other activities. The kids don't care. I mean, look at 'em.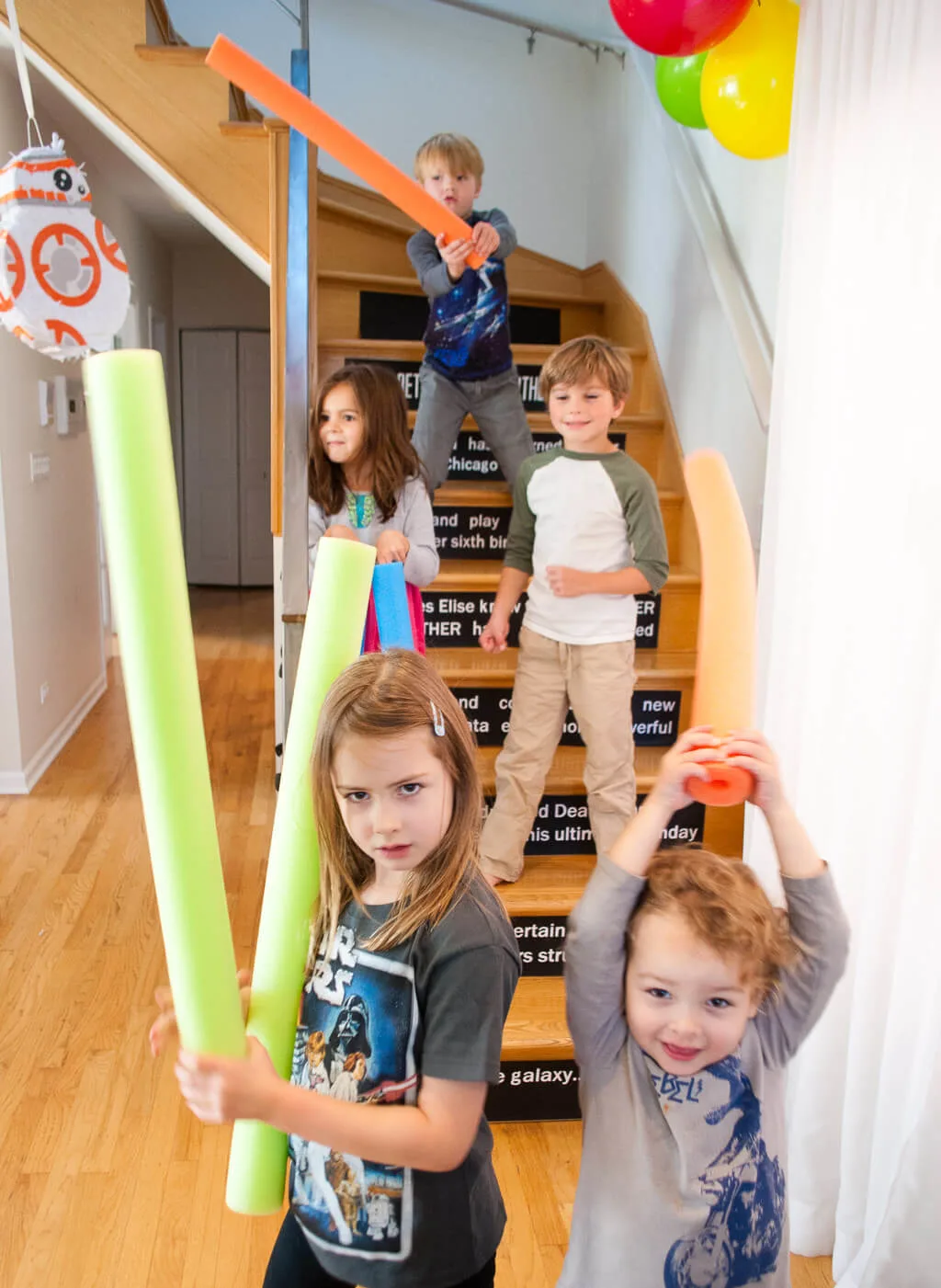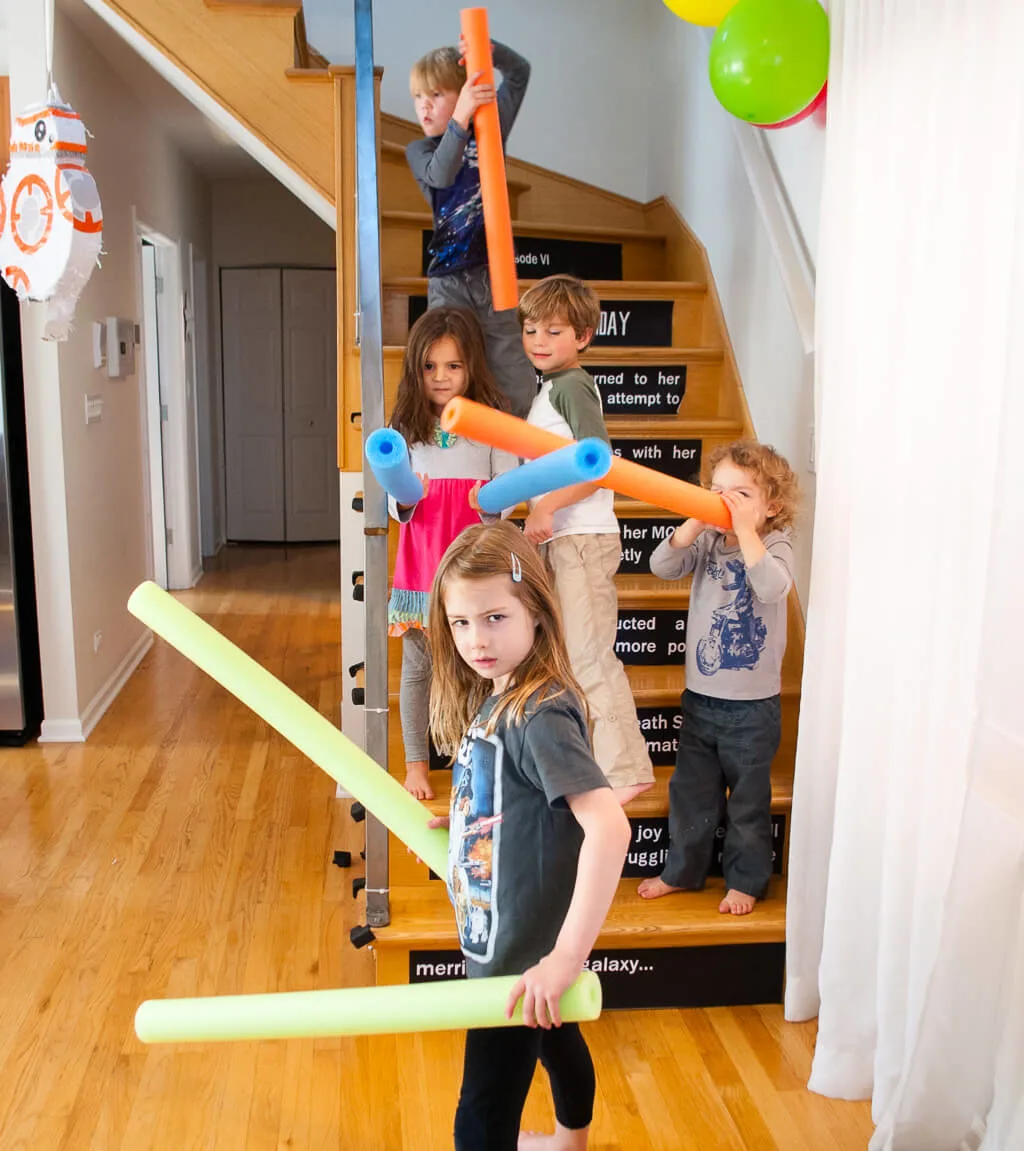 ++++++
Here's another way to involve your kids in party planning: have them write the guest names on the favor bags. Our Star Wars favors included goodies from inside the Star Wars pinata, two Star Wars minifigures from the Free Han Solo from Carbonite Star Wars party game, a Star Wars cupcake to go, glow sticks in lightsaber colors, and the pool noodle lightsabers which obviously didn't fit into the bags, ha.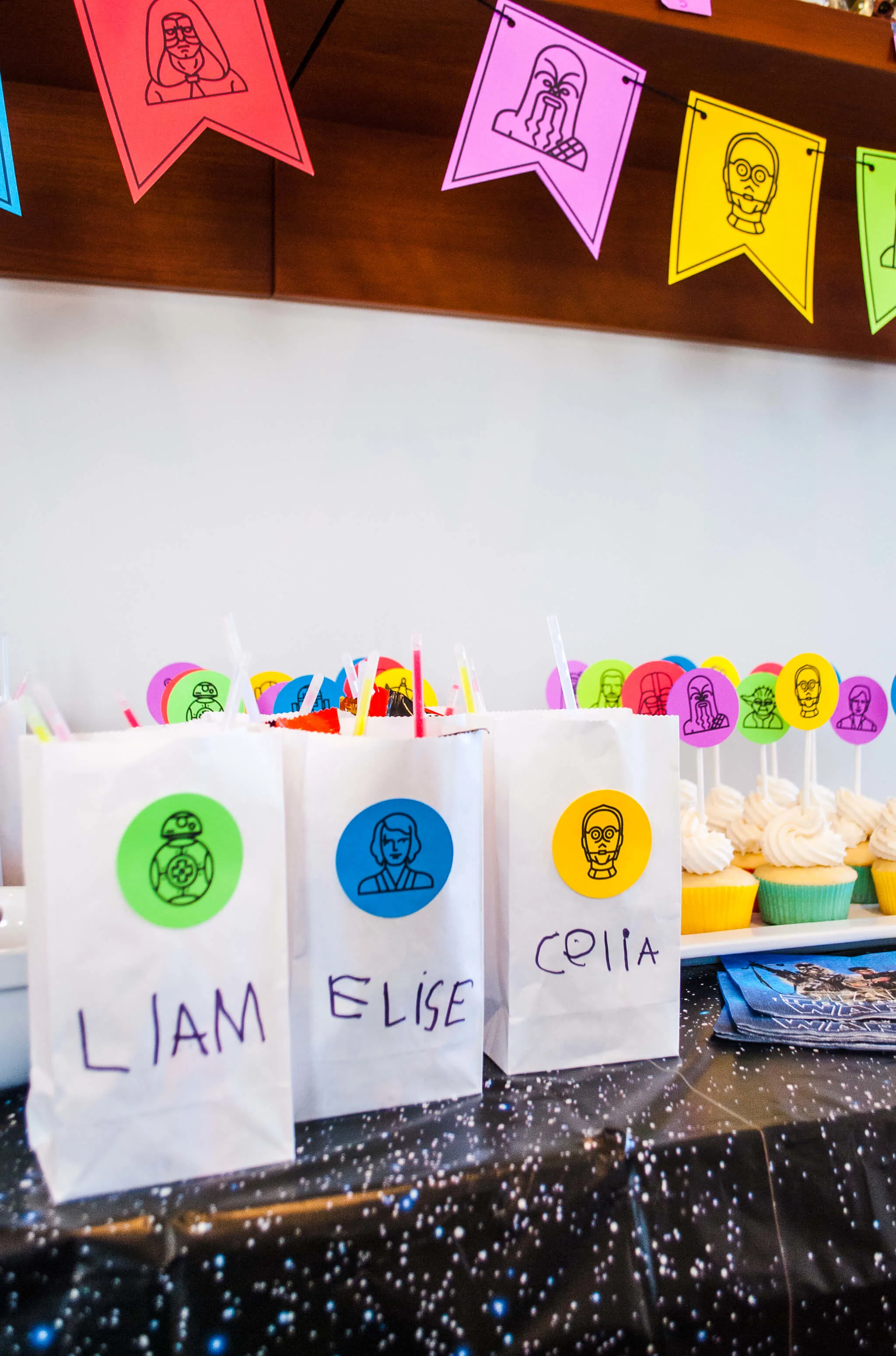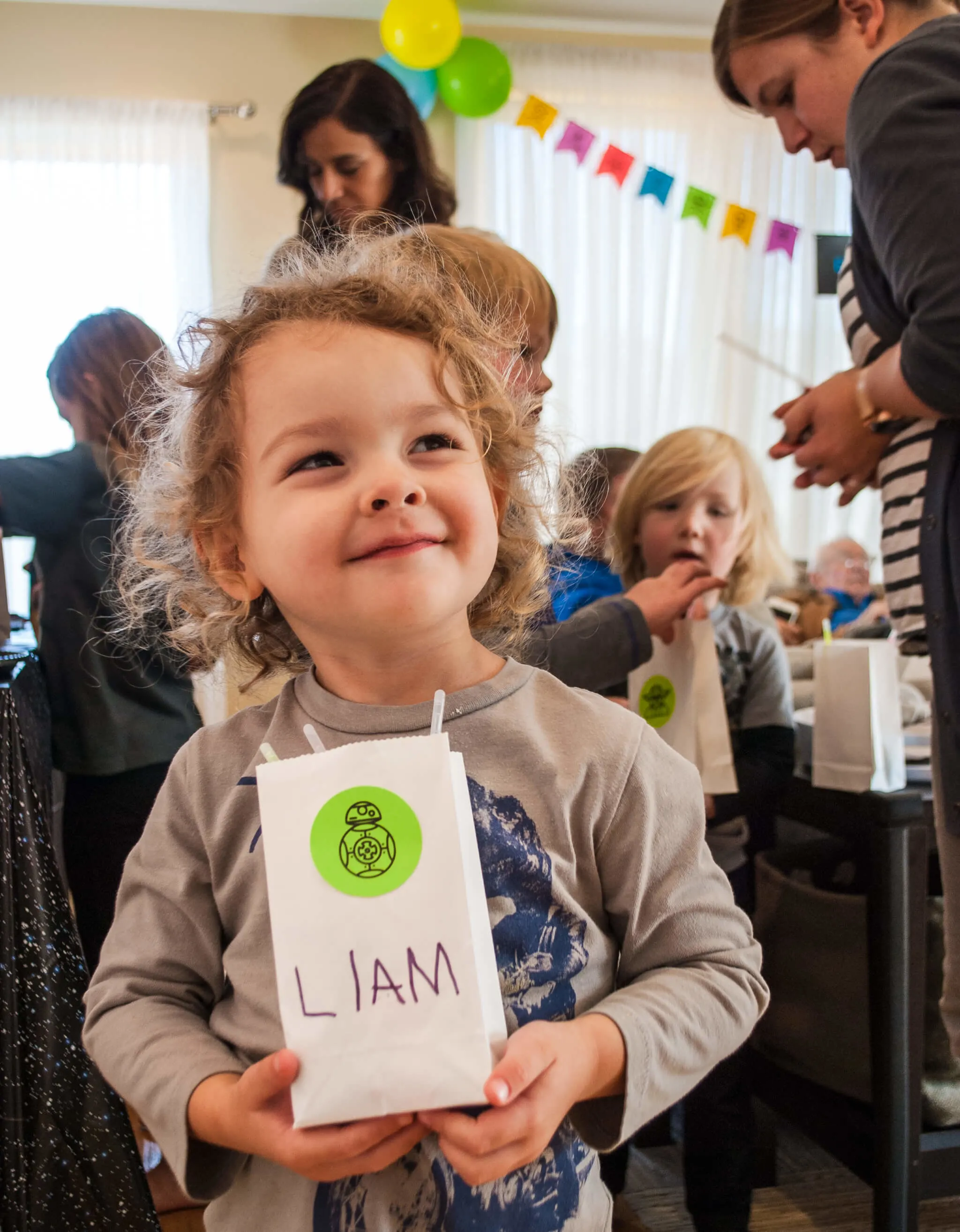 ++++++
Pinatas are a thing in our family. I bought this BB-8 pinata but there are some super cool Death Star pinatas on Pinterest that you should check out if you're feeling crafty.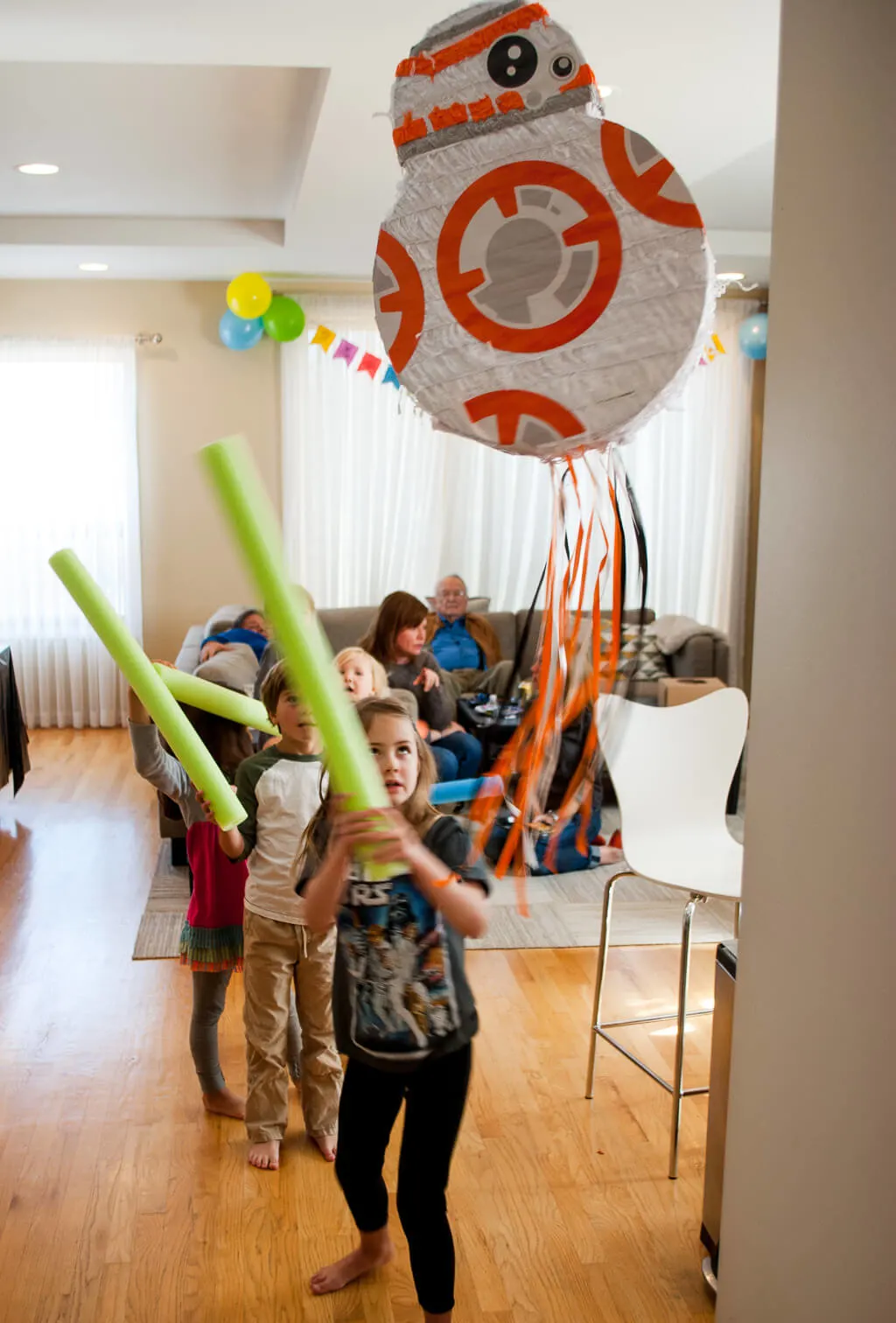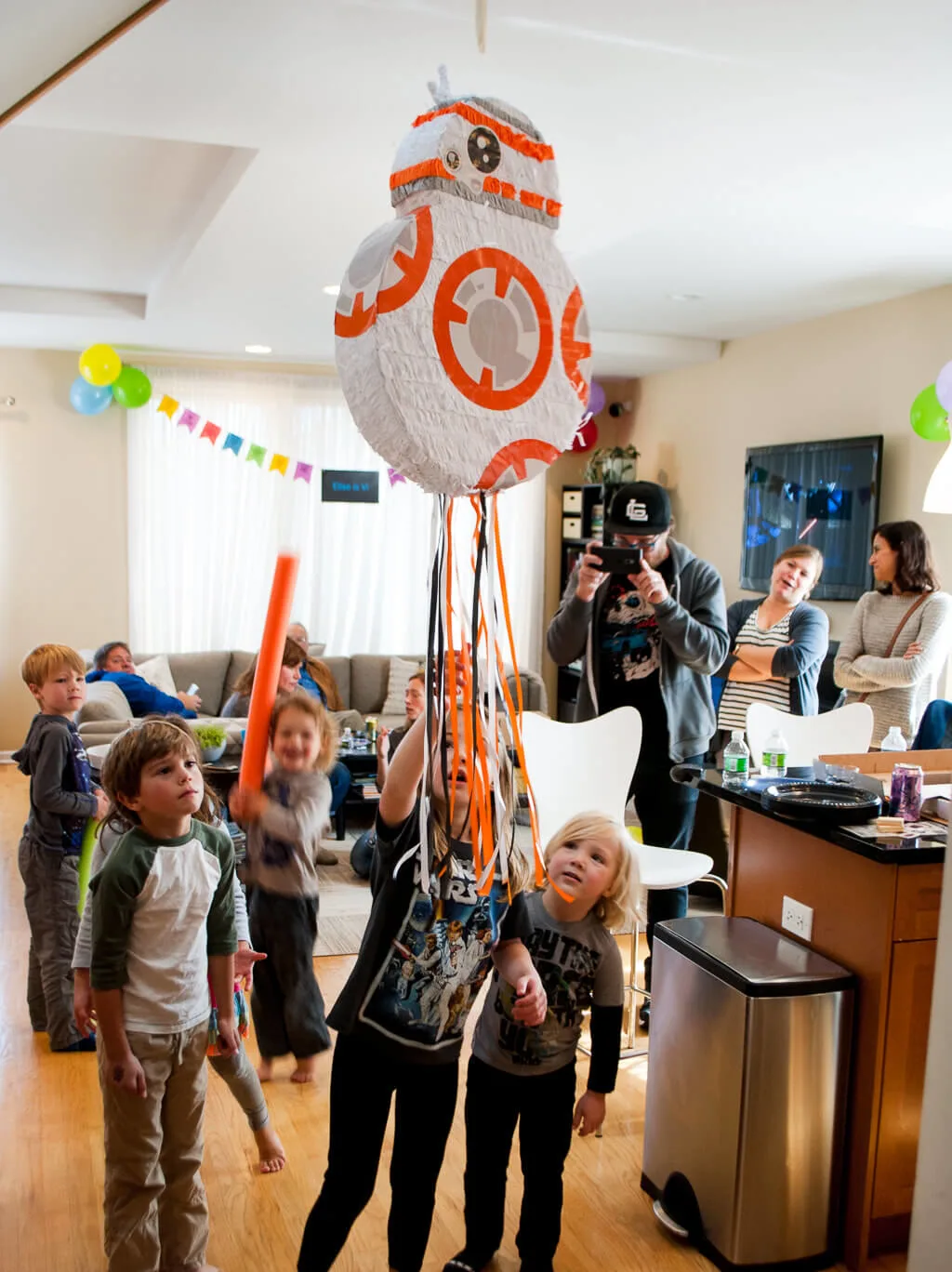 ++++++
This Star Wars party game was so much fun that I could barely get a photo of it …the kids moved so fast! I've always loved the classic Sarlacc Pit and so I came up with a game based on the classic clothespin-drop childhood game. I covered my son's blocks with photos of Princess Leia, Lando Calrissian, Han Solo, Jabba The Hut, Salacious B. Crumb and of course, Boba Fett. Download the free printables to make your own Sarlacc Pit Star Wars party game.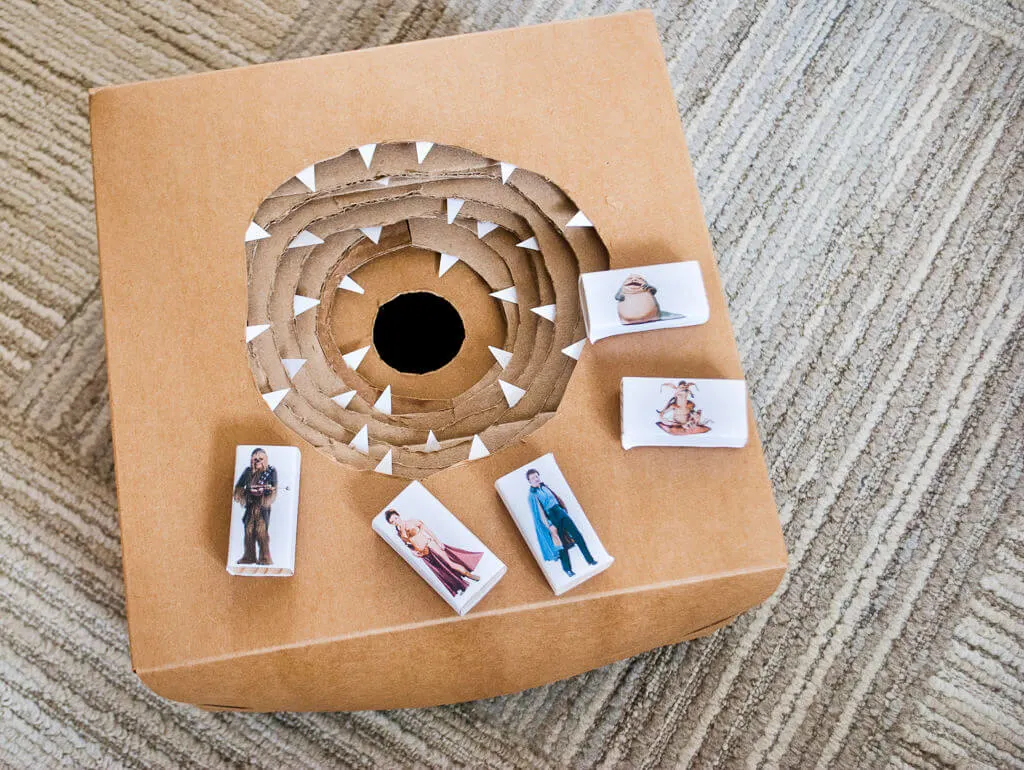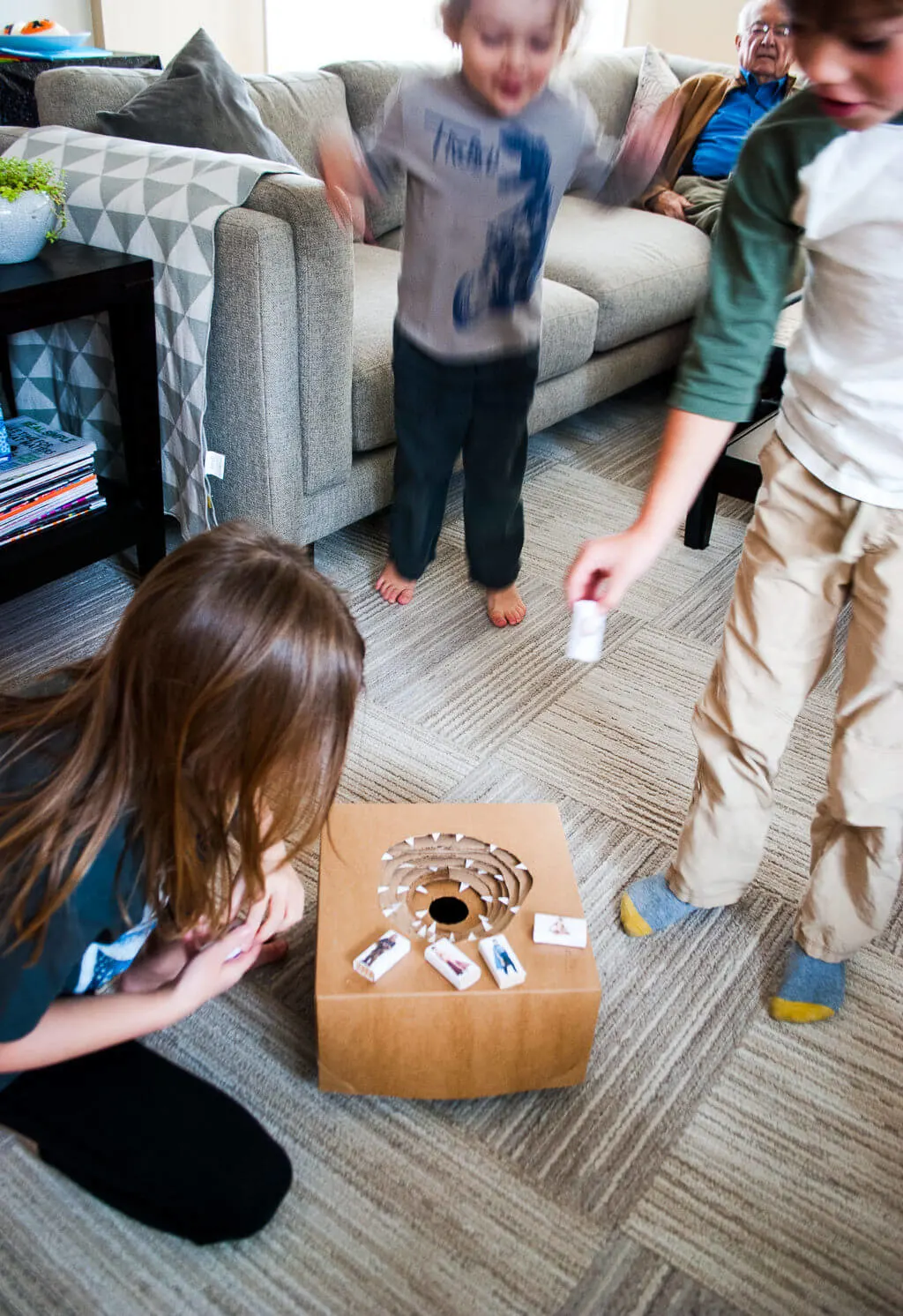 ++++++
And there you have it! Elise's 6th Star Wars birthday party was one of our best yet. The kids loved it, the adults loved it, and it really felt like a party. Are you ready to rebel against black and white and throw a Star Wars birthday party with lightsaber colors?
Tell me in the comments below: What is your favorite Star Wars party idea?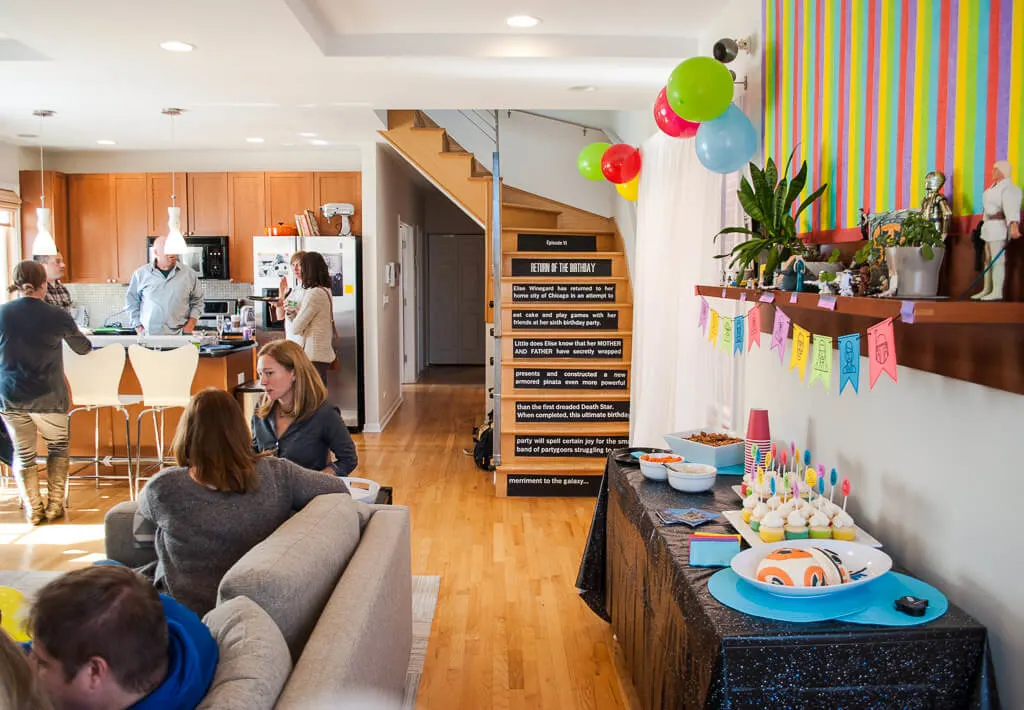 —
Like it? Share it!
The nicest way to say you like it is to pin it on pinterest, post a comment, follow Merriment Design on Facebook, twitter, pinterest, Google+, instagram or sign up for monthly emails. Enjoy! 🙂
Copyright stuff: You're more than welcome to use this free project and tutorial for personal use. Contact me for commercial use and etsy sales.