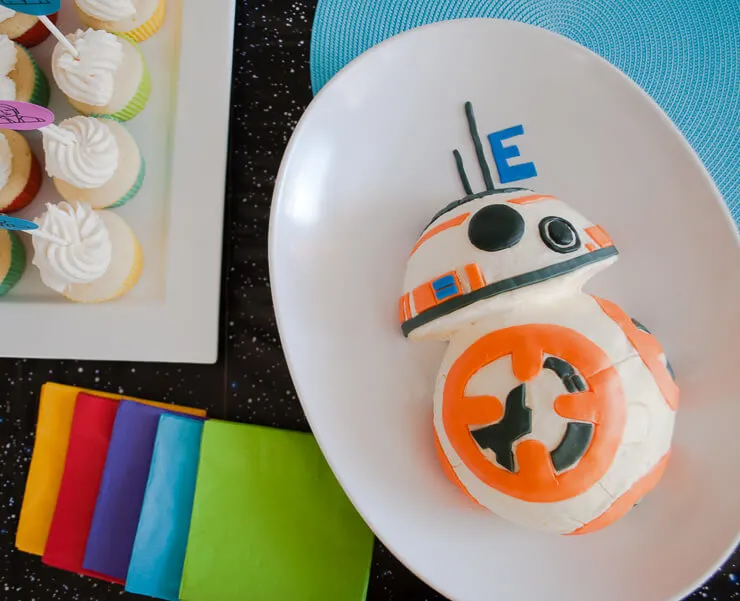 Here's an easy BB8 cake for a Star Wars birthday party that even beginners like me can make. Just print out my free BB-8 pattern below and follow the easy steps below to make your own adorable astromech droid.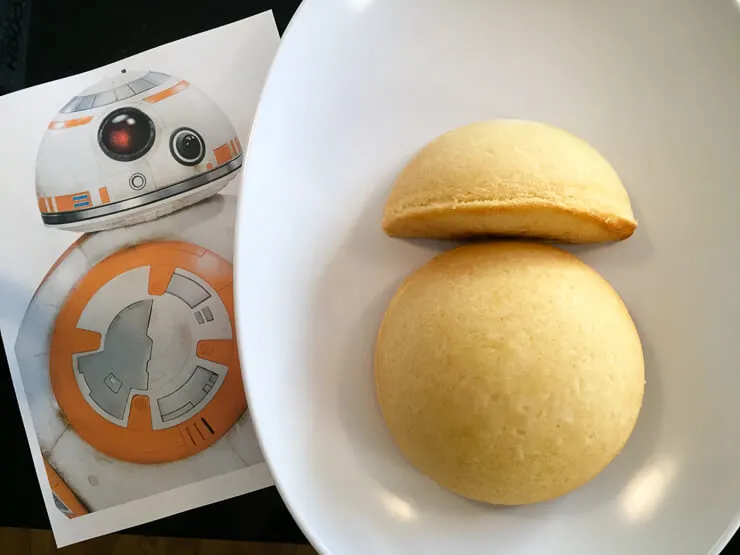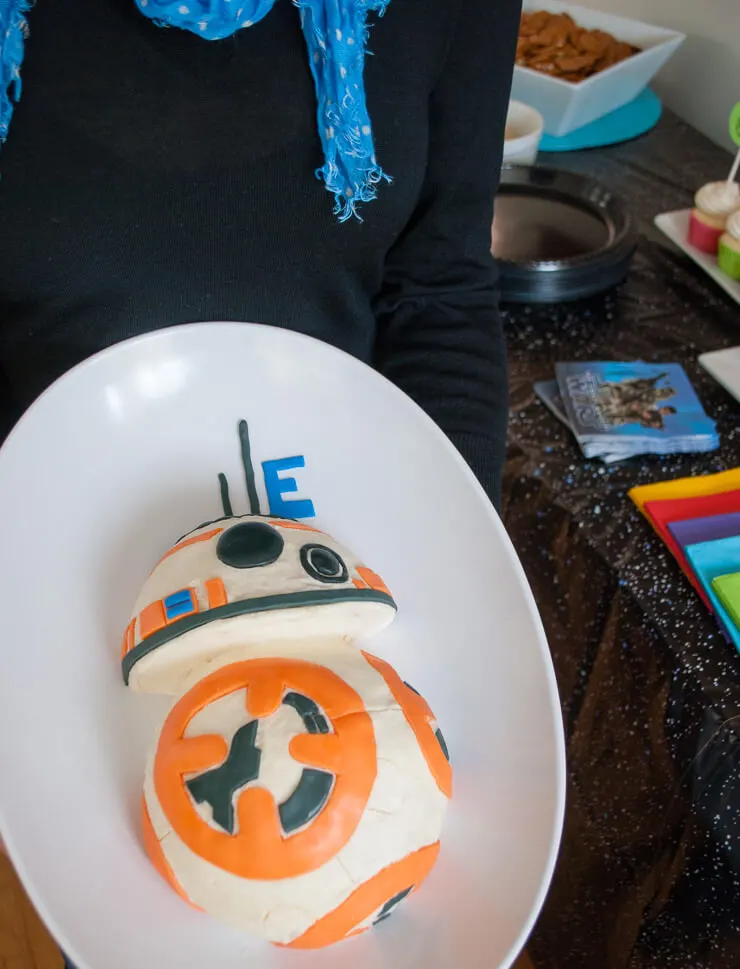 An easy BB-8 birthday cake to make at home
BB-8 is the super cute new droid in town. My daughter Elise really loves Star Wars (like me!) and even though she's only 6-years-old she's seen the first six Star Wars movies and is excited about Star Wars: The Force Awakens. Originally she wanted an R2-D2 birthday cake. Hmm. That sounded tricky. I suggested a BB-8 birthday cake because I saw this BB-8 cake on pinterest and thought that a BB-8 birthday cake could be pretty do-able for an amateur baker like me. And you know what? This BB-8 birthday cake was super easy to make!
Read more: 'Star Wars Return of the Birthday party theme in lightsaber colors' »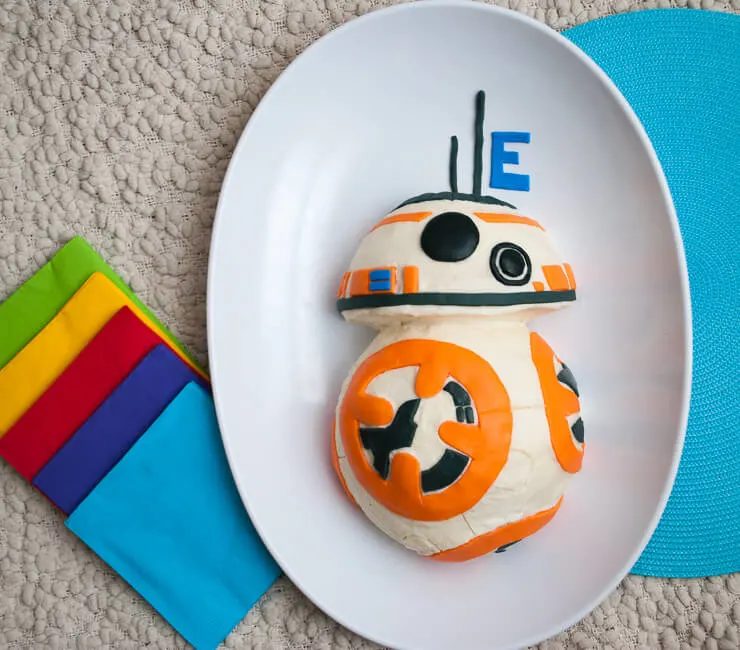 You may remember my little cheater method from the Buzz Lightyear cake that I made for Elise's third birthday. This time I used some tasty fondant instead of chocolate candy clay but the process is basically the same. I'll show you how to decorate this cutie BB-8 birthday cake in just one evening (hooray!).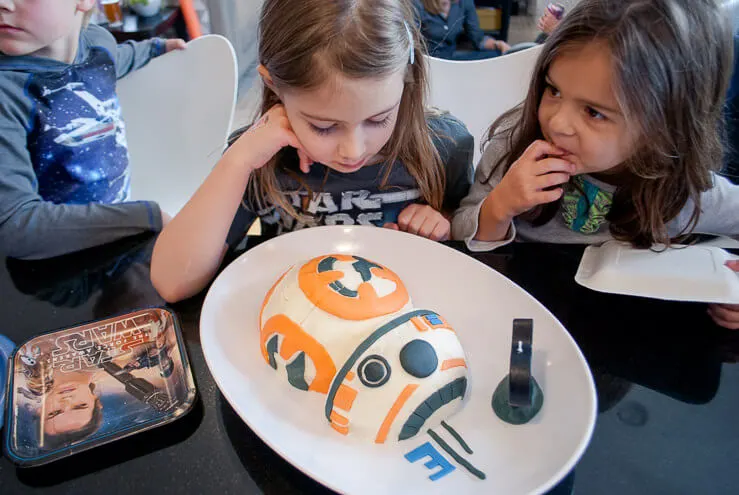 OK, so I'm not going to show you how to make a perfect BB-8 cake. My cakes are never perfect. If you want perfect, then go make this cake. Yes, I made BB-8's little head a little too big, and the black should be a lighter gray. Don't fret. I'll explain below how you can fix the proportions on your cake and make the proper colors so your cake will look even better than mine.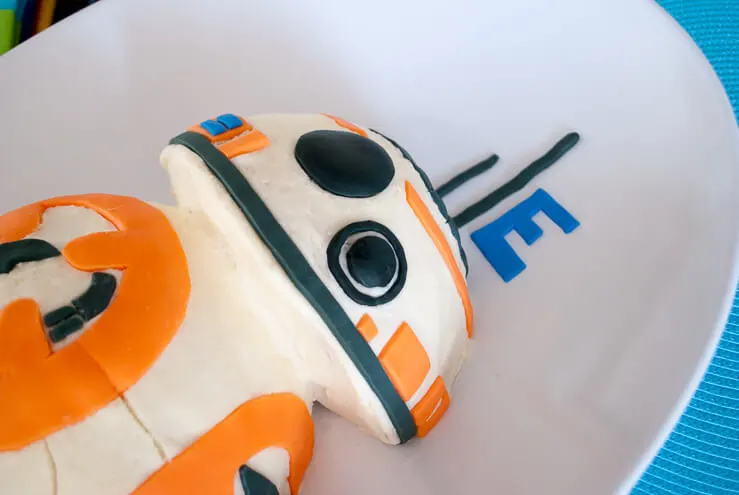 I'm telling you, make your own birthday cakes. Just do it. Chicago is filled with posh bakeries with super talented bakers but I think it's really important to make my kids' birthday cakes, just like my mom used to make mine in the '70s …when I was a 6-year-old girl who loved Star Wars.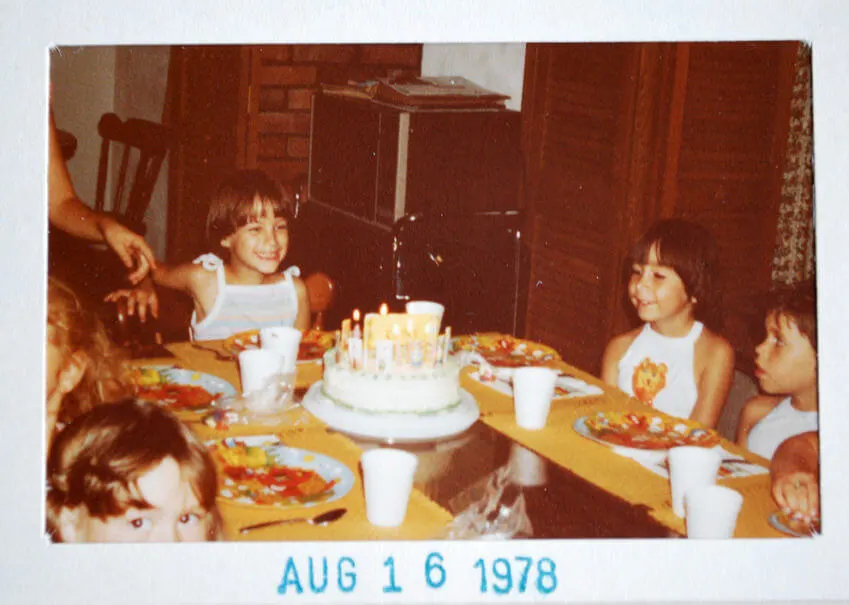 And while there's no danger of me becoming a professional baker I'm really happy with how the BB-8 Star Wars birthday cake turned out …and better yet, Elise and her fellow Padawans loved it.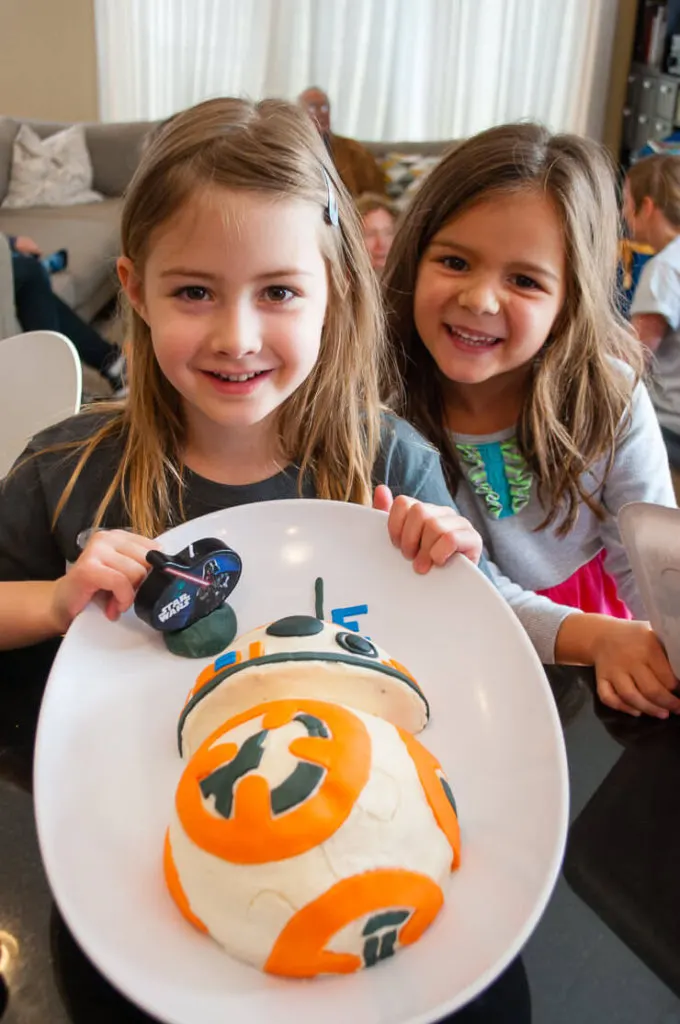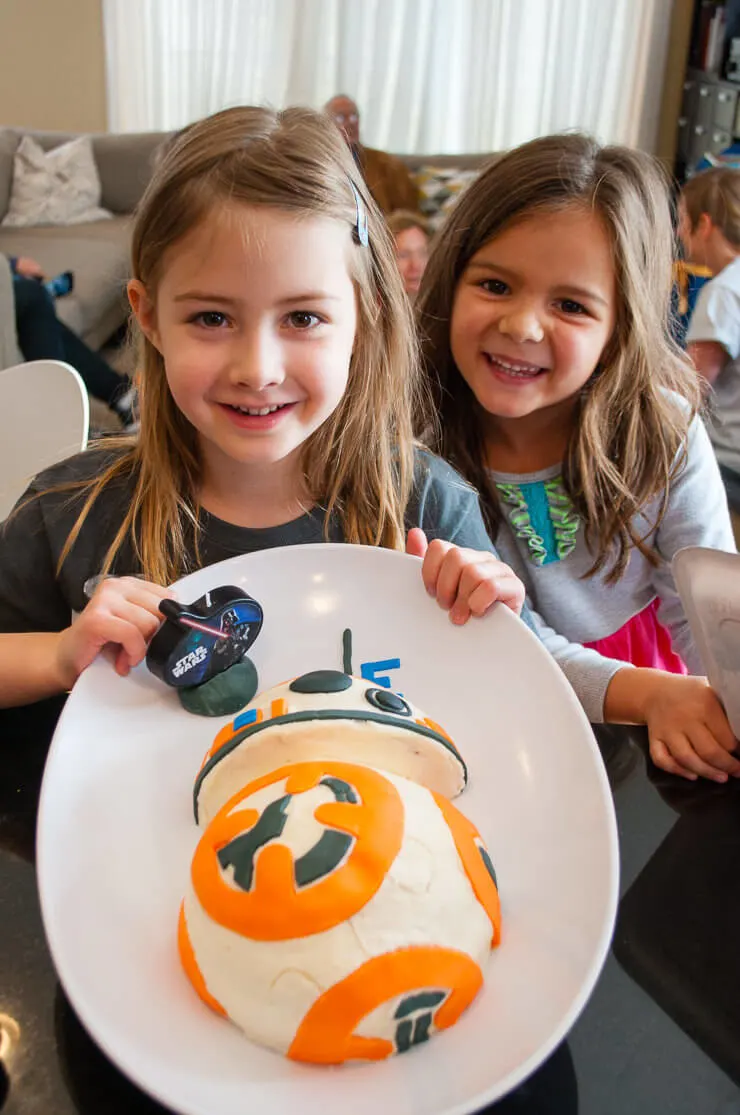 This BB-8 birthday cake serves a lot more people than you would think.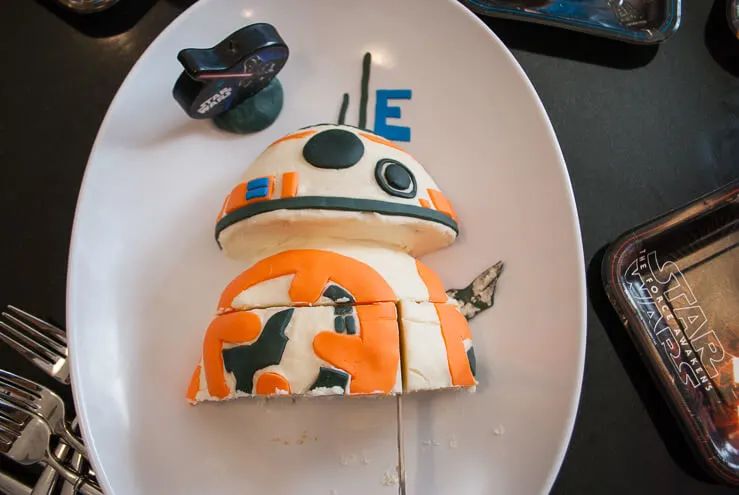 I also made some Star Wars cupcakes with free printable Star Wars cupcake toppers to go along with the BB-8 cake but we didn't really need them. We had 20 kids and adults and I ended up sending cupcakes home with guests as party treats.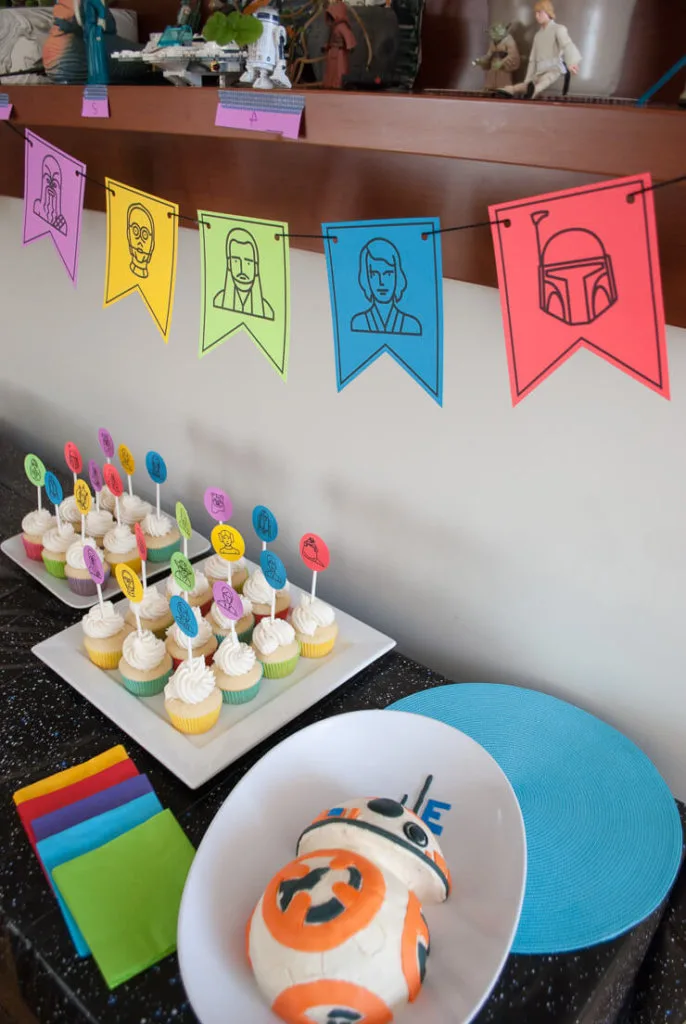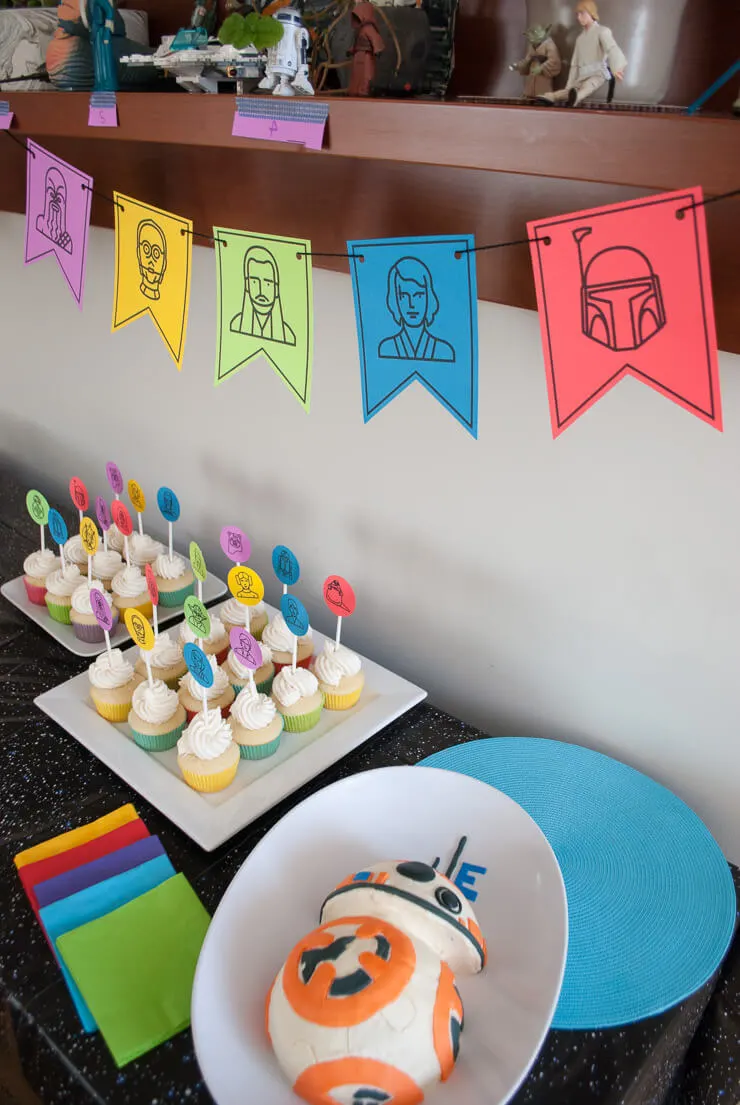 OK, my little Padawan: Now make a wish!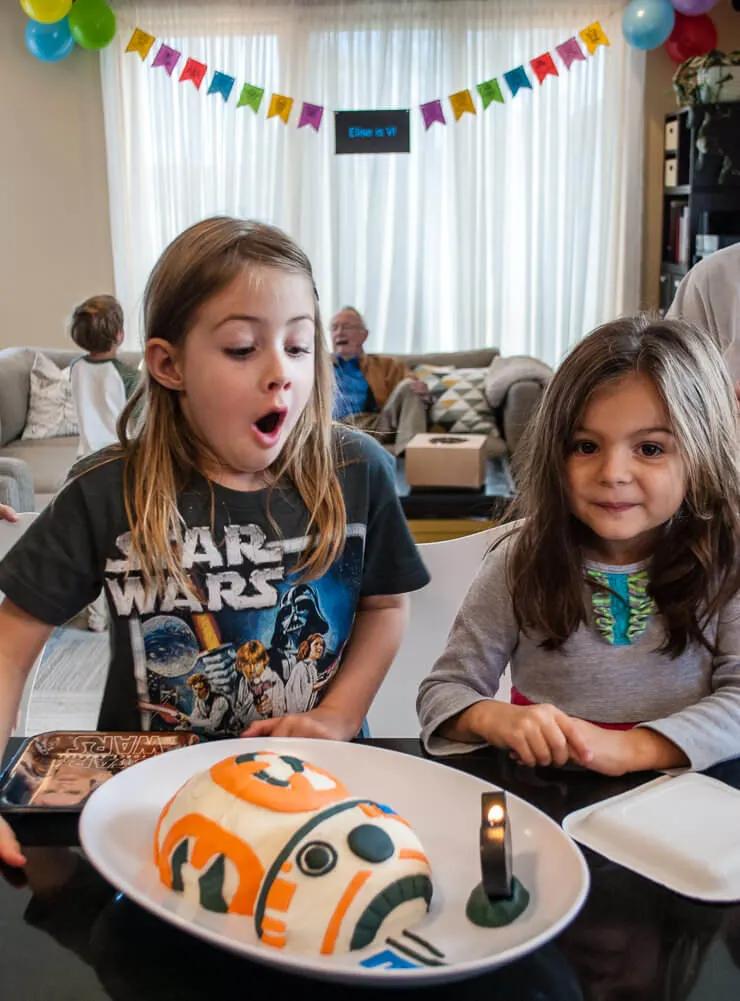 WANNA MAKE IT? Keep reading to see how to make an easy BB-8 birthday cake for a Star Wars birthday party –>
—
How to make an easy BB-8 birthday cake for a Star Wars birthday party:
First off, let's talk about planning ahead. You can make this cake all in one day if you need to. However, I think it's a lot less stressful to spread it out a little bit like this:
Day 1 (or up to a month before): Bake cakes – I used the Cakegirls vanilla recipe, cool, wrap in plastic wrap and freeze
Day 2: Make icing – I use the Cakegirls buttercream recipe; Color fondant in light gray, black and orange (if you didn't purchase fondant in these colors)
Day 3: Ice cakes and decorate like BB-8
I combined days 2-3. Do what you can to take off some stress.
—
Step 1: Bake your ball cakes
OK, let's bake! Once again I used the Cakegirls vanilla cake recipe. It's bakery quality and isn't super sweet like grocery store cakes. Or you can just use a box cake mix to save time.
Put shortening on each half of the round ball pan, and then dust some flour in it. Or you can use Baker's Joy. Just put enough on it to keep the cakes from sticking. Put the two baking rings on a half-sheet pan and balance the cake pans on top so they're even. Put 2.5 cups of batter into each half like so…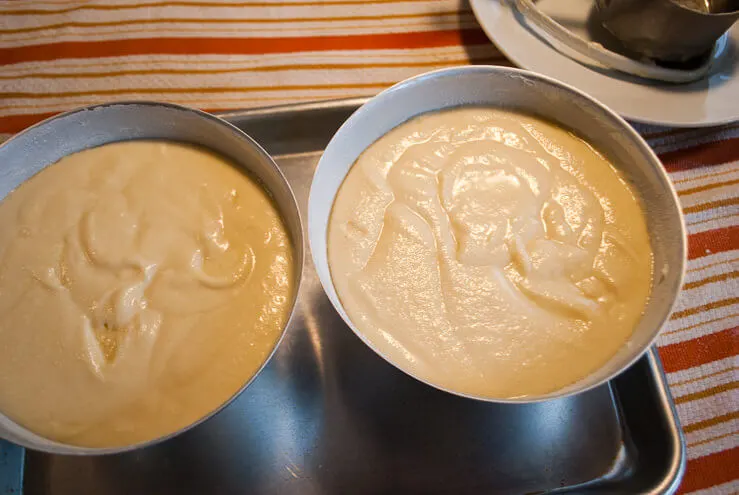 Make sure they're level, pop them into the oven and bake for 25-30 minutes; test with a toothpick to make sure they're done and if not, bake for 5 more minutes and check again. Let them cool 15 minutes in the pan, then flip them onto a wire cooling rack. Let them cool completely on the wire rack, at least one hour. Now here's where I stopped on Day 1. I carefully wrapped the cakes in two layers of plastic wrap and put them in the fridge. Then when you're ready to decorate, take them out of the freezer and unwrap.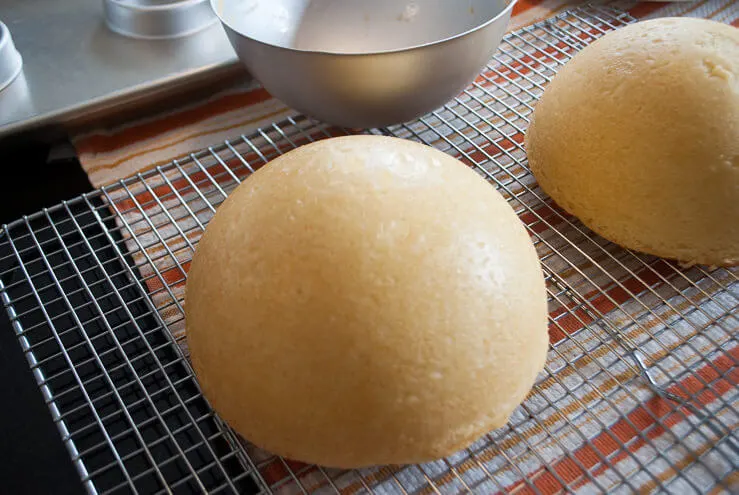 Step 2: Make the BB-8 head shape from cake
Cut one ball into two pieces with a serrated knife at about 1/3 to 1/2 of the ball to make the BB-8 head.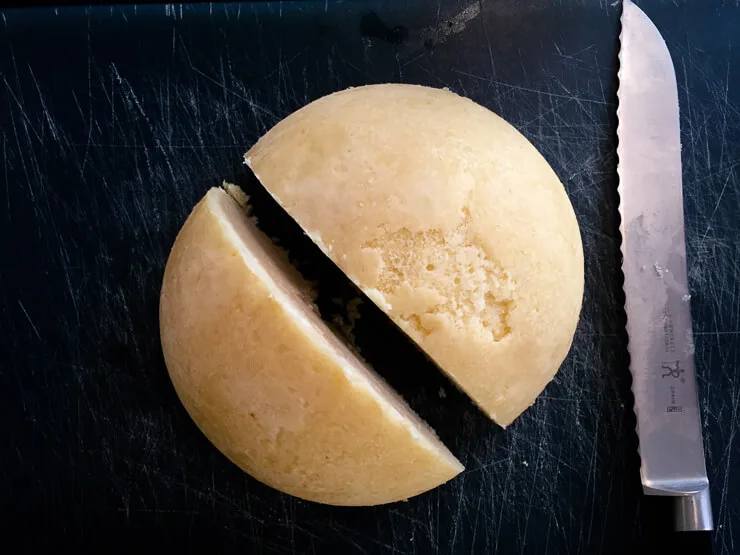 Put some icing on the bottom of the cake to stick it to the cake board.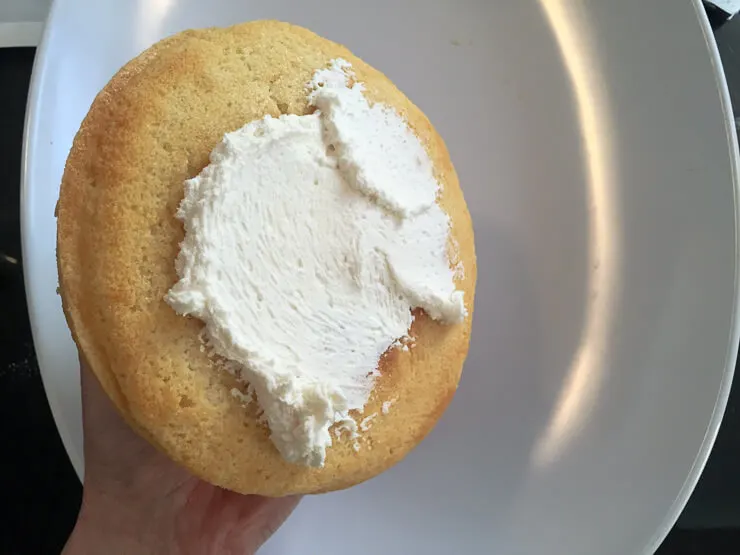 Now my head was a bit too big for BB-8's body. You can shave BB-8's head down with a serrated knife to make it smaller. My professional baking friend Mary told me to do this and I skipped it but I think you should do it to make the head a little bit smaller.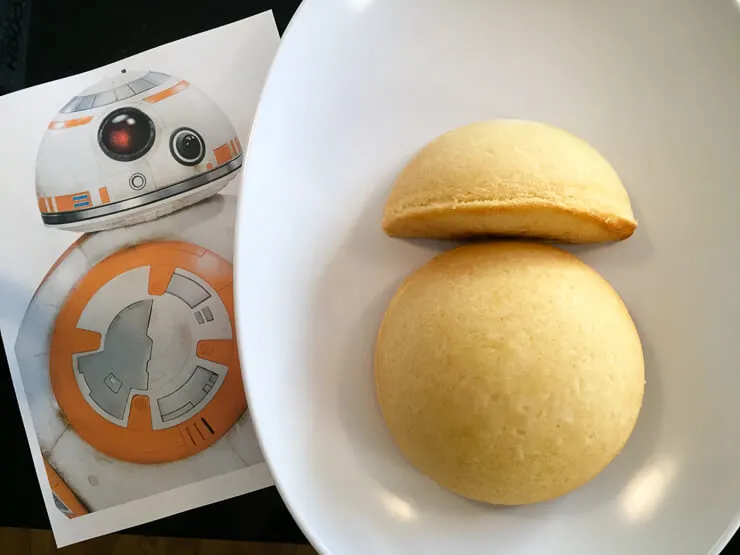 Step 3: Ice the BB-8 cake with buttercream frosting
Ice the BB-8 cake. After letting the icing sit, it forms a light crust and you can use a paper towel to smooth the icing.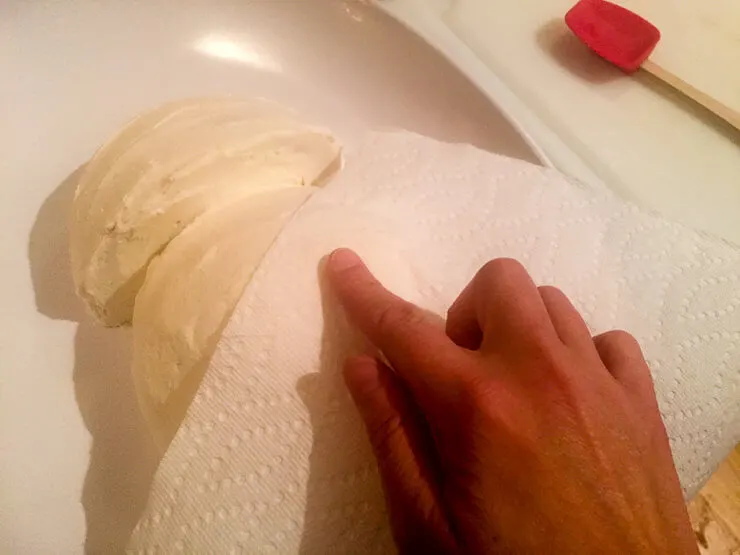 Step 4: Add fondant decorations using my free template
Now comes the fun part: adding the BB-8 decorations! Roll out the fondant thin and put the template on top and cut it. Or you can just free-hand it.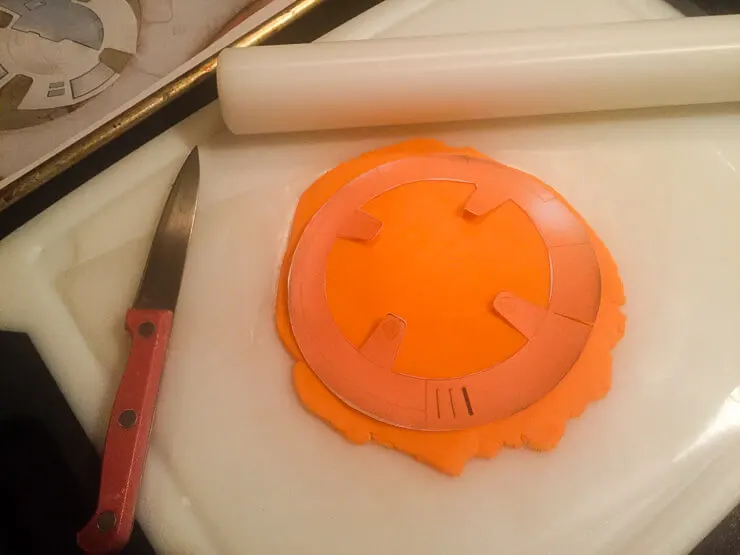 Add the fondant shapes to the BB-8 cake.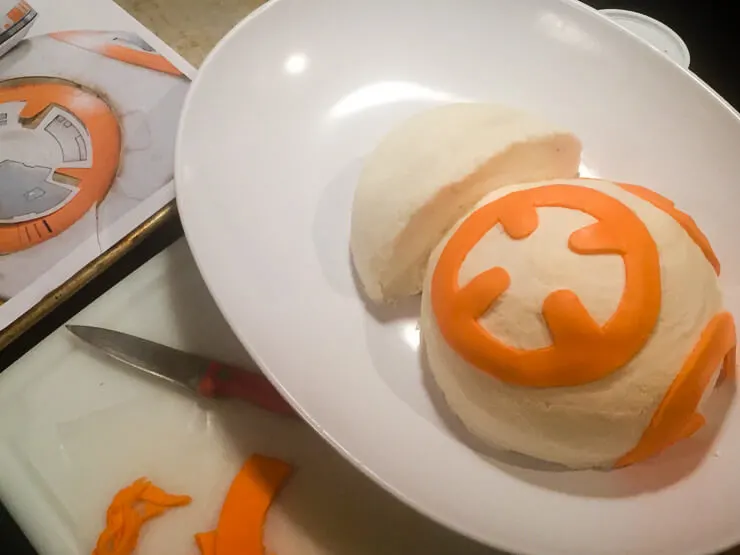 Color the fondant using food coloring. I used way too much black! Just use a tiny bit because you can always add more color.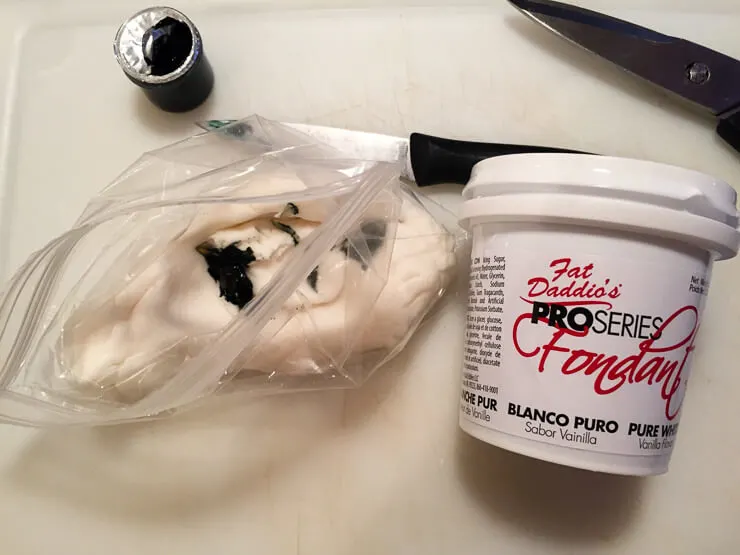 Step 4: Add BB-8's eye and other pieces
Roll it out to cut out BB-8's eyes and other pieces.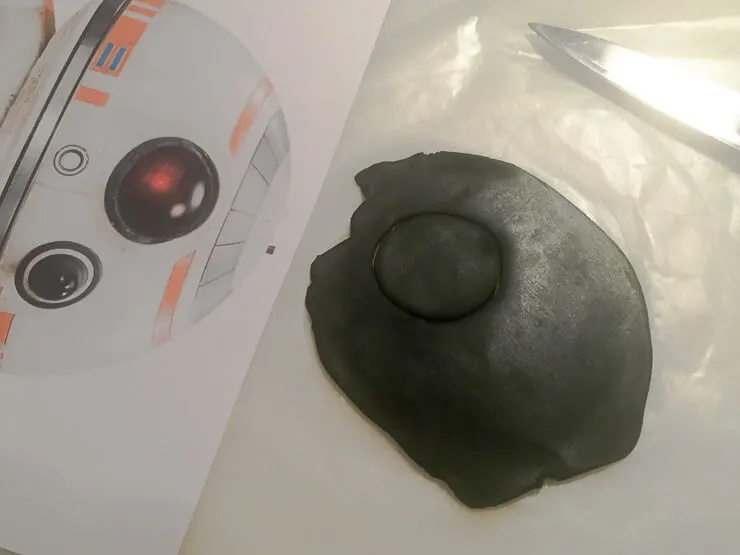 Trim up the BB-8 fondant cake decorations with a knife.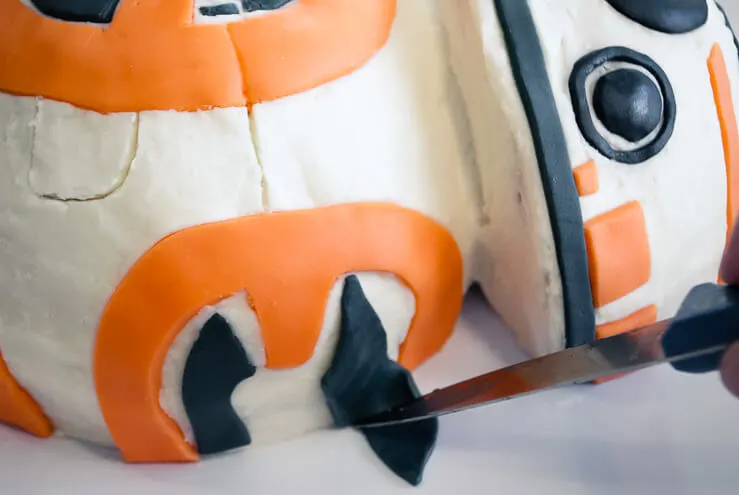 Roll out the orange fondant and cut a thin piece to decorate BB-8's head.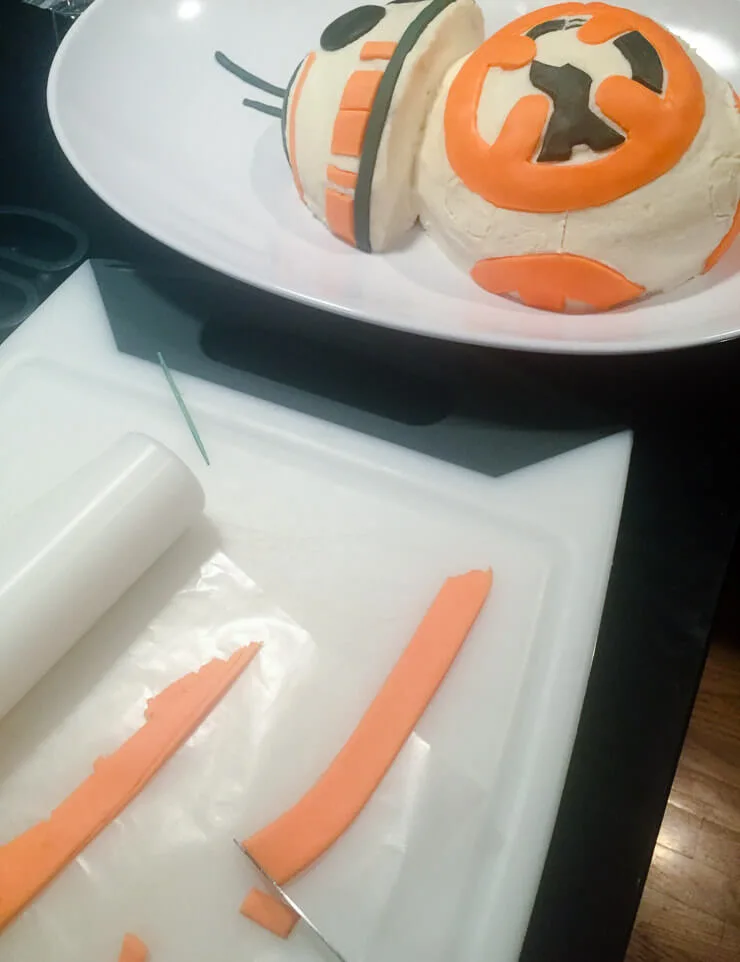 Step 5: Add blue accents to the cake
Put a little blue fondant onto BB-8's head. I also added a fondant letter E for Elise.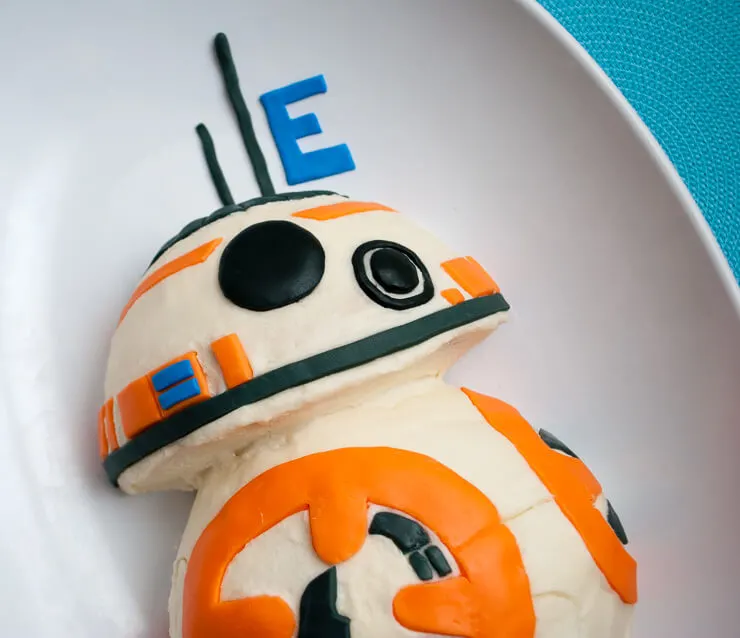 The BB-8 birthday cake fit right into Elise's 6th birthday party theme: Star Wars IV: Return of the Birthday with the Star Wars lightsaber colors red, blue, green purple …plus a little yellow because I like it.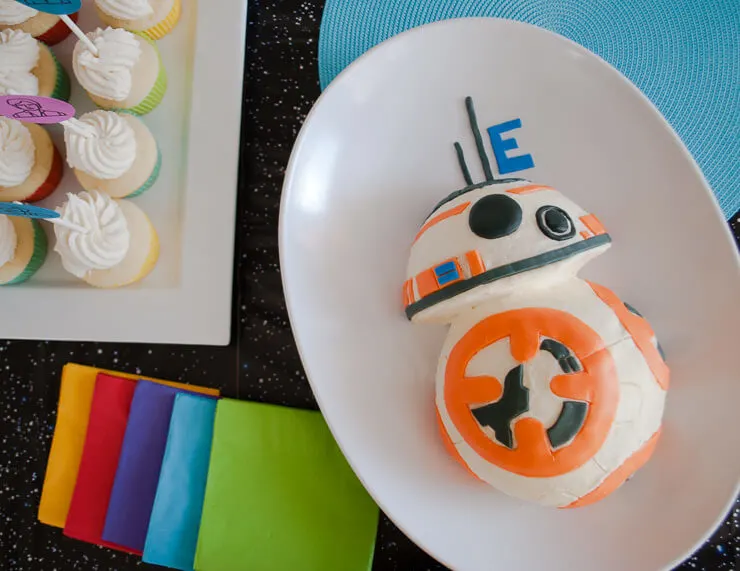 Where to put the candle?? I rolled some of the extra fondant into a ball, put it on the cake board and then squished the candle into it. The candle stayed put!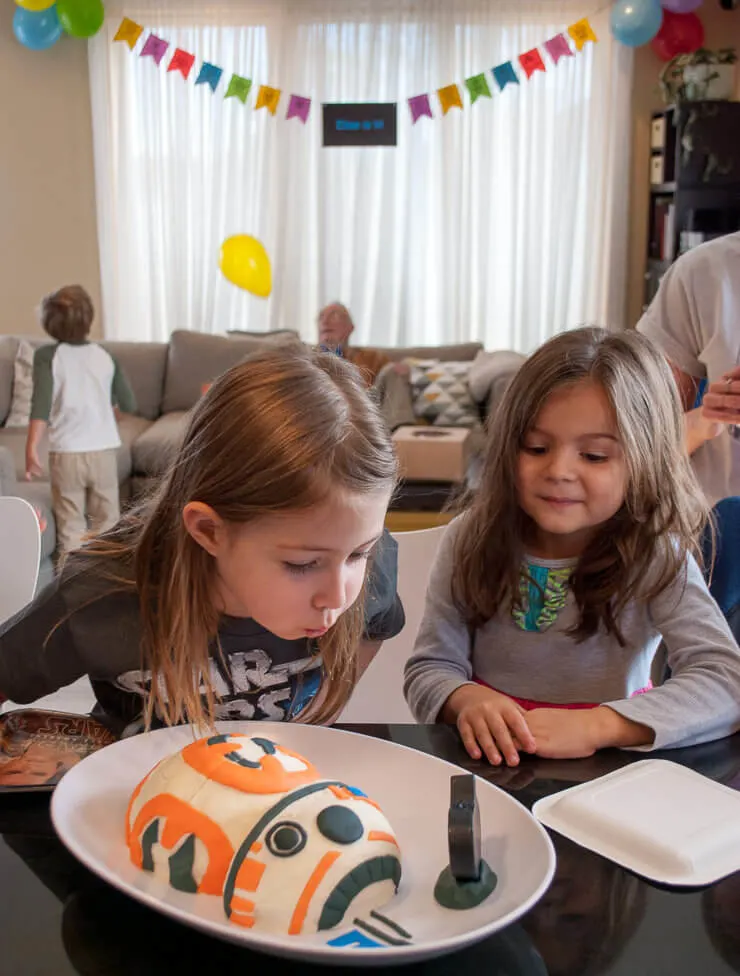 I love how this BB-8 birthday cake has a little 3-D rounded head and tummy.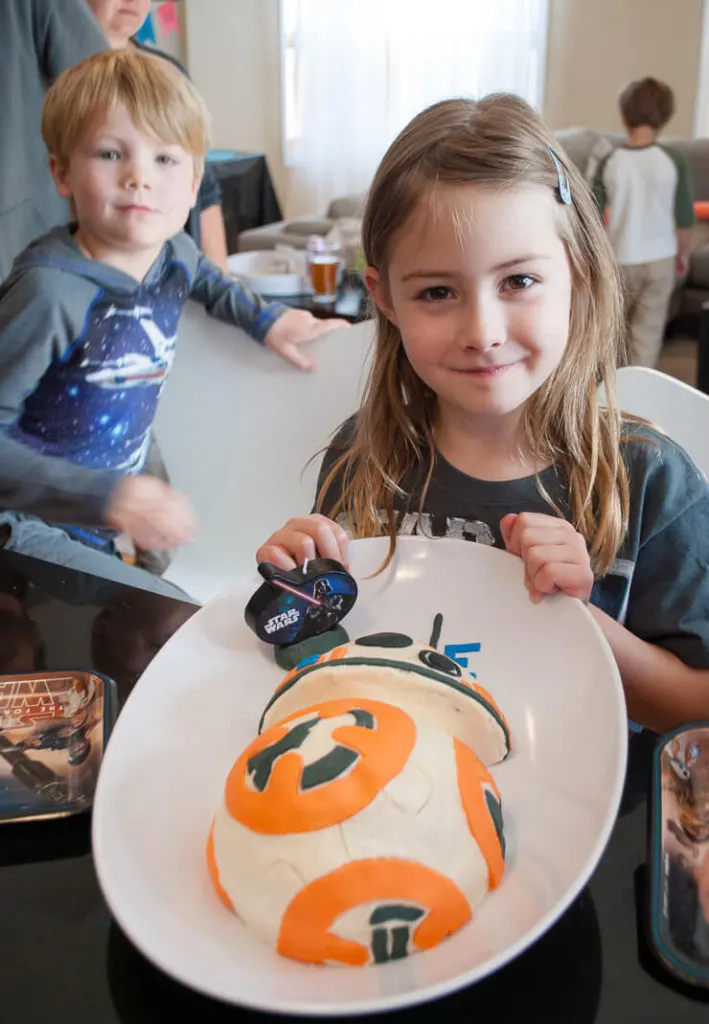 And is oh so very, very yummy…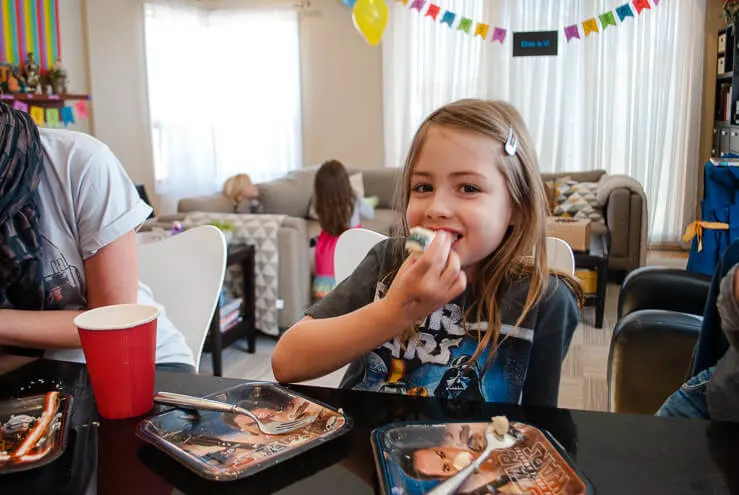 And just like that, the BB-8 birthday cake is a long time ago in a galaxy far, far away….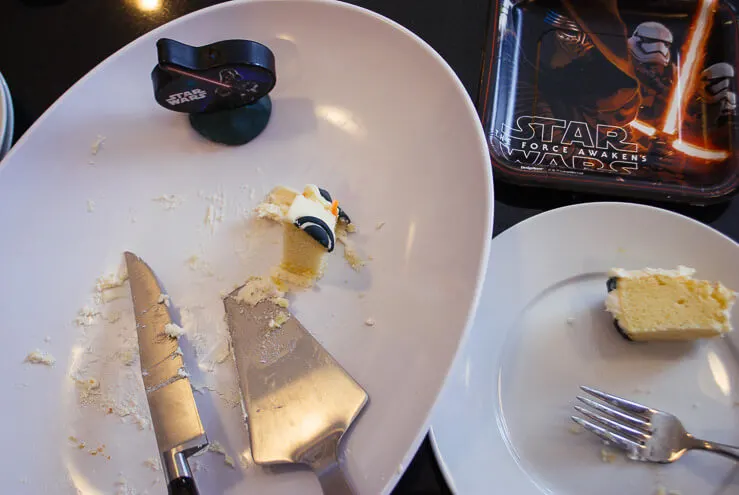 ++++++
Pin my easy BB-8 birthday cake for a Star Wars birthday party
The kids loved this easy BB-8 birthday cake, and he tasted delicious!

—
Use the Force to see more DIY Star Wars birthday party ideas like these:
—
Like it? Share it!
The nicest way to say you like it is to pin it on pinterest, post a comment, follow Merriment Design on Facebook, twitter, pinterest, Google+, instagram or sign up for monthly emails. Enjoy! 🙂
Copyright stuff: You're more than welcome to use this free project and tutorial for personal use. Contact me for commercial use and etsy sales.