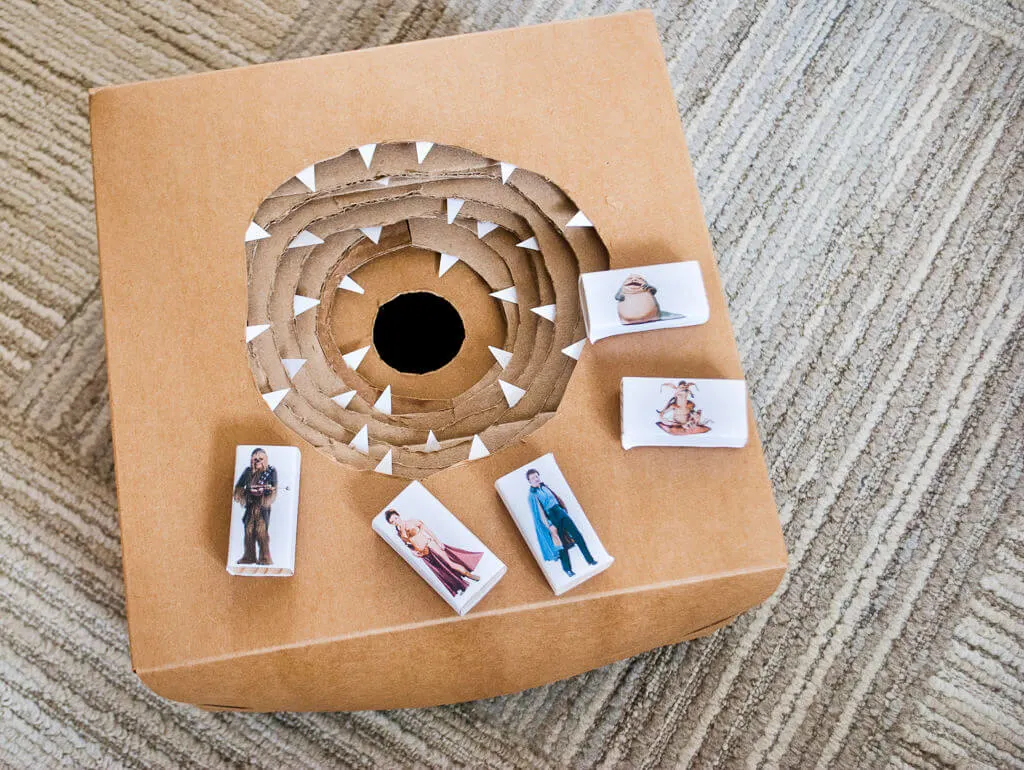 This Star Wars party game features the infamous Sarlacc Pit from Episode VI: Return of the Jedi. Remember that scene? Luke, Han, and Chewie are facing certain death in the all powerful Sarlacc Pit. Bikini-clad Leia is being held captive. And Jabba the Hut *thinks* he has the upper hand.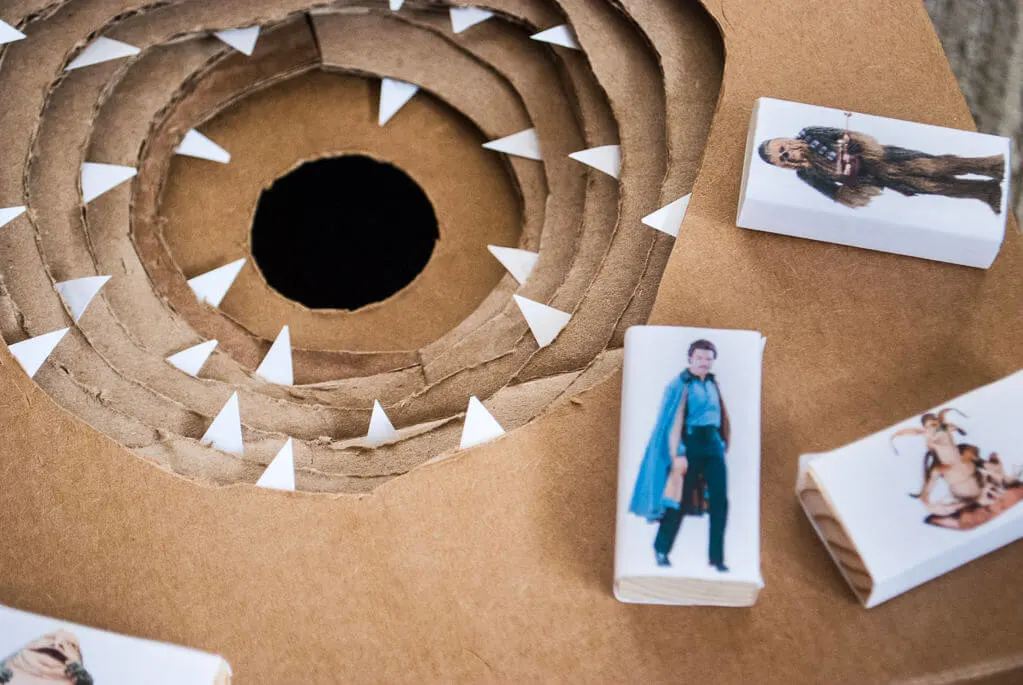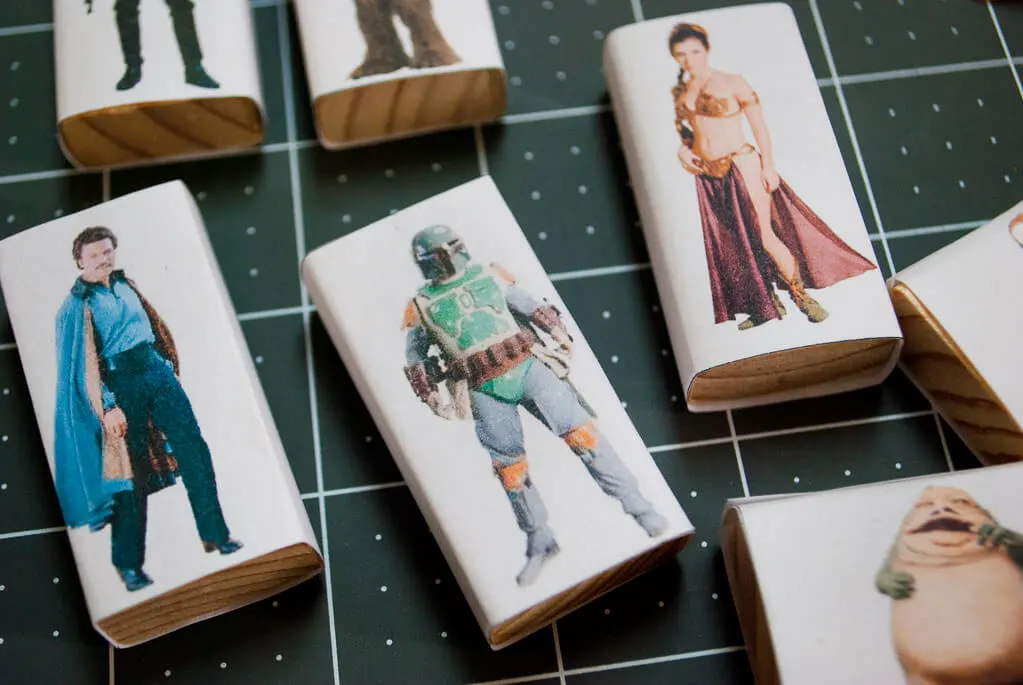 I thought that Tatooine's sandy Sarlacc Pit would be a perfect Star Wars party game for kids. I made an original version Sarlacc Pit (no weird tentacles for me) out of cardboard boxes, glue and scissors and added white cardstock 'teeth'. Then I temporarily covered my son's wooden blocks with photos of Han, Luke, Leia, Lando, Salacious B. Crumb, Jabba the Hut, and of course, Boba Fett.
Game play follows the classic clothespin drop kid's game. Players stand above the Sarlacc Pit, hold the block at chin-level, and try to drop characters into the hole and into the Sarlacc's belly, where they will slowly digested over a thousand years. The player with the most successful drops wins!
This Star Wars party game was a big hit. The kids had so much fun trying to drop characters into the pit that I couldn't even get a photo of them standing still. And long after the game, my kids kept playing and playing it to better their score.
Read more: 'Star Wars Return of the Birthday party theme in lightsaber colors' »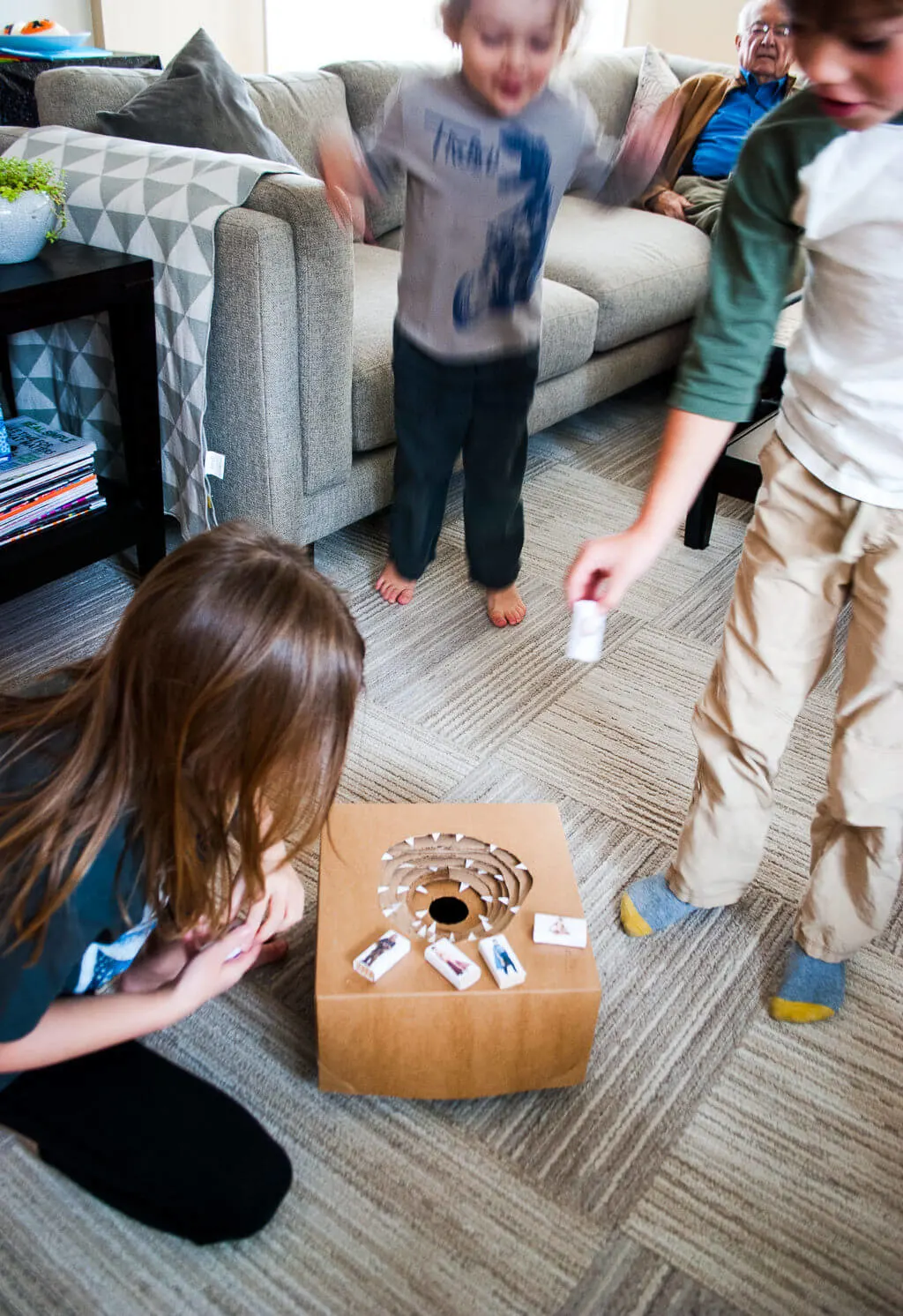 Supplies for making a Sarlacc Pit | Star Wars Party Game (with links and images from affiliates):
Cardboard boxes
Wooden blocks
—
How to make a Sarlacc Pit Star Wars Party Game:
I don't yet have the photos of making the pit itself. I know. I made it so long ago that I can't find the right drive where the photos were stored. Basically, take a box. Cut a large circle into the box. Then cut a smaller circle and glue onto the inside of the box. Keep adding smaller circles until you get the smallest circle. Add little teeth triangles from white card stock paper into his mouth.
To make the blocks: Print out photos of Star Wars figures and attach to wooden blocks using temporary hold glue dots.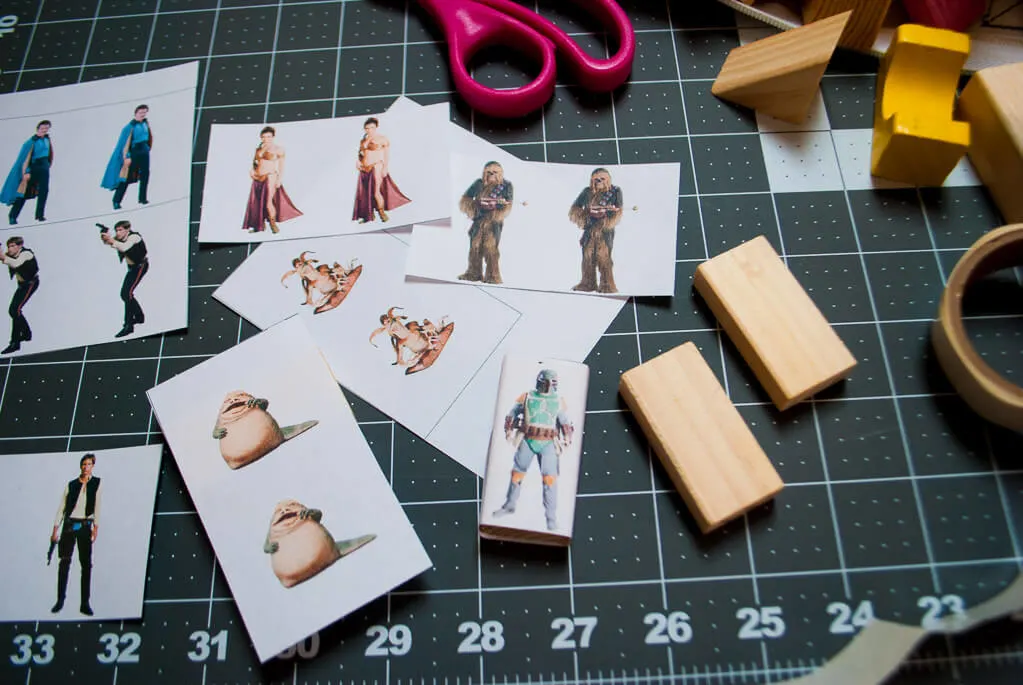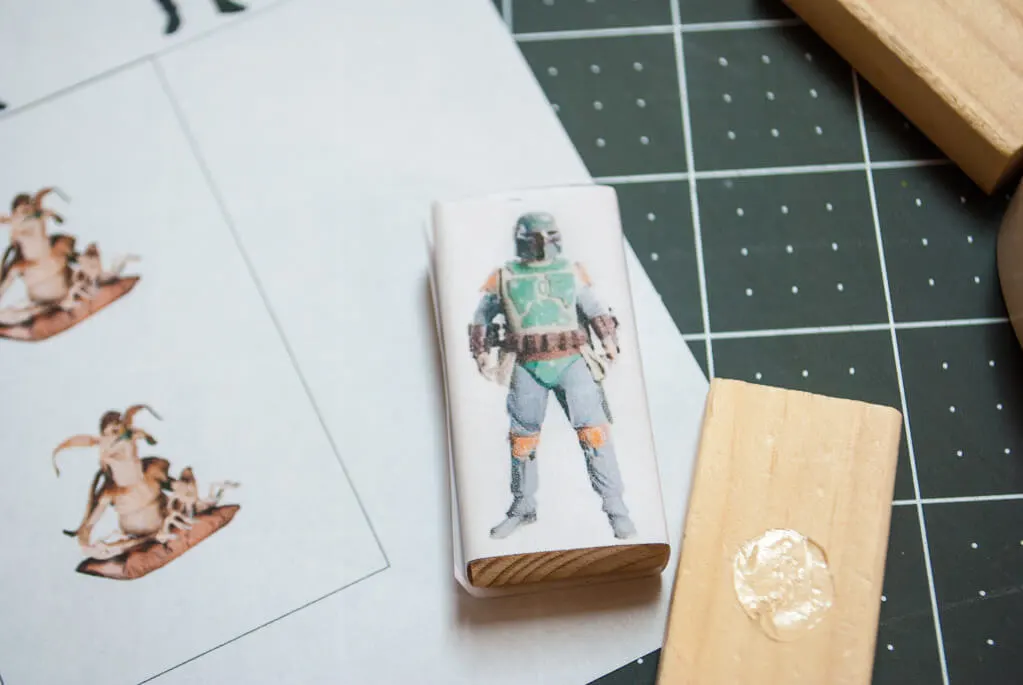 Leave me a comment below if you need any more details on how to make your own Sarlacc Pit out of cardboard boxes.
++++++
Be sure to pin the Sarlacc Pit Star Wars party game for later: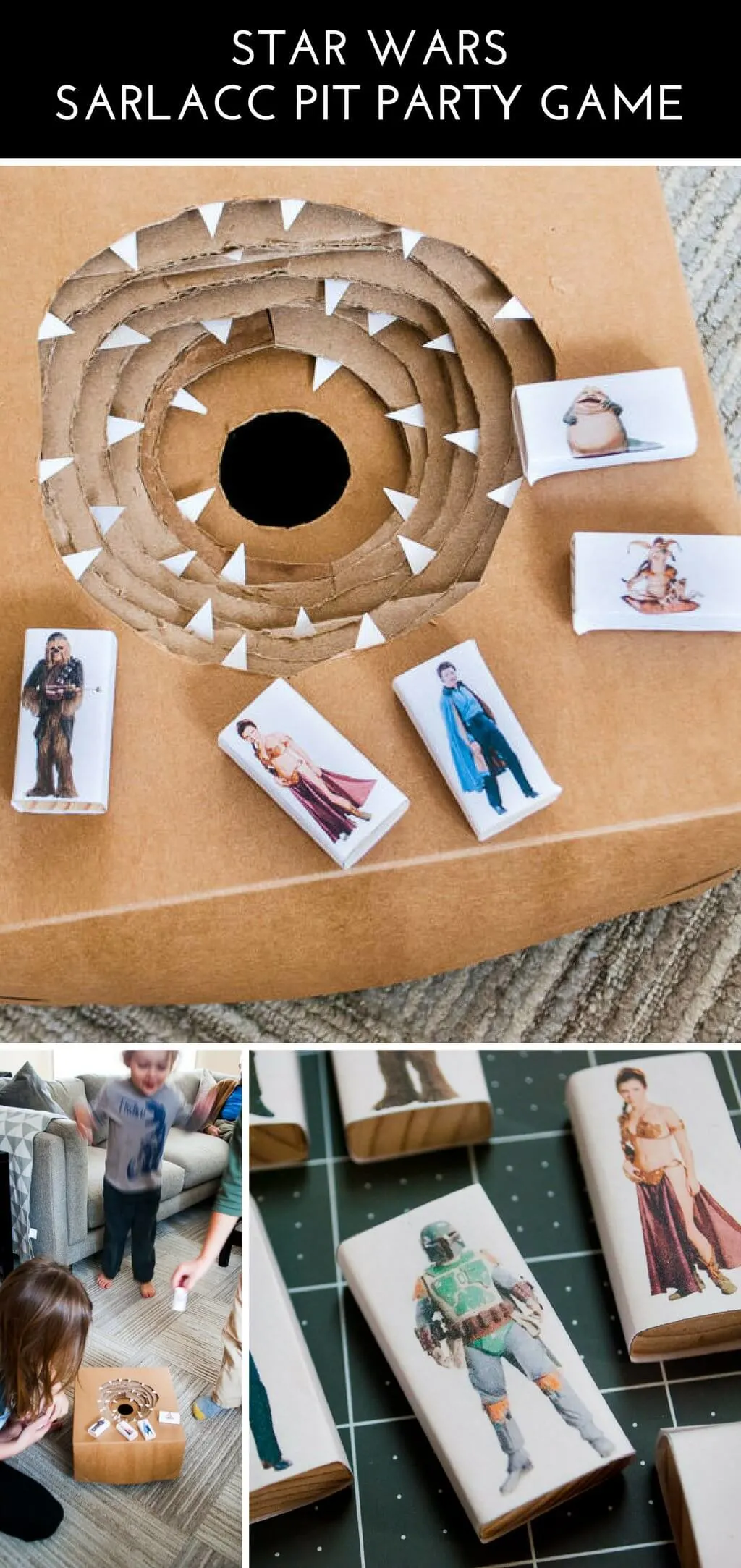 ++++++
Use the Force to see more Star Wars party decorations, birthday cakes and party games
—
Like it? Share it!
The nicest way to say you like it is to pin it on pinterest, post a comment, follow Merriment Design on Facebook, twitter, pinterest, Google+, instagram or sign up for monthly emails. Enjoy! 🙂
Copyright stuff: You're more than welcome to use this free project and tutorial for personal use. Contact me for commercial use and etsy sales.