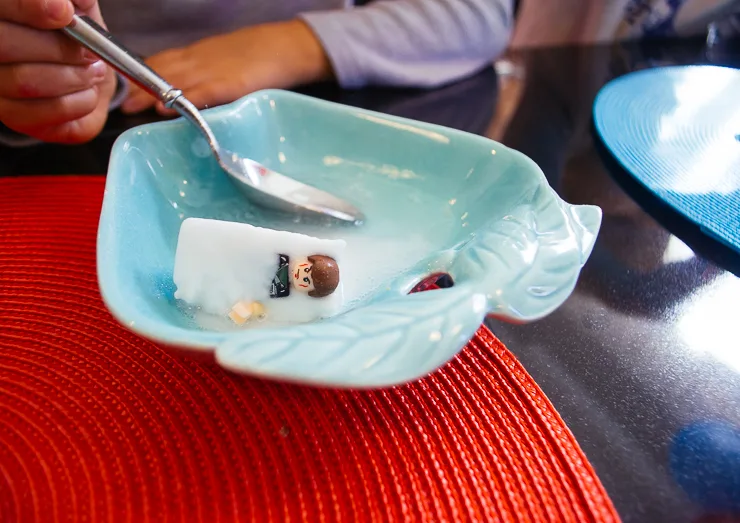 The 'Free Han Solo from Carbonite' Trivia Game was a galactic hit at Elise's 6th birthday party, Episode VI: Return of the Birthday. It's basically the old staple "baking soda + vinegar volcano experiment" with a super fun Star Wars twist!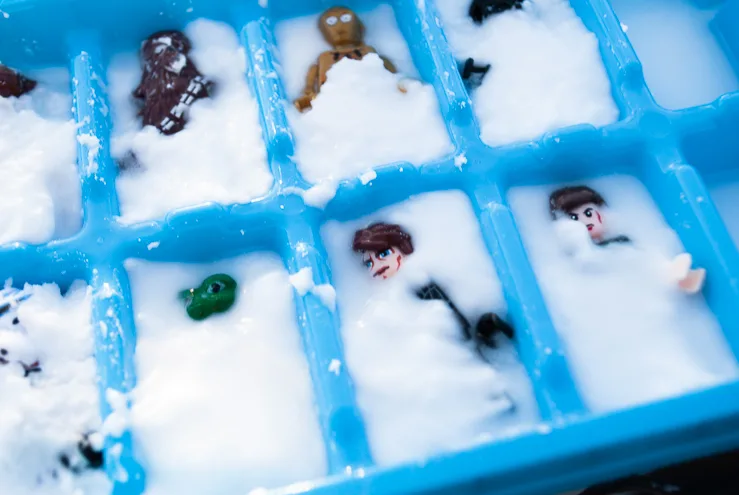 Everyone went bananas – it was by far the favorite party game we played and took about 15 minutes which was perfect.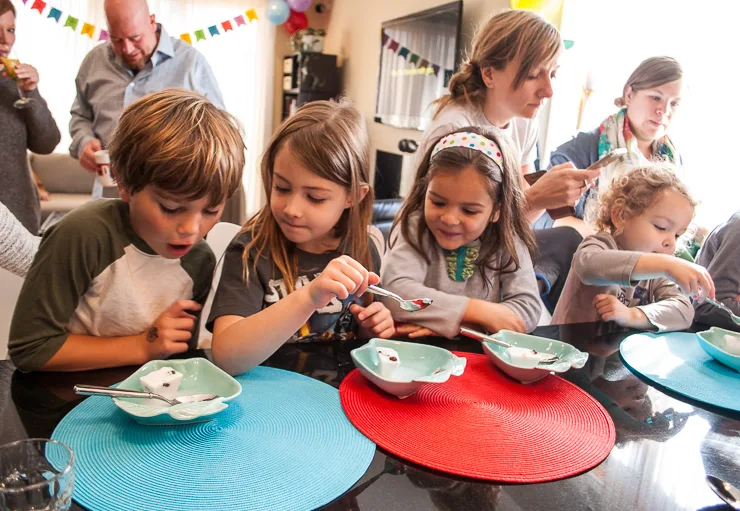 To make the carbonite cubes, we followed the easy 'LEGO Science – Free Han Solo' instructions from Mary Catherine at Fun-A-Day to make the baking soda recipe and freeze the LEGO Star Wars Minifigures.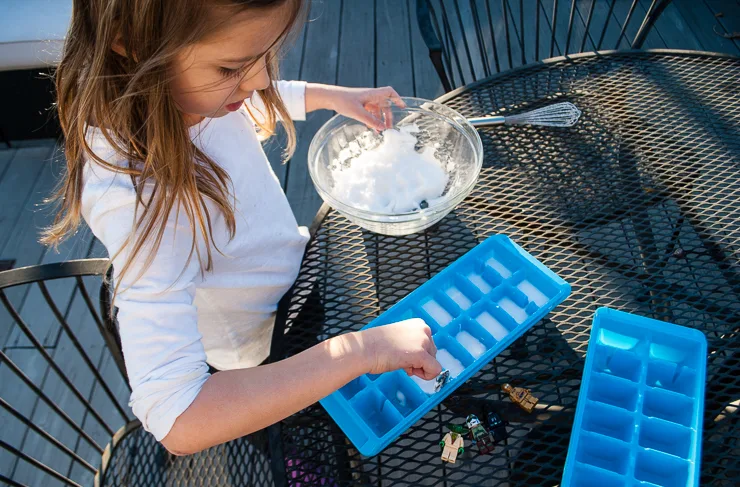 The birthday girl had a lot of fun mixing and spooning the baking soda into the ice trays. We bought these LEGO Star Wars Minifigures and made two carbonite blocks for each party guest so that everyone could play twice. We made these a week before the birthday party, popped them out out of the trays after they were frozen, and kept them loose in a plastic baggie in the freezer.
Read more: 'Star Wars Return of the Birthday party theme in lightsaber colors' »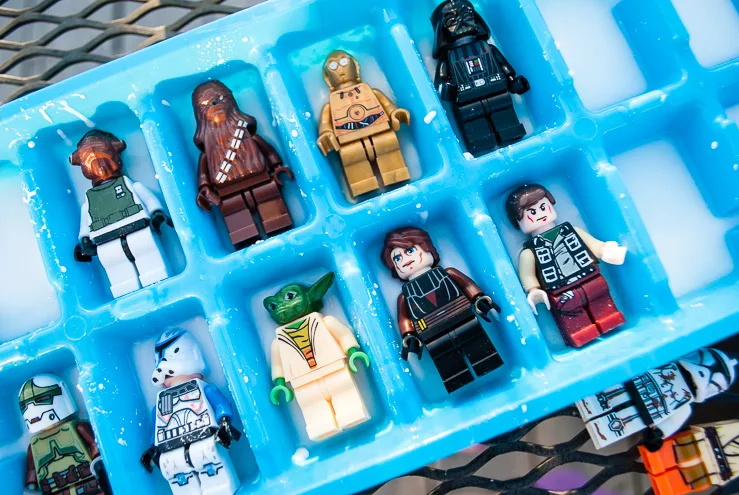 Here are the latest minifigures on Amazon (includes affiliate links).



At the birthday party, we prepped one small bowl + carbonite block + spoon for each party guest, plus one medium-sized bowl of vinegar for me.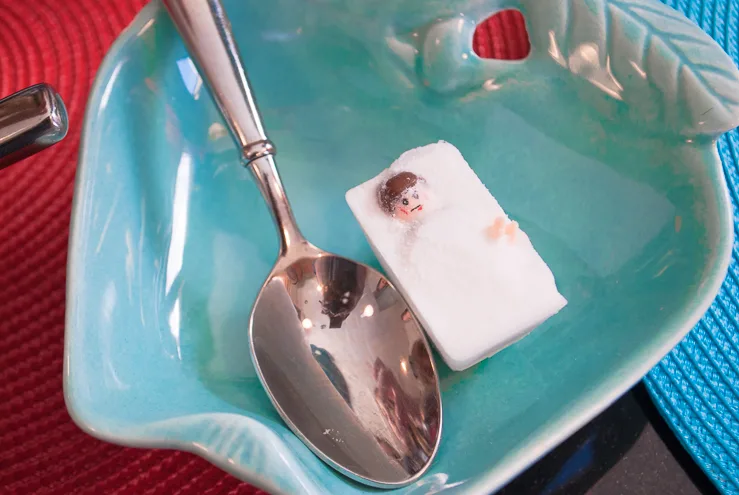 We turned the activity into a more structured birthday party game by adding Star Wars trivia questions and a cooperative gaming aspect. We gathered the kids at the kitchen island, then we asked one Star Wars trivia question (keep reading to see our list of trivia questions below).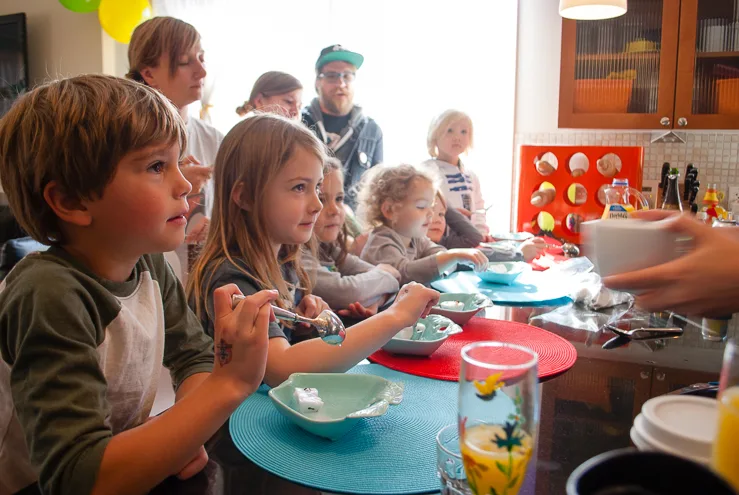 The party guest with the first correct answer got to take one scoop of vinegar out of the bowl to pour on their Star Wars minifigure. Some of Elise's friends didn't know Star Wars as well as the she does, so we made it a cooperative game by telling them that they were all in the Rebel Alliance / Resistance and if anyone got the answer right then everyone got to take a scoop. If you have older or more knowledgeable party guests then you could make it competitive instead but this worked with ages 3-6.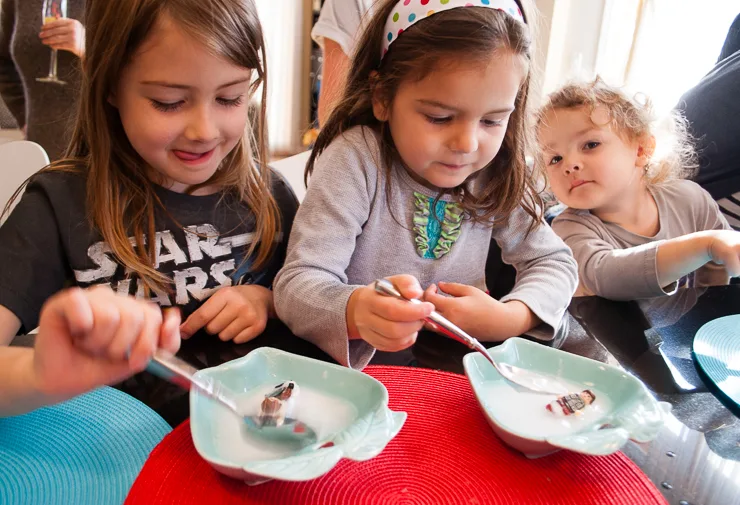 A few of the trivia questions even stumped our resident Star Wars expert!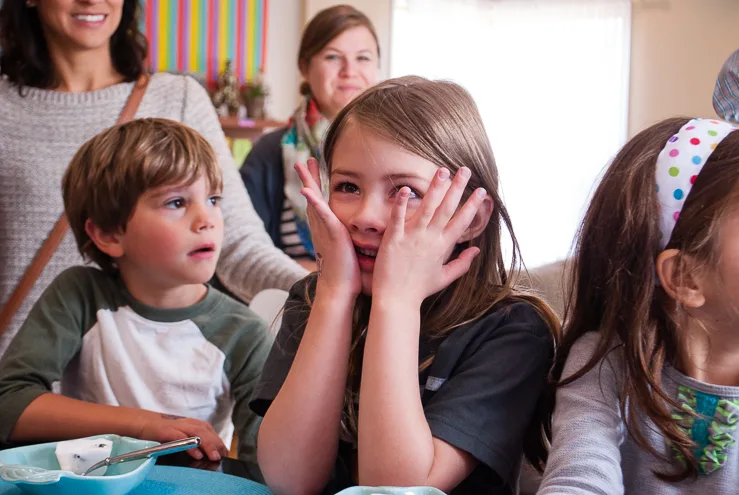 The first party guest to free his or her Star Wars minifigure got a round of applause, and in the end everyone took home their two minifigures as party favors.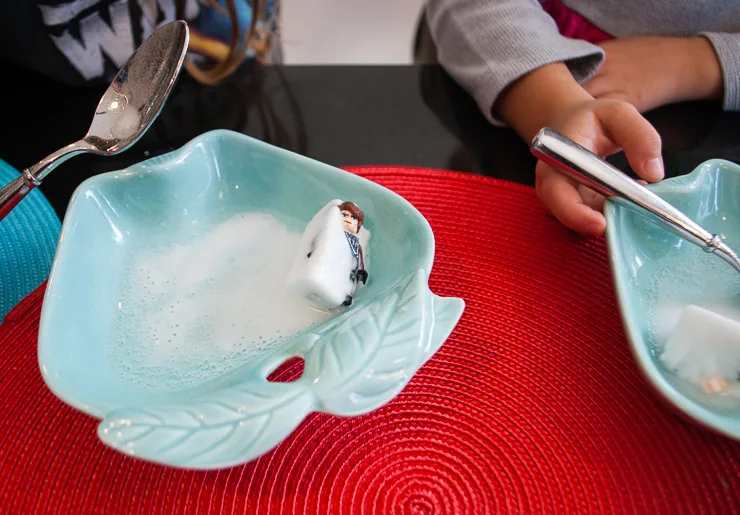 Here are some of the Star Wars trivia questions that we asked during this party game.
What is the name of Luke Skywalker's home planet? (Tatooine)
Who says, "It's a trap!" (Nien Nunb)
What is the name of the creatures who find R2-D2 and C3PO? (Jawas)
From who did Han Solo win the Millennium Falcon? (Lando Calrissian)
What do the Skywalkers farm on Tatooine? (moisture)
What color is Mace Windu's lightsaber? (purple)
What is the name of the Ewok's home planet? (Endor)
Who owned Anakin Skywalker and his mom? (Watto)
Who did Leia pretend to be when she was rescuing Han Solo from Jabba The Hutt? (the bounty hunter Boushh)
The Clone Wars occur between which two episodes? (Episode II and III)
What is the name of the Ewok's home planet? (Endor)
What does Han Solo say when Leia tells him that she loves him? (I know.)
Who is fluent in more than 6 million languages? (C3PO)
Where are Luke and Ben Kenobi when they hire Han Solo and Chewbacca? (in the Cantina)
What is the name of the beast who tries to eat Luke Skywalker in Jabba the Hut's Palace (the Rancor)
How long does it take the Sarlacc to digest its food? (1,000 years)
Who says, "I have a bad feeling about this?" (Han Solo)
Do you have a really good Star Wars trivia question? Tell me in the comments below!
—
Use the Force to see more Star Wars birthday party ideas like these:
How to make a super easy BB-8 Star Wars birthday cake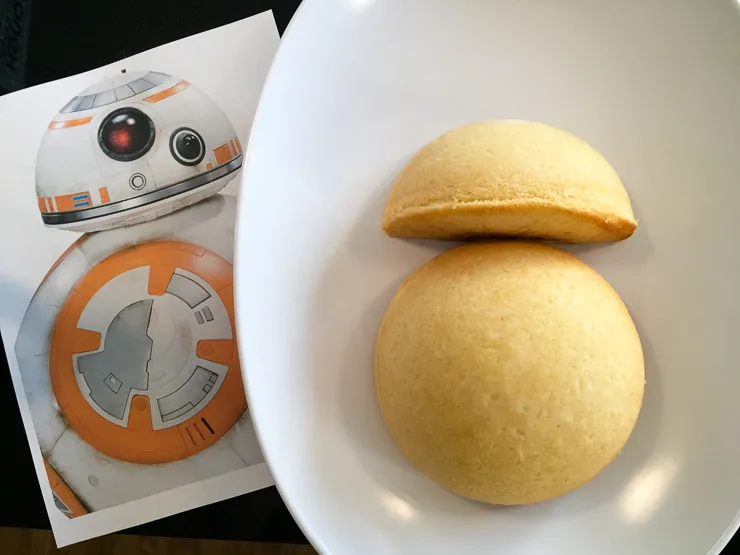 Star Wars Opening Crawl On Stair Risers — Star Wars Birthday Party Printable Decoration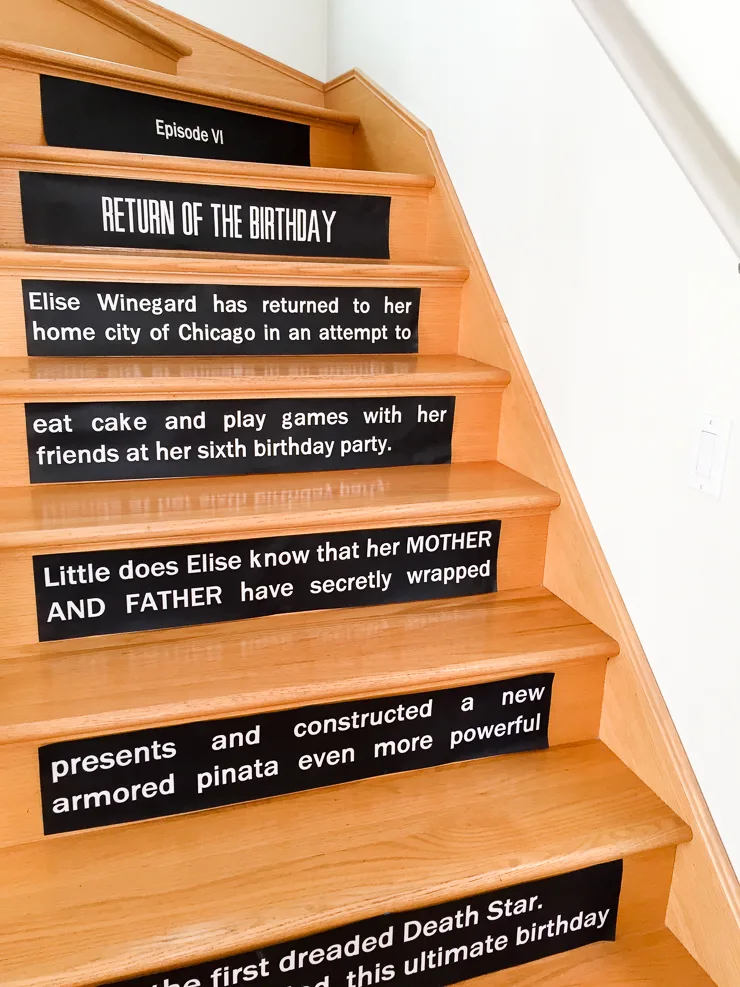 Printable Star Wars DIY Birthday Banner Bunting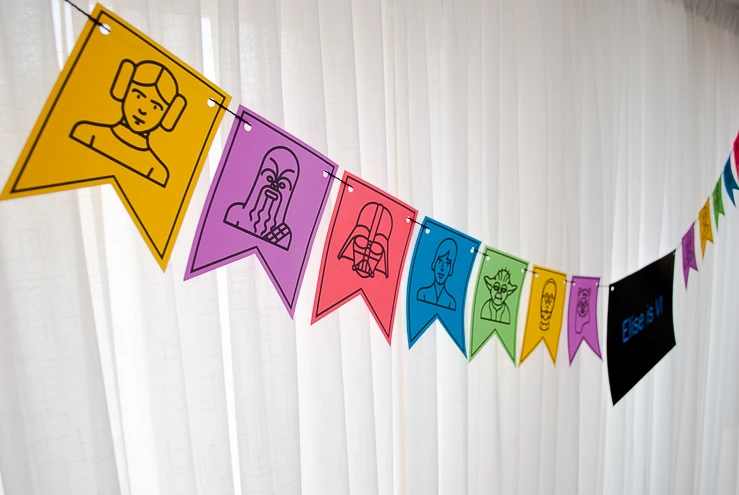 Personalized Star Wars Birthday Sign with a star galaxy background inspired by the Star Wars opening crawl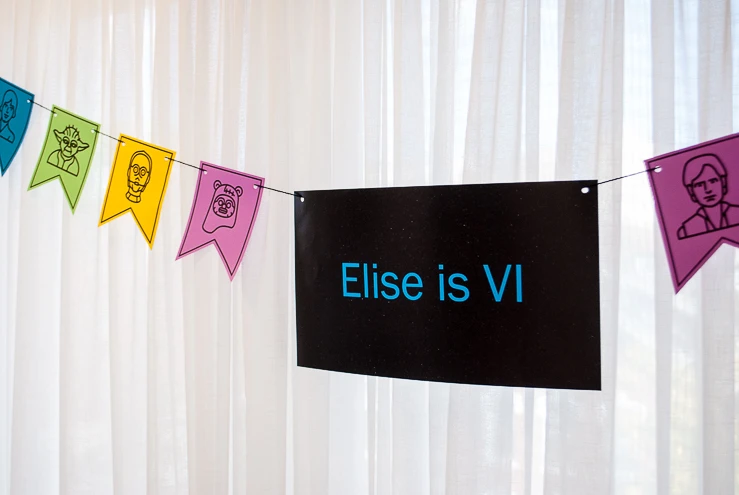 —
Like it? Share it!
The nicest way to say you like it is to pin it on pinterest, post a comment, follow Merriment Design on Facebook, twitter, pinterest, Google+, instagram or sign up for monthly emails. Enjoy! 🙂
Copyright stuff: You're more than welcome to use this free project and tutorial for personal use. Contact me for commercial use and etsy sales.