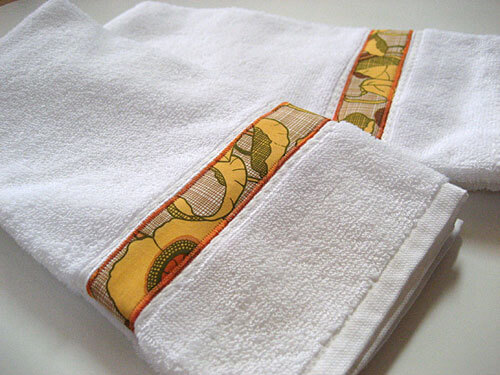 This is the detail that got the most comments from my wedding guests. My friends said it was 'typical Kathy' to personalize even the bathroom towels.
But this crafty activity is something you can make for a number of special occasions — housewarming, baby shower, birthday gift paired with your favorite luxury scented liquid soaps and lotions — or just as an everyday treat for yourself.
Supplies:
Measure your the width and height of your towel's ribbing. Add 1/2 inch on all sides; cut out fabric and interfacing. Iron on interfacing and fold 1/2 inch down on all sides to make crisp edges. Appliqué it onto the towel using a tight zigzag stitch like I did or any other decorative stitch. I recommend using colored thread on the top that complements your fabric (I used orange) and thread that blends into the towel on the back (I used white).
Tip: If making guest towels for weddings be sure to make extras so your venue manager can freshen it up throughout the night.
Don't feel like making it yourself? I'll do it for you. Just contact me and allow 2-3 weeks for delivery.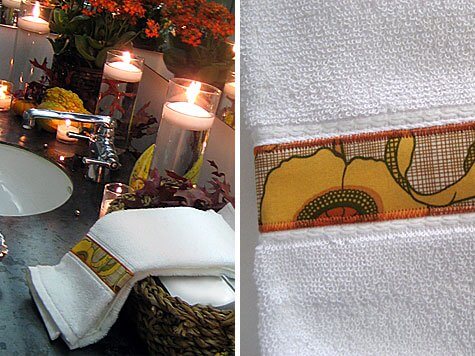 Like this theme? Then try our sewn poppy fabric invitations, sewn return address envelopes with custom stamps, table numbers, ring bearer pillow, place cards, sewn zigzagged programs, menu, reserved signs, whimsical flower garland "altar" and bridesmaid's handbags.

COPYRIGHT NOTE: You're more than welcome to use this project and pattern for your own personal use. Please post a comment below or email me if you use this project so I can smile when I see that it's being used. Craft and pass it on!