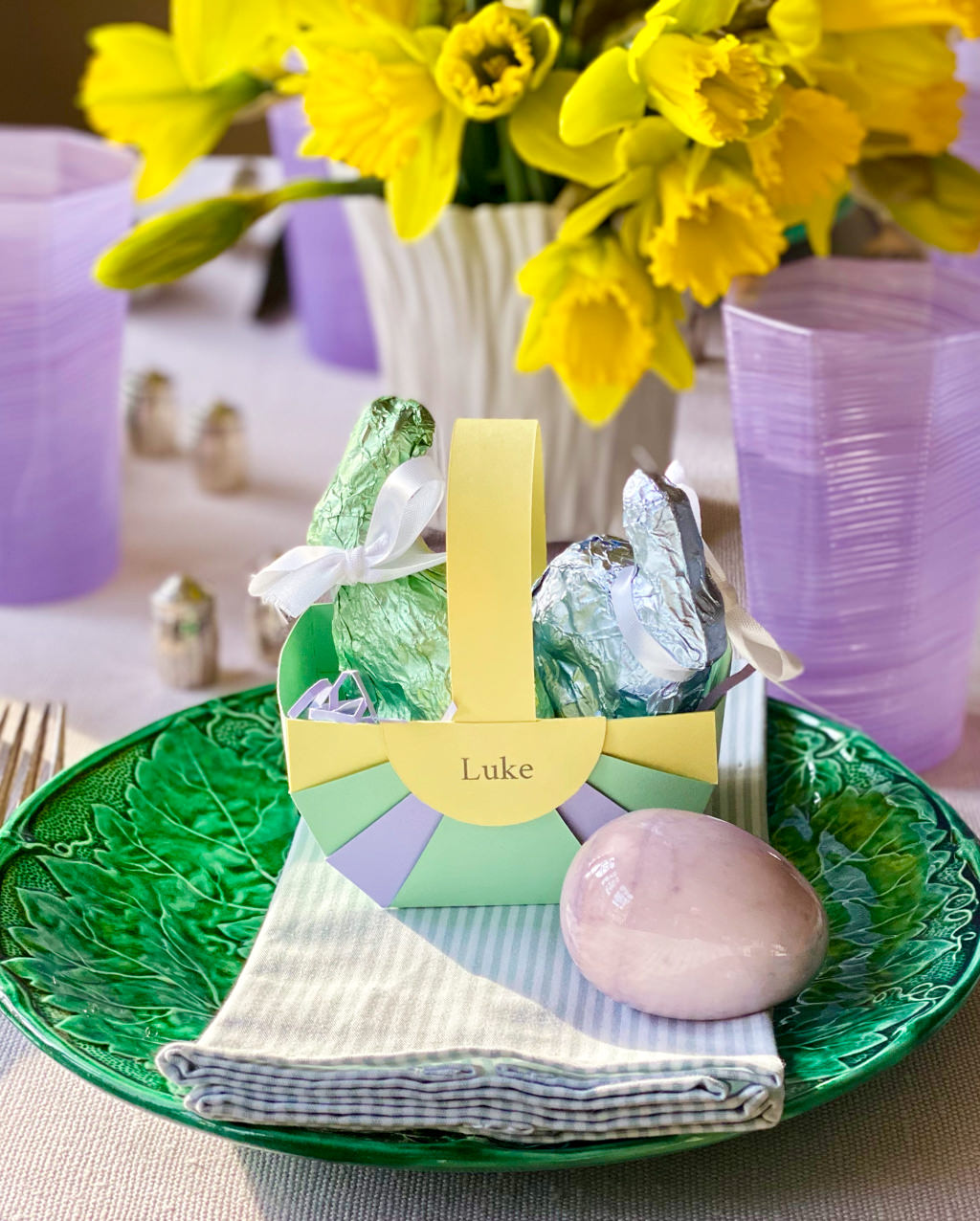 Hop into Easter with my easy and cute DIY paper basket place cards for your Easter table! My creative DIY Easter place cards come together in two-shakes of a bunny's tail, and you can fill them with a little treat.
DIY Easter place cards made with simple paper baskets
I shrunk down my popular paper DIY Easter baskets template to a teeny place card size. Aren't they cute? So now you can choose from my original size or this smaller size for a cute Easter tabletop. Download my free printable Easter place cards editable template below and type to personalize the place cards for your family and friends.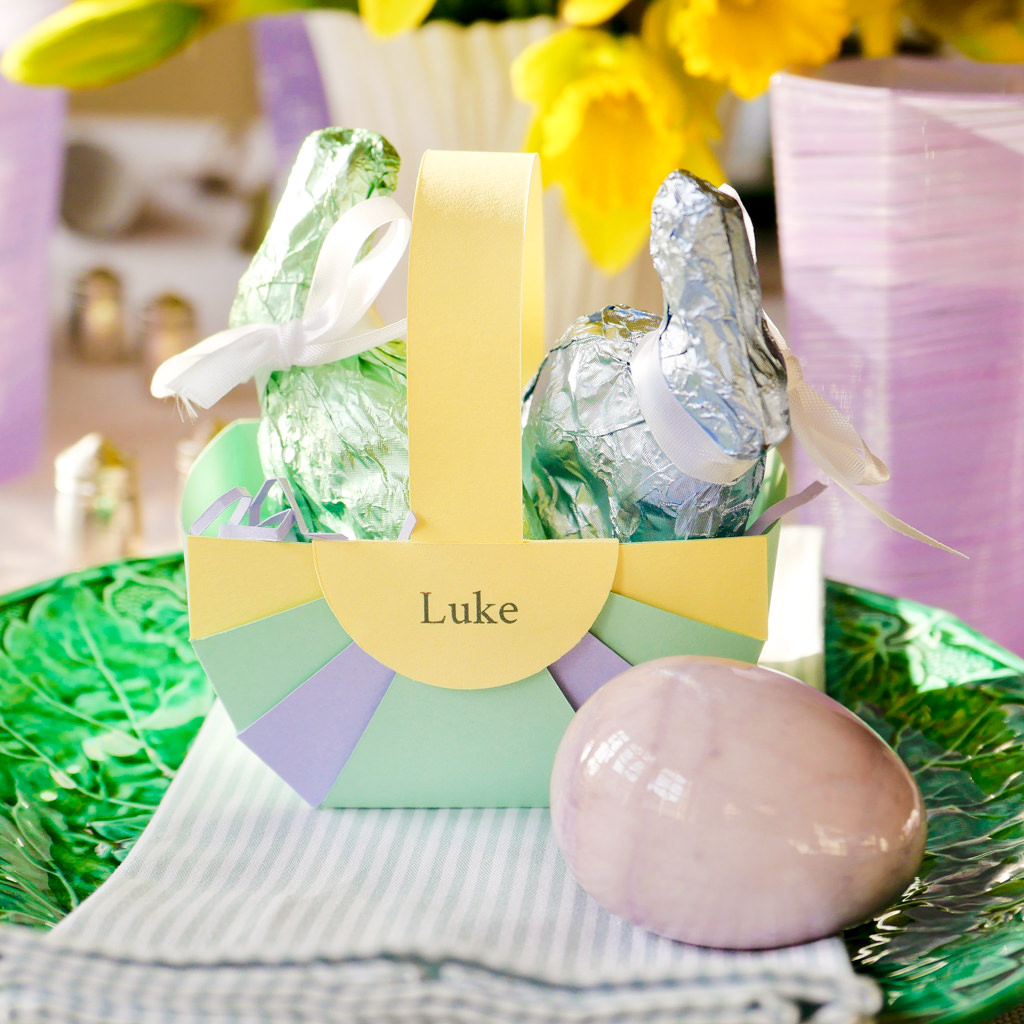 Cute DIY Easter table decor for spring
I'd like to deeply thank the super talented Wendy Franzen from Fletcher + Fork for her amazing styling and photography. Wendy sets the prettiest tables and I feel so lucky that she was willing to style and photograph my paper basket Easter place cards on her Easter tablescape.
Wendy decorated a kid's Easter table with her spring China, elegant silverware, cream tablecloth, bright yellow daffodils in a pretty cream vase, pastel purple glassware, crisp striped napkins, and teeny silver salt and pepper shakers. Then she added pastel Jordan almonds, botanical paper crackers, and stone eggs. She tucked cute wrapped bunnies into my teeny Easter basket place cards. I just can't say enough about this Easter table!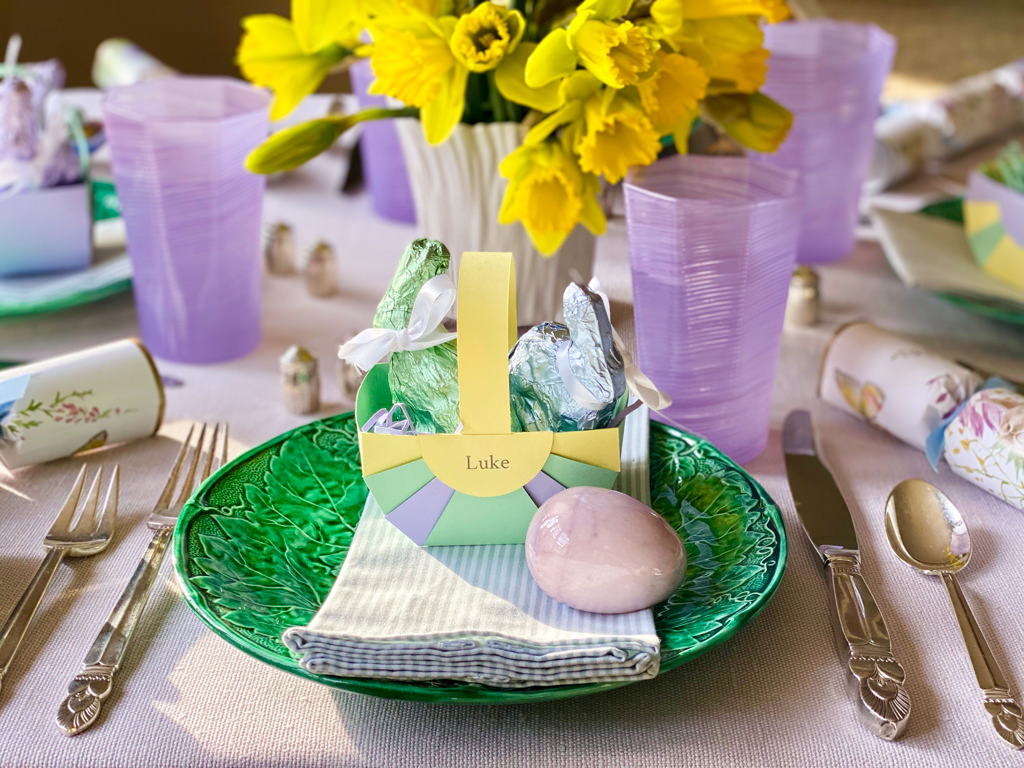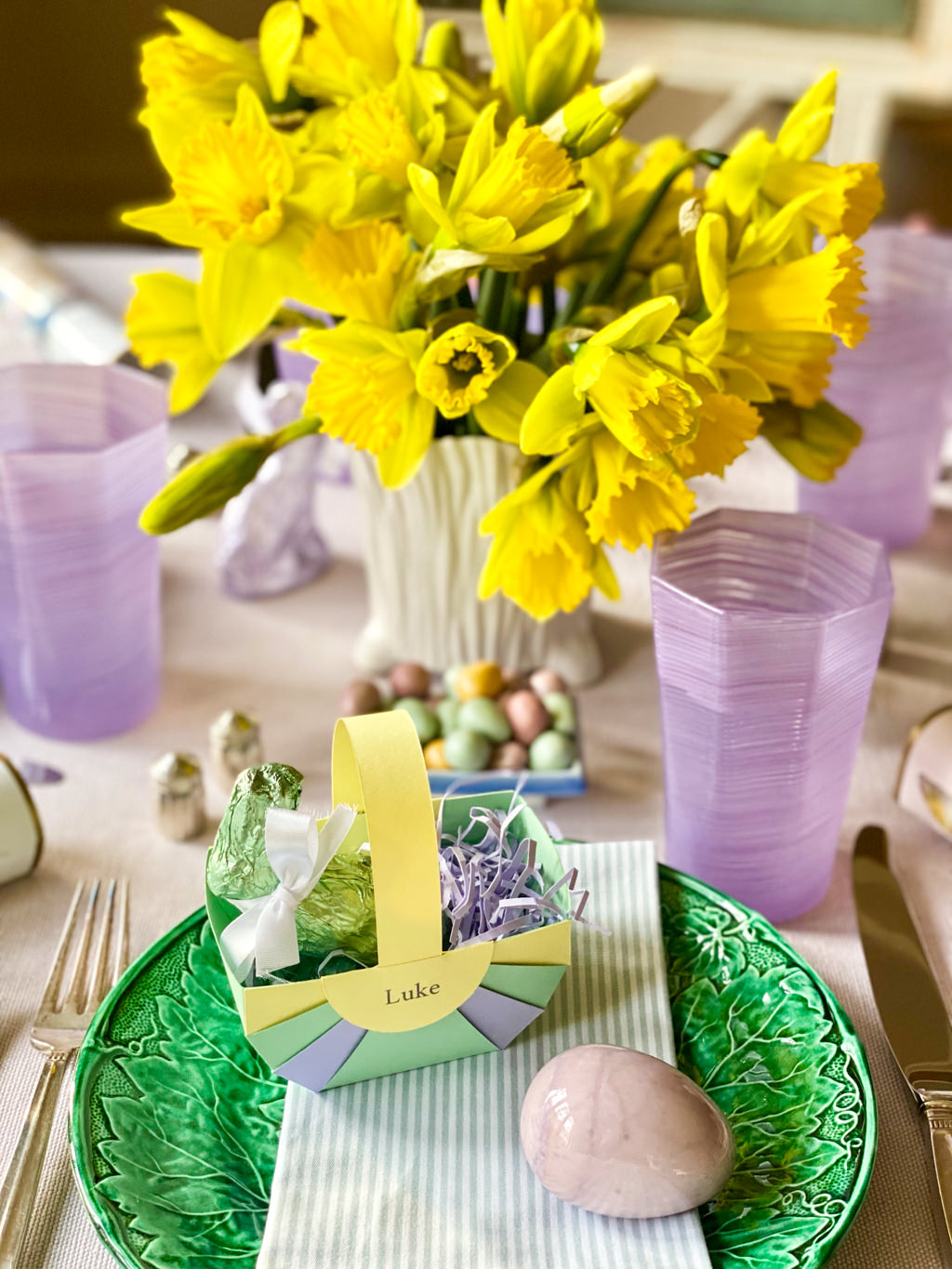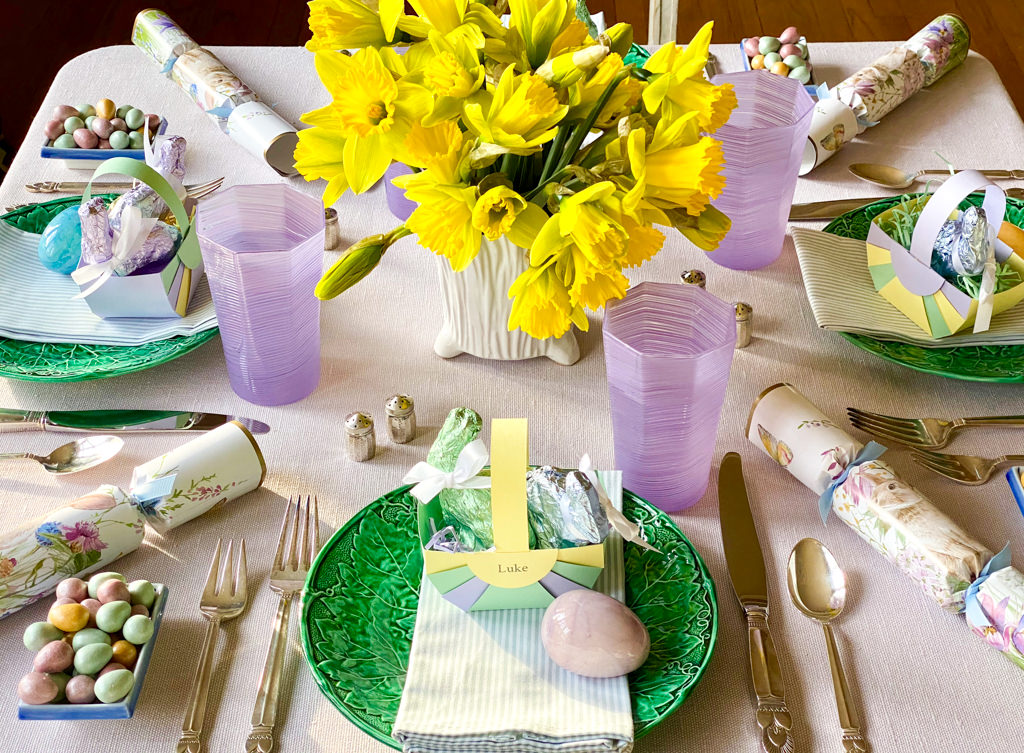 See also: 'Easter scavenger hunt for kids – free printable' »
Personalized Easter place cards printable template
Easily personalize my Easter place cards with names for family and friends. You can handwrite your names with a nice marker or use my template. Just download to Adobe Reader on your computer, type to personalize your place cards, and print. Keep reading to get my free printable place cards template and full instructions below.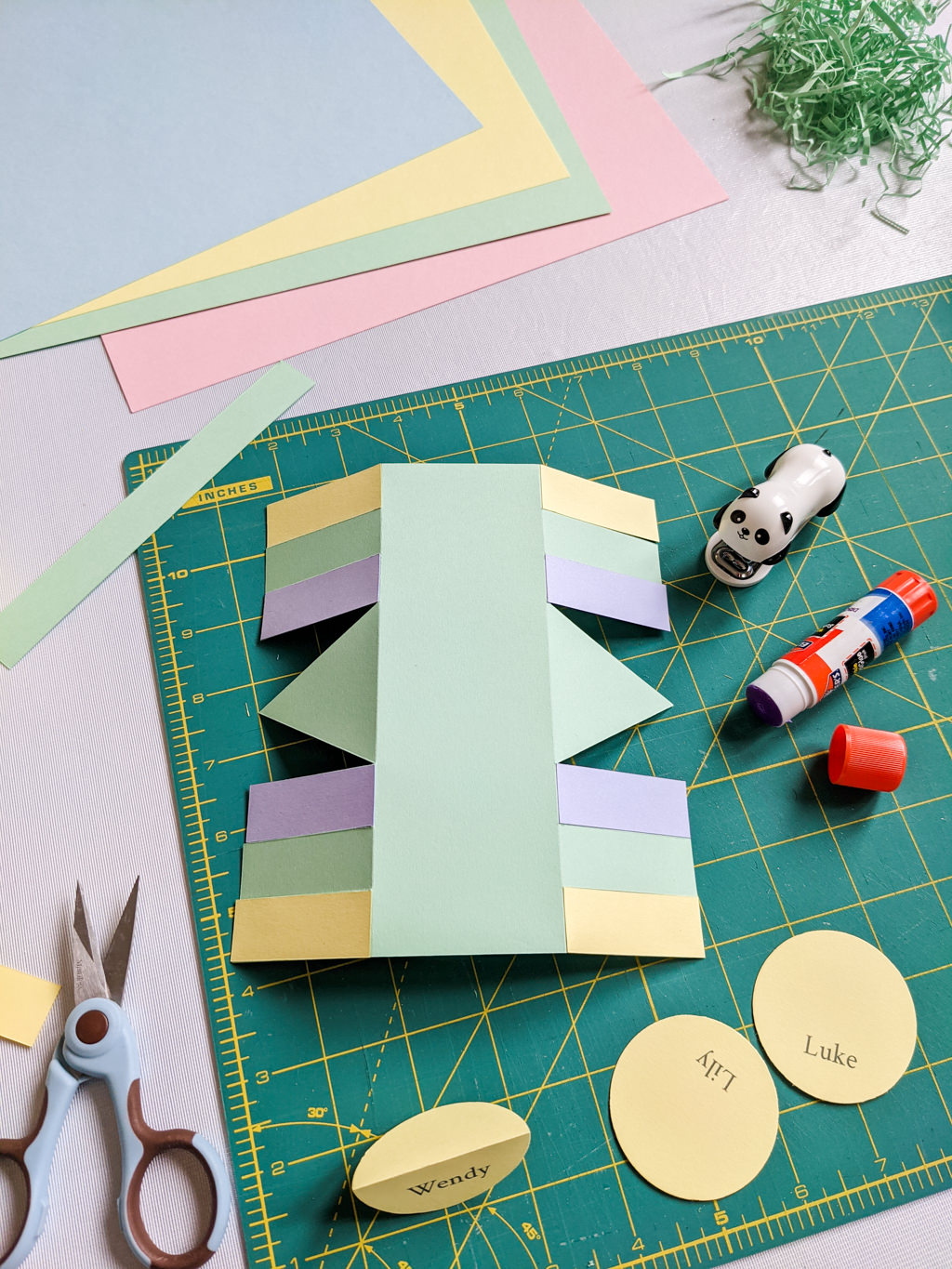 Making my teeny paper baskets place cards are a cute and easy idea for the Easter table. Turn them into individual place cards or bunch several together with flowers to make spring table centerpieces for your home. Make extra paper grass — see how below — for all of your spring table Easter decorations.
Thanks again to Wendy Franzen from Fletcher + Fork for styling and photographing my DIY Easter place cards. Be sure to check out Wendy's classy recipes, stories, gardens, and of course, her elegant tables.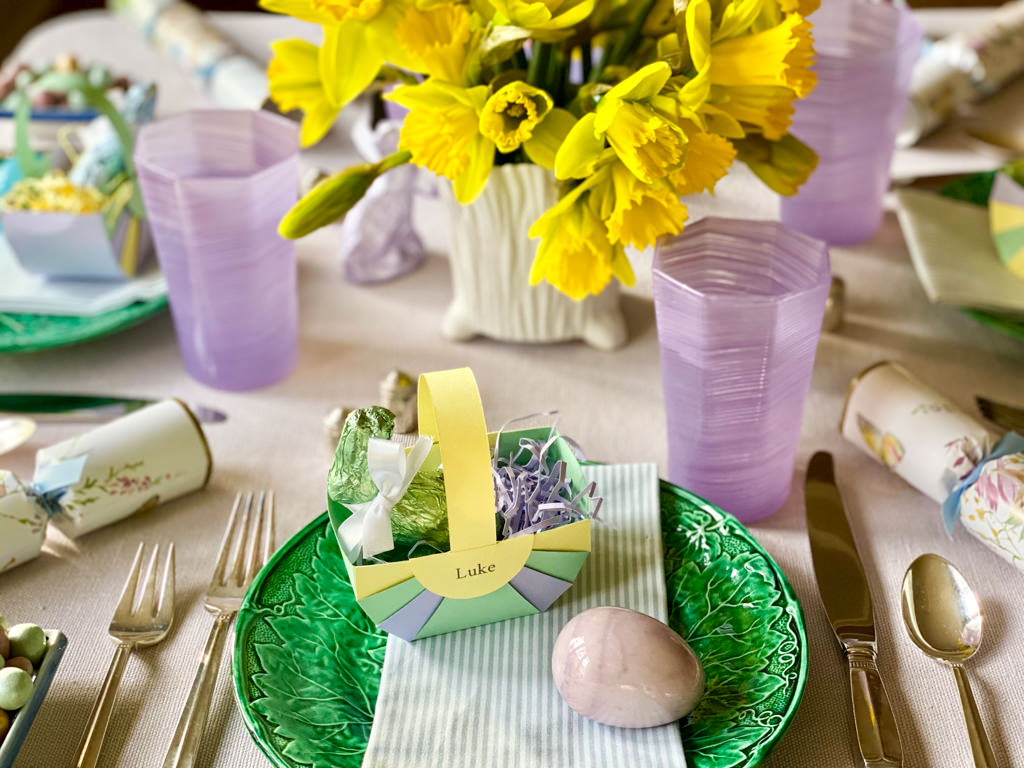 Merriment Design is supported by readers like you. If you buy products that I recommend, I may earn an affiliate commission at no additional cost to you. Thanks – your clicks help me make more free DIYs!

Supplies for making personalized Easter basket place cards:
How to make handmade personalized DIY Easter place cards:
Step 1: Choose colors for your Easter place cards
Check out my color palette ideas and choose your colors. I used the pastel Astrobrights Pastels cardstock paper. Download my free printable paper Easter basket template (PDF) — it comes in two sizes available — and print my template onto any color card stock paper.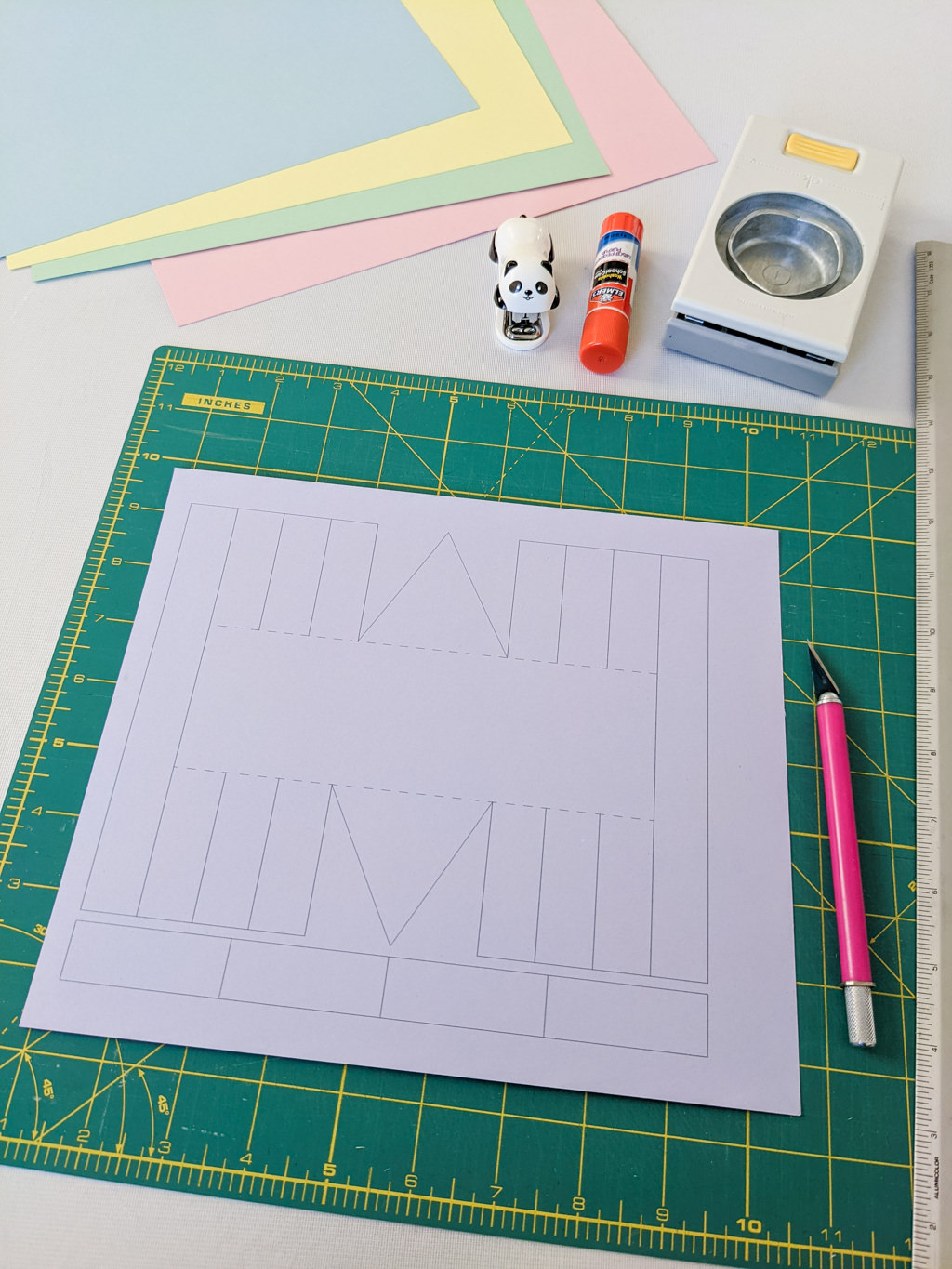 Step 2: Score the dotted lines on the free printable template
Score the two dotted lines on the template by dragging the *back side* of your craft knife along the ruler edge – just do it lightly to score it rather than cutting through the paper.
Step 3: Cut out the Easter place cards
Use good paper scissors or a craft knife, metal ruler, and self-healing mat to cut out the solid lines on the template. The long straight piece will be the basket handle, and the four short rectangles will be striped decorations.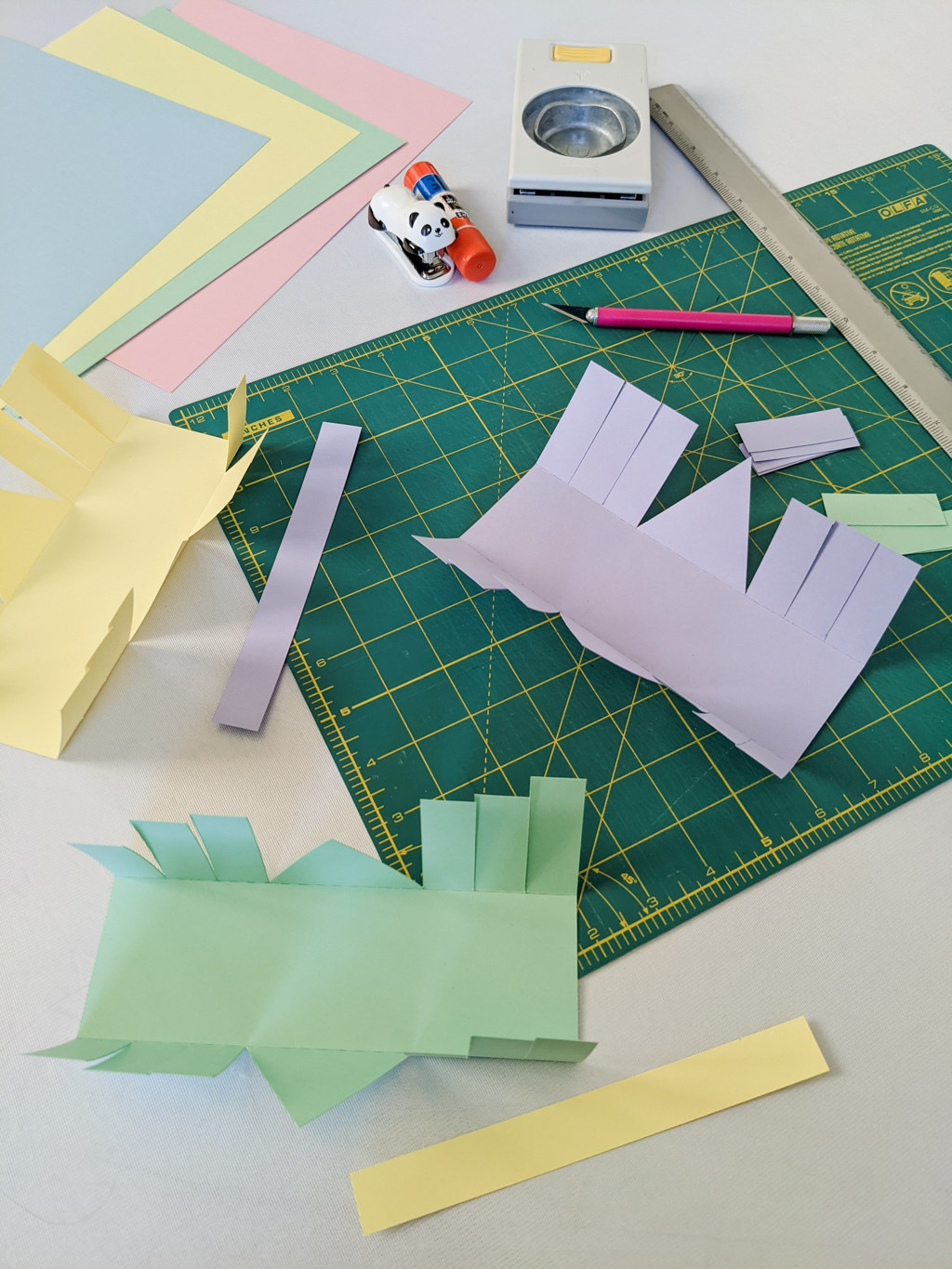 Step 4: Add striped decorations to the DIY Easter place cards
Glue the colors to the outside of your pink strips, lining them up evenly on the sides. Let them dry.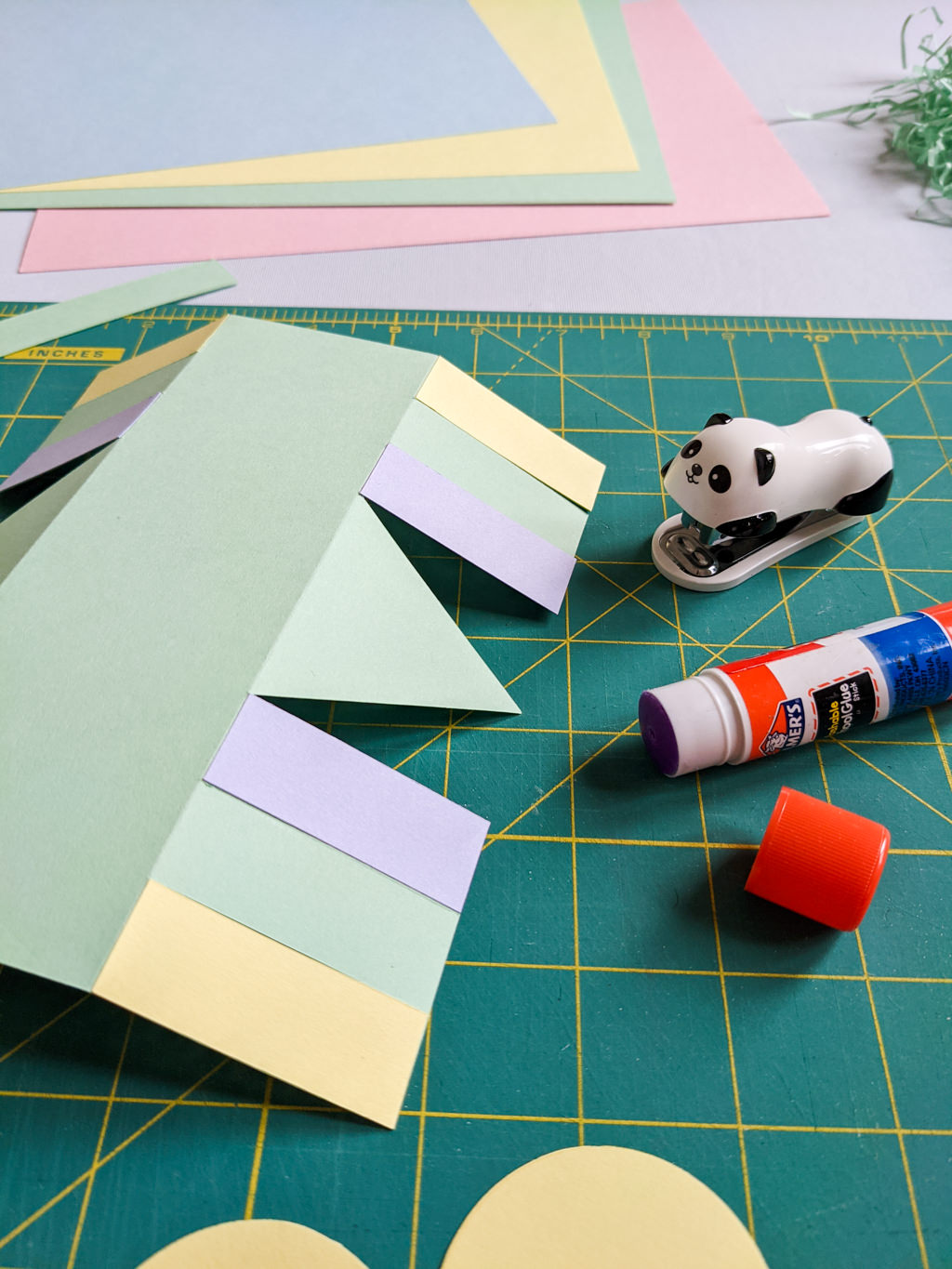 Step 5: Fold and staple the paper Easter baskets
Fold along the score lines and fan the strips into the center of the triangle. The easiest way to do this is to line up the back strips first, and then fold each layer on top. Staple one side of the basket, and then staple the other side. (Update: I've gotten questions about where to buy my mini Panda stapler so adding that link in here).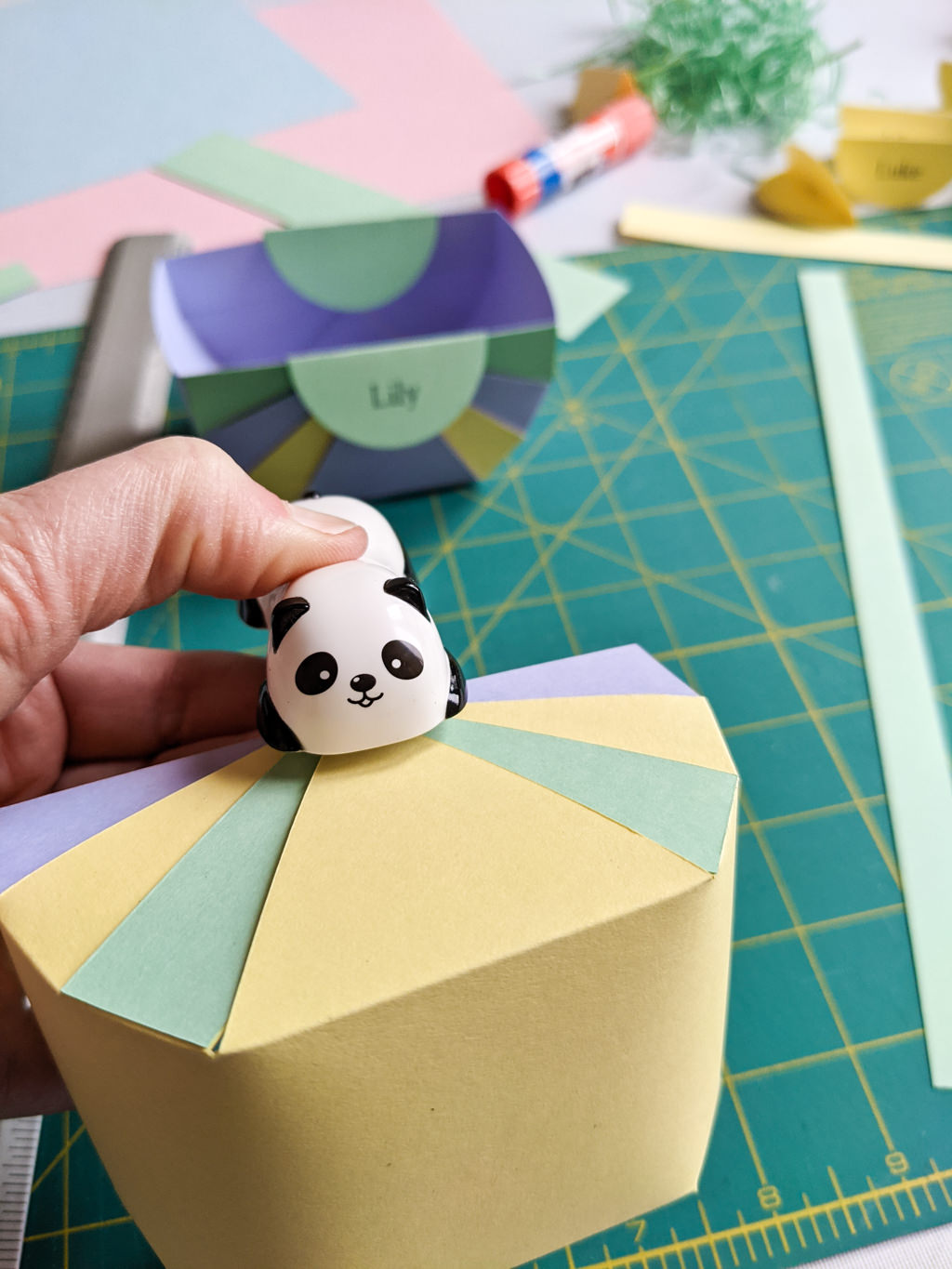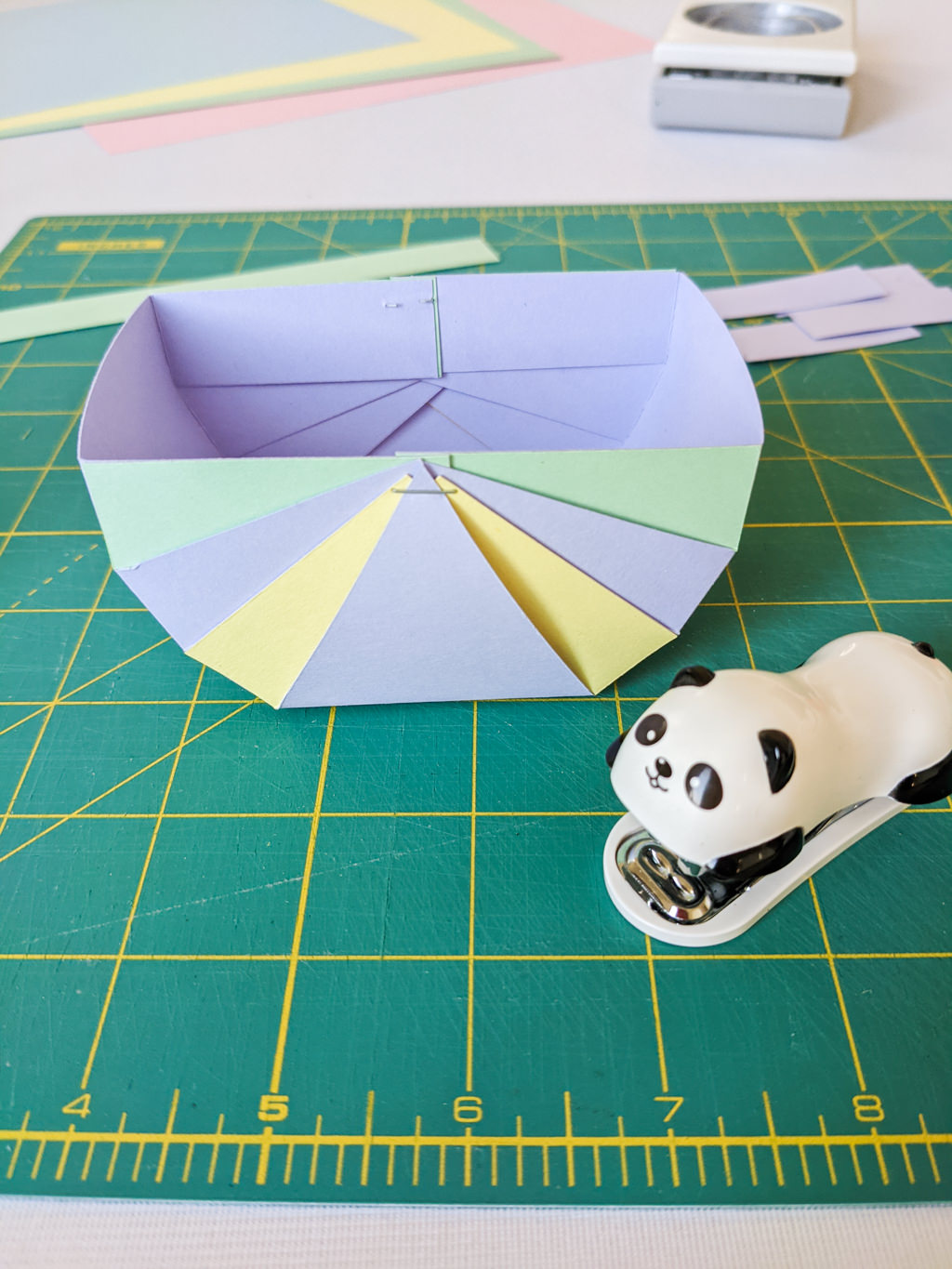 Step 6: Personalize your Easter place cards with names (optional)
You can either handwrite names with a nice pen or use my template. Open my template in Adobe Reader (rather than a web browser). Then type into the fields to add names to your place cards. Print onto colorful card stock paper and punch out with a 2″ circle craft punch. Contact me if you need help personalizing your labels. And if you'd rather not add names then skip the personalization and just punch some 2″ circles from scrap paper. You'll need two 2″ circles per basket.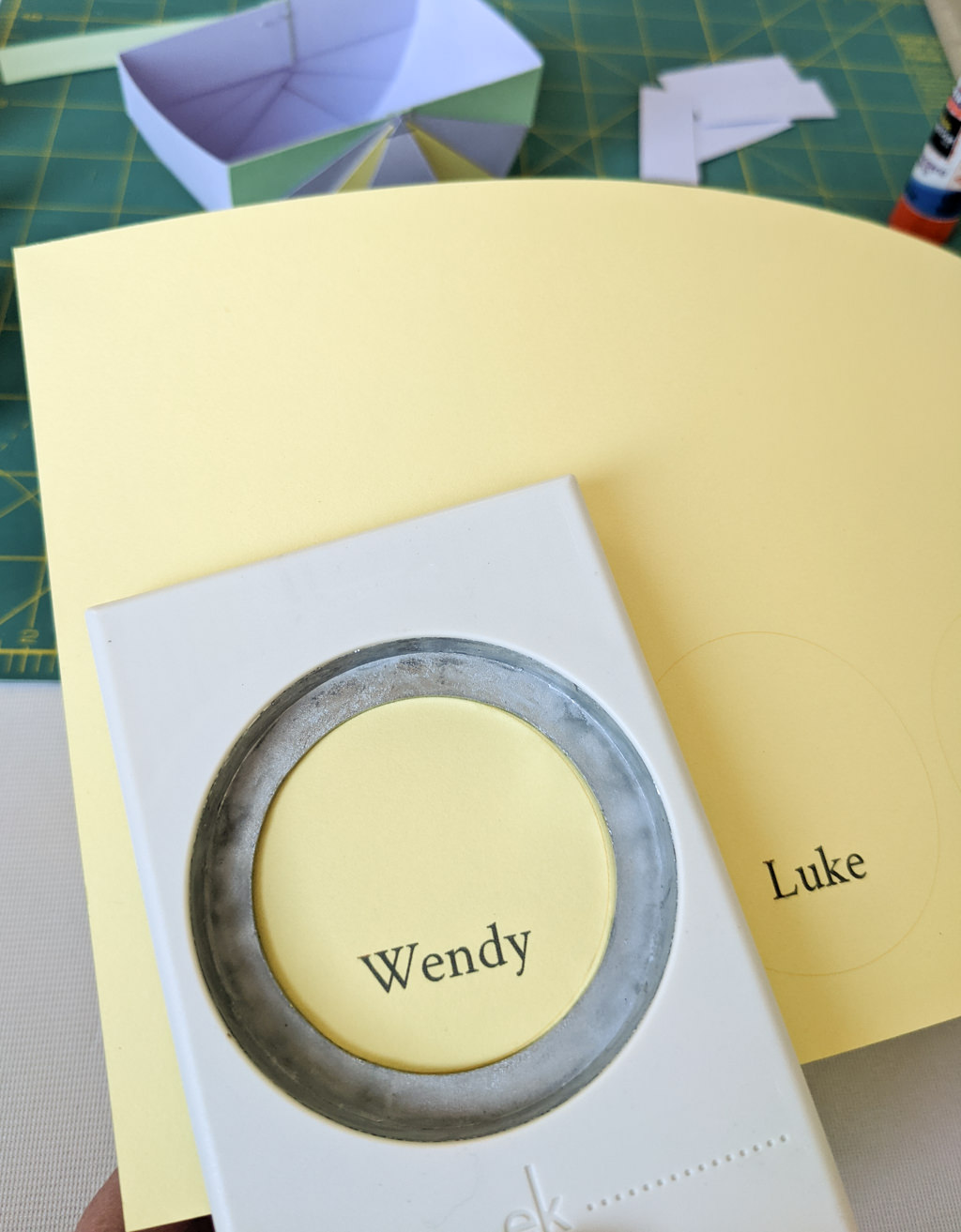 Step 7: Attach the paper handle to the Easter basket
Score and fold the 2″ circle in half by lightly running a craft knife upside down along the ruler. This will make a really crisp fold, but you could also just fold it in half. Cut a 1″ slit in the middle of the fold. Repeat for the other circle.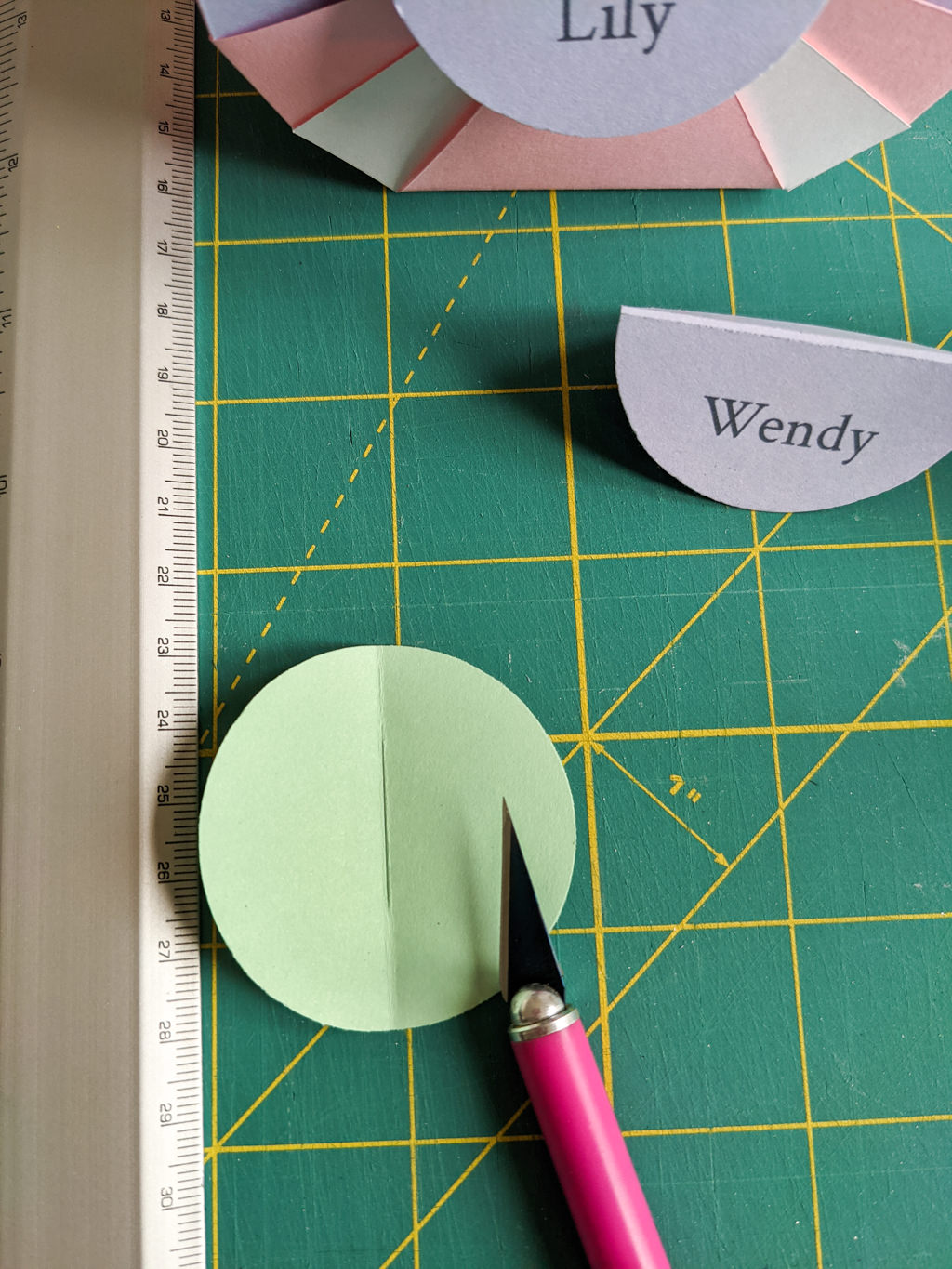 Slip the handle inside the slit and glue it with a glue stick. Repeat on the other end.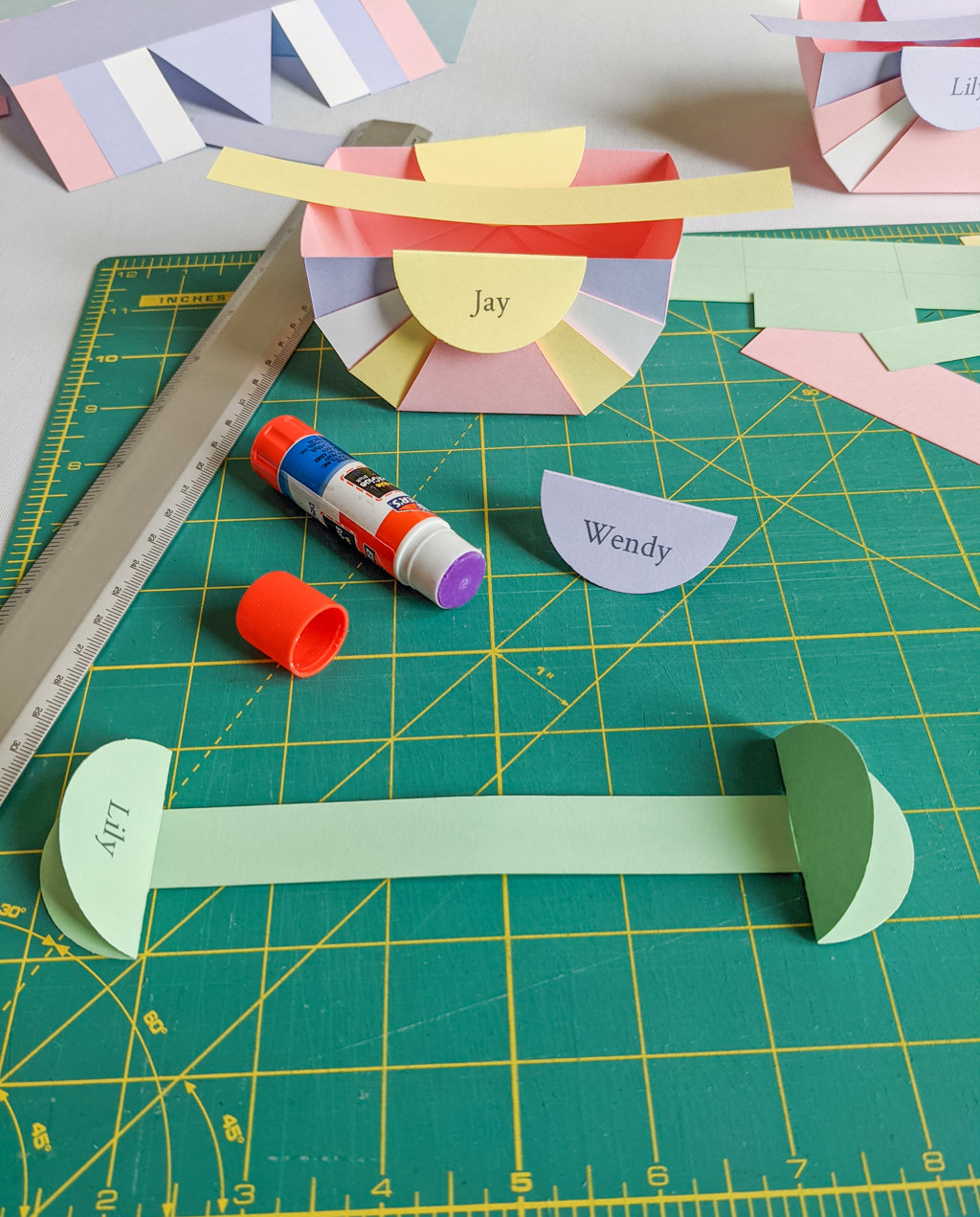 Attach the handle to the basket using permanent glue dots.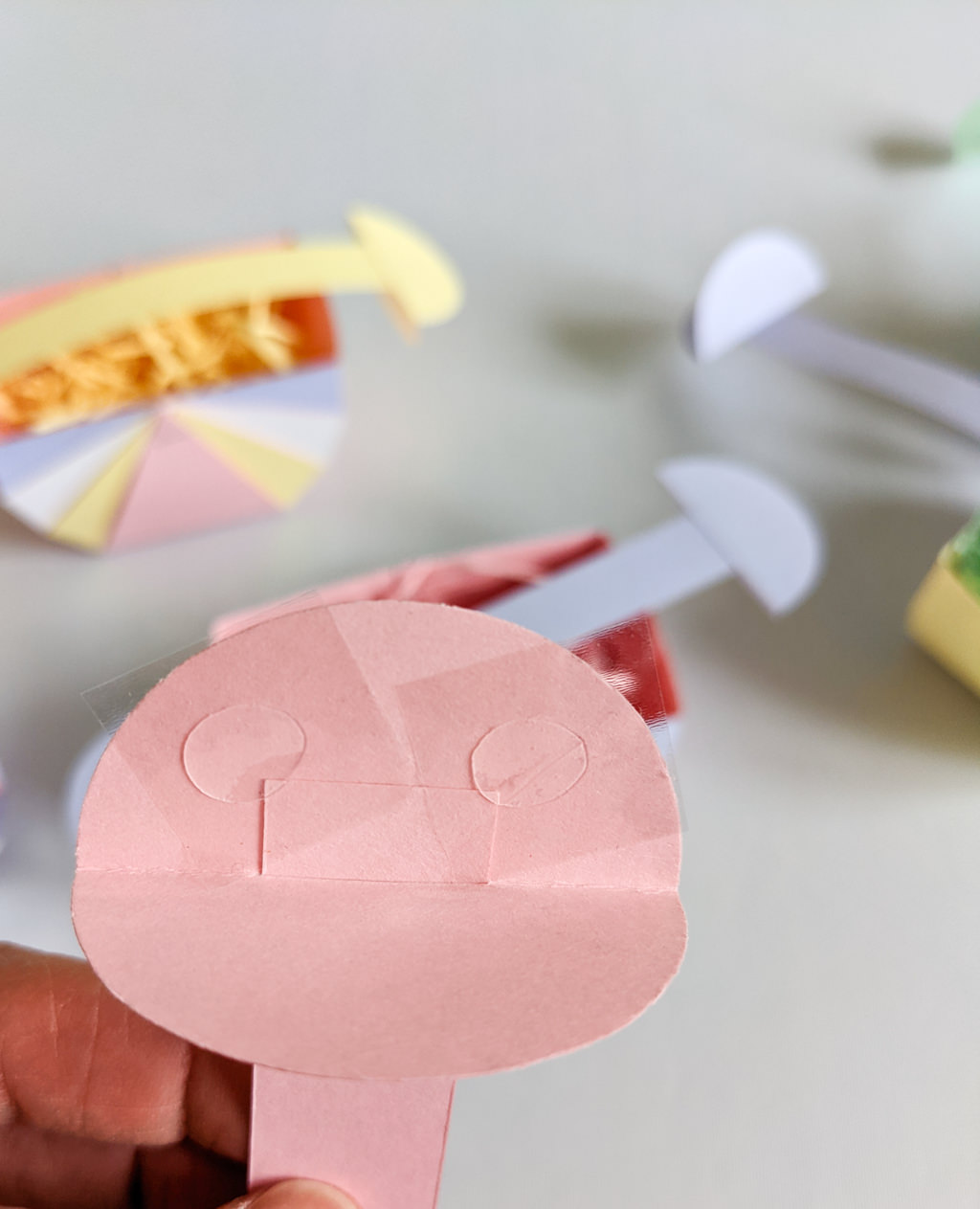 Step 8: Make paper grass to put into the basket
It's super easy to make your own DIY paper grass to put inside Easter baskets. Just take some scrap paper in any color that you wish. Cut tiny blades of grass by running a craft knife along the edge of a metal ruler (be sure to work on a self-healing mat). Elise says that watching me do this is very relaxing. Then just crumple up the blades of paper grass and fill your basket.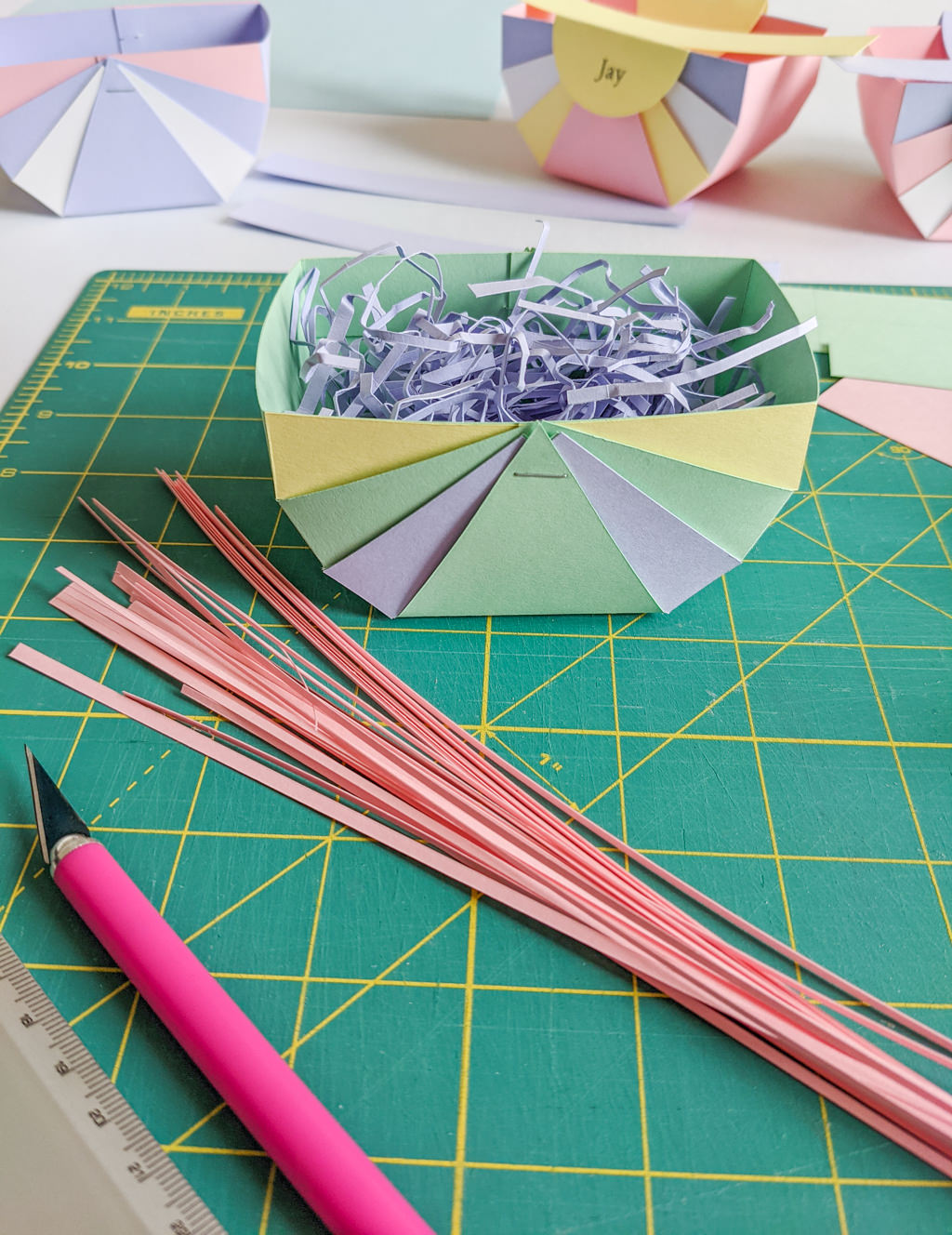 Step 9: Tuck treats into the Easter baskets
Add foil-wrapped, pastel chocolate bunnies, Jordan almonds, or Peeps into the paper Easter place cards and set your cheery Easter table.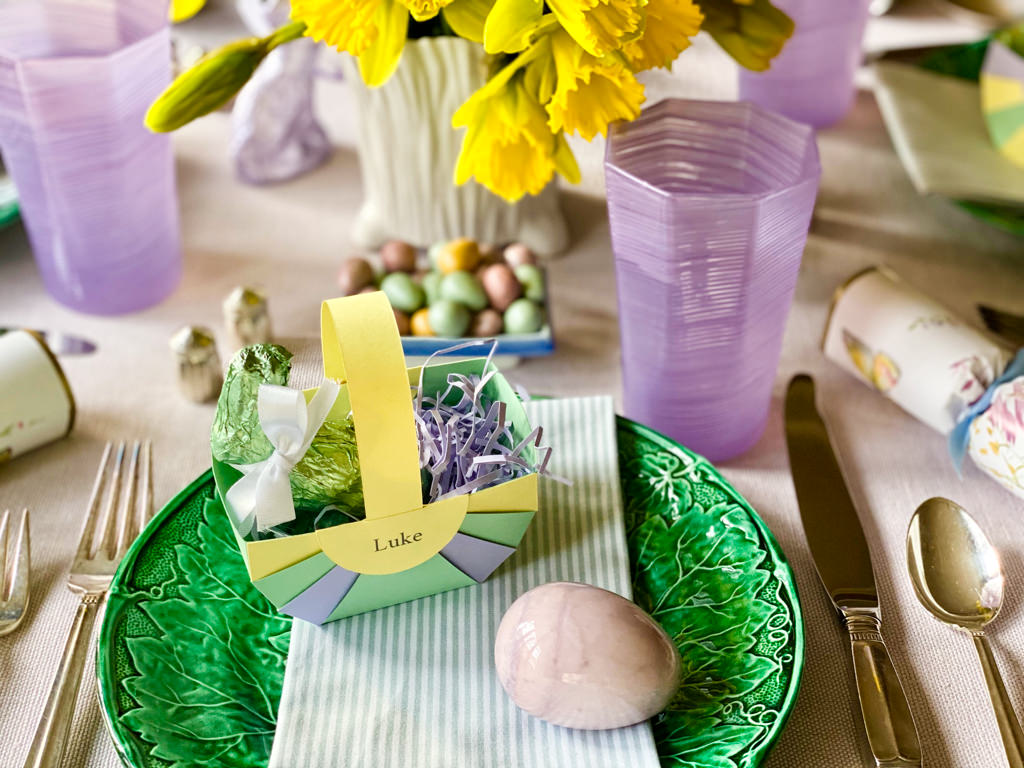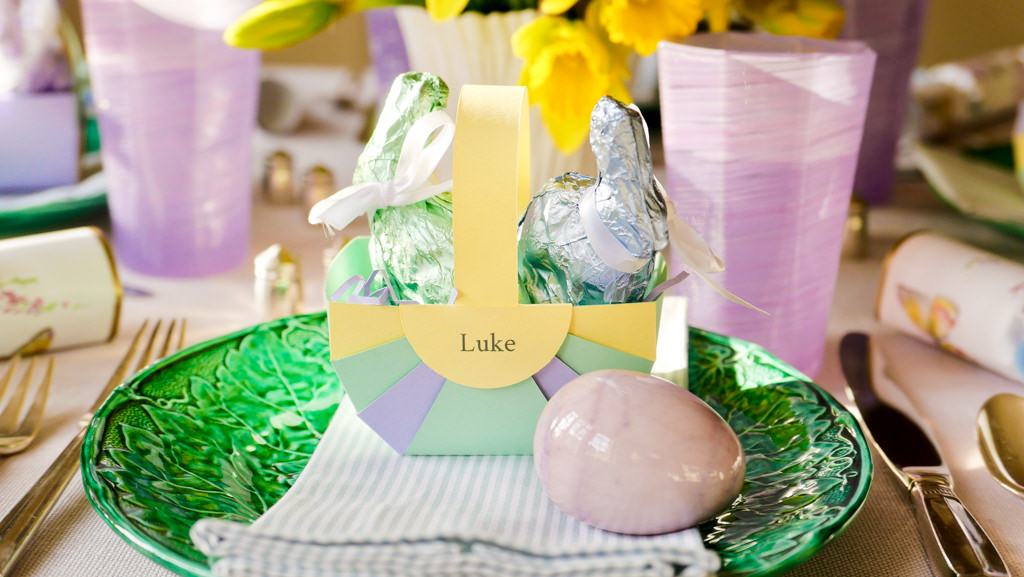 Pin my cute Easter basket place cards DIY to make for your Easter table decor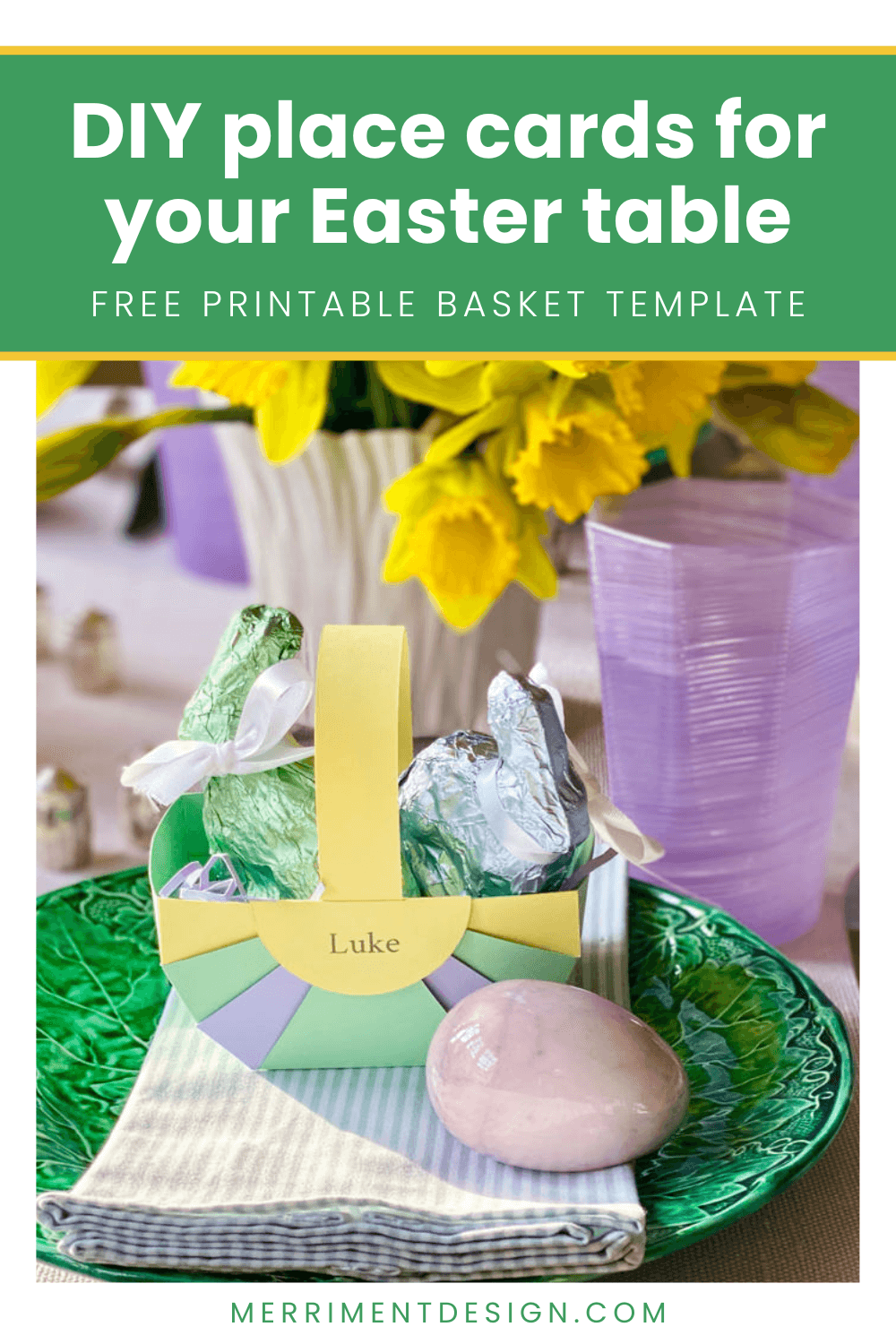 And see more Easter craft ideas including how to decorate Easter eggs with pens and markers, felt flower bracelets for kids, and a traditional Easter lamb cake recipe.
++++++
Like it? Share it!
The nicest way to say you like it is to pin it on Pinterest, post a comment, follow Merriment Design on Facebook, Pinterest, Instagram or sign up for monthly emails. Enjoy! 🙂