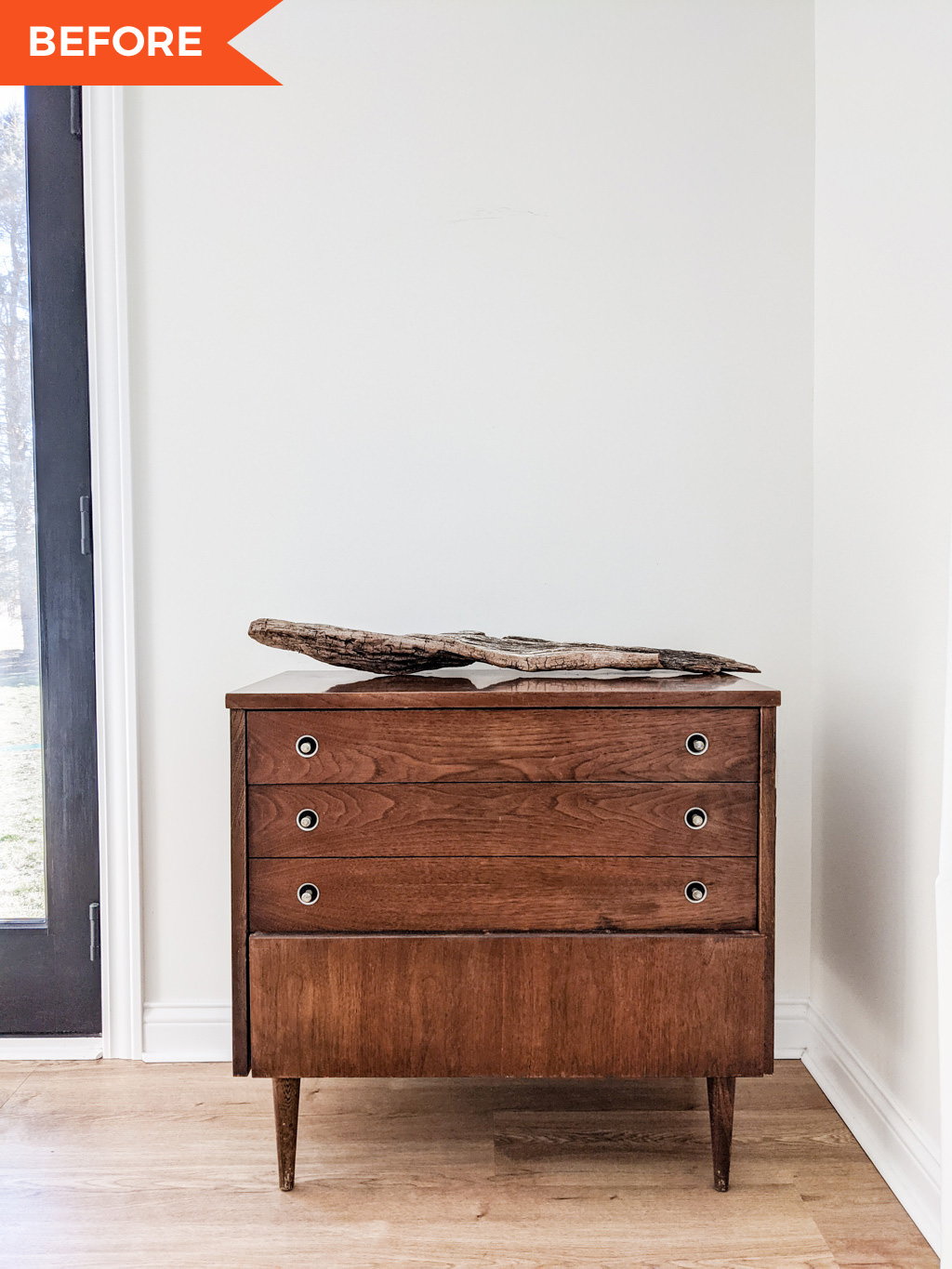 Like most people these days, I've been spending a lot of time at home and our bedroom could use a pick-me-up. AllModern asked me to show my spin on mid-century modern bedroom ideas and the timing couldn't have been more perfect. This before-and-after mid-century modern bedroom decor post is sponsored by AllModern – thanks so much to them!
Mid-century modern is about simplicity and functionality and that's definitely me. I'm excited to show you how I added a couple of mid-century modern elements from AllModern to change our bedroom's style. It only took a handful of changes to make a huge difference in how our bedroom looks and feels. It's just the right balance of comfortable and calm. I'm so happy with how it turned out, what do you think?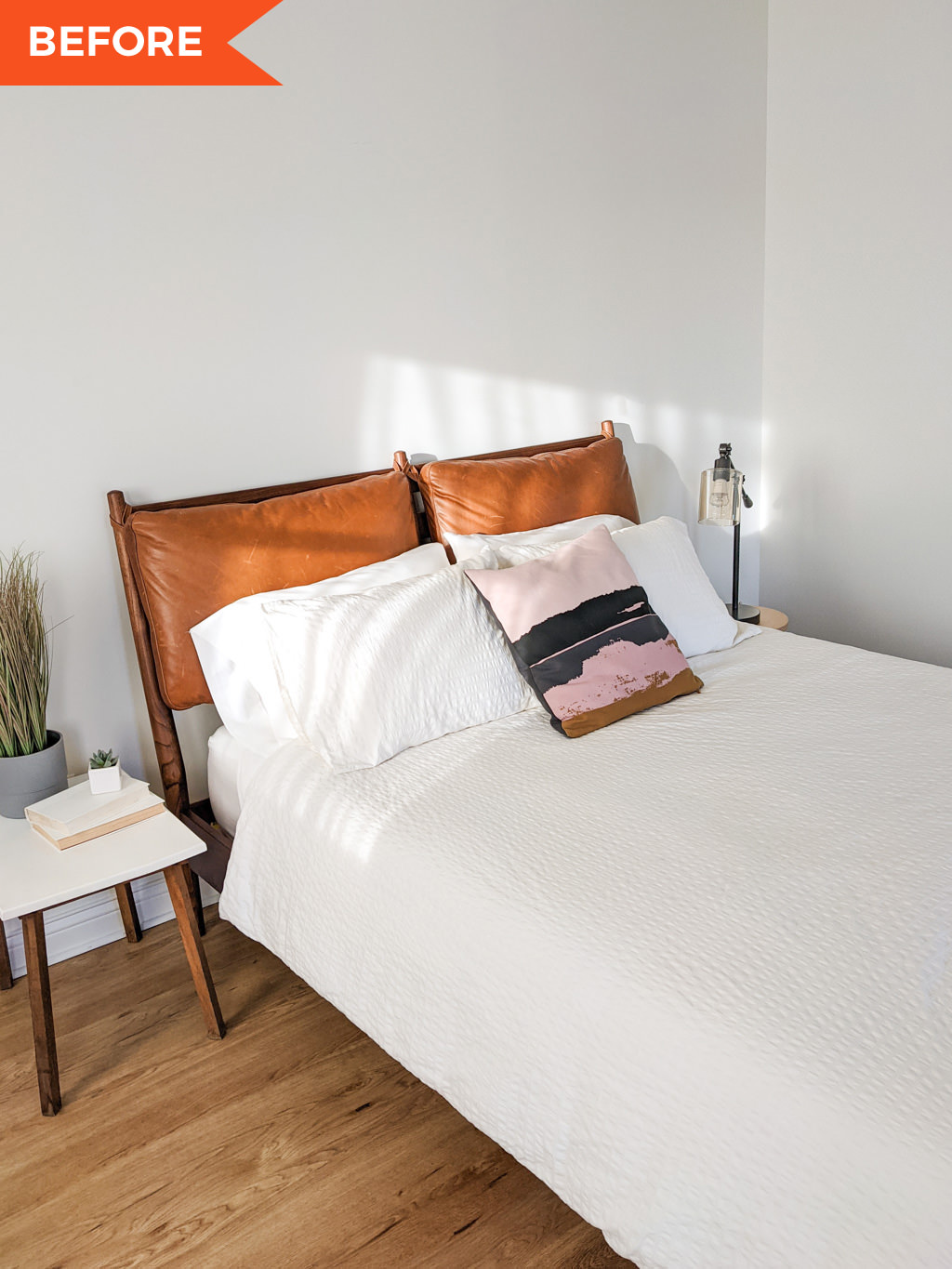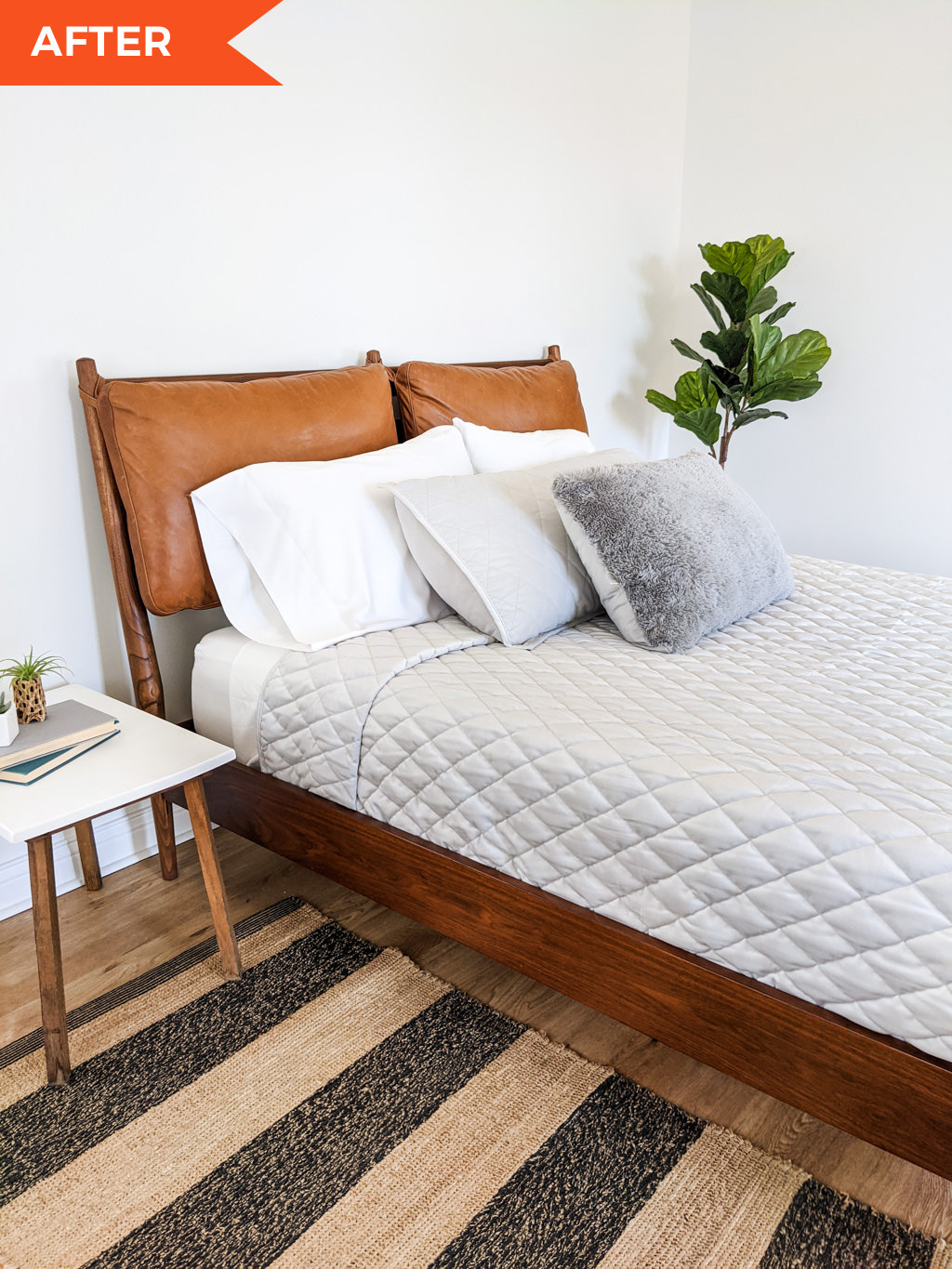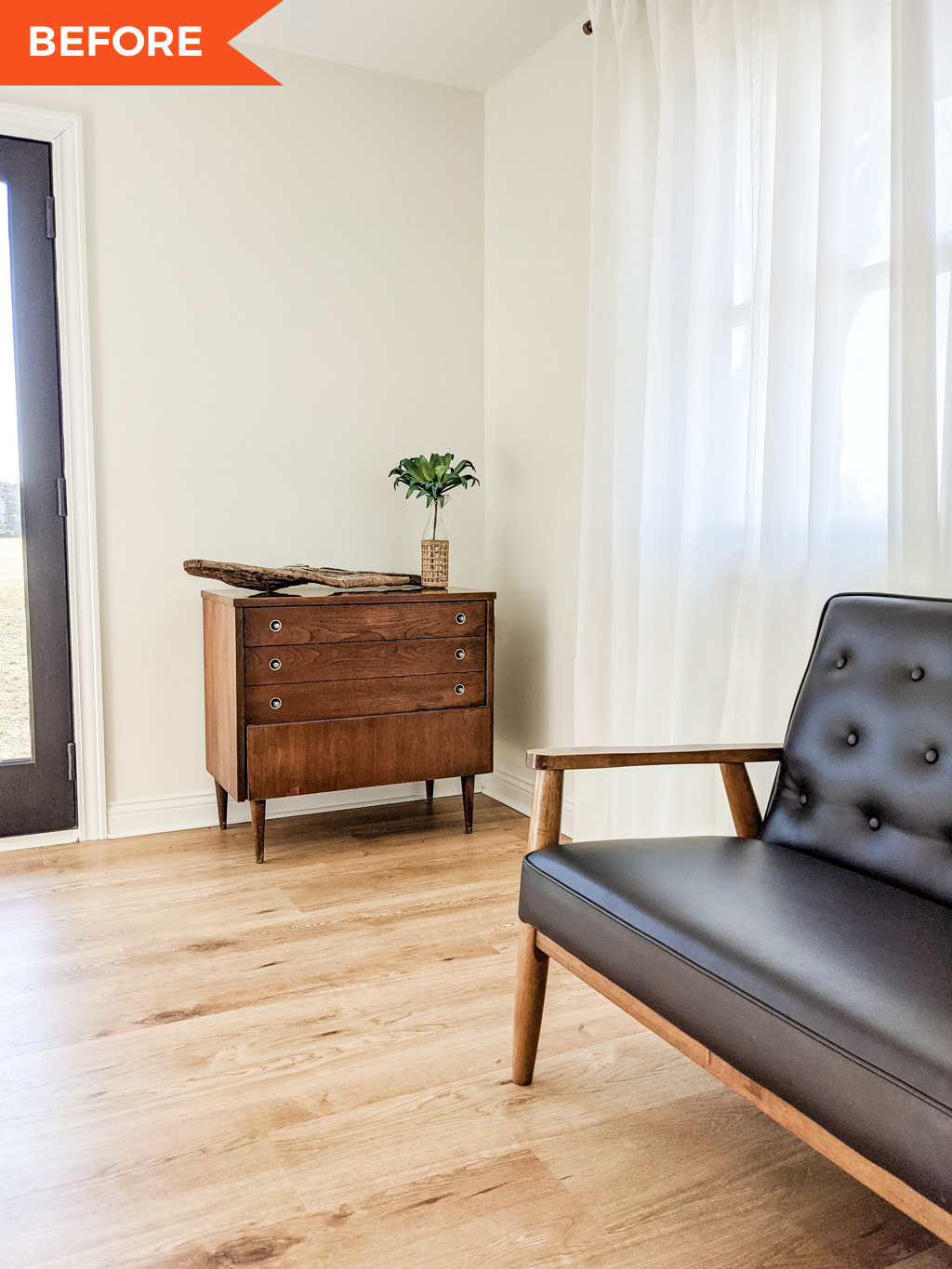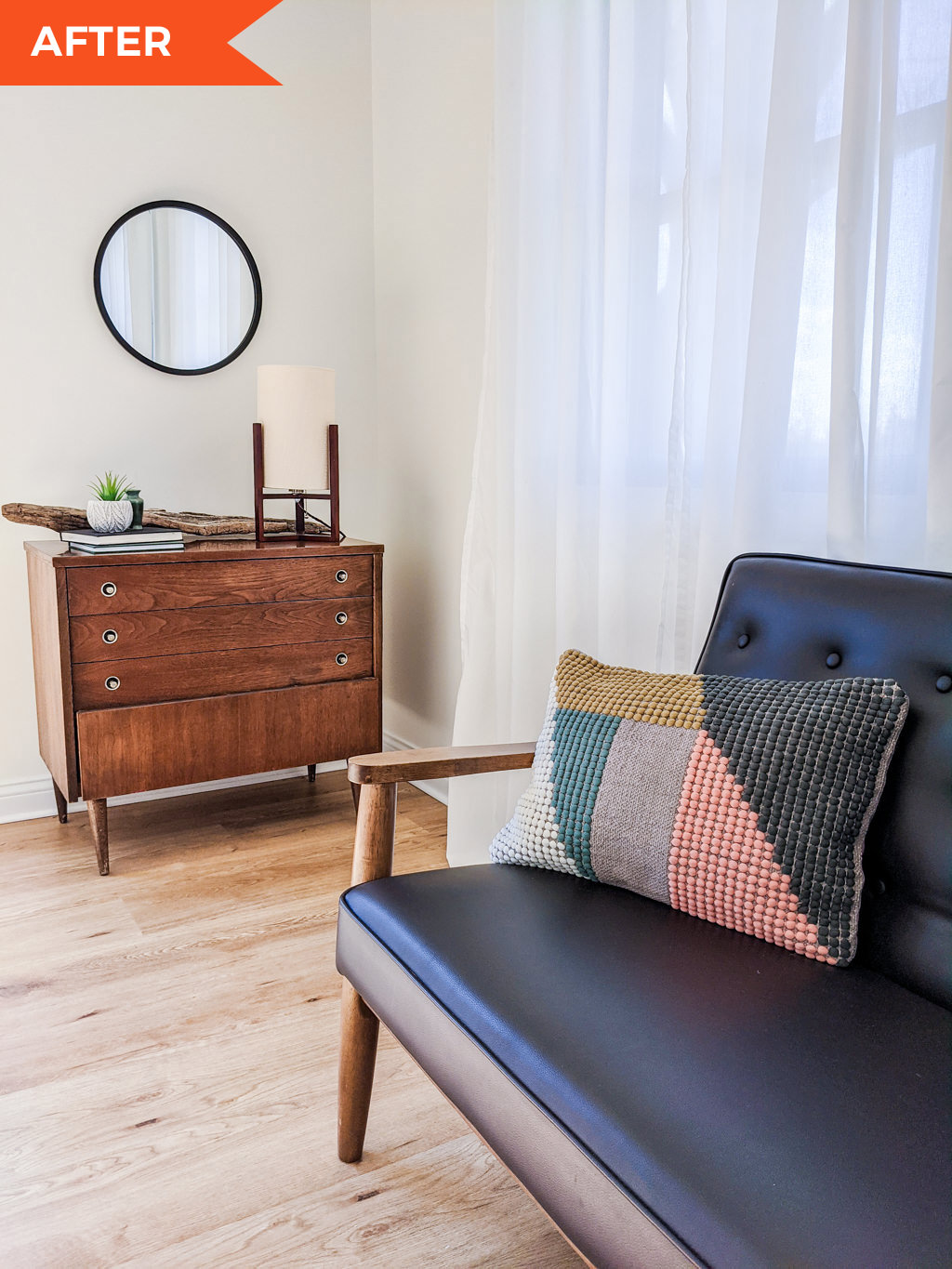 What is Mid-Century Modern Style?
Mid-century modern style to me means well-designed, clean lines, unfussy styles, uncluttered, geometric forms, and natural wood. It's functionality over ornamentation, like, if it's on the design then there's a reason for it. I'm Gen X and grew up in a mid-century modern home so to me mid-century style is comforting.
See also: 'Easy hexagon marble coasters DIY' »
Mid-Century Modern Bedroom Ideas
There are many ways to add mid-century modern touches to your home. I started by browsing AllModern's Mid-Century Modern bedroom collection for furniture, lighting, headboards, bedding, and bedroom accessories. Bedrooms are deeply personal spaces, and there are so many options at AllModern to choose from.
Let's start with the bed. I swapped in AllModern's super-soft Diamond Velvet Gray Quilt Set with a mid-century-inspired geometric diamond pattern, plus the Moffett 100% Cotton Sheet Set in white.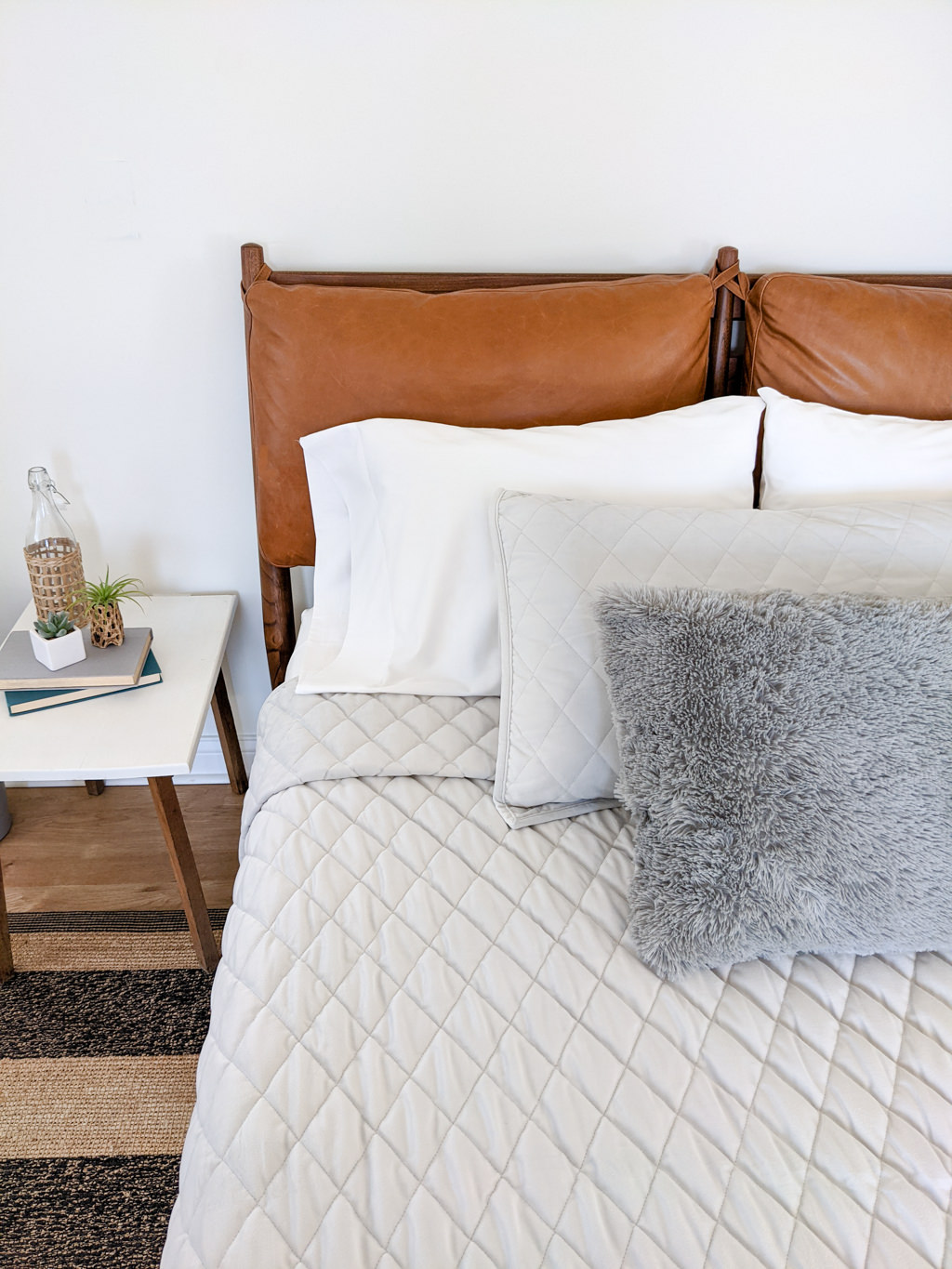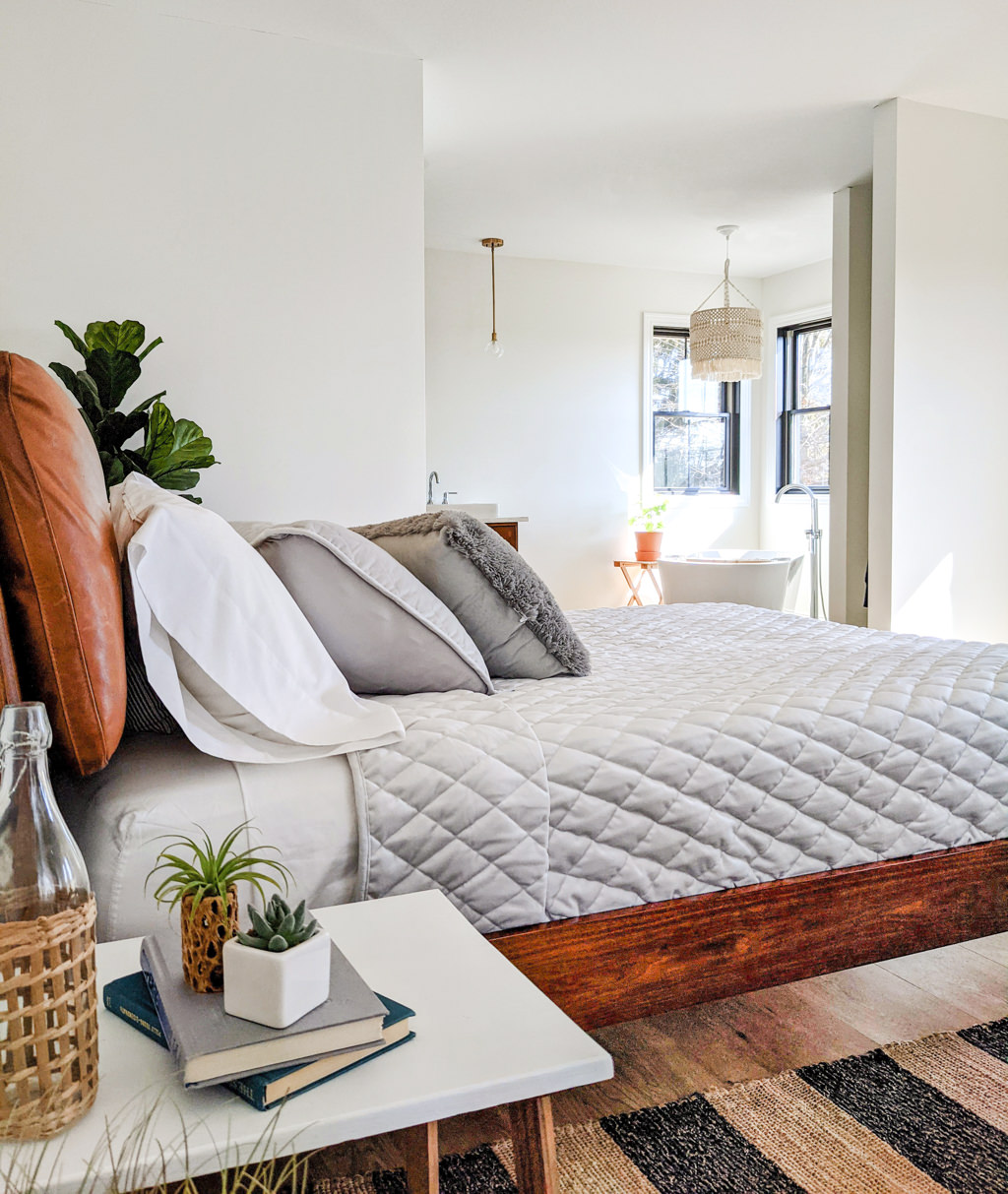 Mid-Century Modern Accessories
Next, I added a few accessories to the vintage dresser: the Nora 17″ Table Lamp with an X-shaped solid wooden base and the Hub Round Mirror with black rubber edges. Geometric shapes are very mid-century modern and we really could use something on the wall above the dresser. The Hub Round Mirror is the best. It was super easy to hang and looks really high quality for the price.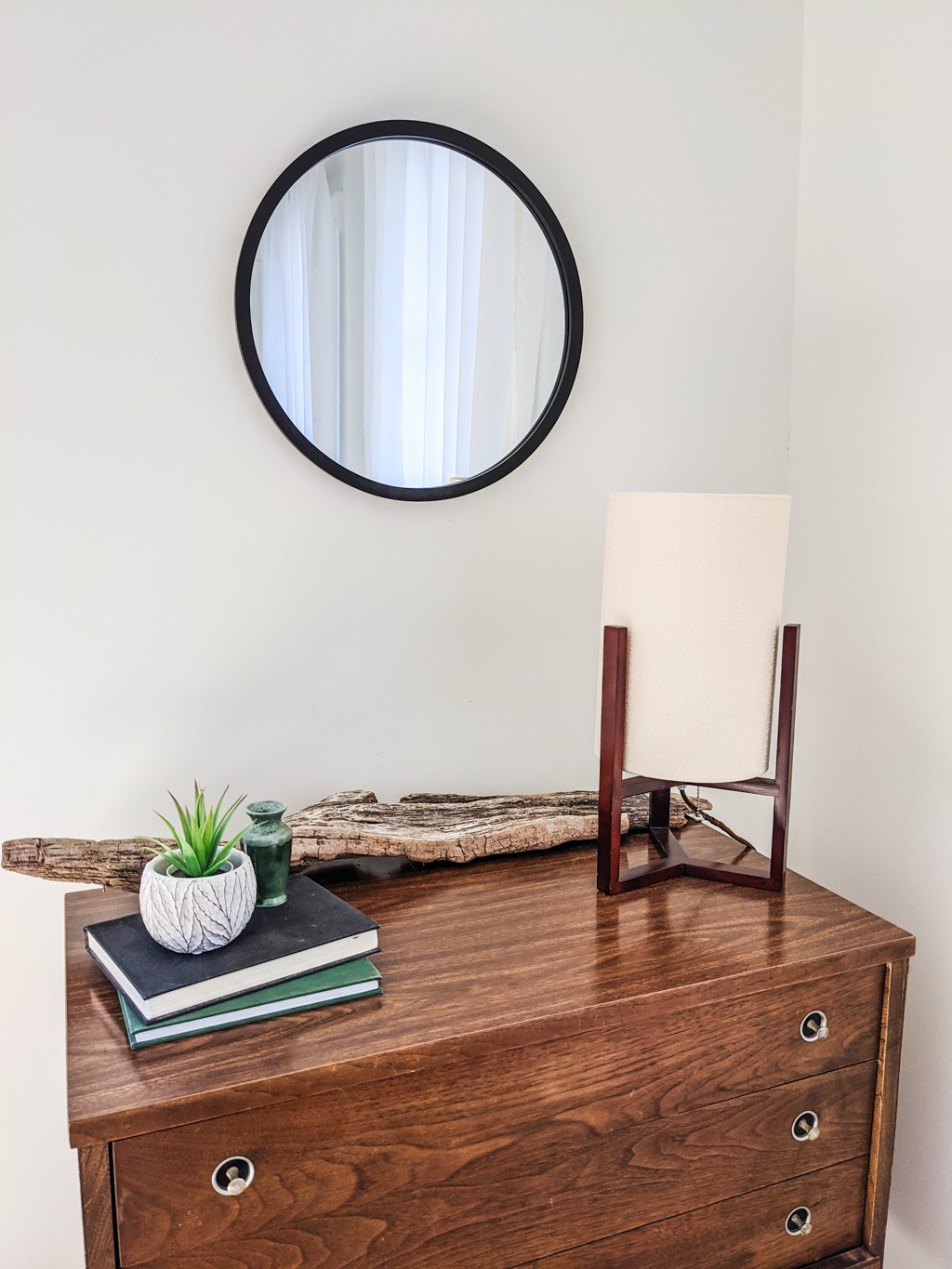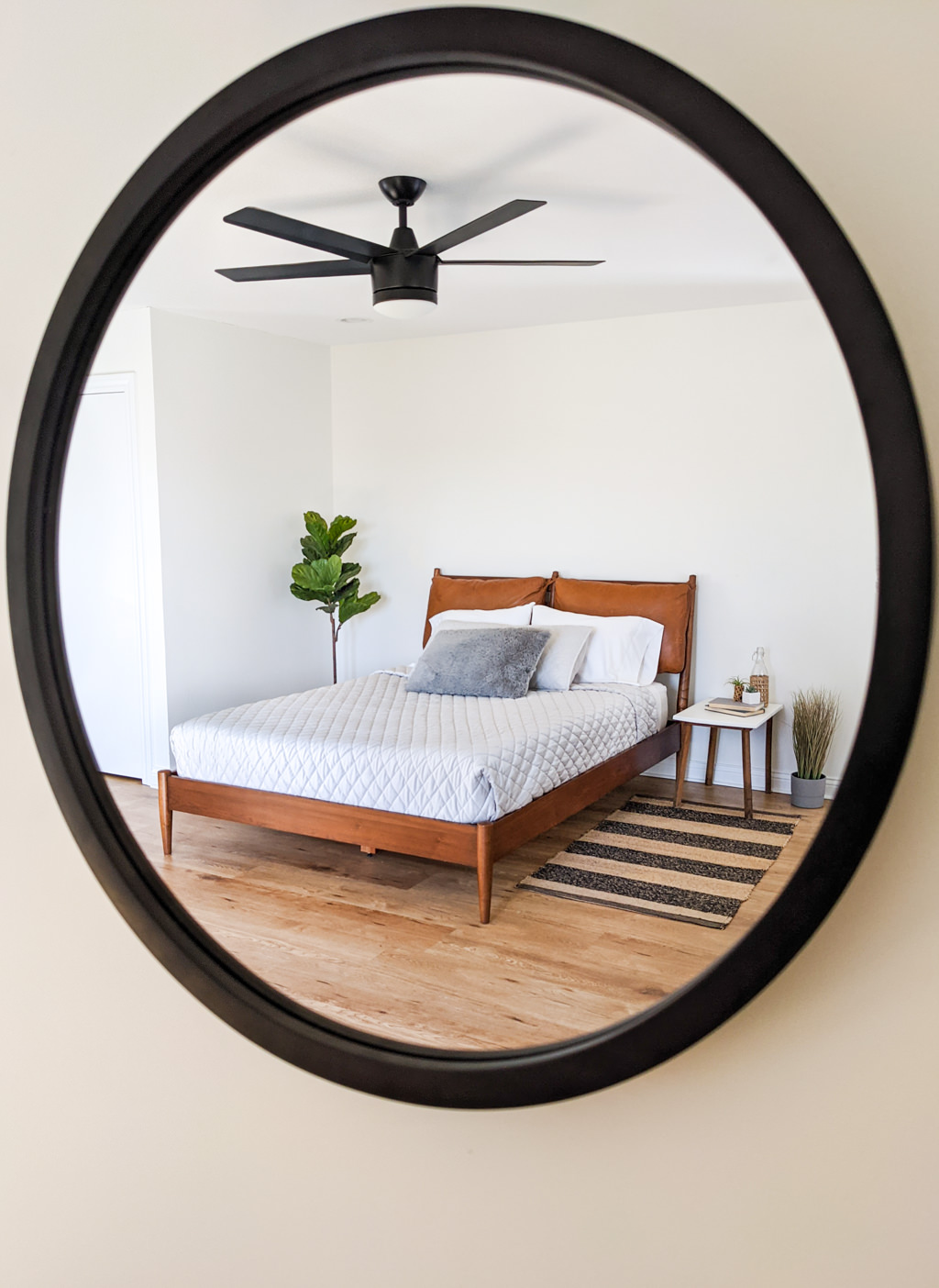 And fun fact: My parents actually have a mid-century lamp that looks very much like the Nora 17″ Table Lamp.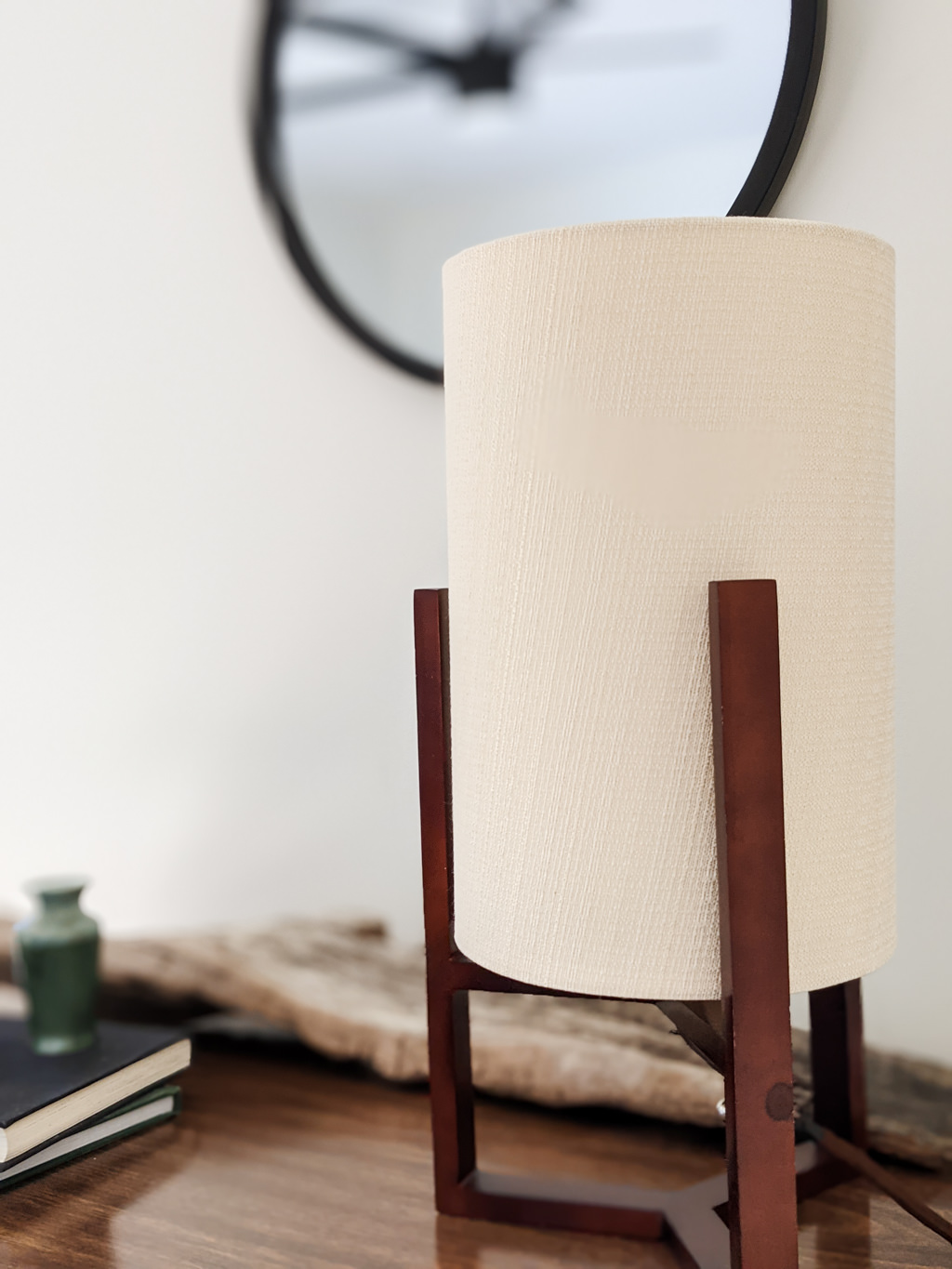 This geometric Cotton Lumbar Pillow Cover & Insert looks absolutely fantastic on the black and wood bench, and you could also toss it onto the bed.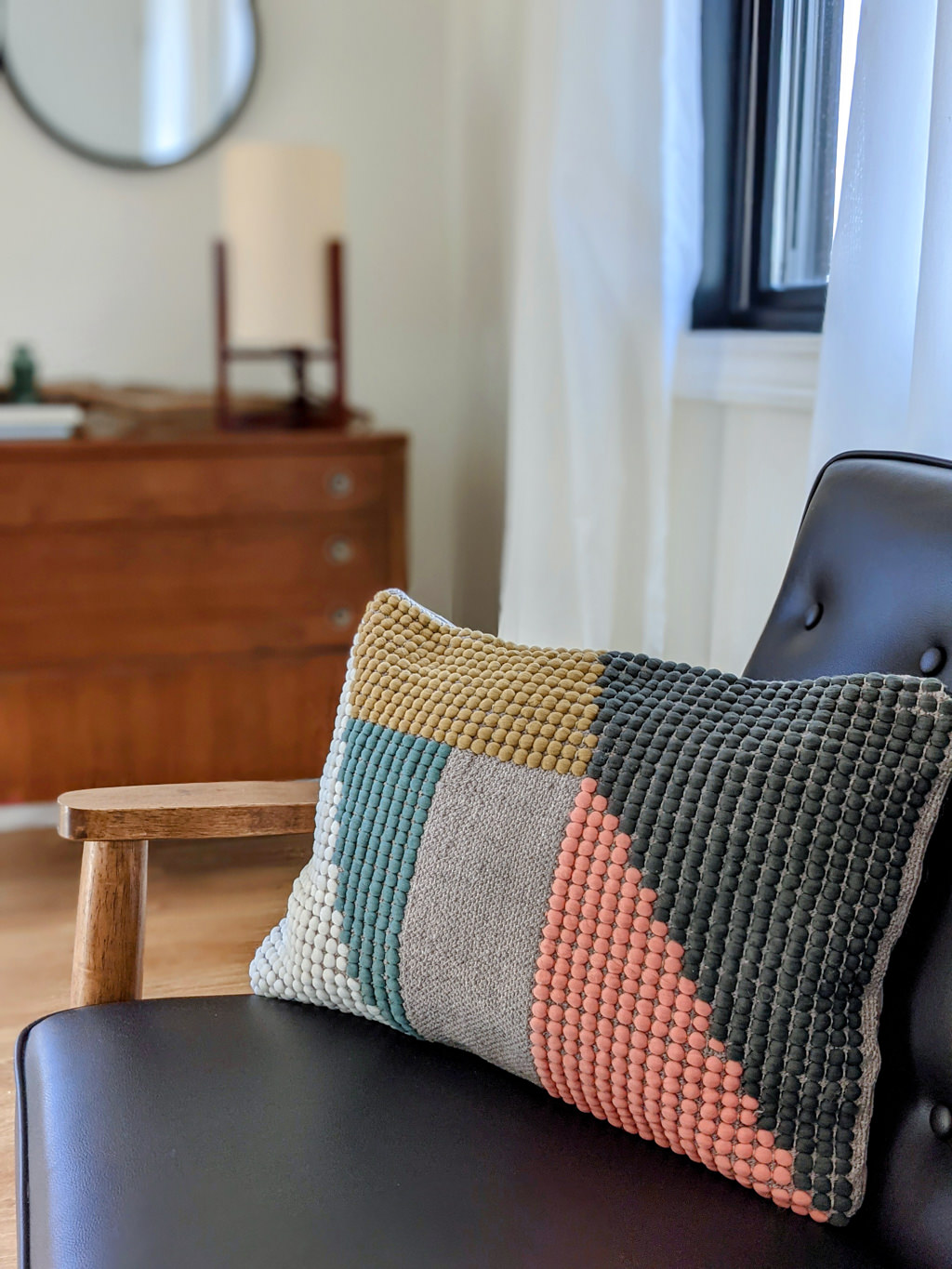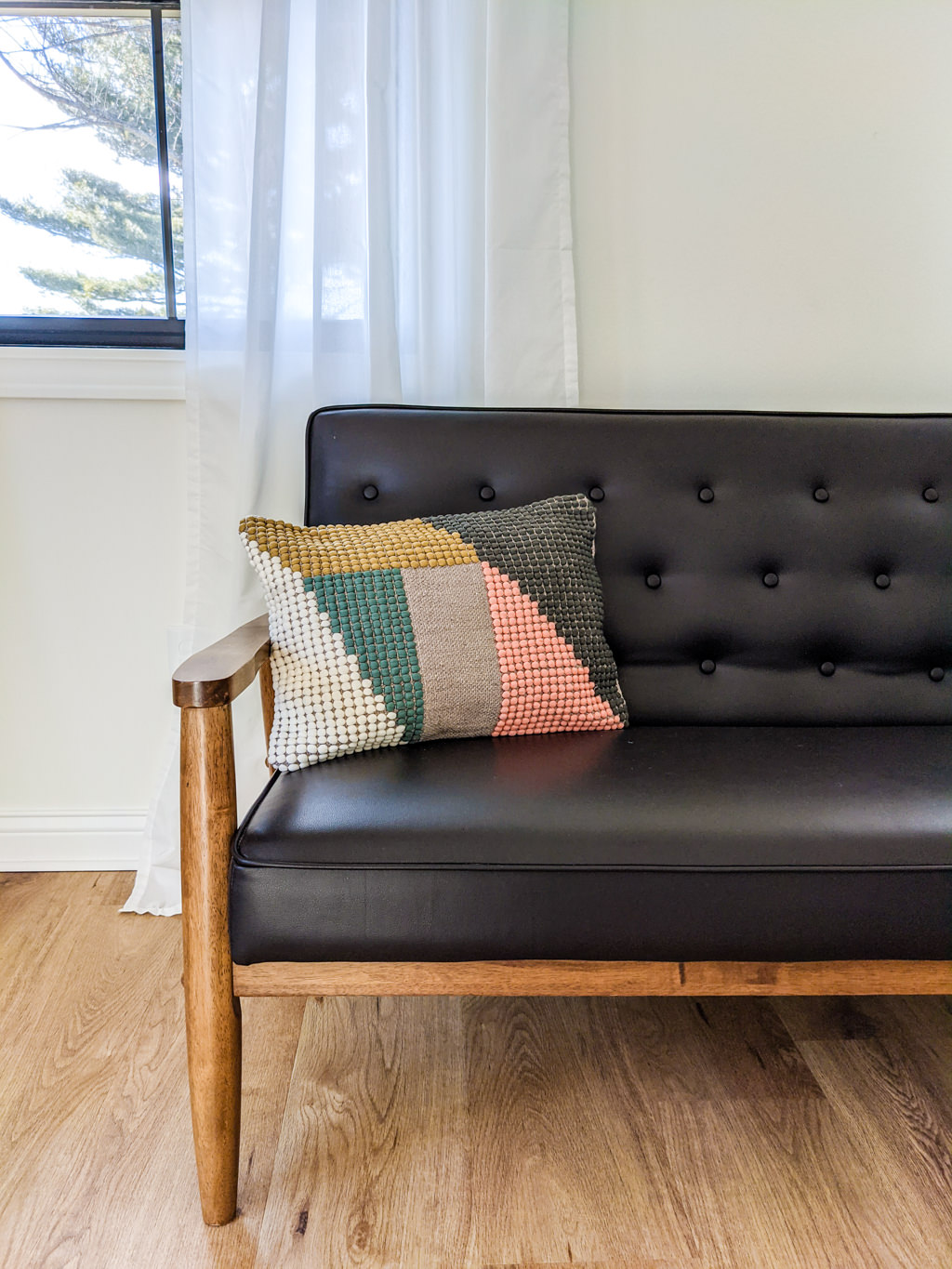 Boho + Mid-Century Modern Style
I decided to mix in some bohemian accessories for a more eclectic feel. To find some boho pieces, I went shopping in the living room and grabbed some books, plants, a woven bottle, a fluffy gray pillow, a small vase, and a small rug. Shopping for accessories in your own home is a trick that my friend Danielle taught me. Sometimes it's nice to move accessories around the house to freshen things up.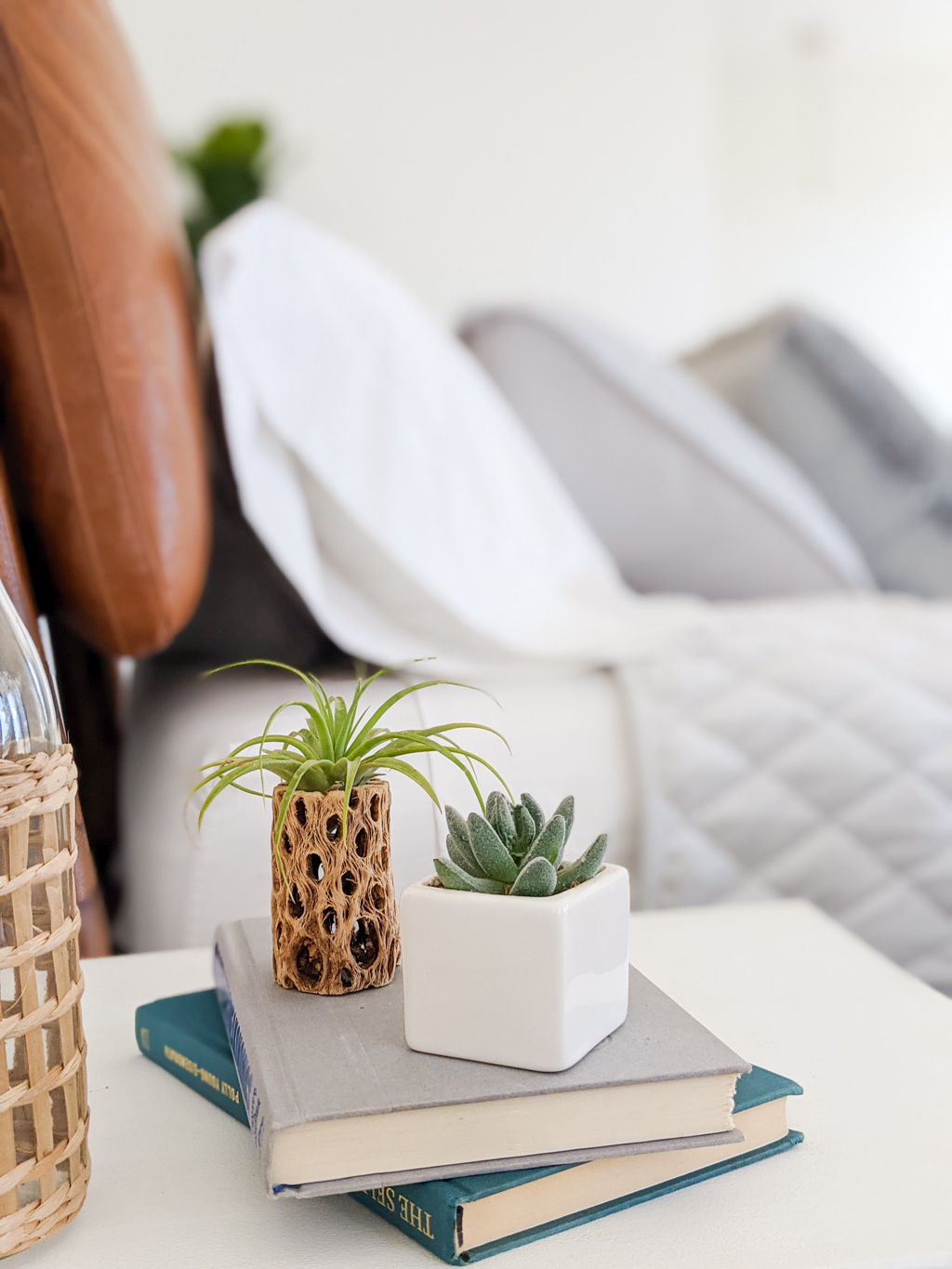 Mid-century modern bedroom decor from AllModern:
Thanks again to AllModern for sponsoring my bedroom makeover post. Here's what I selected from their mid-century modern collection:
I also really liked the Emmet Lounge chair which is now on my wish list. Isn't it cute? What mid-century modern pieces do you want to choose to give your bedroom a refresh?

Be sure to pin my simple mid-century modern bedroom ideas: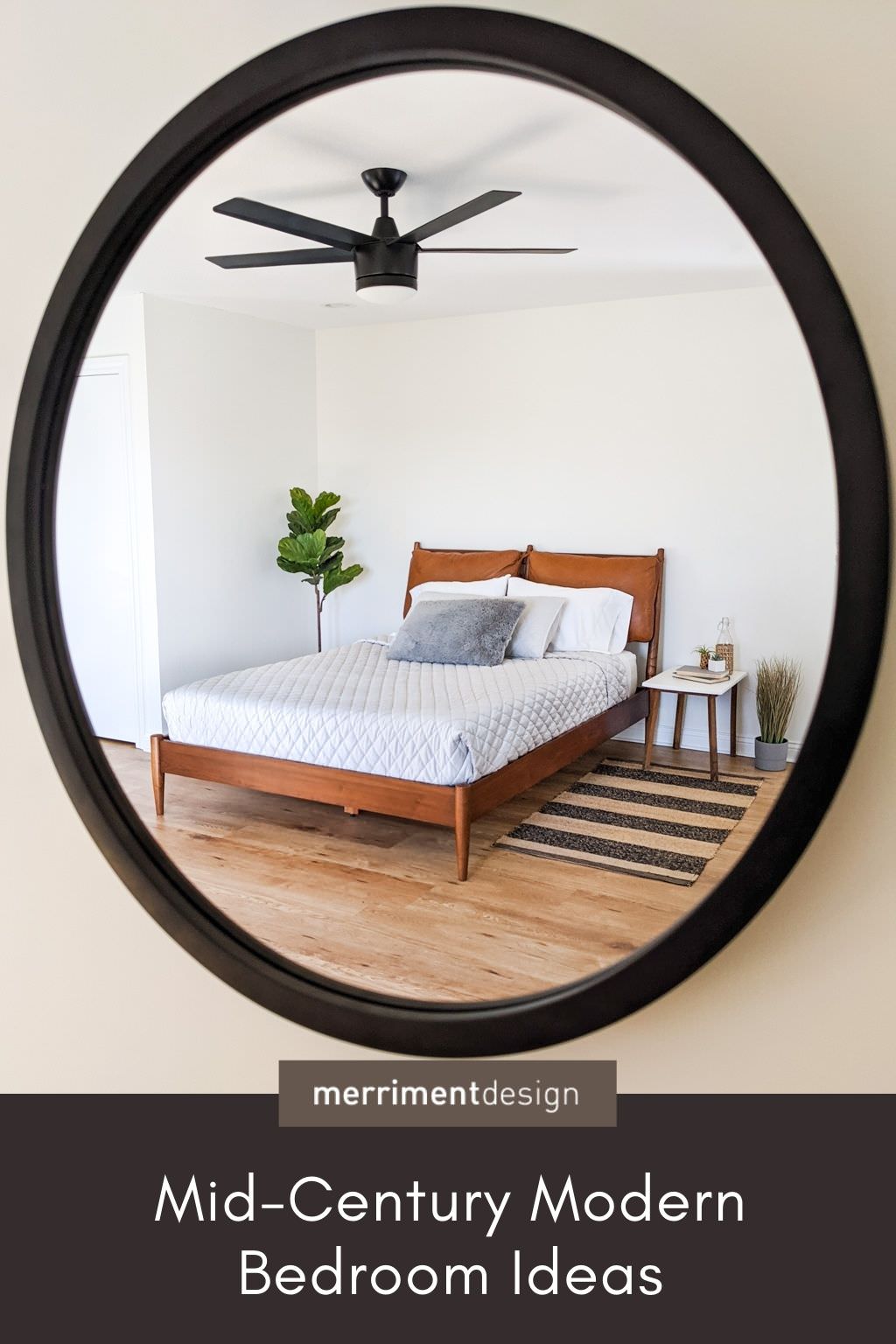 And be sure to check out my home decor DIY and craft projects like my DIY pillows from leftover couch swatches and masking tape photo frame upcycle.
++++++
Like it? Share it!
The nicest way to say you like it is to pin it on Pinterest, post a comment, follow Merriment Design on Facebook, Pinterest, Instagram or sign up for monthly emails. Enjoy! 🙂