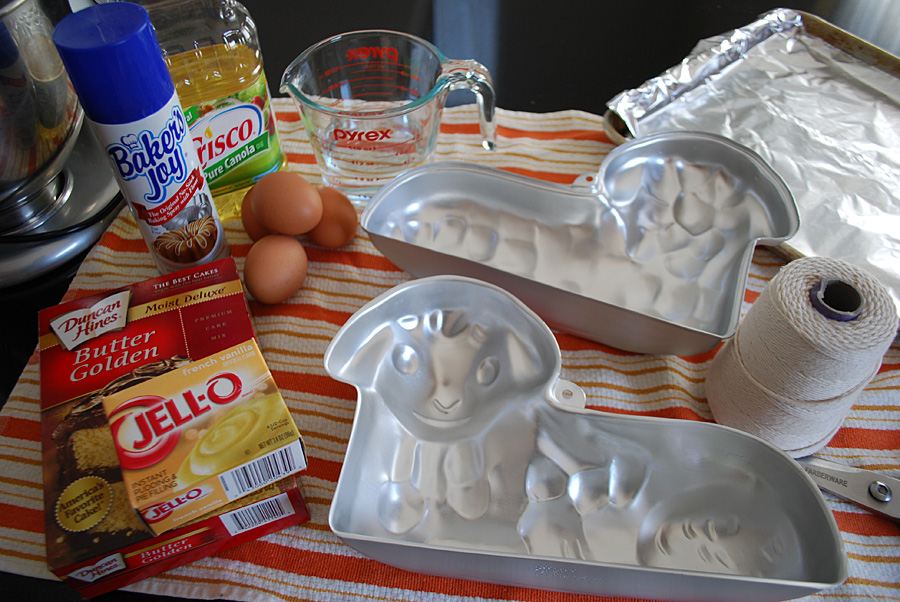 Lamb cakes are as Easter as the bunny himself! Make your family and friends a cute-as-a-button lamb cake this Easter with this simple step-by-step recipe.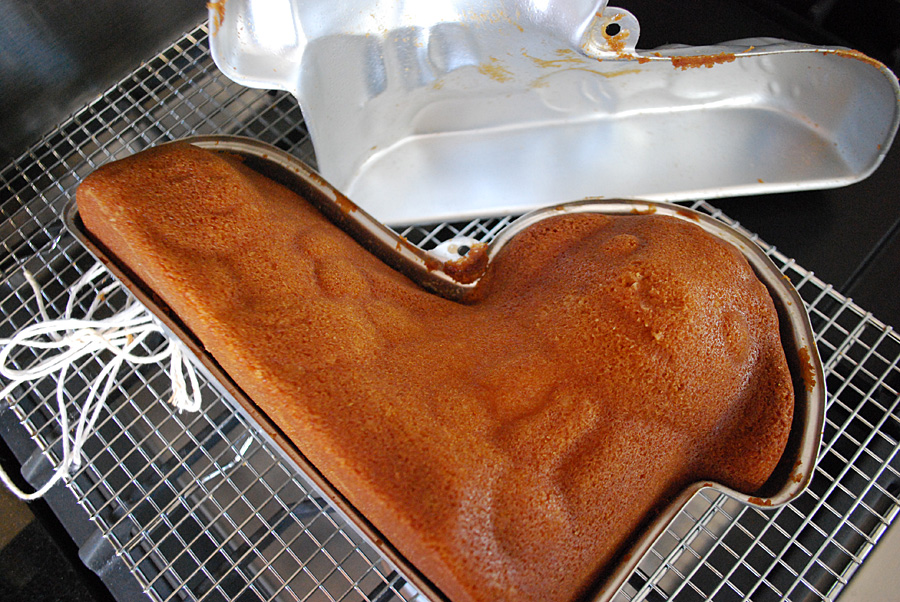 My friend Meg Wolff hosts a Lamb Throwdown contest each year. She sends lamb cake pans to contestants nationwide who must post finished lamb cake photos on Facebook for judging. For my entry, I made a sweet little lamb with her very own edible (and easy to make) Easter bonnet.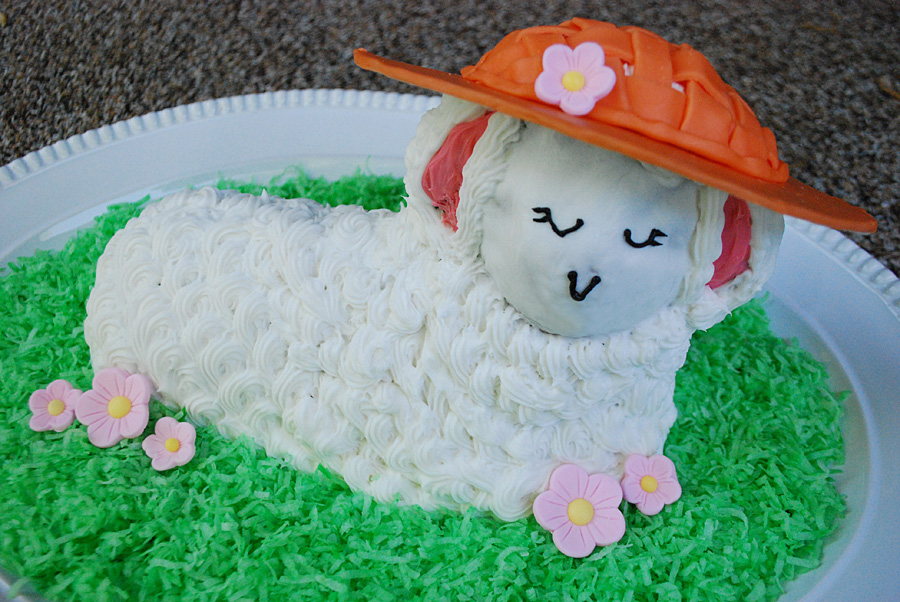 Decorating the lamb cake is key but first you've gotta bake it. This lamb cake recipe isn't a 'from scratch' …instead, it's a mash-up from Wilton of some box mixes with some other ingredients. Usually I prefer to bake from scratch but in this case, I knew I'd be spending a bunch of time on the decorating anyway, and it also made it easy for me and my baking assistant, Elise: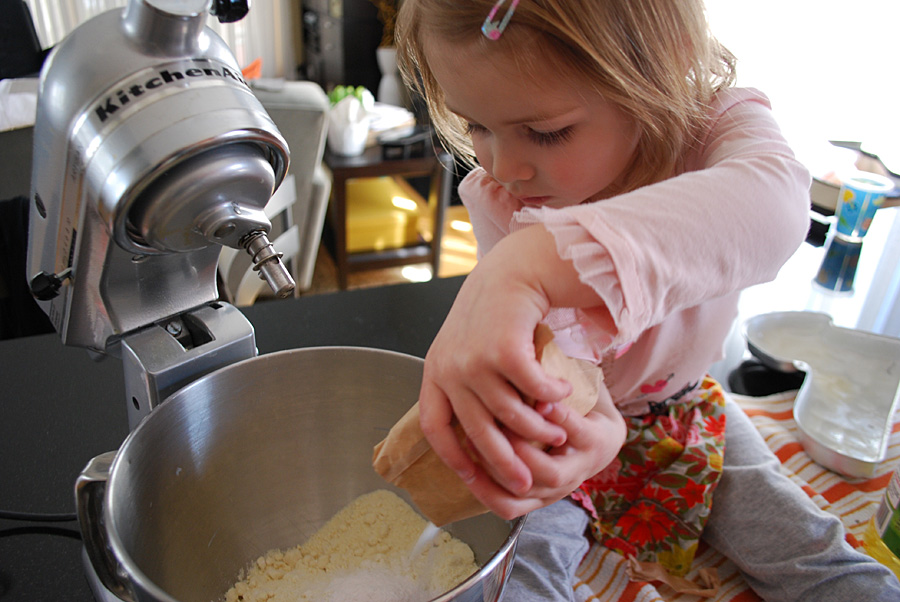 Before I made this lamb cake, I pictured filling each half of the pan, then somehow icing the halves to hold them together. But no! Instead you just fill half, put in a few toothpicks to lend support to her neck, put the other pan on top, and let the heavy cake batter rise into the top pan.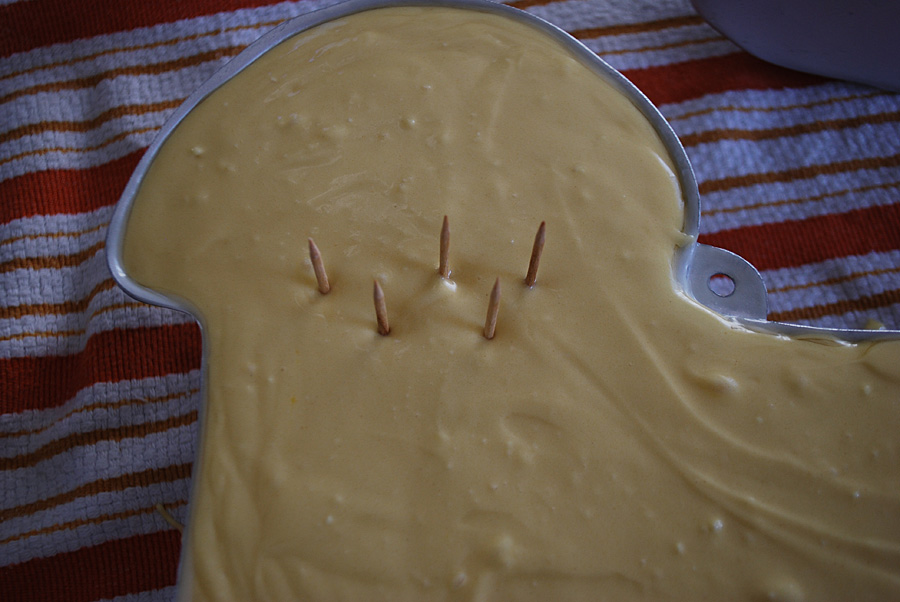 It's kind of magical, really. You get a sturdy, browned little lamb ready to be decorated.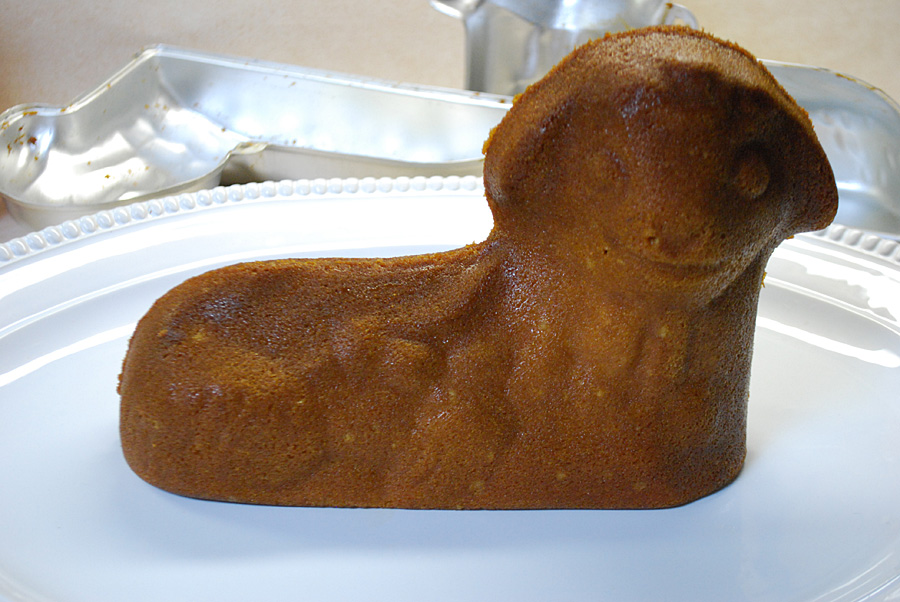 See my step-by-step instructions below for how to bake the Easter lamb cake …and once she's all baked and cooled, check out how to decorate your little lamb AND make her a super easy edible Easter bonnet.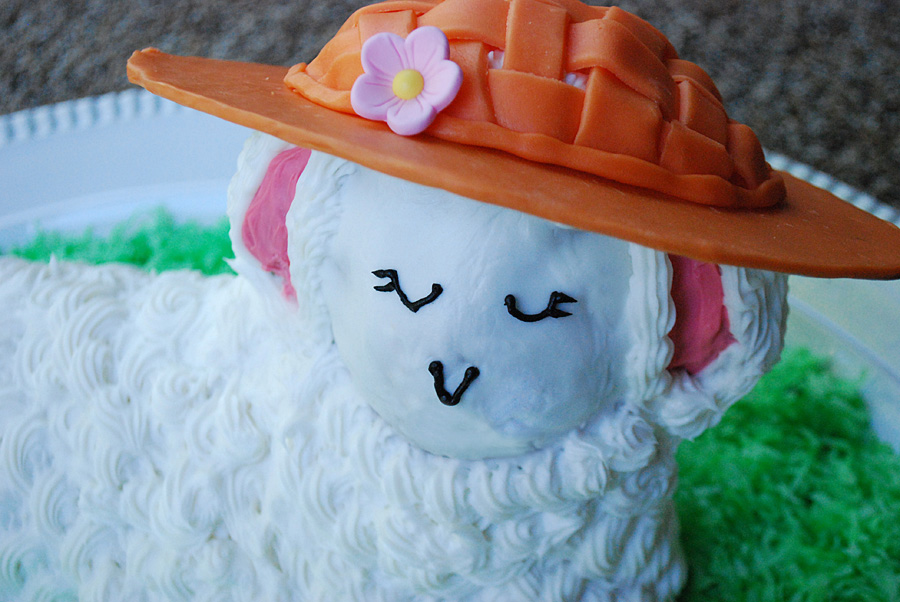 WANNA MAKE IT? Keep reading for the Easter lamb cake recipe, step-by-step instructions and supply list.

Supplies and Recipe for making an Easter Lamb Cake:
Ingredients for an Easter lamb cake (recipe from Wilton)
1 box (about 18 oz) cake mix (I used yellow cake)
4 eggs
1 cup water
1/3 cup vegetable oil
1 package (3.8 oz) instant pudding mix (use vanilla for white or yellow cakes, use chocolate for devils food)
Now be careful when you buy your cake mix. Lots of cake mixes come in different ounces but you must buy an 18oz mix. I had to look at a number of brands before I found one that came in 18oz.
Supplies for an Easter lamb cake
Wilton's original Lamb cake pan (this is mine) or Nordic Ware's classic standup lamb pan
Kitchen twine and scissors
Baker's Joy
Cookie sheet
Aluminum foil
Cupcake liners for extras
KitchenAid stand mixer
Cooling rack
—
How to make an Easter Lamb Cake:
Gather all your supplies. Line your cookie sheet with aluminum foil. Preheat the oven to the temperature on the side of your cake box.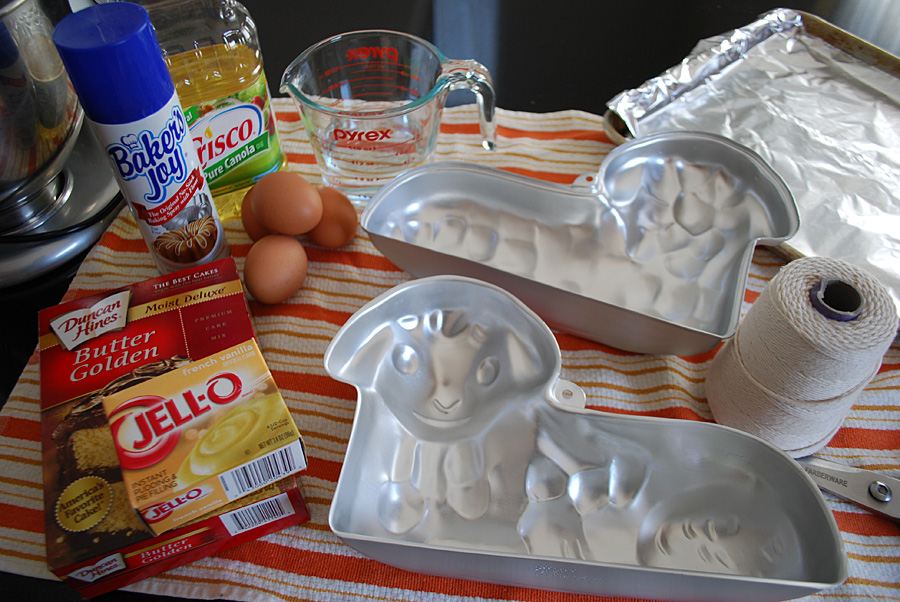 Prepare your lamb cake pans by washing them and drying them thoroughly. Then grease it up! I used Baker's Joy. I did a coat, let it sit, and sprayed a second coat just to be safe. Make sure you get all the little parts and divots and spray any spots that look shiny. Alternatively, you can grease and flour it by hand instead of using the spray but the spray is a lot easier.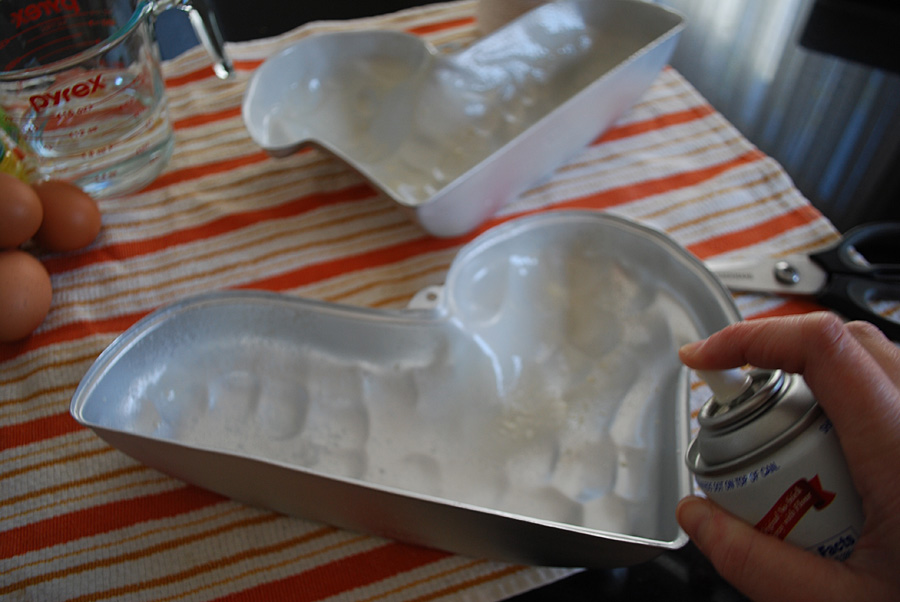 Pour your cake mix into your stand mixer. Try to break up any big cake mix boulders with a fork.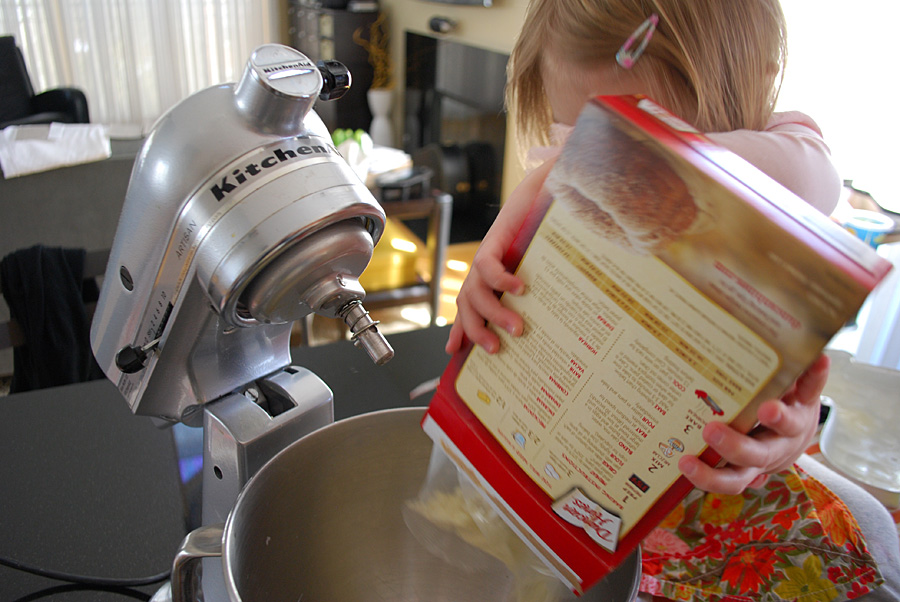 Now pour in the Jello mix.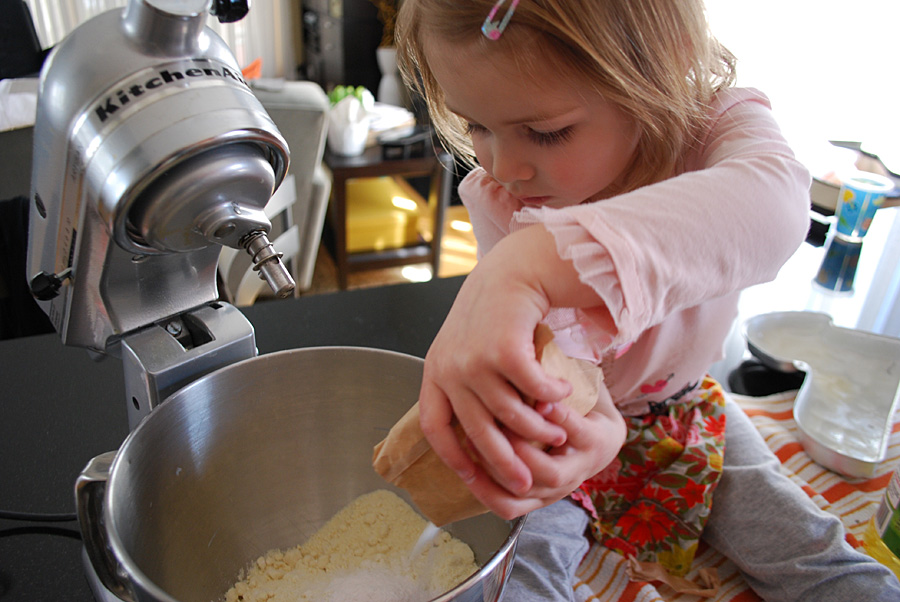 And then the eggs, water and oil.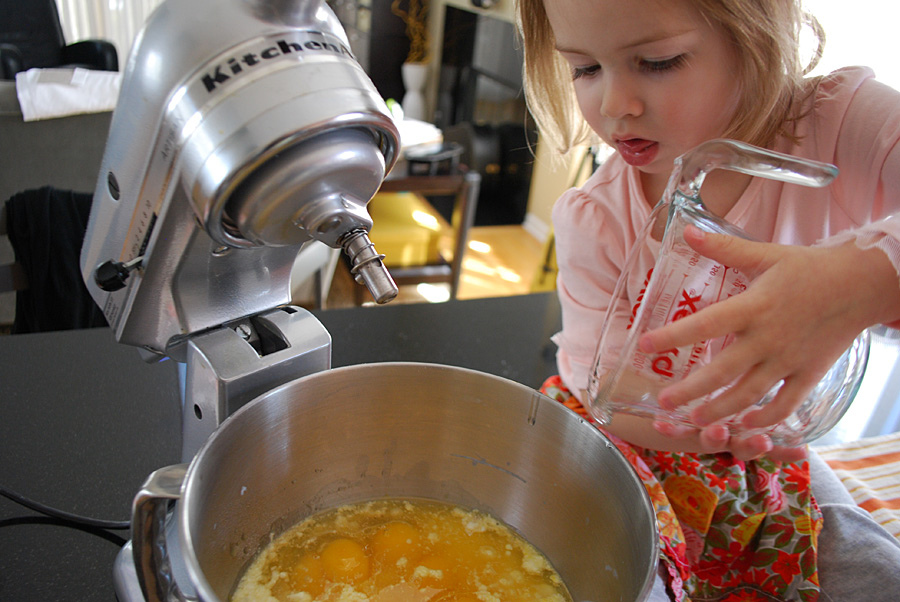 Mix it up until all ingredients are combined.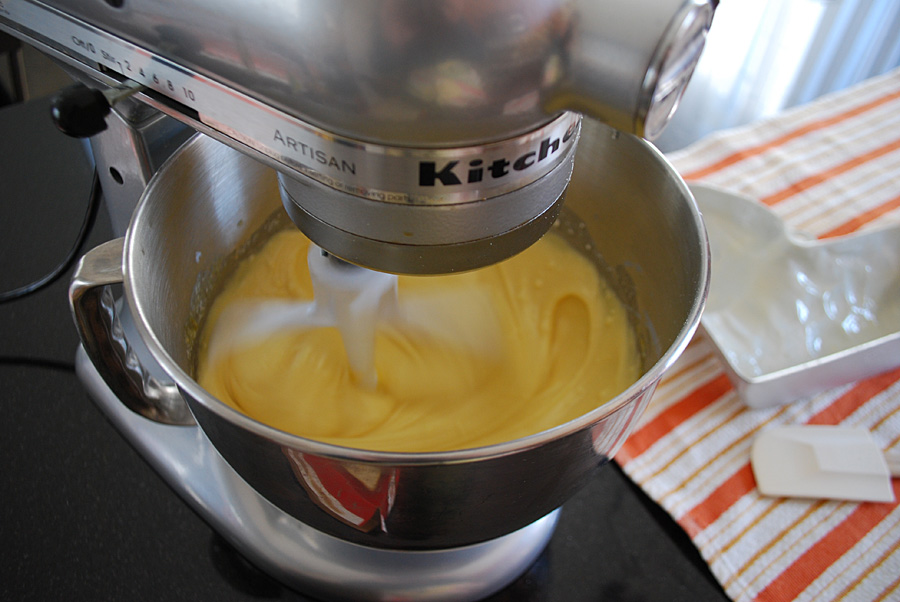 Take the lamb front cake pan and place the lamb's face down onto the counter. It's the one without the hole in it. Pour five cups of batter into the pan. It will go all the way up to the top. Spread the batter so it's flat and all the way to the edges of the pan. You may have a little batter left over but don't try to force it all into the pan.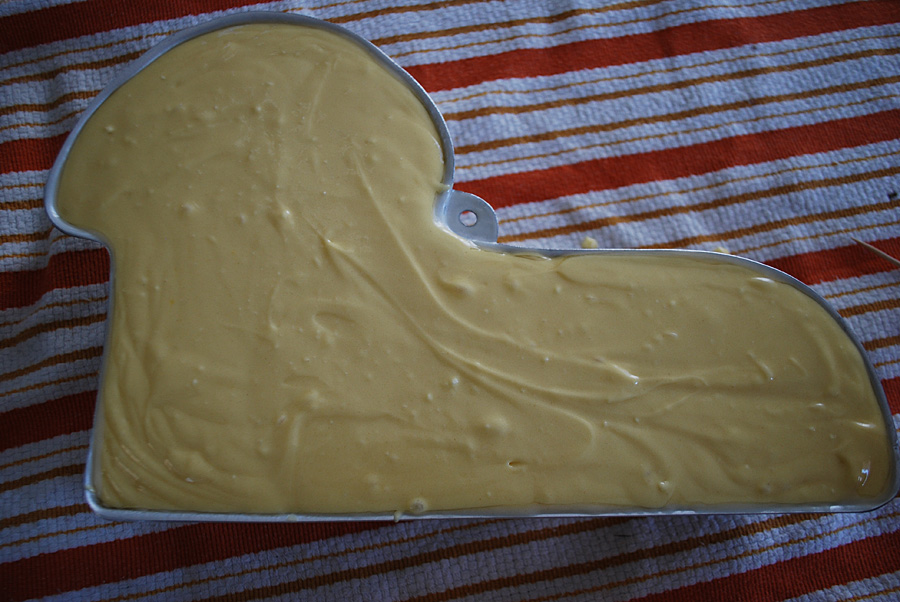 Now I put some toothpicks in the neck area to help support the lamb's neck. The cake will bake around the toothpicks as it rises. Just insert the toothpicks halfway, making sure they don't touch the bottom of the pan because you don't want them to be seen from the front. And of course, remember they're in there when you are eating it later! In hindsight, I searched to see if anyone else puts toothpicks in before baking and saw another way to add support by laying a bamboo skewer on top of the batter, which looks pretty neat.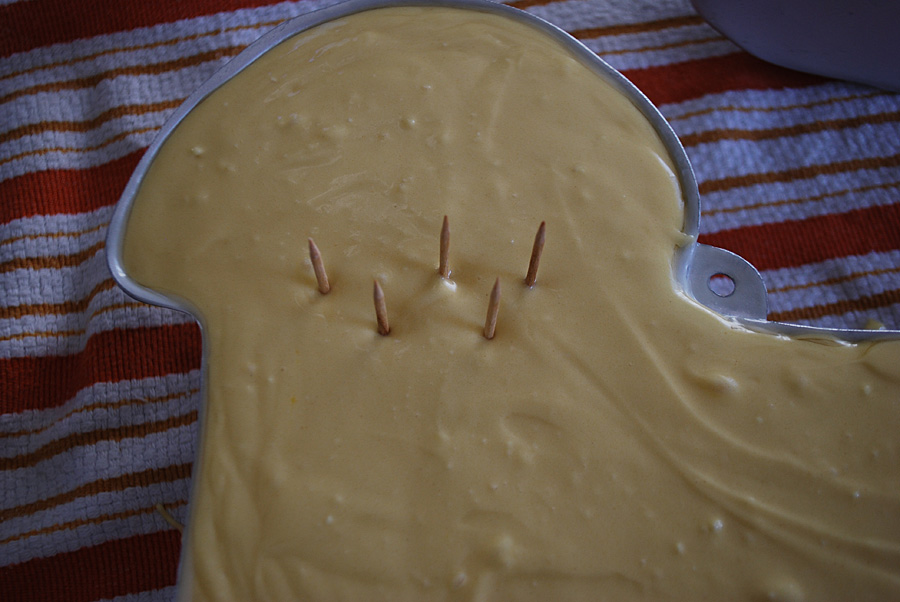 Line up the lamb's back on top of the filled pan and carefully wind kitchen twine around the pans and tie to help them stay together when baking. I tied the necks and the back. Make sure it's pretty tight.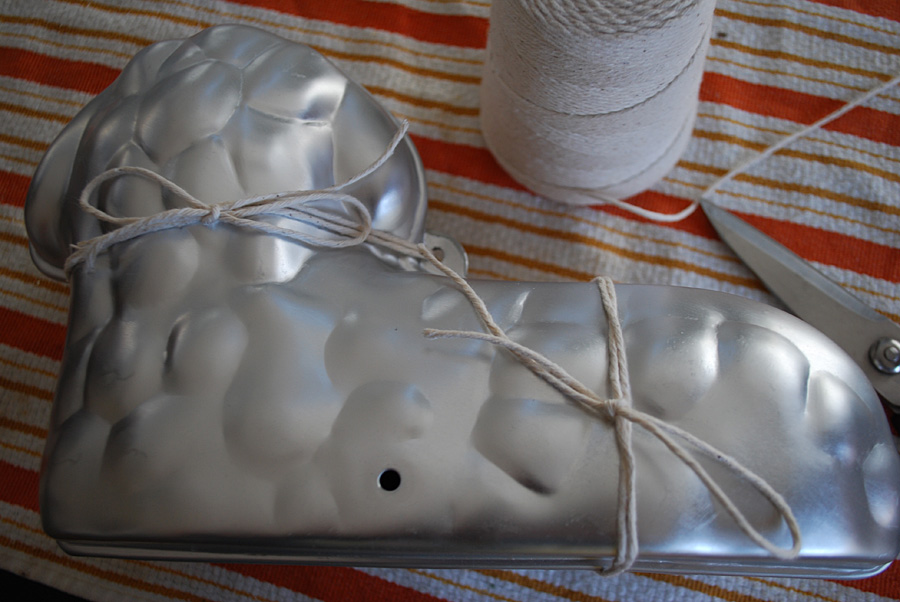 Pop the pan into a preheated oven lamb face down in the center of the oven (in hindsight mine was a bit too high) with the jelly roll pan underneath to catch any overflow, although mine didn't overflow, hooray! Bake for 50-60 minutes, test it by poking a toothpick in the hole on the top of the pan.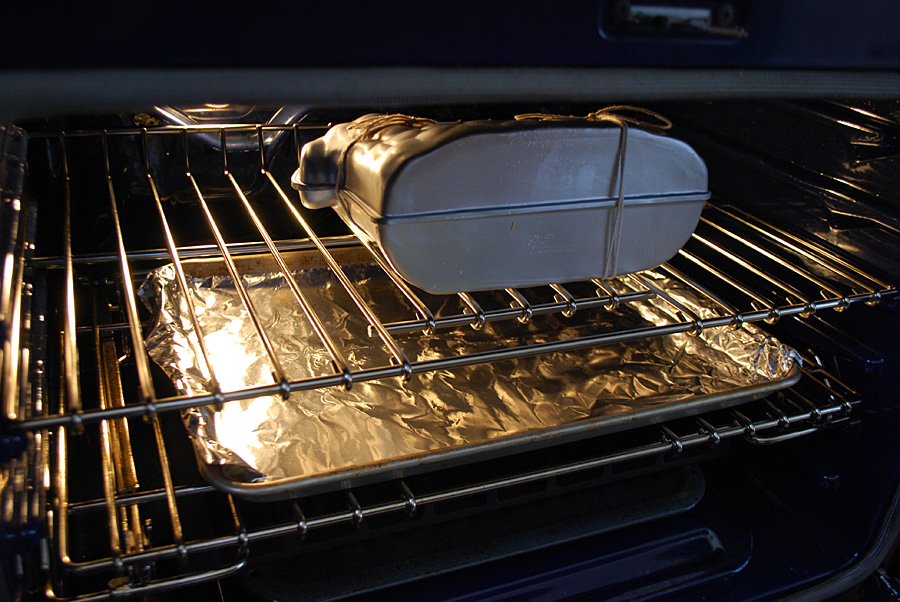 While we were waiting, we decided to bake a cupcake with the extra batter.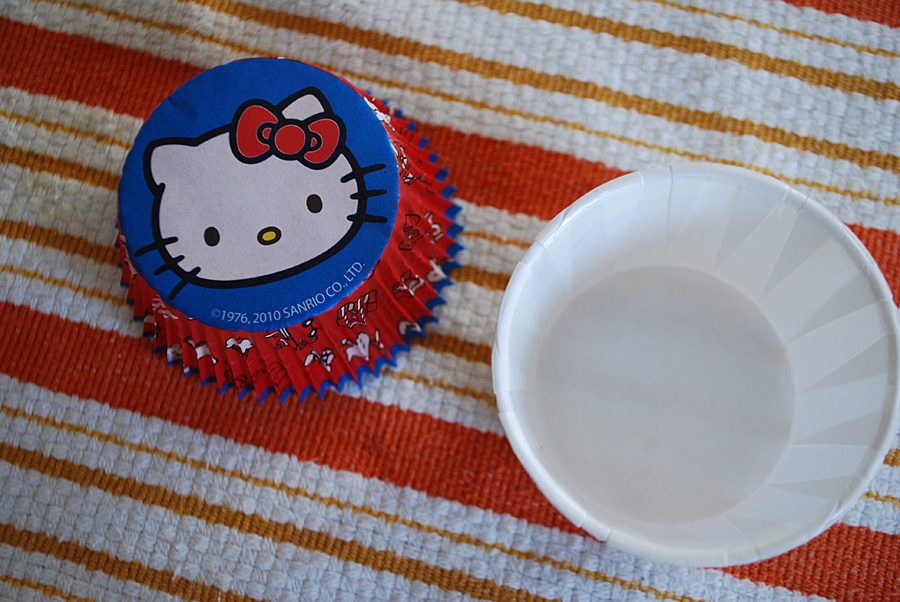 I was too lazy to get out a cupcake pan so dropped it into a nut cup.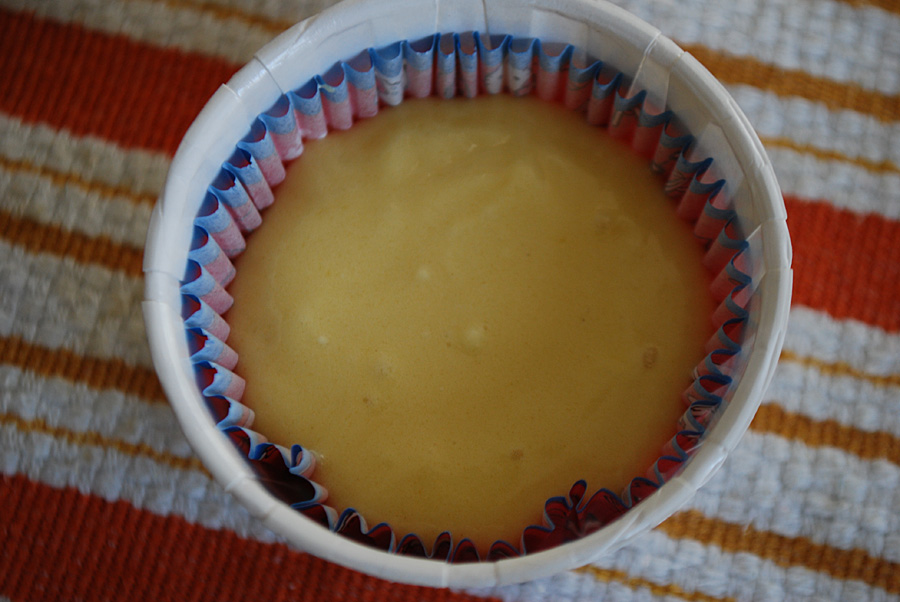 And I tossed it onto the jelly roll pan while the lamb cake cooked. Bake according to your cake pan directions. I checked mine after about 10 minutes, can't remember how long I let it go.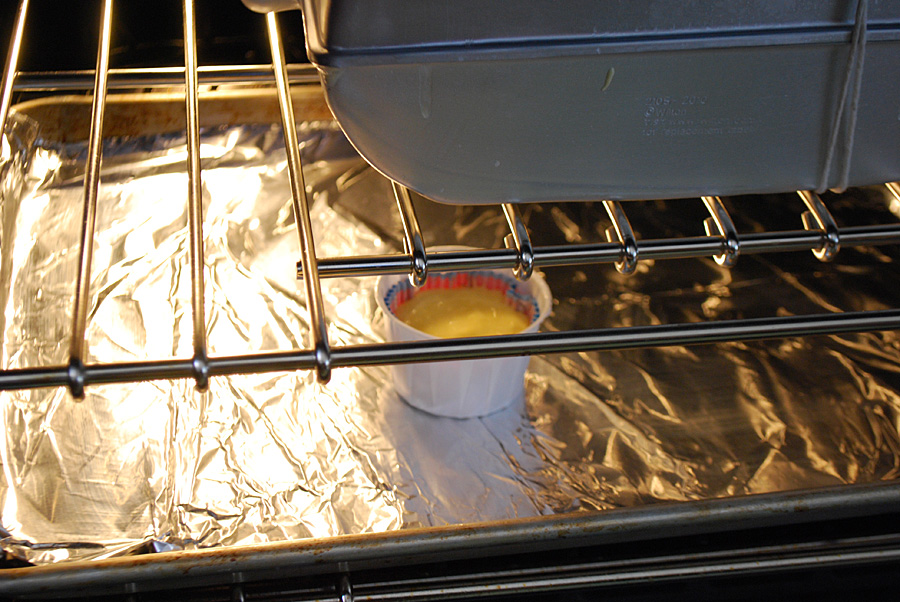 No blue ribbon prizes here but I'm including it because it was fun to see how much the cake batter was rising in the pan.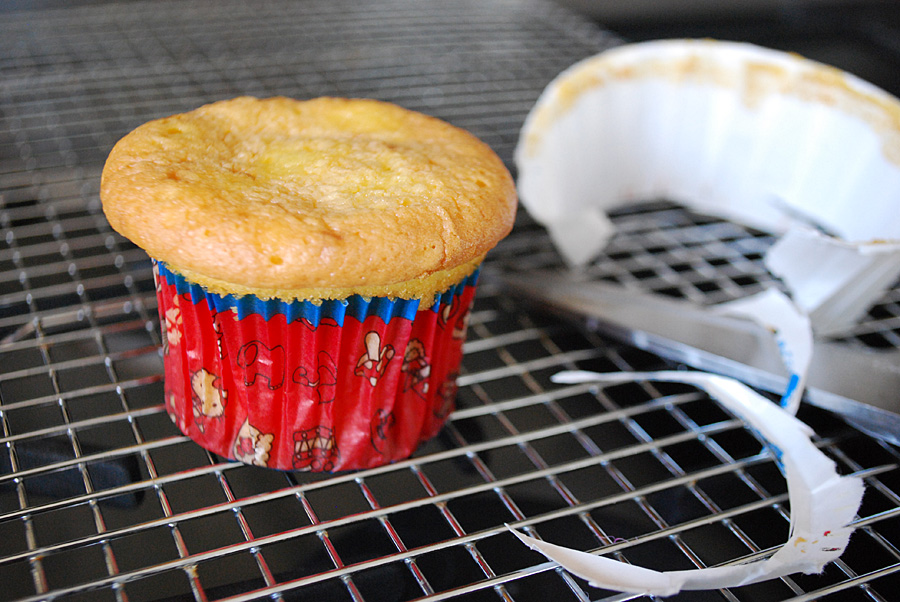 And it was fun to taste the cake without waiting until Easter Sunday. Pretty tasty, really, for a pound cake.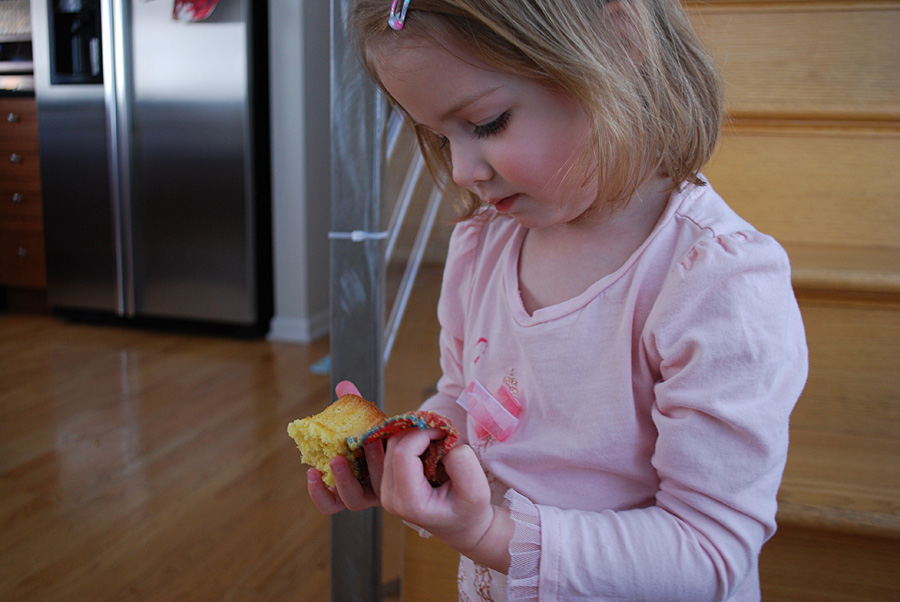 OK now back to the lamb. Here's where you can poke your toothpick to check for doneness. Now Wilton explains that baking AND cooling are very important. They explain that now that it's baked the cake needs a chance to cool down and firm up. Take the pan out of the oven, put it on a wire rack and leave it closed up for 5 minutes.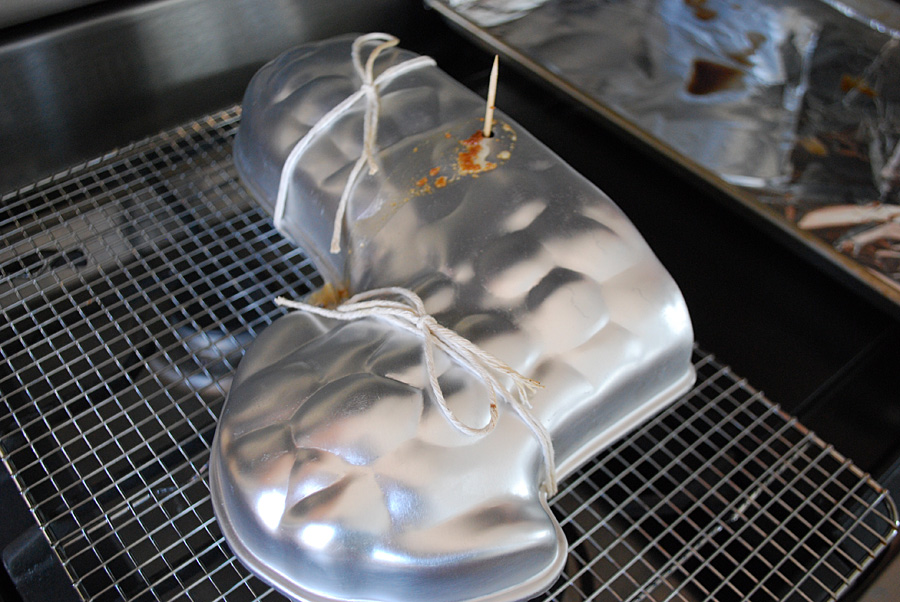 After 5 minutes are up, cut the kitchen string and carefully remove the top half of the pan (which is the lamb's back, the pan with the hole in it). Let the cake cool for 5 more minutes.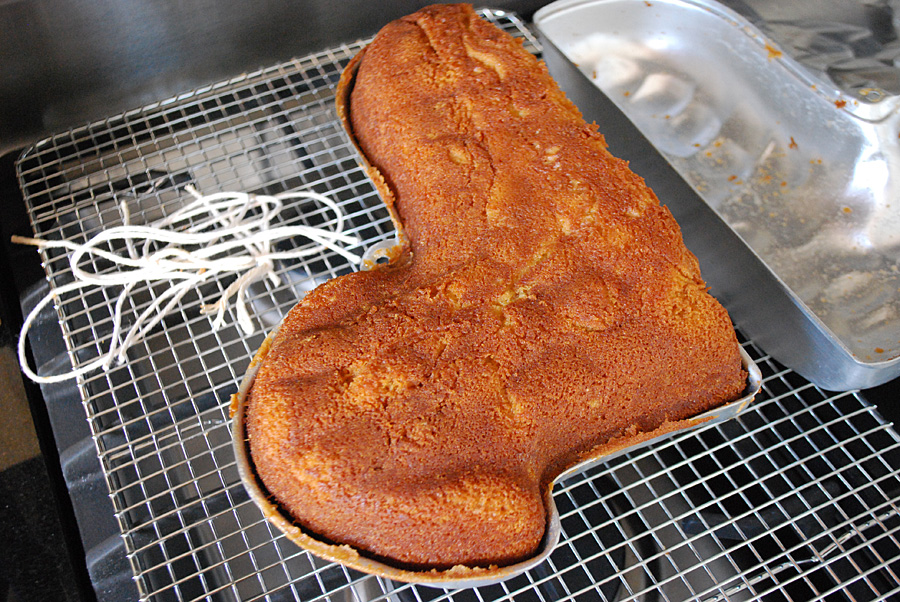 Now you're going to be flipping it and cooling it some more, so put the pan back on.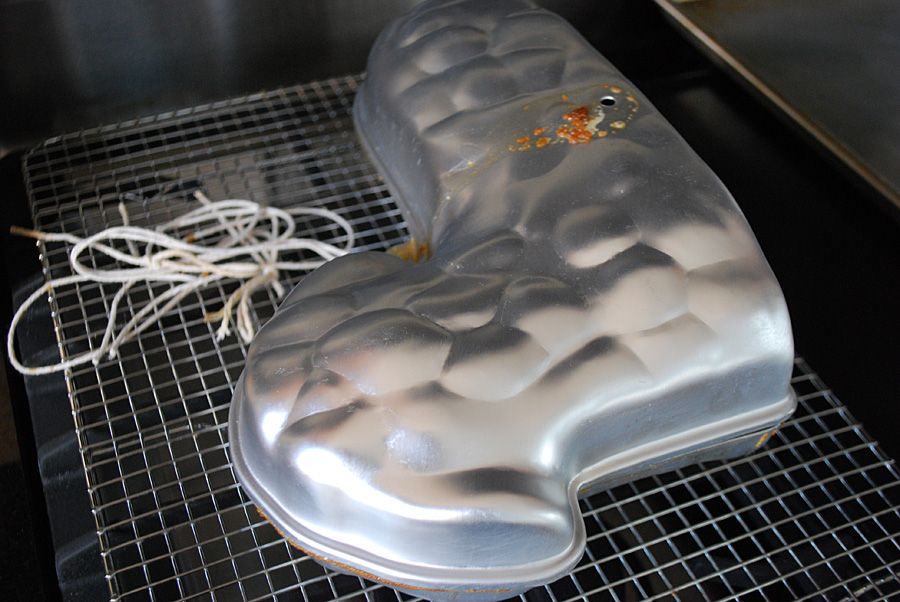 Put on oven mitts and carefully flip the pan over so the lamb's face is facing you. Take off that pan and let her cool completely, Wilton says 4 hours.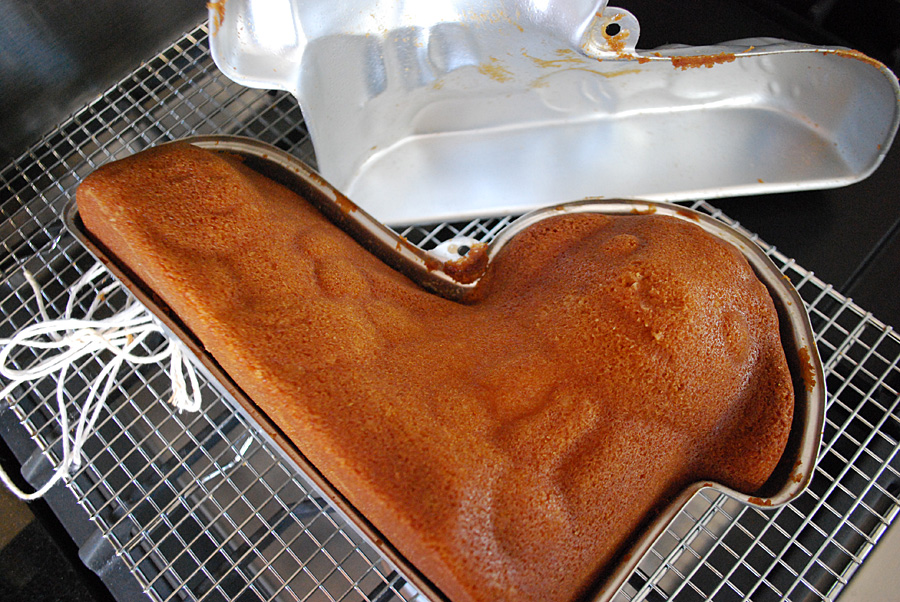 When the lamb is completely cool, place her in the refrigerator until you're ready to decorate, then place her on a platter to get dolled up.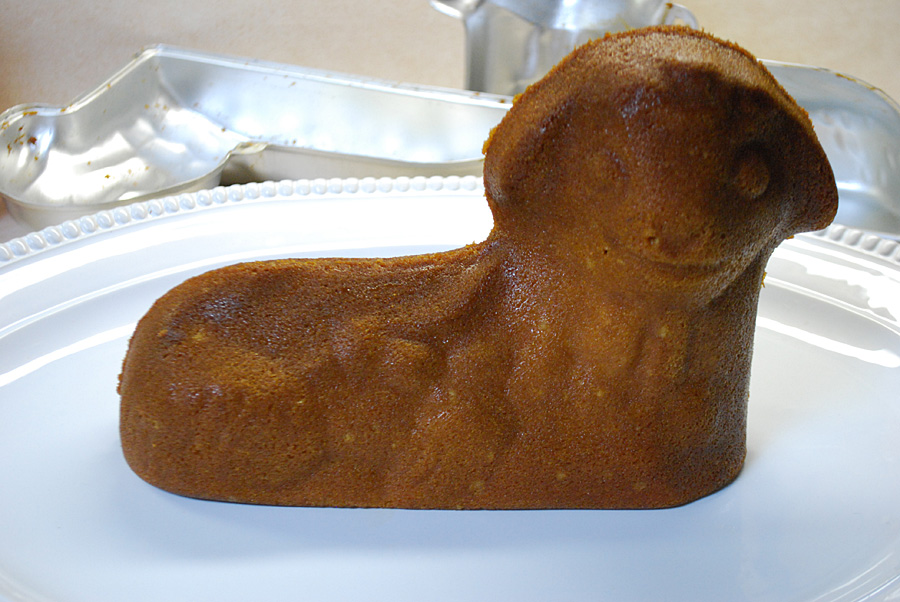 —
Like it? Share it!
The nicest way to say you like it is to pin it on pinterest, post a comment, follow Merriment Design on Facebook, twitter, pinterest, Google+ or sign up for monthly emails. Enjoy! 🙂
Copyright stuff: You're more than welcome to use this free project and tutorial for personal use. Contact me for commercial use and etsy sales.
Save
Save
Save
Save
Save