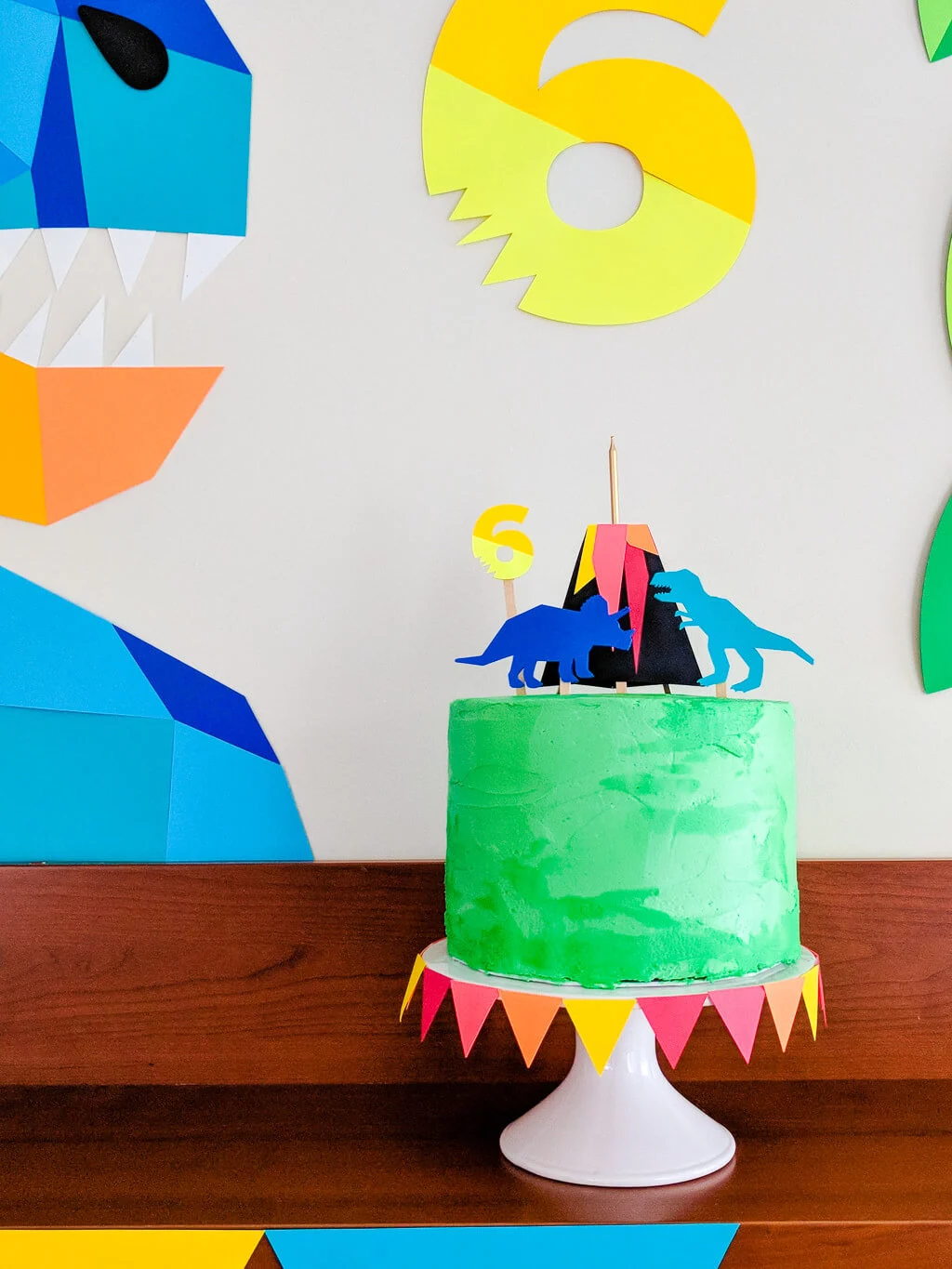 Looking for a simple dinosaur cake idea for boys and girls? See how to make my fun DIY dinosaur cake for a cute and modern geometric dinosaur birthday party. My free printable dinosaur cake toppers include dinosaurs, birthday age with a dino bite taken out of it, and a volcano with flowing lava! Put a candle or sparkler into the middle of the volcano cake topper to watch it erupt.
I worked with ASTROBRIGHTS® Papers to bring this easy dinosaur birthday party to life using their bright and cheery colored paper. Thanks so much to Astrobrights for sponsoring my DIY dinosaur birthday party decorations and supplies for Liam's 6th birthday party. All designs and opinions are mine.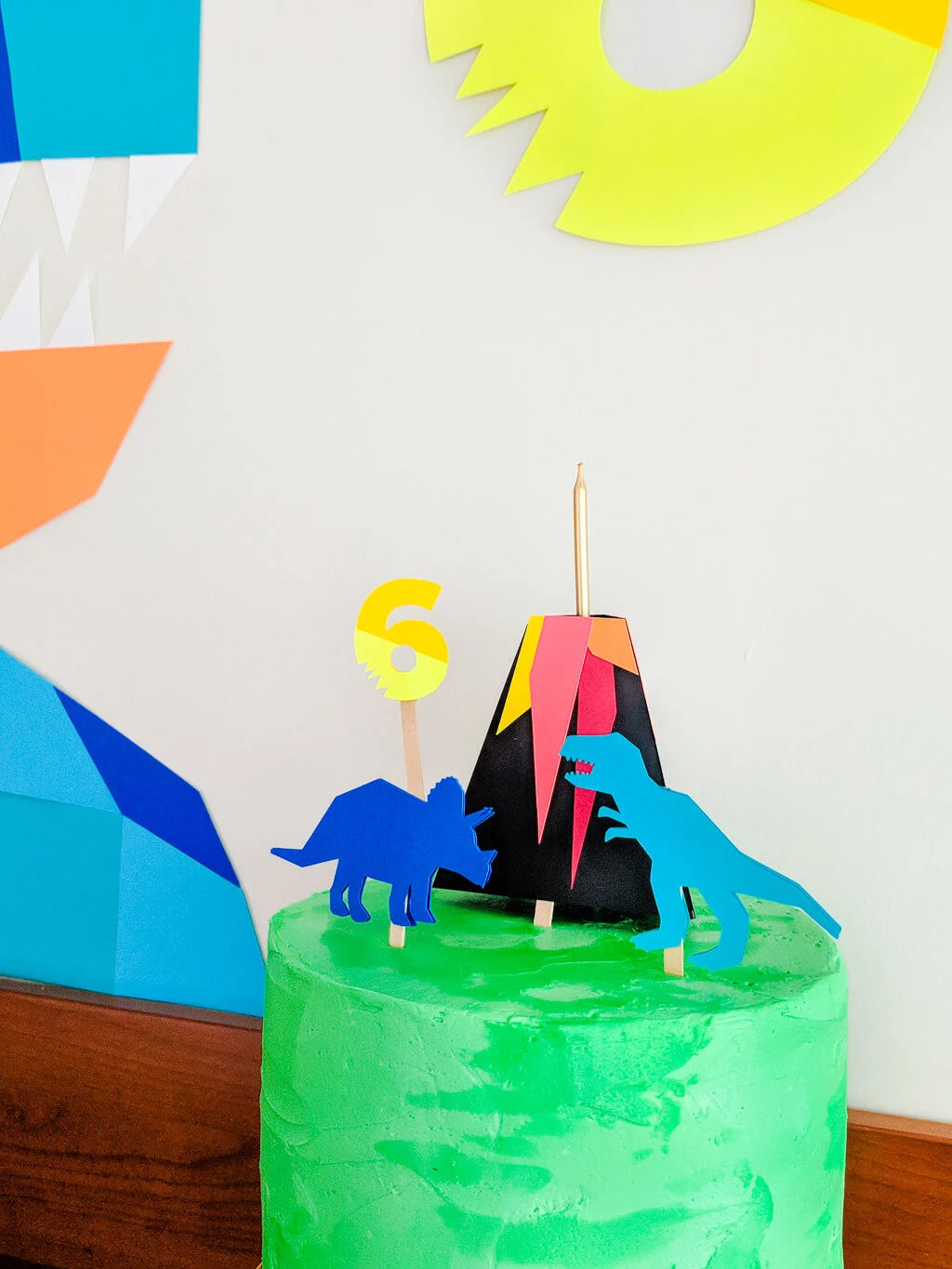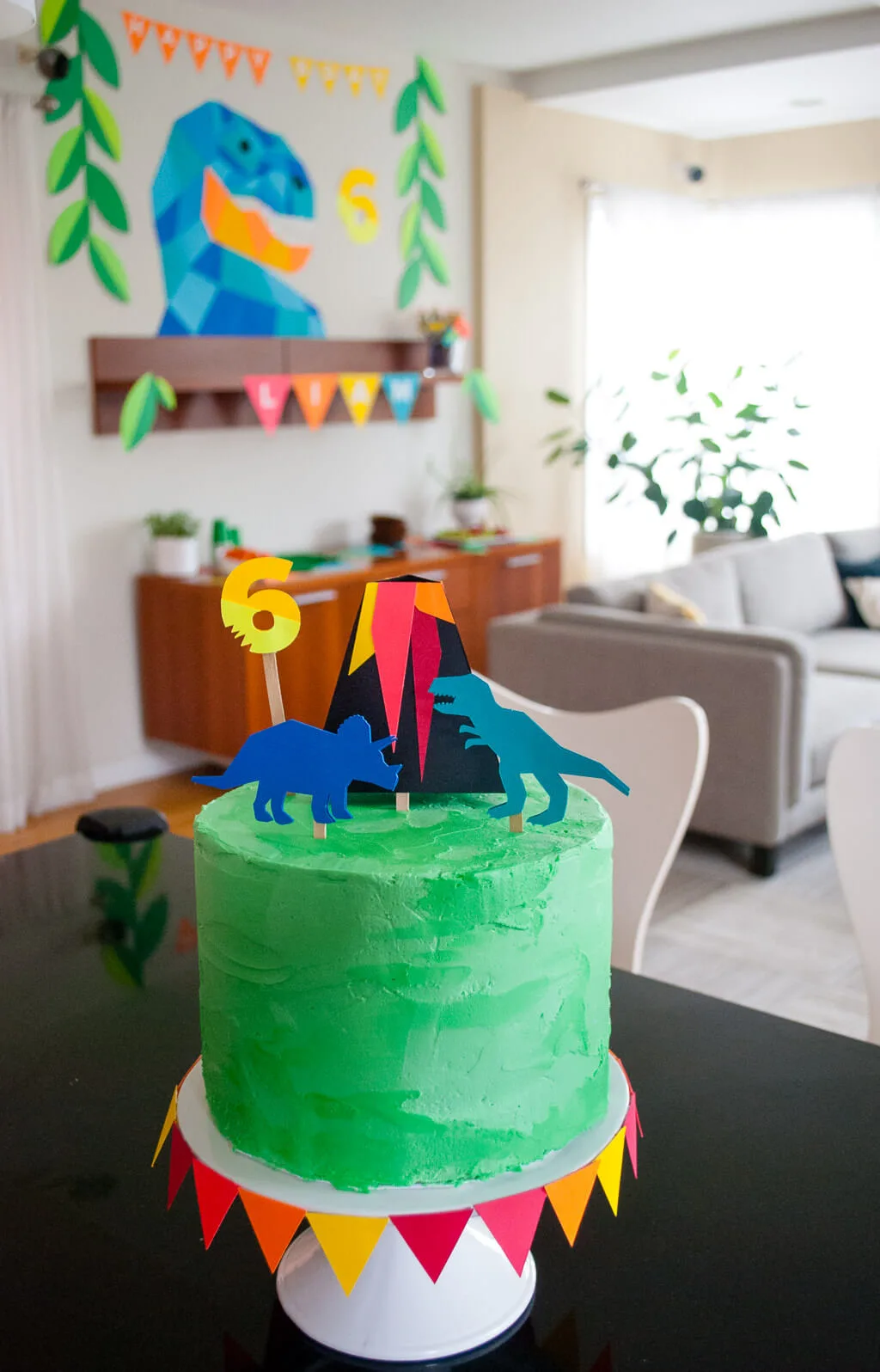 Easy dinosaur birthday cake for boys and girls
This is a super simple dinosaur birthday cake idea that both boys and girls will love. It starts with a delicious vanilla cake recipe from scratch and some green buttercream icing for grass. You can print out my dinosaur cake toppers in advance and attach them to wooden Popsicle sticks. Then just pop in the cake toppers before the party starts.
My easy dinosaur cake coordinates with my other DIY dinosaur birthday party decorations including cute paper leafy vines, volcano stair risers, a DIY dinosaur birthday banner, party favor tags, a dinosaur birthday party shirt, and huge paper T-Rex party decoration for the wall that you print out and tape together like a puzzle.
See also: 'DIY dinosaur birthday party decorations printable templates' »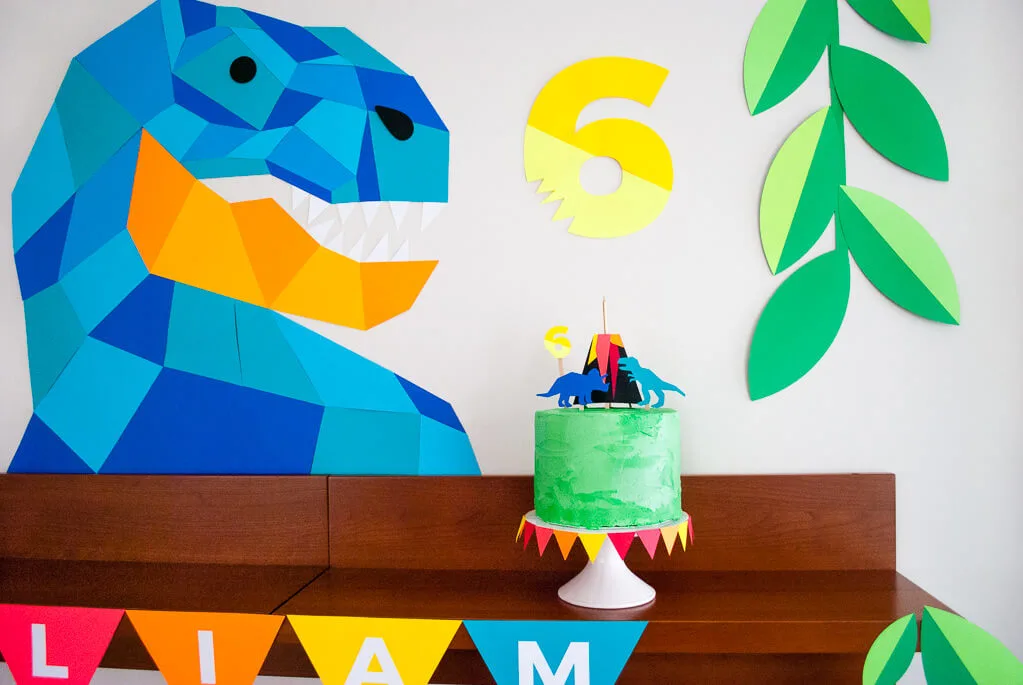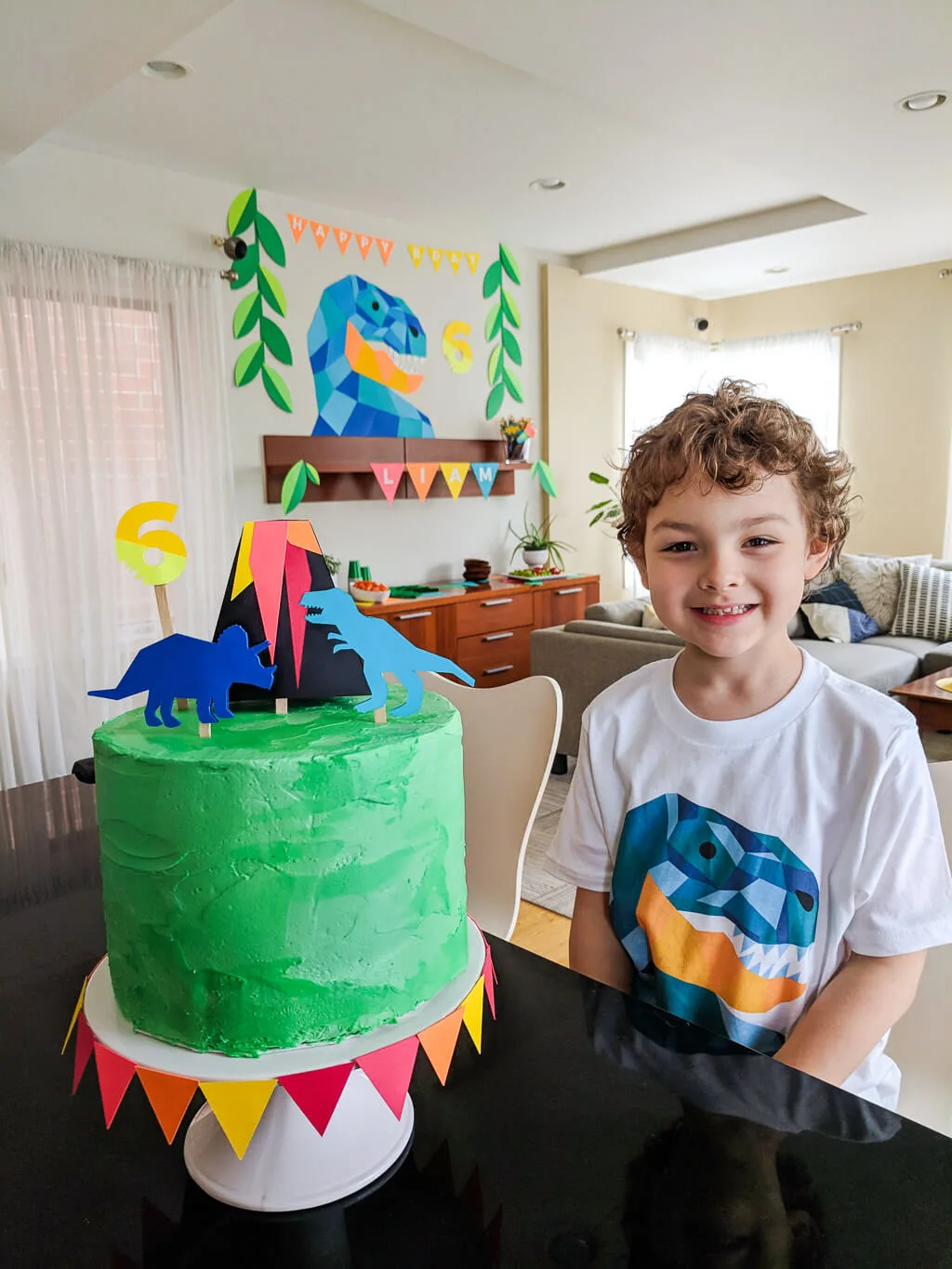 Free printable dinosaur cake topper
My free printable dinosaur cake topper that you can download at Astrobrights.com includes all ages with a dino bite out of it, an erupting volcano with lava, two dinosaurs printable templates, and "dinosaur teeth" to print out to decorate the bottom of your cake stand. It's designed in the popular geometric style, and you can choose your own colors to use for the birthday cake. Choose a couple of colors for your party or combine a bunch of colors for bright party decorations like mine.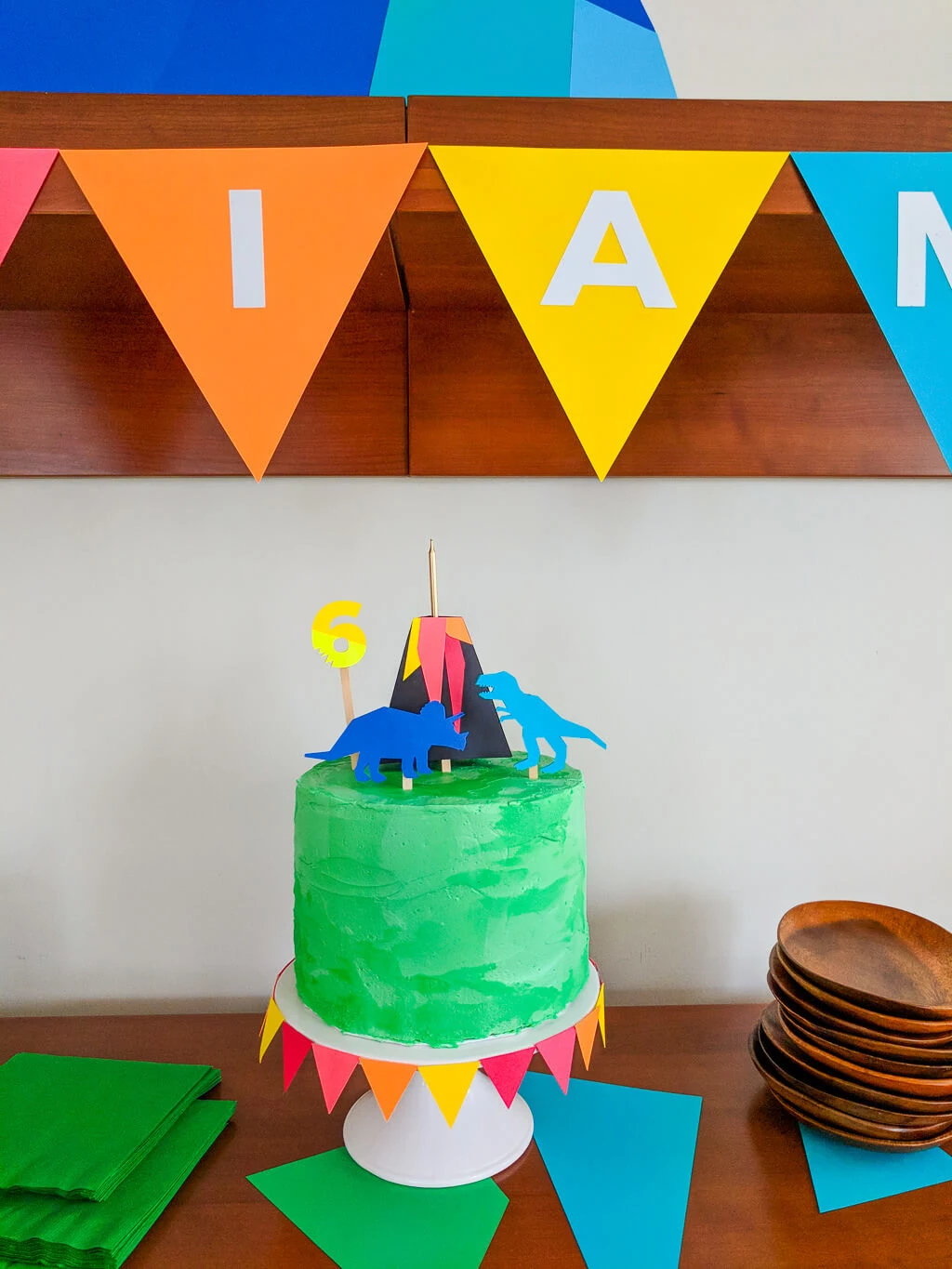 No-mess volcano cake for kids
The volcano cake topper is my favorite part of Liam's dinosaur birthday cake. It's an easy pyramid-shaped volcano with geometric flowing lava in orange, yellow and red. Just pop a candle or sparkler into the hole in the center to make the volcano "erupt" in a mess-free way.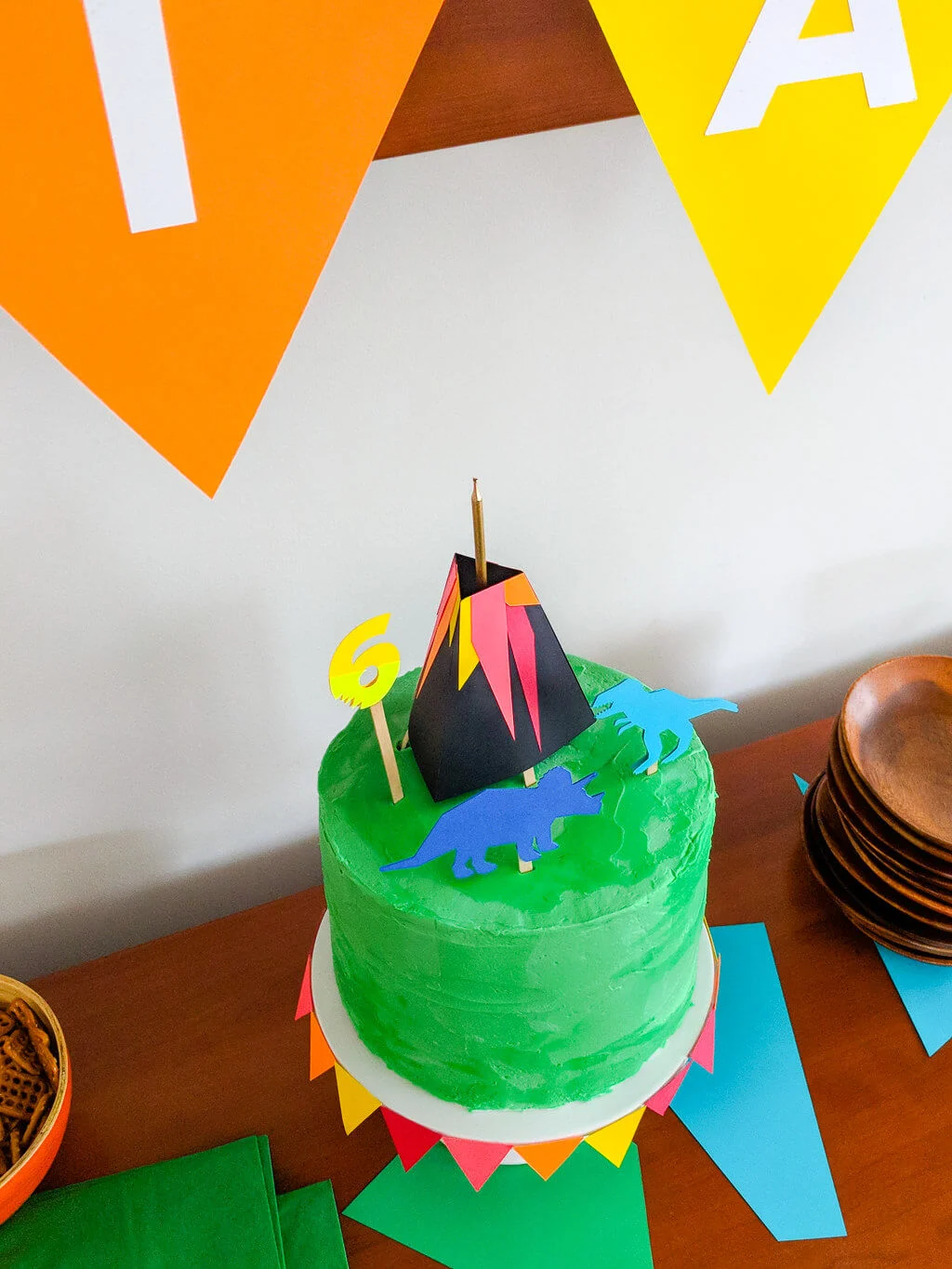 Merriment Design is supported by readers like you. If you buy products that I recommend, I may earn an affiliate commission at no additional cost to you. Thanks – your clicks help me make more free DIYs!

Supplies and templates for making my dinosaur cake toppers:
How to make a simple dinosaur birthday cake for boys and girls:
Step 1: Bake your cake layers
I like to make my cakes a couple of weeks in advance and then freeze them until I'm ready to decorate. It makes things a lot less stressful and the cake still tastes great. Here's my favorite vanilla cake recipe from Cakegirls that tastes like it came from a bakery. I made three layers for this cake; you could probably get away with two layers. Wrap your cake in plastic wrap and slip each layer into gallon-sized freezer bags until you're ready to decorate. I usually put the layers together and ice my DIY birthday cakes the day before the party.
Step 2: Print and cut out dinosaur cake toppers
Visit Astrobrights.com for my dinosaur cake toppers template. Print my dinosaur and volcano cake toppers template on your choice of colored paper. Cut three volcano pieces, two ages, and two of each dinosaur using good paper scissors or a paper cutting machine.
Step 3: Create the volcano cake topper
Glue stick lava onto the three volcano pieces using a glue stick and let dry. Attach the three volcano pieces together using washi tape on the back seams. Tape coffee stir sticks to the middle back of each volcano. Fold the volcano pieces together to form a pyramid and secure using washi tape.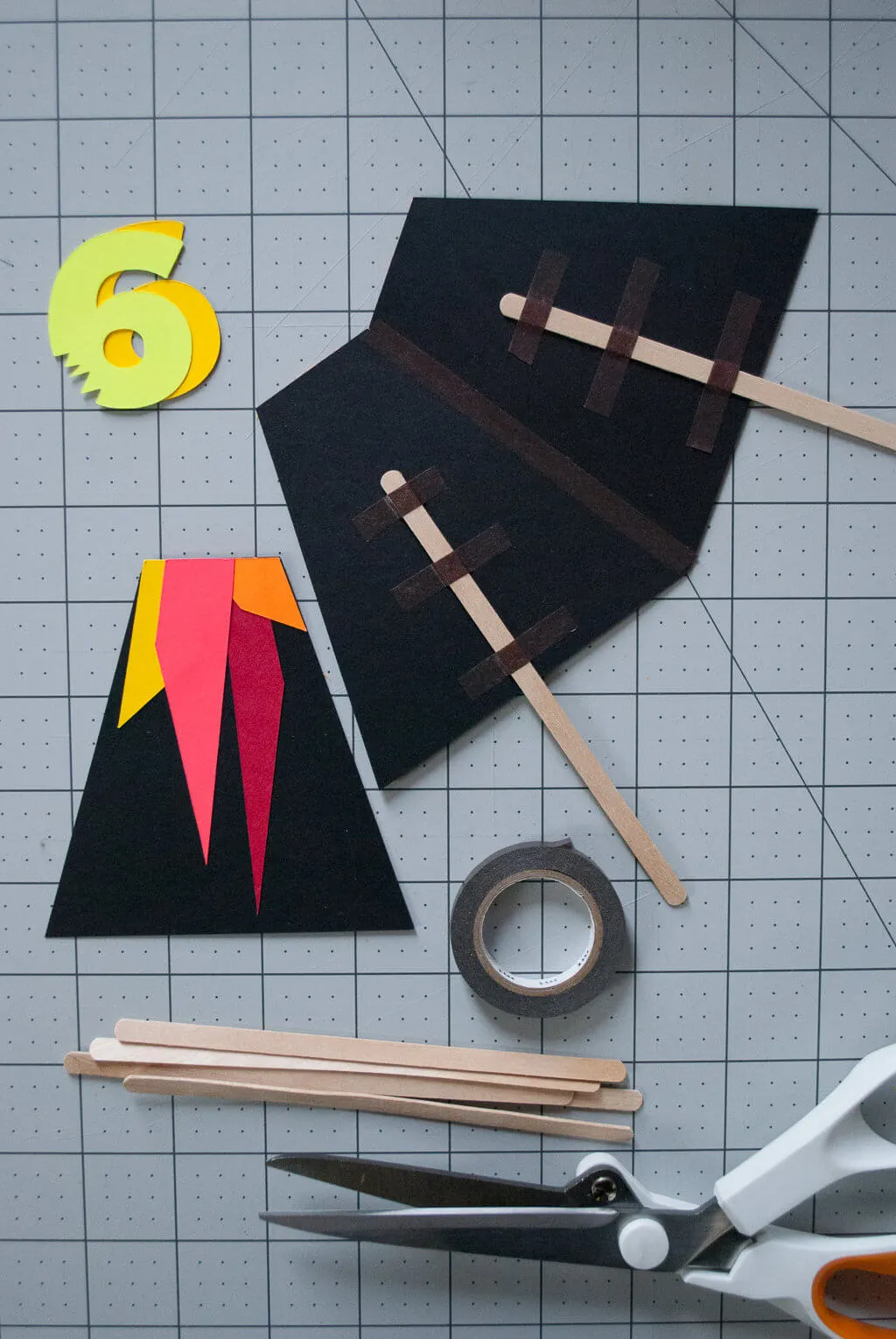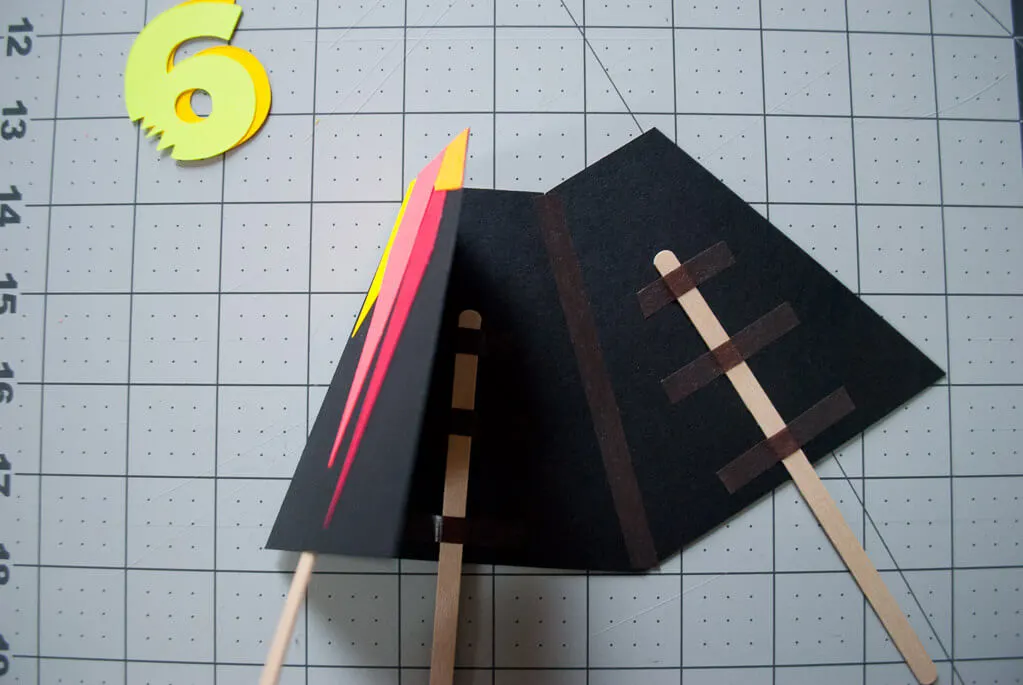 Step 3: Attach dinosaurs and age to sticks
Cut one of the ages in half and discard the top half. Use glue dots and glue sticks to attach dinosaurs and ages to wooden coffee stir sticks by sandwiching the coffee stick between two layers of paper. Make this ahead of time and set aside.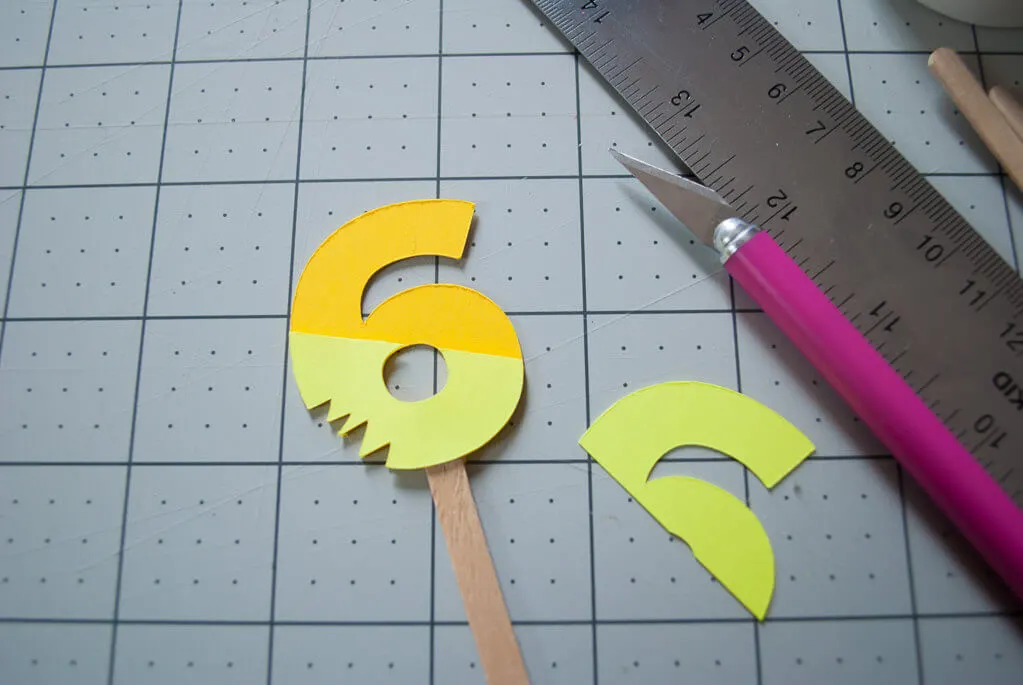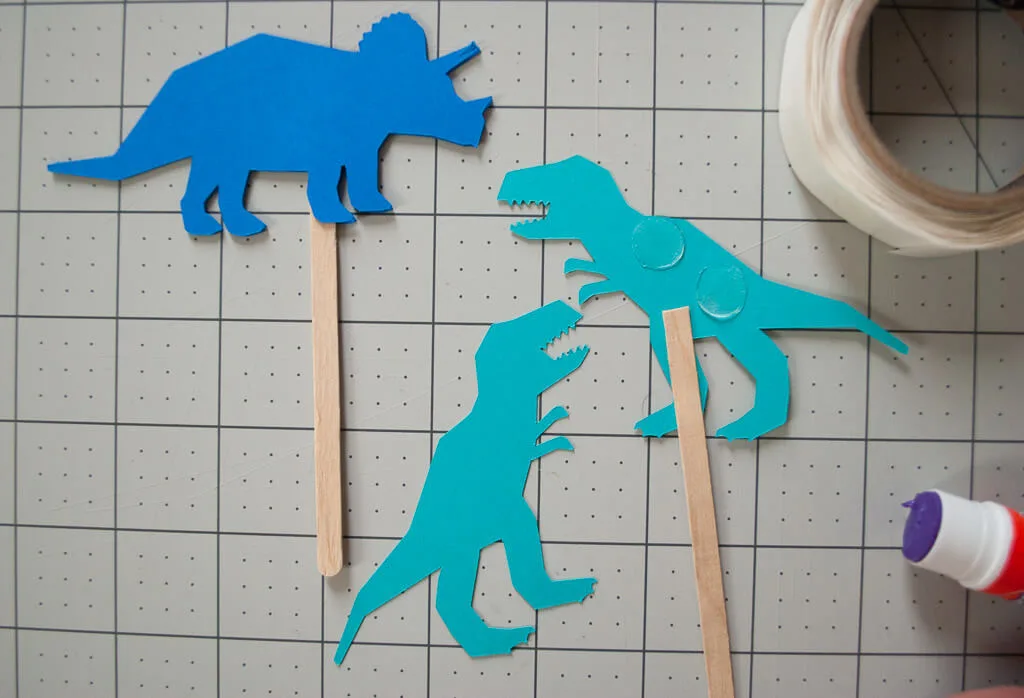 Step 5: Make buttercream icing and ice the birthday cake
Here's my favorite buttercream icing recipe: Brenda's Buttercream Frosting recipe. Grab a helper to make it and add green food coloring to turn the buttercream into grass for the dinosaurs and volcano cake toppers.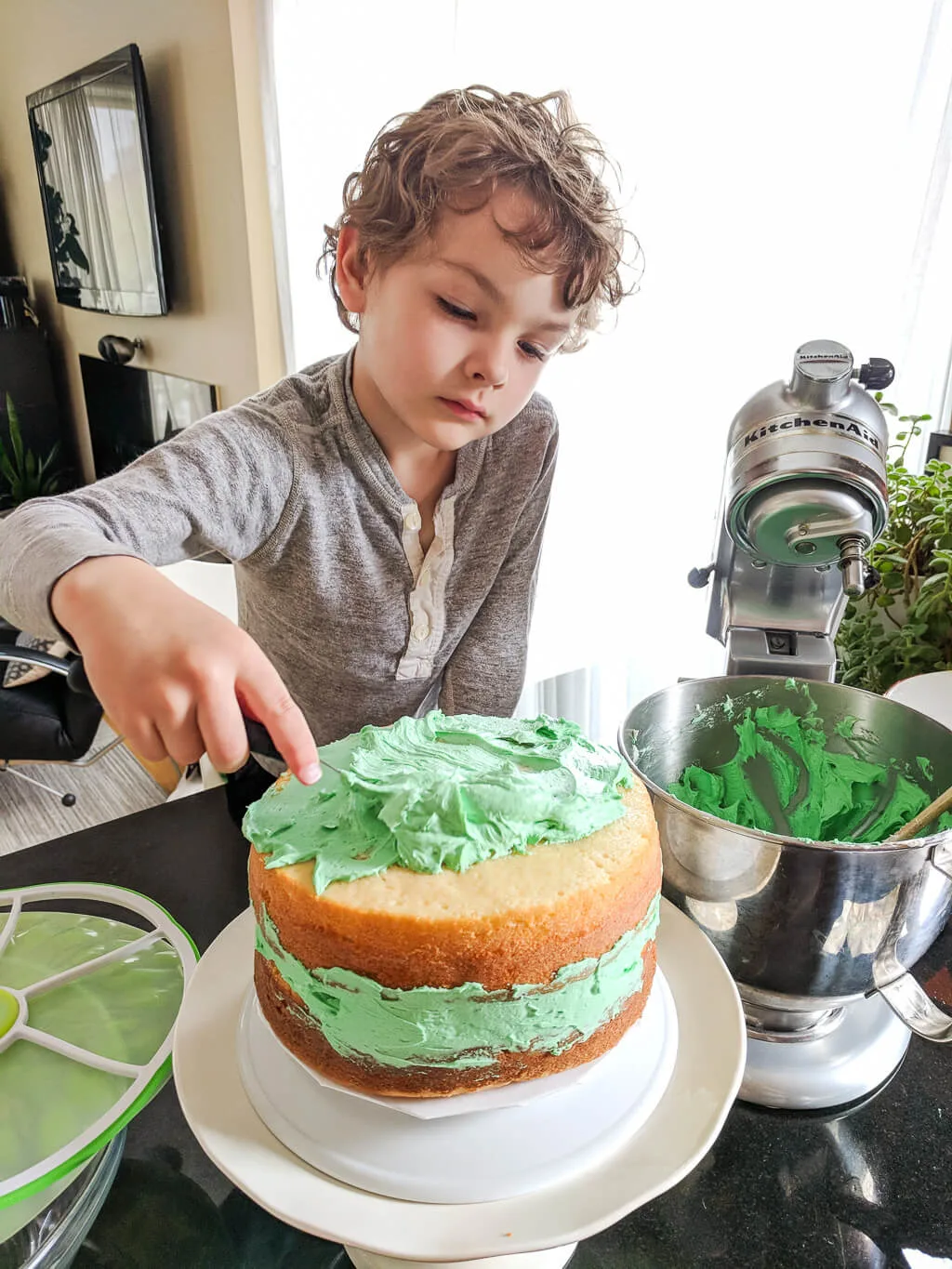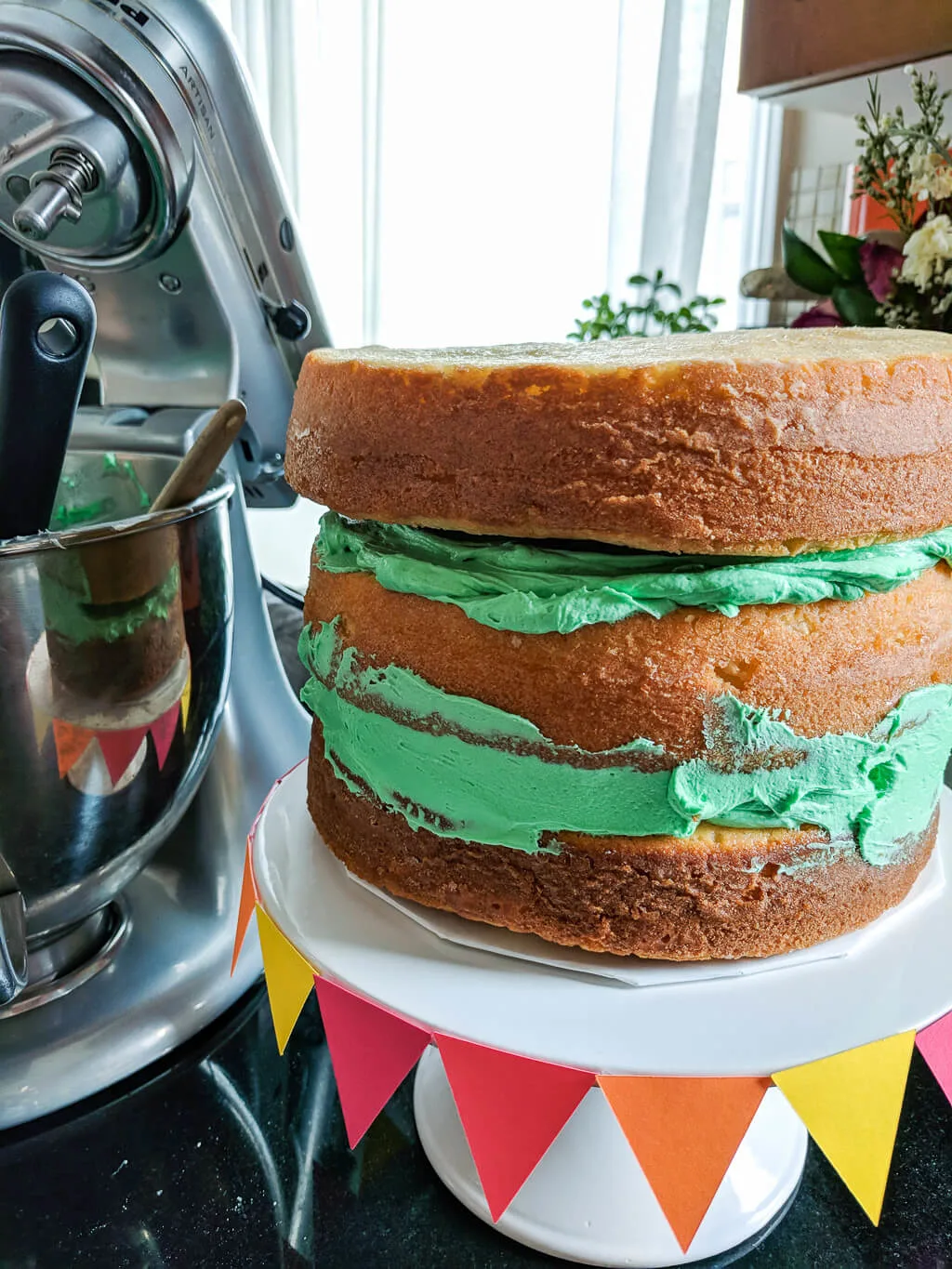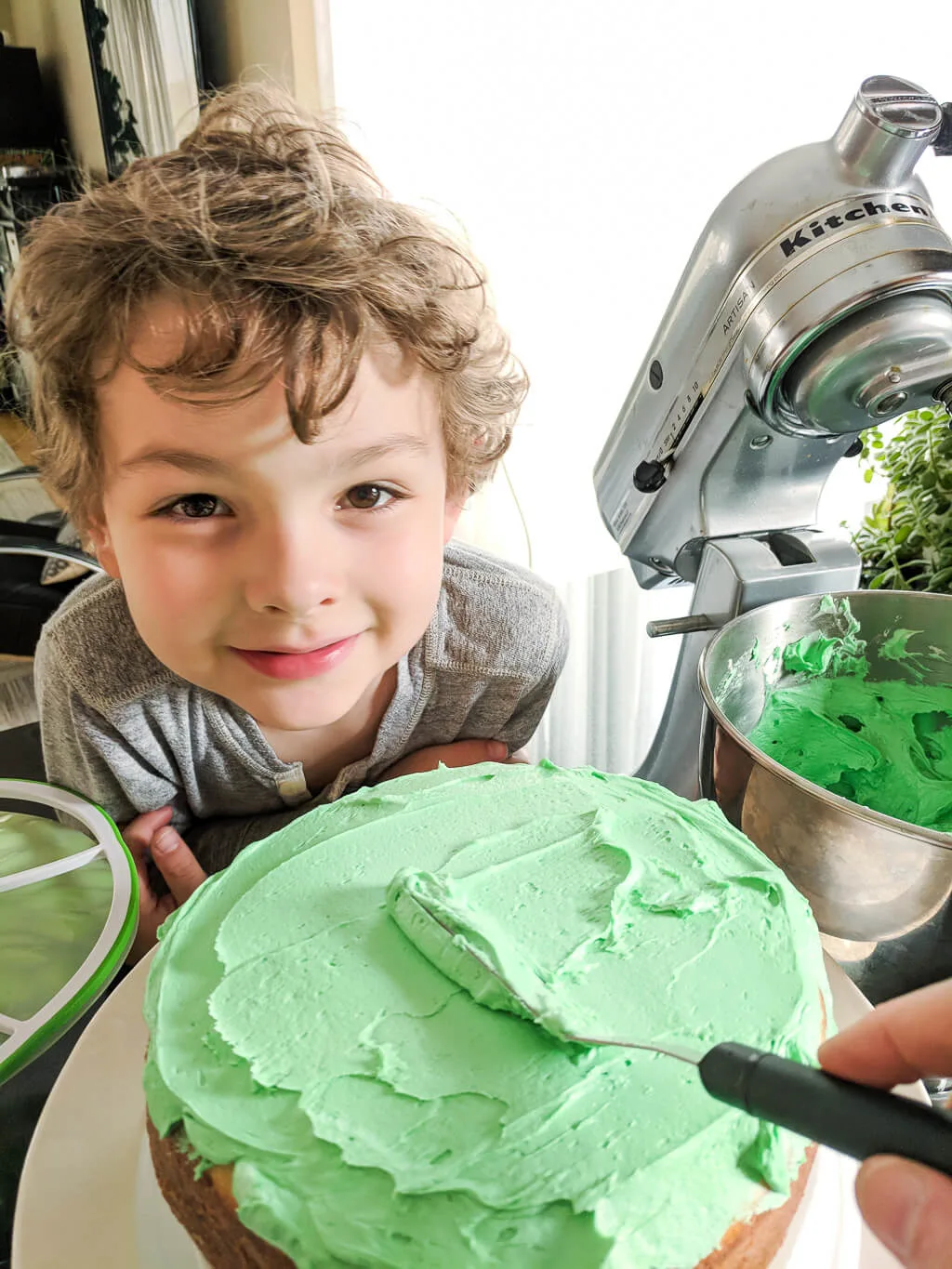 Step 5: Decorate cake stand with dinosaur teeth
Decorating the cake stand with dinosaur teeth is a nice touch. Print my triangle template onto colored card stock paper to make dinosaur teeth. Then tape them around the bottom of the cake stand with clear tape. Be sure to also check out my matching "dinosaur teeth" free printable dinosaur DIY happy birthday banner.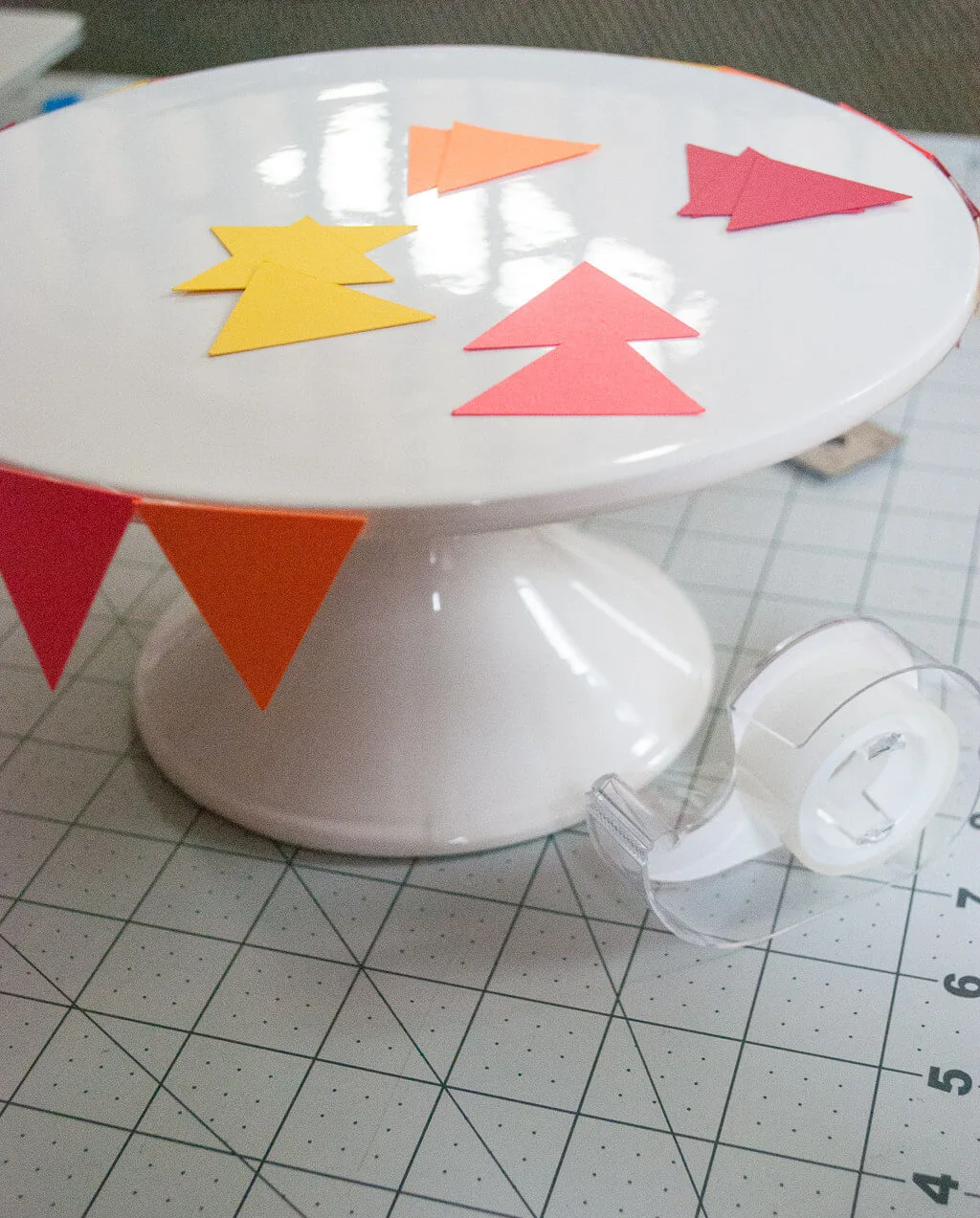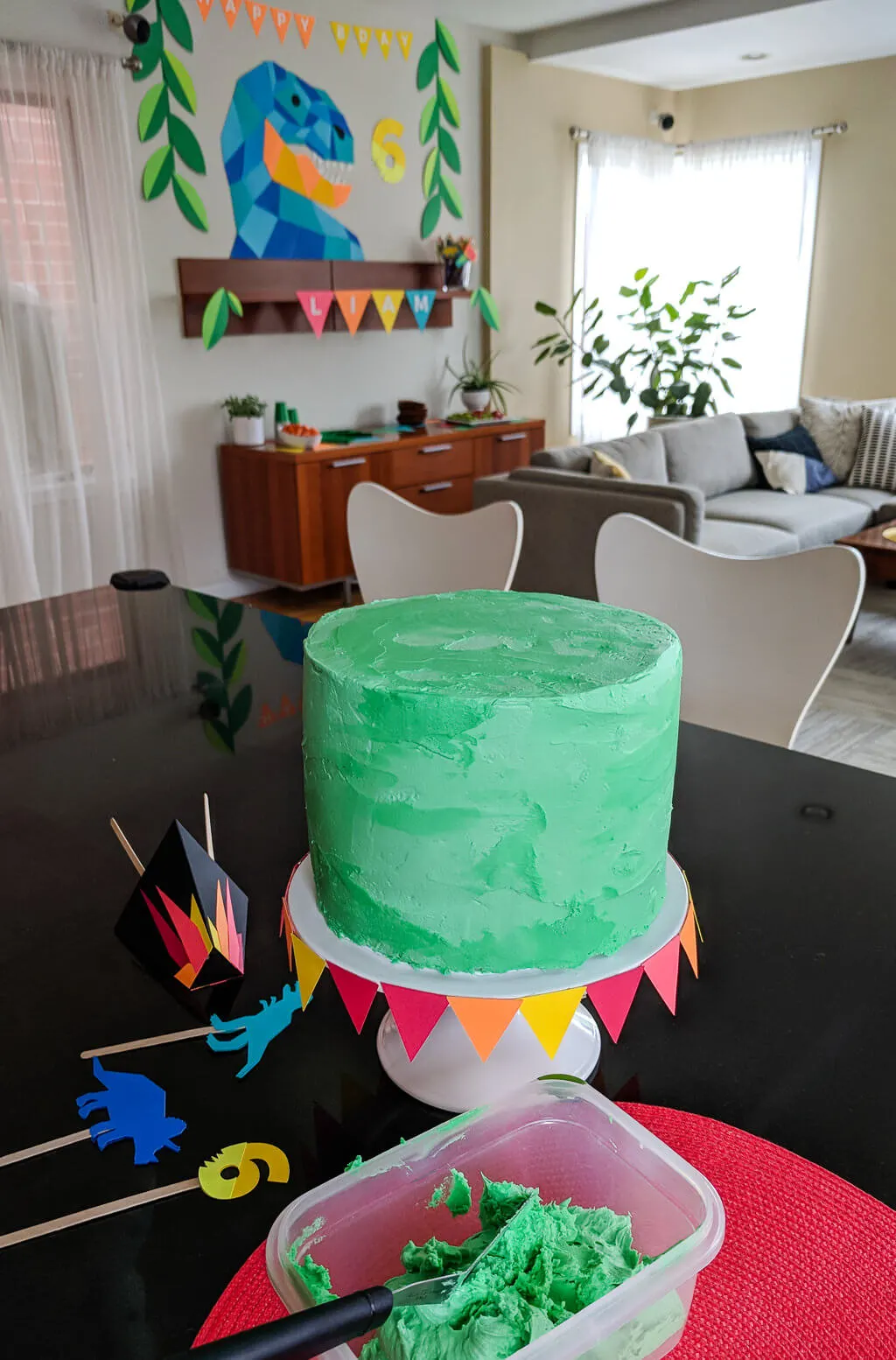 Step 6: Add cake toppers to the cake
Slide the cake toppers into the cake (be sure it's full defrosted first) and place one long thin candle or sparkler in the center of the volcano.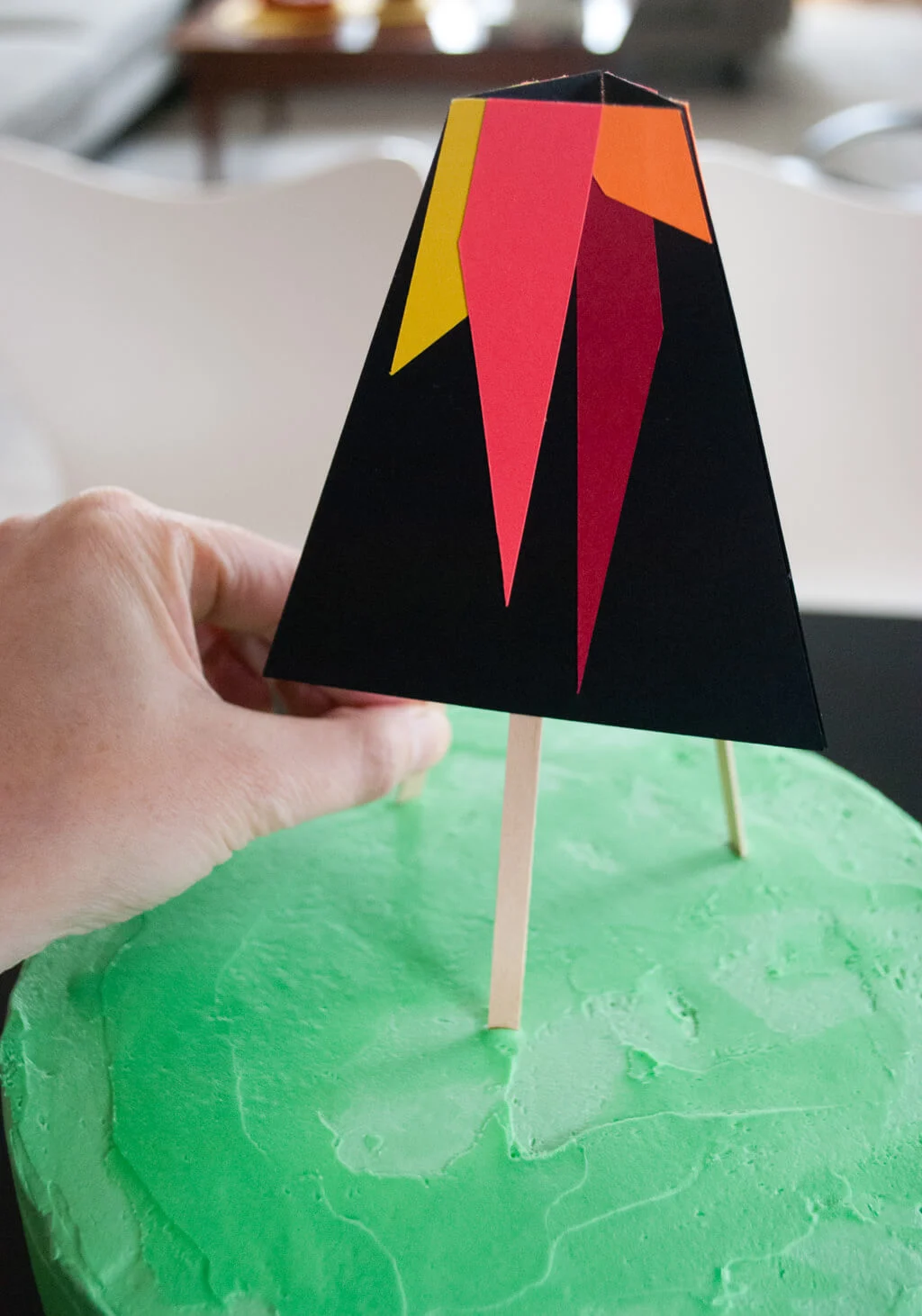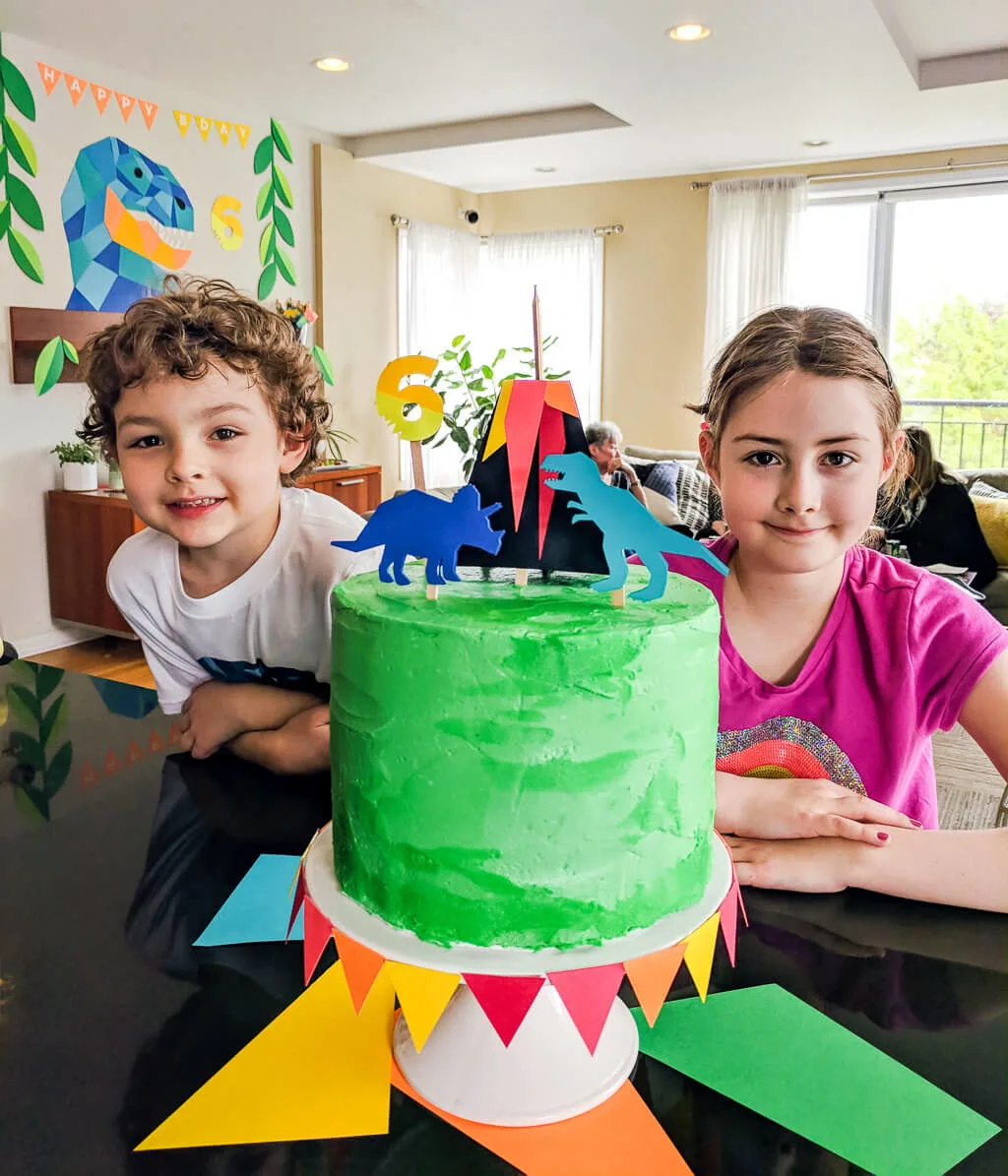 Be sure to pin my dinosaur birthday cake toppers for a DIY dinosaur birthday party: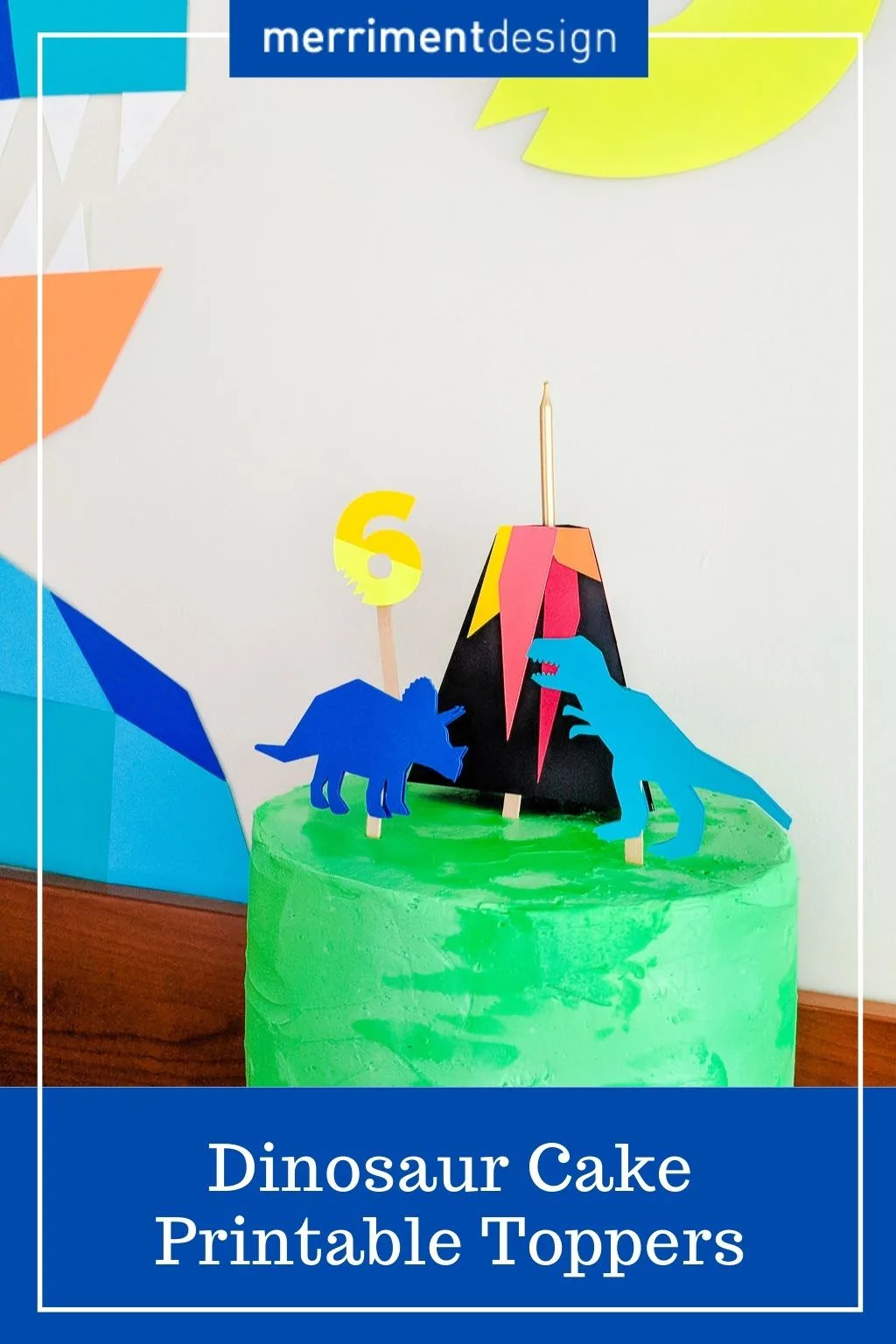 And see more DIY birthday party ideas and birthday cakes.
++++++
Like it? Share it!
The nicest way to say you like it is to pin it on Pinterest, post a comment, follow Merriment Design on Facebook, Pinterest, Instagram or sign up for monthly emails. Enjoy! 🙂
—