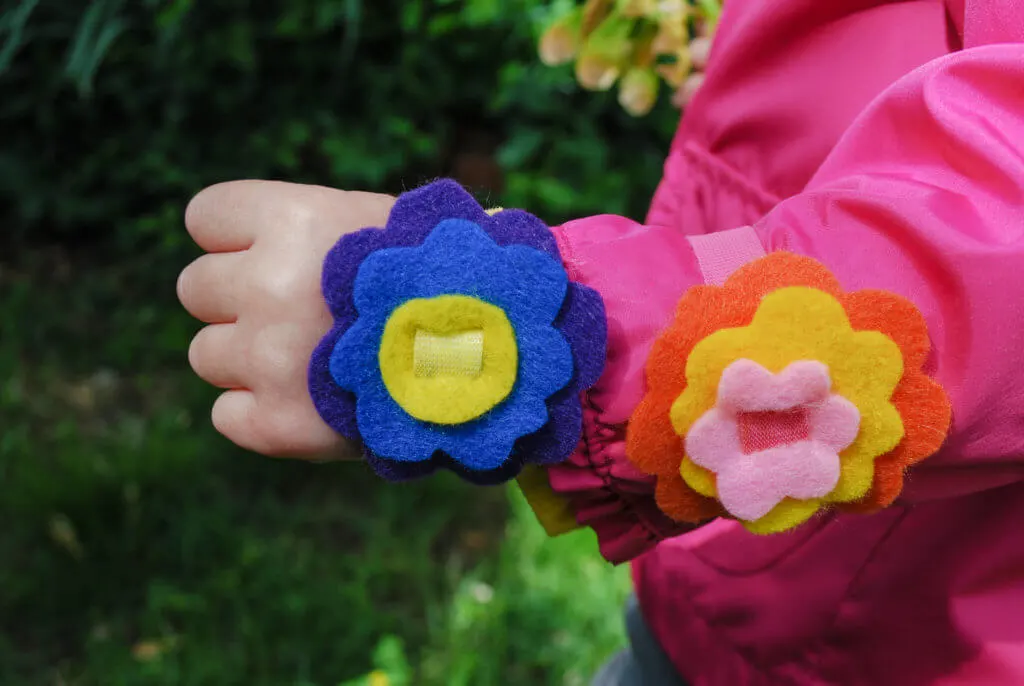 Here's a super cute DIY spring and summer craft idea for kids that you can knock out in less than an hour: Easy no-sew felt flower bracelets. It's a super cute and easy kid's craft activity that's lots of fun to make.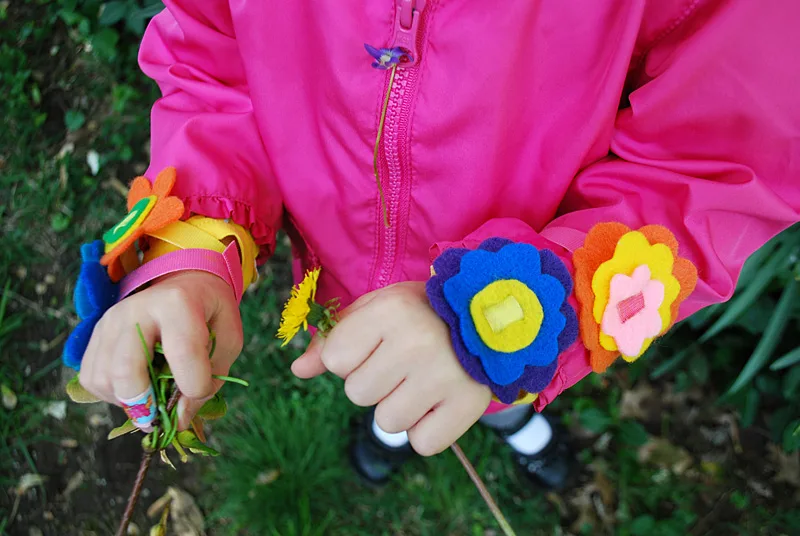 I love how cheery these no-sew felt flower bracelets look. And it's nice to be able to make a cute project without having to drag out my sewing machine. These felt flower bracelets are no-sew: no thread, no needle, no sewing machine, and no glue either.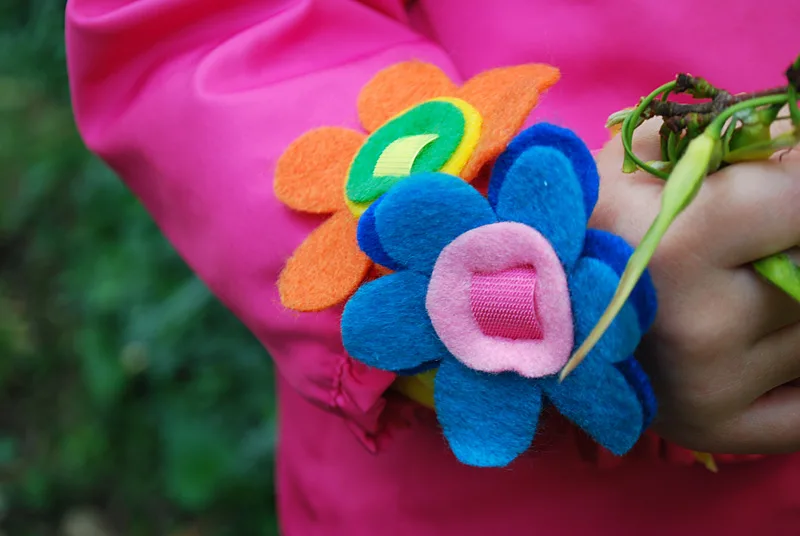 The trick is VELCRO® Brand Plant Ties. So what are plant ties you ask? It's basically a roll of colored thin VELCRO® Brand fasteners (I have these in yellow, pink, green and red and they also come in blue and black) that sticks to itself. Yep, IT STICKS TO ITSELF! So cool.
See also: 'DIY no-sew Christmas bracelets kids craft activity' »
You're supposed to use to VELCRO® Brand Plant Ties tie up your plants in the garden which I did last year to help my peas hang onto their trellis, but I also think they make pretty great craft supplies.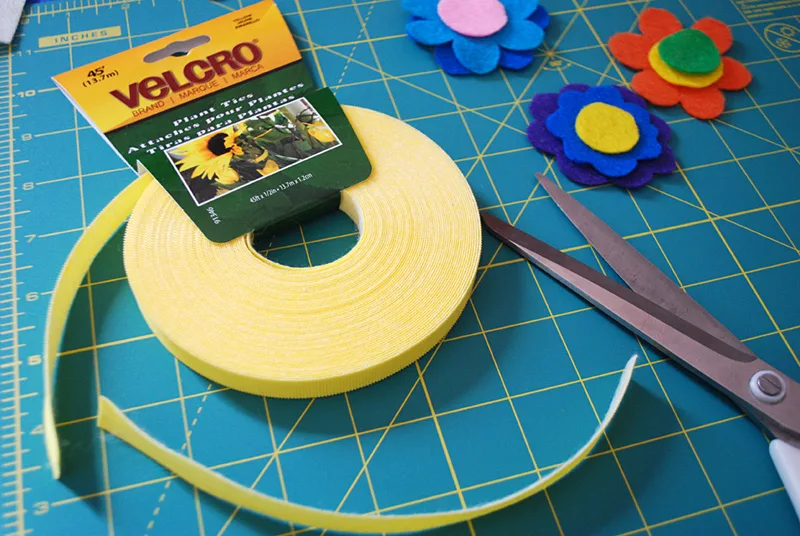 I liked the VELCRO® Brand Plant Ties in the garden but I also thought it could make a great bracelet. It's easy to cut and not the least scratchy on the back.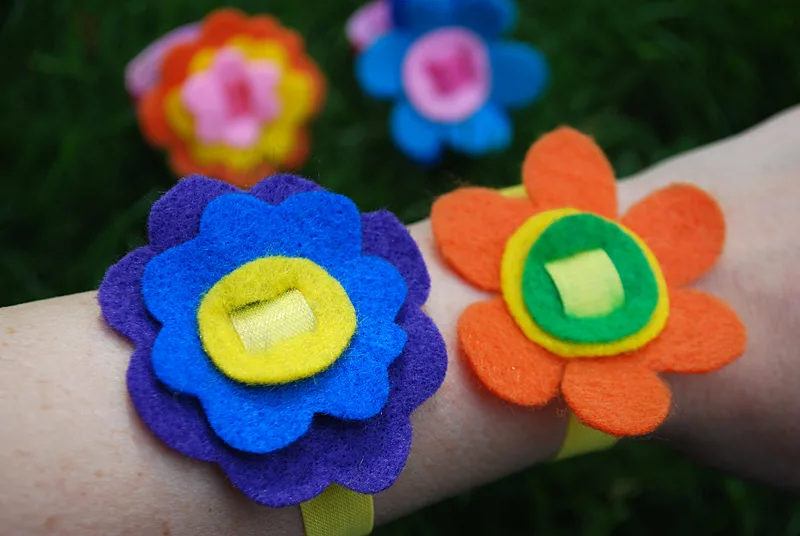 You could also make these felt flower bracelets using VELCRO® One-Wrap Straps OR VELCRO® Get A Grip Straps in Multi-Colored, which are basically the same stick-to-itself concept that are used to keep cords and wires looking neater. Either way it's a kid-friendly, no-sew craft to brighten your spring and summer days exploring outside.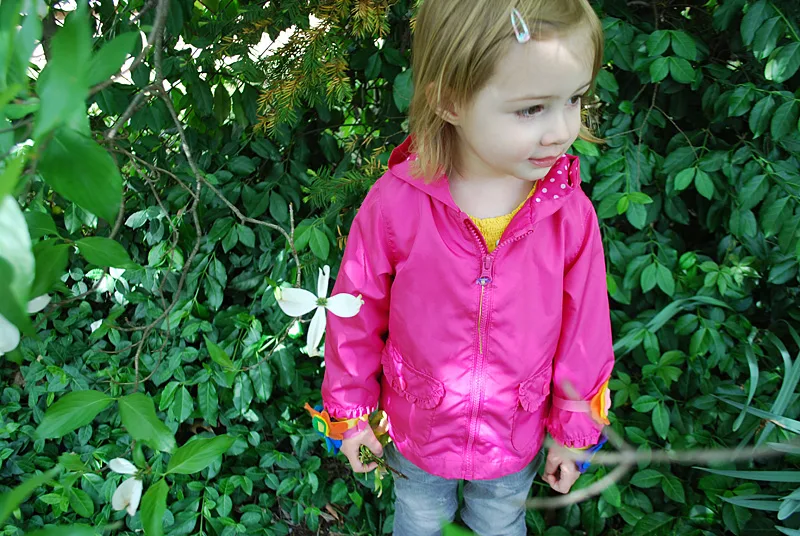 This post contain affiliate links which means that products I recommend may give me a nominal commission at no extra cost to you. Thanks – your clicks help me make more free DIYs!
++++++
Supplies for making DIY no-sew felt flower bracelets:
—
How to make DIY no-sew felt flower bracelets:
Gather your supplies. Print and cut out my free printable flower bracelet template. The free pattern is sized for kids so just increase the size on a copier if you'd like them larger.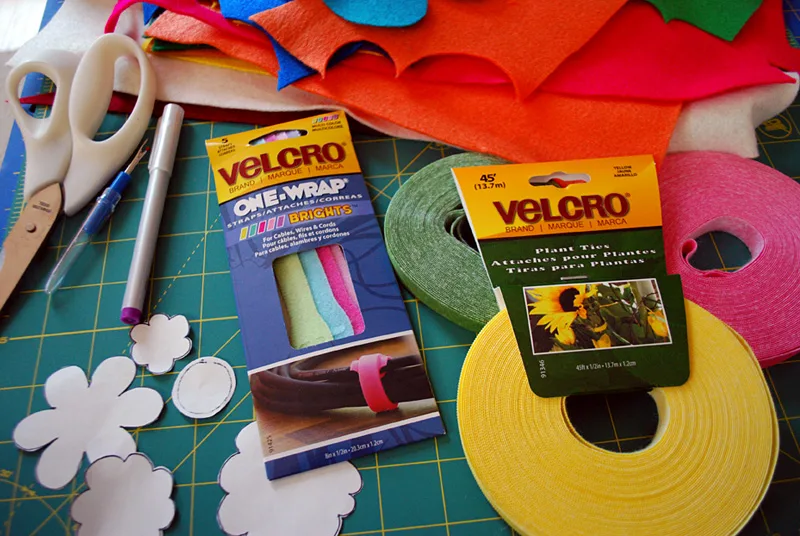 Cut out flowers pieces in assorted felt colors. You can trace the pattern using a disappearing ink pen onto the lighter colors, and for darker colors, just hold the pattern tightly to the felt and cut. No need to be perfect. You can even free-hand some pieces without using a pattern at all.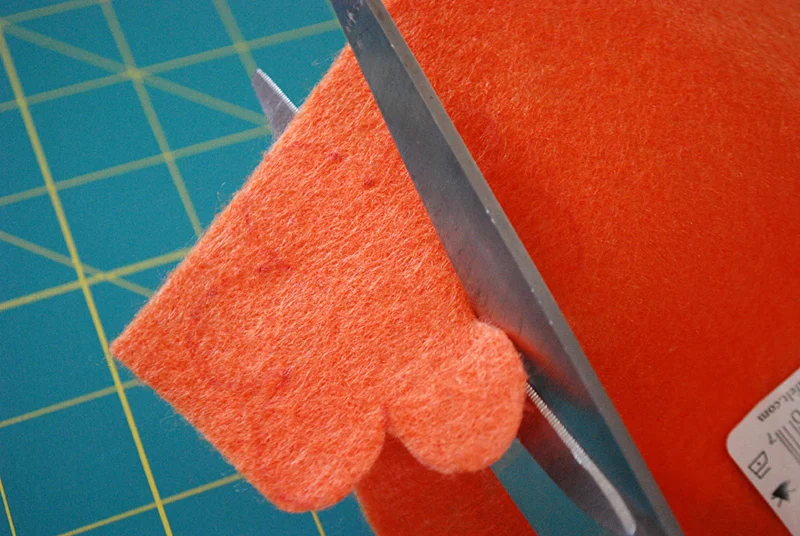 See all the cute felt flower pieces for the bracelets?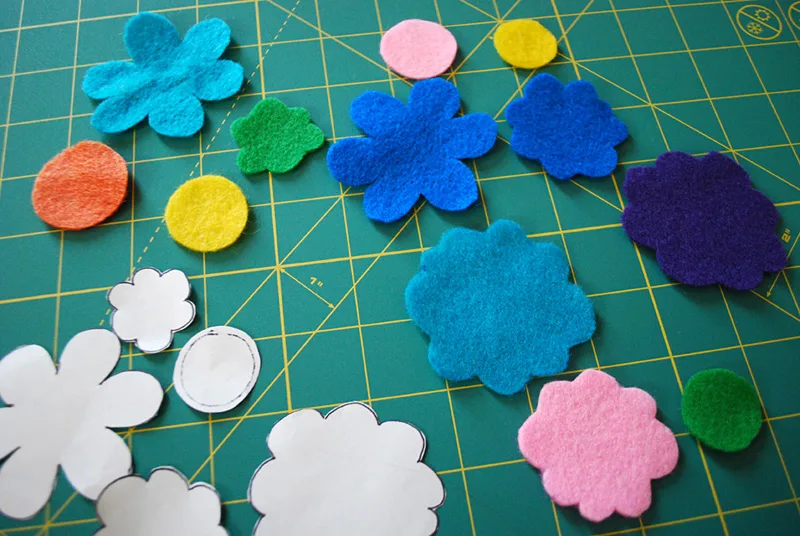 Now just layer them up. Cut more as needed and play around to make the cute flower stacks for the bracelets.
Cut a piece 3/8″ piece of VELCRO® Brand Plant Ties or VELCRO® Brand ONE-WRAP® ties in Brights as a pattern for cutting slits in the felt flower pieces. Center it on your flower piece.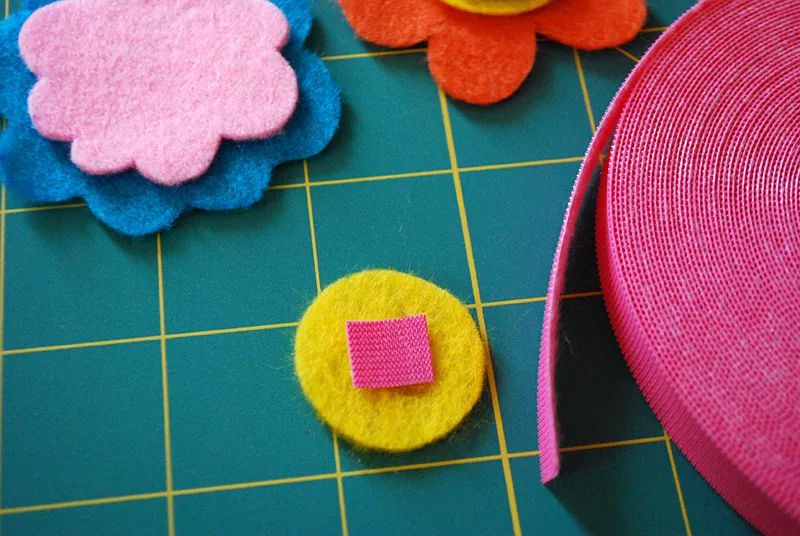 Mark slits above and below the pattern using a disappearing ink pen.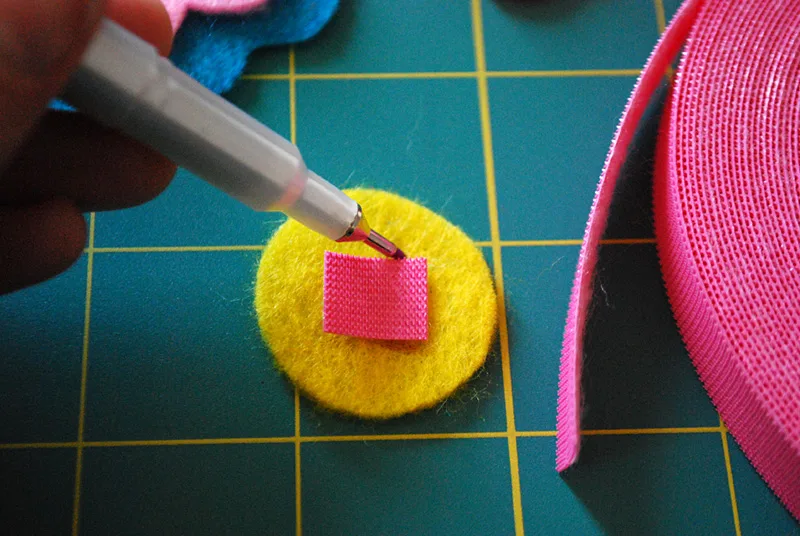 Now it's time to cut the bracelet slits. First I tried using fabric scissors and I overshot big time – they're just too big for me to handle on such a small cut.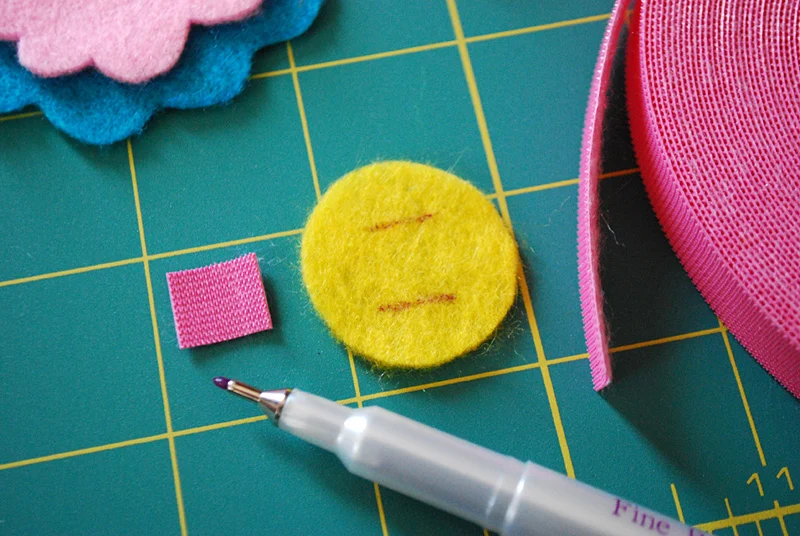 So then I used a seam ripper to get the bracelet slit started on each ends and followed up with Embroidery scissors to cut through the middle and it worked really well.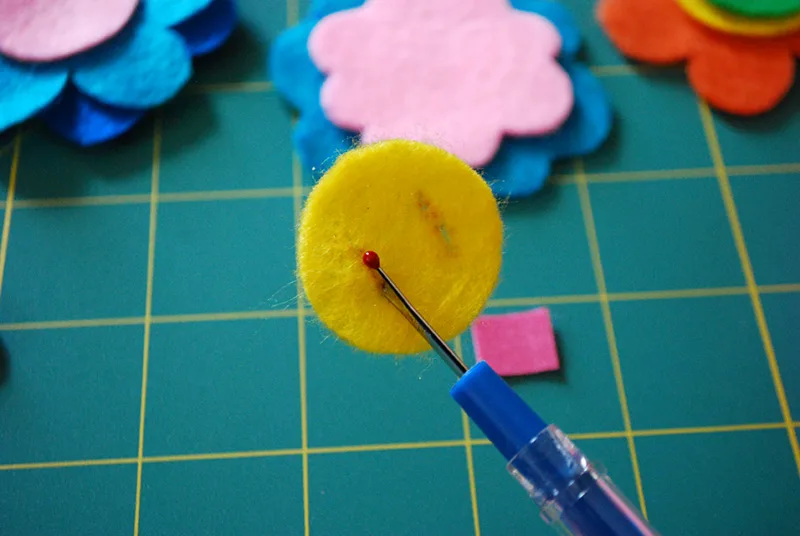 Repeat on your other flower pieces.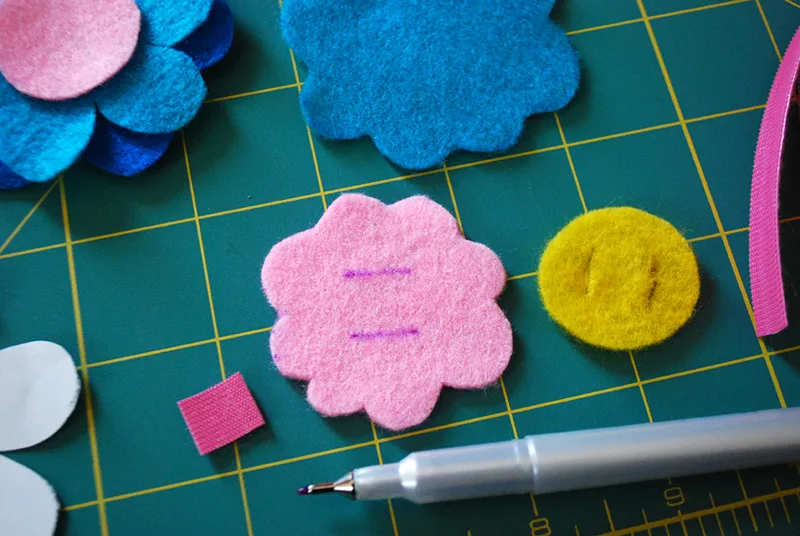 And here are three pieces ready to become a flower.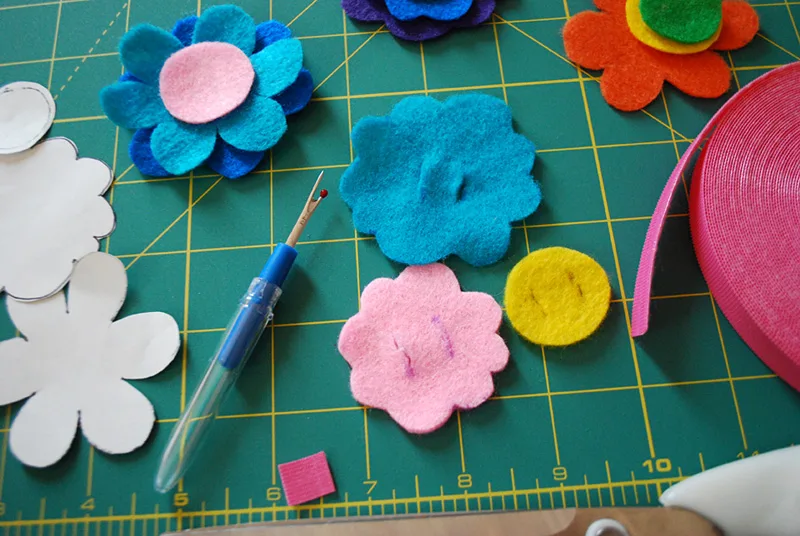 Measure your wrist and add about 1.5″-2″ to it for threading through the flower and overlap to close on your wrist. This batch of flower bracelets were for my 2-year-old Elise.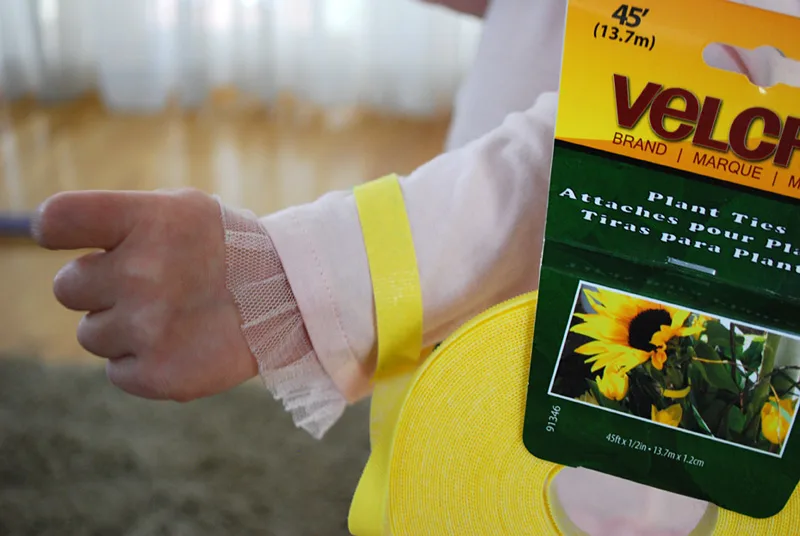 Cut a piece of VELCRO® Brand Plant Ties or VELCRO® Brand ONE-WRAP® ties in Brights to this length.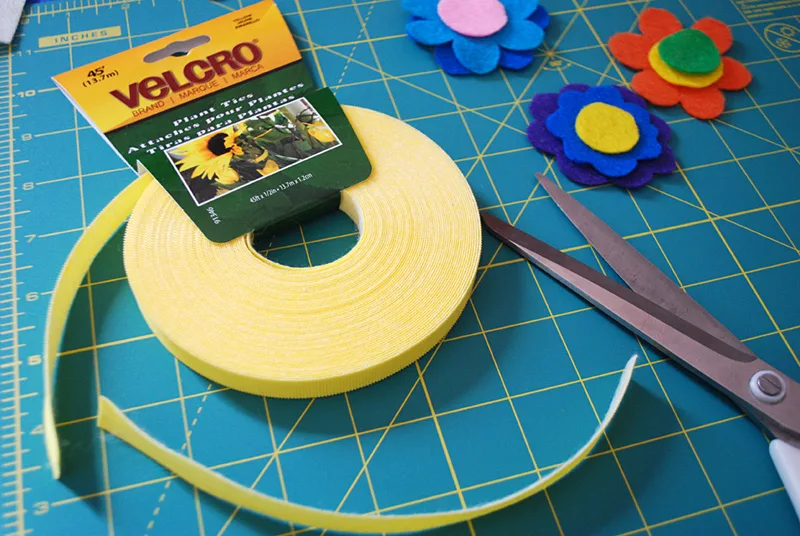 Thread the end of the VELCRO® Brand Plant Ties strip through the slit flower layers. Felt is naturally going to stick to the VELCRO® hook (scratchy) side, so when you thread it through, try to thread it so that the felt is touching the smooth side. Go slowly so to avoid tearing a bigger slit into your felt. Thread the flower onto the VELCRO® Plant Tie so that it's almost in the middle of your Plant Tie — remember that you cut some extra for overlap so it should be slightly to one side.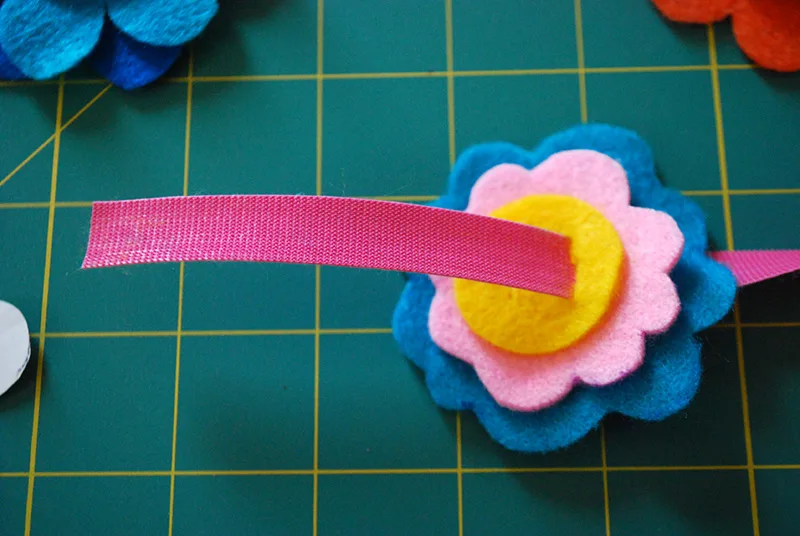 Now thread the end back through the other slit stack, which will make a cute little color in the middle of your flower. You can either try to match the color to your flower middle or choose a cute contrasting color. Now just wrap the felt flower bracelet around your wrist and overlap the VELCRO® Brand Plant Ties to close. You can snip off any extra as needed.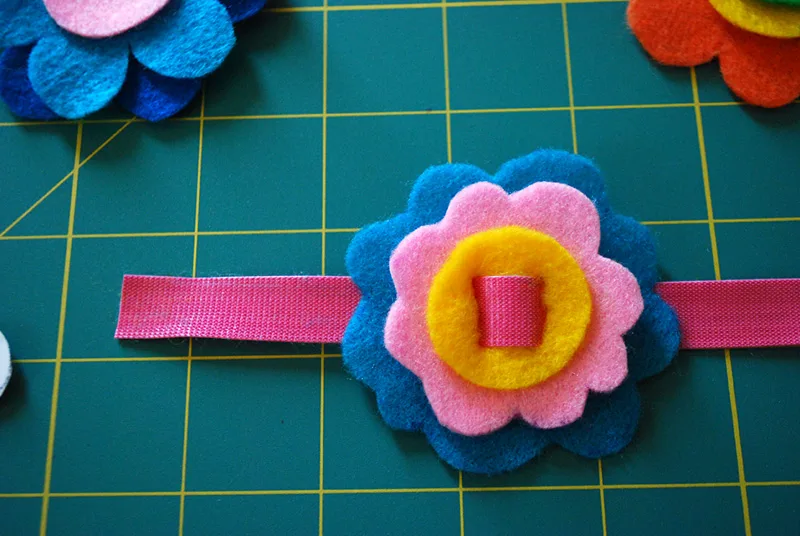 ++++++
Be sure to pin this felt flower bracelets DIY project for later: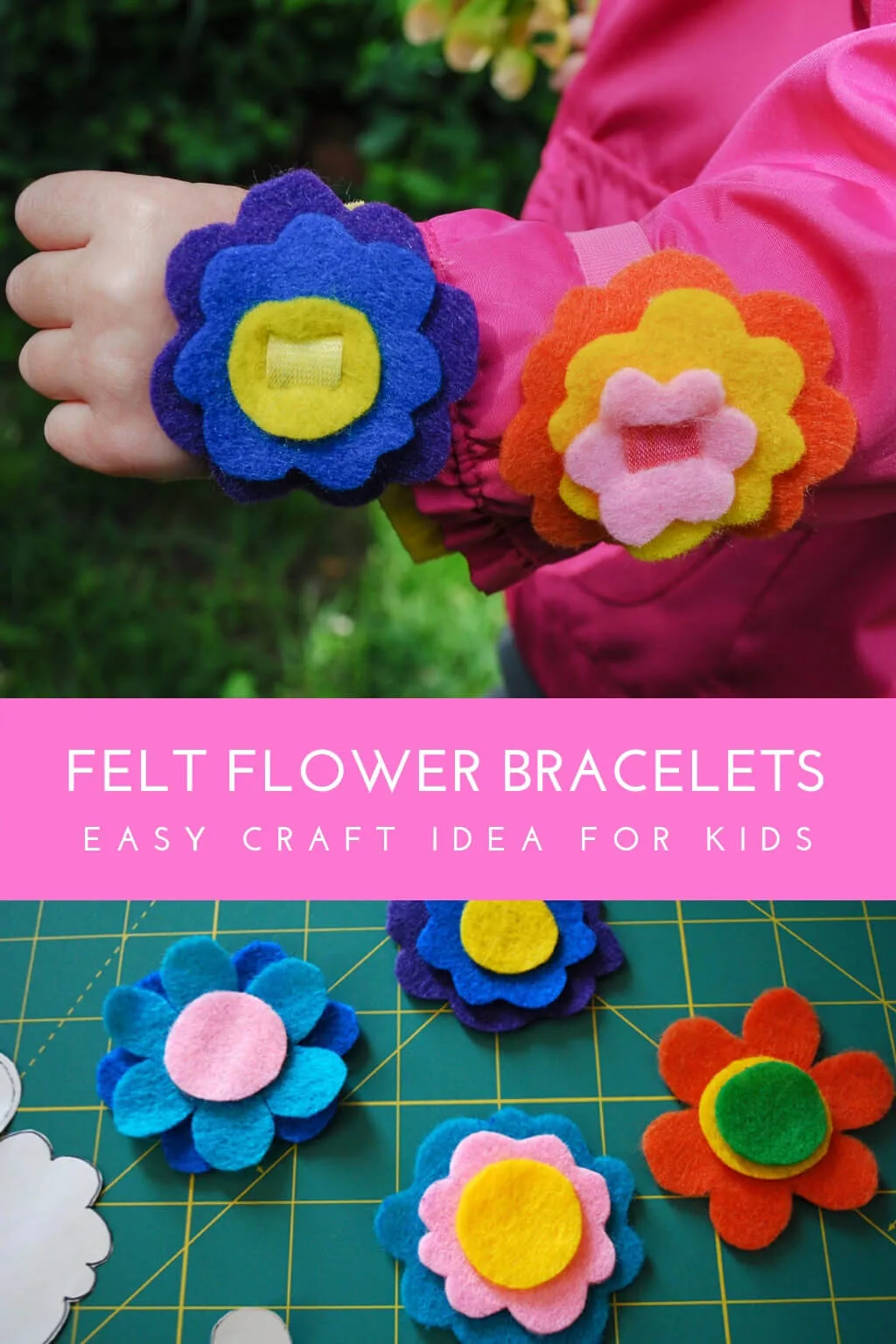 —
Like it? Share it!
The nicest way to say you like it is to pin it on Pinterest, post a comment, follow Merriment Design on Facebook, Pinterest, Instagram or sign up for monthly emails. Enjoy! 🙂
Copyright stuff: You're more than welcome to use this free project and tutorial for personal use. Contact me for commercial use and Etsy sales.
Save
Save
Save
Save