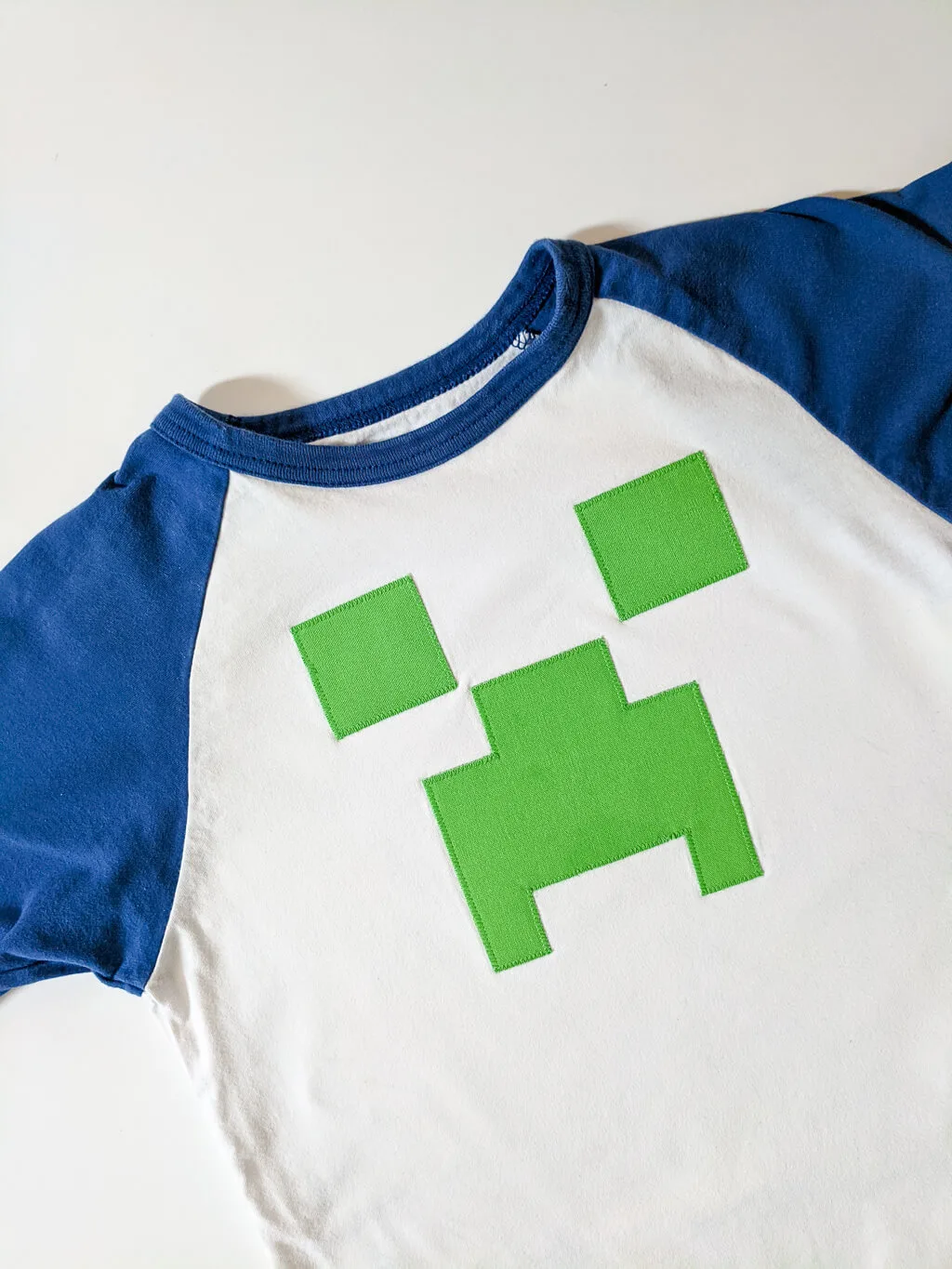 Looking for an easy Minecraft Birthday Shirt Idea? Make this no-mess, super quick and easy Minecraft t-shirt DIY! It only takes a few supplies to make your own Minecraft t-shirt: lime green cotton fabric, iron-on adhesive, and my free printable Creeper template, below. It's a great Minecraft birthday party idea that you can wear well after the party's over, and takes just 30 minutes or so to make yourself at home.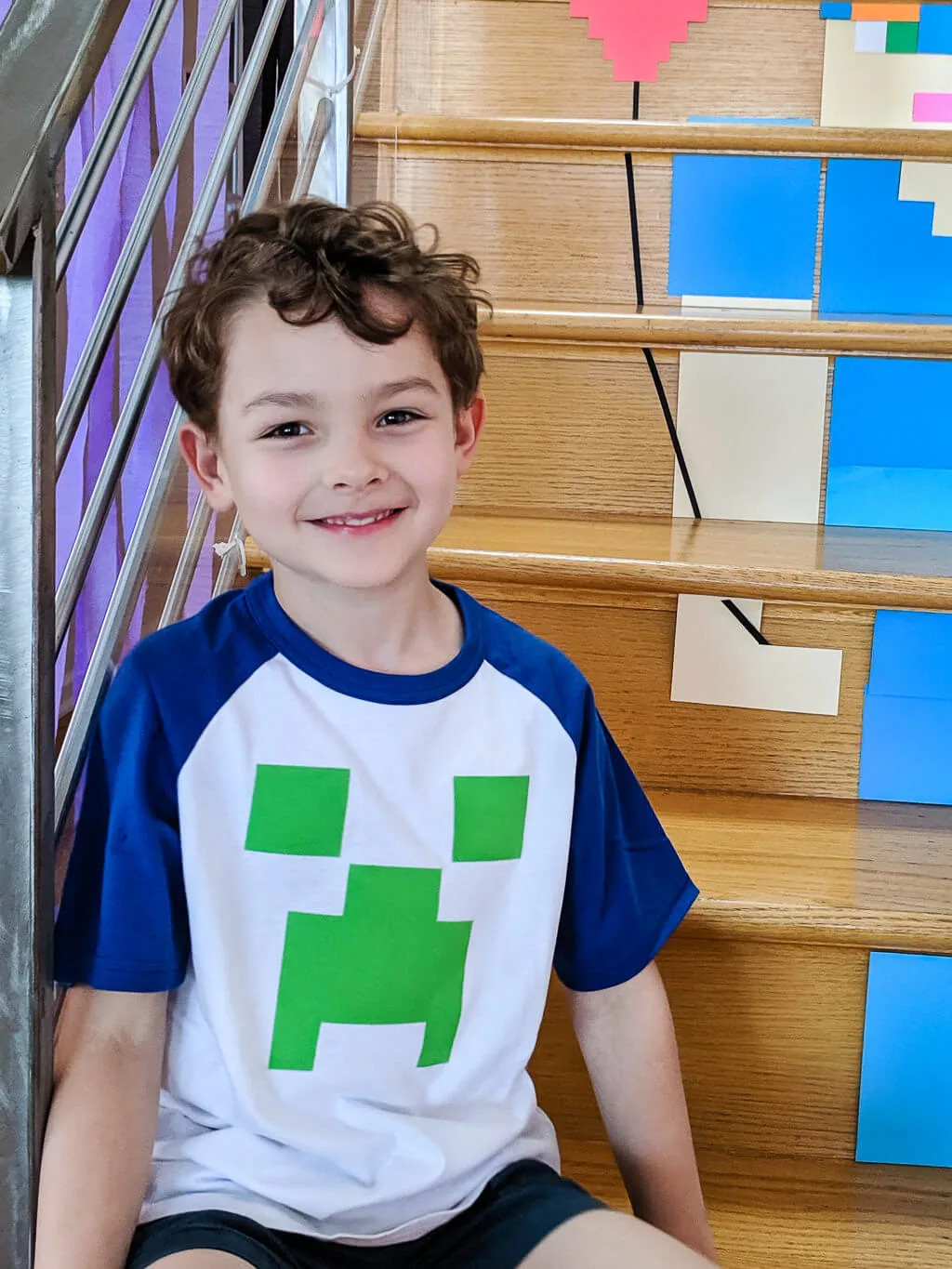 My Minecraft birthday shirt DIY doesn't require any messy paint. Nope. No trying to stencil paint onto a t-shirt, which let's be honest, that rarely turns out well. No waiting for wet paint to dry also means that you can wear this DIY Minecraft shirt right away. And then you can actually throw this DIY Minecraft shirt into the washing machine and wear it again many, many times well after the party is over. It's like the t-shirt is re-spawning. Ha!
See also: 'Easy Minecraft Birthday Cake Idea: Steve in Diamond Armor in fondant and buttercream' »
I'm a sucker for making handmade birthday t-shirts like my Construction Birthday Party Shirt DIY and my Fireman Birthday Party Shirt DIY and my Super Hero Birthday Party Shirt DIY and my Airplane Birthday Party Shirt DIY. Many DIY birthday shirts! But this time, I waited until the very last minute to actually figure out how make this Minecraft birthday party shirt. Like, I started making it just one hour before the kids arrived. Eek. And guess what? Making this DIY Minecraft shirt only took 30 minutes. For real! Plenty of time to snap a few cute shots of the birthday boy with his handmade Minecraft birthday party decorations like this crepe paper nether portal that we put up together.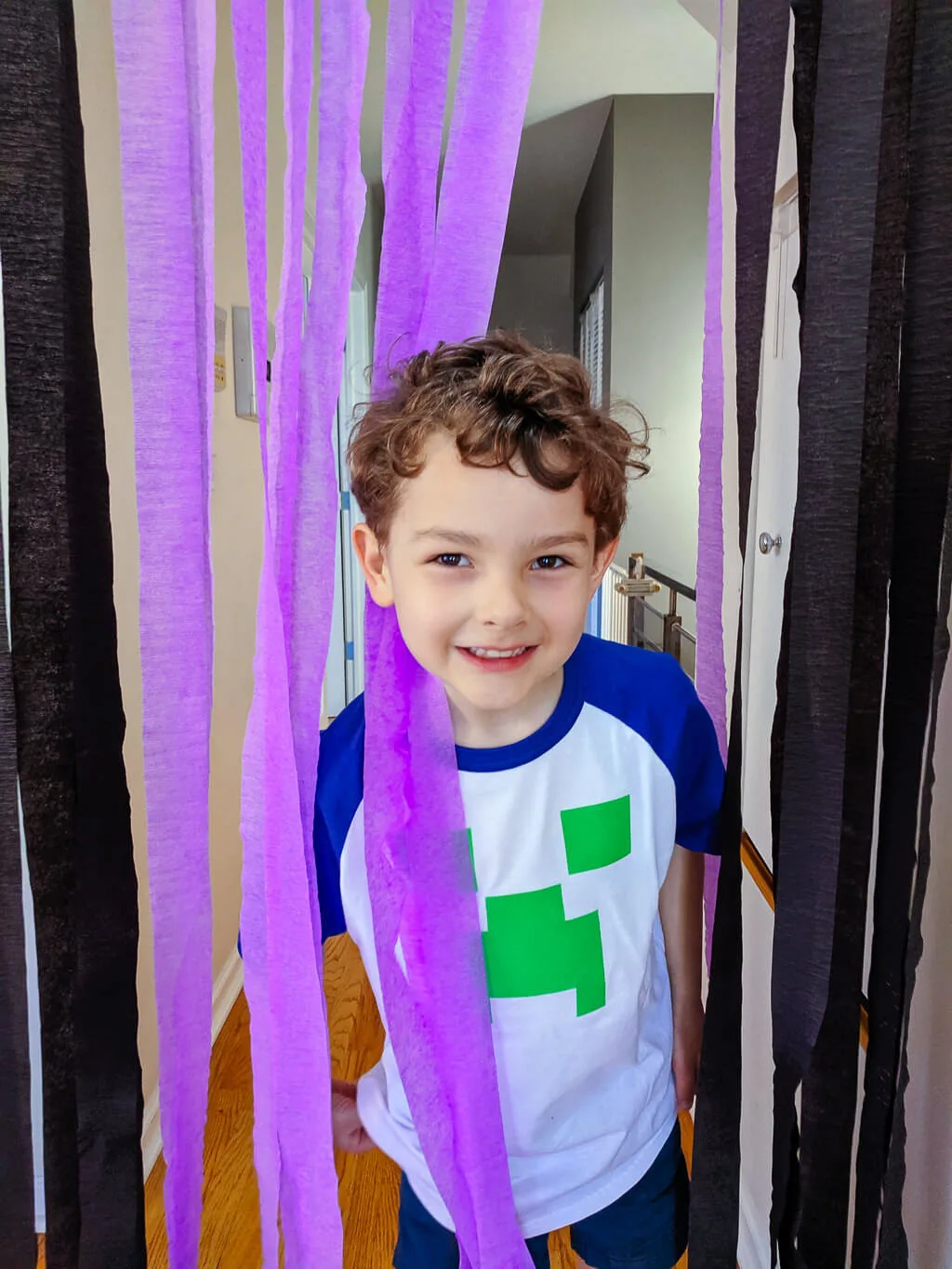 This post contain affiliate links which means that products I recommend may give me a nominal commission at no extra cost to you. Thanks – your clicks help me make more free DIYs!
++++++
Supplies for making a DIY Minecraft Creeper T-Shirt for a Minecraft Birthday Party:
—
How to make a DIY Minecraft Birthday T-Shirt:
Step 1: Trace printed template onto HeatnBond
First, print my free printable Creeper template (PDF). Trace the printed template onto HeatnBond adhesive (use HeatnBond UltraHold Permanent for no sewing OR use HeatnBond Lite if you're zigzagging around the edges) and iron onto the green fabric following the package directions.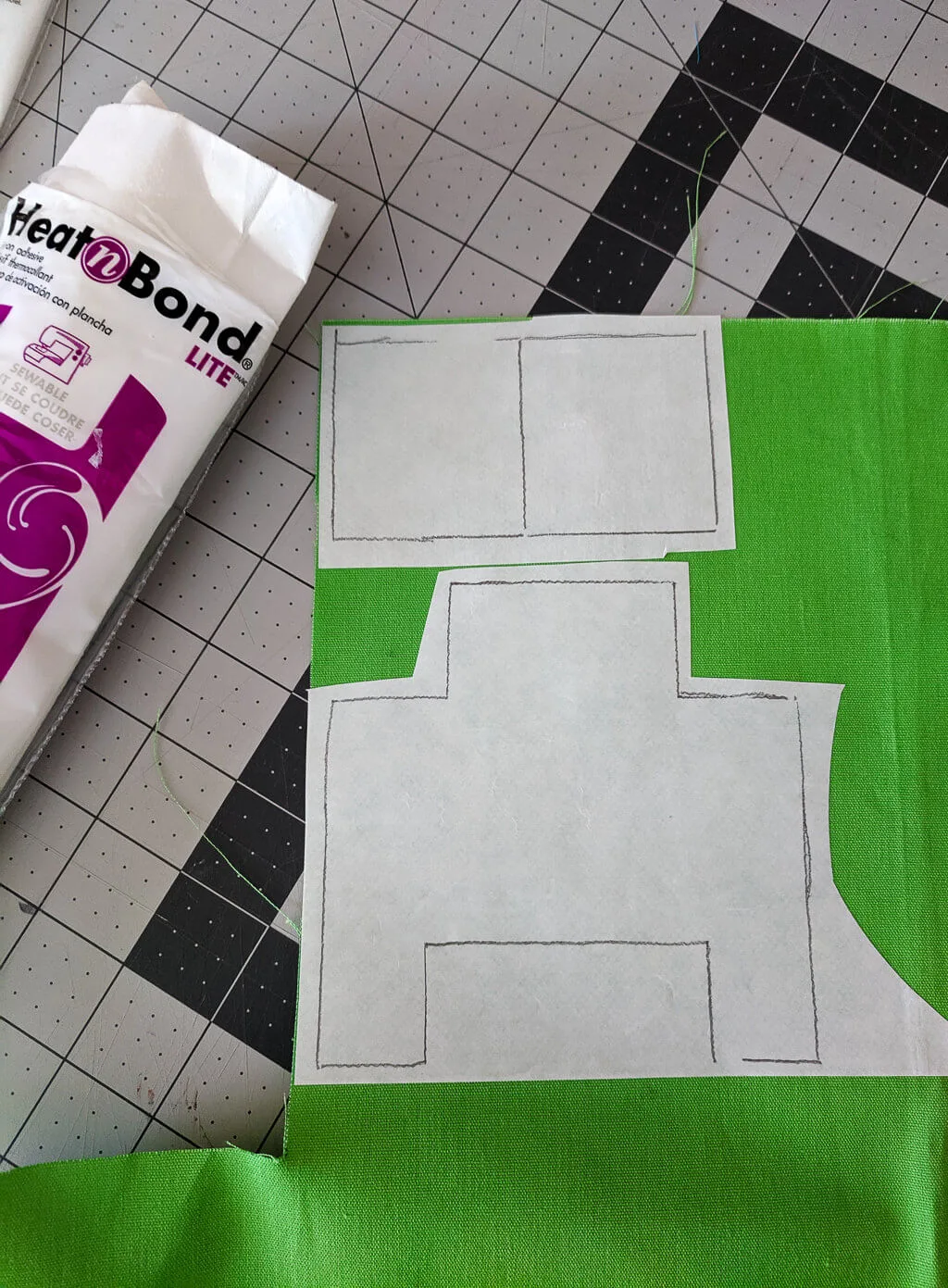 Step 2: Arrange Creeper face pieces onto the t-shirt
Make sure your t-shirt is ironed really well. We chose a blue raglan t-shirt because our party was a Diamond Armor blue themed-Minecraft party, but you could choose to make a green raglan boys shirt. Cut the Creeper pieces out, peel off the adhesive backing, and place the green pieces onto your shirt, adhesive side down.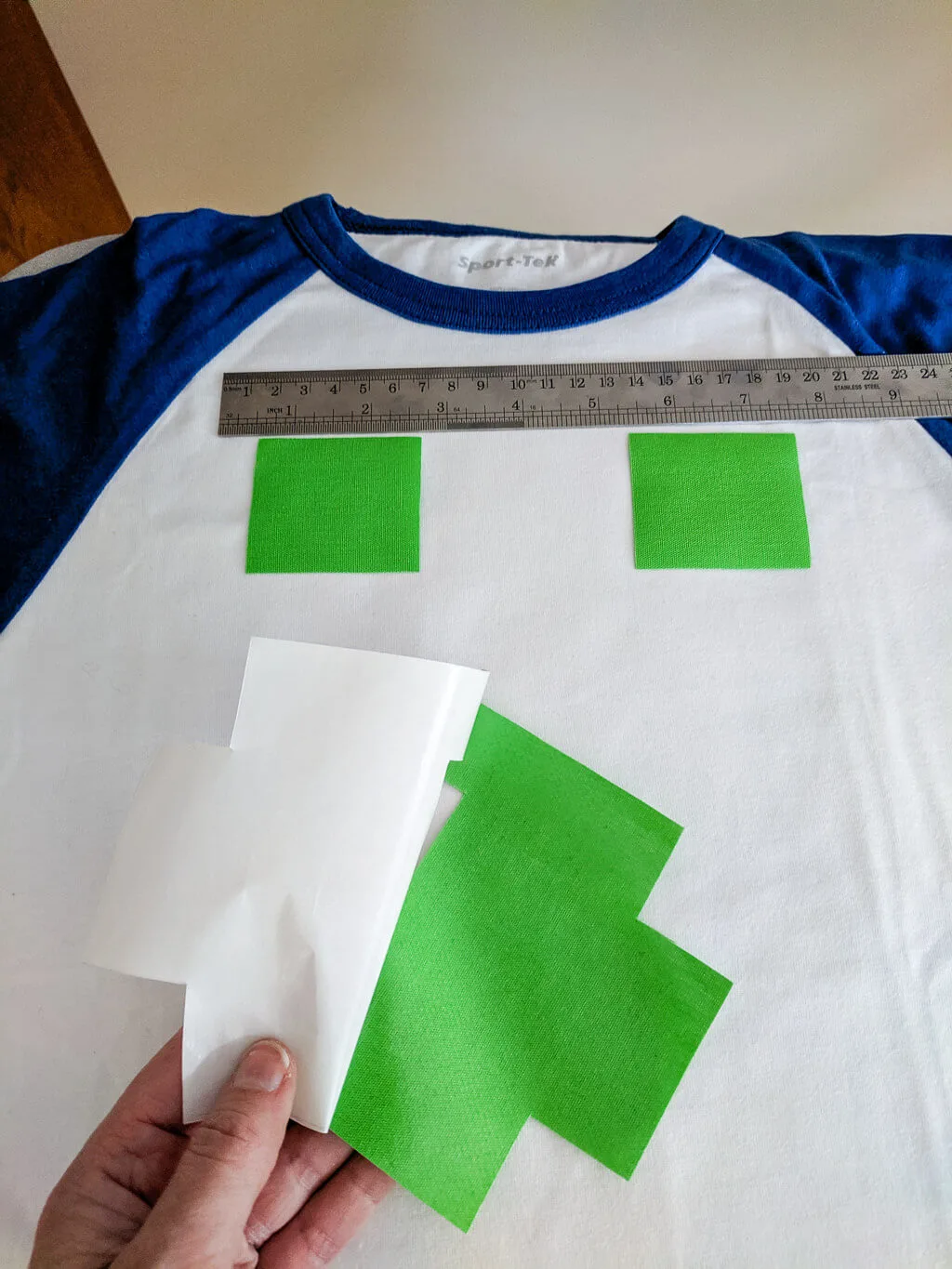 Step 3: Adhere Creeper face pieces to the t-shirt
Follow the package directions to iron the pieces onto the t-shirt. If you're using the permanent HeatnBond then the pieces will be super strong and you can stop here. If instead you'd like to stitch around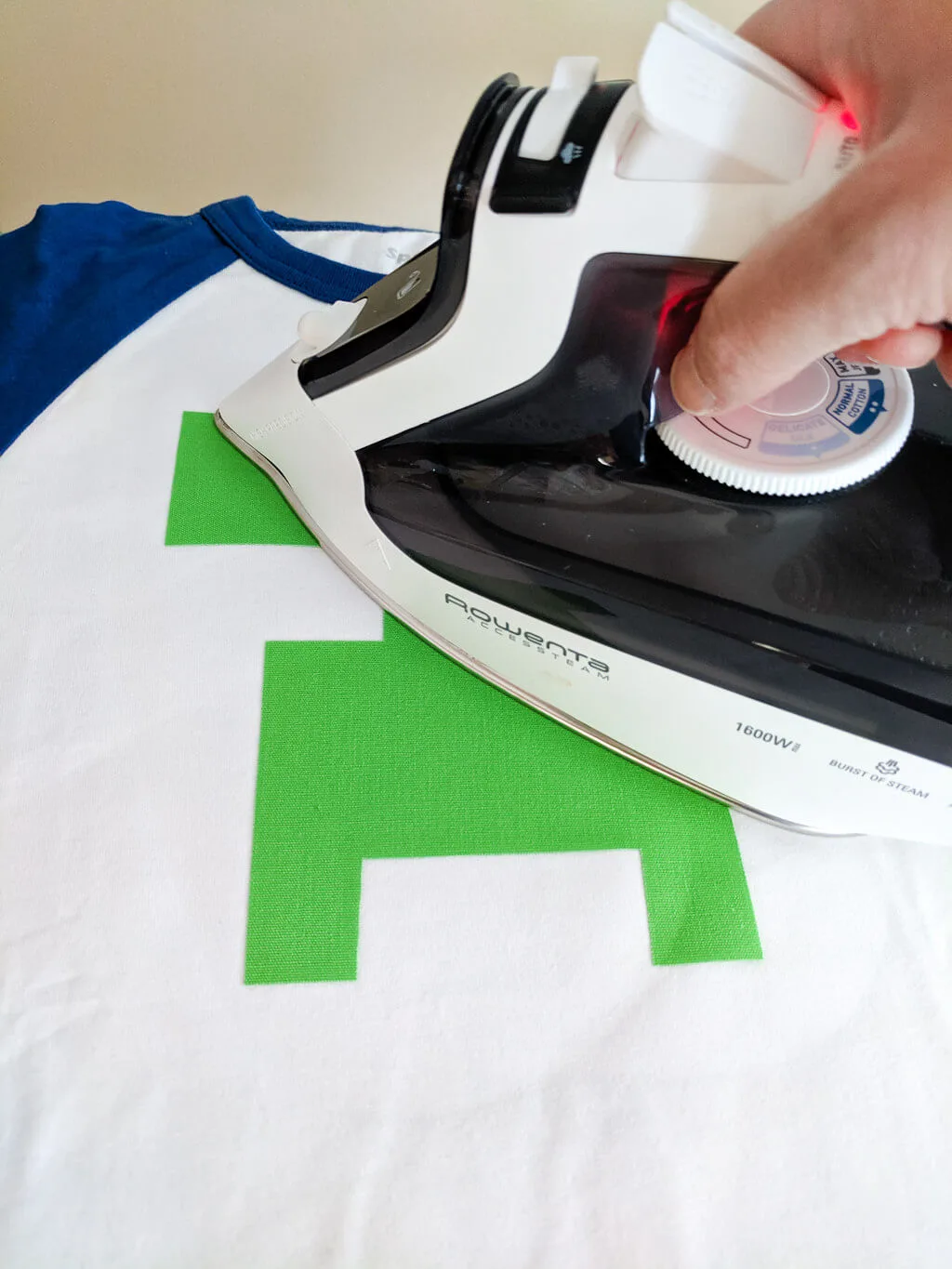 Step 4 (Optional): Zigzag stitch around the appliqued t-shirt
Confession: I actually didn't even zigzag stitch around the appliqued pieces until after the party was over because I literally made this Minecraft t-shirt in 30 minutes just before Liam's birthday party guests arrived. If you look closely, you can tell that the t-shirt is not stitched during his Minecraft birthday party.
So later, I went back and zigzag stitched around the Creeper face pieces like an applique. I like zigzag stitching around the applique because it looks more professional and reminds me of my old sorority sweatshirts from the 90s. Also, it washes a lot better in the washing machine for a longer-lasting DIY Minecraft t-shirt. Just remember that if you want to zigzag stitch around the edges then you'll want to use the HeatnBond Lite instead of the HeatnBond UltraHold Permanent or else you'll gum up your sewing machine's needle.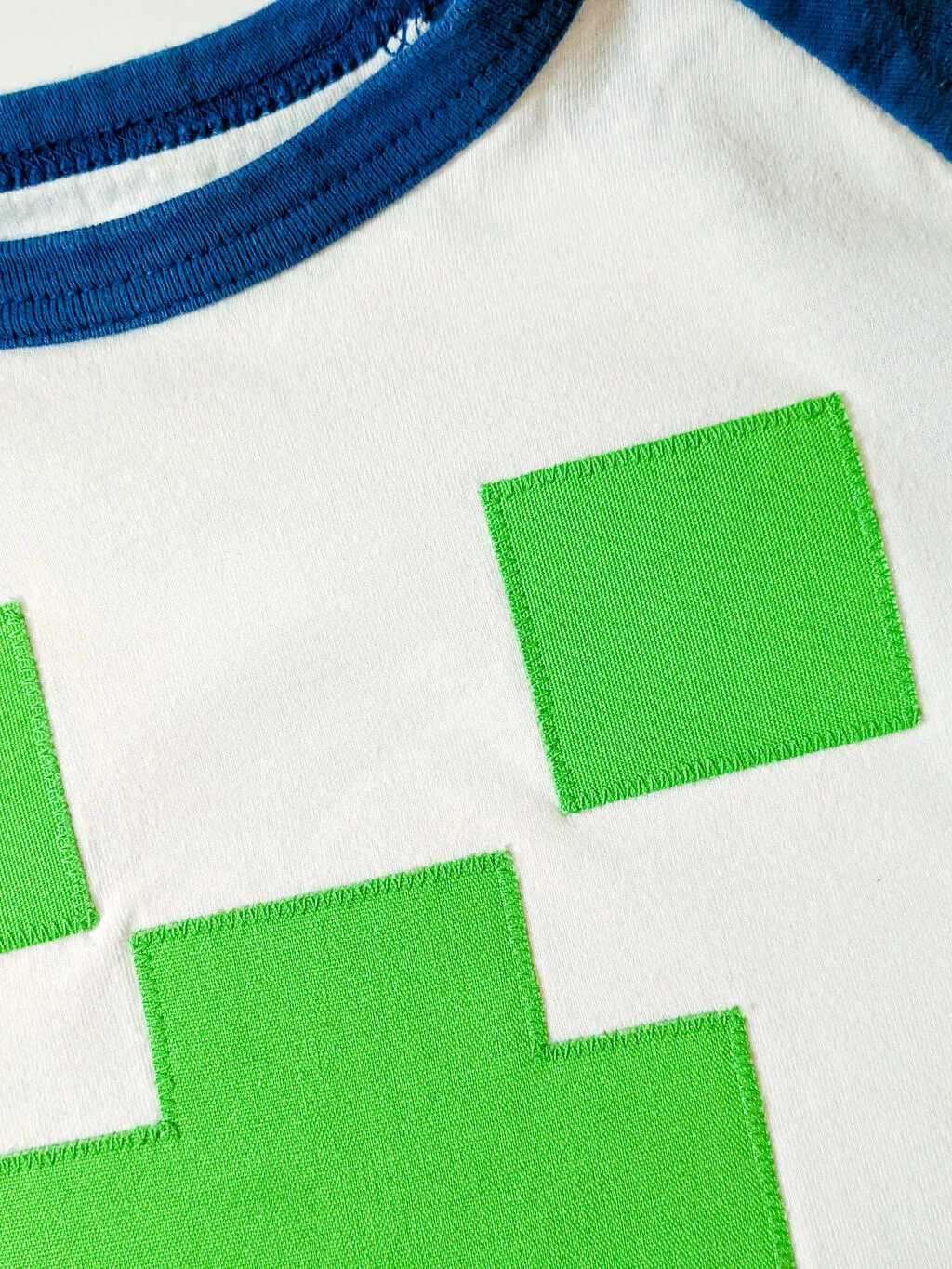 Liam has worn his t-shirt many, many times and just like Alex and Steve, it just keeps going!
++++++
Be sure to pin this easy Minecraft Creeper T-Shirt DIY for later:
++++++
And be sure to see more cute Minecraft birthday party ideas for boys and girls like my Easy Minecraft Birthday Cake – Steve in Diamond Armor, plus more Boy Birthday Party ideas and Girl Birthday Party ideas.
—
Like it? Share it!
The nicest way to say you like it is to pin it on Pinterest, post a comment, follow Merriment Design on Facebook, Pinterest, Instagram or sign up for monthly emails. Enjoy! 🙂
Copyright stuff: You're more than welcome to use this free project and tutorial for personal use. Contact me for commercial use and Etsy sales.