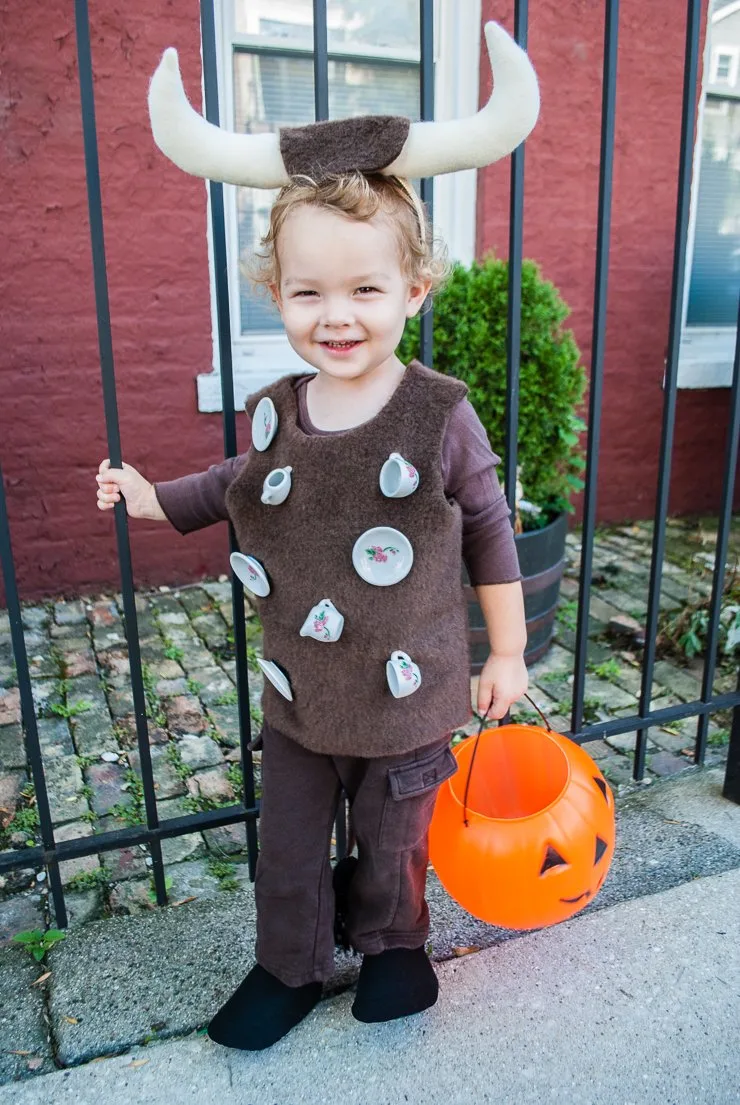 This Bull in a China Shop DIY toddler Halloween costume was inspired by my charming 2-year-old boy. Liam is deliberate, like whenever he picks something up or puts it down it's just a wee bit more aggressive that it needs to be. Things get broken. Ripped. We've made a handful of ER trips. Liam just sort of barrels through with his adorable impish smile. Yeah, this smile…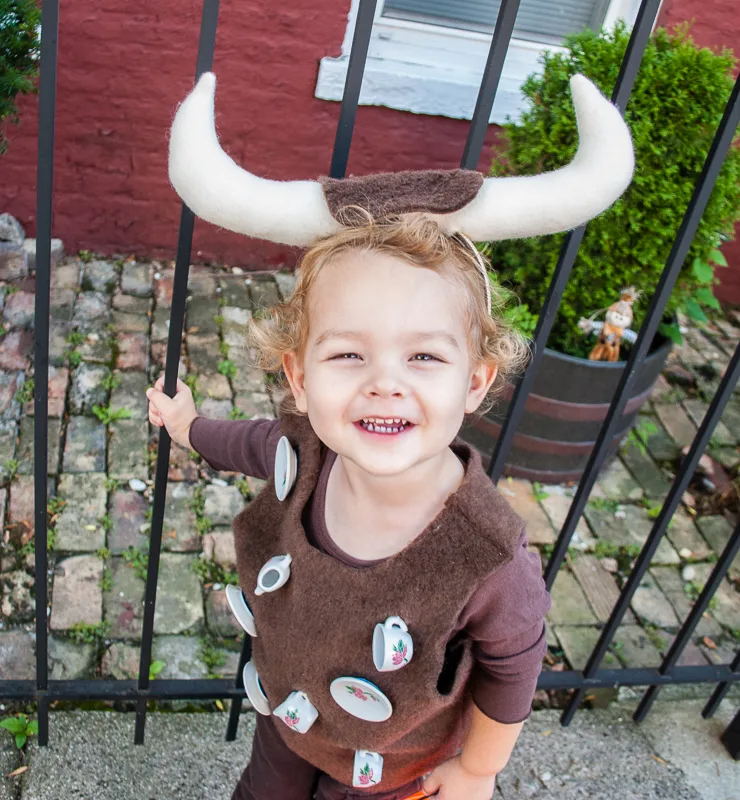 I made this Bull in a China Shop Halloween kid's costume for DIY Network. Hip! Hip! DIY Network asked me to create three original handmade Halloween costume tutorials for them. First I made a Watercolor Paint Box with a Giant Paint Brush and a funny Mason Jar Halloween costume. And then I made this Bull In A China Shop funny and unique Halloween costume that I think is perfect for energetic toddlers like my Liam.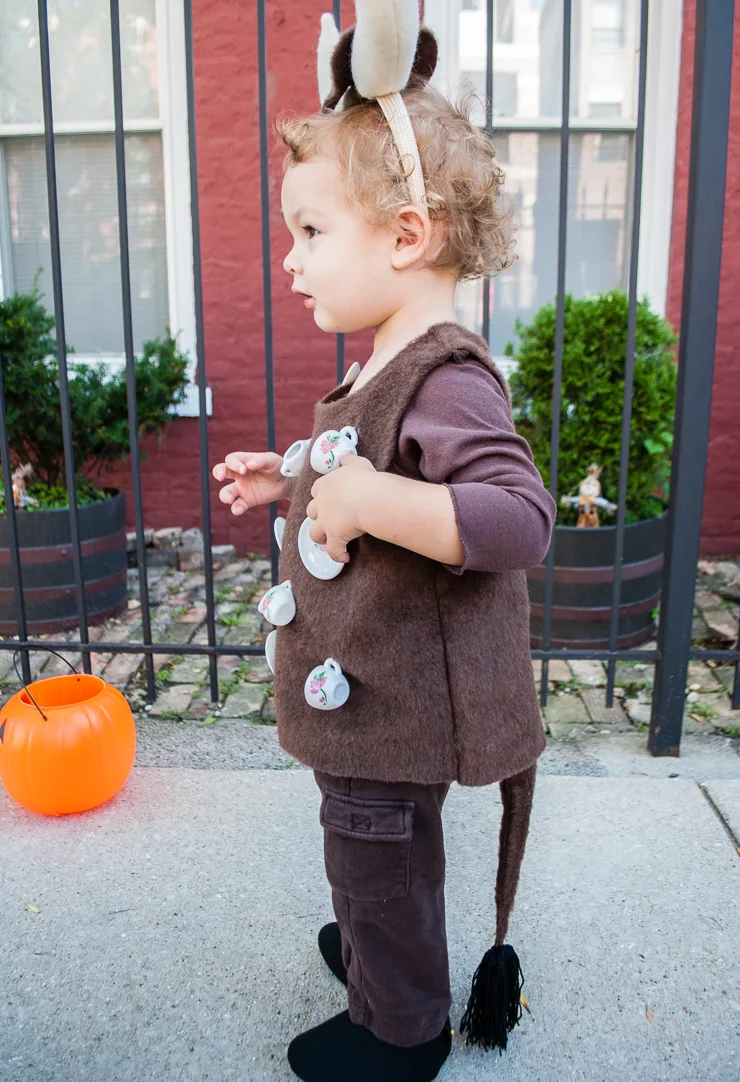 My Bull in a China Shop Kid's Halloween costume tutorial at DIY Network includes a china-covered furry body, horns, tail, and hooves. There's a bit of sewing but overall it's easy an easy costume to make. Naturally, Liam took his horns off in about 5 minutes…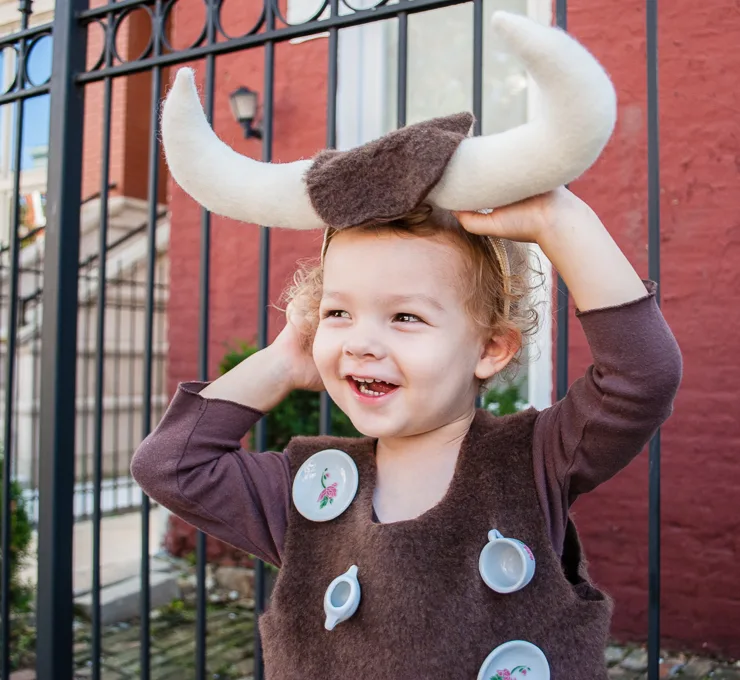 …but then he let me put them back on. And then he kind of liked them, or at least kind of forgot that he had them on. And then he took them off again. And then back on.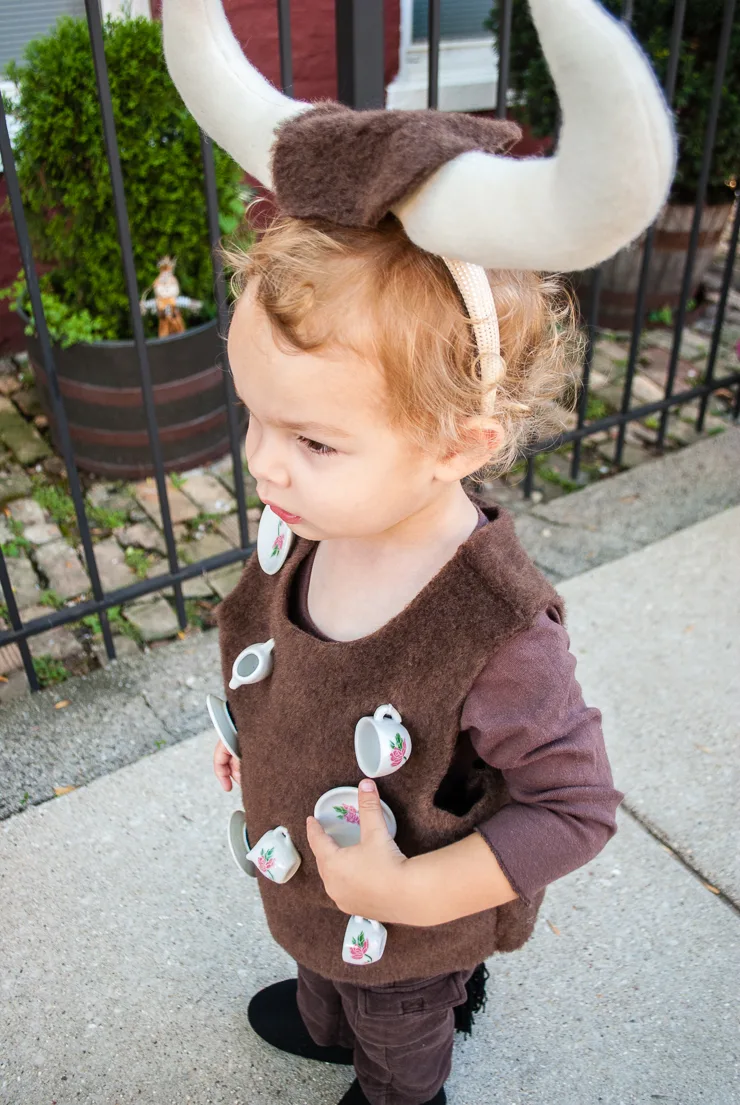 Liam really likes the "tiny dishes" part of the costume. Ironically, the china that I used on this costume is actually breakable. I tried plastic ones at first but it was less cute so I rolled the bones on using ceramic ones that were less than $10/set so I figured, why not? The cups are sewn on to the costume so they're staying put until I cut them off. I also figured out a really cool way to securely yet temporarily attach plates to the fabric.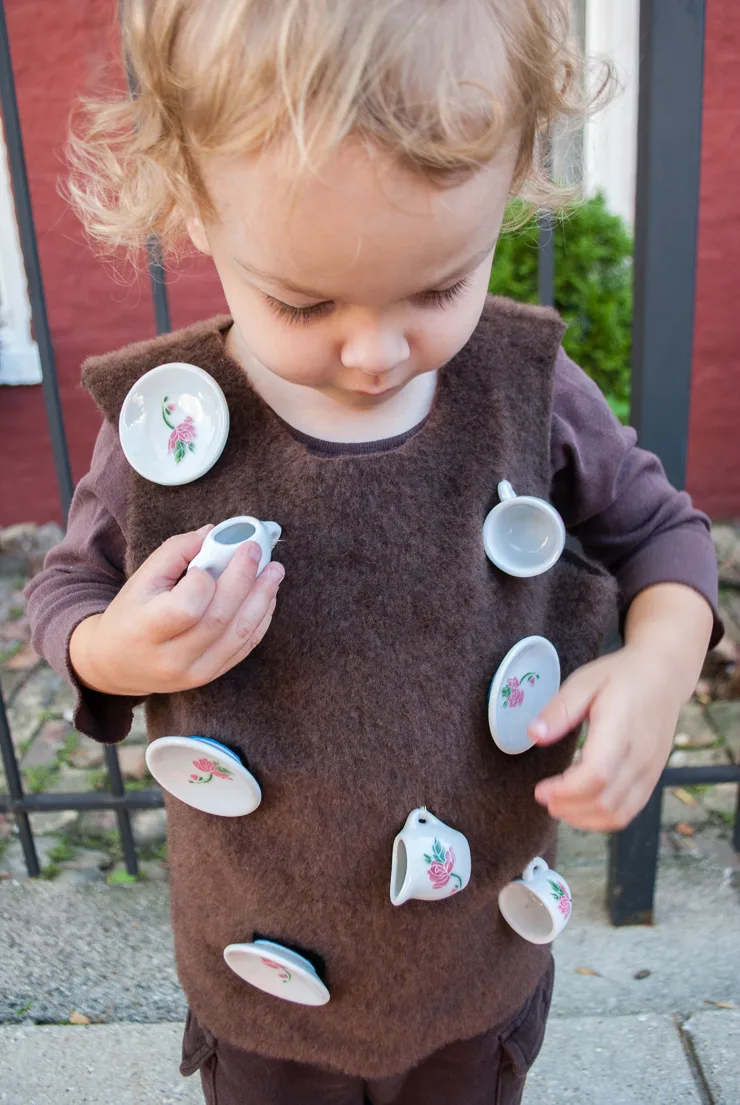 Do you know a Bull in a China Shop too? Head on over to DIY Network to get the full step-by-step tutorial to make this easy Bull In A China Shop Halloween costume for toddlers and kids.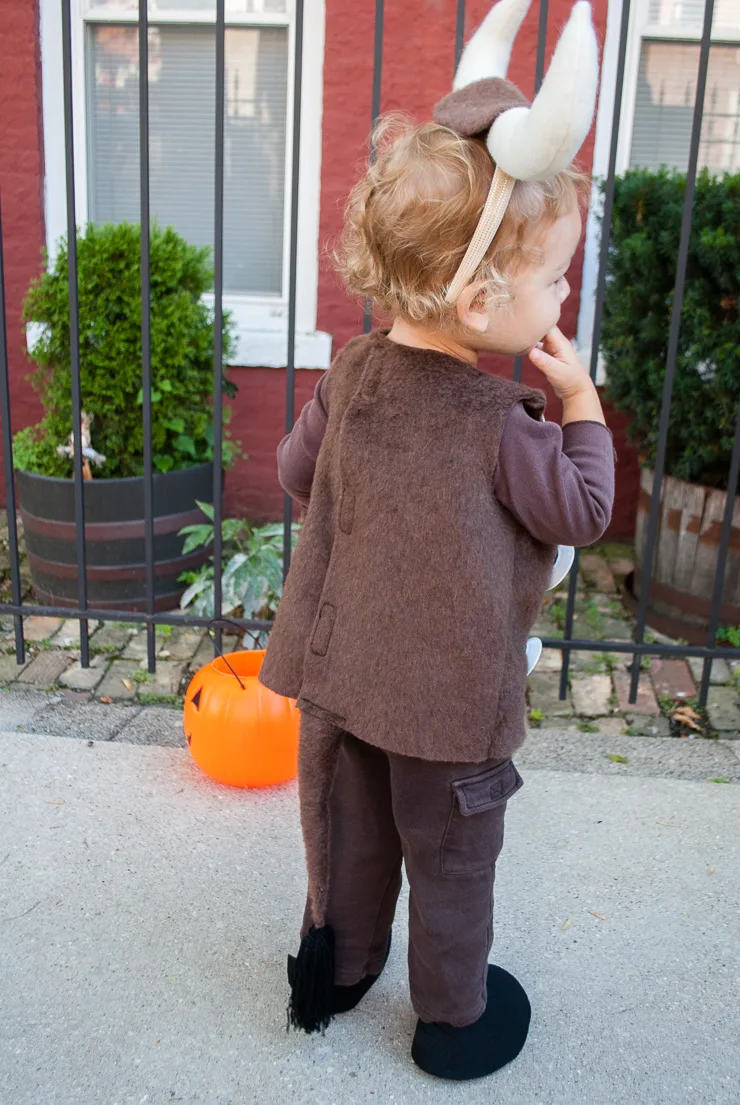 ++++++
Be sure to pin my Bull In A China Shop DIY Kid's Halloween Costume Idea: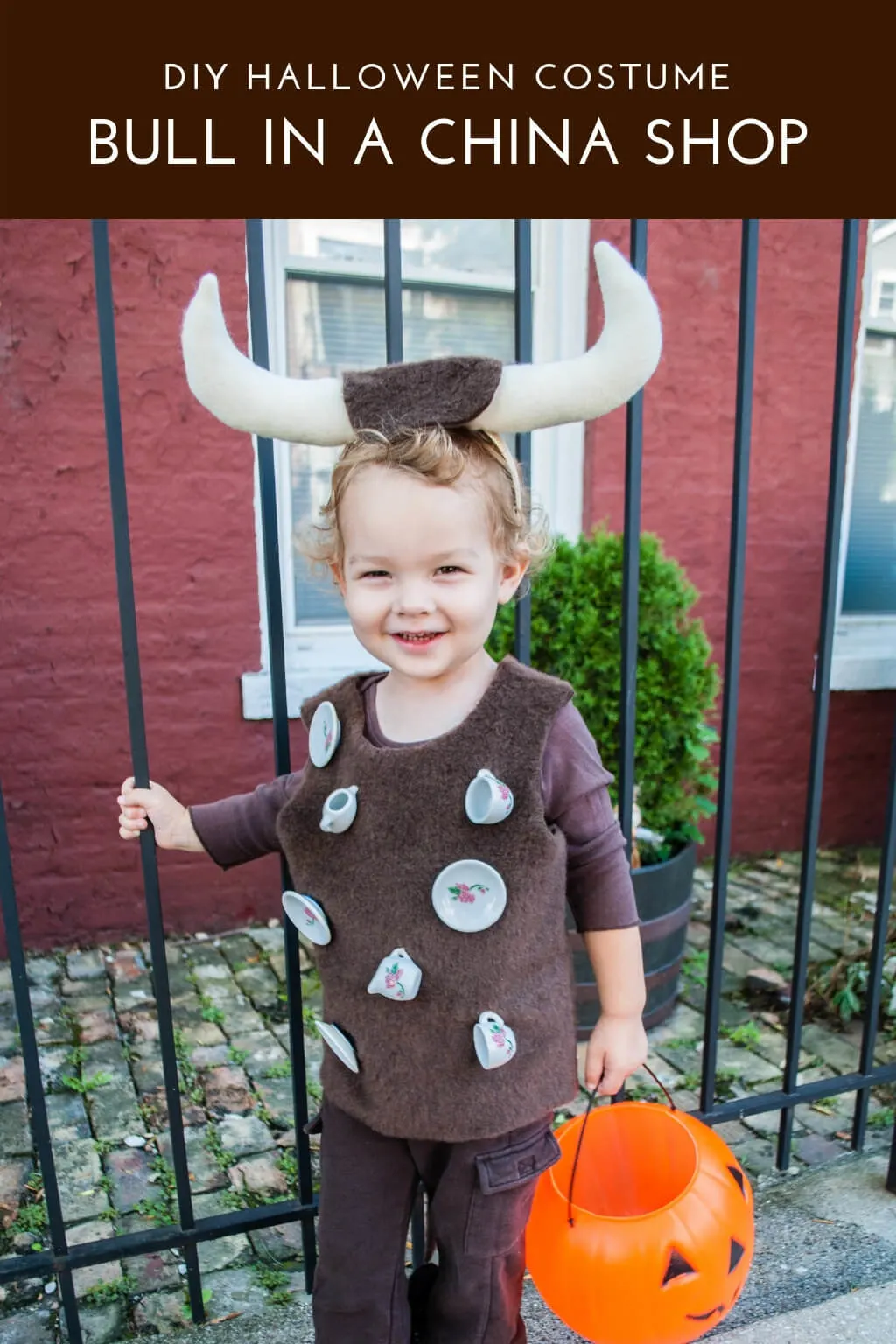 ++++++
And be sure to see my watercolor paint box Halloween costume too.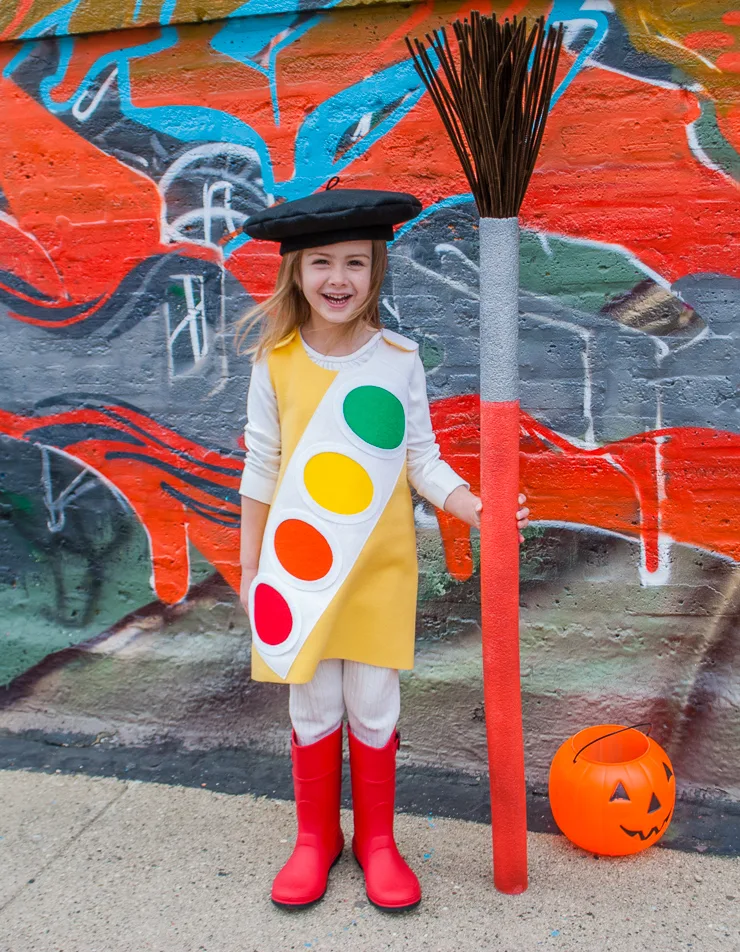 And from the archives …my Sunshine and Rainbows Halloween costume for toddlers and kids.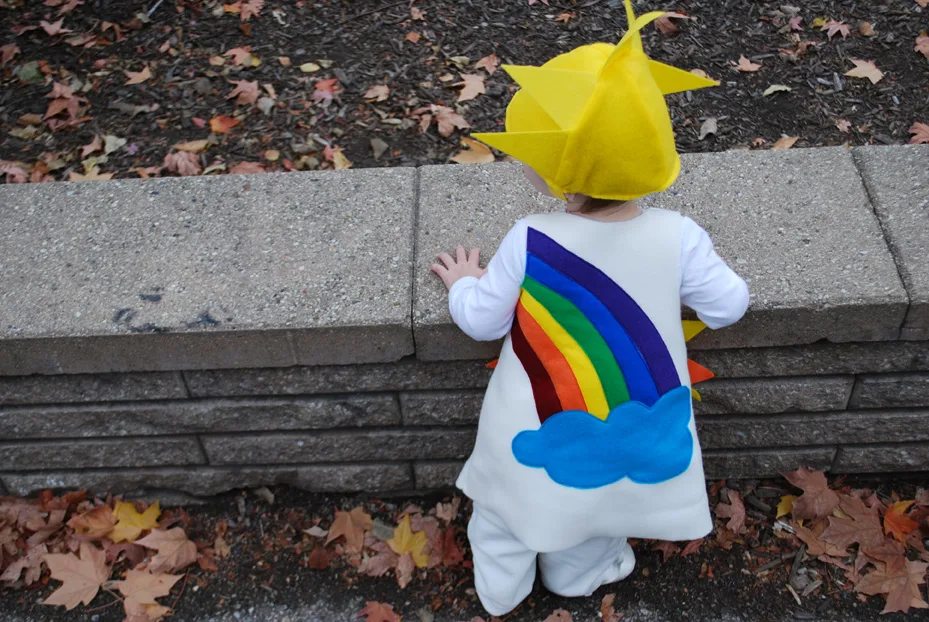 —
Like it? Share it!
The nicest way to say you like it is to pin it on pinterest, post a comment, follow Merriment Design on Facebook, twitter, pinterest, Google+, instagram or sign up for monthly emails. Enjoy! 🙂
Copyright stuff: You're more than welcome to use this free project and tutorial for personal use. Contact me for commercial use and etsy sales.