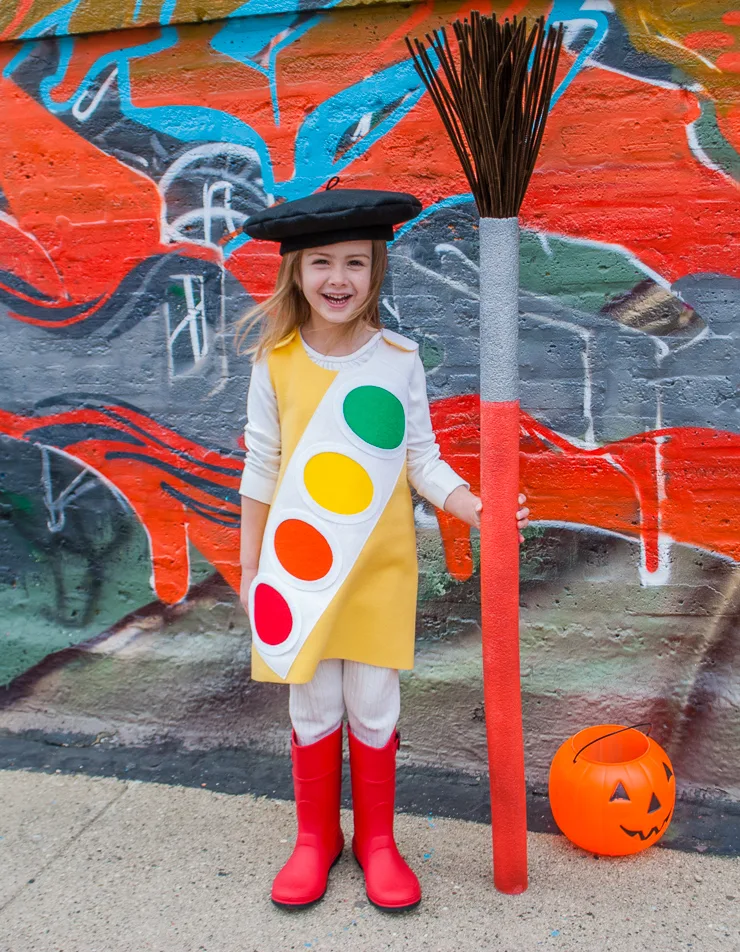 Here's a handmade kids Halloween costume idea that's sure to be a trick-or-treating masterpiece: a classic watercolor paint box, topped with a handmade French-inspired beret and a jumbo paint brush made from a pool noodle. It's a simple and clever DIY Halloween artist costume with just a little sewing needed.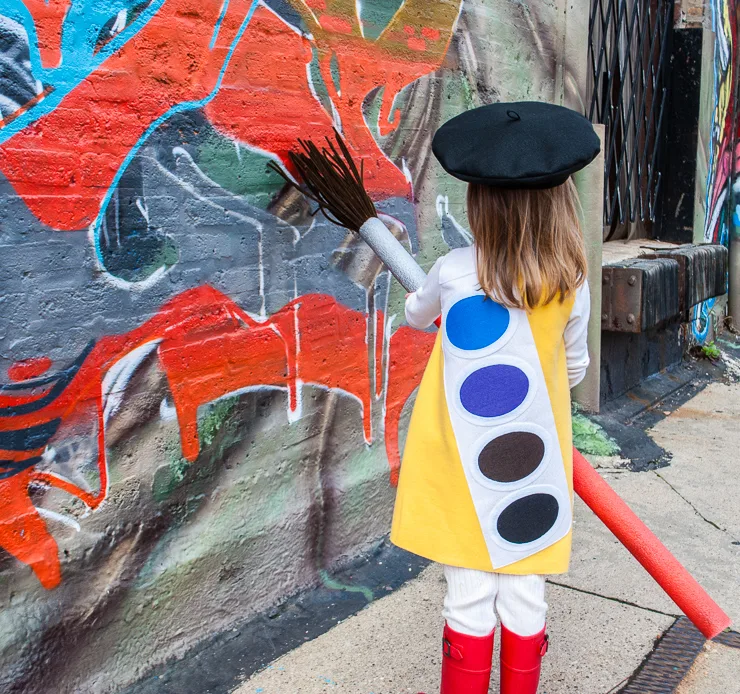 DIY watercolor paint box artist Halloween costume for kids
I made this watercolor paint box artist costume in 2015 for DIYNetwork.com. YES, DIY NETWORK!! Swoon! DIY Network asked me to create three original handmade Halloween costume tutorials for DIYNetwork.com and this is the first one…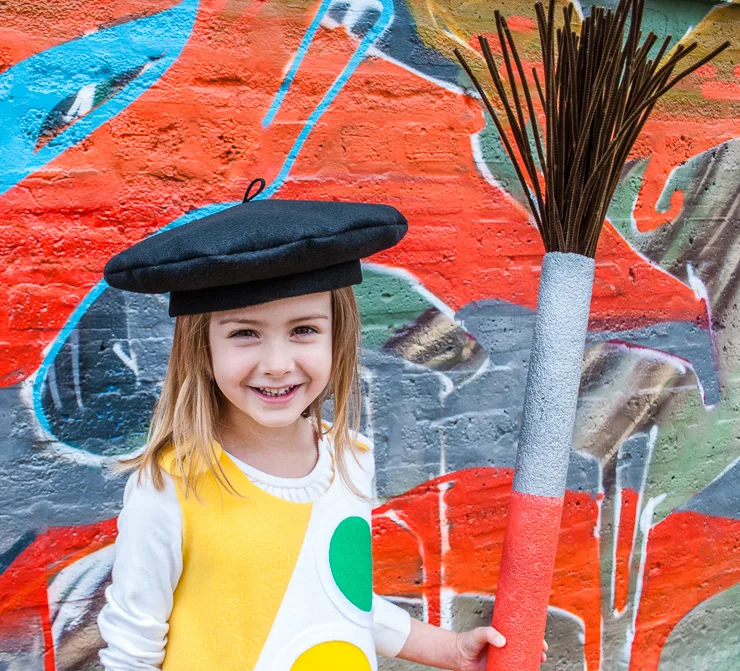 This handmade kids Halloween costume doesn't require a ton of sewing because I used HeatNBond® UltraHold to adhere the paints and paint wells. All you do is iron it on and it works great. And I used VELCRO® fasteners on the shoulders so it's easy to get the costume on and off.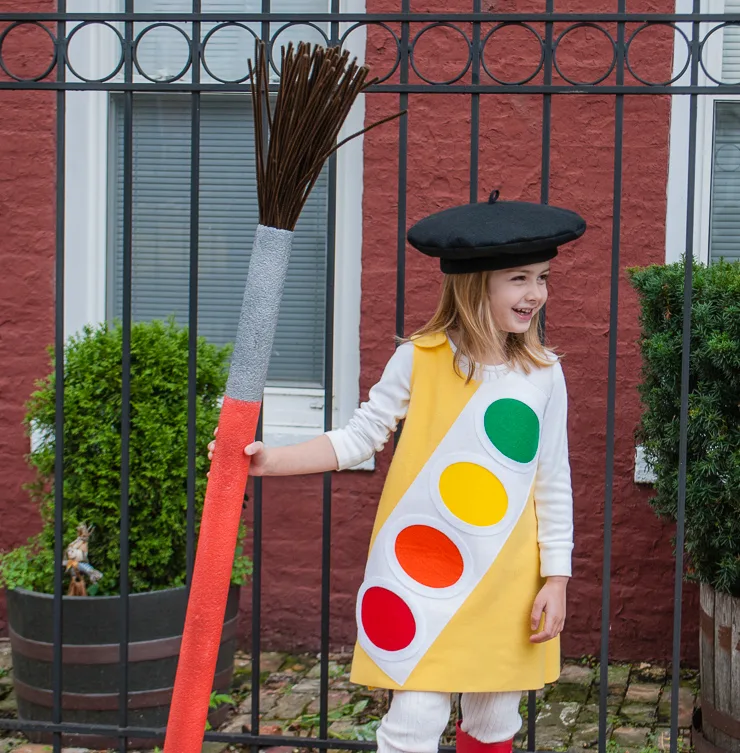 Top your artist costume with an easy kid-size beret sewing pattern
The hardest part for me was coming up with an easy kid-size beret pattern …it took me three tries to come up with this easy free French beret sewing pattern that you can whip up in like 20 minutes. And my favorite aha! moment was figuring out how to make a giant paint brush using a pool noodle and pipe cleaners.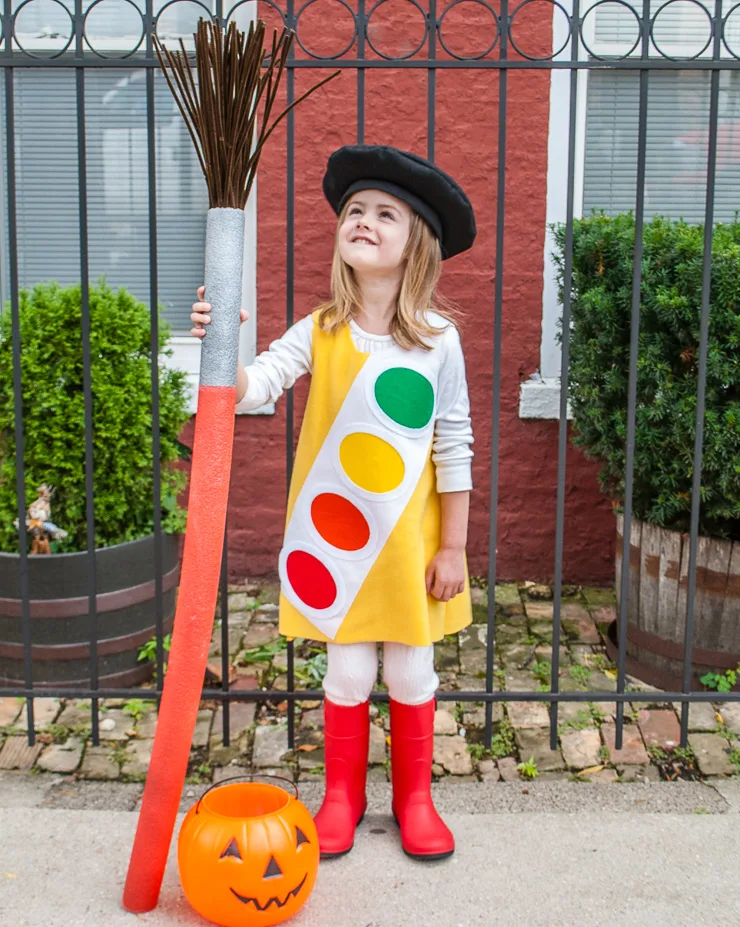 My inspiration for this costume came form childhood memories of getting brand new watercolor paint boxes in my school supplies …and of course, my daughter and artist-in-residence, Elise: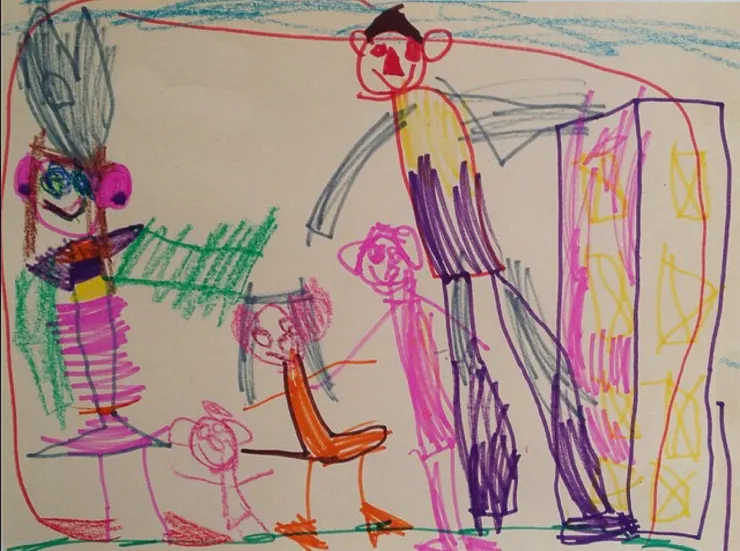 We live in downtown Chicago so we walked around the corner to our neighborhood graffiti wall to take a few shots to go along with the tutorial.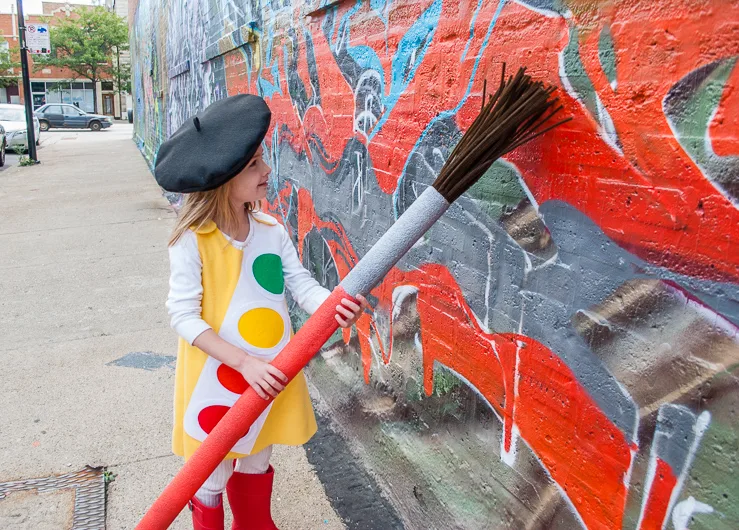 [Fun fact: This is the same graffiti wall where Shane and I took a few wedding photos eight years ago; they paint a new mural every couple years.]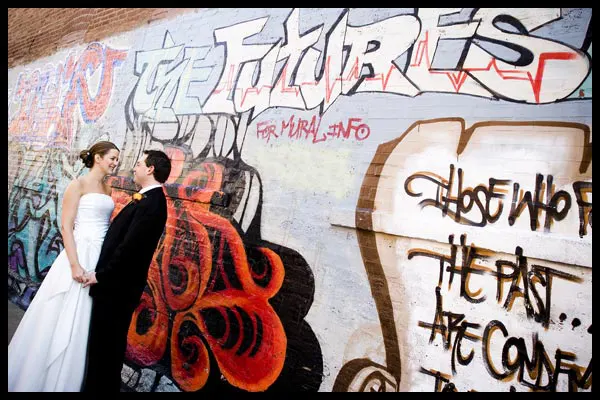 And no photo shoot would be complete without a few Elise outtakes so here are a few gems…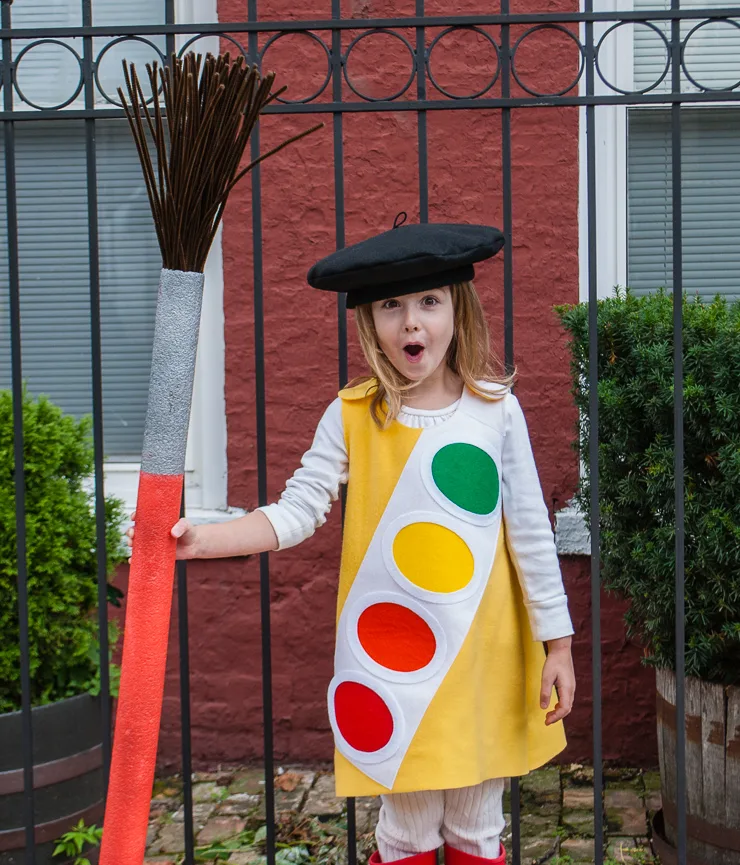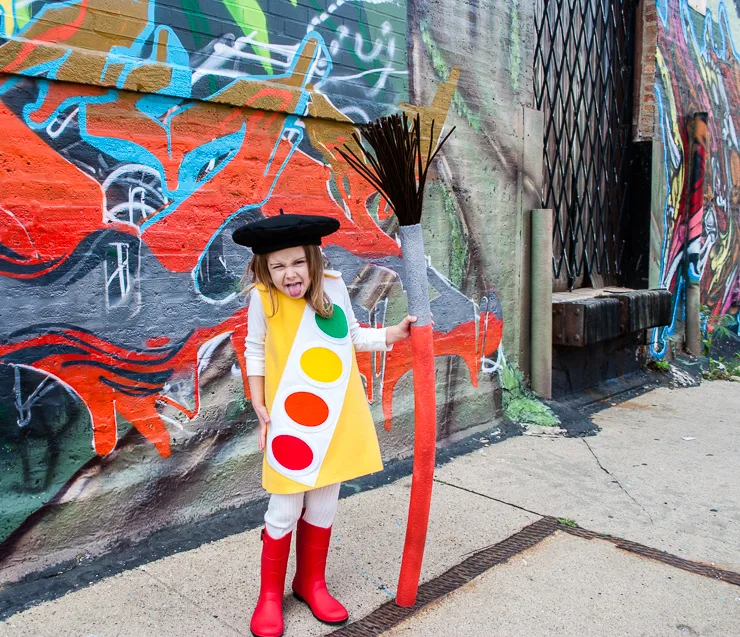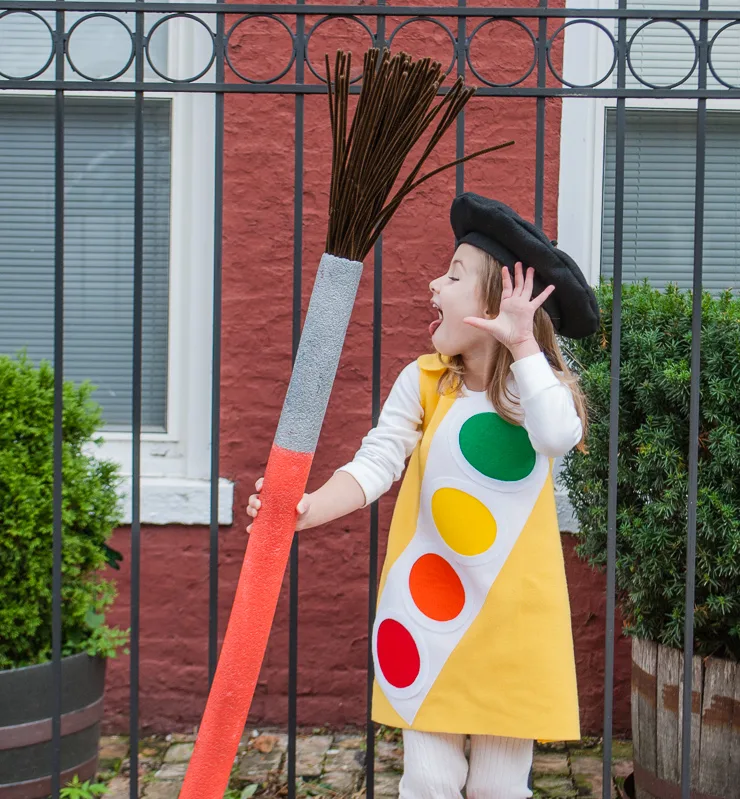 This Watercolor Paint Box Kids Halloween Costume idea is the first of three Halloween costume tutorials featured at DIYNetwork.com. Be sure to also see my Bull In A China Shop Halloween Costume for toddlers and DIY Mason Jar Halloween Costume for adults.
Head on over to DIY Network for the full tutorial and free pattern to make this handmade Halloween costume for your little artist.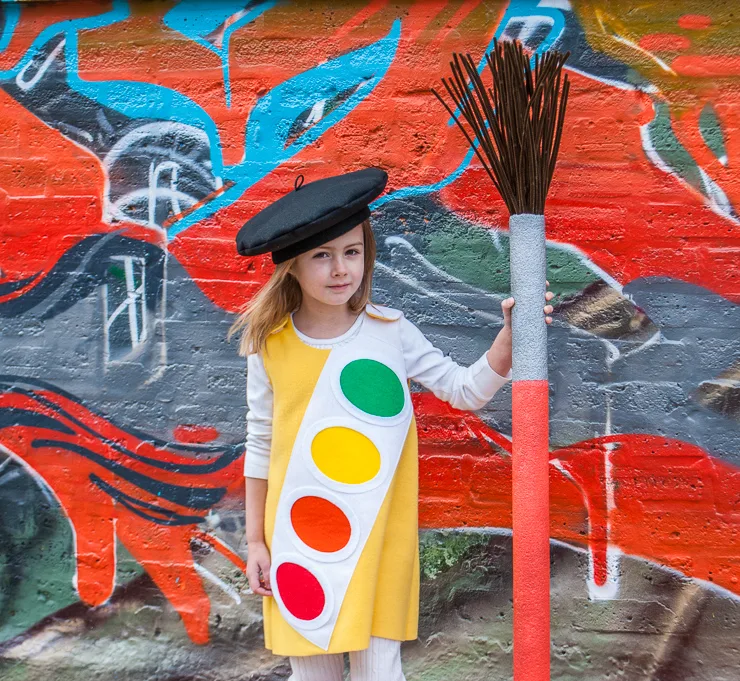 ++++++
And be sure to pin this DIY artist Halloween costume for later: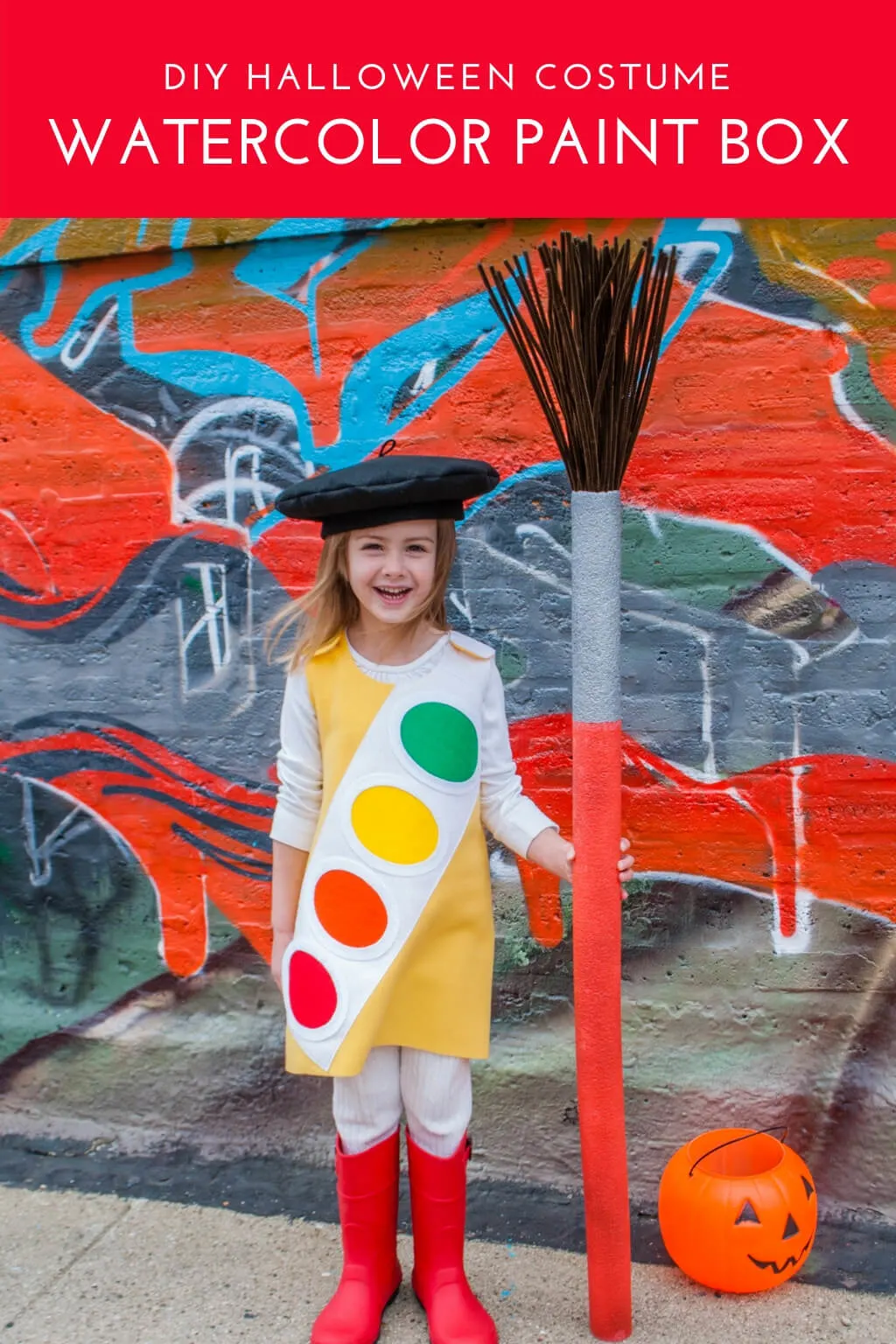 —
Like it? Share it!
The nicest way to say you like it is to pin it on pinterest, post a comment, follow Merriment Design on Facebook, Pinterest, Instagram or sign up for monthly emails. Enjoy! 🙂
Copyright stuff: You're more than welcome to use this free project and tutorial for personal use. Contact me for commercial use and Etsy sales. I made this costume in 2015 for Scripps – owner of DIY Network, HGTV, Magnolia Network, and more.