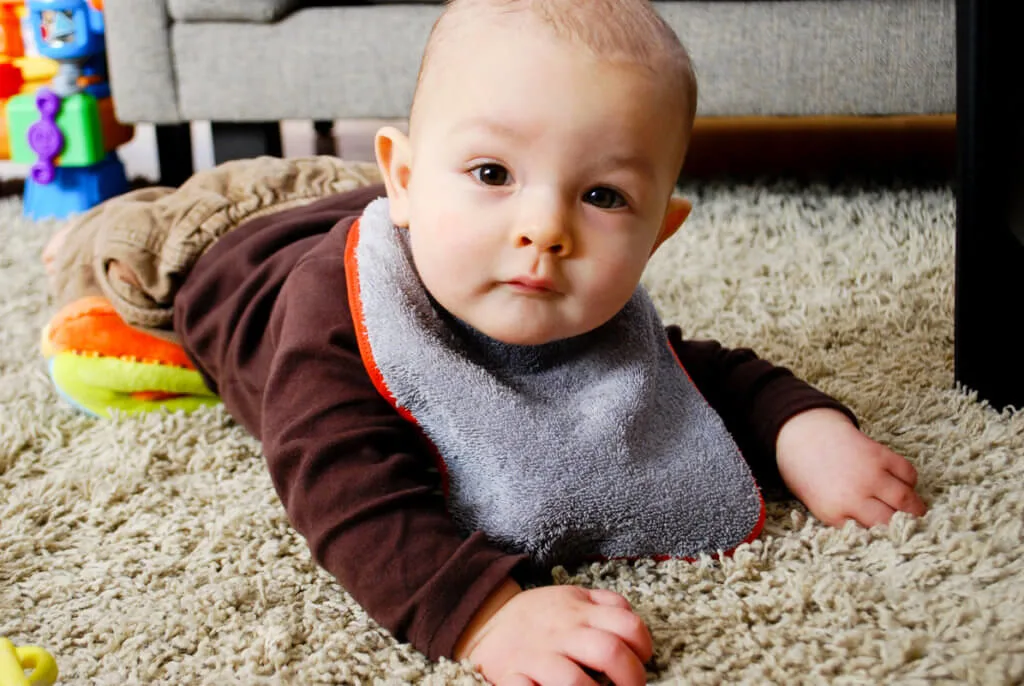 Here's an easy and free baby bib sewing pattern with a few clever twists for drooly babies who are teething.
First, it's lined with waterproof PUL fabric, the same stuff that you can use to make DIY baby diapers. I put orange water-resistant PUL fabric on the back to reduce teething wetness on his clothes and skin. Liam is cutting his front teeth and the drool is exponential! I was going through regular terrycloth bibs at a fierce rate, like 3 or 4 a day, before I made this water-resistant bib.
Second: the front is absorbent terry cloth so it quickly soaks up the drool. I mean, I really like pretty cotton bibs but they just don't soak up teething wetness. My new terrycloth lined baby bib has cut way down on his wet shirts and greatly reduced skin chapping on his neck and chin. Hip hip hooray for waterproof baby bibs!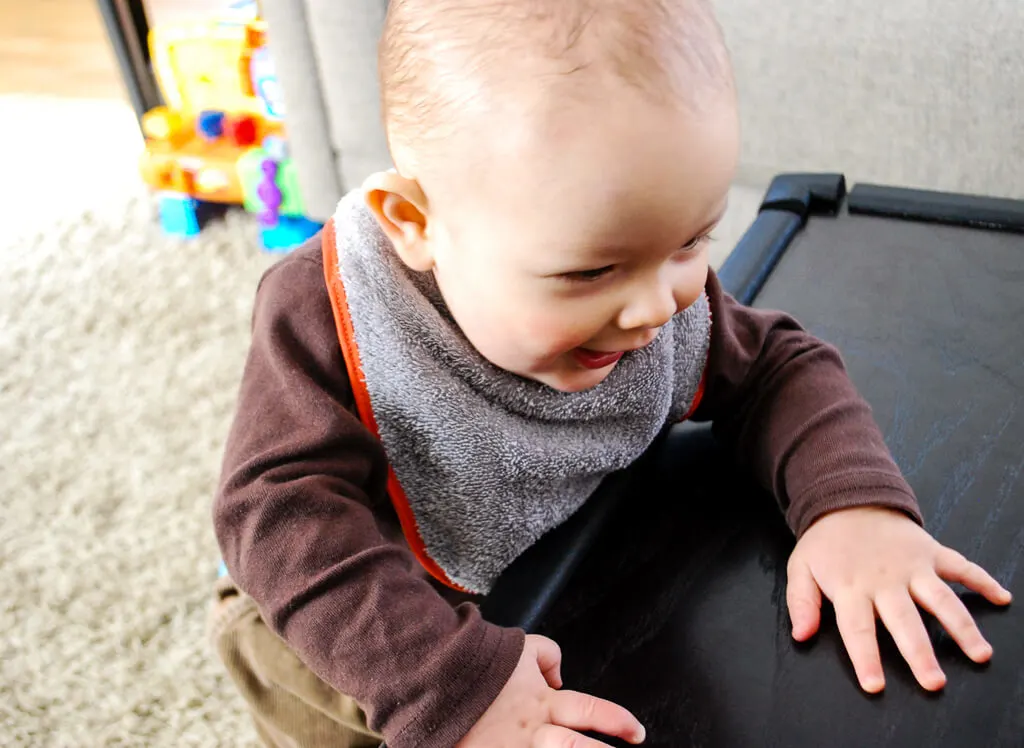 Recycle a towel into an absorbent baby bib for teething babies
And for the front of the bib, I recycled a gray towel (yep, the same towel from my popular free curved baby burp cloth pattern). My old gray towel is soft and absorbent and kind of stylish if I do say so myself. It stays on well while Liam plays and tries to walk.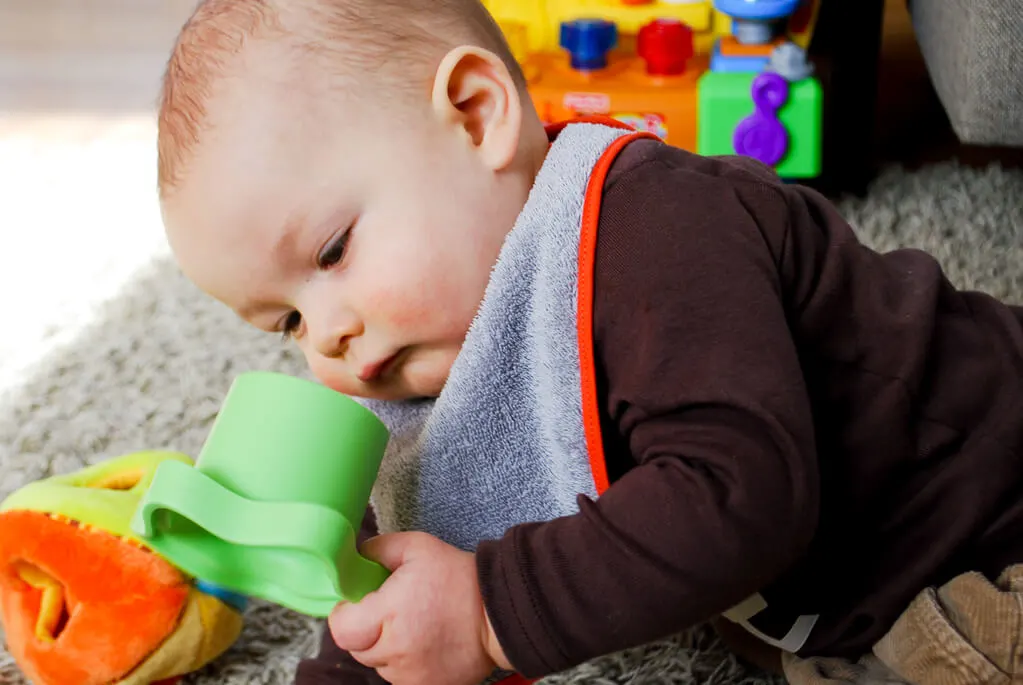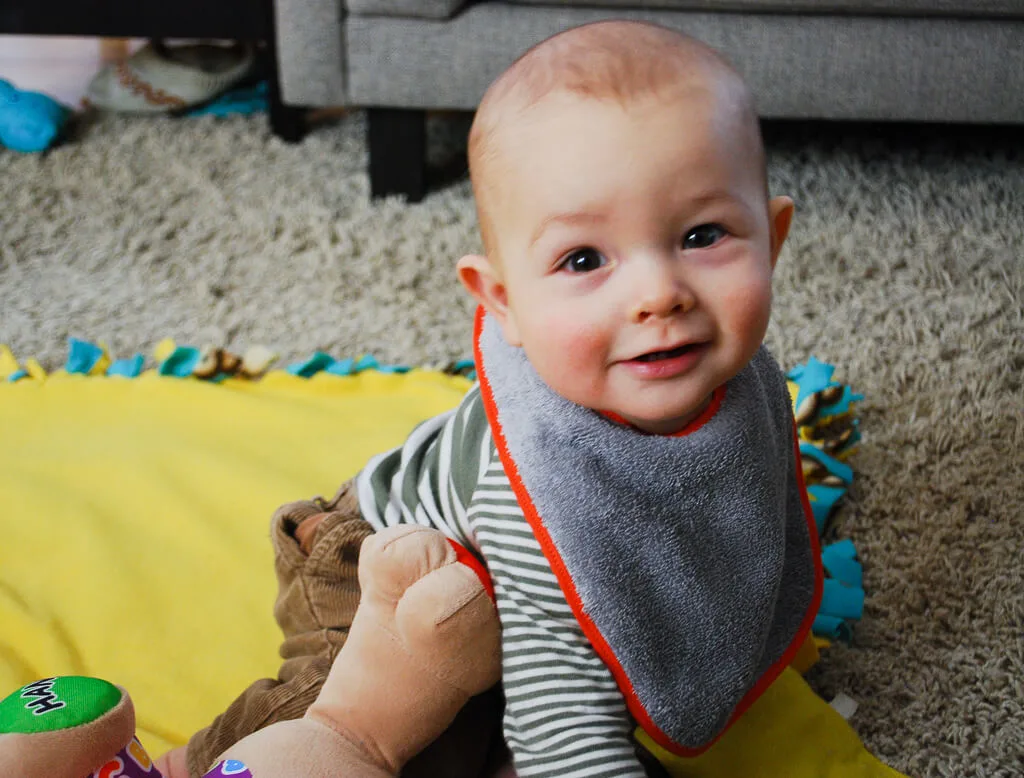 My drool-resistant baby bib free sewing pattern even looks cute when Liam is Llama Llama Mad At Mamma…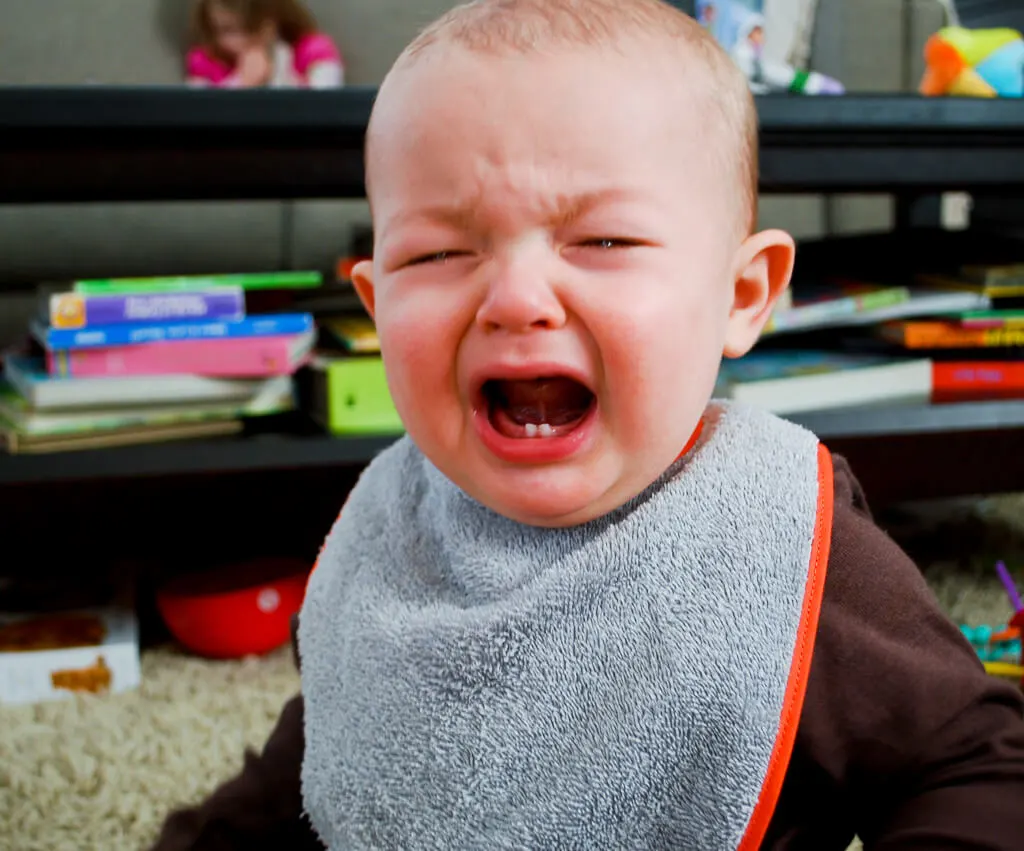 Grab an old towel (or a bit of terrycloth fabric) and some waterproof PUL fabric, add a bit of VELCRO® Brand Sew-On fastener and bias tape and whip waterproof baby bibs of these up for your little teether.
Supplies for making my free baby bib sewing pattern for drooly babies:
—
How to sew a waterproof baby bib for drooly babies – Free Baby Bib Sewing Pattern:
Step 1: Cut out the baby bib front piece from a towel
Place a baby bib on top of an old towel, or print my free baby bib pattern. Pin the bib (or pattern) or use pattern weights to hold it down.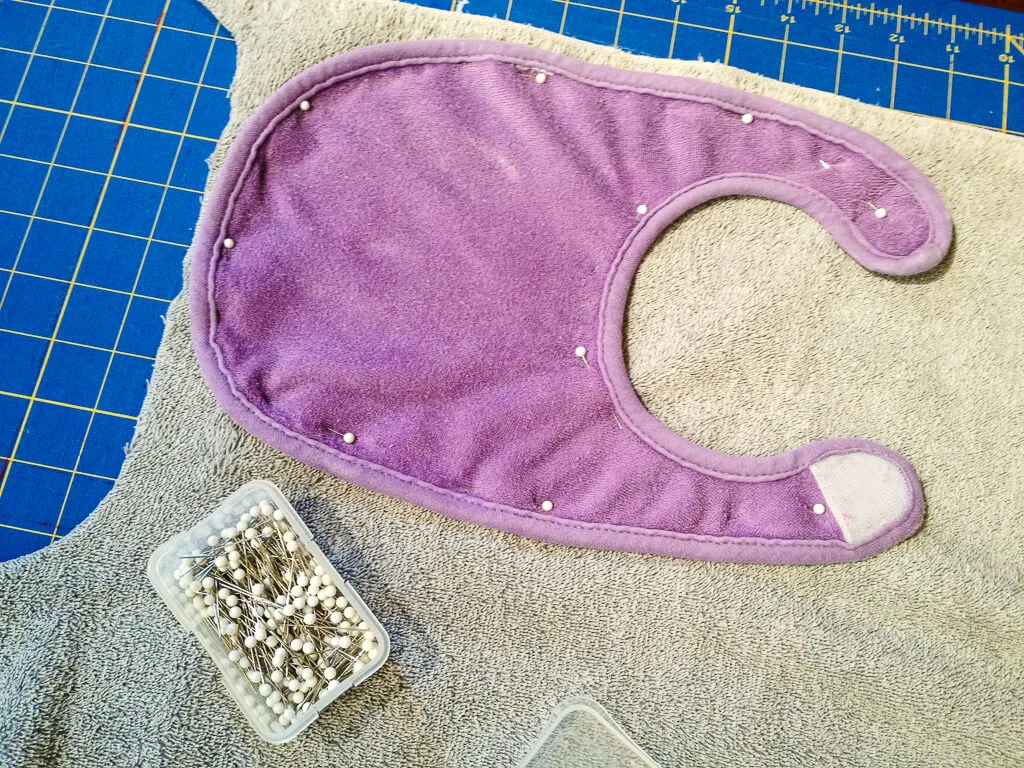 Step 2: Cut out the waterproof baby bib back piece
Carefully cut around the bib like so. Unpin the bib/pattern and place on top of waterproof PUL fabric. I used orange.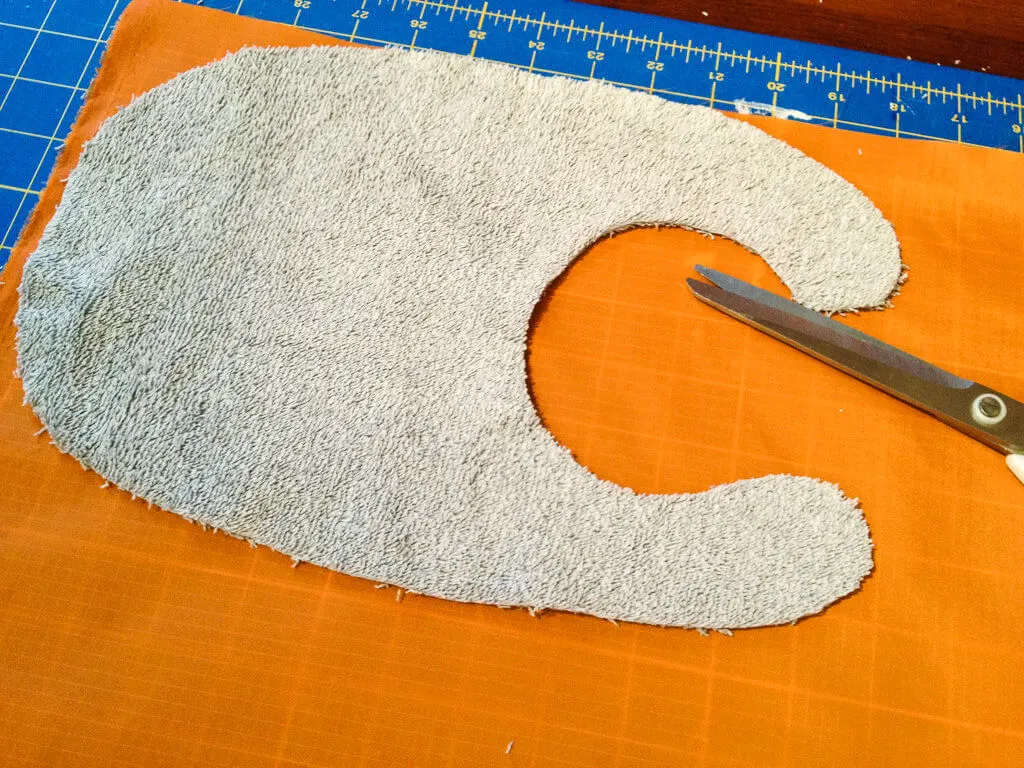 Now you have an absorbent baby bib front (the towel) and a waterproof back (the rip-stop nylon)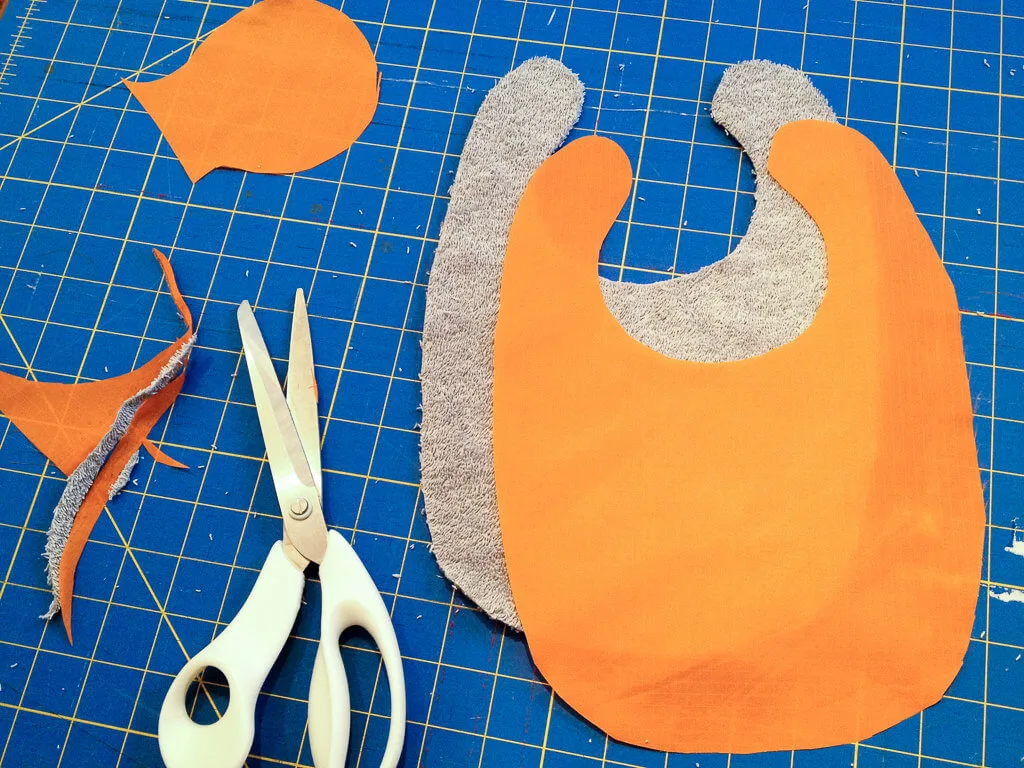 Step 3: Add VELCRO® Brand fastener to the bib
Lay them on top of one another. Place a piece of VELCRO® Brand Sew-On tape in white, 2″ wide on the front right side so that the fastener covers the curve. Sew the fastener close to the edge through both bib layers.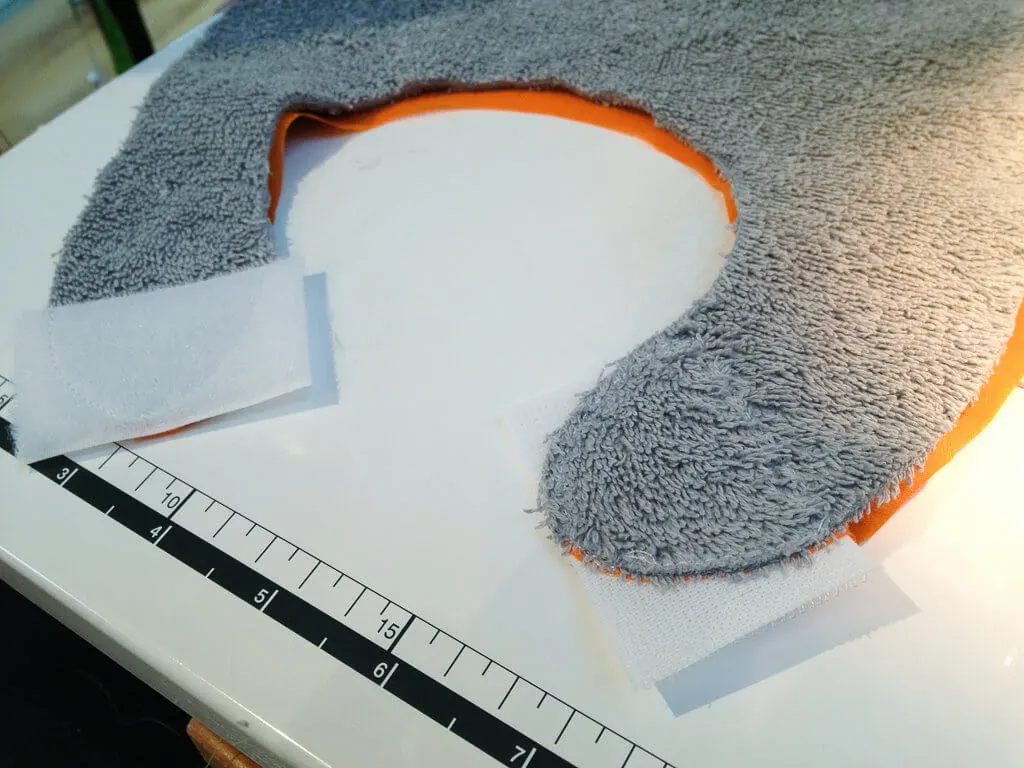 The back will look like this. Don't worry too much if you missed a little stitching like I did because your trusty bias tape is going to cover it all up.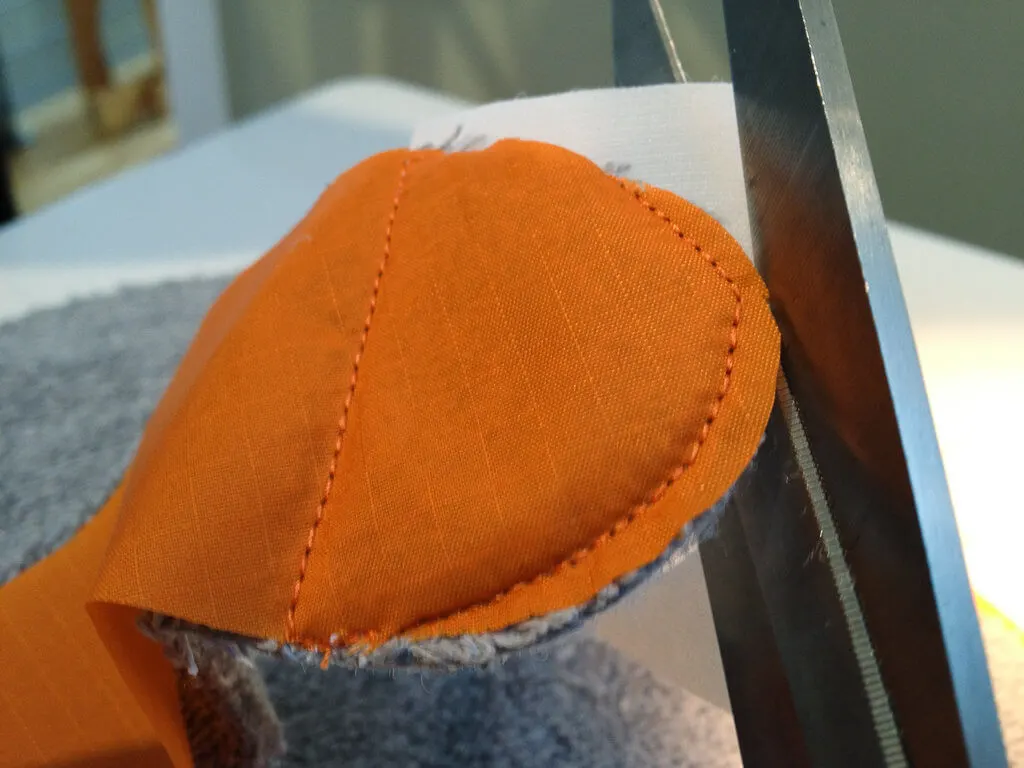 Step 4: Sew bias tape around the edge of the bib
Open up the bias tape and place along the edge, lining up raw edges. Sew the bias tape through both bib layers by sewing in the bias tape fold that's closest to the raw edge.
I have a really great bias tape video with 454,082 views that shows you the best way to sew bias tape so be sure to check it out.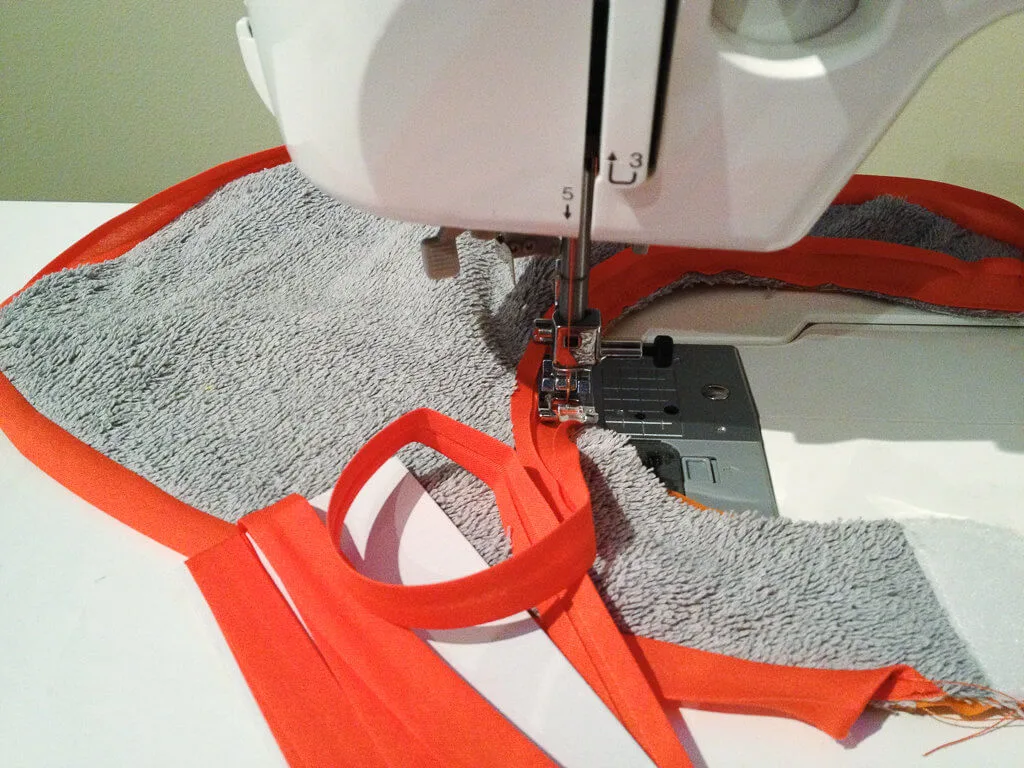 Fold the unsewn edge of the bias tape over to the back and pin or hold with barrettes.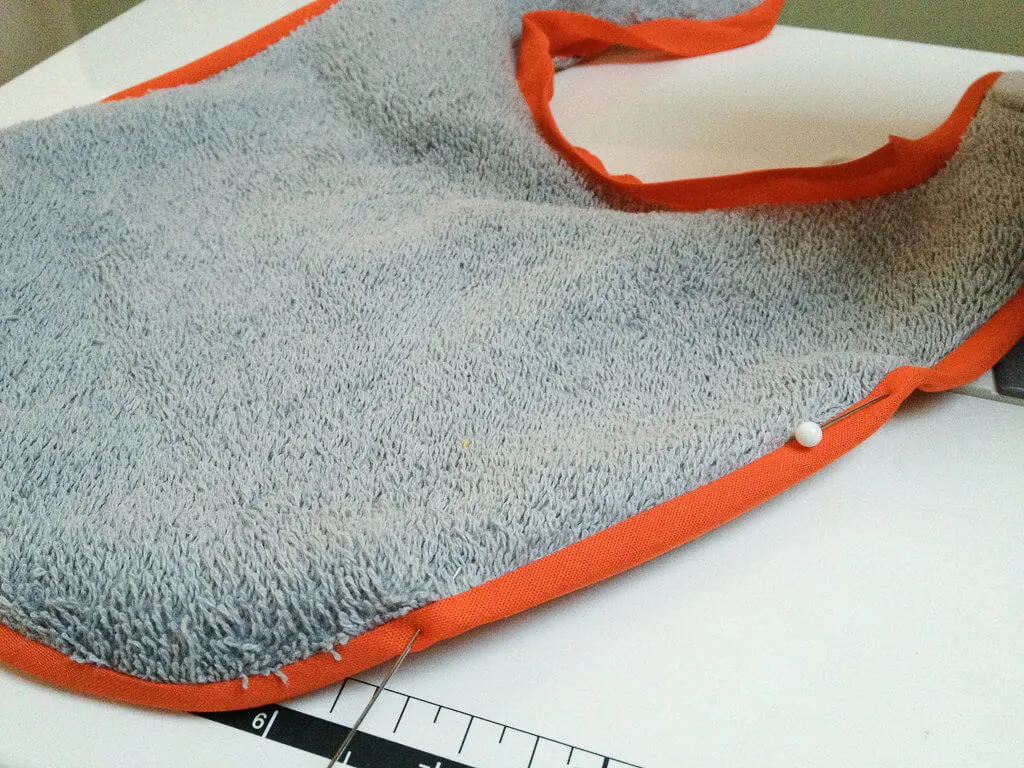 Sew close to the edge through the bib layers, making sure to catch the bias tape on the other side. Now, I sometimes find that I run off and miss the bias tape on the back which is super frustrating. I've learned to really make sure that the bias tape is pulled taught and stop a lot when I sew this step.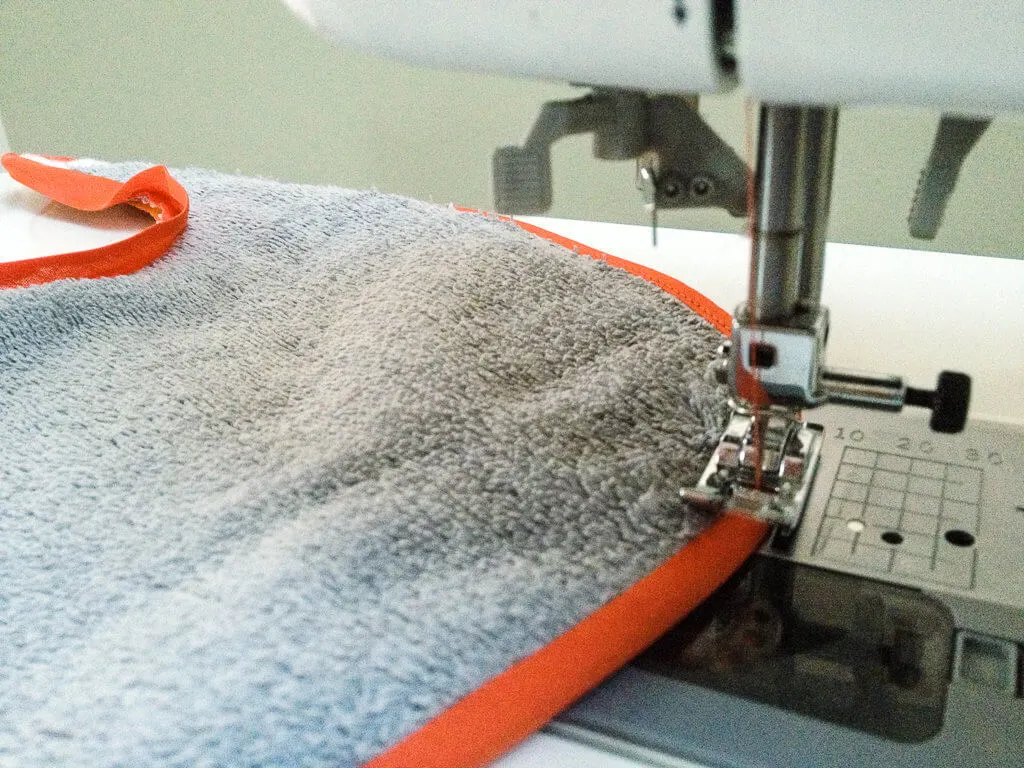 And it looks pretty good if I do say so myself.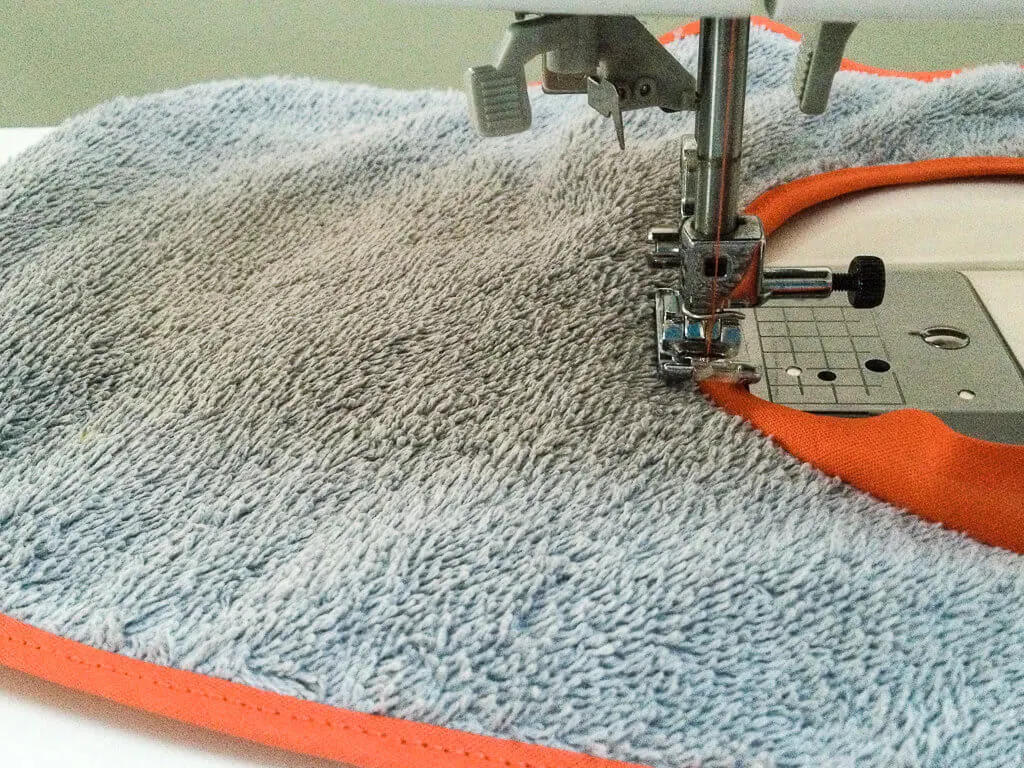 Sew all the way around, backstitch, and you've got a lined bib for your little teether.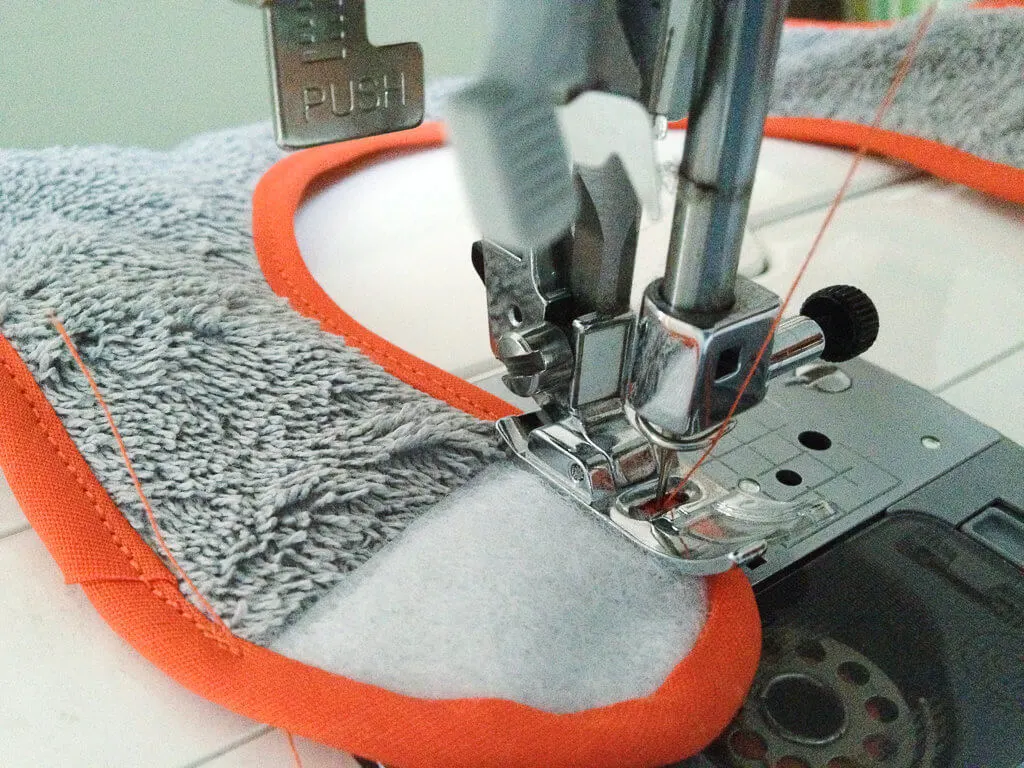 ++++++
Be sure to pin my Free Baby Bib Sewing Pattern for drooly babies: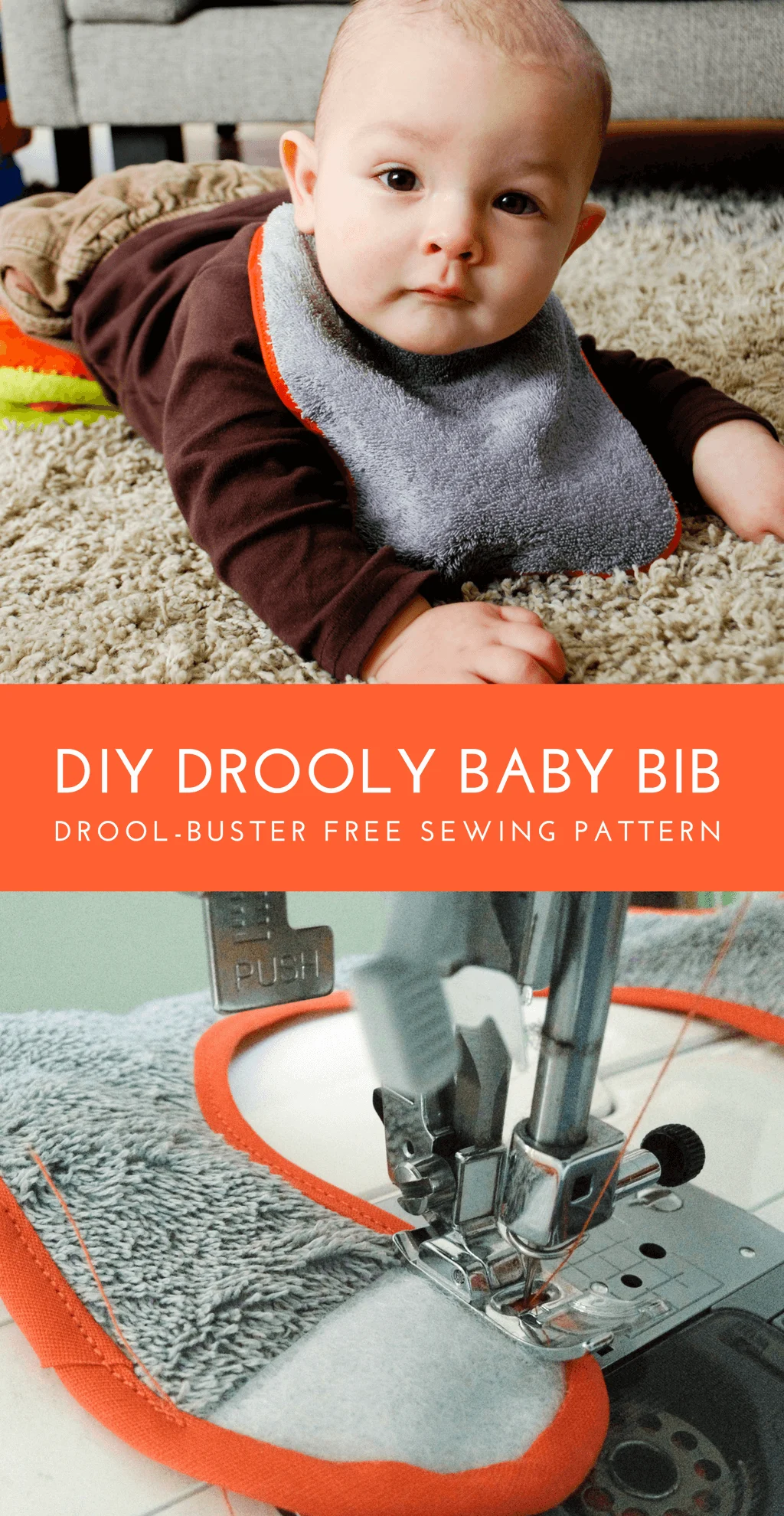 And see my other top free sewing projects for baby and toddlers:
—
Like it? Share it!
The nicest way to say you like it is to pin it on pinterest, post a comment, follow Merriment Design on Facebook, twitter, pinterest, Google+ or sign up for monthly emails. Enjoy! 🙂
Copyright stuff: You're more than welcome to use this free project and tutorial for personal use. Contact me for commercial use and etsy sales.