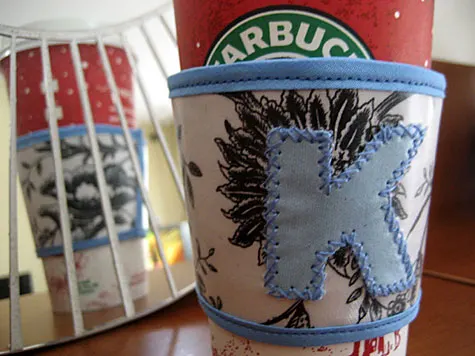 So I was pretty excited about the success of the campfire coffee insulator wrap and decided to make a monogrammed coffee insulator wrap for my sister Krista. Perfect for coffee/tea/cocoa drinkers and the eco-friendly, monogrammed insulator wraps are personal and practical. And not only is it a great way to cut down on waste but it's also a great way to use up some extra fabric scraps.
Supplies for how to make a monogrammed coffee insulator wrap: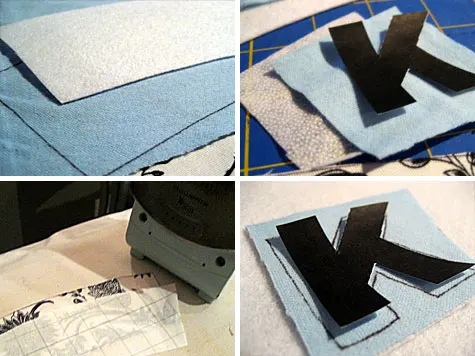 Just like the campfire cozy using your cardboard coffee insulator as a pattern cut out the patterned fabric, blue fabric, interfacing, and vinyl. Print your letter on your computer printer. I used Arial Black because it is nice and thick. Cut it out, then cut a square of blue fabric and regular interfacing and iron it on.
I'm even more of a fan now of the iron-on vinyl. Follow the package directions iron the vinyl onto the patterned fabric and the square of blue fabric. Trace your letter onto the fabric and cut out within the lines so that no black appears on the finished letter. How you affix it on is up to you. I chose to embroider 'x' stitches to appliqué it on. Mine were a bit sloppy but overall I think it looks cute.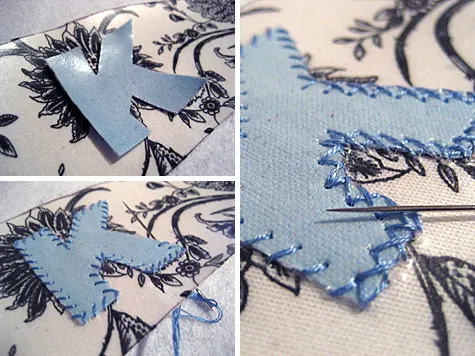 Sandwich the 1/8th thick insulating interfacing (it's your 'cardboard') between the patterned fabric on top and blue fabric on the bottom. Sew binding tape on the top, bottom and sides. Sew bias tape on the sides, folding down a bit extra on both tops and bottoms. The trick is to fold it before you affix it; that way there are no raw edges. Shape it into a wrap and sew back and forth for security across the top and bottom. There you have your monogrammed coffee cozy insulator wrap.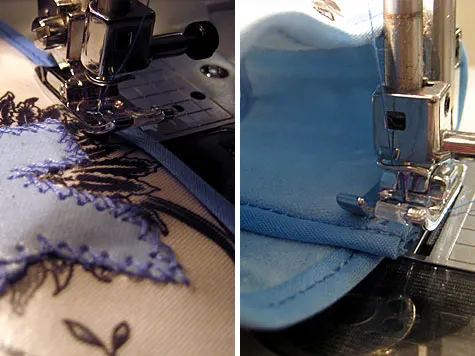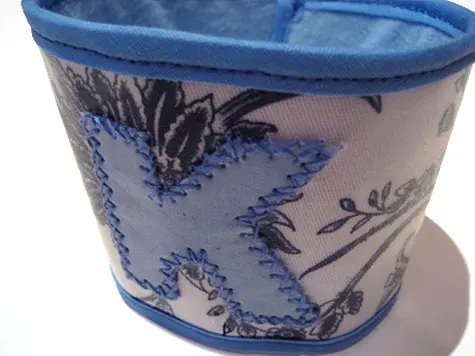 Did you make it? Please post a comment and let me know how this craft idea works for you. And share your own photos at the MerrimentDesign.com Facebook page, "I made it!" flickr photo gallery or tweet a picture to @merrimentdesign. Craft and pass it on!