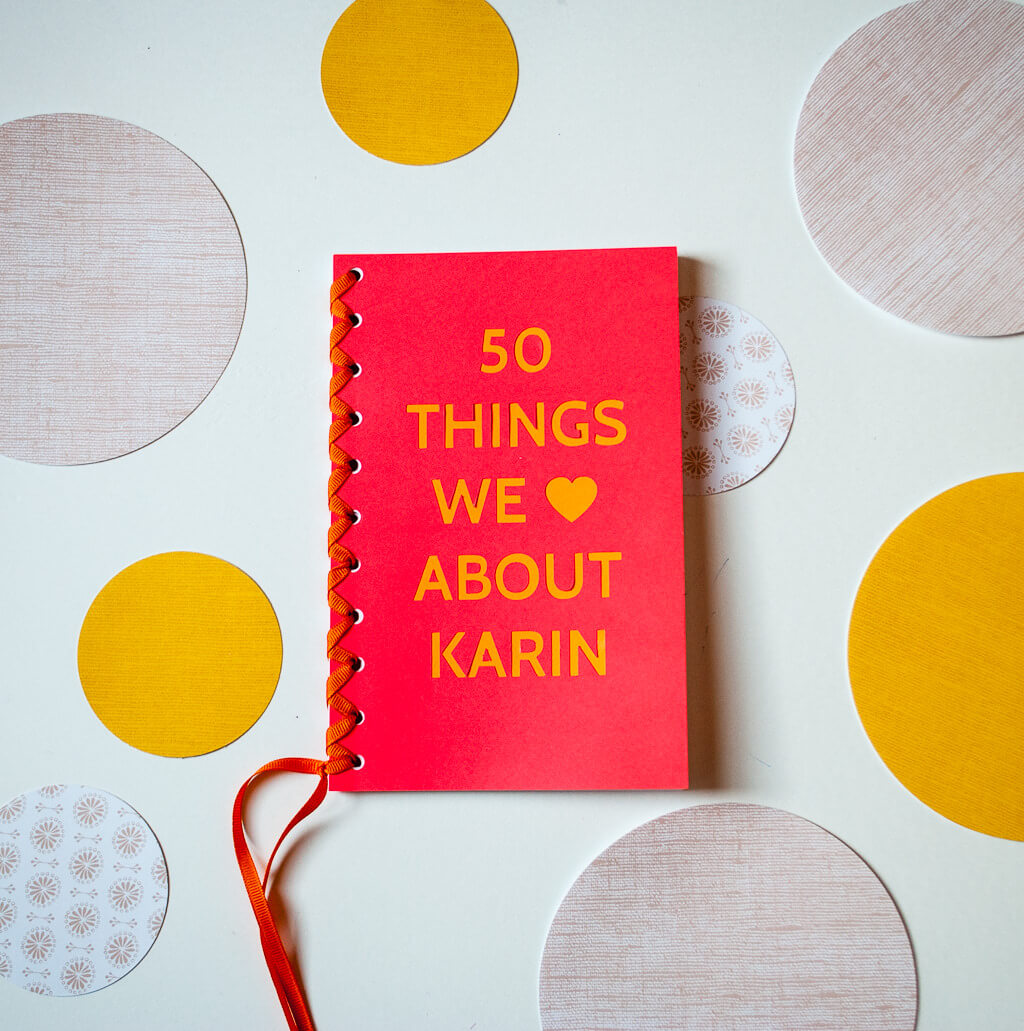 Looking for 50th birthday gift ideas? Make a memorable DIY handmade book filled with 50 things that you love about them.
This "50 things we love about you" DIY book tells the story of 50 things you love about your sister, brother, dad, mom, husband, friend. Keep reading to download my free printable template to make your DIY gift for a 50th birthday party.
See also: '50th birthday postcards shower – friends and family mail postcards to the birthday boy/girl' »

I made this special bound book for my sister, Karin. My sister Krista and I pulled together 50 things we love about our big sister, everything from her smile to her ability to accurately quote the classic USS Indianapolis scene from Jaws. And I tell you, we could have easily come up with 50 more.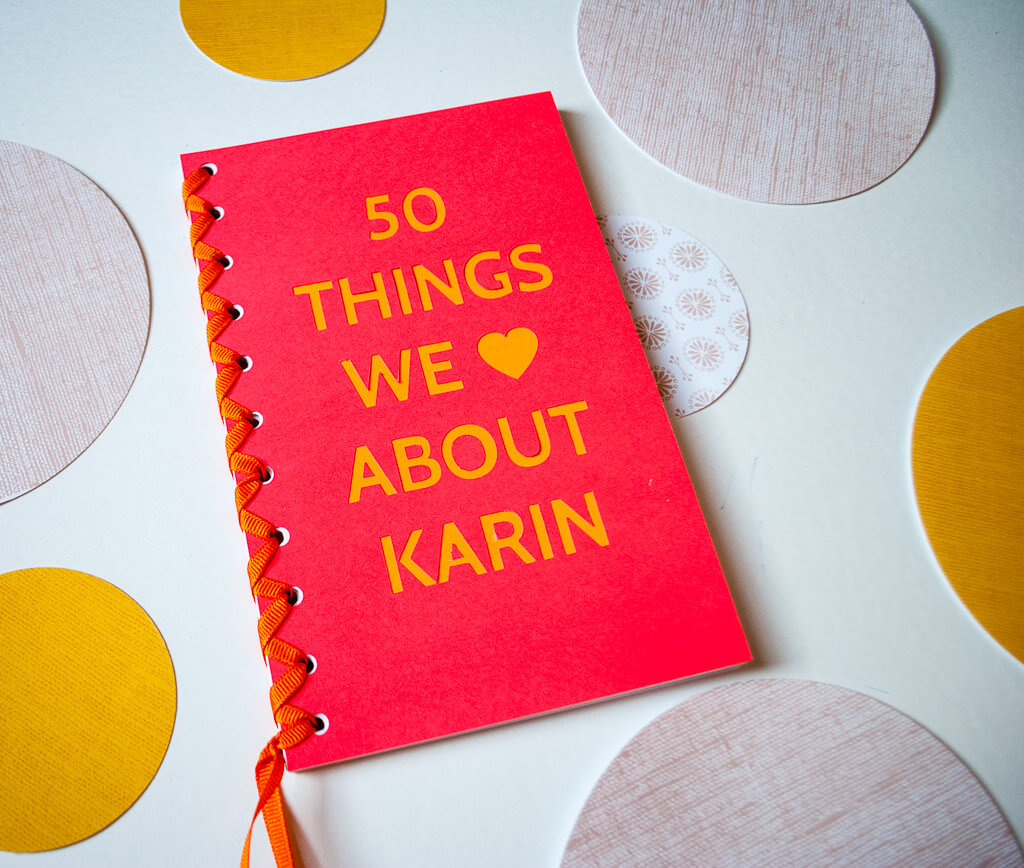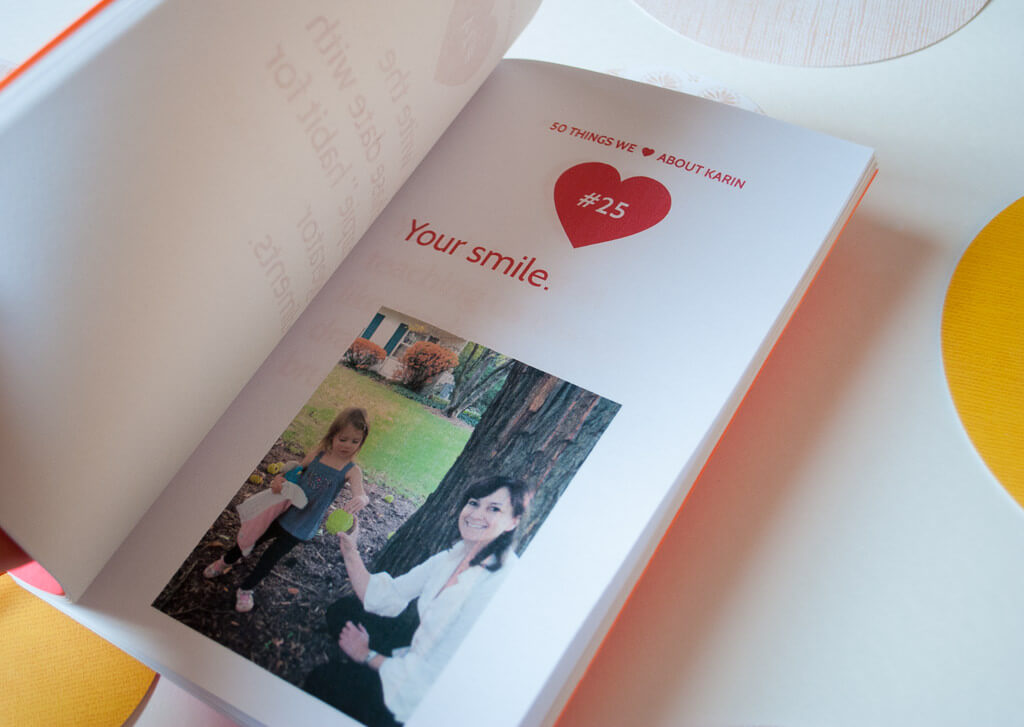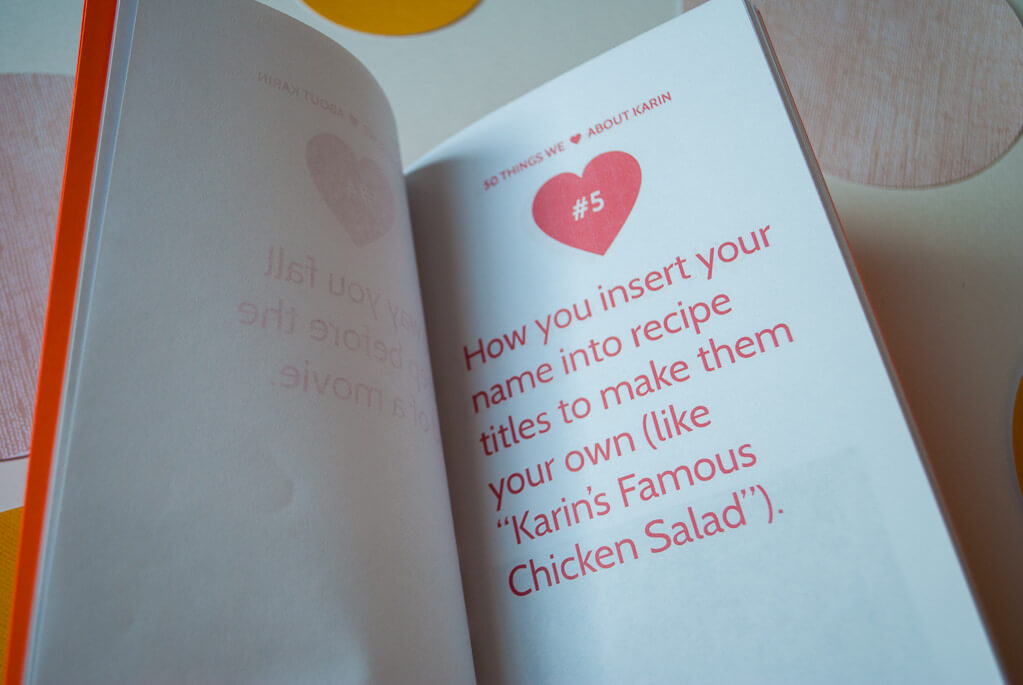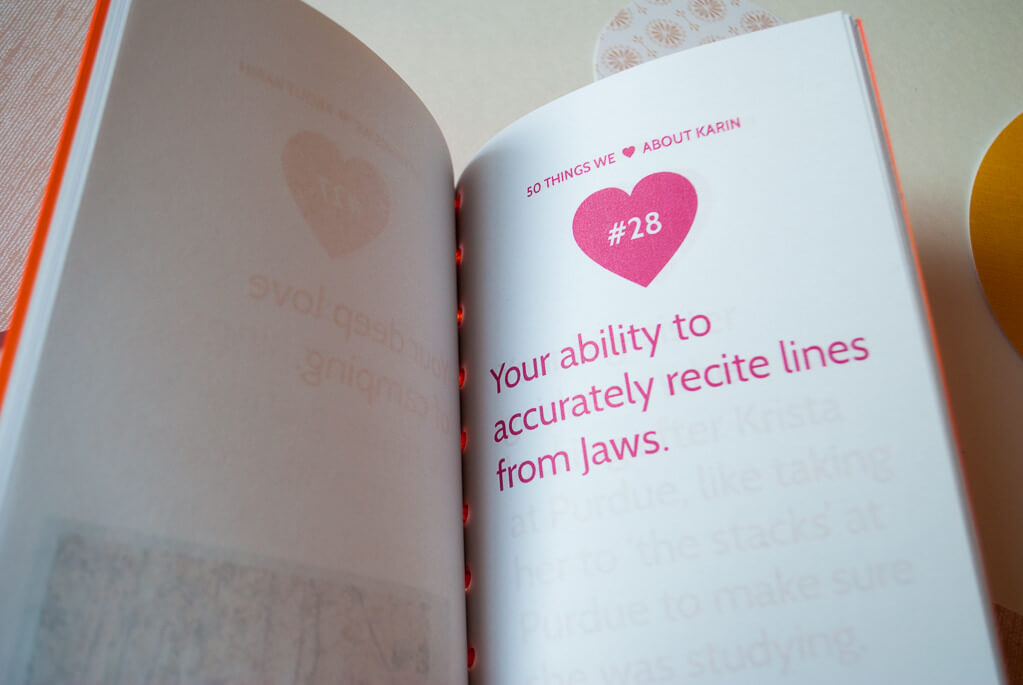 Grosgrain ribbon binds the pages together into a book. I'll show you how to do it …it's kind of like tying your shoes. And for the front cover and backs, I used my favorite bright colored card stock paper and if you have a Silhouette Portrait or other cutting machine you can use my file. I added a heart to the back.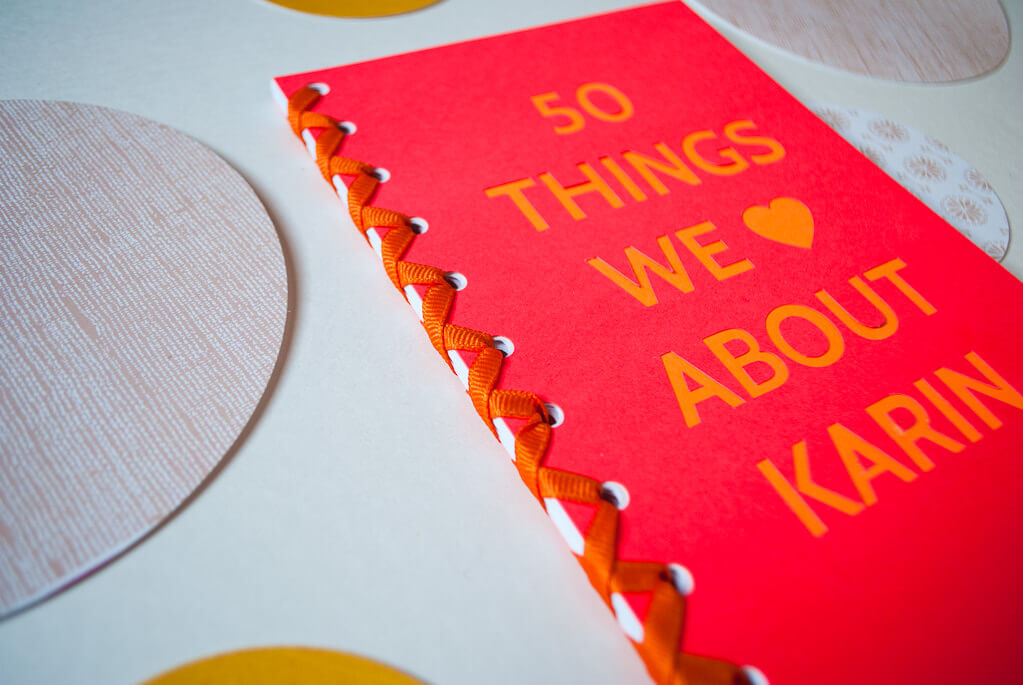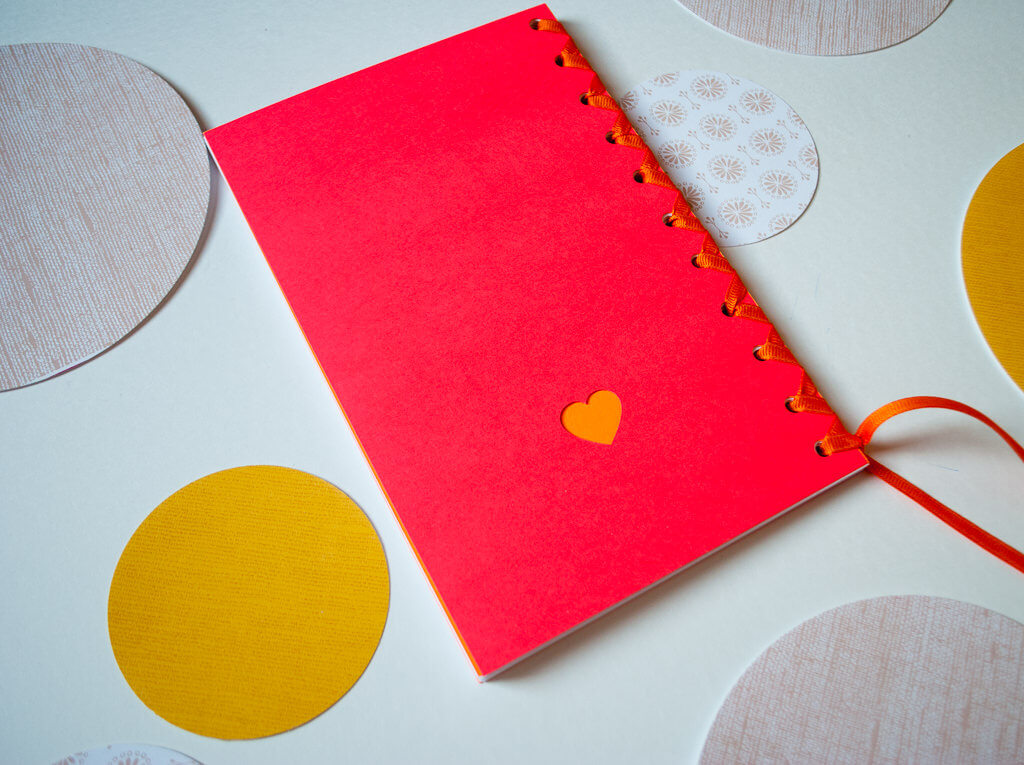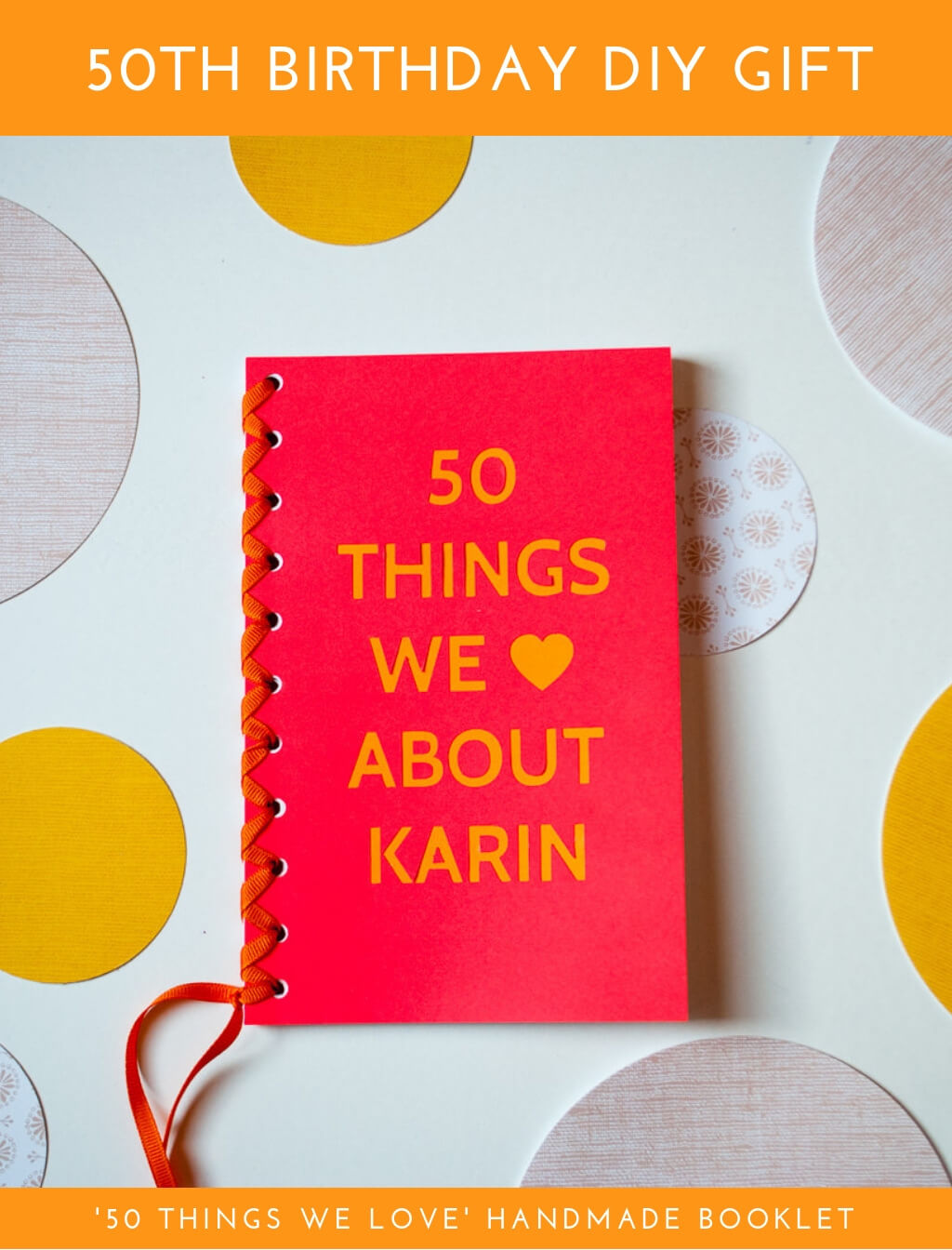 This post contain affiliate links which means that products I recommend may give me a nominal commission at no extra cost to you. Thanks – your clicks help me make more free DIYs!
++++++
Supplies for making a 50 Things We Love About You book for 50th birthday gift ideas:
—
How to make a 50 Things We Love About You book for 50th birthday gift ideas:
Step 1: Make a list of 50 things you love about the birthday person
This step is really fun. List a mix of sentimental things, funny things, collect photos, whatever you wish.
Step 2: Type into the free printable template and print
Download my 50th birthday gift printable template (in PowerPoint) and start entering the things that you love. Print it out onto white paper. I used regular printer paper which ended up looking a little thin; you could upgrade to thicker white paper which will end up making a thicker book.
Step 3: Cut pages and punch holes
Download my free hole punch template to help guide where to punch the holes. I'm not gonna lie – this is the longest step. You'll want to punch only 1-5 pieces at a time depending on your hole puncher so with 50 pages you'll be punching quite a bit. Do this step while you're watching TV or listening to a podcast.
Step 4: Make the cover and back
I made my cover using my Silhouette Portrait cutting machine, but this is optional. You can also just print the cover onto colored cardstock — I'd recommend black text.
Step 5: Bind the book using ribbon
Binding this book is kind of like tying your shoes. You'll want to use thin grosgrain ribbon 1/8″ or 1/4″ to fit through the holes. Take a really long piece of ribbon. Put the ribbon through the top hole and pull the ribbon until you have two equal halves. Then start to criss-cross your ribbons to make an X shape down the binding of the book. I think it's fun to bind a book using ribbon – much better than step 3, lemme tell you…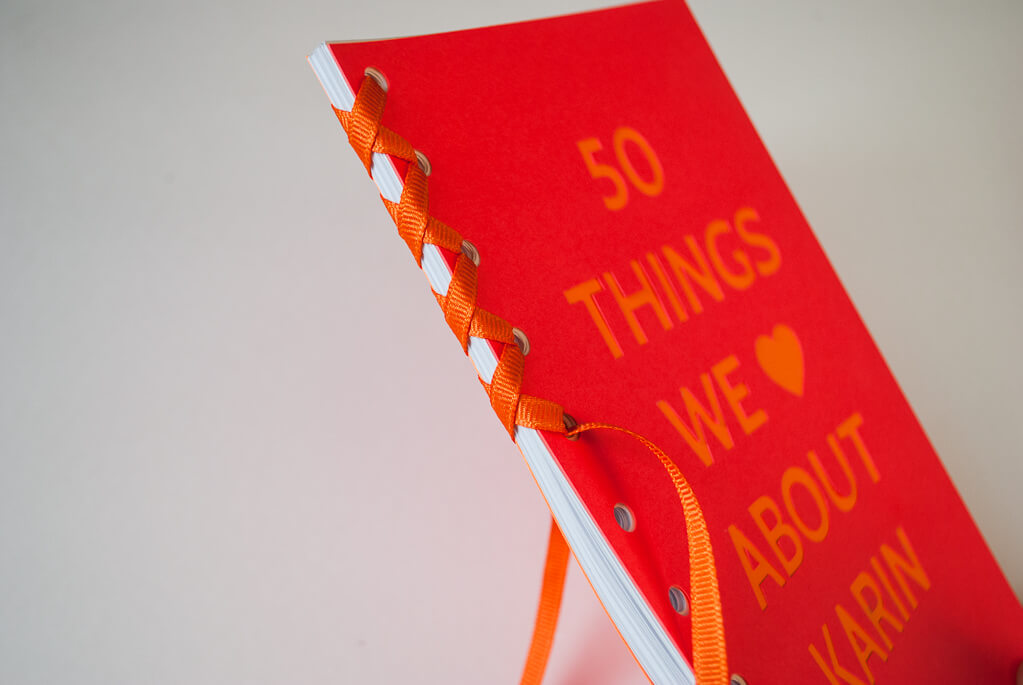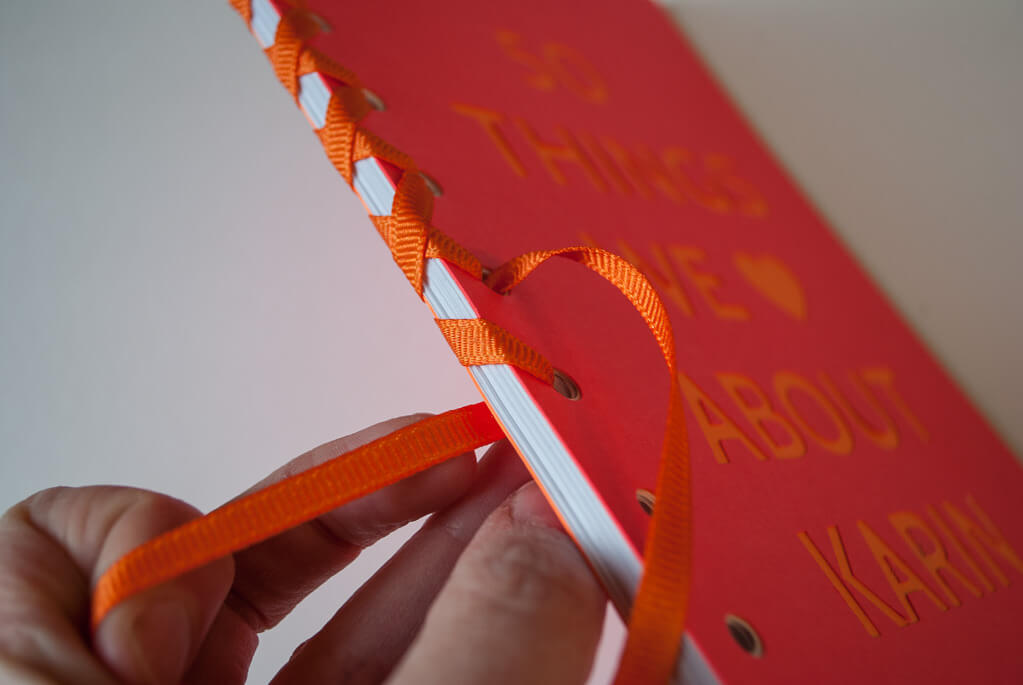 ++++++
Be sure to pin this 50th birthday gift ideas project for later: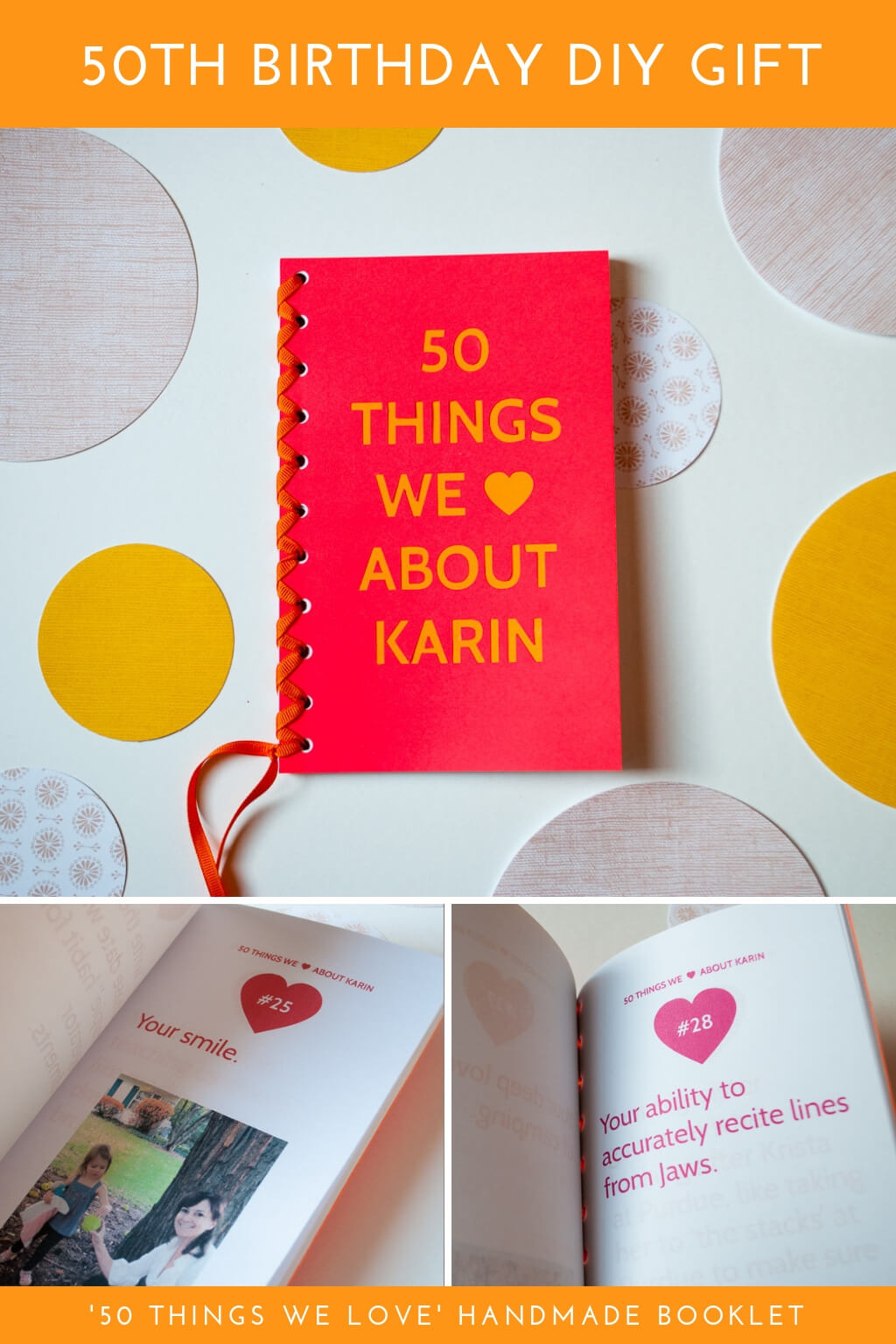 ++++++
And see more easy DIY gifts and also these clock party decorations that would look great at a 50th birthday party.
—
Like it? Share it!
The nicest way to say you like it is to pin it on Pinterest, post a comment, follow Merriment Design on Facebook, Pinterest, Instagram or sign up for monthly emails. Enjoy! 🙂
Copyright stuff: You're more than welcome to use this free project and tutorial for personal use. Contact me for commercial use and Etsy sales.