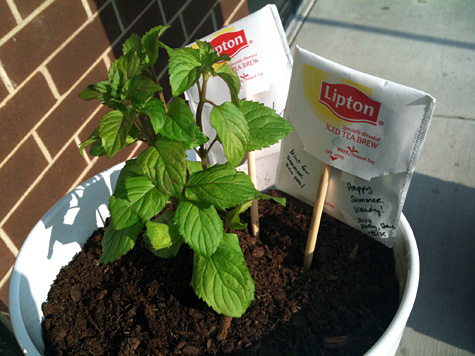 I whipped together this easy but clever hostess gift for my friend Wendy's 'Welcome Home' housewarming barbeque: a potted mint plant with a teabag 'card' perfect for summer sun tea.
Wendy's new 3-bedroom Chicago condo has a rooftop deck that's easily the size of a large outdoor beer garden. No kidding, it's really that huge – I've never seen anything like it in the city. So I figured she'll need some plants to cozy it up a little bit.
I potted the mint plant in a cute white planter. Then I made a makeshift 'card' out of a couple Lipton tea bags, slipped them onto wooden takeout chopsticks and into the dirt.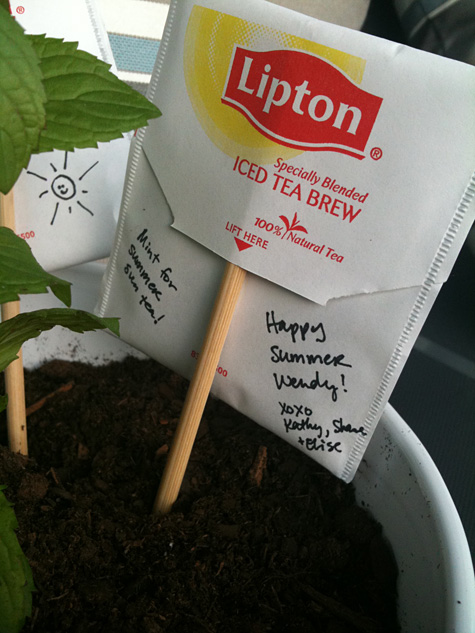 Mint is right up there with basil as the perfect summer herb, from sun tea with mint (brewed safely) to yummy homemade mojitos. Housewarming indeed!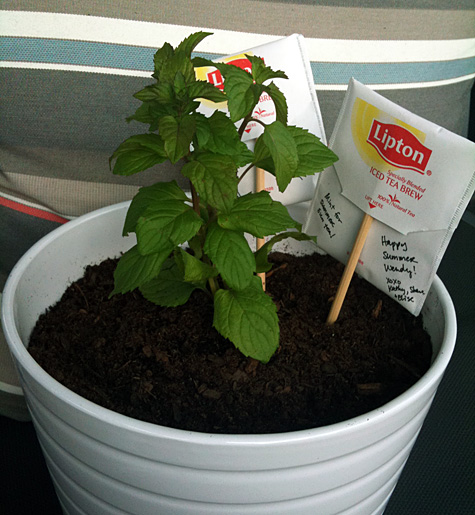 Supplies:
Please post a comment if you use this project – it makes me smile. And you can post your photos to our "I made it!" flickr photo group.
How to make a Mint Plant with Teabag 'Card' for Hostess or Housewarming Gifts
Assemble your supplies. The white planter is from IKEA and I bought a mint plant and organic dirt at my favorite urban gardening store.
Use your Sharpie to write a little notes and doodles on a couple teabags to make your "card." Separate your wooden chopsticks and slip one into the label, being careful not to tear the perforations. Press the other end into the dirt and off to the party!
—
Like it? Share it!
The nicest way to say you like it is to pin it on pinterest, post a comment, follow Merriment Design on Facebook, twitter, pinterest, Google+, instagram or sign up for monthly emails. Enjoy! 🙂
Copyright stuff: You're more than welcome to use this free project and tutorial for personal use. Contact me for commercial use and etsy sales.